Depth Charts, Rosters, and Predictions
The Atlanta Falcons are long shots to reach the playoffs in 2023 but have enough uncertainty in their future that it's not impossible to envision how they could make a run at the division. That would require their bet on Desmond Ridder, a third-round pick from last year's draft, to pay off.
Atlanta's entire offseason seems to be built around that gamble, allowing the Falcons to use the capacious salary cap space left by a rookie quarterback to secure their preferred free agents. Still, they used it more to re-sign key players on an underperforming team rather than bring stars in. Nevertheless, the roster next year will look much different than the one this year.
Everything You Need Ahead of the Atlanta Falcons 2023 NFL Season
The Falcons' decision to avoid selecting a quarterback in the 2023 NFL Draft or pursue one in free agency signals extraordinary confidence in Ridder, who can make or break a Falcons team set up to do well offensively, with a great offensive play-caller in head coach Arthur Smith and some exciting weapons like Kyle Pitts and Drake London, as well as rookie first-round pick Bijan Robinson.
MORE: 2023 NFL Schedule
In a weak division, that kind of confidence might pay off big as Carolina figures out whether or not their rookie QB is suited for the NFL, the Buccaneers lean on a relatively unknown second-round pick in Kyle Trask, and the Saints attempt to build around veteran Derek Carr.
Falcons Roster Changes
The Falcons were aggressive in free agency, even with their own players. They had a near-record number of players see their contracts expire, but they re-signed most of them, adding a substantial amount of talent through free agency. Atlanta focused on retaining their offensive line, but they also made sure to add across the defense and in choice spots on the offense.
That allowed Atlanta to be a little bit more relaxed in the draft, which is why they were able to target a running back in Round 1 despite their already-existing talent there.
Players Signed/Claimed

QB Taylor Heinicke
WR Mack Hollins
WR J.J. Arcega-Whiteside
WR Scotty Miller
WR Penny Hart
WR Slade Bolden
OT Ethan Greenidge
OT Joshua Miles
EDGE Bud Dupree
DT David Onyemata
DT Calais Campbell
DT Joe Gaziano
LB Kaden Elliss
LB Andre Smith
LB Tae Davis
CB Mike Hughes
CB Tre Flowers
S Jessie Bates III

Players Acquired via Trade

TE Jonnu Smith
CB Jeff Okudah
Players Drafted

RB Bijan Robinson
OT Matthew Bergeron
EDGE Zach Harrison
CB Clark Phillips III
S DeMarcco Hellams
G Jovaughn Gwyn

Players Lost

QB Marcus Mariota
WR Damiere Byrd
WR Olamide Zaccheus
WR Emeka Emezie
TE MyCole Pruitt
TE Anthony Firkser
OT Chuma Edoga
OT Elijah Wilkinson
OT Germain Ifedi
G Colby Gossett
DT Abdullah Anderson
DT Matt Dickerson
DT Derrick Tangelo
DT David Anenih
DT Jaleel Johnson
DT Vincent Taylor
LB Nick Kwiatkoski
LB Rashaan Evans
CB Casey Hayward
CB Rashad Fenton
CB Mike Ford
CB Isaiah Oliver
S Jovante Moffatt
S Erik Harris
LS Beau Brinkley
The amount of roster turnover that the Falcons have seen is extraordinary, which is fitting given their performance last season. But they have the bones on offense to do well, so long as they have the quarterback they need. Atlanta's put their faith in Ridder and moved on from Marcus Mariota, which was inevitable after they played Ridder over Mariota later in the season.
On offense, the Falcons have focused on supplementing their primary pass catchers instead of stuffing their roster with multiple No. 1 options, hoping that one of their WR or TE additions can turn into a reasonable third receiving option after Pitts and London.
The focus, however, will clearly be on the run game. Adding Robinson to an RB room that features last year's all-rookie candidate Tyler Allgeier and a resurgent Cordarrelle Patterson is already deadly. But Arthur Smith loves to run his quarterbacks, and Ridder has the athleticism to carry that load.
MORE: Where Does Atlanta's Offense Rank in 2023?
On defense, Atlanta essentially turned their entire secondary over, keeping just A.J. Terrell and Richie Grant as their starters. They traded for Jeff Okudah to play opposite Terrell, and they're likely to play Clark Phillips III in the slot with free agent signing Jessie Bates III behind them next to Grant.
That should be exciting but could go poorly if youth and miscommunication characterize that group. However, that's why defensive coordinator Ryan Nielsen was brought in.  With a new group of defensive linemen, featuring David Onyemata, Calais Campbell, and an unretired Eddie Goldman, the Falcons might be able to stop the run much better in 2023 than last season.
Atlanta Falcons Coaching Staff in 2023
Head Coach: Arthur Smith

Assistant Head Coach/Defense: Jerry Gray
Senior Assistant: Steve Hoffman

Offensive Coordinator: Dave Ragone

Offensive Line: Dwayne Ledford
Offensive Line Assistant: Shawn Flaherty
Offensive Line Assistant: Mateo Kambui
Tight Ends: Justin Peelle
Running Backs: Michael Pitre
Wide Receivers: T.J. Yates
Assistant Wide Receivers: Nick Perry
Offensive Assistant: Patrick Kramer
Offensive Assistant: Steven King

Defensive Coordinator: Ryan Nielsen

Senior Defensive Assistant: Dave Huxtable
Defensive Assistant: Matt Pees
Special Projects Defense: Mario Jeberaeel
Linebackers: Frank Bush
Defensive Front: Lanier Goethie
Secondary: Steve Jackson

Special Teams Coordinator: Marquice Williams

Special Teams Assistant: Matt Baker

Strength and Conditioning: Dr. Thomas Stallworth

Assistant Strength and Conditioning: Roderick Moore Jr.
Assistant Strength and Conditioning: Bobby Thomas

Director of Coaching Operations: Brian Griffin

Assistant Director of Coaching Operations: Sarah Hogan
Football Analyst: Donavan Ellison
Football Analyst: Michael Gray
Football Analyst: Mike Snyder
The Falcons, in addition to overhauling their defensive personnel, cleared out much of their defensive coaching staff. After moving on from Dean Pees, they also released DL coach Gary Emanuel, secondary coach Jon Hoke, and OLBs coach Ted Monachino. Quarterbacks coach Charles London chose to become the pass game coordinator and QBs coach of the Tennessee Titans.
They replaced Pees with Nielsen and Hoke with Steve Jackson, while Monachino and Emanuel's jobs seem to have been absorbed by Lanier Goethie's role as the defensive front specialist. The Falcons did not replace their QBs coach, instead opting for Dave Ragone to take on the role alongside his OC duties.
These are fairly bold moves given where Atlanta's roster is at, but perhaps necessary. How Ridder performs will determine whether or not the gamble with the quarterbacks coach made sense.
Predicting the Atlanta Falcons Depth Chart
QB: Desmond Ridder, Taylor Heinicke, Logan Woodside
WR: Drake London, Mack Hollins, Scotty Miller, Penny Hart, KhaDarel Hodge, J.J. Arcega-Whiteside
RB: Bijan Robinson, Tyler Allgeier, Cordarrelle Patterson
FB: Clint Ratkovich
LT: Jake Matthews, Ethan Greenidge
LG: Matthew Bergeron, Matt Hennessy
C: Drew Dalman, Jovaughn Gwyn
RG: Chris Lindstrom, Jalen Mayfield
RT: Kaleb McGary
EDGE: Bud Dupree, Zach Harrison
NT: David Onyemata, Eddie Goldman
DT: Grady Jarrett, Calais Campbell, Ta'Quon Graham
EDGE: Lorenzo Carter, Arnold Ebiketie, DeAngelo Malone
MLB: Troy Andersen, Mykal Walker, Tae Davis
WLB: Kaden Elliss, Nate Landman
RCB: Jeff Okudah, Tre Flowers
LCB: A.J. Terrell, Darren Hall
NCB: Clark Phillips III, Mike Hughes
SS: Richie Grant, Jaylinn Hawkins
FS: Jessie Bates III, DeMarcco Hellams
P: Bradley Pinion
K: Younghoe Koo
LS: Liam McCullough
2022 Results and Standings
Atlanta exceeded expectations with their seven wins — just outside of playoff reach in a division full of losing records but not enough to force people to take the Falcons very seriously. They did beat the 49ers and Seahawks but otherwise had a lackluster slate of wins.
The Falcons showcased significant potential with their offense, scoring 25 points per game in the first eight weeks. That fell off in the second half of the season, however, only scoring as many as 25 points twice — against the Bears and Buccaneers — and averaging 18.3 points per game. The average when Ridder started (the final four games) was only slightly better than the five games Mariota started in the final half of the season.
MORE: Atlanta Falcons Schedule 2023
The defense did the opposite, tightening up in the second half. In the first eight games, Atlanta averaged 25.6 ppg allowed and only 20.1 on average in the second half of the season. It follows, of course, that they went 4-4 to start and 3-6 to end. Had the Falcons not petered out, it might have been easier to believe in them. But for now, the impression for Atlanta is an impression of a squad that needs a bit more to be competitive.
2023 Power Rankings and Season Outlook
The Falcons rank 30th in Pro Football Network's 2023 Power Rankings, an indication that there's not much belief that they can actually turn it around despite an almost even record last year. Almost all of it relies on the confidence that Atlanta has in Ridder. But it's hard for an outside observer to trust a third-round second-year player who helmed an offense that scored fewer points after he took over.
The defense can't be trusted to be good until they actually put good results on the field. Terrell and Grady Jarrett are talented, but they'll need better performances from their teammates, including better performances from incoming free agents than we saw in 2022, for that defense to take a real step.
If they do, the Falcons have playoff opportunity in front of them. Until then, we'll think of them more as competitors for the first pick than the last one.
Draft Prospects Cameron Ward, Keon Coleman, and Will Shipley Stand Out
College football's Week 4 slate was supposedly a down week, but our scouting team had no issues continuing to find standout 2024 NFL Draft prospects.
PFN Analysts Ian Valentino, Ian Cummings, and Lorenzo Reyna were able to have eyes on almost every game. We'll be teaming up throughout the season to give a full rundown of the weekend's action from a scouting point of view. Here's our Week 4 draft prospect report.
Standout 2024 NFL Draft Prospects | CFB Week 4
Florida State vs. Clemson
Jared Verse is a superb prospect, but is he the unquestioned Top 10 player that many of the top EDGEs from previous classes have been? Right now, the answer might not be "yes".
Verse was extremely productive in 2022 but has yet to earn a sack through four weeks in 2023. He had one deflection against Clemson immediately recognizing a screen and could also generate consistent power.
But his hand usage on counters past his initial move is inconsistent, and he visibly lacks the bending capacity to dip underneath the corner and breach the pocket. If he wants to truly take hold of the EDGE1 mantle, Verse has to make a more distinct impact in the coming weeks.
Keon Coleman dominated LSU in Week 1 and again served as a defining force for Florida State in Week 4 against Clemson, racking up 86 yards and two touchdowns – including the game-winner – on five catches. Coleman produced and proved he could do so with sound play in all phases at WR.
He had a masterful rep against Andrew Mukuba in the slot where he pressed upfield on a feigned post route, then used a brisk swim move to pry past Mukuba and sink to the right on a delayed out, getting open on the scramble drill.
His first touchdown came on a well-timed delayed release, and on the game-winner, Coleman used his instincts, timing, and 6'4", 215-pound frame to box his man out and snare the ball. Coleman's complete three-level threat framework has him in the driver's seat for the WR2 title next April.
MORE: 2024 NFL Draft Big Board
Mukuba was expected up and down against Coleman as the team's primary nickel defender. He was sometimes outmuscled, being just 185 pounds, and he can improve at keeping his man in front of him.
But Mukuba did have a third-down deflection against Coleman early on, where he used his searing recovery quickness to close the gap on a short hitch, then wrapped around and played the cage at the catch point. If Mukuba can keep doing those little things right, he will continue to rise.
Will Shipley is a true modern-age RB whose multifaceted profile should help him go early in the 2024 NFL Draft. Against Florida State, Shipley had 22 total touches for 105 yards from scrimmage and one touchdown each on the ground and through the air. Shipley helped move the chains on three of his receptions – using his contact balance through arm tackles to secure a big gain on a screen – and his TD catch came on a smooth angle route, where Shipley employed high-level bend, burst, and urgent leg churn.
Shipley's versatility helped Clemson control most of the game, and in the process, he gave NFL teams a crash course on the multitude of ways he can be used.
Trey Benson's play strength always catches the eye, but his receiving ability popped on Saturday. Benson was fairly nondescript as a runner against Clemson's front, but he caught three passes for 50 yards, routinely showing off impressive coordination and body control at the catch point.
Clemson tight end Jake Briningstool had three catches for 47 yards in an underrated performance on Saturday. His biggest gain came on a double move from the in-line position, where he used impressive change-of-direction and control for his 6'6" frame to break open up the seam.
Unfortunately, Clemson lost Nate Wiggins to an injury just before overtime, but the 6'2" cornerback performed admirably against one of the best WR tandems in the nation. He notched two pass deflections and largely dissuaded Jordan Travis from testing him in coverage all day.
On one particular rep, he ran stride-for-stride with Johnny Wilson into the deep third, showing off his speed. Wiggins' injury timeline isn't known just yet, but regardless, he's put up enough quality tape to be an early-round pick whenever he declares.
Barrett Carter didn't light up the stat sheet for Clemson, but he once again proved his mettle as an all-encompassing, versatile chess piece at the second level. Not only did he encumber blocks and maintain gap discipline against the run, but he also blanketed intermediate targets in coverage, at one point matching Jaheim Bell up the seam and crowding him at the catch point.
Bell is one of the most explosive athletes in college football, so the fact that Carter prevented separation says a lot.
Clemson EDGE Xavier Thomas announced his triumphant return to the 2024 NFL Draft board with a two-TFL, one-sack outing against the Seminoles. His sack was an extremely impressive one – a double-swipe on which Thomas fought a chip, off-set the tackle with his twitch, and then used his tight cornering ability and ankle flexion to breach the pocket and swallow up the QB.
The 6'2", 245-pound Thomas has an extremely hot motor, and his bend capacity might be some of the best in the 2024 NFL Draft class. If he can stay healthy, he can match early-round projections that go back to 2020.
Oklahoma vs. Cincinnati
Linebacker Danny Stutsman is more of a modern player who does better in space than a traditional stack-and-shed player. He's built well, but his strength is taking advantage of angles and making timely cuts between blockers.
He had several examples of plays at or behind the line of scrimmage where he was simply too athletic and strong for Cincinnati's blockers, routinely winning his gap.
It's important that Stutsman had a big game. He's a rangy player and finishes well, and this game certainly boosted his stock. We've been waiting for Stutsman's level of play to match his high production level instead of producing empty calories.
Quarterback Dillon Gabriel remains a dangerous player when he can play with rhythm. He diced up Cincinnati's defense when he could drop back and take advantage of some separation. But his decision-making when he gets out of the pocket is a concern, as he trusts his arm or receiver far too much.
Gabriel simply doesn't have the athleticism or arm talent to get away with reckless decisions at the next level. He missed several key throws that must be made for him to be considered more than a priority-free agent. His touch and overall accuracy aren't consistent enough to be reliable on the NFL stage.
Sooners right tackle Tyler Guyton has been high in our rankings because of his great athleticism and natural feel as a pass blocker. In this matchup, He struggled a bit against Cincinnati's veteran edge rushers.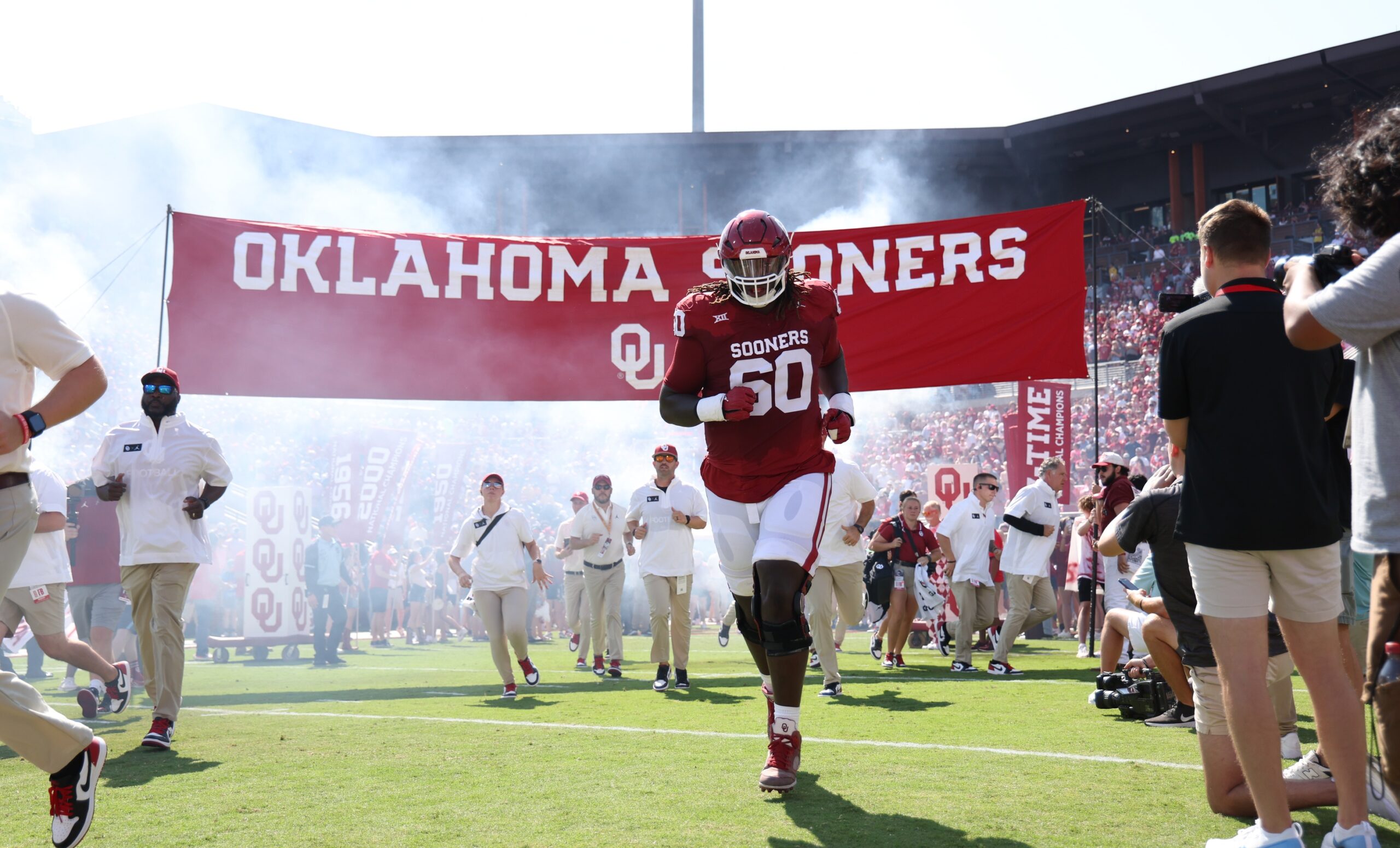 Although Guyton didn't outright lose many reps, he did lose some ground or control of the defender on several occasions, showing some room for improvement with his balance and punch strength.
However, Guyton was fantastic in the running game. He had a few issues boxing out his defender, moving up to the second level, and sticking to his assignment. He remains a high-upside prospect, but this was a good challenge for him to show off whether his polish is where it needs to be.
Center Andrew Raym had a tough undertaking against a powerful Cincinnati defensive line. The duo Dontay Corleone and Jalen Hunt is extremely stout, and Raym struggles with handling their power.
Raym stood up and pushed back into the lap of Gabriel a few times. His athleticism in space at least gives him a chance of being an NFL starter, but this was a matchup he needed to do better in to boost his stock.
The Bearcats boast good defenders, including Corleone, Jowon Briggs, and Deshawn Pace. It wasn't a headlining day for any individual, but each executed their roles effectively. Corleone can be a Day 2 pick as a run-stuffing nose tackle, but Briggs and Pace needed to show better individually to become more than potential late-round picks. – Ian Valentino
Colorado vs. Oregon
Oregon came out fast, getting the ball into the hands of their top playmakers, Bucky Irving and Troy Franklin, right away. And both guys looked every bit of the prospects we expected. Both Irving and Franklin can be quality starters at the next level, and it showed they're playing at a different speed than even Colorado could match.
Franklin had too much speed to be slowed down, which is something I type every week. Irving also showed off his quickness but also played with a certain tenacity that allowed him to fight through tacklers and continue creating after contact. That was a new part of his game.
Bo Nix was especially sharp as he maximized the ability of each of his playmakers. Oregon's powerful running game and athletic advantages against Colorado were clear, but Nix beautifully pulled the strings to his powerful offense. Nix was not overly impressive against Texas Tech, but this performance shone a light on his abilities.
Nix barely missed throughout the first half, playing with high execution, poise, and confidence. His interception came on a misread of a Cover 2 hole, so those concepts will be monitored as to whether Nix can learn and adjust moving forward. We know Nix has the playmaking chops to be effective in the NFL, but this performance will solidify Nix as a top-five QB in the class and a first-round pick.
Oregon cornerback Khyree Jackson made his presence felt in this big matchup, showing off good deep speed and comfort in his gigantic 6'3" frame. He stayed with Colorado star receiver Xavier Weaver, an impressive accomplishment for someone so tall. His recovery speed and length alone make him a draftable prospect.
It's hard to penalize Colorado quarterback Shedeur Sanders too much for taking sacks so often. He reminds me of Justin Fields while he was at Ohio State but without the A+ athleticism of Fields. That might not seem favorable today as Fields has had a bumpy start with Chicago, but Fields was extraordinarily dynamic in college.
Sanders is playing with less talented players, making it more difficult to stay within the scheme. His best trait is extending plays, which will lead to sacks. But while Sanders' sacks may have been avoidable, he wasn't overlooking open quick routes to chase bigger plays. He remains a hot prospect even if this game was out of his control from the opening drive. – Ian Valentino
UCLA vs. Utah
Cameron Rising still hasn't returned from his torn ACL, which is not surprising. But it's disappointing after there had been optimism of his return by this point. With the season already one-third of the way through, Rising may not be able to win the starting job back before the end of the season.
The UCLA edge combination of Laiatu Latu and Gabriel Murphy was swarming as usual in this game. Both players have bad tendencies they continue to replicate, but they're also so productive and effective that it's hard to knock them over these. In Murphy's case, those tendencies include over-penetrating and then missing on a potential tackle for loss.
Latu continues to show great awareness of his physical limitations, the latter being concerning. He has to arc outside of the pocket to create a better angle to get to the quarterback, taking valuable time that allowed the Utah QB to get rid of the ball. I like Latu, and he profiles as a helpful contributor in the NFL, but his lack of bend and pure speed is an issue.
Utah RB Ja'Quinden Jackson has bounced back over the last two weeks after struggling to take full control of the backfield. He's a big, powerful back who will make defenders pay for getting in his way. He lacks great wiggle and agility but has more than zero, which can separate him from someone like Wisconsin's Braelon Allen.
Sataoa Laumea just looks too big and bulky to survive at tackle. He's projected to move inside at the next level due to his lack of length, but his movement ability was a bit disappointing, considering his high level of play last year. Laumea's strength will be a big plus on the interior line, but any thoughts that he might maintain positional versatility to swing out as a tackle are gone as long as he's at his current weight. – Ian Valentino
BYU vs. Kansas
Kansas cornerback Cobee Bryant has gone far under the radar for quite some time, but he's a solid, experienced corner with some playmaking chops. At 6'0", Bryant can give receivers issues throughout routes. He's wiry and a bit thin by nature, but he delivered a huge hit to start the game against BYU, forcing a fumble that he quickly scooped up for a touchdown.
Quarterback Jalon Daniels was an unrelenting presence, as he usually is. With his energetic play, a knack for delivering big plays in key moments, and solid arm talent, Daniels is impossible not to love. His quick passing motion, mobility, and generally reliable accuracy make him at least a viable high-end backup at the next level. – Ian Valentino
Oregon State vs. Washington State
Washington State came out on fire, but the Oregon State offensive line was at least making their presence felt. Left tackle Joshua Gray, left guard Heneli Bloomfield, and right tackle Taliese Fuaga were dominant at the point of attack, burying defenders with grown man strength. Both Gray and Fuaga have Day 2 grades for us, but for different reasons.
Gray projects better as a guard than a tackle due to his size and some agility concerns when he has to protect the apex corner. But he's strong and works downhill especially well.
Fuaga continues to rise. Surprisingly, we haven't seen more evaluators talk about him, but our team loves Fugua. The 6'6" blocker has elite athleticism and length, and his strength and hand usage have improved considerably thus far in 2023.
Cougars QB Cameron Ward was almost unstoppable in the first half. He had one incomplete pass and was strip-sacked, but he completed 19 of 20 passes for 293 yards and four touchdowns against a 14th-ranked Oregon State pass defense. Ward is playing much more efficiently while pushing the ball downfield this season.
Ward has a case to be in our top-10 quarterbacks for the 2024 class. He's highly athletic and has a strong arm. He's a bit reckless and needs to play better in the scheme, but his zen while extending plays is impressive. He has better traits than most quarterbacks in the class, so maybe we're even underrating the junior passer.
Another potential star on the Cougars is safety Jaden Hicks. Hicks is a playmaker who always seems to find his way to the ball. He notched a sack and was excellent at finishing several tackles in the open field. The lone question around Hicks is his ability to drop into man coverage and hold his own at the next level. It's possible he won't land in a place where he will be asked to do so, but few defenses can avoid a safety being on a receiver at some point.
Cougars wide receiver Josh Kelly also established himself as a real prospect moving forward. Oregon State couldn't stop him, as Kelly reeled in two one-handed catches despite being draped by a defender. We were wondering who on the Washington State offense would step up for Ward this season, and Kelly has done so while showcasing the speed, body control, and size to be a formidable NFL player. – Ian Valentino
Don't look now, but Ward is quietly rising in the 2024 NFL Draft QB group.
He has not thrown an interception in four games and has 16 total touchdowns on the year. In Week 4, he completed 28 of 34 passes for 404 yards and four touchdowns and added a fifth score on the ground. Ward's athleticism, creation capacity, and arm talent continue to inspire, but he looks more controlled and disciplined as a creator this year and has more command at the line. Maturation is what he needed, and it looks like he's trending up right now.
Amidst Ward's hyper-efficient Week 4 showing, wide receiver Kyle Williams was a prime beneficiary. Williams had one of the best games of his career, logging seven catches for 174 yards and a score. The former UNLV transfer is on track to surpass his career-high yardage total of 602, achieved in 2021. At 6'0", 180 pounds, he has the burst to stack and separate from DBs, and his ball-tracking ability also stood out in this game.
Hicks only knows how to do one thing: Produce. In fact, through four games in 2023, he's already surpassed his production behind the line of scrimmage from 2022, and he's also almost matched his 2022 ball production.
The 6'3", 202-pound Hicks is an explosive, rangy, and tenacious defender in the box, and he did his part to help Washington State secure the victory. On one fourth-down play in the second half, with the Beavers attempting to gain momentum, Hicks exploded into the backfield, fought past the RB, and secured a major sack. Hicks always comes up big for Washington State, climbing up the 2024 NFL Draft boards. – Ian Cummings
Ohio State vs. Notre Dame
Star left tackle Joe Alt is an incredibly smooth athlete in space, matching LBs and DBs without strain and showing range up the field. It was a dominant performance for one of the class's top tackles.
Marvin Harrison Jr.'s toughness was on full display, returning after an ankle injury, running routes near full speed, and competing for tough catches.
MORE: 2024 NFL Draft Scouting Reports
Cade Stover finished with seven receptions for 52 yards, showcasing toughness, strong hands, RAC ability, and being a consistent converter when called upon to move the sticks. That's the impact we needed to see from the senior tight end to help improve his stock.
Emeka Egbuka was quietly solid, with seven receptions for 96 yards. His performance was diluted a bit by subpar QB play and play-calling, but he is still an incredibly nuanced, efficient, and sudden route runner with sturdy hands and RAC ability. – Ian Cummings
Ole Miss vs. Alabama
If you were waiting for the right game to potentially move Dallas Turner over Jared Verse in the EDGE1 discussion, this might've been the one. Turner logged two sacks, 3.5 tackles for loss, and a forced fumble in the Crimson Tide's win over Ole Miss. The 6'4", 245-pound edge rusher looked like an apex predator in pursuit with his closing speed and reach, and he also won more than once with his wicked bend around the corner.
Turner still isn't at Will Anderson Jr.'s level – that's a high bar – but his case for EDGE1 is growing stronger.
Terrion Arnold had a rough showing against Texas a couple of weeks ago, but he bounced back against Ole Miss and helped the Crimson Tide secure the win. Arnold logged eight tackles, deflected two passes, and nabbed a pick over the middle of the deep third by expertly tracking the ball. Arnold's evaluation is still an issue of ceiling vs. floor, but he's done a good job taking steps forward after his rough Week 2 outing.
Memphis vs. Missouri
Blake Watson wasn't as efficient as a runner in this game, but he could still showcase his versatility. He caught nine passes for 83 yards and a score out of the backfield. On his touchdown, he seamlessly tracked in a high pass on a swing route in the red zone and then used his RAC ability to make his way to the pylon.
He scraped through one arm tackle, then bounced off another tackle by absorbing with his midsection before exploding into space. Watson remains one of the most exciting sleeper prospects in the 2024 NFL Draft RB class.
Kris Abrams-Draine notched seven tackles, a tackle for loss, an interception, and a pass deflection in the Tigers' win over Memphis. The undersized DB continues to be a ballawk in coverage and a surprisingly tenacious contributor in support. SEC football will be more informative for Abrams-Draine's true stock.
He will face-off Will Sheppard and Malik Nabers over the next two games. But so far in 2023, Abrams-Draine has been phenomenal.
LSU vs. Arkansas
I'll just cover Harold Perkins briefly because he isn't draft-eligible this year – but he already looks like a special 2025 NFL Draft prospect. Players with his blend of pure explosiveness, bend, length, and pursuit speed don't come around often. The way he can pinch tight angles and then teleport into the QB can be a game-breaking quality at the NFL level.
Tyrone Broden, a looming 6'4" target and transfer from Bowling Green, had an extremely impressive touchdown catch for Arkansas, where he used steely focus and concentration to reel in a corner end-zone throw while being tightly covered by a defender. Broden's size and length helped him control the catch point, but his focus sealed the deal.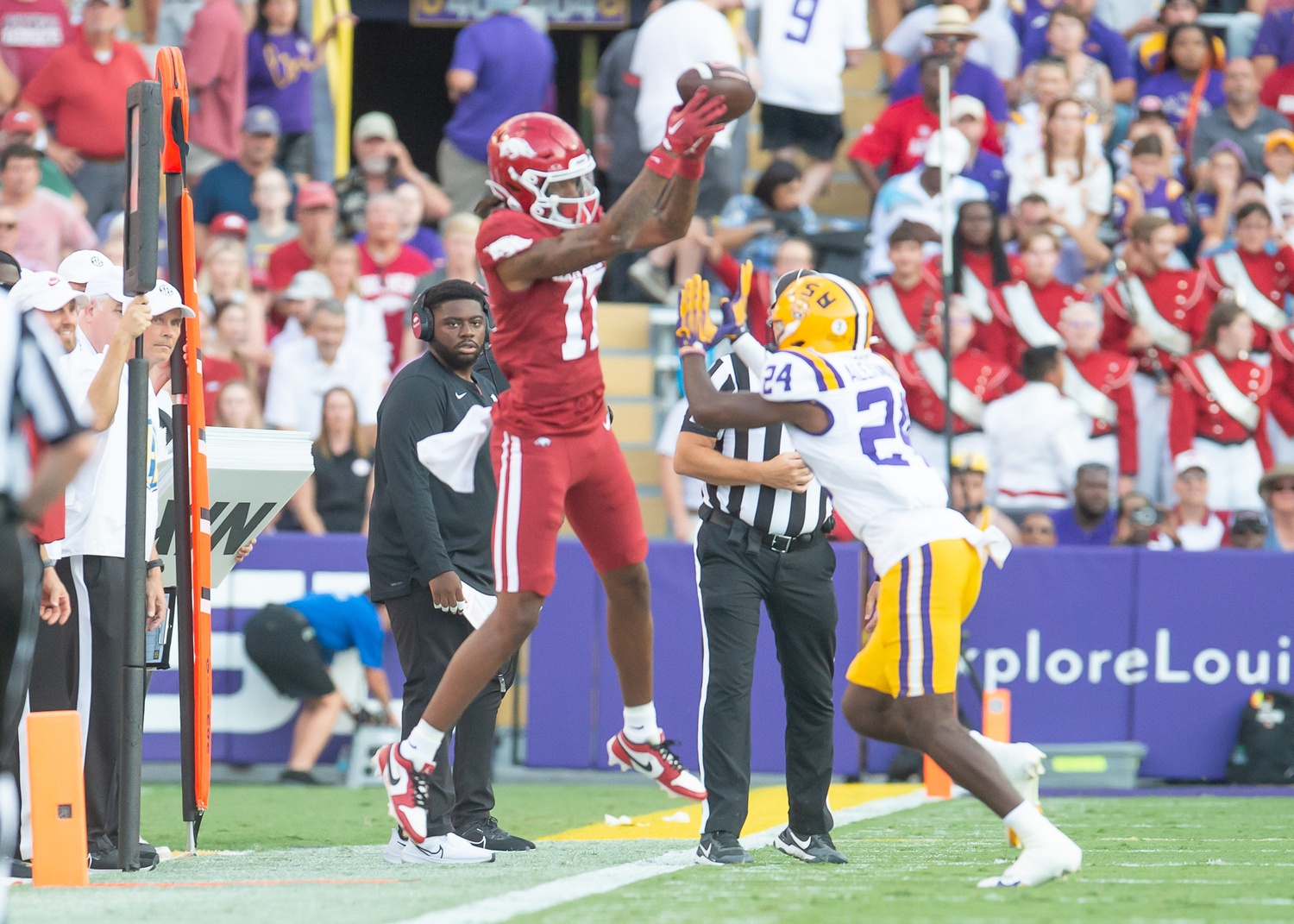 Don't play a drinking game where a shot is taken for every Malik Nabers touchdown. You will need medical attention. Nabers now has 523 yards and five scores on 32 catches this year, and against Arkansas, he put up eight catches for 130 yards and two scores.
Nabers is simply unfair on slot fades with his lateral twitch, explosiveness, control, and ball-tracking ability.
He's a rare separator who also has the physicality to create small creases and opportunities on the off chance he is contested. Right now, it's Coleman and Nabers clashing for the WR2 spot, along with Emeka Egbuka.
LSU wide receiver Brian Thomas is a smooth athlete at 6'4", 205, showcasing an impressive sink and acute angle capacity, as well as having the burst to stack and ball tracking.
Bradyn Swinson – formerly a highly-touted recruit at Oregon – had a nice pressure on a bull-rip late in the game and generated consistent power with his length and burst.
Georgia Tech vs. Wake Forest
I'm big on the Wake Forest defense, but the star of this matchup was on the Georgia Tech roster. Redshirt junior edge rusher Kyle Kennard put up four sacks in a dominant showing as his Yellow Jackets secured a crucial ACC victory. At 6'5", 238 pounds, Kennard has stellar length and power capacity – which was ultimately the driving force in his breakout showing. He's a sleeper to watch in the 2024 NFL Draft EDGE class.
Michigan vs. Rutgers
Rutgers never had much of a chance against Michigan, as they could not attain control of the game. But there were a few standouts on defense – chief among them linebacker Tyreem Howell. At 6'5", 225 pounds, with a near-elite explosive profile, Howell entered the season as one of the highest-upside sleepers in the 2024 LB class. And he's starting to track up the board.
Against Michigan, Howell had eight tackles, a third-down sack through the A-gap, and a pass deflection. He's a dangerous blitzer with his range and flexibility, and in coverage, he has the speed and reach to drape seam threats. Projected versatility can be a dangerous promise, as some prospects are masters of none. But Howell's brand of versatility feels truly safe to bank on at the next level.
Texas A&M vs. Auburn
Tyreek Chappell is known for his ultra-consistent coverage ability, but one of his most flashy plays on Saturday came in run support. Unfortunately, the initial outcome – a scoop-and-score – was called back and later ruled an incomplete forward pass.
But Chappell used his quick recognition ability to close instantly on a toss play. He cut off the front side of the play, demolished the lead block, and wedged the ball loose with a hard hit. Chappell is a fluid cover man with great speed and instincts, but he showed off his support chops in Saturday's win against Auburn.
NC State vs. Virginia
Virginia's offense isn't one to write home about, but there is a WR sleeper to watch in senior Malik Washington. Washington, who transferred over from Northwestern, had 10 catches for 170 yards and two scores against NC State on Friday.
At around 5'9", 190 pounds, Washington is a nuanced separator who quietly has good frame density and contact balance after the catch for his size. He's on track for a career year, with 28 catches for 459 yards and three scores through four weeks.
SMU vs. TCU
Horned Frogs linebacker Jamoi Hodge is an absolute homing missile in the box. He's not the most fluid athlete, but he can be a devastating opposing force for runners trying to get outside when he has space to accelerate and attack.
On a crucial fourth-down play against SMU, Hodge seared through the A-gap and swallowed up the ball carrier for a big-time stop. He had 1.5 tackles for loss in this game, upping his season total to four. The attacking role could suit him well in the NFL.
Tight end Jared Wiley continues to produce in a niche role for the Horned Frogs on offense. Against SMU, he had five catches for 37 yards and two scores, including a touchdown where he lined up in the slot and then used his gliding burst to find separation over the middle. At 6'7", 255 pounds, Wiley is a very competent red zone threat who can box out defenders, but his athleticism is also a quiet strength.
If you're a fan of the sawed-off defensive lineman mold, SMU's Elijah Chatman continues to generate some appeal. SMU often played from behind in Week 4, so Chatman couldn't pin his ears back as a pass-rusher. But he did show off his torrid closing speed at 6'0", 272 pounds on a tackle for loss early in the game.
Marshall vs. Virginia Tech
Marshall RB Rasheen Ali rumbled for 174 yards and two touchdowns on 27 carries during Saturday's win over Virginia Tech. At 6'0", 209 pounds, Ali has the vision, quick feet, and prying strength to navigate through congestion, but it was his speed on Saturday that helped him expand and maximize some of his big-play opportunities.
Mah Abraham had seven interceptions and 24 pass deflections across the 2021 and 2022 campaigns, and early in 2023, the Marshall defensive back isn't missing a beat with his ball production. He smothered Virginia Tech's passing attack all day in Week 4, notching three pass deflections en route to a victory. Abraham's combination of ball skills and playmaking instinct is very translatable, and he's also a smooth athlete with good length.
Western Kentucky vs. Troy
The Hilltoppers might've lost, but Malachi Corley had another strong outing, registering nine catches for 107 yards and a touchdown.
The 5'10", 210-pound receiver has an enthralling mix of speed, explosiveness, and contact balance, which makes him a deadly threat to defenses on short RAC throws and designed touches. He's tailor-made for the modern game, and he only strengthens his early-round argument as he produces.
Kent State vs. Fresno State
Fresno State wideout Erik Brooks had a relatively quiet night versus Kent State. But, he's the tone setter of this Bulldogs wide receiving group post-Jalen Moreno-Cropper. Despite his size, Brooks is a fundamentally sound route runner but is most dangerous when he draws a safety — proven by his long touchdown in the Kent State game.
MORE: FREE Mock Draft Simulator With Trades
He's also improved his awareness and focus on sideline catches. His size will, unfortunately, draw skeptics, but he's a workaholic wideout who began as a walk-on and now is a leader of the 4-0 Bulldogs. – Lorenzo Reyna
Listen to the PFN Scouting Podcast
List to the PFN Scouting Podcast! Click the embedded player below to listen, or you can find the PFN Scouting Podcast on iTunes, Spotify, and all major podcast platforms.  Be sure to subscribe and leave us a five-star review! Rather watch instead? Check out the PFN Scouting Podcast on our Scouting YouTube channel.
Jalen Hurts Player Props, Betting Lines, Odds, and Picks for Eagles vs. Buccaneers
Philadelphia Eagles QB Jalen Hurts had an excellent performance in Week 2, but can he do that tonight against a Bucs team that has allowed just 17 points in each of their first two games? Let's take a look at the player props for Hurts in this matchup.
Our Betting Lines page has the freshest lines and promos to get BANG for your buck. PFN's FREE Parlay Calculator and Betting Odds Calculator are also available for your betting process! New to sports betting? Check out our guide on How to Bet on the NFL. Visit our Sports Betting Legal Tracker on how to bet legally in the U.S.
Jalen Hurts Week 3 Player Props
All odds from DraftKings Sportsbook.
Passing Yards: 237.5 (Over -115/Under -115)
Pass Touchdowns: 1.5 (Over +105/Under -135)
Pass Completions: 20.5 (Over -120/Under -110)
Pass Attempts: 30.5 (Over -135/Under +105)
Interceptions: 0.5 (Over +150/Under -195)
Longest Completion: 38.5 (Over -110/Under -120)
Longest Rush: 13.5 (Over -105/Under -125)
Rushing Yards: 44.5 (Over -115/Under -115)
Rush Attempts: 9.5 (Over -120/Under -110)
Pass/Rush Yards: 286.5 (Over -115/Under -115)
Anytime Touchdown Scorer: -105
First Touchdown Scorer: +650
Hurts Betting Trends and Stats
The Eagles are 19-1 in their last 20 games with Hurts as the starting quarterback.
Hurts Best Bet
Hurts looked much sharper in last week's win over the Minnesota Vikings than he did in his season opener. He completed nearly 80% of his throws and completed 18 of his 23 attempts (78.3%). He also added two touchdown runs in yet another display of his dual-threat capabilities.
Now he heads to primetime, where he has been spectacular. In his last six primetime games, Hurts is averaging 263.2 passing yards per game, which is a big reason why the Eagles are 5-1 in those games.
The Buccaneers defense has put up some solid numbers in their 2-0 start, especially last week, when they allowed just 236 total yards in their win over the Bears. However, there is a big difference between defending the Bears' offense under QB Justin Fields and defending an Eagles offense led by Hurts.
Tampa Bay likes to blitz, doing so on 39% of opposing dropbacks this season, which is the fifth-highest rate in the NFL. The problem for the Bucs is that Hurts has been excellent against the blitz this season. He is 12-for-18 passing against it, throwing for 187 yards and posting a passer rating of 119.4.
MORE: NFL Week 4 Betting Lines
So, while he has yet to throw for 200 yards in a game this year, I'm banking on Week 3 being when Hurts has his best throwing game of the season to date.
Jalen Hurt's Best Bet: Over 237.5 passing yards (-115 at DraftKings)
Listen to the PFN Betting Podcast
Listen to the PFN Betting Podcast! Click the embedded player below to listen, or you can find the PFN Betting Podcast on iTunes, Spotify, and all major podcast platforms. Be sure to subscribe and leave us a five-star review!
A.J. Brown Player Props, Betting Lines, Odds, and Picks for Eagles vs. Buccaneers
Philadelphia Eagles WR A.J. Brown is coming off one of his worst games since joining the team two seasons ago. So, is a bounce-back game inevitable? Let's take a look at Brown's player props for this week and see where the value lies.
Our Betting Lines page has the freshest lines and promos to get BANG for your buck. PFN's FREE Parlay Calculator and Betting Odds Calculator are also available for your betting process! New to sports betting? Check out our guide on How to Bet on the NFL. Visit our Sports Betting Legal Tracker on how to bet legally in the U.S.
A.J. Brown Week 3 Player Props
All odds from DraftKings Sportsbook.
Receiving Yards: 66.5 (Over -115/Under -115)
Receptions: 4.5 (Over -145/Under +114)
Longest Reception: 25.5 (Over -110/Under -120)
Rush/Rec. Yards: 66.5 (Over -115/Under -115)
Anytime Touchdown Scorer: +135
First Touchdown Scorer: +800
Brown Betting Trends and Stats
Brown's 29 receiving yards last week were his second-fewest since joining the Eagles in 2022 — he had seven yards in Week 10 last season.
Brown Best Bet
Brown has been targeted plenty of times this season — he currently has a team-leading 16 — and his 11 receptions ties with DeVonta Smith for the most on the team. Still, Brown hasn't come close to being the deep threat he was last season.
After ranking fourth in the NFL in yards per reception last season with 17.0, Brown is averaging less than 10 yards a catch through the first two games of this season (9.8). He's also waiting to pick up his first TD reception of the season after tying his career high with 11 touchdowns last season.
So, is Brown struggling, or is he ready to have a breakout game? Recent history says to expect good numbers for Brown this week.
Last season, he was held under 50 receiving yards three times. Each time, he bounced back to have at least 60 receiving yards the next game, including a Week 13 effort against the Titans, when Brown had 119 receiving yards and a pair of TD catches — a week after being held to 46 yards receiving.
There is also this: Brown has played in nine road games since joining the Eagles, and he has finished with 70 or more receiving yards six times, including 79 yards in this year's season opener.
MORE: NFL Week 4 Betting Lines
At the end of the day, Brown is much closer to a 70-yard-per-game receiver than a 30-yard-per-game receiver, and that is what I'm expecting tonight.
A.J. Brown's Best Bet: Over 66.5 receiving yards (-115 at DraftKings)
Listen to the PFN Betting Podcast
Listen to the PFN Betting Podcast! Click the embedded player below to listen, or you can find the PFN Betting Podcast on iTunes, Spotify, and all major podcast platforms. Be sure to subscribe and leave us a five-star review!