Ranking Olumuyiwa Fashanu, Joe Alt, and Others
As we enter the 2024 NFL Draft cycle, who are the top 10 OTs in the class? These OT position rankings provide an early glimpse into a group that has the top-end talent to allure evaluators and onlookers alike. The value of a blue-chip tackle can be indescribable for an offense, and the 2024 group might have several in that tier.
Ranking the OTs in the 2024 NFL Draft
The 2023 NFL Draft provided a formidable group of tackle prospects, with Paris Johnson Jr., Anton Harrison, Darnell Wright, Broderick Jones, and Dawand Jones leading the way. It's a lot for the 2024 NFL Draft OT class to match up to, but early on, the incoming class just might have the goods. Returning stars, up-and-comers, breakout candidates — this class has it all.
Some prospects in the 2024 conversation may ultimately return for the 2025 NFL Draft cycle, and some may end up moving to guard. It's far too early to have a concrete view of the talent present. But at this point, we've seen enough to know for a fact that the talent is there.
10) Javon Foster, Missouri
Entering his sixth year, Javon Foster has been a mainstay for the Missouri Tigers at left tackle. He's started all 13 games on the blindside the past two seasons, and last year, as a redshirt senior, he fielded some all-star game interest before deciding to return. He'll be a slightly older prospect, but he has the physical traits to win over evaluators.
MORE: FREE NFL Mock Draft Simulator With Trades!
Foster has great size at 6'5″, 319 pounds, and he also has arms over 34″ long. He perfectly fits the prototype of what a tackle should look like. Even after two years as a starter, there are still ways he can refine his game. He can be quicker off the snap and more controlled at contact. But when he properly channels it, his power capacity can be eye-catching.
9) Roger Rosengarten, Washington
Being a redshirt sophomore, Roger Rosengarten has more room for growth than most of the prospects on this list. But that's just as much a cause for excitement as it is a cause for concern. He needs to get stronger and keep refining his technique, but the 6'6″, 303-pound blocker has NFL potential that's easy to see. 2023 could be a big year for him.
Rosengarten is a leaner athlete at the position, but he shows off surprising strength for his size when sealing the edge in the run game. The ground phase is where he shines with his assignment-sound style and light feet in space. In pass protection, responding to stunts can be an issue, as can leverage management. Nevertheless, the upside is there.
8) LaDarius Henderson, Michigan
The Michigan Wolverines won the Joe Moore Award in back-to-back years. It goes without saying that, if you're looking to hone your skills as an offensive lineman, there are few better places to be than Ann Arbor. Arizona State's LaDarius Henderson transferred to Michigan, where he'll look to solidify his early-round upside.
Henderson spent the 2021 and 2022 seasons at guard, but he'll shift to tackle at Michigan in 2023 — a position he hasn't started at since 2019. That said, Henderson has the tools and build to thrive there. He's 6'4″, 310 pounds, with 35″ vines for arms, and he's an incredibly explosive athlete with devastating power capacity at the contact point.
7) Blake Fisher, Notre Dame
Joe Alt gets most of the hype when talking about Notre Dame offensive tackles, but across from him in the right tackle spot, Blake Fisher is also a 2024 NFL Draft prospect worthy of discussion. Fisher arguably has more to clean up technically, and he's also not quite the same athlete. But he does have promising potential with his blend of traits.
At 6'6″, 310 pounds, with arms likely over 33″ long, Fisher has an NFL frame, within which he stores impressive power on full extensions. He's a little high-cut, which can be a source of stiffness on transitions at times. But overall, Fisher is quick out of his stance, violent at the point of attack, and very strong when latching onto opponents.
6) Kingsley Suamataia, BYU
The BYU Cougars produced a highly-regarded offensive tackle prospect in the 2023 NFL Draft with Blake Freeland. In the 2024 NFL Draft cycle, they could be represented again with Kingsley Suamataia. A former four-star recruit who transferred from Oregon, Suamataia can be one of the 2024 class' better natural right tackle prospects.
MORE: 2024 NFL Draft Prospect Watchlist
At 6'6″, 315 pounds, Suamataia has a wide and dense frame, and he's a stellar athlete with quick acceleration off the line. His footwork and hand usage both stand to improve in 2023, and he can get drawn off-balance at contact with his tendency to lurch. But he's exceedingly powerful, with the torque to ruthlessly seal out opponents in both phases.
5) Graham Barton, Duke
Coming off a first-team All-ACC campaign in 2022, Graham Barton is one of the 2024 NFL Draft offensive tackle prospects with early buzz. He heads into 2023 as a prime candidate to rise and potentially secure early-round capital if he can sustain his high level of play. With Duke trending up as a program, eyes will assuredly be on Barton.
At 6'5″, 309, Barton is lean and athletic, with great mobility and range in space. That same mobility allows him to recover easily in pass protection, and he has enough anchor strength to prevent rushers from breaching the pocket. He doesn't have elite length, which may become a talking point just as it did for Peter Skoronski, but he's a quality player.
4) Jordan Morgan, Arizona
Jordan Morgan had his eyes on the 2023 NFL Draft, and he could have been a fairly high pick. He's 6'6″, 320 pounds, a high-energy athlete, and was a first-team All-Pac-12 performer. But a torn ACL suffered in mid-November delayed Morgan's professional track. He now returns to the Wildcats in 2023, hoping to gain ground on the path to the NFL.
The biggest question with Morgan is whether or not he can get back to 100%. If he can, he's a surefire candidate to fill the gap behind the top three tackles. Morgan is a fleet-footed, synergetic pass blocker with a rare mix of size and mobility. He can process stunts, keep his hands tight, and cover expansive gaps quickly with his recovery athleticism.
3) Joe Alt, Notre Dame
Most preseason watch lists have Notre Dame's Joe Alt near the top of the composite big board. Forget positional victories — Alt is already viewed as a potential blue-chip talent in the entire 2024 NFL Draft class. Is the hype warranted? There's still room for him to keep refining his technique, but Alt's raw talent is absolutely as advertised.
Interestingly, at 6'8″, 315 pounds, size isn't even his top selling point. Rather, it's what Alt can do at that size. He's an explosive, light-footed athlete — far from a surprise given his past as a former TE. But beyond that, he's absurdly flexible, both in recovery and when flexing to increase his blocking range and wall off rushers. His malleability is a stifling failsafe for defenders.
2) JC Latham, Alabama
There's a clear top three separated at the pinnacle of the 2024 NFL Draft OT class, but you might be surprised to see JC Latham above Alt on these rankings. Of the two, Alt is the consensus favorite early on, and there are reasons to have him higher. But Latham is arguably more powerful, more disruptive, and has a more all-encompassing skill set.
Latham is two inches shorter at 6'6″, 335 pounds, but he might have longer arms, and he carries noticeably superior knockback power and torque within his frame. He explodes off the line as a run blocker and is surprisingly balanced and disciplined as a pass protector, showing patience, foot speed, and well-timed hands when matching rushers to the apex.
Who Is the Best OT in the 2024 NFL Draft?
The race for the 2024 NFL Draft OT1 title is a close one, and it should remain that way all throughout the cycle. But as it stands, the current OT1 of the 2024 group is a prospect who would have carried that moniker in the 2023 NFL Draft had he declared. That prospect is Penn State OT Olumuyiwa Fashanu — one of college football's best.
1) Olumuyiwa Fashanu, Penn State
It was the end of the 2021 season, and Penn State's starting left tackle Rasheed Walker was out for the team's bowl game against Arkansas. In stepped a redshirt freshman by the name of Olumuyiwa Fashanu. He played well in that game, and it would come to be a sign of his impact and ascension in 2022.
Fashanu hit the ground running as the Nittany Lions' full-time starter on the blind side, providing dominant performances week in and week out against some of the best college football had to offer. Derick Hall, J.T. Tuimoloau, and Zach Harrison all struggled to get consistent disruption against Fashanu.
MORE: Top iOL in the 2024 NFL Draft
That's the story of Fashanu's career so far. He's only just arrived, and he's already a dominating spectacle on the left side. What's even more impressive is how sound his game is entering his redshirt junior season. He's already an incredibly composed and controlled pass protector with a strong inside hand. He can use independent punches, swivel his hips to recover, and recognize stunts.
And beneath all this age-defying refinement, Fashanu has high-end tools as well. He's an energetic athlete out of his stance at 6'6″, 321 pounds. He has exceptional length, strength, and power capacity, and he also has the flexibility to absorb power rushes within his frame. He's a blue-chip tackle prospect who'll be extremely coveted in April.
Honorable Mentions
Sataoa Laumea, Utah
Walter Rouse, Oklahoma
Robert Scott Jr., Florida State
Patrick Paul, Houston
Delmar Glaze, Maryland
Marques Cox, Kentucky
Zion Nelson, Miami (FL)
Micah Pettus, Ole Miss
Marcellus Johnson, Missouri
Andrew Coker, TCU
Will Jimmy Garoppolo Get The Win in His Home Debut in Las Vegas?
For Sunday Night Football this week, we have the Pittsburgh Steelers vs. the Las Vegas Raiders. The favorite for Steelers vs. Raiders flipped in the middle of the week, as Las Vegas is now a 2.5-point favorite after they opened as 1.5-point underdogs.
Both of these teams have struggled on offense through the first two weeks of the season, as they each rank in the bottom three in yards per game. After a really impressive preseason, Steelers quarterback Kenny Pickett has struggled so far this season, with his 19.9 QBR being the lowest in the NFL.
Meanwhile, for the Raiders, Josh Jacobs is hoping to get back on track after rushing for negative yards last week.
For the Steelers, this will be their first road game of the season. Yet, it will be the Raiders' home debut and Jimmy Garoppolo's first regular-season game playing in front of the Las Vegas crowd.
In a matchup of two 1-1 teams, which will improve to be above .500 through the first three weeks of the season? Our team of betting experts gives out their Steelers vs. Raiders predictions and picks against the spread, point total, player props, and more.
Our Betting Lines page has the freshest lines and promos to get BANG for your buck. PFN's FREE Parlay Calculator and Betting Odds Calculator are also available for your betting process! New to sports betting? Check out our guide on How to Bet on the NFL. Visit our Sports Betting Legal Tracker on how to bet legally in the U.S.
Steelers vs. Raiders Betting Lines, Start Time, and More
All odds are from DraftKings Sportsbook unless stated otherwise.
Pittsburgh Steelers vs. Las Vegas Raiders Prediction
Spread
Raiders -2.5
Moneyline
Steelers +120, Raiders -142
Total
43
Game Time
8:20 p.m. EST
Location
Allegiant Stadium
How To Watch
NBC, Peacock
Bearman: People can say it was "Steelers football" or "Steelers DNA" or whatever they want for Monday night's win over the Cleveland Browns, but I saw it as Deshaun Watson handing them the game and Pittsburgh getting bailed out.
MORE: Week 3 NFL Betting Predictions 
The Steelers offense did next to nothing, with a total of 255 yards, 71 of which came on their lone offensive scoring play. Play like that again tonight, and it'll be all Las Vegas.
The Raiders looked good in their Week 1 win in Denver but then walked into the Buffalo Bills hangover buzzsaw. I like them here.
Pick: Raiders -2.5 (-115 at FanDuel)
Blewis: Pittsburgh needed two defensive touchdowns to beat Cleveland last week. After the Steelers' starting offense scored a touchdown on every drive in the preseason, the narrative has completely flipped. So far this season, they're only averaging 247 yards per game.
Josh Jacobs should have a bounce-back game against a Steelers run defense without Cam Heyward, allowing the Raiders to play ball-control football.
I got the under while it was at 43.5, but I would still play it at this number. Keep fading the Steelers offense while you can, especially when they're due for regression in turnover luck.
Pick: Under 43 (-110 at FanDuel)
Soppe: We saw the Steelers play without Diontae Johnson for the first time on Monday night, and the result was 34.5% of the targets going to George Pickens. No real surprise there, but it was good to see and is something I'm happy to back against a Raiders defense that has allowed opponents to complete 81.7% of their passes this season.
The explosive second-year receiver averages 15.8 yards per catch for his career, and now we get a chance to marry that per catch upside with a strong target expectation against a porous secondary. What am I missing?
Pick: George Pickens over 51.5 receiving yards (-115 at DraftKings)
Katz: I know I want to fade Pat Freiermuth, who is a complete afterthought in the Steelers offense. I couldn't decide how. So, I decided to split the bet.
This is a single-unit fade on Freiermuth in the form of two bets. So far, Freiermuth has exactly two catches for five yards on the season. His usage has been erratic, playing 50% of the snaps in Week 1 and 75% of the snaps in Week 2 (although a big hit to the chest may be to blame for Week 1).
MORE: NFL Week 3 Survivor Picks
In Week 1, Freiermuth saw four targets. In Week 2, despite playing more and running two more routes, he saw just one target.
Simply put, Kenny Pickett's first read is almost never the Muth. So, my read is to fade him.
Picks: Pat Freiermuth under 32.5 receiving yards (-113 at Caesars) and under 3.5 receptions (-131 at Caesars)
Katz: I am not quite sure why Jimmy Garoppolo's passing yardage line is so high. He's thrown for 185 and 200 yards in each of his first two games. One was a narrow win. The other was a blowout loss. Regardless of the game script, Garoppolo isn't airing it out.
Now, his line is set 40 yards higher than his best game so far. It's a bit confusing. The under just seems so obvious. Perhaps I'm falling into a trap, but I have to recommend it.
Pick: Jimmy Garoppolo under 240.5 passing yards (-115 at BetMGM)
Listen to the PFN Betting Podcast
Listen to the PFN Betting Podcast! Click the embedded player below to listen, or you can find the PFN Betting Podcast on iTunes, Spotify, and all major podcast platforms. Be sure to subscribe and leave us a five-star review!
Target Kirk Cousins, George Pickens, and Mike Williams
We officially have two games of the 2023 NFL season in the books. Now that we have more data and game film to analyze, there are some player prop lines to take advantage of on SuperDraft heading into Week 3 of the NFL season.
Looking to make a trade in your fantasy league? Having trouble deciding who to start and who to sit? Check out PFN's Free Fantasy Football Trade Analyzer and Start/Sit Optimizer to help you make the right decision!
Top SuperDraft Player Prop Picks for Week 3 of NFL Action
If you have never heard of SuperDraft, you shouldn't miss out on this promo opportunity between SuperDraft and PFN. If Justin Jefferson gets one receiving yard in Week 3, you win.
Sign up for SuperDraft to redeem this Jefferson play and receive a $20 bonus with your first deposit when you use promo code PFN. Play this new game today!
Kirk Cousins, QB, Minnesota Vikings | 24.5 Passing Completions
The Minnesota Vikings have been one of the pass-heavier teams through the first two weeks of the NFL season.
Kirk Cousins has thrown the ball 44 times in both weeks to start the 2023 NFL season. The Vikings' defense has another tough matchup against quarterback Justin Herbert and the high-powered Los Angeles Chargers passing offense in Week 3, which could lead to Cousins throwing the ball early and often in a potentially high-scoring affair.
One big reason the Vikings have been forced to throw the ball so much to start the season is the complete absence of a running game in 2023.
The Vikings rank dead last in the league with just 69 yards rushing with a brutal 2.7 yards per carry through the first two games of the year.
In addition to throwing the ball 44 times a game, he has managed to complete a minimum of 31 passes a game in both contests this season.
The line being set at 24.5 feels criminal if this turns into another high-scoring affair for the Vikings.
The Chargers defense gave up 466 yards through the air to quarterback Tua Tagavailoa in the season opener. If the Vikings are forced to air it out again in Week 3, it could be another big week for Cousins.
Pick: Over
George Pickens, WR, Pittsburgh Steelers | 51.5 Receiving Yards
The Pittsburgh Steelers offense hasn't looked all that good through the first two weeks of the season, but one bright spot has been second-year wide receiver George Pickens.
PICKETT TO PICKENS. 71-YARD TD.

📺: #CLEvsPIT on ABC
📱: Stream on #NFLPlus https://t.co/zWM8hlwdPY pic.twitter.com/jZJCBAqd81

— NFL (@NFL) September 19, 2023
Pickens managed to do something that Ja'Marr Chase and Tee Higgins failed to accomplish against the Cleveland Browns defense in Week 1… Go for 100 yards receiving and find the end zone.
Pickens saw a career-high 10 targets and produced a career-best 127 receiving yards on four receptions on Monday Night Football.
MORE: Week 3 Fantasy Football Cheat Sheet
Things should get a bit easier against a Las Vegas Raiders secondary that just got torched by the Buffalo Bills.
With Diontae Johnson likely out for Week 3, expect another busy — and productive — day for Pickens against the Raiders.
Pick: Over
DJ Moore, WR, Chicago Bears | 42.5 Receiving Yards
It is unusual to see a player who just went for 104 receiving yards last week see his weekly yardage prop line total drop below 43 yards.
However, that is the prop life of a Chicago Bears pass catcher to start the 2023 NFL season.
The Bears passing offense has been most underwhelming this year, even with Moore showcasing his big play ability against the Tampa Bay Buccaneers in Week 2.
Fields and DJ Moore making things happen on the @ChicagoBears' first drive ‼️

📺: #CHIvsTB on FOX⁰📱: Stream on #NFLPlus https://t.co/FhXtx7w3wW pic.twitter.com/Q7jQgXujHU

— NFL (@NFL) September 17, 2023
While I acknowledge that the Bears' passing hasn't looked great, does anyone believe that the Bears won't be trailing for most of this contest?
The defending Super Bowl champion Kansas City Chiefs have posted back-to-back subpar offensive outings for their standards. Most expect reigning MVP Patrick Mahomes to find plenty of success against this Bears defense.
MORE: Fantasy Week 3 WR Start/Sit
Do you know what that tells me? The Bears are expected to throw the ball quite a bit in this contest. Moore should see plenty of looks with a favorable game script to help him hit the over on his yardage mark for a second straight week.
Pick: Over
Mike Williams, WR, Los Angeles Chargers | 61.5 Receiving Yards
Pop quiz.
Who led the Los Angeles Chargers in targets in Week 2?
If you answered Mike Williams, you are correct.
Williams saw 13 targets against the Tennessee Titans and generated eight receptions for 83 yards on those looks.
Unfortunately for fantasy managers, his fellow starting wide receiver — Keenan Allen, caught eight balls for 111 yards and two scores.
The fact that both players were so heavily involved in the passing attack with Austin Ekeler out of the lineup bodes very well for them heading into their matchup against the suspect Minnesota Vikings secondary.
If Ekeler is unable to go for a second consecutive week, I think Williams has himself another quality outing in what could turn into a shootout.
Pick: Over
Listen to the PFN Fantasy Podcast
Listen to the PFN Fantasy Podcast! Click the embedded player below to listen, or you can find the PFN Fantasy Podcast on iTunes, Spotify, and all major podcast platforms.  Be sure to subscribe and leave us a five-star review! Rather watch instead? Check out the PFN Fantasy Podcast on our Fantasy YouTube channel.
Kyle Yates' Top Options Include Justin Fields, Alexander Mattison, and Others
The NFL season keeps rolling and fantasy football managers have a lot to sort through with all of the injury news that came out this week. What does that all mean for our starting lineups and who should you be looking to start/sit as a result?
Looking to make a trade in your fantasy league? Having trouble deciding who to start and who to sit? Check out PFN's Free Fantasy Football Trade Analyzer and Start/Sit Optimizer to help you make the right decision!
Top RBs To Start in Week 3
Kyren Williams, RB, Los Angeles Rams
Kyren Williams has been fantastic up to this point of the season. He's emerged out of nowhere to be a viable fantasy starter and someone who is now deserving of consideration as a top-10 option week in and week out.
If you've got Williams on your roster, he's a lock for your starting lineup until further notice.
Alexander Mattison, RB, Minnesota Vikings
Alexander Mattison is a start this week?! Absolutely. Despite not doing much in the stats column over the first two weeks of the season, Mattison is in a prime spot to smash expectations in Week 3.
Cam Akers is likely going to be inactive this week for the Vikings, which means that Mattison will still have this backfield to himself. Additionally, this matchup against the Chargers' run defense is a favorable one in a game that Vegas anticipates to be the highest scoring the entire weekend!
It's not a start that makes you feel super great, but it needs to be made. He's at RB14 on the week for me going into Sunday.
Jerome Ford, RB, Cleveland Browns
Jerome Ford was the hot waiver wire add going into this week, but he draws a tough matchup in Week 3 against the Tennessee Titans. Ford's still worth starting as a low-end RB2 due to the volume that he'll most likely see, but we also shouldn't be holding out hope that he'll be a top-10 option for fantasy lineups.
Top RBs To Sit in Week 3
Breece Hall, RB, New York Jets
I love Breece Hall's talent. He's an incredibly dynamic RB who can win you your fantasy matchup with one big play. However, this offense in New York is barely hanging on after Aaron Rodgers tore his Achilles and Zach Wilson took over.
MORE: PFN Consensus Rankings
There's simply no guarantee for what type of volume Hall will see this week against the New England Patriots, which is a historically stout defense. He can be viewed as a high-end RB3 at best in Week 3.
Dameon Pierce, RB, Houston Texans
I loved Dameon Pierce coming into the year, but things have not exactly gone his way with the offensive line issues in Houston.
At this point, he's seeing the volume, but he has no room to run. He's outside my top 24 RBs on the week.
Top WRs To Start in Week 3
Puka Nacua, WR, Los Angeles Rams
It's simply ridiculous how dominant Puka Nacua has been up to this point of the season. Can he keep up this pace?! While that has yet to be determined, he has to be in your starting lineup at this point due to the amount of volume that he's seeing and what he's done through the first two weeks.
Mike Williams, WR, Los Angeles Chargers
There is no reason why Mike Williams should be on your bench going into this matchup. While he has yet to have a big performance through this point of 2023, the volume that he's been seeing is incredibly comforting for fantasy managers moving forward.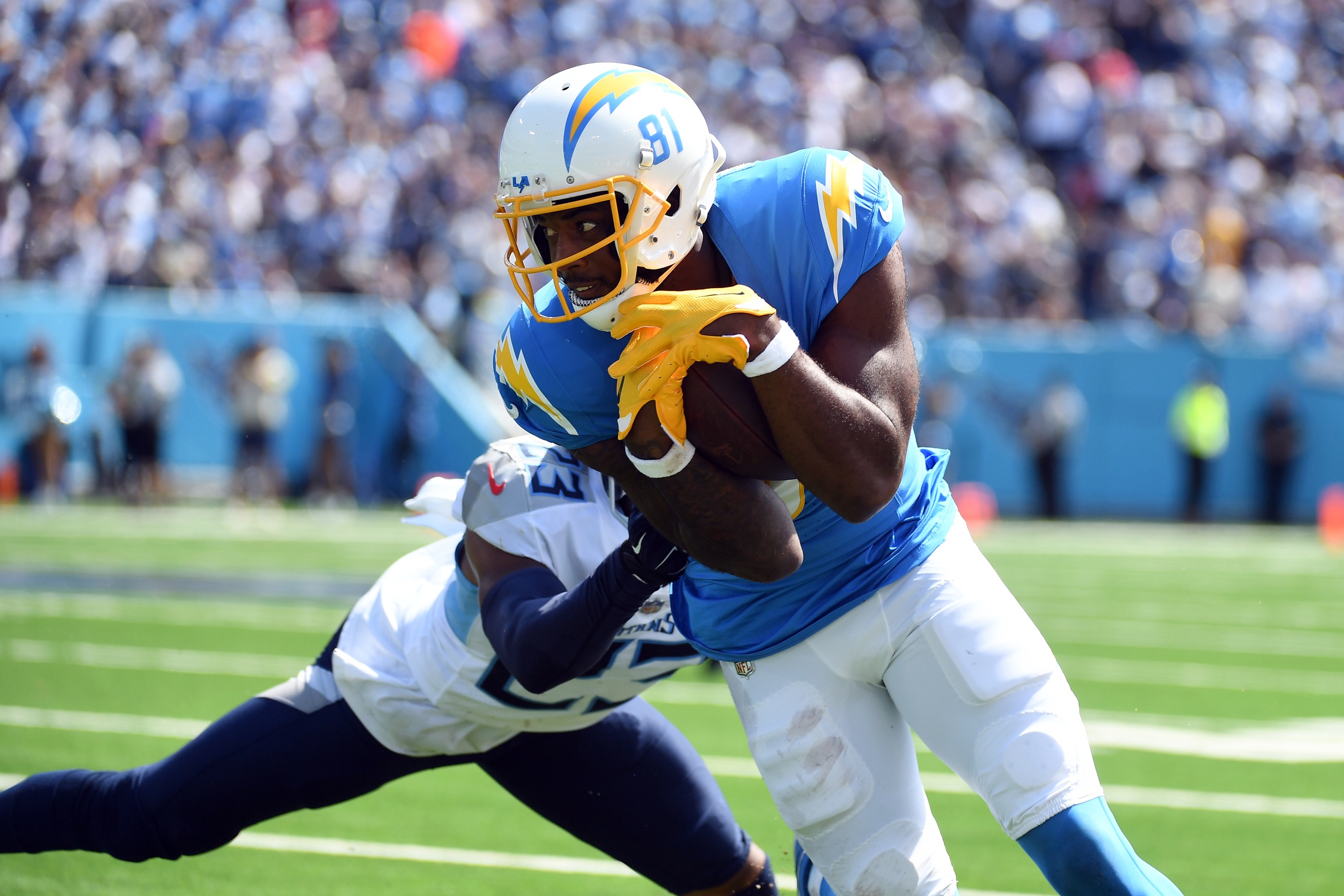 In a matchup against the Minnesota Vikings' defense that has trouble slowing down opposing passing attacks, plus a high projected team implied-point total, Williams could finish the week as a top-five WR.
Christian Kirk, WR, Jacksonville Jaguars
Christian Kirk was not involved in the game plan for the Jaguars in Week 1, but he re-emerged in full force for Week 2 against the Kansas City Chiefs. Now, the Jaguars get a plus matchup against the Houston Texans and Zay Jones will be inactive for this one.
If you have Kirk on your roster, he belongs in your starting lineups for this one due to the opportunity.
Top WRs To Sit in Week 3
Garrett Wilson, WR, New York Jets
Garrett Wilson can take one pass to the house to save his fantasy day. However, we cannot rely on that for fantasy football moving forward. Wilson's a phenomenal talent, but the QB play simply puts him outside of the top 24 WRs on the week in a tough matchup against the New England Patriots.
Drake London, WR, Atlanta Falcons
Drake London was able to bounce back for fantasy football in Week 2, but that does not instantly mean that he's back in my starting lineup for Week 3. This is still an incredibly suspect passing game that does not guarantee London any sort of target volume game in and game out.
He's a low-end WR3 for me this week and there are plenty of other options to go after that have a more reliable target volume for your starting lineup.
Top QBs/TEs To Start in Week 3
Justin Fields, QB, Chicago Bears
Start Justin Fields?! In this economy?! It has not been pretty for the third-year QB out of Ohio State in Chicago this season, but we saw a bit of a rough start for the Bears QB in 2022 that then led to him being a valuable fantasy asset the rest of the way.
MORE: Fantasy News Tracker
All eyes will be on this offense in Week 3 and I'm choosing to believe that OC Luke Getsy will choose to lean into Fields' strengths again versus trying to turn him into something he isn't yet again. We should see 10+ rush attempts for Fields this week and that'll lead to a solid fantasy performance.
Let's speak it into existence, friends.
Hunter Henry, TE, New England Patriots
It's shocking to me that more analysts and fantasy managers aren't on board with Hunter Henry as a top-10 option in fantasy lineups this week! He's done nothing but produce in a big way and smash the value of where he was going in fantasy drafts just a couple of weeks ago.
It's a tougher matchup in Week 3, but Henry has enough of a guaranteed role for me to confidently start him here yet again.
Top QBs/TEs To Sit in Week 3
Dak Prescott, QB, Dallas Cowboys
Dak Prescott's been a great NFL QB through the first two weeks of the season. He's captained this offense well enough to vault Dallas up the NFL Power Rankings, but he isn't seeing enough volume to push himself into the top 15 from a fantasy standpoint.
In a game that could quickly get out of hand, which would lead Dallas to hand the ball off for the majority of the second half, Dak may end up finishing outside the top 24 QBs simply because he's not needed at all.
Kyle Pitts, TE, Atlanta Falcons
At this point, Kyle Pitts has to be considering a trade request, right? He has the potential to be the greatest TE in NFL history due to his talent level, but he can't be in that conversation if he's never thrown the ball.
Pitts has now slid outside of the top 12 TEs on the week for me, and he'll remain there as long as Arthur Smith is the head coach of the Atlanta Falcons. I can't trust him.
Listen to the PFN Fantasy Podcast
Listen to the PFN Fantasy Podcast! Click the embedded player below to listen, or you can find the PFN Fantasy Podcast on iTunes, Spotify, and all major podcast platforms.  Be sure to subscribe and leave us a five-star review! Rather watch instead? Check out the PFN Fantasy Podcast on our Fantasy YouTube channel.