Five blockbuster trades that need to happen this offseason
The NFL's offseason madness kicked into high gear more than a week before the start of free agency. But Russell Wilson to the Denver Broncos might just be the first of a slew of blockbuster NFL trades in the coming days and weeks. Here are the five deals that we'd love to see ahead of NFL free agency and the 2022 season.
Update 3/9/22: Less than an hour after this column posted, news broke that the Indianapolis Colts agreed to trade Carson Wentz to the Washington Commanders for draft compensation. The Colts are now in the market for a quarterback, and should consider all options, including Jimmy Garoppolo.
5 Potential NFL Trades: QB Deshaun Watson to Las Vegas Raiders
First, the necessary caveat: The Texans probably cannot deal Deshaun Watson until his many legal issues are resolved. Watson remains the subject of nearly two-dozen active sexual misconduct lawsuits. And Harris County's District Attorney's Office is presenting its criminal evidence against Watson to a grand jury Friday.
Until there's clarity on whether he'll even be allowed to play in 2022, Watson will likely remain with the Texans. But if by chance he's cleared in the coming weeks, the Raiders absolutely should go all-in to get him. Before his legal drama, Watson was one of the five best quarterbacks in the world. Imagine what he could do with Josh McDaniels as his coach.
Watson-to-Raiders trade terms
The Broncos and Seahawks reestablished the trade market for an elite quarterback this week. The Broncos sent two first-round picks, two seconds, a fifth, Drew Lock, Noah Fant, and Shelby Harris to Seattle. Denver got Wilson and a fourth in return.
The Texans should accept nothing less than the Raiders' first-round pick this year (22nd overall), their second this year (53rd), their first next year, and Derek Carr, who will earn just $19.8 million in the final year of his current contract.
Derek Carr to Tampa Bay Buccaneers
But what if Watson isn't cleared? Or if the Texans don't want Carr as part of their compensation? There will still be a market for Carr in 2022. And we can think of no better match than with Bruce Arians and the Tampa Bay Buccaneers, who have a playoff roster at every position but quarterback.
Of course, the Raiders shouldn't deal Carr without a plan at quarterback. And maybe that plan includes bringing back Marcus Mariota and drafting one in the second half of the first round. But the Raiders are not winning a suddenly loaded AFC West this year, with or without Carr. They might as well move on now and get something for him.
Carr-to-Buccaneers trade terms
The Bucs shouldn't give up much of anything unless they can extend Carr through 2023, at the very least. Arians turns 70 during the 2022 season, so the idea he wants to draft and develop a QB at this stage of his career seems unlikely. Assuming the Bucs and Carr can agree on a reasonable extension, the Raiders should demand nothing less than the Bucs' second-round pick (60th overall).
Potential NFL Trades: Jimmy Garoppolo to the Washington Commanders
The San Francisco 49ers will trade Jimmy Garoppolo this offseason. It's a matter of when not if. And even with all of his flaws, Garoppolo was still a top-15 quarterback in 2021, based on almost every major metric.
Sure, there are legitimate questions about whether Garoppolo's success was simply a function of Kyle Shanahan's system. But it's a gamble worth making for Washington, which has an above-average wide receiver group and offensive line. Garoppolo, who is due an affordable $24 million in base salary, is better than Taylor Heinicke.
Garoppolo-to-Commanders trade terms
Barring an (unnecessary) extension, this would be a one-year rental in the nation's capital. That means Garoppolo shouldn't be super expensive to acquire. The pool of teams in need of his services is small, particularly since there's no way the Niners trade Garoppolo to the rival Seahawks. The Niners need cornerback help. They should ask for William Jackson as compensation from the Commanders.
Amari Cooper to the Miami Dolphins
For Miami, this year is all about determining whether Tua Tagovailoa is the guy or not. Mike McDaniel wants to give him the support system that Brian Flores never did. A big part of that is making sure the offense has enough weapons.
Step 1 came Tuesday when the Dolphins placed the franchise tag on Mike Gesicki. Step 2 is finding a top-tier wide receiver to pair with Jaylen Waddle. Chris Grier loves Alabama players, and while he never lived up to the hype in Dallas, Amari Cooper is still a dynamic wideout.
Cooper-to-Dolphins trade terms
Cooper's contract is the biggest impediment to any deal and might ultimately be the reason he's cut rather than traded. He's due $20 million in base salary this year, and that's a big number for any non-quarterback. But NFL Network reports there are teams interested, so long as he agrees to a restructure that spreads that cap hit out over a number of years. The Dolphins, with nearly $50 million in cap space, should offer a third-rounder, assuming such a contract redo occurs.
Potential NFL Trades: Tyler Lockett to the New England Patriots
Some moves just feel right. This is one of them. Bill Belichick loves giving veteran, productive stars a fresh start late in their careers.
To be fair, Tyler Lockett isn't exactly old (he turns 30 in October). But he seems like a Patriots type of player, given his dependability and productivity. Mac Jones needs help to take the next step. Lockett would be an ideal fit.
Lockett-to-Patriots trade terms
Lockett would be a solid value for whatever team acquires him. Presuming his $13 million option bonus would be owed by the team that acquires him, Lockett's total cash liability in 2022 and 2023 would be just $25.7 million — which is more than reasonable for a player of his caliber. The Seahawks are hoarding draft picks for what looks to be a significant rebuild. Adding New England's third (85th overall) and sixth (209th) to their total would be a nice bonus.
Super Bowl Dreams, Fangio's 'Safety-Driven' D, and Tyreek Hill's '[Eff] It' Ability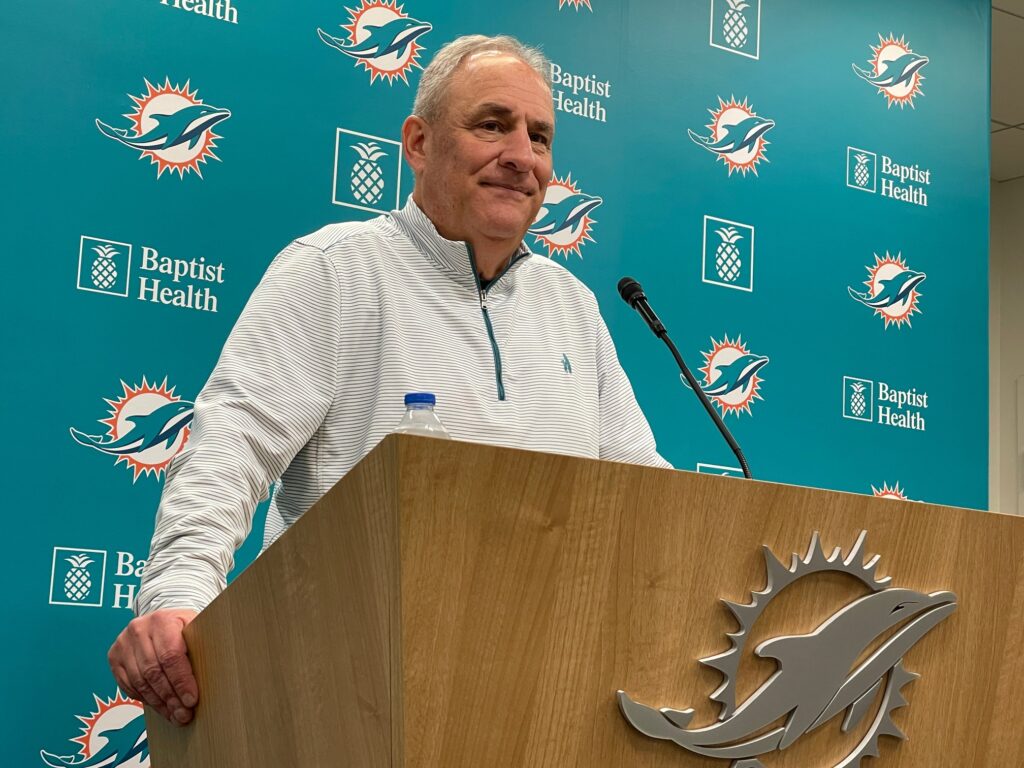 The Miami Dolphins rolled out their top free agent signings Wednesday, making them available to reporters for the first time. The biggest Dolphins news to emerge? The Dolphins are a confident bunch and not afraid to talk Super Bowl.
And after a solid free agency building on a solid nucleus, their confidence isn't misplaced.
Miami Dolphins News: Super Bowl Dreams
The Dolphins were among the winners of 2023 NFL free agency. And yet, they still have just the 10th-shortest Super Bowl championship odds (30-to-1) and are +375 to win the AFC East.
That seems a bit dismissive of what Chris Grier and Mike McDaniel have built. Miami's new players certainly are aiming high.
Tight end Eric Saubert is now part of a seventh organization — meaning he's been in more than 20% of the NFL's locker rooms before his 29th birthday. But never before has he been part of a roster as loaded as the one he agreed to join on a one-year, $1.7 million contract.
MORE: Miami Dolphins Super Bowl Odds
When asked if the Dolphins' galaxy of stars — which includes Tyreek Hill, Jalen Ramsey, Bradley Chubb, Jaylen Waddle, and Tua Tagovailoa — allows Saubert to think Super Bowl, he replied:
"Yeah. Absolutely. That's got to be the goal all the time. If you're not committed to winning the Super Bowl, you've got the wrong mindset. I think it gives you more confidence when you've got such great players around you. It allows you to play better. Whenever you've got a great receiver on the field, a great quarterback on the field, everyone just plays better.
"We've got an awesome roster getting set here, and I'm excited to see how far we can go.. The Super Bowl is the goal. If it's not, you're in the wrong headspace."
Added DeShon Elliott, the safety who joined the Dolphins on a near-identical contract to that of Saubert: "How great can it get? You have the opportunity to win the division, the opportunity to win a lot of games, go to the Super Bowl, possibly."
Miami Dolphins' Vic Fangio Effect
A big part of the optimism in South Florida? The arrival of new defensive coordinator Vic Fangio, who has already put his stamp on the Dolphins' roster. Beyond the Ramsey trade, Miami has given Fangio a familiar pass rusher (Malik Reed) and excellent depth at safety (Elliott).
Elliott said returning Dolphins safeties Brandon Jones (his college teammate and close friend) and Jevon Holland gave him a hint of what to expect with Fangio onboard.
"This is a safety-driven defense," Elliott said he was told. "Safeties on defense can make a lot of plays."
MORE: Miami Dolphins Free Agency Grade
Does that possibly mean playing all three at the same time?
"Vic Fangio is a very intelligent football coach, a very intelligent DC, so I'm sure he has his plans on what he wants to do with us," Elliott said. "I knew I was gonna compete. It's the NFL. We're all going to compete. Nothing is given to you, nothing's gonna be handed to you. So I came here to compete. I know what I bring to the table, and I know how hard I'll work. So the results will show."
Added Reed, who played for Fangio in Denver from 2019 through 2021:
"I feel like he's really about the business and the business of winning. I feel like having success as a defense and really doing a great job on that side of the ball. I feel like with him, you're getting a guy that works extremely hard. You see that throughout our three years together.
"The progress that I feel like we made in year one that I was there in Denver until my last year. I think we were the No. 8 scoring defense then. You just see progression each year, and I feel like that is a testament to the type of coach he is and the type of coordinator he is as well. I feel like you're getting a great guy in him."
DeShon Elliott Is the Ultimate Hype Man
A couple of final thoughts from Elliott, who flashed great trashing-talking potential in his Dolphins media debut.
On facing Tua, Tyreek, and Jaylen every day in practice:
"Practice is gonna be fun, but I think when I was watching the game, a lot of the things they do on tape moves fast, quick, fast. Decisions are already planned out and know where the ball's going to know who's gonna get the ball, and if all else fails, f— it. Tyreek Hill's down there somewhere."
On the Dolphins' trading for Ramsey (and if it played a role in his decision):
"Oh, yeah. C'mon, now. That's arguably the No. 1 corner in the NFL. I don't want to hear anybody talking about, 'Oh, he had a down year.' Check the numbers. Check the tape. It was not a down year. Still an All-Pro. So regardless, I feel like, 'Why would I not go there?'
"Playing with great players makes you great, elevates your game. It's gonna help bring something out of me and the rest of our teammates. So why would I want to go somewhere where you can have opportunity to be great? I mean, money will come. Nobody cares about the money. Yeah, we care about the money, but winning and trying to get the best out of yourself, that should be where your head is at. I think being here's where I can do that."
Who Will Sign Odell Beckham Jr.? Possible Landing Spots for Former Rams Receiver
The first wave of NFL free agency is over, and Odell Beckham Jr. is still on the board. Beckham, who held a workout earlier this month to demonstrate his recovery from the ACL tear he suffered in Super Bowl 56, is the best available receiver in Pro Football Network's free agent rankings. Where are the best landing spots for the veteran pass catcher?
Who Will Sign Odell Beckham Jr. in Free Agency?
Beckham's market hasn't improved since the free agent period began — if anything, it's gotten worse as teams continue to drop out of the running.
The Dallas Cowboys were a rumored destination for Beckham, but they're likely "out of the competition" after acquiring Brandin Cooks from the Texans, according to ESPN's Ed Werder. A reunion between the Giants and Beckham could have been in the works, but New York is no longer interested after signing Parris Campbell.
The Los Angeles Rams, Beckham's most recent team, don't make sense as a suitor, given that they're going through a rebuilding process. And while Aaron Rodgers had Beckham on his New York Jets wishlist, Gang Green agreed to a one-year deal with former Kansas City Chiefs receiver Mecole Hardman on Wednesday.
MORE: Unrestricted NFL Free Agent
There's also the question of OBJ's asking price. Last week, in response to a report that suggested he was looking for $20 million annually, Beckham tweeted that while he didn't understand where that figure came from, "4 [million dollars] AINT enough."
Which teams might be willing to give Beckham the contract he's searching for? Let's run through the top contenders.
Baltimore Ravens
The Baltimore Ravens have their hands full with the Lamar Jackson situation, so it's perhaps no surprise that they've been among the quietest teams in free agency. Aside from assigning Jackson the non-exclusive franchise tag, Baltimore's only move on offense has been to re-sign third-string running back Justice Hill.
Speaking at his year-end press conference, Ravens general manager Eric DeCosta suggested it can be difficult to add wide receiver talent when a team has a "big-ticket item" at quarterback. But plenty of teams with high-end (and highly-paid) signal-callers have built formidable receiving depth charts, even if they had to get creative.
MORE: What is a Restricted Free Agent?
Signing Beckham could be a creative solution for the Ravens, who need a receiver that can work the middle of the field and complement the play styles of Rashod Bateman and Devin Duvernay. Beckham has also been a willing blocker throughout this career, which should help Baltimore's run game.
The Ravens don't have a ton of cap space remaining, but if Beckham's price falls far enough, he should be on Baltimore's radar.
Kansas City Chiefs
Beckham was regularly linked to the Chiefs last season, but Kansas City ended up finding a receiver via trade. The Chiefs acquired Kadarius Toney from the New York Giants at last year's trade deadline, and although he managed just 14 receptions in seven regular-season games with KC, he's expected to be a featured part of the team's offense in 2023.
Marquez Valdes-Scantling will also return for the Chiefs, while 2022 second-rounder Skyy Moore will likely take on a larger role. But Hardman is now headed to New York, so Kansas City will be looking for another receiver to add to its rotation.
MORE: Who Will Sign Bobby Wagner?
MVS is a deep threat, while Toney does his best work near the line of scrimmage, so Beckham's route-running prowess would fit in the Chiefs' short-to-intermediate game. And while OBJ has complained about his contract offers, it's possible he could take a lower salary to play with Patrick Mahomes and take a shot at a second Lombardi Trophy, given that he's already made more than $82 million in the NFL.
Minnesota Vikings
The Minnesota Vikings need receiver help after releasing nine-year veteran Adam Thielen last week. Justin Jefferson is the best wideout in the NFL, but the rest of Minnesota's receiver room is comprised of K.J. Osborn, Jalen Nailor, Jalen Reagor, Trishton Jackson, and Blake Proehl.
General manager Kwesi Adofo-Mensah — who overlapped with Beckham in Cleveland — is attempting a competitive rebuild that will allow the Vikings to fight for the postseason while setting up their roster for the future. Beckham makes sense for the near-term portion of that strategy, especially given that he'll likely require only a one-year deal.
Minnesota's issue is cap space. At present, the Vikings are just $1.3 million under the cap, so they'd have to clear out room to add OBJ. Releasing Za'Darius Smith — a rumored transaction — would create enough space, but the Vikings probably don't want to restructure contracts to sign a one-year flier like Beckham.
Betting Markets for C.J. Stroud, Bryce Young, and More
Calling all bettors! Utilizing Pro Football Network's Mock Draft Simulator, we've developed the following NFL mock draft for Round 1. The picks in this mock are decided based on the highest-percentage user-selected players for each franchise in the past seven days.
When analyzing these selections, we will examine the current betting odds available at DraftKings Sportsbook and FanDuel Sportsbook and see how MDS fans and users compare to the current odds.
1) Carolina Panthers (From CHI): C.J. Stroud, QB, Ohio State
C.J. Stroud has emerged as the presumed No. 1 overall draft pick since the Carolina Panthers traded for the first selection. We look on course for the 2023 NFL Draft to be the fifth time in six years — and the seventh time in nine years — that a quarterback comes off the board first. However, his odds of being No. 1 are only -185, and with all of the main contenders taking to the field for their pro days this week, the landscape could yet shift.
2) Houston Texans: Bryce Young, QB, Alabama
In betting circles, Bryce Young is the second-most favored QB to go No. 1 with +125 odds, followed only remotely closely by Anthony Richardson (+475). The next-best odds are Will Levis with +4000. So yeah, that's a steep drop-off.
As for the No. 2 pick, it's a two-man race between Young (-165 odds) and Stroud (+150, in the event he doesn't go No. 1). Richardson is sitting at +1200, suggesting that if Carolina doesn't want him at No. 1, then Richardson is an even greater long shot to join the Texans at No. 2.
This positions Young comfortably as the clear front-runner for the No. 2 spot.
3) Arizona Cardinals: Will Anderson Jr., EDGE, Alabama
Will Anderson Jr. has -400 odds of being the first defensive player taken in the draft. The next best odds are +600. In other words, there's no strong competition here. Anderson is the clear-cut favorite, and the defense-needy Cardinals (second-most points surrendered in 2022) are a logical destination.
4) Indianapolis Colts: Anthony Richardson, QB, Florida
As referenced above, Anthony Richardson is an intriguing wild card in this draft, with better odds of going No. 1 than No. 2, despite being the overall No. 3 QB in betting circles.
MORE: NFL Draft Odds To Be No. 1 Pick in 2023 — Anthony Richardson, Bryce Young, Will Anderson Jr., or Someone Else?
DraftKings has an interesting wager on which QB will be selected first: Richardson (-235) or Levis (+190). It's a surprisingly narrow odds gap given their much wider chasm among the betting markets for who will be drafted No. 1 or No. 2 overall.
DraftKings also highlights the Colts as the most likely destination for Richardson, with +175 odds.
5) Seattle Seahawks (From DEN): Jalen Carter, DT, Georgia
While Anderson is the strong favorite to be the first defender drafted, Jalen Carter is tied for second with +600 odds. It's an interesting situation for those wagering on Anderson vs. Carter. If the defensive line is the target for the Seahawks, it could put the likes of Tyree Wilson and Myles Murphy in the frame if they are unsure about Carter.
6) Detroit Lions (From LAR): Christian Gonzalez, CB, Oregon
The Lions have made several offseason moves so far to bolster a defense that showed dramatic improvements in the second half of last season. PFN's MDS selections have them potentially taking Christian Gonzalez with their first Round 1 pick at No. 6 overall.
Gonalez is the odds-on front-runner (-190) to be the first cornerback taken. However, his +5000 odds of being the first defender taken are shockingly poor — unless we consider the more pressing defensive needs of some teams picking ahead of Detroit.
7) Las Vegas Raiders: Paris Johnson Jr., OT, Ohio State
One of the closest betting battles in this draft concerns the first offensive lineman selected. Paris Johnson Jr. (+150) is narrowly behind Peter Skoronski (+120). PFN's MDS users apparently like what Johnson can bring to the Raiders, and his longer odds make him an intriguing option for bettors.
8) Atlanta Falcons: Myles Murphy, EDGE, Clemson
Beyond the biggest defensive names, no one else has good odds of being the first defender taken in this year's draft. Myles Murphy is in the next best tier, but with +10000 odds, "next best" is relative.
9) Chicago Bears (From CAR): Tyree Wilson, EDGE, Texas Tech
One of the most fascinating MDS decisions is the selection of Murphy ahead of Tyree Wilson. Wilson is tied with Carter for the second-best odds (+600) of being the first defender drafted (after Anderson).
10) Philadelphia Eagles (From NO): Devon Witherspoon, CB, Illinois
Devon Witherspoon is part of the "next best" group of first defenders drafted, with +10000 odds of going before Anderson, Carter, Wilson, etc. More pointedly, he's narrowly behind Gonzalez for the first cornerback selected, owning bullish +165 odds. However, if you believe Witherspoon could be the first corner taken, his odds of +180 to be selected ahead of Gonzalez offer the better value.
11) Tennessee Titans: Peter Skoronski, OT, Northwestern
While Peter Skoronski (+120 odds) is just a bit in front of Paris Johnson (+150) in betting markets, he seems to be noticeably behind in the user-generated Mock Draft Simulator data.
12) Houston Texans (From CLE): Quentin Johnston, WR, TCU
The rebuilding Texans have two of the first 12 draft picks, giving them the luxury of pairing a promising QB with a promising WR to help jumpstart its anemic passing attack.
MORE: 2023 NFL Draft Big Board
In this scenario, the big question is whether Houston would take Quentin Johnston (+275 odds of being the first WR drafted) or Jaxon Smith-Njigba (-130) odds. The market suggests Smith-Njigba has a meaningful edge, but the MDS data suggests differently.
DraftKings also highlights the Texans as the most likely destination for Johnston, with +600 odds. The Patriots are No. 2 with +650 odds, and not surprisingly, New England is scheduled to pick two spots later.
13) New York Jets: Broderick Jones, OT, Georgia
Broderick Jones is projected by betting markets as the third-most likely offensive lineman to be taken first, with +450 odds. The Jets are prime candidates to beef up their line. A key question might be who's available when the 13th pick arrives.
14) New England Patriots: Jaxon Smith-Njigba, WR, Ohio State
As referenced above, Jaxon Smith-Njigba is the front-runner to be the first WR taken. After Johnston, the next most-favored WR is Jordan Addison (+550 odds).
It's fascinating that the Texans are favorites to draft not only Johnston but also Smith-Njigba (+500 odds). What's happening here? Well, it's a solid hedge to bet on both, as the Texans desperately need an instant-impact wideout.
That said, the Patriots are also a great hedge, with +650 odds to land Johnston and +600 odds to snag Smith-Njigba.
15) Green Bay Packers: Michael Mayer, TE, Notre Dame
There's a tight four-man race to see who will be the first tight end drafted. Betting markets give Michael Mayer the second-best odds (+160), with Dalton Kincaid slightly ahead at +110. Statistically, the Packers have had a top-10 tight end only once in the last 11 seasons. They're good bets to select their TE of the future — the question is, who?
16) Washington Commanders: Joey Porter Jr., CB, Penn State
The son of the famed four-time Pro Bowl linebacker by the same name, Joey Porter Jr. should have a bright NFL future. His +900 odds of being the first cornerback drafted place him well behind Gonzalez and Witherspoon.
17) Pittsburgh Steelers: Trenton Simpson, LB, Clemson
The Steelers middling defense still needs some work after a mixed free agency. Trenton Simpson is a deep long shot to be the first defender taken (+20000 odds), but a middle-of-the-first-round selection seems the most likely right now.
18) Detroit Lions: Brian Branch, S, Alabama
As referenced above, Detroit has shown a commitment this month to beef up its secondary. Brian Branch could be another key piece in a Super Bowl run (yes, I'm serious).
MORE: Detroit Lions Super Bowl Odds
Branch has +10000 odds of being the first defender drafted, as well as +2500 odds of being the first cornerback (where he qualifies in DraftKings Sportsbook). His odds probably should be even higher, given the unlikelihood of Detroit significantly trading up to get him.
19) Tampa Bay Buccaneers: Will Levis, QB, Kentucky
The post-Tom Brady era begins in earnest for a Buccaneers team that can still make noise in the relatively weak NFC South. But with the Falcons and Panthers rapidly rebuilding (and the Saints trying to make another big push), time is running out for a franchise that has a core of aging, exceptional talent.
Will Levis possesses +4000 odds of being the first QB taken. If he does go first, it would be an even greater shock than those odds suggest.
FanDuel also highlights the Bucs as the No. 3 most-favored team to land Levis (+600 odds), trailing the Colts and Raiders.
20) Seattle Seahawks: Bryan Bresee, DT, Clemson
Bryan Bresee is part of a laundry list of players with +10000 odds of being the first defender drafted. Even if the Seahawks trade up, it'll more likely be because another defensive lineman falls.
However, it is intriguing to see that the most-selected players for the Seahawks are defensive tackles. It seems unlikely that Seattle spends two first-round picks on the same position, but MDS users believe they will target at least one in this round. Whether that's targeting the likes of Wilson or Murphy at 6 and then Bresee at 20, or Carter at 6 and someone else at 20 is yet to be seen.
21) Los Angeles Chargers: Bijan Robinson, RB, Texas
Well, this is a loaded pick. With Austin Ekeler teetering on leaving the Chargers, and with no running back currently available to step in and fill such a gaping hole, L.A. becomes an intriguing destination for the presumed No. 1 incoming rookie RB. Interestingly, Bijan Robinson has +20000 odds of being the first overall pick.
DraftKings also highlights the Commanders as the most likely destination for Robinson, with +400 odds. But the Chargers are close behind at No. 2 with +500 odds. As L.A. assesses whether to try moving up in the draft (e.g. ahead of Washington), we should keep these close odds in mind.
22) Baltimore Ravens: Jalin Hyatt, WR, Tennessee
Jalin Hyatt possesses +650 odds of being the first WR drafted, placing him in the back of a crowded group of five front-runners. Zay Flowers is narrowly ahead at +600, while Smith-Njigba remains the clear top choice with -130 odds.
23) Minnesota Vikings: Kelee Ringo, CB, Georgia
Kelee Ringo's odds of being the first cornerback drafted are +5000. In other words, he makes sense at this current spot that MDS users have him in.
24) Jacksonville Jaguars: O'Cyrus Torrence, G, Florida
A pretty interesting spot for O'Cyrus Torrence, at least from a betting perspective. Torrence's odds of being the first OL drafted are +6000, which stand well behind Skoronski and Johnson, as well as Jones. But more than that, he's also far behind Darnell Wright and Anton Harrison in betting markets — and we haven't seen Wright or Harrison come up yet.
25) New York Giants: Zay Flowers, WR, Boston College
Zay Flowers (+600 odds) is packed tightly between Addison (+550) and Hyatt (+650) as relative long shots to be the first WR taken, comfortably behind front-runners Smith-Njigba and Johnston.
26) Dallas Cowboys: Jahmyr Gibbs, RB, Alabama
The odds of Jahmyr Gibbs going No. 1 overall are +25000, only slightly bit behind Robinson. Of course, we're not focused so much on first overall with these guys. We're focused more on which teams will lunge for a high-upside RB.
I actually think Dallas is more likely to trade up to snag Robinson. But regardless, they're in a prime position to find their running back of the future. As great as Tony Pollard has been, he doesn't profile as a bell cow.
FanDuel also highlights the Cowboys as one of four front-runners to draft Gibbs, with all four teams netting +700 odds. If Dallas plans to take him here, then one of the other three squads (Bengals, Bills, and Chiefs) clearly would need to trade up.
27) Buffalo Bills: Darnell Washington, TE, Georgia
There's still no Dalton Kincaid sighting, despite his status as the betting markets' most likely No. 1 TE drafted with +110 odds. Darnell Washington has the third-best odds (+350), suggesting that Kincaid's absence might be surprising but not entirely shocking. The betting markets definitely seem to be more bullish on Kincaid than our MDS users are.
28) Cincinnati Bengals: Anton Harrison, OT, Oklahoma
Anton Harrison possesses +1800 odds of being the first offensive lineman taken. While the betting markets view this mostly as a two-man battle between Skoronski and Johnson, Harrison's odds suggest he cannot be completely ignored.
29) New Orleans Saints (From SF via MIA via DEN): Lukas Van Ness, EDGE, Iowa
Another member of the +10000 crew — guys with +10000 odds of being the first defender drafted. Lukas Van Ness joins seven other guys at this spot, which is far behind Will Anderson.
30) Philadelphia Eagles: Nolan Smith, EDGE, Georgia
See directly above. Nolan Smith has the same +10000 odds. The Eagles are a logical landing spot as they seek to maintain an elite defense for another Super Bowl push.
31) Kansas City Chiefs: Dawand Jones, OT, Ohio State
The final pick of the first round. Dawand Jones carries +7500 odds of being the first offensive lineman drafted.
It's important to note that Darnell Wright (+600 odds of being the first offensive lineman drafted) hasn't made an appearance in the current MDS data. With respect to betting markets, his absence is arguably tied with that of Kincaid as the most surprising.