Ranking Jared Verse, J.T. Tuimoloau, and Others
Who are the top 10 EDGE prospects in the 2024 NFL Draft off preliminary viewings? Evaluators were perhaps spoiled by a 2023 group that was very top-heavy in the Round 1 range. That said, that's no reason to become pessimistic about 2024. Early on, the 2024 NFL Draft group looks very promising, and there's clear Round 1 talent in front.
Ranking the EDGEs in the 2024 NFL Draft
The 2023 NFL Draft truly had it all when it came to the EDGE position. It wasn't just a deep class. It hosted a barrage of player types, from power rushers to finesse rushers and everything in between. Pass rush has always been an indispensable area for coaches, but especially in the modern NFL, it's one of the most important components of the game itself.
Every pass-rushing unit, in order to function properly, needs both top-end talent and reliable depth. And looking at the 2024 NFL Draft class at the surface level, it appears to have a good mix of both. Let's dive into the early film observations and see who leads off our list of 2024 EDGE prospects.
10) Khordae Sydnor, Purdue
A couple of cycles ago, the Purdue Boilermakers had a highly-regarded power EDGE in George Karlaftis. They could have another in the wings with redshirt sophomore Khordae Sydnor — only Sydnor's tools are even more exciting. Sydnor put up 4.5 sacks and 6.5 TFLs in 2022, and under former Illinois defensive coordinator Ryan Walters, he could explode.
MORE: FREE NFL Mock Draft Simulator With Trades!
Sydnor is still relatively raw, but at 6'4″, 265 pounds, he has overwhelming mass and absolute vines for arms. Two of his sacks came against Maryland offensive tackle Jaelyn Duncan in 2022. Sydnor can get inside his opponent's frame so easily with his length, and he has the linear burst, raw strength, and drive to forklift blockers out of his path.
9) Laiatu Latu, UCLA
Quietly, Laiatu Latu is one of the most productive returning edge defenders in the 2024 NFL Draft crop. And were it not for Bralen Trice of Washington, he might have more hype as one of the Pac-12's best prospects on the defensive front. Latu amassed 10.5 sacks, 12.5 tackles for loss, and three forced fumbles in a standout 2022 campaign.
Latu visibly lacks elite bend, and he's more of a lumbering athlete in space than preferred, but he has a few traits that skew overwhelmingly in his favor. At 6'4″, 265 pounds, power and strength aren't issues, and Latu also has the motor and persistence with his hands to win one-on-one battles through second and third-effort attempts. That motor will ensure he sustains an NFL career.
8) Jack Sawyer, Ohio State
It's almost unfair how much talent Ohio State has at every position on a year-to-year basis, but the EDGE position, in particular, is a revolving door of NFL talent. In the 2024 NFL Draft cycle, the Buckeyes have a potential top-10 selection in J.T. Tuimoloau, and Jack Sawyer is another former five-star recruit who could erupt as he returns to the defensive line.
Sawyer played JACK linebacker in 2022 and was out of position at times as a result. But a return to the line could ultimately unlock his full potential, especially playing alongside Tuimoloau, Michael Hall Jr., and others. Sawyer has an NFL frame at 6'4″, 267 pounds, and he's shown he can win routinely with forceful hands and urgent pursuit.
7) Princely Umanmielen, Florida
There's an ascending talent on the Florida defensive line who could have a higher ceiling than all of the recent Florida EDGE prospects to come out of the collegiate ranks — among them Jonathan Greenard, Brenton Cox Jr., and Jachai Polite. Princely Umanmielen is his name, and if all goes well for him, we could hear his name in the early rounds.
Umanmielen still has room to keep building on his 4.5-sack, 9.5-TFL 2022 campaign, but all of the tools are there. At around 6'4″ and 250 pounds, he offers legitimately eye-catching bend and cornering ability around the arc. Whether it's a dip-and-rip, a bull rush, or a more expansive counter, Umanmielen has the quickness and length to make it happen.
6) Chop Robinson, Penn State
Demeioun Robinson — better known by his very fitting nickname "Chop" — is a prospect we can reliably project near the top of the 2024 NFL Draft EDGE class. He might not have the elite overarching tools that other potential inclusions possess, but he's already proven his method of success is effective, with 5.5 sacks and 10 tackles for loss this past season.
MORE: 2024 NFL Draft Prospect Watchlist
Robinson is 6'3″ at most and only 240 pounds, so he isn't going to win with strength consistently. But with his burst, natural leverage, and proportional length, he has an underrated power profile, and he also has the bend and ankle flexion to accelerate around the apex after establishing a lever. And his motor is the ultimate fusing agent for his game.
5) Brandon Dorlus, Oregon
Brandon Dorlus provides a unique mold of defensive lineman for evaluators in the 2024 NFL Draft cycle. At 6'3″, 285 pounds, Dorlus has the size, mass, and elite proportional length to line up at 3-tech or shade over 1-tech, but he's also athletic and explosive enough to function as a stand-up EDGE or swerve across the line on stunts like a battering ram.
The Ducks lost DJ Johnson to the 2023 NFL Draft, and they also lost Bradyn Swinson to the transfer portal, so Dorlus may be used on the edge more often in 2023. With his sheer versatility and disruptive profile wherever he lines up, he has some Travon Walker-lite appeal. With five sacks and 16.5 TFLs over the past two seasons, he's trending up.
4) Bralen Trice, Washington
The 2023 NFL Draft class was graced with several elite power profiles in the early rounds. Tyree Wilson, Myles Murphy, Lukas Van Ness, Isaiah Foskey, and Keion White are just a few prospects who provided the size, length, and explosiveness to fit that mold. In the 2024 NFL Draft cycle, Washington's Bralen Trice keeps that elite power element alive.
Trice was one of the NCAA's most prolific pass-rushing threats in 2022, with nine sacks and 12 tackles for loss. He's not the most flexible rusher, and he's largely a linear threat at this point. But he's a massive defender at 6'4″, 260 pounds, whose sheer speed to power and heavy hands can be overwhelming for opposing tackles.
3) J.T. Tuimoloau, Ohio State
It's important never to get ahead of yourself with prospects in upcoming cycles. No one knows how the 2024 NFL Draft class will pan out at this point. But since 2021, Ohio State EDGE J.T. Tuimoloau has been anticipated as a potential top-10 pick. He was a five-star recruit who broke out in 2022 with 3.5 sacks, 10.5 TFLs, two picks, and four PBUs.
Tuimoloau is just built differently. He's 6'4″, 277 pounds, and yet, he's an explosive long-strider who bounds off the line. He has terrifying power capacity with his burst and length, but he's also surprisingly nimble and flexible for his size, and he has a nose for the football in close quarters. He's not EDGE1 yet, but he could get there if he takes a leap in 2023.
2) Dallas Turner, Alabama
In all likelihood, any prospect Alabama fields at the EDGE position in the 2024 NFL Draft cycle won't grade as highly as Will Anderson Jr. did. But that's a high bar to clear. Anderson was a clear blue-chip prospect with an immediate impact projection. Dallas Turner's NFL transition might not be as smooth, but he has a ceiling in the same range.
At 6'4″, 245 pounds, Turner first appears as more of a finesse-oriented player. He's a bolt of lightning off the line with absurd hip flexibility and ankle flexion around the apex. Those two traits alone can be overwhelming for tackles. But just when you think you've figured Turner out, he'll hit tackles with devastating long-arms and bull rushes. With his length and burst, he has power on his side, too.
Who Is the Best EDGE in the 2024 NFL Draft?
Odds are, the fight for EDGE1 will become a much more tumultuous and convoluted conversation as the 2024 NFL Draft cycle progresses. But right now, there's only one prospect who has the production and the volume of tape to warrant holding that spot, and that's Florida State's Jared Verse.
1) Jared Verse, Florida State
Ahead of the 2022 campaign, the Florida State Seminoles scored a highly-regarded defensive transfer from the FCS ranks in edge rusher Jared Verse. Originally from Albany, Verse flashed the high-end tools that Florida State coveted.
It was believed that playing for the ACC program might unlock his talents, but no one expected it to happen as quickly as it did. Verse dominated straight from Week 1 against LSU and carried his performance all through the season, racking up nine sacks and 17 tackles for loss in a first-team All-American and All-ACC showing.
MORE: 2024 NFL Draft Big Board
Verse could have declared for the 2023 NFL Draft. He almost assuredly would have been a Round 1 selection. In fact, on my board, he would have been a top-five prospect in a loaded EDGE group. But instead, Verse chose to return to school. And in he's in the driver's seat for the EDGE1 mantle in 2024.
At 6'4″, 249 pounds, Verse isn't an elite size threat. But that's one of the few knocks on his profile. He has good length. He has good bend. He's a ruthless technician with his hands who can successively exert power and deconstruct anchors with swipes, rips, and chops. And at the foundation of it all, he's a supremely explosive athlete with a kind of hyper-elite twitch that constantly has tackles fighting for their lives.
Production, traits, a complete prospect profile — early on, it looks as though Verse truly has it all.
Honorable Mentions
Barryn Sorrell, Texas
Zion Tupuola-Fetui, Washington
Jordan Burch, Oregon
JJ Weaver, Kentucky
Jaylen Harrell, Michigan
Braiden McGregor, Michigan
Josaiah Stewart, Michigan
Brennan Jackson, Washington State
Collin Oliver, Oklahoma State
Dalvin Cook, AJ Dillon, and Joshua Kelley's Times Are Up
Roster management is the single most crucial in-season task for fantasy football managers. Knowing which players to let go is just as important as adding the right guys. Which players find themselves on our Week 4 fantasy football cut list?
Looking to make a trade in your fantasy league? Having trouble deciding who to start and who to sit? Check out PFN's Free Fantasy Football Trade Analyzer and Start/Sit Optimizer to help you make the right decision!
Who Should You Cut in Fantasy Football in Week 4?
We now have three weeks of data on these players. As a result, we are starting to get a much better gauge of who they are. This is when the cut list starts to feature names that you probably wouldn't have imagined outright cutting when the season starts.
Derek Carr, QB, New Orleans Saints (34% Rostered)
It was surprising to see Derek Carr this heavily rostered. Through three weeks, Carr is averaging about 11 fantasy points per game. That's not going to get it done.
Carr threw for just 103 yards against the Green Bay Packers before an injury forced him out of the game. Even if Carr is OK, the New Orleans Saints have some rough opponents coming up, specifically the Tampa Bay Buccaneers and New England Patriots the next two weeks. You're never going to feel good about starting Carr.
Dalvin Cook, RB, New York Jets (86% Rostered)
It is astounding that more fantasy managers didn't drop Dalvin Cook after his 0.2 fantasy points in Week 2. I understand it, though. It's still very early in the season.
Nevertheless, after Week 1, it was abundantly clear to me that Cook has nothing left. He's done. Then, he went and ran the ball four times for seven yards in Week 2, and followed that up with eight carries for 18 yards in Week 3.
MORE: Week 4 RB Waiver Wire Targets
To be fair, Breece Hall hasn't been much better. But at least Hall has obvious juice when he runs. Cook can only get what is blocked. He can't make defenders miss, and he can't generate any explosive plays.
Part of the allure of Cook was having a 40% role in a very good offense. That went out the window with Aaron Rodgers' Achilles tear. Fantasy managers do not need the 40% guy in a Zach Wilson offense. You can cut Cook.
Antonio Gibson, RB, Washington Commanders (59% Rostered)
Through three games, Antonio Gibson has a whopping seven carries for 35 yards. He was benched for fumbling in Week 1, and he fumbled again this week. Gibson has a fumbling problem, and coaches don't like fumbling.
On top of that, Brian Robinson Jr. looks like a different man and is the clear lead back. He's running hard and well.
Even in a game where the Washington Commanders faced extreme negative game script and Gibson out-snapped Robinson, he couldn't command more than six opportunities. It's never going to be Gibson. He can safely be cut.
AJ Dillon, RB, Green Bay Packers (84% Rostered)
The appeal of AJ Dillon over the past two years has been twofold. First, he has standalone value as the 1B and goal-line back alongside Aaron Jones. Second, he has RB1 upside if Jones gets hurt.
Well, Jones got hurt, and Dillon started each of the past two games. What did he accomplish? A whole lot of nothing.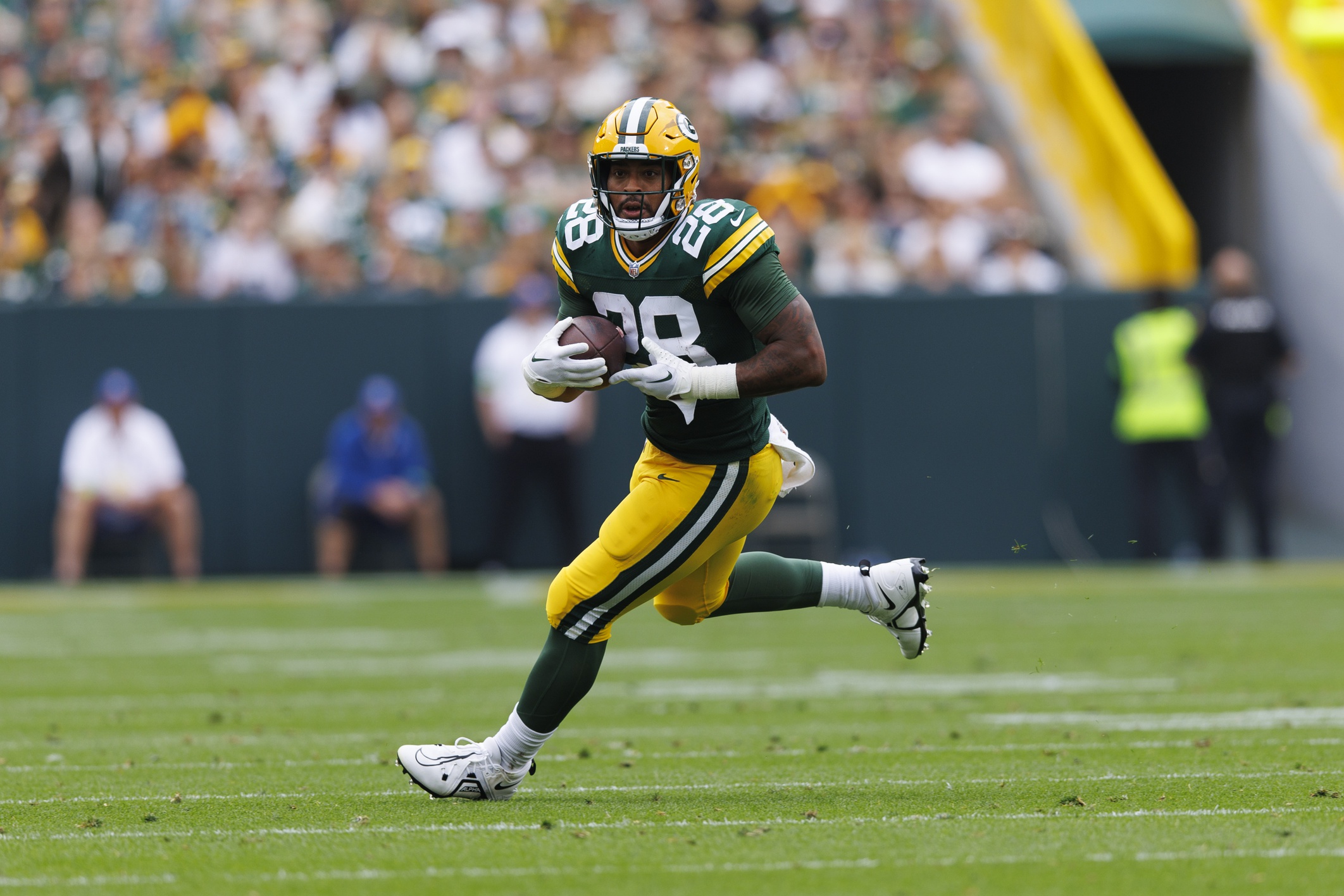 This week, Dillon lost his stranglehold on the lead-back role sans Jones. He only played 10 more snaps than Patrick Taylor, and he ran two fewer routes.
Dillon just looks like a different player. I just talked about the difference between last year's Robinson and this year's. That's Dillon … except the opposite.
If Dillon can't produce without Jones, there's no hope and no reason to continue rostering him.
Joshua Kelley, RB, Los Angeles Chargers (73% Rostered)
If you spent a decent amount of FAAB to acquire Joshua Kelley ahead of Week 2 following Austin Ekeler's injury, I don't blame you. I did the same in spots. After Kelley struggled in Week 2, we wrote it off as being due to the Tennessee Titans' elite run defense. Also understandable.
Well, in Week 3, Kelley had no excuse. The Minnesota Vikings do not have a good run defense. But you couldn't tell from watching Kelley's attempt at being an NFL running back.
Kelley ran the ball 11 times for 12 yards and caught his lone target for five yards. Similar to Dillon, this is supposed to be when he shines.
Ekeler is out. Kelley has played about 75% of the snaps. Yet, he's unable to produce. If Kelley cannot shine with this snap share and these conditions, there will never be a time. Let him go.
Skyy Moore, WR, Kansas City Chiefs (54% Rostered)
I guess I need to keep putting Skyy Moore on the cut list until his rostership drops to lower levels. What more do we need to see … or … not see from Moore?
While he did lead all Kansas City Chiefs WRs in snaps, he still was out there for just 64% of them. There is no WR1 in Kansas City. They just rotate everyone because no one has earned more volume.
Moore is averaging 4.3 targets per game. He's just one of four to five guys that rotate in and out of the game. I would argue Moore is the least talented of that group, too. It's never going to happen for him.
Rashod Bateman, WR, Baltimore Ravens (47% Rostered)
Fantasy managers have already been dropping Rashod Bateman after his low usage over the first two weeks. I expect the exodus to continue following Week 3.
Even without Odell Beckham Jr. in the lineup, Bateman's role did not increase. Zay Flowers is the clear WR1, but Bateman should be better as the WR2 in a game without Beckham. Instead, he caught one of three targets for six yards.
MORE: 2023 Dynasty WR Rankings
Bateman was out-snapped by Nelson Agholor. I'm not sure what Bateman did to fall out of favor with the Baltimore Ravens, but it's clearly happened. He does not possess any fantasy value.
JuJu Smith-Schuster, WR, New England Patriots (57% Rostered)
This is JuJu Smith-Schuster's second straight week on the cut list. Once again, Smith-Schuster ran fewer routes than both DeVante Parker and Kendrick Bourne. He even ran fewer routes than Hunter Henry and Rhamondre Stevenson.
Smith-Schuster had talent at one point. Unfortunately, injuries have taken their toll, and he just can't play at the level he could earlier in his career. There's nothing for fantasy here.
Most Tight Ends
Seriously. That's how bad tight end is this season. If you don't have one of six or so tight ends and you want to make a change at the position, go for it. I'm not sure what you will find that excites you, but there are currently only about six tight ends that, if dropped, are near locks to be picked up.
Listen to the PFN Fantasy Podcast
Listen to the PFN Fantasy Podcast! Click the embedded player below to listen, or you can find the PFN Fantasy Podcast on iTunes, Spotify, and all major podcast platforms.  Be sure to subscribe and leave us a five-star review! Rather watch instead? Check out the PFN Fantasy Podcast on our Fantasy YouTube channel.
Which NFL Teams Did Adrian Peterson Play For?
The word generational seems to get thrown around too much these days, with the meaning seemingly losing its weight for the word based on how it is loosely thrown around at times. However, please make no mistake about it — Adrian Peterson is and was a generational talent at the running back position and may be the last of his kind.
When you talk about elite size, speed, and strength at the RB position, very few — if any — names get brought up before AD's name does. Peterson had the ability to run over you or run by you and did so with such consistency that it made him one of the most feared players in the NFL during his time.
While all historic runs eventually end, let's take a closer look at his career and the teams he played for along the way.
Who Did Adrian Peterson Play For?
Peterson would play his college football at the University of Oklahoma, where he finished third in the school's history and just 73 yards short of passing Billy Sims as the school's all-time leading rusher, all while declaring for the NFL Draft at the conclusion of his junior season.
Minnesota Vikings
The decision to declare turned out to be the right one. Peterson was selected by the Minnesota Vikings as the seventh overall pick of the 2007 NFL Draft.
He was the first running back selected in that year's draft and went on to be named The Associated Press NFL Offensive Rookie of the Year, as well as being selected to play in the NFL Pro Bowl.
MORE: NFL Standings
Peterson would go on to play with the Vikings for the first 10 seasons of his career. However, Minnesota announced that they would not exercise Peterson's 2017 option on his contract, making him a free agent at the end of the season.
New Orleans Saints
After being told he would not be back in Minnesota, Peterson signed a two-year, $7 million contract with the New Orleans Saints. However, he only played for the Saints for four games to begin the 2017 season, rushing for 81 total yards on 27 carries.
Arizona Cardinals
Peterson's time with the Saints was short-lived. On Oct. 10, 2017, he was traded to the Arizona Cardinals for a conditional sixth-round draft pick.
Peterson saw marginal success the remainder of the season, but he battled injuries that derailed his season. He was eventually released at the end of the season, making him a free agent once again.
Washington
Following the 2017 season, Peterson signed with Washington. He spent two seasons with the franchise, totaling 462 carries for 1,940 yards and 12 touchdowns.
Detroit Lions
Following the 2019 season, Peterson signed a one-year deal to play for the Lions. In his one season with Detroit, Peterson was productive in a complementary role, finishing with 156 carries for 604 yards and seven touchdowns.
Tennessee Titans
The 2021 season would be Peterson's last in the NFL, and he wrapped it up by playing for two teams in his final year.
Following an injury to starter Derrick Henry, the Titans signed Peterson to their practice squad. During Henry's absence, he filled a gap for the team, but he was released by Tennessee in late November of that year.
Seattle Seahawks
Last but not least, Peterson was brought in for a similar role with the Seahawks a few weeks later. He appeared in one game before being inactive for the rest of the season. Peterson would become a free agent after the year and did not suit up again in an NFL uniform.
Kyle Yates' Top Players To Add Include De'Von Achane, Joshua Palmer, and Others
The 2023 NFL season keeps on moving, and fantasy football managers are desperately trying to evade all the obstacles that are coming up trying to prevent them from securing victories!
It seems this year, more than ever, fantasy managers are dealing with a greater amount of injuries, unmet expectations, and tough matchups. With that in mind, the waiver wire is an excellent place to try and get your team back on the right track!
Who are the players you need to add going into Week 4? Here are my top waiver wire options.
Looking to make a trade in your fantasy league? Having trouble deciding who to start and who to sit? Check out PFN's Free Fantasy Football Trade Analyzer and Start/Sit Optimizer to help you make the right decision!
Week 4 Waiver Wire Rankings
1) De'Von Achane | MIA | (RB)
2) Joshua Palmer | LAC | (WR)
3) Tank Dell | HOU | (WR)
4) Jerick McKinnon | KC | (RB)
5) Adam Thielen | CAR | (WR)
6) Elijah Mitchell | SF | (RB)
7) Romeo Doubs | GB | (WR)
8) Jameis Winston | NO | (QB)
9) Seattle Seahawks | SEA | (DST)
10) Jake Ferguson | DAL | (TE)
11) Jayden Reed | GB | (WR)
12) Tank Bigsby | JAX | (RB)
13) Zay Jones | JAX | (WR)
14) Matt Gay | IND | (K)
15) Andy Dalton | CAR | (QB)
MORE: Fantasy Football Sleepers Week 4
16) DJ Chark Jr. | CAR | (WR)
17) Matt Breida | NYG | (RB)
18) Kenny Pickett | PIT | (QB)
19) Luke Musgrave | GB | (TE)
20) Quentin Johnston | LAC | (WR)
21) Cincinnati Bengals | CIN | (DST)
22) Ezekiel Elliott | NE | (RB)
23) Josh Downs | IND | (WR)
24) Denver Broncos | DEN | (DST)
25) Marvin Mims Jr. | DEN | (WR)
26) Atlanta Falcons | ATL | (DST)
27) Tyjae Spears | TEN | (RB)
28) Roschon Johnson | CHI | (RB)
29) C.J. Stroud | HOU | (QB)
30) Jason Myers | SEA | (K)
31) Baker Mayfield | TB | (QB)
32) Zach Ertz | ARI | (TE)
33) Desmond Ridder | ATL | (QB)
34) Brandon Aubrey | DAL | (K)
35) Gerald Everett | LAC | (TE)
36) Jake Browning | CIN | (QB)
37) Donald Parham Jr. | LAC | (TE)
38) Greg Joseph | MIN | (K)
39) Riley Patterson | DET | (K)
40) Justin Watson | KC | (WR)
41) Sam Howell | WAS | (QB)
42) Cleveland Browns | CLE | (DST)
43) Kendrick Bourne | NE | (WR)
44) Sean Tucker | TB | (RB)
45) Nelson Agholor | BAL | (WR)
46) Tampa Bay Buccaneers | TB | (DST)
47) Julian Hill | MIA | (TE)
The Top Players To Add in Week 4
De'Von Achane, RB, Miami Dolphins
De'Von Achane had zero fantasy points in Week 1. He had 1.4 fantasy points in Week 2. After Week 3, he's now the RB5 in all of fantasy football.
DEVON ACHANE 67-YARD TD

THE DOLPHINS HAVE 70 POINTS.

📺: #DENvsMIA on CBS
📱: Stream on #NFLPlus https://t.co/UQdQ05hqXN pic.twitter.com/bZOSLxVaoa

— NFL (@NFL) September 24, 2023
It's feasible to make that enormous leap up the standings when you finish with 233 total yards and four touchdowns in one game! Achane was absolutely unstoppable against the Denver Broncos, and he helped lead this Dolphins team to a historic performance with 70 points.
Acahne's the clear top option to add on the waiver wire. How can you not go after him after this performance? However, we need to remember that Jeff Wilson Jr. will be making his way back off of injured reserve (IR) here very soon. This means that we could have a three-man committee here in Miami, and Achane may never see 18 carries in a game for the rest of the year.
He's not a locked-and-loaded RB2 moving forward. However, Achane's absolutely worth starting as a Flex option here in Week 4 against the Buffalo Bills because he can easily put your lineup over the top with one long run.
Joshua Palmer, WR, Los Angeles Chargers
We've certainly talked about Joshua Palmer on waiver wire podcasts or articles in previous years. While he's yet to fully live up to expectations after an injury to one of Keenan Allen or Mike Williams, he's been a solid fantasy asset.
This season, Palmer appears to be the clear next option to step up after Williams tore his ACL and will be sidelined for the remainder of the 2023 NFL season. Quentin Johnston has the draft capital to his name, but he's been playing behind Palmer up to this point of the season, and he doesn't appear to be ready for a larger role.
MORE: Joshua Palmer Fantasy Waiver Wire
There are fantasy managers who are hesitant to go after Palmer on the waiver wire, which seems like a foolish decision. This offense is going to air the ball out a ton this year, especially while Austin Ekeler is sidelined, and they're going to be in some high-scoring matchups moving forward.
Palmer has a chance to work his way into the weekly top 30 conversation at the WR position, and he needs to be picked up and played as early as this week against the Las Vegas Raiders.
Listen to the PFN Fantasy Podcast
Listen to the PFN Fantasy Podcast! Click the embedded player below to listen, or you can find the PFN Fantasy Podcast on iTunes, Spotify, and all major podcast platforms.  Be sure to subscribe and leave us a five-star review! Rather watch instead? Check out the PFN Fantasy Podcast on our Fantasy YouTube channel.