Fantasy Impact on Kyler Murray, Marquise Brown, and Others
The Arizona Cardinals released DeAndre Hopkins on May 26, ending a three-year tenure that began with enormous promise before prematurely ending with a whimper. How does his departure impact the fantasy football values of Kyler Murray, Marquise Brown, Zach Ertz, and other Arizona skill players?
DeAndre Hopkins Released: Fantasy Impact for Arizona Cardinals Players
Kyler Murray
An ACL tear knocked Murray out for the season last year. His Week 1 return remains doubtful. An October return is more realistic. And candidly, if Arizona begins the season in a heap of trouble, we might expect this team to be especially cautious with their franchise QB.
MORE: 2023 Dynasty Superflex Rankings
Whenever he does return, the loss of Hopkins will be felt immediately. Despite the buzz of his supposed regression, Hopkins posted a cool 64-717-3 receiving line in only nine games. He was the WR10 in fantasy points per contest. In five of those outings, his quarterback was Colt McCoy or Trace McSorley.
Even when Marquise Brown was healthy, Hopkins remained Murray's No. 1 target. He should be knocked down several more spots in QB rankings — not only because Hopkins is gone but also because it signals that Arizona will be in no rush to get Murray back on the field.
Colt McCoy
While Murray's out, McCoy will be expected to helm this offense. Entering his age-37 campaign, McCoy is serviceable at best. Surrounded by Hopkins, Brown, and a strong tertiary corps, he could be better than serviceable. But that's no longer a good bet.
Instead, in two-QB leagues, McCoy should be viewed as a bottom-six fantasy option while starting. And we shouldn't be surprised if Arizona gives the ball to fifth-round rookie Clayton Tune instead.
There's nothing to gain at this point with McCoy unless this team is pursuing the postseason — not likely. While Tune remains a longshot to earn starts, a strong showing in camp by the 24-year-old might force Arizona's hand.
Marquise Brown
The biggest fantasy winner is Brown. With Hopkins suspended for the first six games last year, Brown looked like a difference-maker out of the gate, racking up a 43-485-3 receiving line in those six contests on a commendable 67% catch rate.
MORE: Fantasy League Names | Fantasy Team Names
This was Brown at his best, as his reunion with his college quarterback looked like a boon for a franchise still bullish about its postseason chances. We know how things turned out. But heading into 2023, Brown is now positioned as the alpha. And while fantasy managers must wait patiently for Murray's return, when it does happen, Brown should be a weekly fantasy starter. Given how things looked as recently as this morning, this is a marked improvement.
Rondale Moore
Rondale Moore was placed on injured reserve last December with a groin injury after playing in only eight games. Still, he collected 41 catches for 414 yards during that stretch. The Hopkins news pushes Moore — a former second-round draft pick — into the fantasy must-draft realm.
The speedy wideout realistically could finish with the team's second-most receiving yards in 2023. And while the murky QB situation should concern everyone, Moore doesn't need an accurate deep-ball passer to get his yards. 85% of his NFL yards have come after the catch.
Essentially, he can generate his own production. That should help him in fantasy, regardless of who's throwing to him.
Greg Dortch
One of the biggest WR surprises of 2022 was Greg Dortch, a former undrafted free agent who broke out with blisteringly efficient usage. While he probably would have begun this season as the No. 4 WR, he can now be safely elevated to "draftable in deep leagues." In other words, if you have a lot of bench spots and can afford to stash a fringe WR streamer, there are worse guys to load up on.
Zach Ertz
See the above regarding Murray's projected return. Because Hopkins' release isn't just about the release; it's about what this might mean for an organization that could be throwing in the towel in 2023.
Ertz is now expendable. Entering his age-33 season, he's still a potential top-10 fantasy TE when healthy, even if Murray misses half the season. However, this team invested in Trey McBride last year, and Ertz is under contract for three more years (although the Cards can easily get out of it after two).
MORE: 2023 Dynasty Player Profiles
Could we see Ertz on the trade block? If so, his value could fluctuate between "waiver fodder" and "must-draft." He's the true wild card of this trade because Arizona might find a team with a strong TE that needs Ertz for two-TE sets on a Super Bowl run. Or the Cardinals might find a playoff contender in desperate need of a starter (like Arizona faced in 2021 when they traded for him).
As a result, Ertz is now a risky fantasy investment, with a lower floor and higher ceiling than he had before Hopkins was cut.
Trey McBride
If Hopkins' release does signal an impending trade of Ertz, then McBride could catapult into the top-12 fantasy TE tier. The 2022 second-round pick has all the makings of a long-term NFL starter. While this year could be up and down, perhaps no one gets a bigger bump in dynasty, as the odds of Ertz not being in Arizona in 2024 just skyrocketed.
Where Is Kool-Aid McKinstry From?
The Alabama Crimson Tide are almost never short a star cornerback playing for them on the outside. Dre Kirkpatrick, Dee Millner, Marlon Humphrey, and Patrick Surtain II all roamed the Crimson Tide locker room under the tutelage of defensive back coaching legend Nick Saban. Kool-Aid McKinstry is the next name on that list. How did the NFL Draft prospect get here?
Kool-Aid McKinstry Was Built for Stardom
McKinstry hails from Pinson, Alabama. Pinson is a suburb Northeast of Birmingham, with a population of 7,116, according to census data from July 2022. While growing up, McKinstry played football and basketball at Pinson Valley High School.
As a hooper, McKinstry helped Pinson win multiple state championships. The fluid 6'1″ athlete averaged 15 points, five assists, and 3.7 rebounds as a junior.
In fact, he was such a special athlete that McKinstry actually planned on playing both basketball and football in Tuscaloosa. He even practiced with Nate Oats' squad during his freshman year of college before transitioning fully to football. Earning a starting role on the outside early in his Crimson Tide career may have swayed him toward a singular direction.
His special talents were more evident on the football field for Pinson. As a sophomore in 2018, McKinstry earned Class 6A first-team all-state honors on defense. The following year, he was presented with AL.com's Birmingham Male Athlete of the Year award. As a senior, he led Pinson Valley to a state title as a two-way player.
During his senior year, he had 12 pass breakups and two interceptions on defense. Both of those interceptions were returned for touchdowns.
MORE: FREE Mock Draft Simulator With Trades
But he also caught 45 passes for 706 yards and 11 touchdowns, proving he was more than just a fluke with the ball in his hands. MaxPreps awarded him with the Alabama High School Football Player of the Year award.
Rivals, 247Sports, and On3 all handed out five-star ratings to McKinstry. All three believed he was the best recruit in the state and at the CB position nationally. Only ESPN rated him as a four-star. And instead of rating him as a CB, they labeled him an athlete. He certainly is.
Alabama Career to Date
McKinstry earned a role on the Crimson Tide defense as early as his freshman season. He amassed 25 tackles, an interception, and a pass breakup in 15 appearances.
As a sophomore, he returned as one of the team's starters on the outside, but he also took over punt-returning duties for the team. His 15.8-yard average earned him postseason honors from FWAA. Meanwhile, his defensive efforts earned him first-team all-SEC honors from the Associated Press.
He returned for his third season as a starter once again but with expectations of a future first-round NFL Draft pick. So far, he's done nothing but further cement his status as one of the best cover corners in college football.
Listen to the PFN Scouting Podcast
List to the PFN Scouting Podcast! Click the embedded player below to listen, or you can find the PFN Scouting Podcast on iTunes, Spotify, and all major podcast platforms.  Be sure to subscribe and leave us a five-star review! Rather watch instead? Check out the PFN Scouting Podcast on our Scouting YouTube channel.
Andrew Mukuba Draft Profile | Clemson, S Scouting Report
Where does Clemson's Andrew Mukuba rank in the 2024 NFL Draft safety class? Does he have the scouting report to challenge for the top positional spot? In the evaluation ahead, we'll approach that question head-on and come up with an answer.
Andrew Mukuba Draft Profile and Measurements
Height: 5'11"
Weight: 185 pounds
Position: Safety
School: Clemson
Current Year: Junior
It says something about a prospect — especially about a defensive back — when they're able to produce as a true freshman at a blue-blood college football program. Not many can say they checked this box, but Mukuba can.
After arriving at Clemson as a four-star recruit in 2021, Mukuba immediately became a stalwart defensive presence. He amassed 47 tackles, two tackles for loss, a sack, and seven pass deflections in his first collegiate action. In 2022, he added 54 tackles, a half-TFL, three deflections, and his first career pick.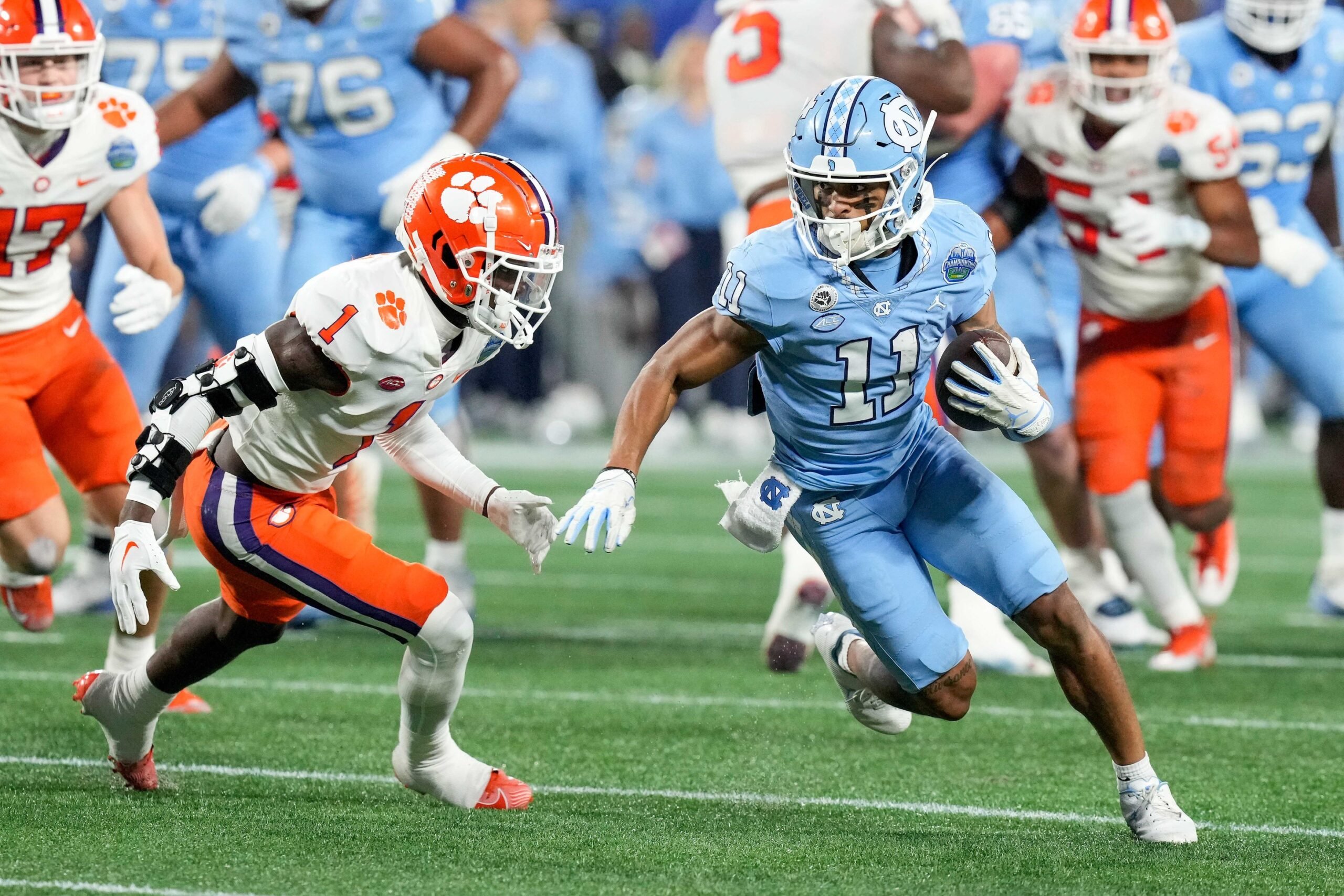 Mukuba was productive from the start, and he's also played across the secondary in his short time at Clemson. In 2022, he played a vast allotment of different alignments at safety, and now in 2023, he's the team's starting slot cornerback.
Needless to say, Mukuba has one of the most intriguing scouting profiles in the entire 2024 NFL Draft — but just how high can he go in the 2024 NFL Draft?
Andrew Mukuba Scouting Report
Strengths
Hyper-elite explosive presence with rapid foot speed and closing acceleration.
Shows off absurd hip fluidity and hinge freedom as a mover and has rare recovery.
Elastic athlete who can open and retract his strides with rare quickness and control.
Elite inherent flexibility enables him to sink and sustain at an extremely high level.
Can play single-high, two-high, a variety of intermediate zones, or man up in the slot.
Matches WRs through double-moves with lightning-quick reactionary foot speed.
Has an eye-catching range from single-high and can erase gaps with elongated strides.
Responds to stimulus almost instantly and is extremely adaptable in zone looks.
Incredibly instinctive with hip leverage in zone coverage, and naturally aligns to routes.
An active communicator who can pass off intermediate WRs and anticipate vertical routes.
Can mirror WR releases with fast feet and discipline, then turn and carry upfield.
Flashes biting physicality downhill and can use jams to delay WRs in man coverage.
Proficient at using his hyperactive short-area athleticism to break down ahead of tackles.
Can use throttle adjustments to sift through crowds and flow to ball carriers in support.
Shows glimpses of exceptional coordination and flexibility extending beyond his frame.
Weaknesses
Lean athlete near average stature overall, who has below-average mass.
Sometimes vacates intermediate zones too quickly when QBs eye the vertical plane.
At times, plays with angles a bit too wide on crossing routes, failing to crowd WRs.
Can better key in on the hips to react more quickly to route breaks back toward the ball.
Is sometimes a bit too passive with positioning in contested situations.
Can make a more concerted effort to wrap around WRs and play throws with precision.
Sometimes fails to get his head around quickly enough in contested situations.
Can be outmuscled by blocking WRs in space and failing to establish half-man relationships.
Doesn't always have the strength to finish solo tackles and sometimes whiffs in space.
Current Draft Projection and Summary
On my preliminary 2024 NFL Draft board, Mukuba grades out as the top safety prospect in the class and an early-to-mid Round 1 talent. There's a heightened degree of projection involved in Mukuba's evaluation, but particularly in a modern NFL that necessitates true versatility from defensive backs, Mukuba is about as versatile as it gets.
Mukuba's brand of mobility is the bedrock of his game. Not only is he an instant accelerator with imposing range, but he also has hyper-elite hinge fluidity, sink, and agility as a cover man in space.
In zone coverage, he can shift from vertical outside leverage to inside leverage, undergoing upwards of 270-degree transitions with effortless ease and maintaining his pacing and speed while doing so.
The mix of fluidity, explosiveness, foot speed, and deceleration capacity that Mukuba brings is near-unmatched and is a foundation for an all-encompassing coverage framework. Mukuba also has foot speed and transition ease to play man coverage in the slot, and he can maximize this coverage with disciplined technique and a precise sense of timing.
To that end, Mukuba has shown he can weaponize his athleticism with quick processing and instinctive feel. He has spatial awareness, keen eyes, and a smooth pedal to play both two-high and single-high. He can adjust his hip leverage through reps and instantly trigger on route breaks, and his closing speed allows him to erase gaps wherever he lines up.
MORE: FREE Mock Draft Simulator With Trades
At around 185 pounds, Mukuba is a bit light, and he can improve his consistency in finishing plays, both as a playmaker at the catch point and as a supporting defender. But overall, his composite profile is extremely strong.
As long as he continues to build up his frame, he has the irreplaceable elastic athleticism, processing ability, physical edge, and all-encompassing versatility to be a dynamic hybrid defender and impact starter at the NFL level.
NFL Draft Scouting Reports
Using the table below, browse NFL Draft scouting profiles for hundreds of draft prospects so you can get a head start on the 2024 NFL Draft.
Don't forget to check out our Mock Draft Simulator, where you can take control of your favorite NFL team and build its roster for the future!
You can sort the table below by player, team, or position. For mobile users, this table is best viewed in landscape mode.
Jared Verse Draft Profile | Florida State, EDGE Scouting Report
Florida State EDGE Jared Verse is a contender to be the top prospect at his position in the 2024 NFL Draft. But what is it about Verse that makes him such an enthralling competitor? Here, we'll do a deep dive into Verse's game and what he offers as an eventual NFL building block.
Jared Verse Draft Profile and Measurements
Height: 6'4″
Weight: 249 pounds
Position: Edge Rusher
School: Florida State
Current Year: Redshirt Senior
First-round prospects don't always come from the five-star talent pool. Verse, who was a tight end and defensive end at Central Columbia High School in Bloomsburg, Pennsylvania, went largely overlooked on the recruiting circuit, and he redshirted his first year at Albany.
As a redshirt freshman, Verse first began to show his potential. He accrued four sacks and 10 tackles for loss in a breakout campaign. And then, in 2021, he earned first-team All-Colonial Athletic Association honors, amassing 10 sacks and 11.5 TFLs on the year.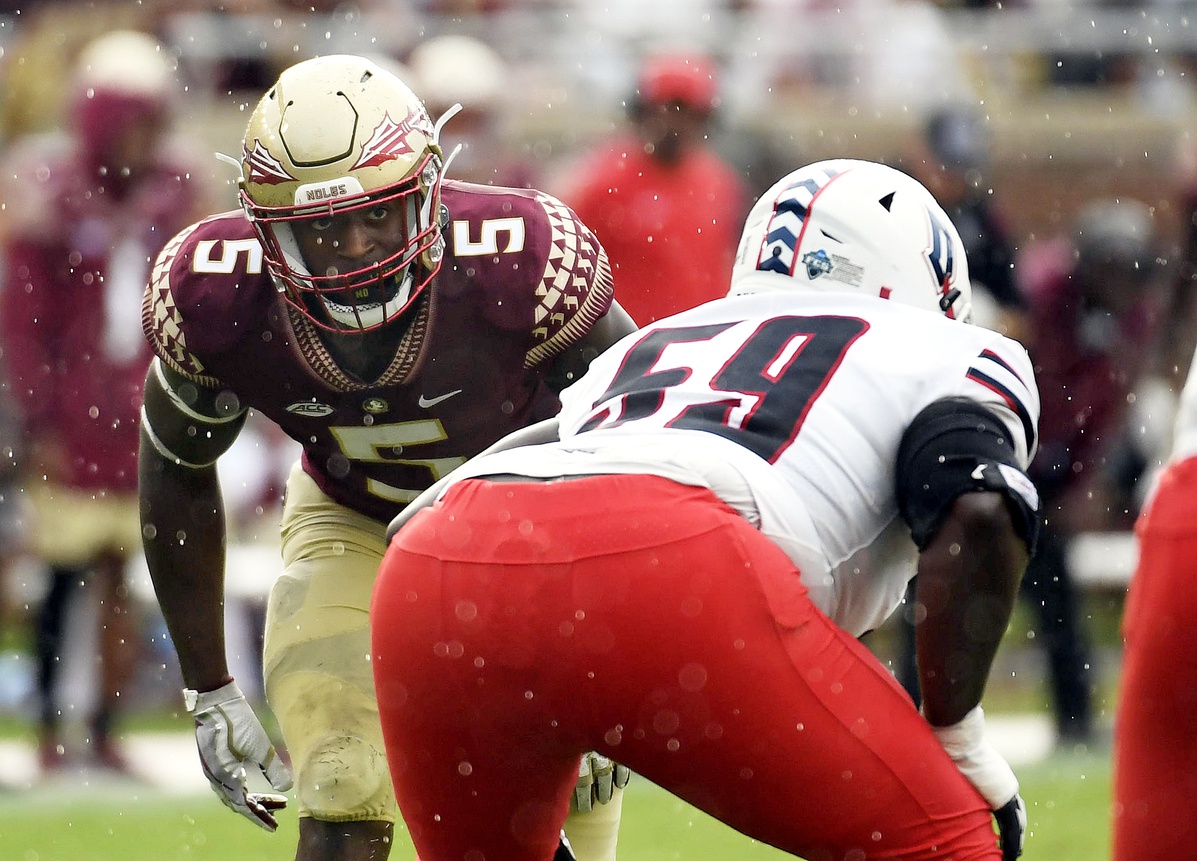 After reaching prominence on the FCS stage, Verse leveraged his performance into an NFL audition at Florida State. And as the Seminoles rose in 2022, so too did Verse. He didn't miss a beat moving from the CAA to the ACC, racking up nine sacks and 17 TFLs in a 2022 campaign that earned him first-team All-ACC recognition.
Verse could have declared for the 2023 NFL Draft, and he would've been a likely first-round pick alongside Will Anderson Jr., Tyree Wilson, and others. But instead, he came back to contend for a title at Florida State — as well as the EDGE1 mantle in 2024.
Jared Verse Scouting Report
Strengths
A bolt of lightning off the snap, which immediately stresses tackles vertically to the apex.
A high-octane, hyperactive athlete who moves in short, successive bursts of energy.
Effervescent twitch allows him to put tackles on a string with his unpredictability.
Well-sized with good frame density, length, and overall proportions.
Combined instant burst, length, and motor amount to a very imposing power profile.
Can use urgent leg drive and his inbuilt energetic motion to sustain power exertions.
Able to forklift up on power rushes, get under tackles, and use his base to dislodge.
Has ankle flexion to reduce his surface area and corner underneath extensions.
Initial hand placement is precise and deliberate, maximizing force and impact at contact.
Can flash his hands to widen tackles, then explode inside with violent bull-rushes.
Able to widen tackles and then pry his way inside the B-gap with violent double swipes.
Can levy quick long-arm-chop combos to simultaneously erode his blocker's balance and deconstruct extensions.
Brings constant, unmatched energy as a rusher and routinely fights through contact.
Has the necessary strength to violently wrench down opposing anchors in run support.
Brings incredible pursuit speed and reach and has the range to run down ball carriers.
Weaknesses
Doesn't have elite length or mass, slightly detracting from raw power capacity.
Doesn't quite have elite hip flexibility when breaching and rolling through the apex.
Can't always pinch hyper-acute angles and sustain acceleration to enter the pocket.
The frame is slightly high-cut, impacting open-field change-of-direction at times.
Can struggle to manage pad level and weight distribution when stunting.
Lacks elite force in his hands, as clubs sometimes fail to erode anchors.
Sometimes nullifies base ahead of contact, which can limit knock-back power.
Over-arching consistency with hands past initial rushing moves can be improved.
Can be baited into over-setting laterally by read options and can be late to recover.
Will turn 24 years old in November of his rookie season.
Current Draft Projection and Summary
Jared Verse grades out as an early-to-mid Round 1 prospect in the 2024 NFL Draft and the potential EDGE1 of the class. He was my preliminary EDGE1 heading into the 2023 season.
Factoring in age and physical tools, there's a case to be made for Alabama's Dallas Turner. But Verse is the most proven two-phase presence, who offers an upside of his own.
MORE: FREE Mock Draft Simulator With Trades
To start, Verse's production is no accident. The physical profile is there, but he's also a rangy playmaker in pursuit and a capable hand-fighter.
Not only has he shown that he can employ his traits in tandem to generate and sustain power, but he can also work off of power exertions, multitask while prying around blocks, and manipulate blockers one-on-one with his hyperactive twitch, control, and patience.
A need for more consistency on second and third counter attempts is the only thing keeping Verse from being an elite hand-fighter, and he's surely one of the best technicians in the 2024 NFL Draft EDGE group.
That makes his physical selling points — quantifiably elite explosiveness, effervescent twitch, and blistering speed around the arc — more tantalizing.
Verse visibly lacks elite bend, and while he has enough ankle flexion, his high-cut frame can prevent him from bending underneath blocks. He also lacks quantifiably elite power capacity. But Verse does have the combined burst, motor, strength, force capacity, and violence in his game to be a high-level two-phase disruptor, and he's easily worthy of Round 1 capital.
NFL Draft Scouting Reports
Using the table below, browse NFL Draft scouting profiles for hundreds of draft prospects so you can get a head start on the 2024 NFL Draft.
Don't forget to check out our Mock Draft Simulator, where you can take control of your favorite NFL team and build its roster for the future!
You can sort the table below by player, team, or position. For mobile users, this table is best viewed in landscape mode.