Celebrating Hispanic Heritage Month: Jeff Gomez & The Tennis Twins
n celebration of Hispanic Heritage Month, which takes place Sept. 15 – Oct. 15, USTA Florida is recognizing members of Florida's rich Hispanic community whose talents and dedication help to grow the great game of tennis every day — at every level. We applaud them all for making tennis a better and more inclusive sport, and for making the face of our game more accurately reflect the dynamic diversity of our country.
When it comes to tennis for Jeff Gomez, family is the first thing he thinks of. Gomez, who got into tennis later in his life, has dedicated a lot of time to the sport as he supports his twin daughters. "Family means love, and that means everything to me, my kids, my wife, they are everything!"
Jeff Gomez and the Tennis Twins
Gomez comes from Columbian decent, as his parents moved their family to America due to hardships back in his home country. He grew up playing baseball, but always had a passion for professional sports. "When I was in college, I would turn on ESPN and I used to watch the highlights of Pete Sampras and Serena Williams, and I was like, this is a pretty cool sport."
When Jeff's twin daughters, Jordyn and Jaedyn turned about 4 years old, he wanted them to get involved with sports. So, his wife said, "Tennis is an explosive sport and it'll be great for girls. It builds character and girl power."
Having a smaller background in tennis at the time, Jeff had to hit the books and learn everything he could to prepare his girls for the sport. "I'd go on YouTube and I'd watch videos, read books, find tutorials so I could learn how to teach these kids."
Even though they were active in other sports, the twins decided they wanted to stick with tennis because that's the sport they had the most fun playing. That decision has paid off well for the girls as they are well known throughout their community and the tennis scene.
"They go to school, and everybody knows them as the Tennis Twins," he said. "Kids will come up to my daughters at tournaments, as go 'you're the tennis twins, can we get a picture with you guys?' So, that's cool to see."
Since the girls have social media presence, Jeff tells them to live their life to inspire others. "You never know who's looking at your social media," he said. "There could be a 13-year-old girl somewhere, who might click on a picture and want to play tennis or feel inspired."
In his free time, Jeff loves to paint and teach others how to. "I started drawing young, and in high school I took art classes. Then I went to college, and I majored in art," he recalled. "It's just the love of it that stayed there."
He enjoys painting on canvas and loves to capture moments of professional athletes. His most recent one was of tennis legend, Rafael Nadal. "I look to an athlete that inspires me and that has made an impact."
Why It's Important To Celebrate Hispanic Heritage Month
Jeff finds it extremely important to celebrate Hispanic Heritage Month both in tennis and outside of it. On the tennis side, he talked about some of the game's best players being Hispanic.
"In the Spanish Community, there's a lot of people up there that we can look at as are our heroes," Gomez said. "That's inspirational, look at tennis, the top two players in the world are from Spain, in Carlos Alcaraz and Rafael Nadal."
He also talked about his parents, who grew up and lived in Colombia for years. His father instilled work ethic into him, because in Colombia "there was a need to work hard," Gomez said. "I saw how hard they worked just to help us with baseball practice, driving us to games and there was a sense of pride. This is where we're from, this is our language, our food, our culture, and our community."
When it comes to his daughters, their tennis coaches have all been Hispanic, so he knows how important they are to the community. "My side, being full of Hispanic Heritage, they got to see that and be inspired, and it has to stick to them."
The post Celebrating Hispanic Heritage Month: Jeff Gomez & The Tennis Twins appeared first on USTA Florida.
How Can Tennis Cope With the Loss of Its Household Names?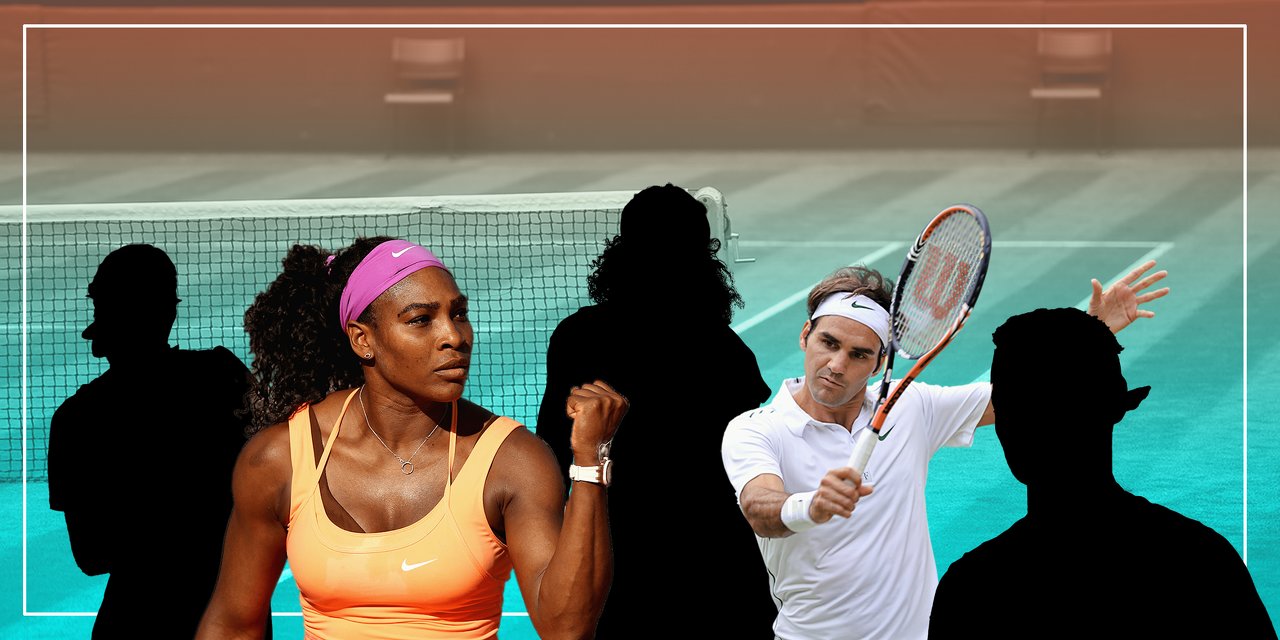 Columbia County's Linda Williams named USTA Florida Tennis Volunteer of the Month
If you are in the tennis community in Lake City then you know that Linda Williams is one of the best volunteers in the area. She is known for always going above and beyond to make sure everyone has an opportunity to play the sport.
She first got involved with tennis volunteering back in 2014, when she decided that she wanted to make a difference in Columbia County.
Williams is extremely active in the Lake City Columbia Community Tennis Association (LCCCTA), where she has served as Board Secretary, involved with Youth and Adult Programs, Publicity and Communication Coordinators, and other small roles within LCCCTA.
Linda loves to be hands-on in her community, which is why she decided to get started with volunteering. At first, she would help around LCCCTA wherever she was needed, but Williams knew she had more to offer.
This led to her joining the Youth Tennis Foundation of Florida as their Secretary. She became an advocate for Florida youth tennis, especially in the Lake City area, on top of working in the adult space.
In 2022, Linda organized and directed summer camps for youth of all ages across the entirety of Columbia County. It turned out to be one of the most successful camps the area has ever run. With the help of Williams, Columbia County expects to be able to run camps more often and with larger crowds.
When it comes to the adult scene, Linda is always setting up new programs, clinics, and other play opportunities to get people out to the courts. She has family that plays the sport, so she knows what the sport can do to unite a family and bring lasting memories.
Linda has been a massive asset to the LCCCTA and her peers have noticed just how much she is dedicated to providing tennis in the community. "Linda has been an integral part of the Lake City Columbia Community Tennis Association since its inception in 2014," they said. "Linda was very involved in the LCCCTA's support of the renovation and the expansion of the lighted courts and is part of the ongoing effort of the organization to have a 24-court public tennis complex built in the area."
USTA Florida thanks and congratulates Linda Williams as the USTA Florida Volunteer of the Month for October 2022 as a volunteer, organizing tennis and pushing for positive change in the community of Columbia County. 
ABOUT LINDA
Birthplace: West Runton, England
Family Members: Guy Williams, Erin Weiffenbach, Laurie Giebeig
Favorite Movie: Forrest Gump
Favorite Food: Lobster
Favorite Travel Spot: Nova Scotia
Favorite Shot: Backhand
My earliest tennis memory was… "Watching my uncles play doubles in the New England Championships."
If I could play tennis with three people, they would be… "Chris Evert, Bjorn Borg, and my uncle."
When I'm not playing tennis I am… "Teaching my 6 year old granddaughter to play tennis, taking photos, or exercising."
My best tennis memory is… " Taking my daughters to watch the women's championship finals in the Bausch & Lomb Tennis Tournament at Amelia Island."
I like to volunteer in tennis because… "I have always loved the sport and want everyone to know tennis is a sport that can be played by ALL ages–truly a sport of a lifetime! It's so satisfying to see the progress of beginner players developing skills and becoming more confident as they master the game. Excitement passes on to their friends and family–increasing our tennis world."
Interested in volunteering in tennis? Visit www.USTAFlorida.com/Volunteers to learn more about available opportunities.
Miami-Dade Captures Adult League National Championship & Other Top Finishes
Adult Tennis teams representing the state of Florida at the 2022 USTA League National Championships, have been competing throughout the month of October in locations across the country.  
We have reached the halfway mark, and so far, Florida teams have been putting out excellent results, including a team from Miami-Dade County, who were crowned National Champions in the Men's 4.5 40 and over division. 
The team from Miami-Dade (Biltmore Tennis Center) started off the initial round robin hot. They won their opening match 3-1 over Intermountain, and then swept their next one against Midwest. Miami closed out their next two matches in convincing fashion to secure their spot in the semifinals. 
Here, they faced off against North California, and the West Coast squad gave Miami a hard fight. Miami took the top lines for both singles and doubles, but NorCal was able to bounce back in the final two doubles matches to even it up at two apiece. This forced a fifth line tiebreaker, which Miami-Dade came out on top to advance to the finals against Southern California. The full results from the championship are listed below: 
Miami-Dade d. Southern California 3-1 
No. 1 Singles: Ramon Hudec (Miami) d. Kevin Springer 7-5, 6-0 
No. 1 Doubles: Alejandro Aller/Antonio Necuze (Miami) d. Paulo Barriga/Chris Kan 6-2, 6-3 
No. 2 Doubles: Jason Scanlon/Bryan Vo (SoCal) d. Sebastian Martinze-Christensen/Javier Martinez 6-2, 5-7, 1-0 
No. 3 Doubles: Marcos Lopez/Felipe Echeverri (Miami) d. John Nguyen/Ronald Brewer 7-6, 6-3 
Miami's captain, Armando Cabane said this was a long time coming for his team. "After 22 years in Florida's USTA tennis league and serving as a Team Captain for 21 of them, it was a dream come true to have my team win the National Championship," he said.  
Florida also had other top finishers across the National Championships so far. Over in the Women's 4.5 18 and over, Broward County (Lauderdale Tennis Club) were finalists after a tough loss to Mid-Atlantic.
In the Women's 7.0 55 and over Championship, Orange County (Lake Cane Tennis Center) made the semifinals and secured themselves with a third-place finish. Captain Angela Tuckerman said it was a great environment and they look forward to being back. "The energy on campus was great as all the players were excited to be a part of the fun," Tuckerman said.
Finally, in the Men's 3.5 40 and over division, Broward County (Brian Piccolo Tennis Center) finished fourth in their National Championship. 
For more information about USTA Florida Leagues and the National Championships visit www.ustaflorida.com/leagues.