Should I Pick Up the Lions WR This Week?
The Detroit Lions have been one of the best teams in the NFL this season and are right in the thick of the NFC playoff race. For the most part, they have done that without getting much of a contribution from 2022 NFL Draft first-round pick Jameson Williams.
Fantasy football managers were hoping that once Williams returned from his suspension, we would see him finding value in this offense. The speedy WR has all the tools to be an NFL and fantasy star, but the consistency has been lacking so far.
With Williams finding the end zone again last week, should fantasy managers pick him up off the waiver wire?

Should Jameson Williams Be a Fantasy Waiver Wire Add in Week 12?
It feels like every other week we are contemplating whether Williams should be a waiver wire add — this week is no different.
From a pure upside perspective, he is the kind of player you want on your roster, but knowing when to start him would be tricky. Right now he feels like either a desperation add if you are struggling at WR or an upside gamble if you want a potential difference-maker down the stretch.
In Week 11, Williams hauled in a 32-yard touchdown grab to finish with 44 yards and that score on two receptions and three targets. While it was a 10.4-point fantasy day in non-PPR and a 12.4-point performance in PPR, a huge chunk of that came on that play.
Unfortunately, that is what makes Williams such a terrifying proposition in your lineup. When we look back across Williams' season, the inconsistency terrifies fantasy managers. His non-PPR scores in the last six weeks have gone 0.2, 11.3, 0, 1.6, 1.8, 10.4, respectively. He has posted two weeks where he was a starting-level option and four weeks where he wasn't.
MORE: Buy Low, Sell High Week 12
The one thing that has been fairly consistent about Williams has been his targets. In four of the six games, he has seen three targets. The one game he saw more than three targets was against the Baltimore Ravens when, ironically, he scored zero fantasy points. Yeah, figure that one out.
An intriguing element this week was that Williams played a season-high 65% of the offensive snaps. Now that may have just been because the Lions were chasing the game, or it could be a sign of more to come.
Williams has consistently played either 33 or 34 offensive snaps in the past three games, but that jumped to 40 in Week 11. Since the bye, he has topped a 50% offensive snap share on two occasions.
After missing the first four weeks of practice, the Lions may have used the extended rest of the bye to get Williams more involved in packages. Hopefully, that translates to more consistent production down the line.
In a Best Ball league, if you can make midseason additions, Williams should be rostered for sure. Those explosive plays are what we know he can produce, and you want to be in the best place to capitalize on them. We've seen several similar style receivers to Williams where Best Ball is the only place they can regularly contribute.
MORE: Should You Pick Up Khalil Shakir?
In standard lineup-setting fantasy leagues, Williams is going to drive you crazy. In deeper leagues, having him as a bye week fill-in offers high upside but a low floor, so it depends if there is anyone on the waiver wire you would feel more comfortable starting in his place.
In 12-team leagues and shallower, Williams is a luxury play. If you've navigated your bye weeks and are just looking to add a player who could be a big contributor as his role grows, then you won't find many with a bigger upside than Williams.
In leagues where I'm already set for a playoff spot or very close, I'm adding Williams when my bench situation allows it. He very well could be a league-winner down the stretch.
Equally, in any leagues where I know I need to shoot for the moon over the next few weeks, I'm adding Williams as a potential ceiling play if his role continues to grow.
Looking to make a trade in your fantasy league? Having trouble deciding who to start and who to sit? Setting DFS lineups? Check out PFN's Free Fantasy Football Trade Analyzer, Start/Sit Optimizer, and DFS Lineup Optimizer to help you make the right decision!
Listen to the PFN Fantasy Podcast
Listen to the PFN Fantasy Podcast! Click the embedded player below to listen, or you can find the PFN Fantasy Podcast on iTunes, Spotify, and all major podcast platforms.  Be sure to subscribe and leave us a five-star review! Rather watch instead? Check out the PFN Fantasy Podcast on our Fantasy YouTube channel.
Will Taylor Play in Week 13? Fantasy Impact and More
Coming off his best fantasy football performance of the 2023 season, Indianapolis Colts RB Jonathan Taylor picked up an injury that could threaten his status for Sunday's game against the Tennessee Titans.
Let's take a closer look at the most recent news we have on Taylor and the potential fantasy impact this injury could have on the Colts' offense.
Latest Injury Update on Jonathan Taylor
Just as the 2021 NFL rushing champion appeared to be returning to his dominant form, Taylor appears to have suffered an injury that could put his status for Week 13 — and potentially beyond — in jeopardy.
According to a recent report from Ian Rapoport, Taylor picked up a thumb injury against the Tampa Bay Buccaneers and is going to require further evaluation.
We simply don't have enough information yet to detail exactly what type of injury he sustained to his thumb or how severe the injury is, but the fact Taylor's thumb is going to need a closer look is certainly cause for concern.
Will Taylor Play This Week?
Indianapolis has not held its first practice of the week heading into their AFC South matchup against Tennessee yet. So, we don't have an injury report detailing exactly what type of practice work Taylor will see while dealing with this thumb injury.
MORE: PFN's FREE NFL Playoff Predictor
The sheer fact Taylor's thumb is going to need further evaluation suggests that the injury could be significant, and there is a chance he could miss the team's game on Sunday altogether.
What Does This Mean for Zack Moss' Fantasy Ranking?
Fantasy managers who drafted Taylor in the first three rounds of their fantasy draft prior to the news he was going to be unavailable for the first four games of the season were already put in a hole to start the season.
Taylor returned in Week 5 only to produce 18 rushing yards on six carries, which was 17 carries fewer than teammate Zack Moss. What followed in the coming weeks was nearly a full-blown timeshare in the Colts' backfield, with the two players essentially splitting carries through Week 8.
In the two games before the team's bye, Taylor out-touched Moss (47 to 8) and appeared to have firmly reasserted himself as the clear bell-cow back for the Colts.
If this thumb injury turns out to be significant for Taylor, Moss would instantly see a huge jump in fantasy value. His production as the leading man in this backfield with Taylor out of the lineup was outstanding.
MORE: Zack Moss Waiver Wire Week 13
From Weeks 2 through 4, Moss saw more carries than any other running back in the league and was fourth in rushing yards with 280. During that same span, Moss averaged a league-leading 24 touches per game, which helped produce an average of 17.4 fantasy points per game in PPR formats.
If Taylor misses any time in the coming weeks, Moss would firmly enter the top-15 conversation at the RB position on a weekly basis.
One could make the argument that Moss has been a major thorn in the side of many Taylor shareholders this season. However, Moss proved earlier this season that a feature back in this Colts offense can be a major fantasy difference-maker.
If Moss is available on your waiver wire, then I would sprint to my computer to make a bid on him and aggressively use a hefty amount of my remaining FAAB on him.
Looking to make a trade in your fantasy league? Having trouble deciding who to start and who to sit? Setting DFS lineups? Check out PFN's Free Fantasy Football Trade Analyzer, Start/Sit Optimizer, and DFS Lineup Optimizer to help you make the right decision!
Listen to the PFN Fantasy Podcast
Listen to the PFN Fantasy Podcast! Click the embedded player below to listen, or you can find the PFN Fantasy Podcast on iTunes, Spotify, and all major podcast platforms.  Be sure to subscribe and leave us a five-star review! Rather watch instead? Check out the PFN Fantasy Podcast on our Fantasy YouTube channel.
'This Isn't a Hard Scouting Job at All'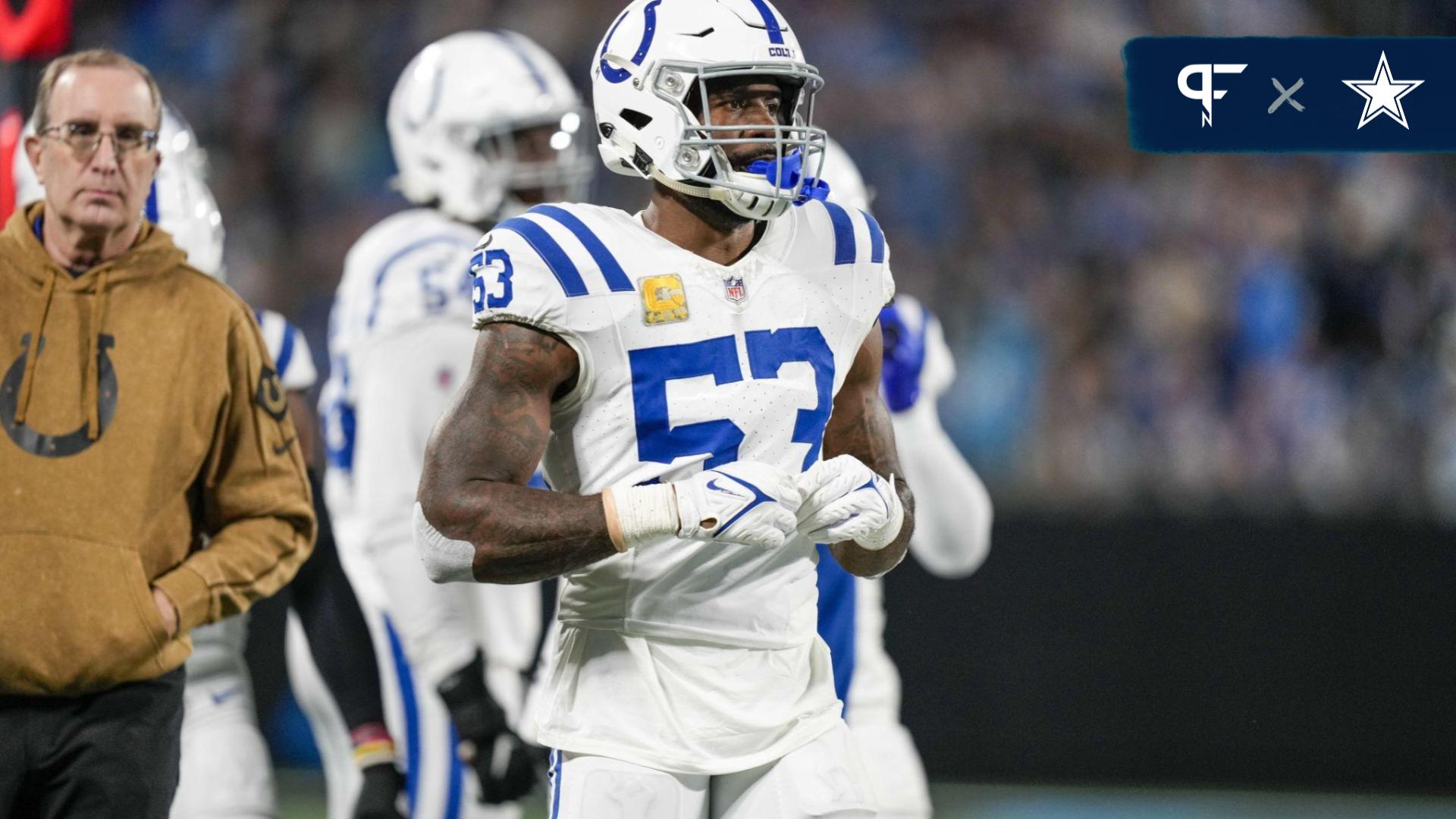 Dallas Cowboys general manager/owner Jerry Jones gave the latest update on the team's interest in former Indianapolis Colts' linebacker Shaquille Leonard and his visit to The Star in Frisco on Tuesday.
It was reported last week by the Dallas Morning News that Leonard would be coming in for a visit, and then NFL Network reported that the visit was confirmed for Tuesday.
Jones spoke about Leonard's visit on his weekly appearance on 105.3 The Fan, saying it wasn't difficult to see the kind of player Leonard has been and describing him as "outstanding" during his career.
Jerry Jones' Biggest Questions for Shaquille Leonard
The Cowboys owner said the team will check Leonard's health and medical status to see where the linebacker is for the immediate future and the rest of the season. Jones added that while he was talking on 105.3 The Fan, Leonard was getting his medical evaluation done by the team.
After Leonard's evaluation, Jones planned to have lunch with Leonard during his visit. But the most significant questions the Cowboys' front office has for Leonard are where he is in his career now and where he stands health-wise going forward.
Leonard has an injury history that kept him out for most of the 2022 season due to a setback in his back surgery in the offseason and a concussion he suffered upon his return.
Will Jones Let Leonard Leave the Building?
ESPN reported that Leonard has a scheduled visit with the Philadelphia Eagles after he visits with the Cowboys. When Jones was asked if knowing this factors into them trying to make a deal with Leonard, he said it didn't surprise him that the linebacker had another visit lined up.
MORE: How Does DaRon Bland's Humility Continue To Impress Just as Much as His Record-Breaking Game?
"It doesn't surprise me at all. I don't know that you need to stop there. There's probably several teams that he can make a contribution to, and this thing probably does not have a financial aspect to it as far as competition between the teams," said Jones.
The owner said that Dallas is an organization that players find attractive because of how the team is playing right now and the aura of the Cowboys, including the fan base.
Leonard's History With Current Dallas Cowboys' Players
Leonard has been teammates with safety Malik Hooker and cornerback Stephon Gilmore, who both have a history with the Colts.
When Jones was asked if he got Hooker or Gilmore's opinion on Leonard as a teammate, he said, "With a player like him, you don't have any questions. His contributions away from the football field is well known… He's a big positive on the team (and) has great respect."
He added, "When you've played as long as he's played, at the level that he's played, then this isn't a hard scouting job at all."
Leonard is a former second-round draft pick who is now a six-year veteran, three-time All-Pro, and four-time Pro Bowler.
Want to predict the rest of the 2023 season with our FREE NFL Playoff Predictor? Looking for the most up-to-date NFL standings? What about a breakdown of team depth charts or the NFL schedule? Pro Football Network has you covered with that and more! 
Listen to the PFN Cowboys Podcast
Listen to the PFN Cowboys Podcast! Click the embedded player below to listen, or you can find the PFN Cowboys Podcast on iTunes, Spotify, and all major podcast platforms.  Be sure to subscribe and leave us a five-star review! Rather watch instead? Check out the PFN Cowboys Podcast on our NFL YouTube channel.
Dak Prescott Continues Push for MVP Consideration
The QB power rankings return, and there is quite a bit of movement throughout the list. Has there been any changes toward the top of the rankings? Who are the new names inside of the top 10 for Week 13?
2023 QB Power Rankings
While we don't want to be rash in our decisions about how we view these quarterbacks in the macro, a "power ranking" is about the micro. They're more about the here and now. While perceived talent remains important, performance so far in 2023 will be weighed heavier.
32) Tim Boyle, New York Jets
There has been a lot of discussion this past week about Aaron Rodgers' influence on the New York Jets roster. Tim Boyle was once Rodgers' backup, Randall Cobb has hung around the veteran QB for most of his career, and healthy scratch Allen Lazard were all added at the behest of Rodgers.
But listen, guys. Boyle was never supposed to see the field. At best, he was supposed to be the third-string quarterback helping to keep the room comfortable. MetLife's turf and Rodgers' Achilles ended the Jets' season, not a few poor signings made to appease the expensive QB they just traded for.
31) Mac Jones, New England Patriots
For a long time, it was really easy to feel bad for Mac Jones. After playing well as a rookie, Bill Belichick nuked his confidence and the Patriots' offensive depth chart in 2022. Although they tried fixing things by hiring an actual offensive coordinator, it didn't work.
MORE: Week 13 NFL Power Rankings
Jones was like a freshly toasted Unfrosted Strawberry Pop-Tart. Coming out of the toaster (as a rookie), he looked like he could be a long-time distributor. But they left him on the counter too long (forget speed and talent were important at WR, hiring Matt Patricia to coach offense) and he became practically inedible.
Jones is lost on the field, and every time he makes a mistake on the field, it looks like his world is crashing down on him on the sideline. It's a tough scene.
30) Jake Browning, Cincinnati Bengals
The Cincinnati Bengals managed only 41 offensive plays against the Steelers. They had nine complete offensive possessions and managed multiple first downs on three of the nine. Their one drive with three, a 10-play, 57-yard drive, ended in a Jake Browning interception.
There were multiple other times throughout the game where the Steelers' defenders proved exactly why they play defense instead of offense.
29) Tommy DeVito, New York Giants
Tommy DeVito became a fun family story, but it starts and ends with him being a backup quarterback. The New York Giants' offensive environment makes it impossible to consistently succeed. But DeVito would need to come a long way to play at a level consistent with being a competent NFL starter.
Hard to overstate how 'big time' a throw this was by Tommy DeVito. You don't see 1st-rd QBs making these often, let alone UDFAs.
The setting: 3rd&16
Pocket collapsing around him, TD manipulates the pocket anyway, eyes downfield.
The ball placement from that spot? Wow. #Giants pic.twitter.com/0Nhcjljrsq

— Dan Schneier (@DanSchneierNFL) November 27, 2023
However, there are flashes of impressive feats from him, including high-level pocket manipulation, touch, and placement downfield. The problem becomes putting that together on a per-down basis instead of in intermittent flashes.
28) Dorian Thompson-Robinson, Cleveland Browns
Dorian-Thompson Robinson's traditional passing stats look lackluster, and he certainly isn't mimicking the play of a starter. But there were flashes of confidence and decisiveness against Denver that made him a clear option ahead of P.J. Walker as the Browns' backup.
If he can play, he needs to be the starter. And lest we forget, this team felt comfortable with him over the summer, which is why they traded Josh Dobbs in the first place.
27) Bryce Young, Carolina Panthers
The Carolina Panthers do not believe in Bryce Young. Teams do not throw screens on 4th-and-6 with the game hanging in the balance. Not even contemplating an attempt to the sticks is a fireable offense, and David Tepper seemingly agreed because Frank Reich and Josh McCown are both out in Carolina.
Carolina remained coy for a long time regarding which QB they'd draft after trading for the first pick. Rumors have swirled that Tepper pushed for Young in the first place. Tepper may or may not be a brilliant businessman, but the correlation between successfully growing a business and winning football games isn't remotely the same.
Young, independent of the horrific situation surrounding him, is playing poorly. But there's no denying that he was set up to fail from the start.
26) Desmond Ridder, Atlanta Falcons
Desmond Ridder has and will continue to flash with high-level processing and some nutty anticipatory window throws. But the Atlanta Falcons absolutely cannot go into the 2024 NFL season with Ridder remaining the incumbent starter.
He's simply not consistent enough behind a solid offensive line with weapons all around him and an offensive coach who made Ryan Tannehill look like a Pro-Bowl caliber quarterback for multiple seasons.
25) Aidan O'Connell, Las Vegas Raiders
Aidan O'Connell had a very solid day against a really good Kansas City defense. In fact, QBR absolutely loved his day. He scored a 90.4 on their scale, which is a big day, particularly for a quarterback not known for their rushing ability.
He might be a viable NFL starter moving forward, but at the NFL level, good enough is only good enough to eventually get a coach fired. Unless you have Kyle Shanahan and a stable of insane offensive weapons, a non-elite starter won't get you to the promised land. That's especially true in the AFC West.
24) Gardner Minshew, Indianapolis Colts
Shane Steichen needs a Nobel Prize for making the Colts' offense look anything more than mediocre on a consistent basis. Gardner Minshew is outstanding on RPO looks, but that's about it. He's playing with happy feet in the pocket and making far too many mistakes, particularly considering he doesn't necessarily play an aggressive style as a passer.
23) Kenny Pickett, Pittsburgh Steelers
Kenny Pickett was… dare I say… pretty good against the Bengals on Sunday. The Pittsburgh Steelers' QB remains far off where he needs to be mentally to sustain sufficient quarterback play, but he looked decisive and accurate against Cincinnati.
MORE: Early Week 13 Picks and Predictions
He attacked the middle of the field a few times while also making a few nice downfield throws. While a lot of his work came around the line of scrimmage, he looked far more confident in his first game without Matt Canada.
22) Joshua Dobbs, Minnesota Vikings
There is no sugar-coating the way Dobbs played against Chicago on Monday Night Football. He was horrendous. He threw four interceptions, and honestly, it could have been at least two more.
Fault definitely is shared on a few of his turnovers, but he made multiple inexcusable decisions that have folks questioning whether he'll remain the starter.
That's how ugly things were.
21) Derek Carr, New Orleans Saints
It's time we have a discussion about Derek Carr. There may not be a more confounding player in the NFL. He plays like a teenager rebelling against his parents. They tell him that he should be more aggressive, and he decides to throw the ball three yards on 3rd-and-9. They tell him he's making poor decisions and needs to be smarter, so he tries cashing checks that his arm and legs can't cash.
He's obviously talented. He's been a viable NFL starter for a long time now. But in a division with Desmond Ridder, Baker Mayfield, and Bryce Young, he needed to be the best to push this team into the playoffs in a bad division. Unfortunately, he hasn't been good enough.
20) Will Levis, Tennessee Titans
Will Levis is surviving. That's more than we should expect from a rookie quarterback who didn't look ready to be a Year 1 starter coming from Kentucky. Behind this offensive line, it's a miracle he's not turning the ball over multiple times per game.
That is a testament to Levis' progression from a season ago. Although DeAndre Hopkins can still play, there isn't a whole lot to love on the outside in Tennessee. He legitimately looks like he belongs.
19) Kyler Murray, Arizona Cardinals
Kyler Murray is still missing throws and making other, very special, throws. His electric feet are an insane weapon in the red zone. But he remains uncomfortable with middle-of-field concepts, which really limits how efficient an NFL offense can be.
As he continues to work his way back after the knee injury, it will be fascinating to see how the organization handles him if they end up with one of the top picks.
18) Sam Howell, Washington Commanders
Sam Howell threw the fourth-quarter pick-six against Dallas but played relatively well aside from that decision. Washington's offense sustained a few drives, and Howell continues to prove he's got the juice to attack intermediate windows.
If Washington can improve the offensive line this offseason and find continuity on offense (maybe hiring Eric Bienemy as the head coach) Howell could take off in Year 3.
17) Justin Fields, Chicago Bears
Justin Fields is one of the most dangerous entities in the NFL, but he's hamstrung by the Chicago Bears offensive line and schematic structure. Minnesota did not allow him to attack downfield. They blitzed him early and often, forcing the ball out of his hands quickly.
But Fields also needs to do a better job of protecting the football. That is something that the Josh Alens and Lamar Jacksons of the world tend to struggle with. Their endless playmaking efforts put the ball in adverse situations. Fields's relentless pursuit of wrenching himself out of sacks puts the ball at risk too much.
But if he had time to operate the same way his successor at Ohio State has in Houston … Instead, they're stuck throwing screens and praying their pass catchers can break a few tackles.
16) Baker Mayfield, Tampa Bay Buccaneers
The Tampa Bay Buccaneers had a somewhat curious game plan against the Colts. We've seen weekly themes in the Tampa Bay passing attack throughout the season. Considering the Colts' unfortunate inability to properly defend the intermediate middle of the field defensively, avoiding that area in Week 12 was … a decision.
15) Jordan Love, Green Bay Packers
Jordan Love is turning up the heat on the NFL. He's playing well. He's becoming more consistently accurate while still employing full 90-degree arm angle throws on a consistent basis. It certainly doesn't hurt that his young receiving corps has been playing more consistently.
With how he's playing, there's a chance that Green Bay could sneak into the NFC playoff picture after initially looking like a candidate to pick inside of the top 10.
14) Jared Goff, Detroit Lions
Jared Goff has been outstanding as a Detroit Lion. But he's devolved into a pumpkin over the past few weeks. He played well against the Chargers, but he's turning the ball over at an alarming rate, and it all comes down to struggling against pressure.
13) Geno Smith, Seattle Seahawks
Geno Smith has been very up and down recently. He got banged up against the Rams and had to face the 49ers defense the next week. Playing through an injury that potentially hurts velocity is a tough break against an already tough defense. But even before that, he'd struggled through games against other good defenses versus Cleveland and Baltimore.
Facing Dallas on Thursday isn't much better.
12) Matthew Stafford, Los Angeles Rams
Matthew Stafford hurt his thumb against Dallas and played horribly. However, he's been a spark of light on a roster that looks more like a backup and practice squad depth chart.
MORE: NFL WR Rankings 2023
What Stafford has accomplished this season behind that offensive line and without Cooper Kupp for a good chunk of it is nothing short of astounding.
11) Russell Wilson, Denver Broncos
It's been an absolute treat to see Russell Wilson play under Sean Payton. It's still not always pretty, but Wilson has been freed up by Payton. He's back to looking like himself again as a playmaker, and he's confidently operating the offense in a way he hasn't in years.
10) Justin Herbert, Los Angeles Chargers
Although the Ravens' game wasn't Justin Herbert's best performance, it remains tough to watch such a talented player continuously let down by the environment surrounding him. Unfortunately, the game against Baltimore was just another edition of the dread.
Keenan Allen and Austin Ekeler lost fumbles on consecutive drives. Then, Herbert was hit as he attempted a pass in the red zone down by 10 points, all because the Chargers have refused to address right tackle over the past half-decade.
9) Trevor Lawrence, Jacksonville Jaguars
Trevor Lawrence had a big day against the Houston Texans, but the Jaguars offense still lacks a lot of the explosive potential many others offer. He completed two passes of more than 20 air yards, but most of his work continues to come under 10 yards because of the limitations of the lackluster offensive line.
8) Josh Allen, Buffalo Bills
Josh Allen did just about everything he could against the Philadelphia Eagles in the rain, but it wasn't enough in the end. James Bradberry made an outstanding play.
But Allen also accounted for four total touchdowns and added 81 yards on the ground on top of his 339 through the air. He was outstanding, but just like so many other overtime games in his career, it hasn't been enough.
7) Brock Purdy, San Francisco 49ers
Brock Purdy had a bit of a ho-hum performance against Seattle, mostly because the 49ers were never forced to press things offensively. They were up 24-3 by halftime.
Purdy threw a poor ball over the middle that was returned by Seattle for six the other way, but he's avoided disaster since his horrific three-game skid before the Bye Week.
6) C.J. Stroud, Houston Texans
The AFC South might be fun over the next decade if C.J. Stroud and Trevor Lawrence continue to play at this level. Stroud had another big day, throwing for 304 yards while continuing to thrive over the middle of the field.
MORE: Week 12 Rookie Rankings
But Stroud has unlocked a new level of production dating back to the Michigan game when he was still at Ohio State. He's used his legs as a creator at a level we hadn't seen much before then, and it's made him a no-doubt Offensive Rookie of the Year.
5) Lamar Jackson, Baltimore Ravens
Lamar Jackson has been great this season, but only scoring 20 points against the Los Angeles Chargers defense is a bit of a black eye. It may take some time for this offense to find its shape since losing Mark Andrews. However, with playmakers like Odell Beckham Jr. and Zay Flowers, this offense should be just fine.
4) Tua Tagovailoa, Miami Dolphins
It was nice to see Jaylen Waddle get involved in the Miami Dolphins offense after feeling like a missing person for most of the season. When Miami's offense was at its very best in 2022, it was when Tyreek Hill and Waddle were racking up 20-plus targets between the two of them.
Tua's anticipatory nature will always get him into trouble from time to time as a passer. But limiting turnovers on offense is critical for a unit as explosive as Miami.
3) Jalen Hurts, Philadelphia Eagles
The Monday Night Football game was a tale of two halves for Jalen Hurts. He was not great in the first half, and the offense suffered because of it. He was wonderful in the second half, and the Eagles scored points on five of six drives (four touchdowns and one field goal).
2) Dak Prescott, Dallas Cowboys
Nobody has put together a string of performances this season the way that Dak Prescott has since playing the Los Angeles Rams.
MORE: 'Dad Strength' Fueling Dak Prescott's Hot Streak
In five games he's thrown 17 touchdowns and two interceptions. Has he played three bad defenses in a row? Absolutely. But he's also playing clean, consistent, and confident football for an offense that has done a schematic 180 since the Bye Week.
1) Patrick Mahomes, Kansas City Chiefs
Patrick Mahomes will always remain. Things won't always be perfect because of the issues on the Chiefs' roster. But Mahomes is the best player on the planet, and he deserves to remain at the top based on the respect he deserves.
Want to predict the rest of the 2023 season with our FREE NFL Playoff Predictor? Looking for the most up-to-date NFL standings? What about a breakdown of team depth charts or the NFL schedule? Pro Football Network has you covered with that and more!