Raptors, Heat, and Celtics targeting Jrue Holiday after Lillard trade
The Toronto Raptors, Miami Heat, and Boston Celtics are interested in adding Jrue Holiday after the two-time All-Star was traded to the Portland Trail Blazers in Damian Lillard's three-team blockbuster deal.
"Portland is going to be active over the next several days to find a new landing spot, rerouting Jrue Holiday to another team. … Teams like Miami, Toronto, [and] Boston [are pursuing Holiday]," reported The Athletic's Shams Charania.
During a recent interview with the Milwaukee Journal-Sentinel, Holiday reiterated that he had no desire to play for any other team. "Would love to," Holiday said when asked if he would prefer to remain in Milwaukee.
"Portland is going to be active over the next several days…to find a new landing spot, rerouting Jrue Holiday to another team… Teams like 𝗠𝗶𝗮𝗺𝗶, 𝗧𝗼𝗿𝗼𝗻𝘁𝗼, 𝗕𝗼𝘀𝘁𝗼𝗻…"

– @ShamsCharania pic.twitter.com/V0p5gmogWh

— BASKETBALL ON 𝕏 (@BasketballOnX) September 27, 2023
"Before I even won here, I think I said I'm a Buck for life and I mean that like deep in my heart. I don't want to play for any other team. I think we have a chance to continue to do great things as the Bucks team and organization, so I want to be in Milwaukee. … No, I don't plan on retiring. I don't plan on retiring."
Now, none of that matters after Wednesday's three-team trade. Along with Holiday, the Trail Blazers received Deandre Ayton, Toumani Camara, a 2029 unprotected first-round draft pick, and unprotected Milwaukee swap rights in 2028 and 2030.
Of course, the Phoenix Suns received Jusuf Nurkic, Grayson Allen, Nassir Little, and Keon Johnson. Considering the Suns added Bradley Beal this offseason, the trade works.
As for the Boston Celtics and Miami Heat, they face a difficult mission if either contender plans to outbid Toronto.
Toronto Raptors, Miami Heat, and Boston Celtics are seeking to trade for Portland Trail Blazers guard Jrue Holiday after Wednesday's three-team blockbuster deal
Holiday, 33, was selected 17th overall by the Philadelphia 76ers in the 2009 NBA Draft out of UCLA. The five-time All-Defensive member spent his first four seasons (2009-13) with the Sixers and next seven (2013-20) with the New Orleans Pelicans.
In November 2020, the Pelicans traded the 6-foot-3 guard to the Bucks.
Last season, Holiday made 65 starts in 67 appearances with Milwaukee. The California native averaged a career-high 19.3 points, 5.1 rebounds, 7.4 assists, and 1.2 steals per game.
In the Bucks' 149-136 win over the Indiana Pacers on March 29, 2023, the guard recorded a career-high 51 points, eight rebounds, and eight assists in 33 minutes as a starter. The UCLA product also shot 20-of-30 (66.7%) from the floor and hit three 3-pointers.
So many teams could use/trade for Jrue Holiday.

– Mavs
– Raptors
– Heat
– Knicks
– 76ers
– Lakers
– Twolves
– Celtics
– Pelicans
– And probably every other team lmao

— Matt (@sixringsofsteeI) September 27, 2023
At the end of the 2022-23 regular season, Holiday became the NBA's all-time leader in blocks for a point guard, with a total of 453. Among active players, the guard ranks 45th overall. He trails centers Serge Ibaka (1,759), Brook Lopez (1,700), DeAndre Jordan (1,524), and others.
A number of centers and forwards rank ahead of Jrue Holiday on the list. However, the only other active guard that comes close to him is ex-Los Angeles Clippers' John Wall, who ranks 47th with 439 blocks.
Will the Toronto Raptors make a move for Holiday? They can present a more enticing trade proposal to the Trail Blazers than either the Celtics or Heat. That's the bottom line.
Toronto was rumored to offer Portland a trade package for Lillard this week that featured two-time NBA All-Star Pascal Siakam, 2022 NBA Rookie of the Year Scottie Barnes, and rookie sharpshooter Gradey Dick. To acquire Holiday, perhaps the Raptors are willing to trade Barnes and Dick.
---
NBA Betting Content You May Like
---
Michael Malone to Make Changes to Bench – Basketball Insiders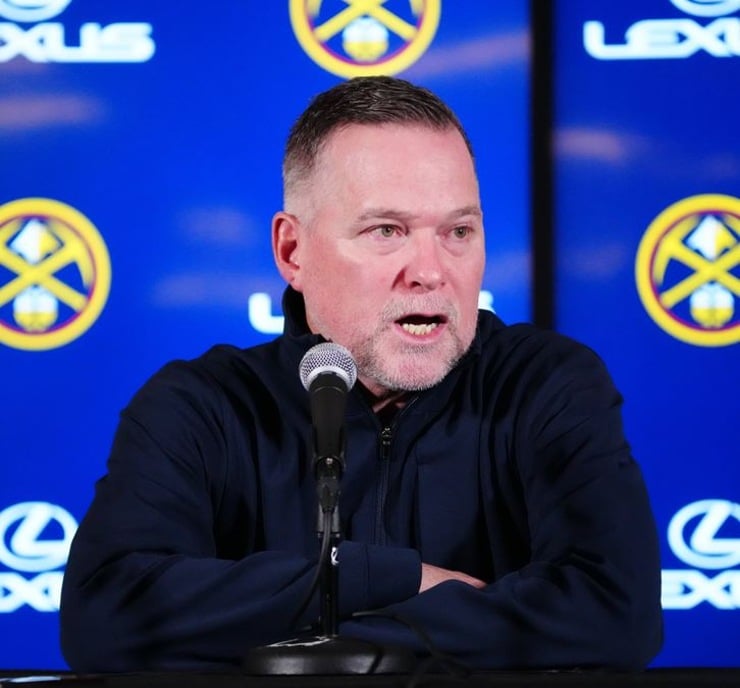 Head coach, Michael Malone, was not happy with the Denver Nuggets after a 1-4 road trip. One key point he highlighted was the struggles of the second unit.
"I just told them," Malone said. "Minutes, I'm gonna start playing different people. You just can't go out there because you think you're gonna play, and go out there and do nothing. You've gotta bring something to the party."
Malone also had this to say:
"I thought Justin played pretty well," Malone said. "So we'll see. We're going home. Very disappointing road trip. … That's the challenge when you have so many young, unproven players off the bench. But we also have games to win, and that delicate balance is a tightrope. But we need to win, and I'm gonna play the guys that are gonna help us get a win."
In terms of playing without a true point guard, Malone also added this:
"We're playing lineups out there with no point guard," Malone said. "We probably had quite a few minutes of that tonight. … Reggie, I think, has done a really good job in place of Jamal. But just like if Nikola goes down, we don't have another Nikola Jokic. We don't have another Jamal Murray."
All in all, expect a different looking second unit as the Nuggets return home.
Michael Malone to Make Changes to Second Unit Following Disappointing Road Trip 
Other Players Who Could See Increased Playing Time 
As Michael Malone alluded to, Justin Holiday is a wing who could see extended playing time. He is a veteran who has been on many teams and his experience could be valuable for the younger players. Denver also has the likes of DeAndre Jordan and Hunter Tyson on their roster. Don't be surprised if they get some time as the Nuggets look to rebound after their disappointing road trip.
It should also be noted that Malone stated the team is expecting Jamal Murray very soon as the month of November comes to an end. Remember, these are still the defending champions and with Nikola Jokic leading the way, they are still one of the most feared teams in the league. A couple hiccups in the road is not going to deter them from defending the crown.
Can Michael Malone and Company Right the Ship?
With Murray set to come back soon and Jokic playing at an extremely high level yet again, the Denver Nuggets should be more than okay. Remember, it was not until about mid December last season when they found their rhythm and truly solidified themselves as the top seed in the Western Conference. Denver has a history of hitting some bumps in the road to start their campaigns, so fans should not fret.
This is a core who has championship pedigree and has been together for awhile now. Jokic is looking like the MVP, Michael Porter is showing signs of growth in defensive areas, and Kentavious Caldwell-Pope is making a case for All-Defensive Team honors. Don't expect the defending champions to be down and out for long.
Lakers' Rui Hachimura out at least a week after nasal fracture
Los Angeles Lakers forward Rui Hachimura underwent a procedure Friday to repair a nasal fracture, the team announced. Hachimura, 25, did not accompany the Lakers on their four-game trip, which starts in Cleveland tonight and continues through Philadelphia (Monday), Detroit (Wednesday), and Oklahoma City (Thursday).
The 6-foot-8 wing will be re-evaluated by team doctors in about a week, the Lakers said. Hachimura's injury occurred late in the first quarter of Wednesday's 104-101 loss to the Dallas Mavericks. Of course, he posted nine points, three rebounds, and one assist in 26 minutes off the bench.
Referring to a few NBA betting sites, the Los Angeles Lakers hold seventh-shortest odds to win this season's 2024 championship. Sportsbooks are showing better odds for the Boston Celtics, Milwaukee Bucks, Denver Nuggets, Phoenix Suns, Golden State Warriors, and Philadelphia 76ers.
Another setback for the Lakers: Rui Hachimura underwent a procedure to repair a nasal fracture today, the team announced. The injury occurred in the Mavericks game on Wednesday. He will be reevaluated by team doctors in approximately one week.

— Dave McMenamin (@mcten) November 24, 2023
Hachimura also suffered a concussion against the Sacramento Kings on Oct. 29 that led to him missing four games. Since his return, he has averaged 13.5 points, 4.3 rebounds, and 1.3 steals in his last eight games going into Wednesday's loss to Dallas.
Through 12 appearances this season, Hachimura is averaging 11.8 points, 3.8 rebounds, 1.1 assists, and 23.3 minutes per game. The Gonzaga product is shooting a career-best 50.5% from the floor, along with 42.9% from 3-point range and 78.6% at the foul line.
Los Angeles Lakers' Rui Hachimura (nasal fracture) out at least a week, Gabe Vincent (knee) out indefinitely
In Los Angeles' 128-94 win over the Houston Rockets on Nov. 8, the five-year veteran recorded season highs of 24 points and eight boards in 26 minutes as a reserve. Hachimura shot 10-of-14 (71.4%) form the field and drained two 3-pointers as well.
The 2023-24 Lakers have had quite the injury-riddled season. Starting forward Cam Reddish missed the Dallas matchup because of soreness in his left groin. Plus, forward Jarred Vanderbilt (heel bursitis) has yet to make his season debut, and guard Gabe Vincent (left knee swelling) has missed the last three weeks.
Additionally, Los Angeles continues to show LeBron James as probable on the injury report due to a left calf contusion, and Anthony Davis is listed as probable because of discomfort in his left hip.
"We just have to weather the storm," Lakers coach Darvin Ham told Spectrum SportsNet's Mike Trudell when asked how he plans to work around the injuries.
Lakers currently have THREE players shooting 40+% from 3:

1. Rui Hachimura: 43% (1.3 3pm)
2. LeBron James: 41% (2.4 3pm)
3. D'angelo Russell: 40% (2.3 3pm)

The 3pt Shooting is on the rise. 📈

More Interesting Stats on the latest Lakers Legacy Podcast:https://t.co/80Ay2Jk1jY pic.twitter.com/LnZPP2YtBB

— Lakers Legacy (@LakersLegacyPod) November 25, 2023
"We haven't been whole yet, but I think the guys that have been out there and able to compete for us, they've done a phenomenal job," Ham added.
"We've had some tough losses, some tough wins, some lopsided losses, some lopsided wins. So, it's all a part of trying to figure out your group. We'll continue watching film, doing our walkthroughs.
"Whenever we get a chance to practice, we'll touch on different things and try to refortify ourselves. But again, the general things, ingredients you need to be successful, I see in our group: the selflessness, the togetherness, the competitive spirit. That's all you can ask for at this point in the season. We're laying a great foundation."
The Lakers signed Hachimura to a three-year, $51 million contract extension in the offseason after they acquired him from the Washington Wizards in January.
Miami Heat Not Interested in Zach LaVine – Basketball Insiders
It is no secret by now that the Bulls and Zach LaVine are not on the same page. As a result, the Zach LaVine trade sweepstakes have been been heating up in the past couple of weeks. There have been a few teams who have been mentioned in terms of the All-Star guard's services. The main teams being brought up have been the Los Angeles Lakers, Philadelphia 76ers, and the Miami Heat. However, it now seems as if the Heat are not interested in trading for LaVine at all. They are content with the current makeup of their squad.
Miami Heat Reportedly Not Interested in Chicago Bulls Shooting Guard, Zach LaVine 
Heat Don't Want to Part With Tyler Herro 
Any potential package centered around Zach LaVine from the Heat will likely require Tyler Herro. Much like the Damian Lillard situation. The Heat feel as if LaVine already has the same skillset as Herro, but on a more expensive contract. Plus, he is an older player. That still does not change the fact that Zach LaVine is still miles better than Herro, but Miami seems set on Herro's services for the future.
The two-time All-Star this season is still averaging 22.3 points on an effective field goal percentage of 53.1 percent. Clearly, the Bulls shooting guard still has something left in the tank. Even if the team could acquire LaVine without giving up Tyler Herro, the Heat would have an extremely expensive squad. They would exceed the $172.6 million luxury tax line by about $3 million. With all of this in mind, it somewhat makes sense why the Heat have no interest in negotiating for the star high-flyer.
Other Potential Destinations for Zach LaVine 
While the Miami Heat are most likely out of the Zach LaVine sweepstakes, there are still a few squad around the NBA who would be extremely interested. Of course, the first team who comes to mind for many peers is the Los Angeles Lakers. With LeBron James and Anthony Davis getting older, many think a third star to form a star trio would elevate the team into the elite echelon of the Western Conference. The Bulls would still ask for a hefty package and the Lakers cannot afford to lose too much depth.
Another team many NBA peers have been bringing up is the Philadelphia 76ers. With them out of the shadow of James Harden, they have been playing more loosely and more free. The reigning MVP in Joel Embiid continues to perform at a high level and Tyrese Maxey looks like a star in the making. However, many speculate that Zach LaVine could be the missing piece to push them past the second round of the playoffs. Especially with the door in the Eastern Conference looking wide open for them considering the Milwaukee Bucks have been struggling. If Zach LaVine were brought into the fold, a course to a 76ers-Celtics Eastern Conference Finals seems extremely likely. All in all, whichever team lands LaVine, will be acquiring a high-level scorer who should increase their chances at a title this year.