Miami Dolphins Provide Clarity on Concussed WR
Jaylen Waddle has been the Miami Dolphins' most dependable offensive weapon since the start of the 2021 season.
But Tua Tagovailoa will have to change things up in Week 3, as Waddle won't be available.
The Dolphins downgraded the star wide receiver to OUT Saturday afternoon. He had been questionable with a concussion.
Is Jaylen Waddle Going To Play Week 3?
Waddle returned to practice Friday after sitting out Wednesday and Thursday as he worked his way back from the head injury suffered in Foxborough, Mass., Sunday night. He was officially listed as questionable on the team's Friday injury report.
But the Dolphins tipped their hand Saturday afternoon when they elevated Robbie Chosen from the practice squad to the active roster. That was confirmed shortly afterward when Waddle was ruled out by the Dolphins for Week 3.
Waddle was concussed late in the fourth quarter of the Dolphins' win over the Patriots.
He was the intended target of a pass from Tagovailoa that Matthew Judon broke up. When Waddle was going to the ground, linebacker Marte Mapu forcefully made contact with the back of Waddle's helmet with his own.
El golpe de Marte Mapu. Jaylen Waddle está en revisión.#MIAvsNE | #ForeverNEpic.twitter.com/P0mw2p02vJ

— Nación Patriota (@nacionpatriots) September 18, 2023
Waddle has started 35 of a possible 36 games since entering the league in 2021.
Waddle, who has caught eight passes for 164 yards in 2023, has averaged 5.3 catches and 72.4 yards per game with 14 receiving touchdowns in his career.
MORE: Tracking Every NFL Week 3 Injury
"As a coach, I always prepare for worst-case scenarios, but we'll see how he progresses and see what the medical staff tells me about his position and the protocol [Saturday] and the day after and the day after and the day after," Dolphins coach Mike McDaniel said Friday.
"… I'm going to wait until he clears the protocol first before I even enter into is it best or worst for him or other players. I'm just going to wait until he clears the protocol before I even enter into that whole field. Stay in my lane."
Fantasy Impact With Waddle Ruled Out
Waddle and Tyreek Hill have combined for 49% of Dolphins receptions this season — not to mention 47.9% of the targets and 58.6% of the receiving yards. With Waddle out, a large usage window opens in this passing game should the Dolphins continue to pass at a 60% rate, but that seems unlikely against a defense that gave up 122 yards and two scores on the ground last week.
Raheem Mostert picked up at least three yards on 83.3% of his carries in the win over the Patriots last week. That rate may not sustain with one less option for defenses to look at, but his ability to be efficient while also having home-run potential has him flirting with my top 10 at the position this week.
Tagovailoa falls one spot in my QB rankings, but he remains a fine start in an offense that I still expect to move the ball consistently.
Listen to the PFN Dolphins Podcast
Listen to the PFN Dolphins Podcast! Click the embedded player below to listen, or you can find the PFN Dolphins Podcast on iTunes, Spotify, and all major podcast platforms.  Be sure to subscribe and leave us a five-star review! Rather watch instead? Check out the PFN Dolphins Podcast on our NFL YouTube channel.
NFL Videographer Suspended Over Viral Tyreek Hill Backflip Celebration Video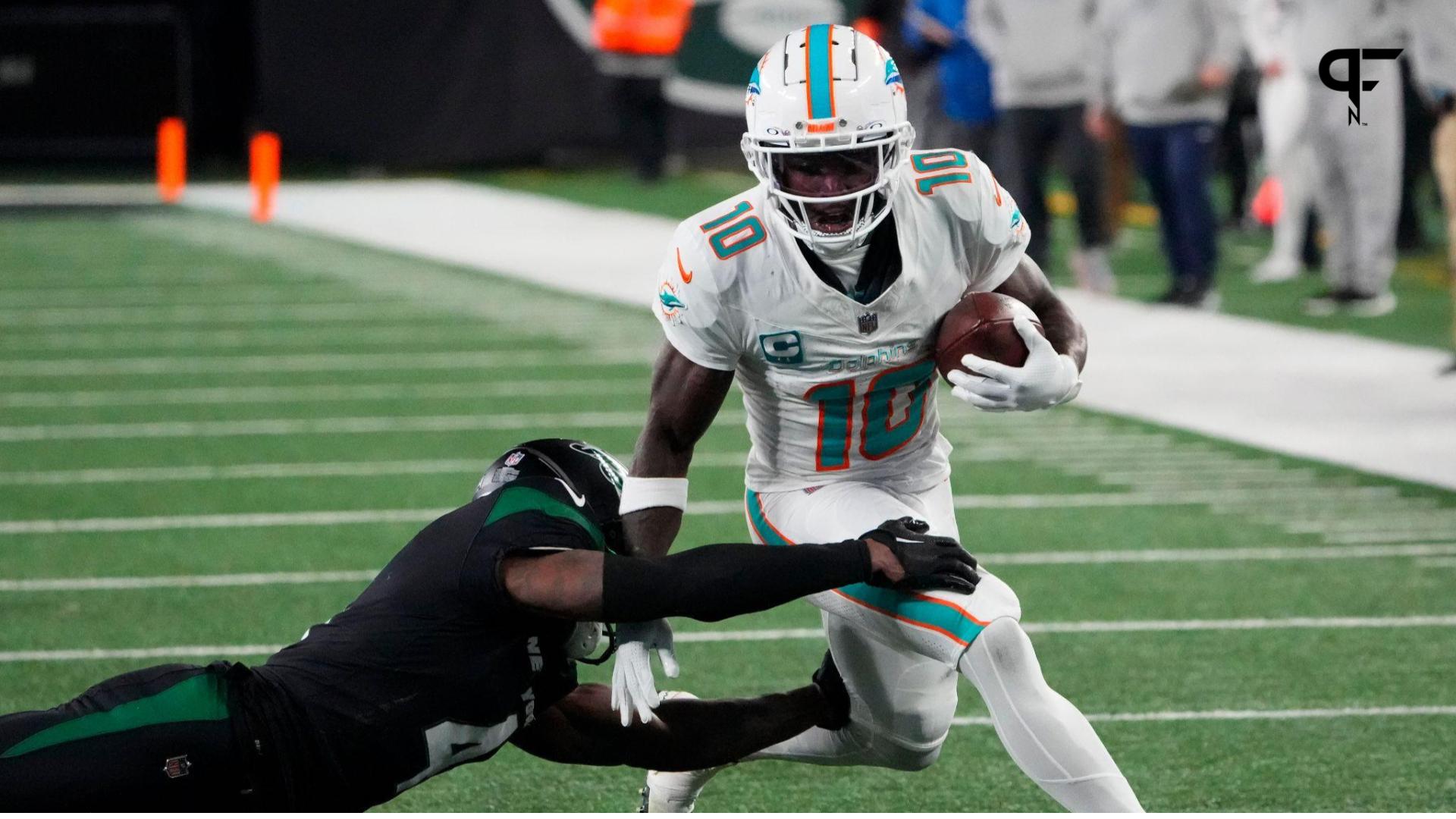 NFL videographer Kevin Fitzgibbons was part of a viral moment earlier this season when star wide receiver Tyreek Hill took his phone and did a backflip during a touchdown celebration.
Fitzgibbons was suspended from his role with the league for the remainder of the season after being hired to take video at all of the Miami Dolphins home games.
What led the league to take such a step?
NFL Videographer Suspended After Tyreek Hill's Viral Celebration
It stems from Hill's viral moment during the Dolphins' Week 6 win over the Carolina Panthers, a game they dominated 42-21. It was also a productive day for Hill, who caught six passes for 163 yards and one touchdown.
Fitzgibbons was filming from behind the end zone when Hill caught that touchdown pass during the second quarter of the game, and Hill immediately ran over to him after finding the end zone. Hill grabbed Fitzgibbons' phone from his hand and did a backflip while it was still recording.
The clip made its way onto social media and quickly went viral for the uniquely up-close view and rarity of the celebration.
Still thinking about this all-time celly by #Dolphins WR Tyreek Hill ⚪️📲

Where does it rank among the best ever celebrations? pic.twitter.com/XrZNkcCZDT

— Pro Football Network (@PFN365) October 16, 2023
Hill's use of a prop in the celebration resulted in a 15-yard penalty for unsportsmanlike conduct. He said after the game that he expected to be fined for it.
Fitzgibbons also served as Hill's social media manager at the time, leading some to speculate that the celebration was pre-planned. Hill commented to the contrary after the game.
"It's just one of those things that kind of happened," Hill said. "I saw the camera, and I just took it from him, and he didn't want me to take it from him. So I just called my shot."
Hill later added: "I know the NFL is going to fine me, but it's worth it, though, just being able to create memories I can look back on when I'm done playing is always something I think of every time I play this game. Every time I step on the field, I'm going to try to make it memorable."
Fitzgibbons has also previously done video work for Pro Football Network.
MORE: NFL World Reacts to Tyreek Hill's Surprising Comparison Between the Dolphins and Chiefs
He posted a video to his social media accounts on X (formerly known as Twitter) and Instagram discussing the matter and announcing his suspension for the remainder of the season following the incident.
"The NFL then let me know that I would be suspended for the remainder of the season, and possibly for good," Fitzgibbons said in the video.
"They said regardless of whether I knew the celebration was coming or not, I still had to be disciplined and that I shouldn't have jumped on the sidelines after the play. One of the best moments of my life turned upside down in a matter of seconds."
Fitzgibbons plans to continue working in the industry, whether that's remaining in the NFL world or moving to another sports organization.
"I get why the NFL made this decision and wish I could have done something to prevent it, but I'm thankful for the memory that Tyreek gave me," Fitzgibbons said. "This was the greatest job in the world, and I never took a day for granted. I can't thank the NFL enough for the opportunity.
"Whether it's back with the NFL or starting a new sport, I just hope to get another chance at doing what I love."
Want to predict the rest of the 2023 season with our FREE NFL Playoff Predictor? Looking for the most up-to-date NFL standings? What about a breakdown of team depth charts or the NFL schedule? Pro Football Network has you covered with that and more!
Should You Stash the Jets' QB for the Fantasy Playoffs?
It's been 12 weeks since Aaron Rodgers tore his Achilles on his first-ever drive as a member of the New York Jets. All along, he's maintained his intention to return faster than anyone in NFL history.
On Wednesday, the Jets opened the 21-day window to active Rodgers from injured reserve (IR). Should fantasy football managers consider stashing him for a potential Week 16 return?
Should Aaron Rodgers Be a Fantasy Waiver Wire Add in Week 13?
On the list of things I absolutely did not buy for a second, soon-to-be 40-year-old Rodgers shattering the NFL record for quickest return from a torn Achilles was quite high.
Once upon a time, a torn Achilles was a career-ending injury. Advancements in science and medicine turned it into something players could recover from, but it still carried a 6-9 month recovery time.
MORE: PFN's FREE NFL Playoff Predictor
Two years ago, we saw Cam Akers return in 5.5 months, and that was completely unheard of. Akers was also 22 years old. Now, Rodgers seeks to beat Akers' timeline by two whole months.
How Likely Is It That Aaron Rodgers Returns?
Although the Jets designated Rodgers to return from IR, it's important to understand the context of the situation. I would encourage anyone considering adding Rodgers to listen to this 40-second clip of Robert Saleh explaining the situation first.
The Jets have opened the 21 day practice window for Aaron Rodgers but there's nuance to that…
pic.twitter.com/5YYKHK61jp

— Armando Salguero (@ArmandoSalguero) November 29, 2023
As Armando Salguero astutely noted, there is, in fact, nuance to it.
By opening the 21-day window, Rodgers can now practice with his teammates. As Saleh indicated, Rodgers is not doing anything differently than he was doing in his own rehab. The difference is just he can now participate as an official practice member.
Saleh described this as less preparing Rodgers to play football and more a continued part of his rehab. Those words are key because it's clear that Rodgers is not necessarily practicing with the intent to play.
As Rodgers said himself on The Pat McAfee Show, per Adam Schefter, "…any potential return this season will depend on both his health and the Jets' playoff possibilities."
I know I still haven't addressed any fantasy football ramifications yet. That's because the most important aspect of deciding whether to stash Rodgers off the waiver wire is whether he will actually play. I remain extremely skeptical.
Early in the season, the risk of designating a player to return from IR that may not actually return is that NFL teams are forced to shut that player down for the season if they don't activate him by the end of that 21-day window.
That risk doesn't really exist with Rodgers. His return is contingent upon whether it's medically safe for him to play, as well as where the Jets are in the standings.
If the Jets are cooked, which I expect them to be, they don't activate Rodgers ahead of Week 16, and he's done for the season. That's no different than if they never activated him in the first place.
MORE: Yates' Fantasy Football Updated QB Rest-of-Season Rankings
It's not as if they will regret not being able to activate him in Week 17 or 18. If New York opts not to bring him back, it's because they were never going to do it anyway.
The Jets are currently 4-7. I would be stunned if anything less than 10-7 was enough to get into the playoffs. Their next two games are at home against the Falcons and Texans. If they win both of those, there will be some semblance of life.
The problem is Week 15 at the Dolphins. I believe that if the Jets lose that game, their playoff odds would be sub-1%, and they would not risk Rodgers' health to chase their proverbial one-outer.
If Rodgers Returns, Will He Have Fantasy Value?
As you can see, I am firmly in the camp of Rodgers not coming back this season. But for the sake of argument, let's assume he does. Let's assume the Jets win two of their last three games, and the team decides that because their odds aren't 0%, they're willing to take the shot in Week 16 and see what happens.
We can safely assume there's no chance Rodgers returns before Week 16. That means fantasy managers who pick him up are getting exactly two games out of him. And those two games will be in the fantasy semifinals and finals.
If your team is good enough to make it that far, do you really not have a better option at quarterback than a 40-year-old in his first game back from a torn Achilles?
Furthermore, the entire purpose of stashing Rodgers would be to use him in that Week 16 game. The Jets play the Browns in Cleveland in Week 17. They have a top-three pass defense, and you won't want to start Rodgers.
The appeal is in the Week 16 matchup at home against the Commanders' league-worst pass defense. Is that one matchup worth chasing? The answer depends on your situation.
Rodgers remains eligible for your league's IR spot. In some leagues, you can add players directly to the IR. If you have a free IR spot and a mediocre QB, you're not losing anything by adding Rodgers. If there's no risk, go right ahead.
However, if you need to drop a potentially useful player to add Rodgers, or if your IR spots are full and you'd have to burn an actual roster spot on him, I just don't think the juice is worth the squeeze.
The most likely outcome is Rodgers doesn't come back. Fantasy managers considering stashing him should operate as such.
Looking to make a trade in your fantasy league? Having trouble deciding who to start and who to sit? Setting DFS lineups? Check out PFN's Free Fantasy Football Trade Analyzer, Start/Sit Optimizer, and DFS Lineup Optimizer to help you make the right decision!
Listen to the PFN Fantasy Podcast
Listen to the PFN Fantasy Podcast! Click the embedded player below to listen, or you can find the PFN Fantasy Podcast on iTunes, Spotify, and all major podcast platforms.  Be sure to subscribe and leave us a five-star review! Rather watch instead? Check out the PFN Fantasy Podcast on our Fantasy YouTube channel.
Bills, Packers, Seahawks Are Teams To Target Ahead of Week 13 Action
The NFL playoff race is heating up, so it's the perfect time to use our brand-new NFL Playoff Predictor to play out various weekly scenarios to see how the playoff picture changes with each scenario.
Ever since the NFL expanded to a 14-team postseason, the end-of-season playoff race has become even more intriguing. By looking at the NFL playoff odds for the teams on the playoff bubble in the AFC and NFC, who are the best bets to make or miss the postseason?
NFL Playoff Odds Ahead of Week 13
Mathematically, no team has been eliminated yet from making the postseason. Yes, not even the 1-10 Carolina Panthers.
Let's take a look at my favorite playoff picks, including which teams you should be betting on to miss the postseason.
Seattle Seahawks To Miss Playoffs (-140 at ESPN BET)
Just a few weeks ago, the Seahawks were 5-2, in first place in the AFC West, and looked like a team you could've penciled in to make the postseason. But they've gone 1-3 since and have three games in a row against the Cowboys, 49ers, and Eagles. After this three-game stretch, they can very likely be 6-8.
The story for Seattle is pretty similar to last season — most of their wins come against bad teams. The biggest difference between this year's team and the 2022 Seahawks, however, is that Geno Smith hasn't been the same quarterback. His QBR is down from 62.8 to 50.1, and after he was seventh in EPA + CPOE last season, he's 18th among all quarterbacks in 2023.
The Seahawks are big underdogs to the Cowboys on Thursday Night Football this week. If they get blown out, their odds of missing the playoffs could move to -200 territory.
Green Bay Packers To Make Playoffs (-105 at ESPN BET)
The Packers are just half a game behind the Vikings for the final playoff spot in the NFC, and for the rest of the season, they seem like a much better value bet to make the playoffs.
MORE: NFL Against the Spread Standings
The difference between these two teams simply comes down to the quarterback position. While Joshua Dobbs has fallen back to reality with two really bad games in a row, Jordan Love has made really great strides in the second half of the season.
Jordan Love Weeks 1-6:

EPA/play (expected points added): 0.038 (17th)
CPOE (completion percentage over expected): -7.1 (32nd)

Jordan Love Weeks 7-12:

EPA/play: 0.121 (6th)
CPOE: 1.4 (7th)
Now that is quarterback development! Not only is Love playing much better, but the Packers also have the third-easiest schedule the rest of the way, with games left against the Panthers, Bears, and Giants.
Buffalo Bills To Make Playoffs (+400 at DraftKings)
I can't quit on the Bills. They might be 6-6 and currently 10th in the AFC, but they're simply too good to be counted out until they're mathematically eliminated.
Despite their record, Buffalo has the fourth-best point differential in the NFL. All six of their losses this season have been by one score, and only two of their wins have been by less than seven points.
The Bills have a really challenging schedule remaining, with games left against the Chiefs, Cowboys, and Dolphins. However, Miami could be resting their starters in Week 18, and Buffalo is good enough to beat anyone.
Also, maybe they're due for some regression after being one of the unluckiest teams in the NFL this season.
Buffalo is on a bye in Week 13, so it's unlikely their odds change much in the next week, but I can't pass up on them here.
Our Betting Lines page has the freshest lines and promos to get BANG for your buck. PFN's FREE Parlay Calculator and Betting Odds Calculator are also available for your betting process! New to sports betting? Check out our guide on How to Bet on the NFL. Visit our Sports Betting Legal Tracker on how to bet legally in the U.S.