Should Eagles TE Be in Fantasy Lineups Against the Vikings?
Coming into the year, there were only several tight ends that were highly sought after in fantasy football. This elite group included names like Travis Kelce, Mark Andrews, George Kittle, and T.J. Hockenson. But on the fringe of that group, there were several tight ends that managers hoped would step into the top tier in 2023.
One of these tight ends was Dallas Goedert of the Philadelphia Eagles. But after Week 1, many Goedert managers are unsure what to do about their tight end. Let's find out if Goedert is a player we can rely on in Week 2.
Looking to make a trade in your fantasy league? Having trouble deciding who to start and who to sit? Check out PFN's Free Fantasy Football Trade Analyzer and Start/Sit Optimizer to help you make the right decision!
Should I Start or Sit Dallas Goedert in Fantasy This Week?
Goedert had a strong 2022 campaign. He finished with 55 catches for 702 yards and three touchdowns in just 12 games played. This was good enough for the fifth-best points per game among tight ends last season.
OC Brian Johnson said the Eagles need to be more 'mindful' and "try to get those guys going within the flow of the game" in regards to Dallas Goedert and D'Andre Swift.

Hopefully Thursday night is a lot different than Week 1. #Eagles pic.twitter.com/EYJlDAiQYb

— Word On The Birds (@WordOnTheBirds) September 13, 2023
But Week 1 of 2023 was a very different story. In the Eagles 25-20 win against the New England Patriots, Goedert saw only one target, which fell incomplete. The tight end was in on 92% of the Eagles' offensive snaps, but he was a non-factor in the passing game.
This came in a game where QB Jalen Hurts had 33 total pass attempts. Goedert was tied for sixth in targets on the team, with three receivers and two running backs ahead of him.
Which ultimately begs the question: Should we start Dallas Goedert in Week 2? I think Goedert is still a tight end you will want to start on your teams. Unless you have an option in the same tier as Goedert like Kyle Pitts, Evan Engram, or Pat Freiermuth, Goedert is still your best chance for points at the position.
Fantasy Outlook for Goedert vs. Vikings
While Week 1 was highly disappointing, I still have faith that Goedert will be a key part of the Eagles' offense in 2023. Yes, he only saw one target on Sunday, but he also was on the field for almost every offensive snap. Opportunities will arise if Goedert continues to be on the field as much as he was in Week 1.
Remember, the Eagles were matched up against legendary head coach Bill Belichick, who historically does different things with his defense to keep the opposing offense guessing.
The plan that the Patriots came in with could have been constructed to take Goedert out of the game and force Hurts to look elsewhere than the middle of the field for his pass attempts.
MORE: Fantasy Football's Week 2 Burning Start/Sit Questions
When you look at Hurts' passing chart for Week 1 from Next Gen Stats, you can see that most of his passes were to the outside. At least two out of three pass attempts on Sunday were well outside the hashes for Hurts.
Compare this to his Week 9 passing chart from last year (a game in which Goedert had eight catches on nine targets for 100 yards and a touchdown), and you can see that the Patriots may have changed the Eagles' game plan a bit in Week 1.
Goedert is still a talented tight end in a high-powered offense in Philadelphia. One game does not dictate an entire season. If Goedert fails to see his targets increasing after Thursday night against the Minnesota Vikings, then we can start to wonder if this is a trend. But for now, I would chalk up Week 1 to just one low-output afternoon.
I expect a rebound from Goedert on Thursday night and would be starting him on any roster where he was the top tight-end option entering the season.
Listen to the PFN Fantasy Podcast
Did you know that Pro Football Network has a fantasy football podcast? Click the embedded player below to listen, or you can find the PFN Fantasy Podcast on iTunes, Spotify, and all major podcast platforms.  Be sure to subscribe and leave us a five-star review! Rather watch instead? Check out the PFN Fantasy Podcast on our Fantasy YouTube channel.
Should You Start Kareem Hunt or Jerome Ford in Fantasy Football Week 3?
Monday night brought one of the hardest things we have to see as football fans: serious injuries. When Cleveland Browns running back Nick Chubb was carted off the field with a season-ending knee injury that was too grotesque to show on television, it left a void in the team's offense.
With Chubb out, Jerome Ford took the bulk of the carries for the rest of the game. But will that be the same going forward or will the return of Kareem Hunt be the top option for the Browns now? Alright fantasy football managers, et's figure out what is going on in the Cleveland backfield.
Looking to make a trade in your fantasy league? Having trouble deciding who to start and who to sit? Check out PFN's Free Fantasy Football Trade Analyzer and Start/Sit Optimizer to help you make the right decision!
Kareem Hunt Fantasy Outlook This Week
Just days after Chubb's season-ending injury, the Browns hit free agency to bring back an old face in Hunt. After not finding a new home in the offseason, Hunt was one of the more obvious options for the Browns to turn to in their situation.
The reason why Hunt was still a free agent is what worries me — he wasn't exactly a great running back in 2022 for the Browns. Totaling just 678 yards on 158 total touches last year, Hunt looked like a shell of the running back he once was in the NFL.
MORE: 2023 RB Fantasy Football Rankings
But Hunt does bring a veteran presence to Cleveland's backfield that is certainly needed. Jerome Ford is only in his second year in the NFL and putting the entire running game in a second-year player's hands isn't always the best move.
While Hunt could get involved in the offense once again in Cleveland, he is just getting back to NFL speed this week. Hunt hasn't practiced with an NFL team since last season. I don't anticipate he is going to be a large part of the Browns' game plan in Week 3.
Jerome Ford Fantasy Outlook This Week
While the Chubb injury was devastating, Ford was able to relieve some of the pain for Cleveland fans. After Chubb exited, Ford carried the ball 16 times on Monday night for 106 yards. He added another 25 yards and a touchdown through the air.
Ford's totals were good enough for RB6 on the week in 0.5 PPR formats. The total could have been even higher if his elbow hadn't hit down inches before the goal line on a 69-yard rush in the third quarter. RB Pierre Strong was able to snipe the touchdown a few plays later while Ford caught his breath on the sideline.
MORE: PFN Consensus Rankings
The breakout game gives fantasy managers everywhere hope that Ford may be a viable option for their team for the rest of 2023. Having a performance like he did on Monday night, there is certainly excitement to be had. But does the signing of Hunt dampen these expectations?
Which of the Cleveland Browns RBs Should You Start?
If you happen to be rostering both Browns running backs, there is no doubt that you should be starting Ford in Week 3. After a 131-yard performance with a touchdown, Ford is someone you have to have in your lineup this week.
While the prospect of Hunt is something to keep an eye on, he is just getting back to NFL form. I doubt the Browns would want to stick him in for a bunch of carries this weekend — even if they didn't have another back who played well in Week 2, which they certainly did.
All of this is shaping up to be a very clear pick. Ford was exceptional in Week 2. The Browns need offensive firepower and have to keep giving it to the hot hand. Until Ford slows down and Hunt fully gears up for NFL action, Ford is the guy in Cleveland.
Listen to the PFN Fantasy Podcast
Listen to the PFN Fantasy Podcast! Click the embedded player below to listen, or you can find the PFN Fantasy Podcast on iTunes, Spotify, and all major podcast platforms.  Be sure to subscribe and leave us a five-star review! Rather watch instead? Check out the PFN Fantasy Podcast on our Fantasy YouTube channel.
What To Expect From De'Von Achane in Week 3?
MIAMI GARDENS, Fla. — A month ago, De'Von Achane was — at best — the Miami Dolphins' No. 4 running back (and No. 5 if you include Alec Ingold, which you should).
On Sunday, he will likely be one snap away from RB1.
So beyond hoping that Raheem Mostert doesn't become the latest Dolphins running back to get hurt, what should be Miami's approach Sunday against the Denver Broncos?
Miami Dolphins' De'Von Achane Outlook
With Jeff Wilson Jr. on injured reserve (IR) and Salvon Ahmed dealing with a groin injury, the Dolphins enter Week 3 with three healthy running backs on their active roster: Mostert, Achane, and Chris Brooks.
The Dolphins do have one other option on their practice squad: Darrynton Evans.
But that's it.
So the assumption should be that Mostert will be the Dolphins' featured back (again) on Sunday, with Achane playing the Ahmed role.
Ahmed and Achane have been on the field for 37 of a possible 130 offensive snaps and have gotten 11 of the 44 running back touches (including Ingold) through the first two weeks.
That would mean Achane — who was a healthy scratch just two weeks ago — could expect to get five or so carries and have a small role in the passing game.
MORE: Jason Sanders Gets Vote of Confidence After Latest Miss
"I thought he did well with his opportunities," Dolphins coach Mike McDaniel said this week. "You can tell that the game is not too big for him. The biggest challenge is absorbing the entirety of the game plan, which I think he's made vast improvements upon really since the spring and through training camp.
"I think, fortunately for the team, he's prepared for the further opportunities that he'll be given moving forward," McDaniel added.
RB coach Eric Studesville talks De'Von Achane and Raheem Mostert pic.twitter.com/SD0ohZk8N0

— Chris Perkins (@chrisperk) September 21, 2023
He could find the sledding a bit tough Sunday.
The Broncos' run defense ranks fourth in success rate (31.8%), 10th in yards per carry allowed (3.5), 11th in rush defense (91.5), and 17th in rush defense EPA (-.11).
The Dolphins' ground attack, meanwhile, is 12th in yards per carry (4.3) and success rate (41.3%), 15th in yards per game (107.5), but just 23rd in rush EPA (-.2).
"It don't start on Sunday," Achane said of why he believes he'll have success. "It started Monday through Saturday. Yeah. I feel like I put in the work at practice. So on game days, it's easy. The hardest part is at practice. So in a game, it should be easy."
Listen to the PFN Dolphins Podcast
Listen to the PFN Dolphins Podcast! Click the embedded player below to listen, or you can find the PFN Dolphins Podcast on iTunes, Spotify, and all major podcast platforms.  Be sure to subscribe and leave us a five-star review! Rather watch instead? Check out the PFN Dolphins Podcast on our NFL YouTube channel.
Who Is Deion Sanders' Daughter Deiondra Sanders? A Look at the Colorado HC's Other Child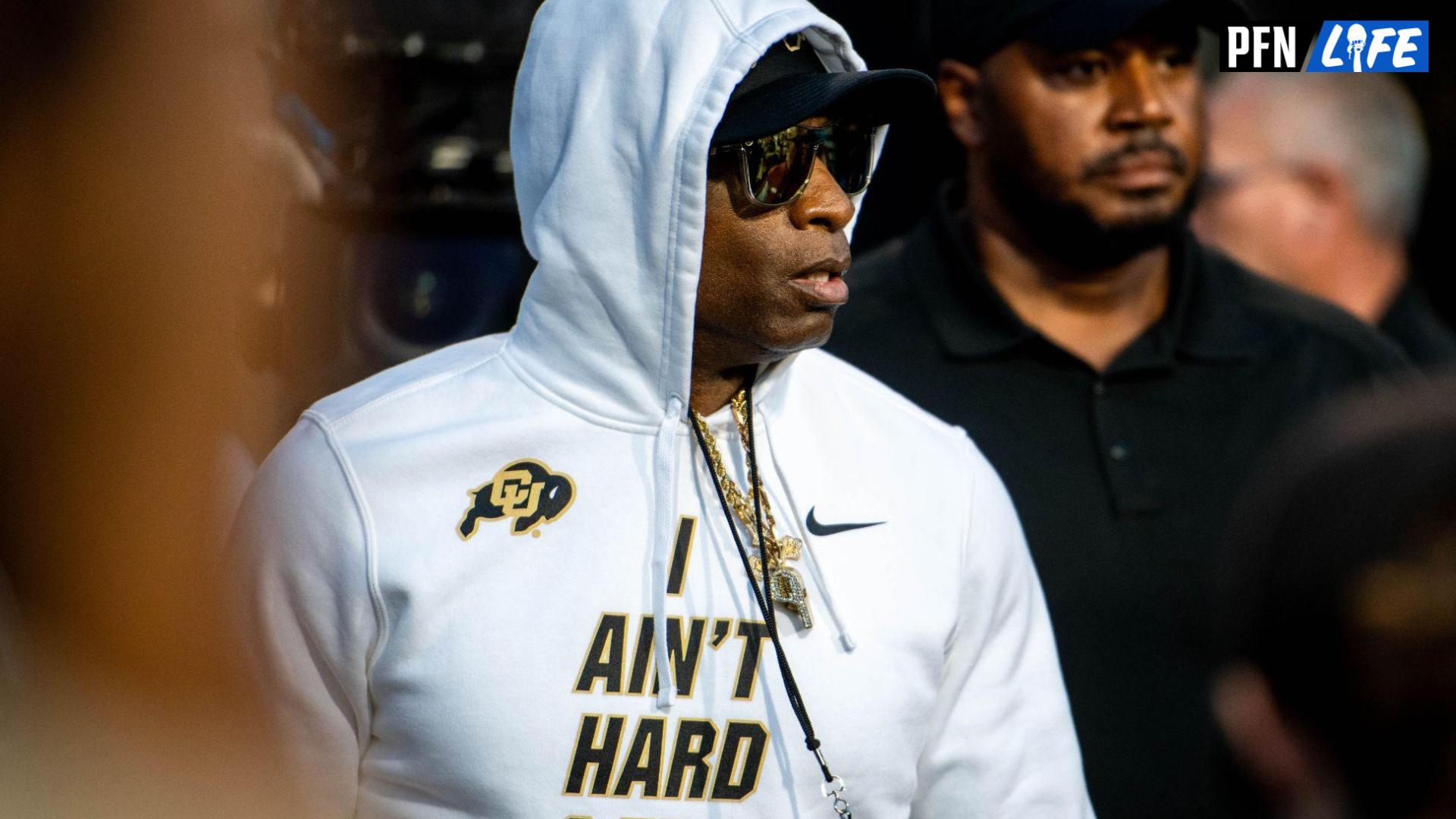 Escaping Deion Sanders' shadow when he is your father must be daunting. Think about it. Many NFL Draft analysts consider Shedeur Sanders a potential first-round prospect, and he is the second-most popular Sanders in his family at the University of Colorado.
Sanders was an all-time great and has captivated America's imagination with what he is doing at Colorado. Sanders has changed the college football landscape, and there is no going back.
Sanders has played terrific football so far in 2023. Sanders was considered a fascination heading into the season. He has elevated his draft stock as much as any player in college football, and an early-round selection is not out of the question.
As we wax poetic about the Sanders family, there is a glaring weakness. There is no mention of Deiondra Sanders, who has taken a backseat to her famous father and emerging brothers. Well, that may not be the case much longer as Deion's daughter Deiondra prepares to take the main stage.
Getting To Know Deiondra Sanders
Sanders is becoming a social media star. Deion's daughter has grown her Instagram following to 200,000, and she's not stopping there. Deiondra has a YouTube channel where she comments on several topics in her episodes.
Deiondra Sanders and Loreal Sarkisian working out together 💪💪 pic.twitter.com/WSYDCZSwXK

— Yagya Bhargava (@YagyaBhargava) September 20, 2023
Reportedly, the show is rapidly growing, so they must head out on the road and are now traveling internationally.
One look at Sanders' Instagram, and you can tell she is a social media influencer with an impeccable fashion sense. The account screams style and elegance.
MORE: How Many of Deion Sanders' Kids Play Football?
Sanders' family will always be close to her, involving her father and brothers' current passion, Colorado football, into her social media stratosphere by hosting watch parties during the Buffaloes game.
I knew we was gone win but regardless they needed to lose, they was playing dirty.

— Deiondra Sanders (@DeiondraSanders) September 17, 2023
Sanders' official position is Director of Communications and Client Services, and she previously served as the Director of Communications for Sc3 Sports Management.
Sanders's bio on LinkedIn reads, "Deiondra Manages the communication and relations with internal and external clients, and media, and is responsible for developing strategic partnerships with Fortune 500 companies and various business entities.
"Ms. Sanders has over twenty years of experience in the sports business and entertainment industry and is the proud daughter of NFL Hall of Famer, Deion Sanders."
Such a great opportunity to speak with @DeiondraSanders, daughter of @DeionSanders. She talks about how proud she is of her father & brothers.
#DeionSanders #football #blackfamily @CUBuffsFootball @youngboldregal
Click the link below!https://t.co/AFaoAJWMTc pic.twitter.com/UNxpVoiHaP

— Evan Jackson (@bowtiebanditYBR) September 18, 2023
Although her bond with her family is evident, like her brothers, Sanders is not resting on her laurels or living off her father's name. Deiondra is making her own path, and the future is bright for the latest Sanders star.