Latest on the Tennesee Titans WR
DeAndre Hopkins landed himself on the Tennessee Titans injury report on Wednesday with an apparent ankle injury. Hopkins was targeted 13 times in his first game with the Titans on Sunday against the Saints. He was absent from practice on Wednesday.
DeAndre Hopkins Injury Update
Hopkins apparently injured his ankle on the final offensive play of the game for the Titans. Although the camera wasn't panned out enough to see the full extent of things, there was an obvious limp as he trotted off the field for fourth down.
DeAndre Hopkins appears to have hurt his left ankle on the #Titans last offensive play of the game, taking an awkward tackle from Demario Davis.

You can see him running off on the broadcast, but it's poor framing to appreciate any limp that may be there.

(1/2) https://t.co/KRrzAv3Gol pic.twitter.com/FTd5MaHNn2

— Easton Freeze (@eastonfreeze) September 13, 2023
Hopkins is now 31 and has an extensive injury history. He's suffered knee sprains, a torn MCL, a hamstring strain, a rib injury, a lower back sprain, and an ankle sprain, all since the start of 2020.
But despite all of that — and a suspension for violating the NFL's PED policy — Hopkins has remained one of the most effective pass catchers in the NFL. In 36 games since 2020, he averaged 76.7 yards per game and 8.3 yards per target.
Maybe Tim Kelly is more to blame than Hopkins for getting away from the Titans' usual formula in Week 1 (even though it seemed to be working). However, his physical talent makes teams want to force the ball his way.
So while it's never a good thing for arguably your best offensive player to get banged up, this seemingly minor injury could get the Titans offense back to their roots: Take the responsibility away from Ryan Tannehill, hand the ball off, and run play action instead of dropping back to pass.
Fantasy Football Impact of Hopkins' Injury
– Analysis from PFN Fantasy Analyst Jason Katz
After one game, there is no debate about who the target hog is of the Titans' WR corps. It's Hopkins, who commanded a whopping 13 targets in his debut with the team. While Hopkins finished the game just fine, he popped up on Wednesday's injury report with an ankle issue.
It's too early to panic about Hopkins potentially missing Sunday's contest, but if he did, it would put the underwhelming sophomore Treylon Burks in line for WR1 duties.
MORE: See the Latest Injury Updates With PFN's Player News Tracker
Burks commanded just three targets against the Saints, catching two for 18 yards. While he played 90% of the snaps, Burks was severely outproduced by Nick Westbook-Ikhine. If DHop can't go this week, fantasy managers should pump the brakes on vaulting Burks up to fantasy starter status.
The biggest beneficiary may actually be TE Chig Okonkwo, who is coming off a career-high 83% snap share. He could be in line for a much better performance than his 0-0 on two targets last week.
Jets Legend Joe Namath Puts Current Starting QB Zach Wilson on Blast: 'Disgusting'
Safe to say New York Jets legend Joe Namath won't be buying a Zach Wilson jersey or endorsing him as a starting quarterback anytime soon — especially after what he saw in the Week 3 loss to the New England Patriots.
The franchise legend, best revered for guiding the team to their lone Super Bowl win, didn't mince words about his feelings toward the renewed starter under center.
Joe Namath Reactos to Zach Wilson's Play
Speaking on The Michael Kay Show on Monday, the Super Bowl winner put the 2021 No. 2 overall pick on blast.
"I didn't take anything positive out of it [Wilson's performance vs. the Pats]. It was awful," Namath quipped.
Namath then zeroed in on Wilson's much-discussed "sack" when no Patriots player touched him.
"You sit down?!" Namath spoke loud and clearly. "You sit down right on the play, and you go down? What happened? I thought you're trying to win and make big plays. You quit on a play? What is going on? It's disgusting."
NY Jets legend @RealJoeNamath: I've seen enough of Zach Wilson

FULL INTERVIEW: https://t.co/pEEHi3XYqa#TMKSonYES x @RealMichaelKay x @DonLagreca pic.twitter.com/CTexfdGewp

— YES Network (@YESNetwork) September 25, 2023
Namath Answers What Can Work for Wilson
"Broadway Joe" wasn't though with his harsh critique of Wilson.
When asked how a coach can make things better for the third-year passer, Namath believes it's time to move on from him. He pointed out that keeping Wilson would further divide the locker room.
"There's no harmony in that locker room," Namath said. "You've got to get people in there who are competitors and want to fight to win."
If Namath was handed Wilson, what would he do to make him better? Namath, again, clearly has had enough of the Wilson era.
"Send him to Kansas City," Namath said, believing he would benefit more from being a backup to Patrick Mahomes. "Maybe he'll learn something. I wouldn't keep him."
MORE: PFN Life — Off-the-Field Content
Namath ended with a bold conclusion: "I've seen enough of Zach Wilson. Alright? I've seen enough."
Namath was critical of Wilson before his radio interview. He had this post on X the moment he saw the Wilson "ghost sack."
WRONG DIRECTION ZACH! Step UP into that pocket!

— Joe Namath (@RealJoeNamath) September 24, 2023
But he ripped Wilson's decision-making after that fall.
"I'm starting to wonder if Zach's playing like he's being coached. He's making choices that are not intuitive to the quarterback position," Namath shared.
Will Sean Payton Blow Up the 0-3 Broncos? Best Trade Destinations for 10 Denver Contributors, Including Jerry Jeudy and Justin Simmons
Speaking to the media one day after the Denver Broncos' 70-10 destruction at the hands of the Miami Dolphins, Sean Payton said no coaches or players are in immediate danger of losing their jobs despite the club's 0-3 start.
"No," Payton said, via Mike Klis of 9News. "And that wouldn't be something I'd share on a conference call if that ever were the case. So, no, to answer your question."
Still, if Denver loses a few more games, we could see Payton parting ways with anything that isn't tied down. And if the Broncos lose to one or both of the winless Chicago Bears or the Zach Wilson-led New York Jets over the next two weeks, a true firesale might be on the table.
Which Denver contributors could be on the block before the NFL's Oct. 31 deadline?
Denver Broncos Trade Candidates and Landing Spots
Payton has been here before. The New Orleans Saints opened the season with a 0-3 record under Payton in 2007, 2015, and 2016. All three teams finished 7-9, which is probably the best-case scenario for the 2023 Broncos.
Sean Payton: "You take a butt-whupping like that, you find out about everyone." #9sports

— Mike Klis (@mikeklis) September 25, 2023
Let's run through Denver's most attractive trade candidates and identify their best landing spots around the NFL.
RB Samaje Perine | Baltimore Ravens
The Ravens just can't seem to stay healthy. Baltimore was without several critical players in Week 3, including running back J.K. Dobbins, who ruptured his Achilles in Week 1.
Fellow RB Justice Hill missed this week with a toe injury, while Gus Edwards suffered an apparent concussion on Sunday.
Hill could play a third-down receiving role for the Ravens once he returns, and he might be a better fit for Todd Monken's offense than Edwards. But Hill has primarily been a special teamer throughout his five-year NFL career.
Perine would give Baltimore a back capable of handling receiving work and pass protection and create an outlet option for Lamar Jackson.
WR Jerry Jeudy | New England Patriots
Jeudy's inclusion in trade rumors predates Payton's arrival in Denver, as the former first-round pick's name was bandied about at the 2022 trade deadline.
Talks continued throughout the offseason, but the Broncos ultimately held onto Jeudy while exercising his fifth-year option for 2024.
MORE: NFL Week 4 Power Rankings
While Jeudy missed Week 1 with a hamstring injury and has dealt with repeated health issues throughout his career, Denver shouldn't have any trouble finding a taker.
The Patriots were reportedly among the teams with the most interest in Jeudy this offseason and could stand to upgrade over DeVante Parker.
WR Courtland Sutton | Detroit Lions
Sutton probably won't be very easy to trade. His $14 million salary is fully guaranteed this season, and he's never looked as good as he did in 2019 when he somehow posted a 72-1,112-6 line while catching passes from Joe Flacco, Drew Lock, and Brandon Allen.
Excellent job by Courtland Sutton to dig out this low target. Strong technique here. pic.twitter.com/Lh4P3PM9kt

— Matt Waldman (@MattWaldman) September 25, 2023
The Lions feel like they need a field-stretching threat. Josh Reynolds and Kalif Raymond can play that role, and Detroit hopes Jameson Williams will fill that void when he returns from his six-game suspension.
Sutton would be an upgrade over Reynolds and Raymond and allow the Lions to boast an above-average "11" personnel package when Williams gets back.
TE Greg Dulcich | Cincinnati Bengals
The Bengals somewhat surprisingly opted against drafting a tight end in 2023 after losing Hayden Hurst to the Carolina Panthers. Instead, they merely signed former Minnesota Viking Irv Smith Jr., whose promise has far exceeded his contributions at the NFL level.
Dulcich is currently on injured reserve but will likely be available by Week 5. Payton signed his former Saints tight end, Adam Trautman, over the offseason and could be amenable to moving Dulcich, who flashed after being selected in the third round of the 2022 draft.
OT Garett Bolles | New York Jets
While the Jets may need to devote their existing resources to finding a new quarterback, their offensive line also needs work.
New York's front five was going to be an issue even with Aaron Rodgers under center, and Wilson's atrocious pocket awareness makes the OL even more of a concern.
MORE: Josh McDaniels Under Fire
Gang Green sent incumbent left tackle Duane Brown to IR before Week 3, then deployed Mekhi Becton on Wilson's blindside while shifting Alijah Vera-Tucker to right tackle.
Bolles has never come close to replicating his outstanding 2020 campaign, but he'd be an improvement for the Jets. His $13.75 million base salary could present a barrier to a trade, though.
C Lloyd Cushenberry | Tennessee Titans
Cushenberry will be an unrestricted free agent in 2024, and the Broncos haven't made any noise about extending him.
There's always time to work out a deal before next March, but Denver could trade Cushenberry this year rather than letting him walk and hoping to collect a late-round compensatory pick in 2025.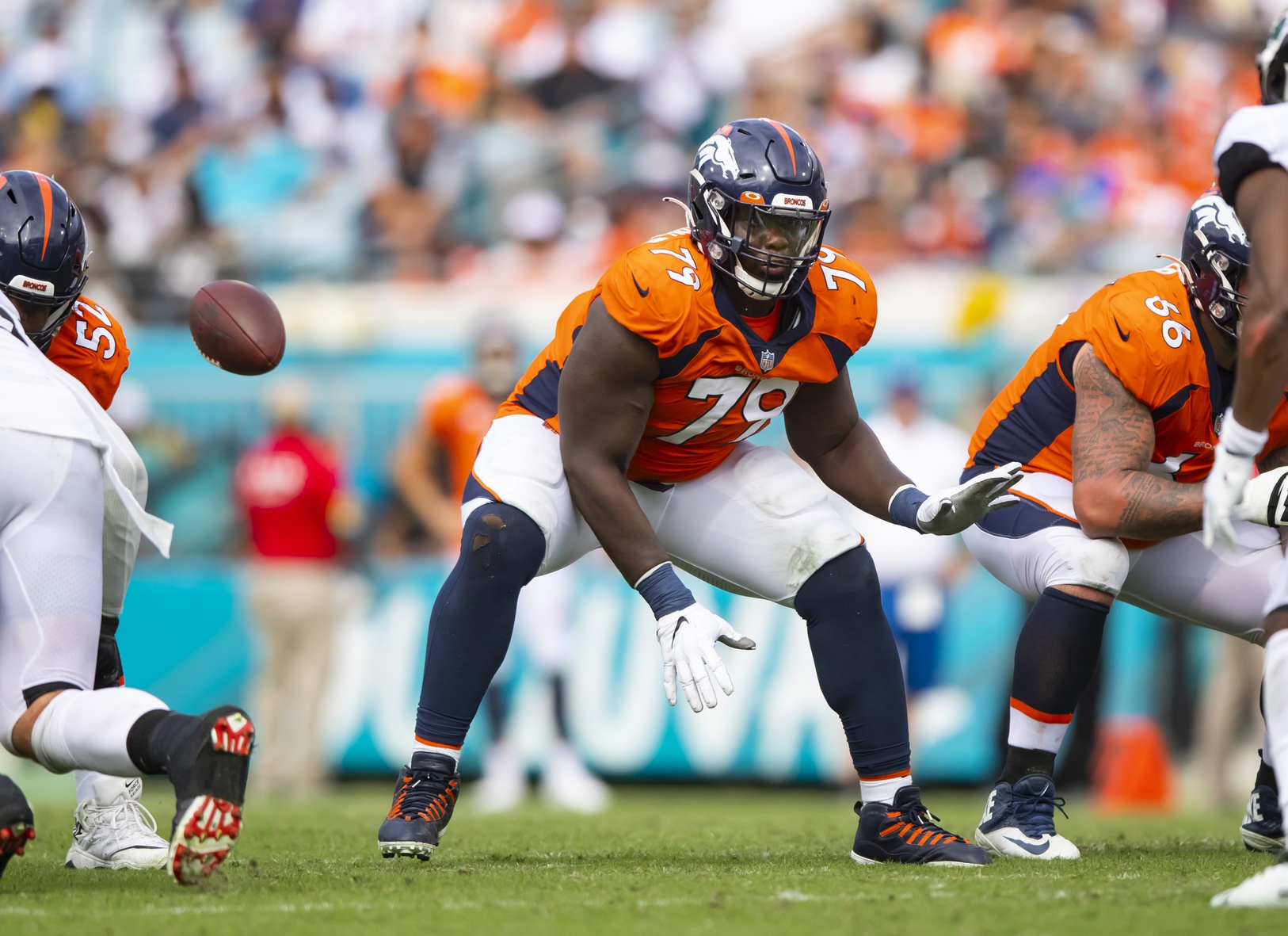 Few teams have a genuine center vacancy at the moment, but injuries could create needs for clubs as the season progresses. For now, we're sending Cushenberry to the Titans, who are using former guard Aaron Brewer at the pivot.
Tennessee has one of the worst offensive lines in the league – Cushenberry would at least help raise the unit's floor.
EDGE Frank Clark | Los Angeles Chargers
The Chargers have Joey Bosa and Khalil Mack on their roster and still can't get any pressure on opposing quarterbacks. Los Angeles ranks 28th in pressure rate (10.9%) this season, ahead of only the Bears, Broncos, and Las Vegas Raiders.
Frank Clark hasn't played since suffering a hip injury in Week 1, but he should return shortly. He's not a world-beater, but he'd give the Chargers much-needed depth. Bosa and backup edge rusher Chris Rumph II both missed Sunday's game with injuries.
DT Mike Purcell | Dallas Cowboys
The Cowboys already have a pair of nose tackles in Johnathan Hankins (re-signed to a one-year deal this offseason) and first-round pick Mazi Smith, but they're still getting gashed against the run.
Dallas has given up at least 120 rushing yards in every game this season and ranks dead last in rushing success rate allowed.
MORE: NFL Coaches on the Hot Seat After Week 3
Purcell won't provide much in the way of pass rush, but the 6'3″, 330-pound veteran could clog space in the middle of the Cowboys' defensive line.
Dallas isn't afraid to make trades– they acquired Hankins from the Raiders at last year's deadline before picking up receiver Brandin Cooks and cornerback Stephon Gilmore during the offseason.
CB K'Waun Williams | Philadelphia Eagles
Like Dulcich, Williams is also on IR, but he's expected to return after a mandated four-game absence. He's been a high-quality option in the slot for his entire career, during which time he's seen action with the Cleveland Browns, San Francisco 49ers, and Broncos.
Maddox's direct backup in the slot — Zech McPhearson — already suffered a season-ending Achilles injury during the preseason.

Mario Goodrich played 39 snaps in the slot last night, allowing 6 receptions for 60 yards and a touchdown on 6 targets, per PFF https://t.co/8aiE6Opmfw

— Dallas Robinson (@DallasDRobinson) September 15, 2023
The Eagles could desperately use another option in the slot. Avonte Maddox tore his pectoral muscle in Week 2 and could miss the rest of the season. Maddox's backup, Zech McPhearson, went down with a season-ending Achilles injury in the preseason.
S Justin Simmons | New York Giants
Simmons has a $14.4 million base salary this season and couldn't play in Week 3 due to a hip injury. Given his paycheck and age (30), Simmons could be hard to move, but he's still one of the NFL's best safeties when healthy.
Jason Pinnock earned the Giants' starting safety job opposite Xavier McKinney following a strong offseason, but he's been underwhelming in coverage and as a tackler this year.
New York would probably need to solidify themselves as a contender (and find a way for Simmons' salary to fit on their cap) for a trade to make sense, but Simmons would undoubtedly represent an upgrade.
Claim $100 Bonus Before App Goes Live
Legal online sports betting is launching in Kentucky on Sept. 28 and BetMGM, and the BetMGM Kentucky bonus code will gain $100 and access to one of the the biggest and one of the most legendary names in the gaming industry will be there from Day 1. Not only that, but astute Kentucky sports bettors who get in on the ground floor with BetMGM will be accessing a stellar signup bonus offer through the BetMGM pre-registration process.
Several Kentucky betting apps — a list that includes BetMGM Kentucky — are allowing KY residents to pre-register and sign up early. By creating your account ahead of launch, you're gaining access to exclusive bonuses and rewards that otherwise would not be available.
Act now and open a new account with the BetMGM Kentucky bonus code and you'll receive $100 in bonus bets.
After signing a market access partnership with Revolutionary Racing Kentucky, BetMGM KY will be a fantastic addition to the Kentucky sports betting scene with plenty of great betting options on tap for NFL season and beyond.
BetMGM Kentucky Bonus Code Unlocks $100 Pre-Registration Bonus
When it comes to online sports betting, pre-reg periods are one of the absolute best times to unlock bonus bets. All you need to do is sign up with the sportsbook early, and they'll give you an exclusive bonus. It's really that simple.
With this featured BetMGM Kentucky bonus code, you're getting a $100 bonus bet when you sign up before Sept. 28. Typically speaking, BetMGM keeps their sign-up offers relegated to a deposit match. Getting outright bonus bets deposited into your account is a definite upgrade.
<<< DOWNLOAD A $100 PRE-REG BONUS WITH BETMGM KENTUCKY TODAY!!! >>>
To claim this pre-reg bonus, simply sign up for a BetMGM Sportsbook Kentucky account using one of the featured links or banners on this page. Signing up in this manner ensures that the pre-reg bonus code is automatically applied to your account. From there, simply wait until launch day (Sept. 28), log into your account, and you'll receive your $100 in bonus bets!
So, to summarize:
BetMGM will be among the leading online sportsbooks available for wagering to Kentucky sports bettors
Kentucky online sports betting sites and apps are launching Sept. 28
Read on to find out how to pre-register with BetMGM, one of the best KY betting apps
How to Sign up Early With BetMGM Kentucky
Ready to lock in your place with BetMGM Kentucky and secure your $100 bonus? Follow the steps listed below:
Click HERE to create your new BetMGM Sportsbook account
Enter registration details
Confirm you are physically located in the state of Kentucky
Pre-reg bonus code will automatically be applied to your new account
Log into the BetMGM Kentucky app or sportsbook on September 28
Claim your $100 bonus bet!
Who Can Claim This BetMGM Kentucky Bonus Code?
To sign up early using this pre-reg bonus code, you need to be 21 years or older and a new customer with BetMGM Sportsbook.
You also must be able to confirm that you are physically located in the state of Kentucky.
Kentucky's legal age for online betting is 18. However, BetMGM has specified that only 21 and older users will be permitted use their services.
Can I Use the App in Kentucky?
Technically speaking, BetMGM isn't launching in Kentucky until late September. As mentioned previously, the official launch date for all Kentucky online sports betting is September 28.
However, once that date comes, you will 100% be able to bet on sports online with BetMGM Sportsbook in the state of Kentucky. They are one of the best and largest betting apps set to enter the Bluegrass State.
In the meantime, the best way to prepare for this launch is by pre-registering with BetMGM KY and claiming the $100 bonus.