Travis Kelce Provides Injury Update on New Heights Podcast
If it wasn't already clear beforehand, the Kansas City Chiefs certainly know now that they need Travis Kelce on the field if they want to repeat as Super Bowl champions in 2023. Kelce was unavailable in their Week 1 matchup against the Detroit Lions, and as a result, the Chiefs' offense did not look like its usual self and suffered a tough loss to a gritty Lions team.
With Week 1 behind them, all eyes are pointed to their Week 2 opponent, the Jacksonville Jaguars. The Jags are fresh off a Week 1 win over the Indianapolis Colts and look to be a formidable team in the deep AFC.
The Chiefs are going to look to get back into the win column and it will take all hands on deck to do so, but the question remains – will they have Kelce out there during Week 2? He may have tipped his hand a bit before Sunday.
Travis Kelce Updates Listeners on His Injury
With the way things are with new-age media, you don't have to wait until team press conferences to decipher "coach speak" to see if a star player is ready to come back from an injury that week. Many athletes choose to use their own voice and Kelce chose to do just that this week on the latest episode of "New Height's Podcast" he does with brother Jason.
Travis Kelce has updates on Jason Kelce's update 😅

NEW EPISODE PREMIERES NOW: https://t.co/CeRHkqBRys pic.twitter.com/Hhdc2iHfZa

— New Heights (@newheightshow) September 13, 2023
"Things are looking up, feeling a lot better than I did last week," said Kelce. "Felt like an absolute a** h**e not being able to play in that first game."
Kelce goes on to mention that he takes pride in his ability to be available to his teammates each and every week and is proud to be able to be there for his team every Sunday.
Chiefs Offense Struggled Without Kelce
While this wasn't an outright "I am playing" quote from Kelce, it certainly is good news for Chiefs fans as they are hoping that the tight end's presence back in the lineup can fix the offensive woes that plagued them in Week 1.
Receiving options such as Kadarious Toney and Sky Moore were unreliable for Patrick Mahomes, and while those options regardless of Kelce's appearance or not will need to be corrected, having Kelce back in the fold will have a trickle-down effect on the rest of the group.
The Chiefs will look to avoid going the dreaded 0-2 to start the season and the hope is, at least from Kelce himself, is that he will be out there to help secure win number one on Sunday.
Jaylen Waddle Questionable, Terron Armstead Trending Up for Week 3
Miami Dolphins head coach Mike McDaniel has constructed one of the league's most dynamic offenses through the first two weeks of the regular season. But it's not just the explosive nature of the unit that has been so impressive.
The fact that Miami put points on the board in each of its first two contests in wildly different ways makes McDaniel's attack even more dangerous. In Week 1, QB Tua Tagovailoa tore apart the Los Angeles Chargers' secondary. In Week 2, RB Raheem Mostert rumbled for over 120 yards on the ground.
And all this was done with arguably the most talented player on the offense not named Tyreek Hill. Four-time Pro Bowl left tackle Terron Armstead missed each of the team's first two matchups with a knee injury. Now, he has a real chance to suit up for Miami's Week 3 showdown with the Denver Broncos.
While Armstead is trending up, another key piece of Miami's offensive unit, star wideout Jaylen Waddle, has his status very much up in the air for Sunday.
Terron Armstead Hoping to Play, WR Jaylen Waddle Still In Concussion Protocol Ahead of Week 3
Waddle suffered a concussion during last week's 24-17 victory over the New England Patriots. The third-year pass catcher took an illegal helmet-to-helmet hit delivered by Patriots linebacker Marte Mapu and was quickly ruled out.
Waddle — listed on the final injury report as questionable — sat out of practice on Wednesday and Thursday before returning to limited action on Friday, sporting a red non-contact jersey.
"We'll see how he progresses, and we'll see what the medical staff tells him about his position in the [concussion] protocol," McDaniel said about Waddle's status for Sunday's game.
If Waddle is unable to take the field, expect Braxton Berrios and River Cracraft to see increased reps. Second-year pass catcher Erik Ezukanma, who was inactive for most of his rookie season, will also likely see more snaps at wide receiver.
Ezukanma has largely played a gadget-type role for Miami through two weeks, with five rushing attempts for 22 yards and one target.
MORE: Tua Tagovailoa on Much-Improved Miami Dolphins O-Line
Waddle's absence could also open the door for Cedrick Wilson Jr. to be active for the first time this season. Wilson restructured his contract this offseason to remain in Miami, but he's yet to see regular season playing time.
Armstead, who is listed as questionable, appears to have a good shot of making his season debut just in time for Miami's home opener. "I'm optimistic," McDaniel said about Armstead's availability against the Broncos. "He's had a real good work week, and I feel good about where he's at. I'm hoping there's just green lights and no red lights until Sunday."
In Armstead's absence, veteran Kendall Lamm has been starting at left tackle and has played remarkably well. He currently sits 10th in the NFL in ESPN's pass block win rate among all offensive tackles, something Dolphins fans should be thrilled to see given Miami's struggles to protect Tagovailoa in games that Armstead missed last season.
The question now: Will Miami find space on the line for a player who's performing so well when he's removed from the left tackle spot to make way for Armstead?
The only other logical spot is right tackle, a position at which Lamm has plenty of experience after starting 13 games there with the Houston Texans in 2018.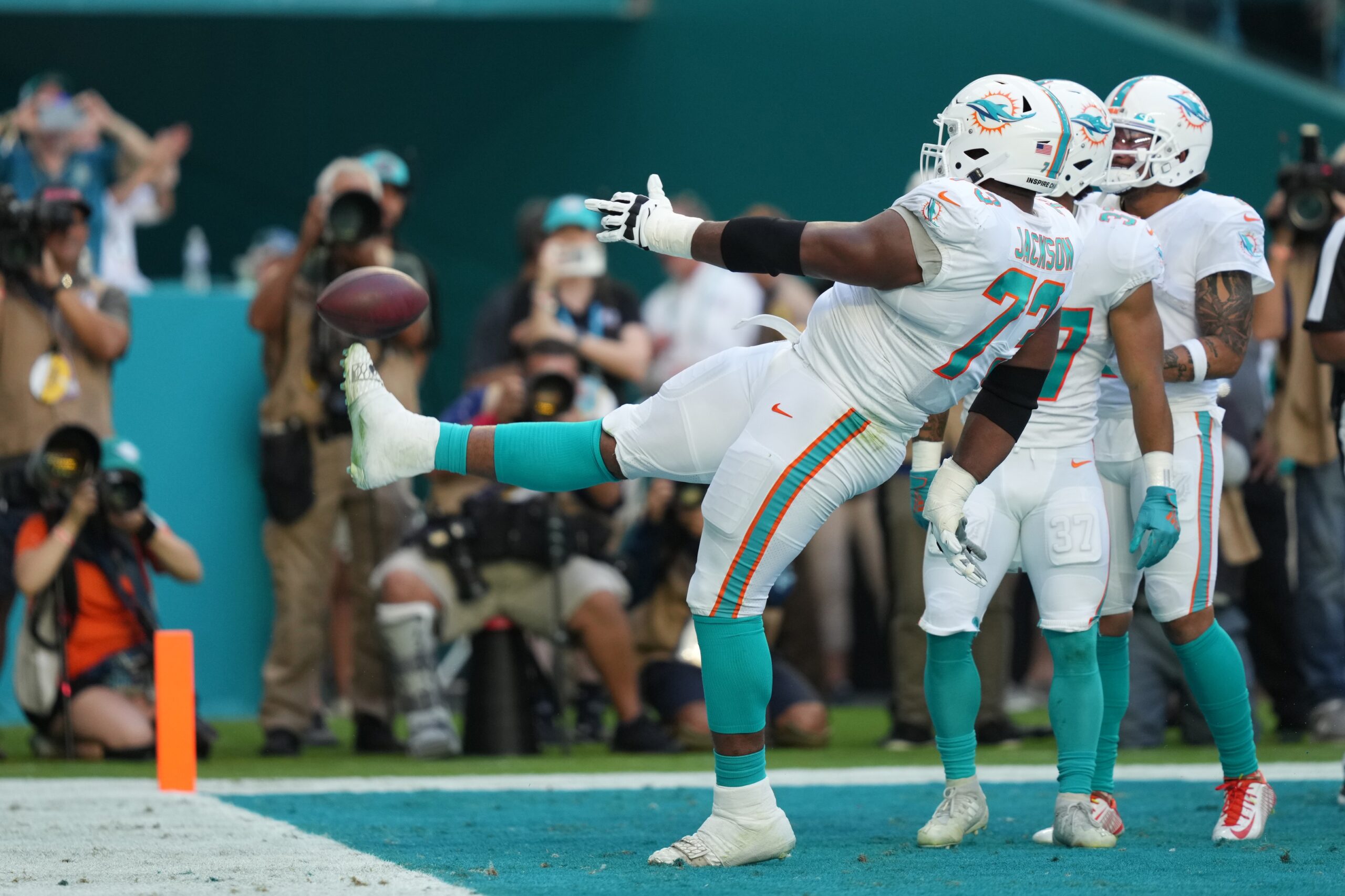 But Austin Jackson is currently the starter right tackle. Not only does Miami have a heavy investment in Jackson, who was a first-round pick in 2020, but he has also played above expectations.
Jackson struggled mightily both in terms of performance and injury over his first three seasons in the league, but he has shown substantial improvement through this season's first two games.
When asked about the possibility of removing Jackson to make way for Lamm at right tackle, McDaniel made it clear that, while all options are on the table, Jackson has made a positive impression thus far.
"Austin Jackson is playing awesome, and it's on Austin Jackson to continue his progress, which I'm very confident he will. If he doesn't, or if somebody gets hurt, you're not tied to anything when you have a group of people working together in one direction," the head coach explained.
Elsewhere on Miami's injury report, Jaelan Phillips, who officially has a questionable tag, appears ready to return to action following a brief one-game absence due to a back injury suffered in practice last week.
McDaniel made it sound like keeping Phillips out of Miami's victory over the Patriots was more about keeping an eye on the long game as opposed to a serious concern.
"He's doing good, and I feel very optimistic about him as well," McDaniel said about Phillips's status for this week. "You're fortunate enough to make decisions that aren't short-sighted with players that are as important to your team as Jaelan Phillips or Terron Armstead when you have a team that has a lot of capable contributors."
MORE: Tracking Every Week 3 NFL Injury
Miami's No. 2 running back, Salvon Ahmed, is listed as doubtful with a groin injury he suffered against the Patriots. Raheem Mostert will carry the load on the ground, while rookie third-round pick De'Von Achane, who was active for the first time last week, should continue to see his role expand.
Rookie undrafted free agent RB Chris Brooks, who has been active in both of Miami's games but has yet to see a carry, could be called upon to spell Mostert as well.
Denver Broncos at Miami Dolphins Week 3 Injury Report
Miami Dolphins
Doubtful
Questionable
OT Terron Armstead (back/ankle/knee)
WR Jaylen Waddle (concussion)
TE Tyler Kroft (back)
TE Julian Hill (ankle)
DB Elijah Campbell (knee)
DT Raekwon Davis (wrist)
LB Jaelan Phillips (back)
Denver Broncos
Out
LB Frank Clark (hip)
S Justin Simmons (hip)
Questionable
Why Cincinnati Bengals Safety Nick Scott Wouldn't Stay in the Blue Injury Tent on Sunday
The blue injury tent is the last place any NFL player wants to visit, and Cincinnati Bengals starting safety Nick Scott had to do it twice Sunday in his team's 27-24 loss to the Baltimore Ravens.
The Reason Bengals Safety Nick Scott Didn't Stay in Blue Medical Tent in Week 2
Scott's first visit came early in the second quarter on the first play after Charlie Jones' 81-yard punt return for a touchdown when he ran into Baltimore receiver Nelson Agholor on a crossing route and got up woozy.
After an initial evaluation, the team doctors called in the independent neurologist. Scott was impatiently awaiting the decision and kept lifting the flap of the tent to watch what was happening with his teammates on the field.
They are calling the red hat into the blue tent to evaluate a possible concussion for Scott

— Jay Morrison (@ByJayMorrison) September 17, 2023
"It's just being anxious to get back on the field, just keep checkin' the score, checkin' the series," Scott said. "Is it first down, second down? Just eager to get out. That's how I am on game day. If I'm off the field for any reason, I'm just eager to get back on."
"I felt normal and everything like that, which is why they cleared me," he added.
But after returning to the game, Scott took another hit to the head in a collision with Baltimore tight end Mark Andrews on the first play of the fourth quarter. This time his stint in the tent was not nearly as long.
"That second shot, once I got two where I went down after hits to the head, it's gonna be tough to argue you're way back onto the field after that," Scott said.
"That one was pretty much straight back to the locker room for some more serious eval. And I kind of know what it is at that point. Two shots to the head, and they bring you into the locker room? The chances of them letting you back out of the locker room are slim to none."
More disappointing than leaving that game early would be missing Monday night's game against his former team. Scott was a limited participant at Wednesday's practice and said, "I'm progressing really well," and was hanging on to hope he would be able to play.
MORE: Bengals Practice and Injury Update — Is Joe Burrow Playing?

And he isn't pretending it's just another game.
"I'm big on ignoring the emotions from a preparation standpoint, like treat every game the same. But just the human being side, obviously this game means just a little bit more," he said with emphasis. "Especially if I can come out with some big plays or something. But we'll see what happens. I'm keeping my fingers crossed."
Listen to the PFN Bengals Podcast
Listen to the PFN Bengals Podcast! Click the embedded player below to listen, or you can find the PFN Bengals Podcast on iTunes, Spotify, and all major podcast platforms.  Be sure to subscribe and leave us a five-star review! Rather watch instead? Check out the PFN Bengals Podcast on our NFL YouTube channel.
What's the Focal Point for Mike McCarthy After the 'Gut-Punching' Loss of Trevon Diggs?
Dallas Cowboys head coach Mike McCarthy shed more light on Trevon Diggs' season-ending ACL injury.
McCarthy said, "It makes you sick when you see one of these guys go through this," during a conference call on Friday.
The head coach said the focal point right now is focusing on Diggs as a person, saying he needs the love and support.
McCarthy said this is all "part of the adversity to win a championship," but it's still a "punch to the gut" for the team. McCarthy saw Diggs in the morning, and nothing has been set yet regarding surgery.
McCarthy shed more light on how it happened, saying the video shows that the injury occurred when Diggs stepped on a receiver's foot during a one-on-one red zone drill in the Cowboys' outdoor grass field.
Thank you for all the prayers and I appreciate everyone for checking on me!
This is just God's Plan. I will be back and better!
🙏❤️ pic.twitter.com/taUQavX69e

— SEVEN (@TrevonDiggs) September 21, 2023
He said it was something that could have happened anywhere and that it wasn't a "drill issue."
As for how the team will move forward and game plan, he says the coaches have a meeting today and will ultimately decide tomorrow after the team's final practice before heading out to Arizona.
Will the Cowboys Search Outside the Organization for CB Depth?
McCarthy shed light on this loss being an opportunity for their defensive depth moving forward.
He praised Stephon Gilmore and said he needs to continue just being himself, meaning making his presence felt on the field and being a role model for the younger players around him.
With Jourdan Lewis returning, they can move him to the inside at nickel and put DaRon Bland on the inside at boundary.
McCarthy called Bland a professional young player that he is very confident in.
However, Nahshon Wright can return from injured reserve in Week 4 against the Patriots and add more depth and relief to the position.
Will Trevon Diggs' Injury Change How the Cowboys Practice?
After reports stated that Diggs got injured during a one-on-one drill at practice, questions started circulating asking why the players were doing those drills on a Thursday practice ahead of a Sunday game.
On 105.3 The Fan, McCarthy said skill development always continues during practice since training camp happens in a limited time.
The head coach explained the need for the one-on-one drills for defensive backs and receivers, saying, "Everything you do in the passing game is based on time clock, so those reps are necessary."
Overall, McCarthy doesn't see one-on-one drills as a high-risk drill.
Jerry Jones interviewed 105.3 The Fan on Friday as well, saying he wishes he could roll the clock back to the start of the week.
He said he met with Diggs directly after the injury occurred, and they both knew his season was over, calling it a setback for everyone.
When Jones was asked about the injury occurring during the one-on-one drills, he brought up the example of the Cowboys' practicing with the Raiders when Al Davis was the principal owner and general manager.
"He would walk out in the middle of a drill and say, 'Boys, I'm not going to use this guy up. I'm not going to expose him in August. I'm going to need him in January, no, the drill is over,'" said Jones.
He said this doesn't work for everyone on the team, but for the irreplaceable players, it needs more thought, even though hindsight is 20/20 now with Diggs.
However, he acknowledged that this is a game of repetition as well.
But, after hearing both Jones and Mike McCarthy address this, it will be interesting to see how it is handled with key players going forward.
Listen to the PFN Cowboys Podcast
Listen to the PFN Cowboys Podcast! Click the embedded player below to listen, or you can find the PFN Cowboys Podcast on iTunes, Spotify, and all major podcast platforms.  Be sure to subscribe and leave us a five-star review! Rather watch instead? Check out the PFN Cowboys Podcast on our NFL YouTube channel.