Should You Start Kirk Cousins or Daniel Jones in Fantasy Football Week 2?
There are plenty of fantasy football managers who waited to draft a quarterback late this season and are now stuck with either Kirk Cousins or Daniel Jones. But which QB is the better start in Week 2?
Let's take a look at their respective matchups and who you should have in your starting lineups this week!
Looking to make a trade in your fantasy league? Having trouble deciding who to start and who to sit? Check out PFN's Free Fantasy Football Trade Analyzer and Start/Sit Optimizer to help you make the right decision!
Kirk Cousins' Fantasy Outlook This Week
After finishing as QB10 overall in Week 1, Minnesota Vikings quarterback Kirk Cousins has a tough task ahead of him this week: the reigning NFC champion Philadelphia Eagles on Thursday night.
The Eagles and Vikings faced one another in Week 2 last season, too, and it was an outing to forget for Cousins. The Vikings signal-caller threw three interceptions in that matchup and finished with just 11.8 fantasy points, his third-lowest output of the 2022 campaign.
Philadelphia's defense looks a little different than it did a season ago. Cornerbacks Darius Slay and James Bradberry are back, but both starting safeties from last year are gone. It's worth noting that Bradberry is likely to miss Thursday night's game due to a concussion he suffered in Week 1.
The Eagles' defense started strong in Week 1 against the New England Patriots, highlighted by a Slay pick-six. But Patriots quarterback Mac Jones found a decent rhythm as the game went on, finishing with 316 passing yards, three touchdowns, and just one interception. Jones totaled 24.14 fantasy points in Week 1, the second most of any quarterback.
Cousins turned in a decent performance of his own in Week 1, throwing for 344 yards and two touchdowns. However, he turned the ball over three times (two fumbles and one interception), which resulted in a pedestrian fantasy outing of just 16.46 points. Cousins will have to take better care of the football in Week 2 against Philadelphia to turn in a solid fantasy game.
Daniel Jones' Fantasy Outlook This Week
It can only go up from here, right?
Jones finished with just 4.46 fantasy points in Week 1 as his Giants were blown out by the Dallas Cowboys, 40-0. Jones played almost the entirety of the game despite the outcome being well-decided early in the second half, yet he was unable to muster any production.
Luckily for Jones and the Giants, the Arizona Cardinals — arguably the worst team in the NFL — are up next. This is an excellent get-right spot for Jones, who finished the 2022 season as the QB9 overall.
The Cardinals' defense played well in Week 1 against the Washington Commanders, but that performance might be more telling about Washington's offensive struggles than Arizona's defensive strengths. Commanders quarterback Sam Howell finished with 15.18 fantasy points, QB12 overall in Week 1, in a performance that was strongly helped by a rushing touchdown.
Which of the Quarterbacks Should You Start?
Neither Jones nor Cousins are slam-dunk fantasy starts this week. But, if you had to pick one, Jones is the better option in Week 2 purely due to his matchup (Pro Football Network ranks Jones as QB13 overall and Cousins QB17 overall this week).
Expect Jones and the Giants' offense to be eager to prove Week 1's debacle is not an actual representation of what their 2023 season will look like. A get-right game against one of the NFL's worst teams should be coming.
MORE: Fantasy Football's Week 2 Burning Start/Sit Questions
On the other hand, it's hard to trust Cousins against Philadelphia's defense, even if they are a little bit banged up.
Having Justin Jefferson obviously helps Cousins' fantasy outlook, but Slay did an excellent job covering the Vikings' top wideout when the two met last season. Starting Cousins this week simply isn't a good move.
What We Know About the Panthers QB
Bryce Young missed practice on Wednesday. The rookie QB has struggled so far through two professional outings, but that's to be expected from a top pick at the quarterback position. What do we know about the injury? How does this affect the offense moving forward, and what fantasy football impact could this have?
Bryce Young Injury Update
Young sustained an ankle injury during the Carolina Panthers' loss Monday night to the New Orleans Saints. The team signed quarterback Jake Luton to their practice squad today as well. However, we don't know exactly when the injury occurred. Head coach Frank Reich declined to point out a singular play that could have caused the injury.
Frank Reich, speaking with the media— says he's unsure if Bryce Young will play Sunday against the Seahawks.

Young popped up on the injury report today (ankle).

Reich didn't specify any one particular play as the culprit.

— John Ellis (@1PantherPlace) September 20, 2023
That is a bit abnormal for an ankle sprain. But this could be a good thing for the offense and for Young if he's forced away from action for a while.
We've seen what kind of damage a bad situation can do to a young QB. In Green Bay, for instance, we could be seeing what waiting in the shadows can do for a young player.
It's crystal clear that the Panthers' offense does not have the kind of firepower to facilitate early success for Young. But an ankle injury that didn't pop up until after the Monday night game doesn't seem like something that should hold him from action for too long.
Update 9/21: Young missed a second consecutive practice. Head coach Franch Reich has already decided it best to limit Young's exposure to unnecessary hits. He's using Andy Dalton on short-yardage plays to minimize hits.
"There's a lot of different things we could do, but I just feel very comfortable in Andy," Reich said on Tuesday, via the team's official website. "And some of those things you just want to limit the exposure of Bryce to — and Bryce can do any of it, but you've got an experienced veteran."
Fantasy Impact of Young Injury
Andy Dalton stepping in for Young would have limited fantasy appeal. In theory, the coaching staff could open up the playbook a bit for the veteran, something that would result in a minor bump for all of the pass catchers, but not to the point where they'd matter in starting lineups.
Top 3 Storylines To Watch Include Brock Purdy's Excellence and Where in the World Is Kayvon Thibodeaux?
The New York Giants at the San Francisco 49ers on Thursday Night Football might not be the matchup we thought we were getting before the season commenced. The 49ers are a double-digit favorite at home against the Giants, who are coming off just escaping Arizona with a win after an embarrassing beating versus Dallas in Week 1.
What Are the Top Storylines To Watch Tonight?
No Saquon Barkley in the lineup makes an already questionable offensive attack even less appealing. The 49ers have been great so far, but the offensive line has not made things easy on their young QB. Is this the week Kayvon Thibodeaux drops his invisibility cloak?
Where in the World Is Kayvon Thibodeaux?
Giants fans on social media are NOT happy with Thibodeaux's performance through two games this season. Honestly, it's hard to blame them.
No matter where one looks from a defensive metrics perspective, Thibodeaux has been missing in action. But numbers alone lack important context.
Pass rushing is an art, and teams that run a lot of play-action force rushers to buy new canvas and supplies after they already started their newest project. The Cowboys used it on 41% of Dak Prescott's dropbacks. Joshua Dobbs and the Cardinals used it on 34% of their dropbacks.
Then, there is how quickly QBs get rid of the ball. Dobbs averaged 2.73 seconds in Week 2, and Prescott was at an astonishing 2.11 in Week 1. In other words, nobody had a chance to get home consistently against the Cardinals or Cowboys.
Add in a secondary starting not one but two rookies on the outside, and you're asking your defensive front to perform miracles, especially given how aggressive Wink Martindale is. Which leads up to the next point.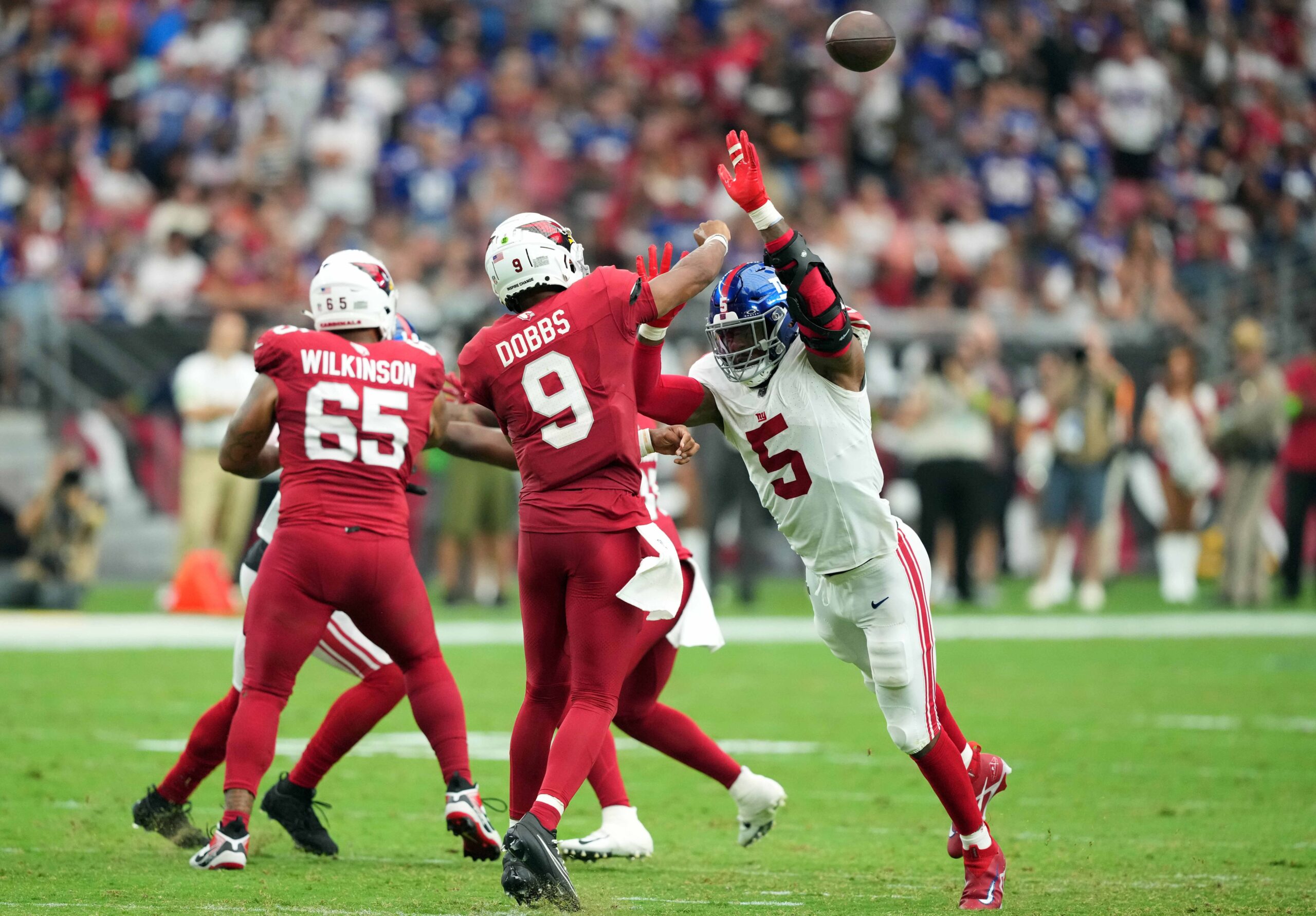 This isn't your average four-down, drop-seven defense. Thibodeaux isn't pinning his ears back the way Nick Bosa, T.J. Watt, and Myles Garrett are. And it doesn't help that Azeez Ojulari is missing on the opposite side.
Do the elites overcome all of these situational factors? Usually to a degree. It's fine to be disappointed in the young pass rusher, but he's far from a bust through two weeks of his second NFL season.
Now Evan Neal…
What Makes Brock Purdy Different (And Better) Than Jimmy Garoppolo?
It might not be long before Brock Purdy legitimately establishes himself as a top-10 QB in the NFL. The narrative will likely lag behind nationally because of his… irrelevant… draft status. But Purdy's play on the field is demanding respect, even independently of the phenomenal situation he was thrust into.
Despite Jimmy Garoppolo's success in San Francisco, very few people ever regarded him as a top-10 passer in the league. His EPA+CPOE composite during that time (.129) matches Aaron Rodgers, a man who won two MVPs in that time. His success rate (50.9) is higher than Rodgers' (49.3), but not a single sane human would compare the two.
What makes Purdy different?
He doesn't have a very big arm. The Iowa State passer was never a dangerous rushing threat. At 6'1″ and 220 pounds, he's not a prototypically sized QB. So, what makes his success more independent than Garoppolo?
Nobody cares about singles. And Garoppolo, for all of his efficiency, was a singles-only hitter.
Purdy is the same sort of assassin over the middle that Garoppolo was. He's not as whip-smart yet, but that will come in time. And while Kyle Shanahan's system and the weapons at his disposal help him immensely, Purdy consistently makes plays outside of that offensive structure that Garoppolo can only daydream about.
Part of that comes down to passing the athletic threshold necessary to create, and the other part comes down to his innate ability to manipulate and manage pressure on his way to creating hallways to deliver passes.
MORE: Giants vs. 49ers Predictions, Picks, Odds Today
San Francisco's OL isn't doing him a ton of favors, but Purdy's lateral mobility, sturdy frame, and creativity allow him to seek creases to escape pressure and deliver into the intermediate levels of the field. He's able to attack the line as a runner, freezing linebackers and safeties enough to hit crossing patterns.
And while the middle-of-field mania gets all the attention, Purdy consistently tests downfield and along the boundaries as well, an area the offense avoided like the plague with Garoppolo.
An offense that was already outrageously efficient found a way to keep that efficiency while also becoming more explosive.
Can We Finally Get a Clean Prime-Time Game?
In Week 1, the Kansas City Chiefs' weapons let down Patrick Mahomes in the season opener. The Cowboys embarrassed the Giants on Sunday Night Football. Josh Allen played like Rodgers gave him Ayuascha before the Monday night showdown in New York.
Week 2 was even uglier. The Vikings played hot potato with the football against Philadelphia, whose offense hasn't looked right yet through two weeks. The Saints and Panthers game was an absolute snooze-fest, aside from a few insane catches from Chris Olave and Michael Thomas. The Browns and Steelers, meanwhile, did everything to lose the game.
Only the Dolphins and Patriots Sunday night matchup had any redeeming qualities. However, New England's offense is so uninspiring that even a game featuring Miami's offense felt dull at times.
A 10-point spread, no Barkley, and a struggling Giants OL do not bode well for NFL fans for Thursday Night Football tonight. Even if this game is close, it'll likely come down to traditional sloppiness rather than legitimate play from each team. The 49ers simply outclass New York in every area of the field aside from their OL vs. the Giants DL.
Updates, Results, and More From Thursday Night Football Matchup
Amazon Prime's Thursday Night Football returns tonight, and we might witness one of the more lopsided games of this young NFL season. The New York Giants, who are coming off of an impressive 21-point come-from-behind victory against Arizona, will travel to San Francisco to take on the Super Bowl contender 49ers.
Make sure to bookmark and return often as we provide all the news, analysis, and up-to-date results for the Giants vs. 49ers game.
We will update this table as the game progresses.
We will add highlights and analysis as the Giants vs. 49ers game progresses.
Thursday Night Football stays on Prime Video this week. Fans can stay tuned into Amazon's video streaming service all season long for the Thursday night showdowns, except Thanksgiving week when NBC returns for a one-off takeover. Here's how to watch the NFL game tonight.
Date
September 21, 2023
Start time
8:15 p.m. ET
Location
Levi Stadium
Channel/Live Stream Option
Prime Video, FuboTV
Giants vs. 49ers Betting Predictions and Best Bets
All odds are from DraftKings Sportsbook unless stated otherwise.
Spread
49ers -10
Moneyline
Giants +410, 49ers -550
Over/Under
44.5
Giants vs. 49ers Predictions
Bearman: We know going into this matchup that San Francisco has one of the better defenses in the league, and the Giants had next to nothing on offense for the first six quarters of the season.
Now, Daniel Jones and Co. woke up in the second half vs. Arizona, but you have to wonder if that was more a bad team protecting a lead or if the Giants figured something out. Either way, they now play against the Niners without Barkley.
MORE: NFL Survivor Picks Week 3
San Francisco has scored 30 points in both of their games, so that scares me off the game total. As a result, I will play the Giants' team total under.
Jones has rushed for 43 yards and 59 yards in the first two games this season. Without Barkley, there should be more designed running plays for him. I'll go over his rushing total as well.
Picks: Giants team total under 16.5 (-108 at DraftKings), Daniel Jones over 38.5 rushing yards (-115 at DraftKings)
Blewis: The Giants had their biggest comeback in franchise history last week, but it was against the Cardinals. As impressive as the comeback was, trailing by 21 points to this Cardinals team in the first half is almost equally pathetic.
The 49ers, you could argue, look like the best team in the NFL right now. They're 2-0 straight up and would be 2-0 ATS if not for Sean McVay's inexplicable decision to 
play for the cover
 in the final seconds last week.
On a short week in which both teams are banged up offensively, I'm going to go with the under. This is also a huge mismatch between the Giants' offensive line and the 49ers' pass rush.
We saw how badly the Dallas Cowboys dominated the G-Men in Week 1, and the 49ers' defensive line is almost as talented.
I also expect Kyle Shanahan to play this one a bit conservatively. He already admitted this week that they need to keep Christian McCaffrey fresh and get Elijah Mitchell more involved. What better opportunity than on a short week as double-digit favorites?
Pick: Under 44.5 (-108 at DraftKings)
For more picks and predictions, make sure to check out our enitre betting preview for Giants vs. 49ers.
Giants vs. 49ers Fantasy Start/Sit Advice
Daniel Jones
"Danny Dimes" checked every box fantasy football managers could possibly ask for in the Giants' comeback win over the Arizona Cardinals last weekend, and that was great to see.
The former Duke Blue Devil totaled 321 pass yards and two touchdowns through the air and nine carries for 59 yards and a touchdown on the ground. But by "great to see," I mean for October.
MORE: Fantasy Football's Week 3 Burning Start/Sit Questions
New York's final game of September comes on short rest against one of the elite defenses in the league without their top playmaker. San Francisco has allowed just two touchdown passes on 101 attempts this season, and they have coughed up under six yards per pass in both weeks to open the season. Jones is a top-15 QB the rest of the season — just not this week.
Brock Purdy
For the first time in his career, Brock Purdy didn't come through for fantasy managers. Even on a down week, a rushing touchdown helped his fantasy box score. If a swing pass to WR Deebo Samuel goes a few inches forward instead of a few inches backward, we're talking about another 18+ point fantasy day.
I like Purdy over Jones if you're picking a QB in this game to play, but I'm not sold on either being viable in anything but the deepest of leagues.
Make sure to check out entire fantasy start/sit breakdown for the Giants vs. 49ers.
Who Are the Inactives for Thursday Night Football Tonight?
New York Giants Inactives
RB Saquon Barkley (Ankle)
G Ben Bredeson (Concussion)
DE Azeez Ojulari (Hamstring)
OT Andrew Thomas (Hamstring)
Inactives will be updated when announced.
San Francisco 49ers Inactives
Inactives will be updated when announced.
What Are the Starting Lineups for Each Team?
Giants Projected Starters
The projected starting lineup is based on the current Giants depth chart.
Quarterback: Daniel Jones
Running Back: Matt Breida
Wide Receiver: Darius Slayton, Parris Campbell, and Isaiah Hodgins
Tight End: Darren Waller
Left Offensive Tackle: Matt Peart
Left Offensive Guard: Joshua Ezeudu
Center: John Michael Schmitz
Right Offensive Guard: Mark Glowinski
Right Offensive Tackle: Evan Neal
Defensive End: Leonard Williams
Defensive Tackle: A'Shawn Robinson
Nose Tackle: Dexter Lawrence II
Right Outside Linebacker: Kayvon Thibodeaux
Right Inside Linebacker: Bobby Okereke
Left Inside Linebacker: Micah McFadden
Left Outside Linebacker: Jihad Ward
Left Cornerback: Tre Hawkins III
Right Cornerback: Deonte Banks
Free Safety: Jason Pinnock
Strong Safety: Xavier McKinney
Kicker: Graham Gano
Punter: Jamie Gillan
Long Snapper: Casey Kreiter
Punt Returner: Eric Gray
Kickoff Returner: Eric Gray
49ers Projected Starters
The projected starting lineup is based on the current 49ers depth chart.
Quarterback: Brock Purdy
Running Back: Christian McCaffrey
Fullback: Kyle Juszczyk
Wide Receiver: Brandon Aiyuk and Deebo Samuel
Tight End: George Kittle
Left Offensive Tackle: Trent Williams
Left Offensive Guard: Aaron Banks
Center: Jake Brendel
Right Offensive Guard: Spencer Burford
Right Offensive Tackle: Colton McKivitz
Left Defensive End: Nick Bosa
Left Defensive Tackle: Javon Hargrave
Right Defensive End: Drake Jackson
Right Defensive Tackle: Arik Armstead
Strong Linebacker: Oren Burks
Middle Linebacker: Fred Warner
Weak Side Linebacker: Dre Greenlaw
Left Cornerback: Charvarius Ward
Right Cornerback: Deommodore Lenoir
Free Safety: Tashaun Gipson Jr.
Strong Safety: Talanoa Hufanga
Kicker: Jake Moody
Punter: Mitch Wishnowsky
Long Snapper: Taybor Pepper
Punt Returner: Ray-Ray McCloud III
Kickoff Returner: Ray-Ray McCloud III