Who Are AB's New Teammates With Albany Empire?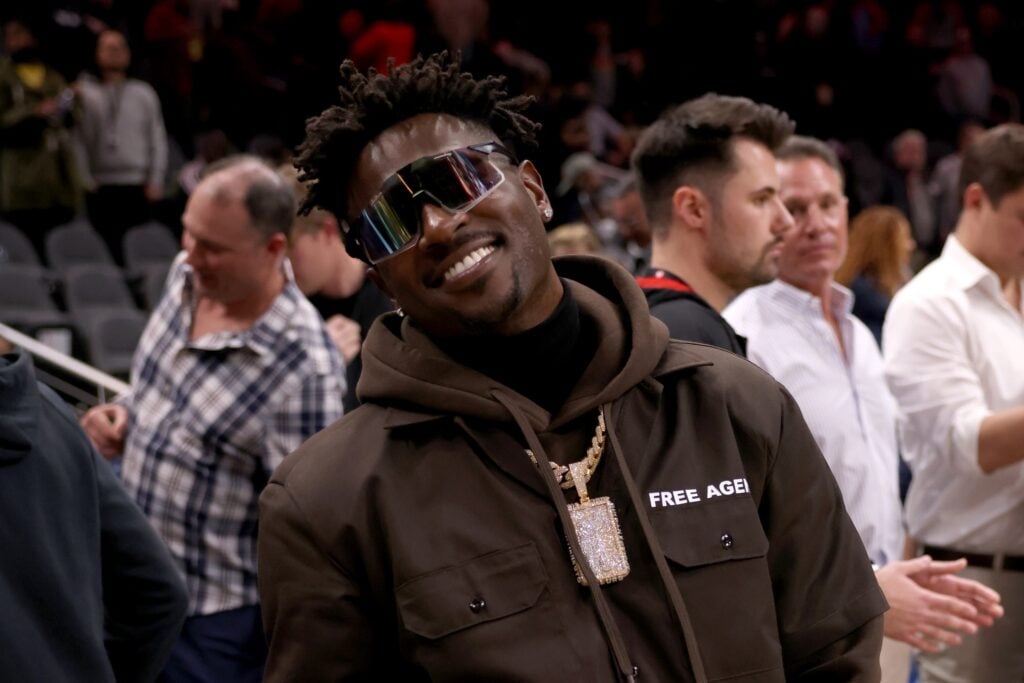 Most among us likely thought Antonio Brown's pro football career was over the day he bared his midriff to the masses and dipped out on the Tampa Bay Buccaneers midgame.
For a time, anyway, it was. But, at long last, the mercurial wide receiver is set to return to the gridiron — and to make his debut for the Albany Empire, a National Arena League team of which he is a part owner.
Antonio Brown To Make Empire Debut on Saturday, June 17
That's right, Brown confirmed, via TMZ Sports, that he'll be suiting up for the Empire's next home game, which will be on June 17 against the Jacksonville Sharks.
"We're going to continue to be encouraging, continue to give the people of Albany what they wanna see," Brown told WNYT's Rodger Wyland on Thursday. "I will have the right, proper equipment this week. You're not selling false information. We're not telling the people that we're going to do something that we're not going to do."
Of course, the false information Brown's referring to would be the hiccup he encountered last week when a delayed physical prevented him from making his Empire debut. But the former Pittsburgh Steelers star seems confident he'll be a full-go when the Sharks come to town.
MORE: Antonio Brown Recruiting Cam Newton for Arena League Game
That game is slated for a 7 p.m. ET kickoff and will be played at the MVP Arena in Albany.
Former Carolina Panthers MVP QB Cam Newton has yet to respond to Brown's invitation to join him for the festivities. Instead, it seems like he issued a sort of tennis challenge, in his trademark hieroglyphic font, on Twitter.
So we can probably rule Newton out.
Who Will Be on the Field With Brown?
Brown's quarterback will likely be Roland Rivers III. He is, after all, the only quarterback listed on the Empire roster.
Rivers played his college ball at Division II Slippery Rock University in Pennsylvania and was quite prolific. He racked up a boatload of accolades during his two-year stint as a starter, including the Harlon Hill Trophy, which is awarded annually to the Division II College Football Player of the Year.
Rivers piled up 7,181 passing yards, 80 passing touchdowns, 1,297 rushing yards, and 16 rushing scores during his two seasons under center for Slippery Rock.
Some other notable Empire players include Nickolas Brassell, who was briefly productive with Ole Miss before academic issues prematurely ended his career, and Isaiah Hardy, who started a handful of games on the offensive line for the West Virginia Mountaineers.
The Sharks, likewise, have a handful of notable players on their roster.
Defensive lineman David Gilbert accumulated nine sacks during a playing career split between Wisconsin and Miami. His Empire teammate, cornerback Jabari Gorman, notched over 100 tackles and three interceptions during his career with the Florida Gators.
MORE: Should Antonio Brown Make the NFL Pro Football Hall of Fame?
Perhaps the biggest "what-could-have-been" between the two rosters is Sharks wide receiver/defensive back Tamorrion Terry. The NAL rookie once starred at Florida State, posting 1,188 receiving yards and nine touchdowns back in 2019.
Injuries limited Terry to five games in 2020, and after a quieter season, the Seminoles standout went undrafted. He'd have a cup of coffee with the Seattle Seahawks as an undrafted free agent but was released before training camp even got underway.
Shortly after his signing with Seattle, Terry was one of 11 indicted on felony murder charges relating to a fatal, reportedly gang-related nightclub shooting that took place in Ashburn, Georgia, in June of 2018, per CBS Sports.
As a result, the Seahawks cut Terry before the ink had even dried on his contract. It appears that he was later exonerated — this tweet has a screenshot of an Instagram post he made celebrating his relief after a tumultuous year.
Were Terry already established in the NFL, that verdict might've salvaged his career. But as an end-of-the-roster guy, the damage was done.
Now, ironically, Terry, who plays both defensive back and wide receiver for the Sharks, will likely line up opposite Brown at some point soon.
Just not in the, ahem, arena, in which either of them likely thought they'd be playing ball five years ago.
Should I Start James Conner or Zack Moss in Fantasy Football Week 3?
When assessing running backs to start on your fantasy football roster, there is a lot to consider. Oftentimes, the back that is on the better offense seems to be the right way to go. But there is also the chance that the running back playing for an inferior team could be relied on more in a given matchup.
This is the exact scenario we have to break down when deciding between Arizona Cardinals running back James Conner and Indianapolis Colts running back Zack Moss in Week 3. Is Connor and the opportunity for lots of carries a better option? Or is Moss and the balanced Colts offense more in line with having fantasy success? Let's dig in and find out!
Looking to make a trade in your fantasy league? Having trouble deciding who to start and who to sit? Check out PFN's Free Fantasy Football Trade Analyzer and Start/Sit Optimizer to help you make the right decision!
James Conner's Fantasy Outlook This Week
In his seventh year in the NFL, Conner is one of the few running backs in the league that does not have much competition on his team. As far as backfields go, the Cardinals room belongs to Conner.
Through two weeks of the young NFL season, Conner has already carried the ball 37 times. He has turned this into 168 rushing yards and a touchdown.
MORE: RB Fantasy Injury Report Week 3
But Connor has a tough matchup in Week 3. The Dallas Cowboys come to town and boast the ninth-best rushing defense so far in 2023. This does not bode well for Conner's chances of a breakout game.
But the reality is that Conner will still be involved in this Cardinals' offense. With very few weapons to go to, Conner will need to be a part of the Cardinals' game plan. I expect the team to try to slow down the pace of the game to stay in the contest for much longer.
This could mean a heavy dose of Conner on Sunday. While the defensive matchup is not the greatest, Connor will definitely be involved in the Cardinals' offense. This opportunity has me interested in what his output could be on Sunday.
Zack Moss' Fantasy Outlook This Week
Moss was unable to play in Week 1 while he recovered from a broken arm he suffered in the preseason. But when the back returned in Week 2, he was quite successful. With 18 carries against the Houston Texans, Moss racked up 88 yards and a touchdown on the ground. He averaged 4.89 yards per carry.
In Week 3, the Colts travel to play the Baltimore Ravens. The Ravens have the fourth-best run defense in yards surrendered on the season thus far. And the Colts will be without their starting quarterback, Anthony Richardson.
While Richardson's absence may seem like a detriment to the team, it may actually be an advantage for Moss. Richardson is a mobile quarterback and takes rushing opportunities away from his running backs. With Richardson out and Gardner Minshew starting, Moss may have another opportunity for plenty of carries.
The defensive matchup is not ideal, but there is a chance for Moss to have success this Sunday. If he sees as many opportunities as he did in Week 2, he could total a decent number of fantasy points for his managers. Of course, finding the end zone would also go a long way for Moss in Week 3.
Which of These RBs Should You Start?
Both of these backs have a tough defensive matchup in Week 3. But if I have to choose between the two, my gut says to go with Conner.
While the Cowboys have a very strong defense, Conner is one of the only solid weapons in the Cardinals' offense. The team will have to rely on him to have any success moving the ball consistently on Sunday.
MORE: Week 3 Fantasy Football Cheat Sheet
While Richardson is out and Minshew is starting, Moss still has to compete with the likes of Michael Pittman Jr. and Josh Downs in his offense. Historically, Conner has been a stronger back than Moss.
The separation is not that wide, but I like Conner more this week than Moss. I think Conner will have a higher floor than Moss, and I want to make sure I am still getting solid points if I start one of these two in my lineup.
Listen to the PFN Fantasy Podcast
Listen to the PFN Fantasy Podcast! Click the embedded player below to listen, or you can find the PFN Fantasy Podcast on iTunes, Spotify, and all major podcast platforms.  Be sure to subscribe and leave us a five-star review! Rather watch instead? Check out the PFN Fantasy Podcast on our Fantasy YouTube channel.
Bo Nix Shines, Shedeur Sanders Struggles in Ducks Beatdown
A heavily-anticipated Colorado vs. Oregon matchup turned out to be a non-starter when the Ducks thoroughly outclassed the Buffaloes in a 42-6 drubbing. How did the two early-round 2024 NFL Draft prospects fare in this contest, and what else stood out?
Colorado vs. Oregon Recap: Bo Nix, Shedeur Sanders on Opposite Sides of the Coin
Both the Ducks and the Buffaloes came into Week 4 riding high at 3-0, with emotions running equally high. But in the end, it was Dan Lanning who scored a decisive victory over Deion Sanders, proving that the Buffaloes might not be ready for prime time just yet.
The Ducks outscored the Buffaloes 42-0 in the first three quarters and allowed Colorado's only points in garbage time. The QB dichotomy was a stark representation of how far apart each team was.
Bo Nix completed 28 of 33 passes for 274 yards, three touchdowns, and one pick and ran for an additional score. Shedeur Sanders, meanwhile, completed 23 of 33 passes for 159 yards — averaging just 4.9 yards per attempt — and a garbage-time touchdown.
In truth, the Buffaloes weren't going to have much of a chance in this game, regardless. Not only was the team missing its top playmaker — Travis Hunter — but the roster was noticeably deficient in the trenches compared to Oregon's squad.
Lanning's offensive line kept Nix clean all game, allowing him and explosive, versatile weapon Troy Franklin to connect for eight passes, 126 yards, and two scores. Nix's interception was a lapse in field vision, but outside of that, he was extremely efficient, accurate, and measured with his decision-making.
The Ducks also paved open lanes for Bucky Irving, Jordan James, and Noah Whittington on the ground. And on the defensive side, Brandon Dorlus, Jordan Burch, and others wreaked constant havoc on Colorado's ill-equipped offensive line.
Sanders' uninspiring performance against Oregon isn't a full indictment on him as a QB or as a prospect. He encountered pressure often and was never able to get into a rhythm or sustain drives, and missing Hunter didn't help.
But this was the first time Sanders faced this kind of pressure so far this year, and it gave us a glimpse at how much room this Buffaloes team still has to improve before they can truly compete in these environments.
MORE: FREE Mock Draft Simulator With Trades
The Ducks stay undefeated and will also keep their slot in the top 10. The Buffaloes, meanwhile, are now 3-1, losing their first game in conference play. They don't have much time to lick their wounds, either. Next Saturday, they play fifth-ranked USC.
The Trojans' defense won't be as smothering as Oregon's, but keeping up with Caleb Williams in a firefight is never an easy venture. Perhaps the Buffaloes needed this humbling moment to reset ahead of full-fledged Pac-12 play.
Listen to the PFN Scouting Podcast
List to the PFN Scouting Podcast! Click the embedded player below to listen, or you can find the PFN Scouting Podcast on iTunes, Spotify, and all major podcast platforms.  Be sure to subscribe and leave us a five-star review! Rather watch instead? Check out the PFN Scouting Podcast on our Scouting YouTube channel.
7 Crucial Stats and Players To Watch Include Raheem Mostert, Josey Jewell
The undefeated Miami Dolphins host the winless Denver Broncos in a 1 p.m. affair on CBS.
As of Friday, the Dolphins, who have gone on the road to beat the Chargers and Patriots in the season's first two games, were 6.5-point favorites over the Broncos, whose two losses are by a combined 3 points.
Denver Broncos vs. Miami Dolphins Game Preview
The Dolphins are aiming for their second 3-0 start in as many seasons and 16th 3-0 start in the team's nearly six-decade history. The last time the Dolphins started 3-0 in consecutive seasons, the Spice Girls were all the rage.
Miami is 12-2 in its last 14 at Hard Rock and 8-1 all-time at home against the Broncos. This is just the 21st meeting between these teams, with the Dolphins holding a 12-7-1 edge in the all-time series.
Seven Broncos-Dolphins Stats From Inside Edge
Stat: Tua Tagovailoa has thrown for 5.7 yards per attempt when pressured by defenders since the 2022 season — eighth-best of qualified quarterbacks. The Broncos have pressured opposing QBs on just 18.7% of passing plays since the 2022 season — third-worst in the NFL.
Analysis: The Dolphins' offensive line has allowed just four quarterback hits in the season's first two games. It helps when Tagovailoa gets the ball out in 2.35 seconds — fastest in the league.
"9 times in his career Tua Tagovailoa has beaten up on a Super Bowl winning coach… He could set a record if he beats Sean Payton again."@JamieErdahl is looking for a show from the @MiamiDolphins QB this week #FinsUp pic.twitter.com/howhEp6GVt

— Good Morning Football (@gmfb) September 22, 2023
Stat: Russell Wilson has just a 76.1 passer rating on the road since Week 13 of the 2022 Season — ninth-worst of qualified quarterbacks. The Dolphins have allowed a passer rating of just 73.5 at home since Week 13 of the 2022 season — fourth-best in the NFL.
Analysis: The home-field advantage at Hard Rock Stadium is real — particularly when they host a cold-weather market team in September. "I think we're all excited," Tagovailoa said. "It will be cool to finally get to play in front of our hometown crowd, so I'm sure it'll be packed, and I'm sure those guys are really excited to see us go out there and play."
MORE: Tua Tagovailoa on Much-Improved Miami Dolphins O-Line
Stat: The Dolphins have a third-down conversion rate of just 30.8% against the blitz since the 2022 season — tied for fifth-worst in the NFL. The Broncos defense has allowed a third-down conversion rate of just 29.4% when blitzing since the 2022 season — fifth-best in the NFL.
Analysis: Perhaps the only person who loves to blitz more than Vance Joseph is Josh Boyer. Expect Joseph, the former Dolphins DC, to bring the heat on Sunday.
Stat: Tagovailoa has turned the ball over on just 3.4% of plays when pressured by the defense since the 2022 season — 10th-best of qualified quarterbacks. The Broncos have pressured opposing QBs on just 18.7% of passing plays since the 2022 season — third-worst in the NFL.
Analysis: The Dolphins offensive line has a good chance of getting Terron Armstead back, which will be a lift to a group that has played without him. But even the best lines have occasional lapses, and it'll be up to Tua to adjust when it does.
Stat: The Broncos have thrown the ball 56.4% of the time in the red zone since the 2022 season — fifth-highest in the NFL. The Dolphins have allowed a completion rate of 65.9% when defending in the red zone since the 2022 season — second-worst in the NFL.
Analysis: Vic Fangio's group made strides in Week 2, but the Dolphins still have the league's second-worst red-zone defense (from a statistical standpoint) entering Sunday's games.
Stat: Tagovailoa has a 103.4 passer rating at home since the 2022 season — fifth-best of qualified quarterbacks. The Broncos have allowed a completion rate of 69% on the road since the 2022 season — fifth-worst in the NFL.
Analysis: The over/under as of Friday was 47.5 — third-highest of the remaining Week 3 games. A shootout on Sunday should surprise no one.
6 minutes of Raheem Mostert mic'd up from his big performance in the week 2 win🎤 pic.twitter.com/LfKOTMzCgf

— King of Phinland🐬👑 (@KingOfPhinland) September 21, 2023
Stat: Dolphins RB Raheem Mostert has averaged 5.7 yards from scrimmage per touch this season — seventh-best of the 36 qualified NFL RBs. Broncos LB Josey Jewell has missed two tackles on 45 opportunities since Week 13 of the 2022 season — seventh-best of 41 qualified NFL linebackers.
Analysis: The Patriots were able to limit the Dolphins' explosive plays on offense in Week 2, but Mostert still got loose for a 43-yard run. It'll be interesting to see Joseph's approach, particularly if Jaylen Waddle doesn't play.
Broncos vs. Dolphins Predictions
David Bearman: Dolphins
Adam Beasley: Dolphins
Dalton Miller: Dolphins
Jay Morrison: Dolphins
Dallas Robinson: Dolphins
For all of PFN's Week 3 predictions, we have you covered.
Listen to the PFN Dolphins Podcast
Listen to the PFN Dolphins Podcast! Click the embedded player below to listen, or you can find the PFN Dolphins Podcast on iTunes, Spotify, and all major podcast platforms.  Be sure to subscribe and leave us a five-star review! Rather watch instead? Check out the PFN Dolphins Podcast on our NFL YouTube channel.