Ranking Jeremiah Trotter Jr., Tommy Eichenberg, and Others
What does the 2024 NFL Draft linebacker class look like off preliminary viewings? As has become a common theme with the 2024 group, there's an abundance of depth to sift through. And the top prospects have a brand of dynamic upside that could lift them into the Round 1 range. Here's a look at the full list.
Ranking the Top LBs in the 2024 NFL Draft
The 2023 NFL Draft ended up having a linebacker go in Round 1 in Detroit Lions selection Jack Campbell. But for most of the 2023 cycle, the LB group was notorious for having a lack of bona fide first-round prospects. Campbell's testing and production helped him, but even he had some holes in his composite profile.
A linebacker hasn't gone in the top 10 since 2020, and the linebacker drafted highest since then — Micah Parsons — has morphed into a full-time edge rusher at the NFL level. For years on end, it seems the LB position has been starved for blue-chip talent. Will the 2024 NFL Draft class change that? Let's take a closer look and see for ourselves.
10) Tyreem Powell, Rutgers
At the very least, the 2024 NFL Draft LB class isn't short on upside. That's something you'll see quickly with prospects like Rutgers' Tyreem Powell. Powell put up 71 tackles, six TFLs, three sacks, and four PBUs in a standout 2022, and he's expected to play the MIKE position more in 2023. Together, his traits and early production generate plenty of excitement.
It's important to note that Powell is still largely a work in progress. His coverage instincts are very inconsistent, and he often drifts too far past gaps when tracking runs laterally. But at 6'5″ and 235 pounds, Powell has elite size, and he couples that size with impressive lateral twitch, burst, and fluidity. He's already a physical form tackler who brings immense upside in all phases.
9) Curtis Jacobs, Penn State
Penn State won't have another Micah Parsons on the NFL Draft circuit — at least not yet. But there is a linebacker prospect on the Nittany Lions' roster to keep an eye on. Through 2021 and 2022, Curtis Jacobs produced 113 tackles, 14.5 TFLs, and seven sacks. His playstyle makes him a must-watch for evaluators, and there's room for him to keep growing.
MORE: FREE NFL Mock Draft Simulator (With Trades)
Jacobs is a bit lean and undersized, and that lack of elite play strength can hinder him in certain situations. Nevertheless, the Nittany Lions defender has smooth mobility in coverage. And ultimately, his best plays come when he's able to pin his ears back, attack downhill, and splice through gaps. He's an absolute homing missile when seeking out ball carriers.
8) Eric Gentry, USC
The 2024 NFL Draft LB class presents a lot of variety up top, but there's no prospect as unique as USC's Eric Gentry. Gentry — who recorded 71 tackles, four TFLs, two sacks, three PBUs, and two forced fumbles in 2022 — has an extremely unorthodox frame at 6'6″, 205 pounds. There will be questions about how he translates, but the upside is clear.
Gentry underwent surgery for an ankle injury this offseason but should be good to go by the start of the season. He's still in dire need of added weight. Nevertheless, Gentry's nimble athleticism and overwhelming wingspan make him a constant threat to undercut passes at the second level, and that same length magnifies his tackling range in pursuit.
7) Luke Reimer, Nebraska
The Nebraska football program will hope for a renaissance under Matt Rhule, who was able to rebuild both the Temple and Baylor programs earlier in his coaching career. It helps that Nebraska has a strong core to carry over from 2022, especially on defense. Quinton Newsome is a standout at cornerback, and Luke Reimer is the leader of the unit.
Reimer has accumulated 194 total tackles, 9.5 tackles for loss, an interception, and 11 pass deflections over the past two seasons. That production sheds light on his speed and range at the second level, but the 6'0″, 225-pound Reimer also has the football IQ, vision, and compact frame to hold his own in run defense.
6) Jestin Jacobs, Oregon
At Georgia, Dan Lanning fueled the rise of first-round LB prospect Quay Walker and Nakobe Dean, who's now in line to start with the Philadelphia Eagles. Lanning knows how to put talented linebackers in position to succeed. He'll have his opportunity to do it again with Iowa transfer Jestin Jacobs, who's coming back from a soft tissue injury suffered in 2022.
Jacobs only played two games before missing the rest of 2022 with an injury, but he has one of the most exciting ceilings in the 2024 NFL Draft class. At 6'4″, 238 pounds, he has impressive size and length, and yet, he's very natural managing space and changing directions in coverage. Jacobs' size and athleticism allude to vast projected versatility.
5) Tommy Eichenberg, Ohio State
Tommy Eichenberg had fans as a potential early-round LB prospect in the 2023 NFL Draft cycle after experiencing a career resurgence under defensive coordinator Jim Knowles. He racked up 120 tackles, 12 tackles for loss, 2.5 sacks, a pick, and three PBUs but ultimately chose to return to school for the 2023 campaign. Now, he's a top LB in the 2024 class.
MORE: 2024 NFL Draft Big Board
At 6'2″, 239 pounds, Eichenberg brings contagious energy and play pace at the second level. He's an extremely explosive athlete, but 2022 was the first year he truly reined in his traits and learned to play with more control. He can stack and shed, as well as invade gaps and wrangle up QBs as a blitzer, and his hot motor makes him a constant threat around the ball.
4) Danny Stutsman, Oklahoma
Danny Stutsman was one of the most productive defenders in the entire nation in 2022, putting up 125 tackles, 10.5 tackles for loss, three sacks, two picks, and five pass deflections. He's a proven playmaker in all phases, and he returns as one of the most established 2024 NFL Draft prospects at the LB position.
At 6'3″, 229 pounds, Stutsman has great size, and he plays with an unmatchable motor in pursuit. Not only does he play all the way to the final whistle, but he has the high-end speed and explosiveness to run down ball carriers with his range. His instant acceleration when triggering is awe-inspiring, and while he can refine his instincts further, all of the traits are there.
3) Omar Speights, LSU
LSU has a future star in Harold Perkins at linebacker, but it'll be just as exciting to see Oregon State transfer Omar Speights play his first season under the SEC lights. In four years with the Beavers, Speights accumulated 304 total tackles, 25 TFLs, five sacks, three picks, and four deflections. With the Tigers, he aims to make himself known.
Speights' ceiling might not be quite as high as other prospects on this list, but he's a sound three-down linebacker at 6'1″, 237 pounds. He's a sturdy tackler with good closing speed and reaction quickness, and while he doesn't have much production in coverage, Speights does have the vision and route-recognition ability to process and respond to plays in zone.
2) Jeremiah Trotter Jr., Clemson
One year after Clemson boasted Trenton Simpson on the NFL Draft stage, the Tigers have two more potential early-round LB prospects in the 2024 NFL Draft. Jeremiah Trotter Jr. — son of an All-Pro NFL linebacker of the same name — comes in as our second-ranked LB on our preliminary rankings. Another season of production could lock Trotter in this range.
MORE: 2024 NFL Draft Prospect Watchlist
In 2022, Trotter put up 89 tackles, 13.5 TFLs, 6.5 sacks, two picks, and five deflections. At 6'0″, 230 pounds, he's a dense, well-leveraged linebacker over the middle of the field who offers great instincts and awareness for his age. He has a natural feel for how to combat, evade, and bend around blocks, and he's a very reliable tackler with sturdy form and closing burst.
Who Is the Best LB in the 2024 NFL Draft?
Clemson lays claim to both of the top LB prospects on our preliminary 2024 NFL Draft positional rankings. Trotter was actually more productive than his counterpart in 2022, but looking at his traits and versatility, it's hard to keep the top spot from Barrett Carter in the summer months.
1) Barrett Carter, Clemson
Carter is Clemson's "Agent 0." A former five-star recruit who was timed in the 4.5 range coming out of high school, Carter amassed 73 tackles, 10.5 TFLs, 5.5 sacks, two interceptions, eight deflections, and two forced fumbles in 2022. At 6'1″, 225 pounds, his versatility and attacking mentality are both nearly impossible to replicate.
Trotter might have better discipline as a traditional LB, but in a modern NFL, where versatile linebackers create a mismatch, Carter projects extremely well. He has the fluidity to drop into coverage and play the slot, but his value is highest in the box, where he has the searing explosiveness, quick trigger, and pass-rushing chops to be a down-to-down nightmare.
Honorable Mentions
Mason Cobb, USC
Jackson Mitchell, UConn
Francisco Mauigoa, Miami (FL)
Justin Flowe, Arizona State
Khari Coleman, Ole Miss
Ty'Ron Hopper, Missouri
Tatum Bethune, Florida State
Deshawn Pace, Cincinnati
Travion Brown, Arizona State
Kam Arnold, Boston College
Will Odell Beckham Jr. Play in Week 3? Fantasy Impact and More
The talk in fantasy football circles this summer was all about Todd Monken taking over this Baltimore Ravens offense and the upside that was going to come with that. The optimism resulting from that discord resulted in three Ravens receivers being drafted in most leagues — managers were flocking for any exposure to this unit.
With Odell Beckham Jr. battling an injury, it stands to reason that targets will be more condensed than last week. Who can you plug into your lineup should he sit?
Looking to make a trade in your fantasy league? Having trouble deciding who to start and who to sit? Check out PFN's Free Fantasy Football Trade Analyzer and Start/Sit Optimizer to help you make the right decision!
Latest News Surrounding Odell Beckham Jr.
Beckham was featured early in the Week 2 game plan against the Bengals (three catches on four targets for 29 yards) after a quiet Week 1, but a tweaked ankle forced him out of the game.
MORE: Fantasy Football Week 3 Cheat Sheet
He is less than two months from celebrating his 31st birthday, fueling the thought that he is past his prime and that this injury could linger. (He missed all of 2022, sat out three games in 2021, and was a DNP nine times in 2020.)
Will Beckham Play This Week?
OBJ didn't take a single rep in practice leading into Sunday's matchup with the Colts, and it seems more likely than not that the veteran receiver will sit out this week. The Ravens don't have their bye week until early December, making a cautious approach likely as this team has bigger goals this season and won't get a break for another two months.
What Does This Mean for the Week 3 Rankings?
Beckham's projected impact on this offense was minimal, so there were no major changes made in our PFN Consensus Rankings. This does elevate the floor of Zay Flowers, a rookie who cracks my top 25 at the position in this matchup and could move up a few spots should we lack clarity on Joe Burrow when lineups lock.
For reference, I currently have him ranked just ahead of both Washington receivers and DJ Moore this week.
ZAY FLOWERS 😱😱😱
pic.twitter.com/pJIbLbiiRo

— PFF (@PFF) September 17, 2023
Flowers' target share dropped from 48% in Week 1 without Mark Andrews to 15.2% last week with Andrews making his season debut. I think we can safely assume that his role is somewhere between those two showings, and that is enough volume in Monken's offense to make him a fine WR2 this week and moving forward.
Listen to the PFN Fantasy Podcast
Listen to the PFN Fantasy Podcast! Click the embedded player below to listen, or you can find the PFN Fantasy Podcast on iTunes, Spotify, and all major podcast platforms.  Be sure to subscribe and leave us a five-star review! Rather watch instead? Check out the PFN Fantasy Podcast on our Fantasy YouTube channel.
Who Was the First Fantasy Victim To Fall Prey?
Pro Football Network Bengals Reporter Jay Morrison is participating in a vampire fantasy league this season and documenting the experience to give readers a better understanding of what to expect from the game's new format. Click here for a full explainer on how it works.
Week 1 went about as expected, with Nosferatu's Coffin Corner team of draft leftovers getting housed 152.90 to 100.72.
But with free reign of the fantasy football waiver wire for 24 hours before the rest of the league could make claims, I added Rams wide receiver Puka Nacua and Ravens running backs Gus Edwards and Justice Hill, covering my bases with the idea that one of them would take over the lead back role for the injured J.K. Dobbins.
Looking to make a trade in your fantasy league? Having trouble deciding who to start and who to sit? Check out PFN's Free Fantasy Football Trade Analyzer and Start/Sit Optimizer to help you make the right decision!
Week 2 Vampire Fantasy League Recap
All I had to part ways with were Texans running back Devin Singletary, Titans tight end Chigoziem Okonkwo, and Seahawks kicker Jason Myers, who was my only kicker.
I figured I'd wait until after injury reports came out to see if there was an obvious choice to drop to grab a new kicker prior to the Wee 2 games. There wasn't, so I parted with Bills running back Damien Harris and added Lions kicker Riley Patterson.
Armed with my four new players, I went into Week 2 with a 41% win probability (much better than the 24% I had for Week 1).
Nacua came through for me, leading my individual players with 32.10 points. I had my game won even before Monday night, but the Steelers tacked on 37.0 to make me the second-highest-scoring team in the league.
By winning, I was able to steal a player from my opponent's starting lineup but had to return one of my starters at the same position. The choice was easy.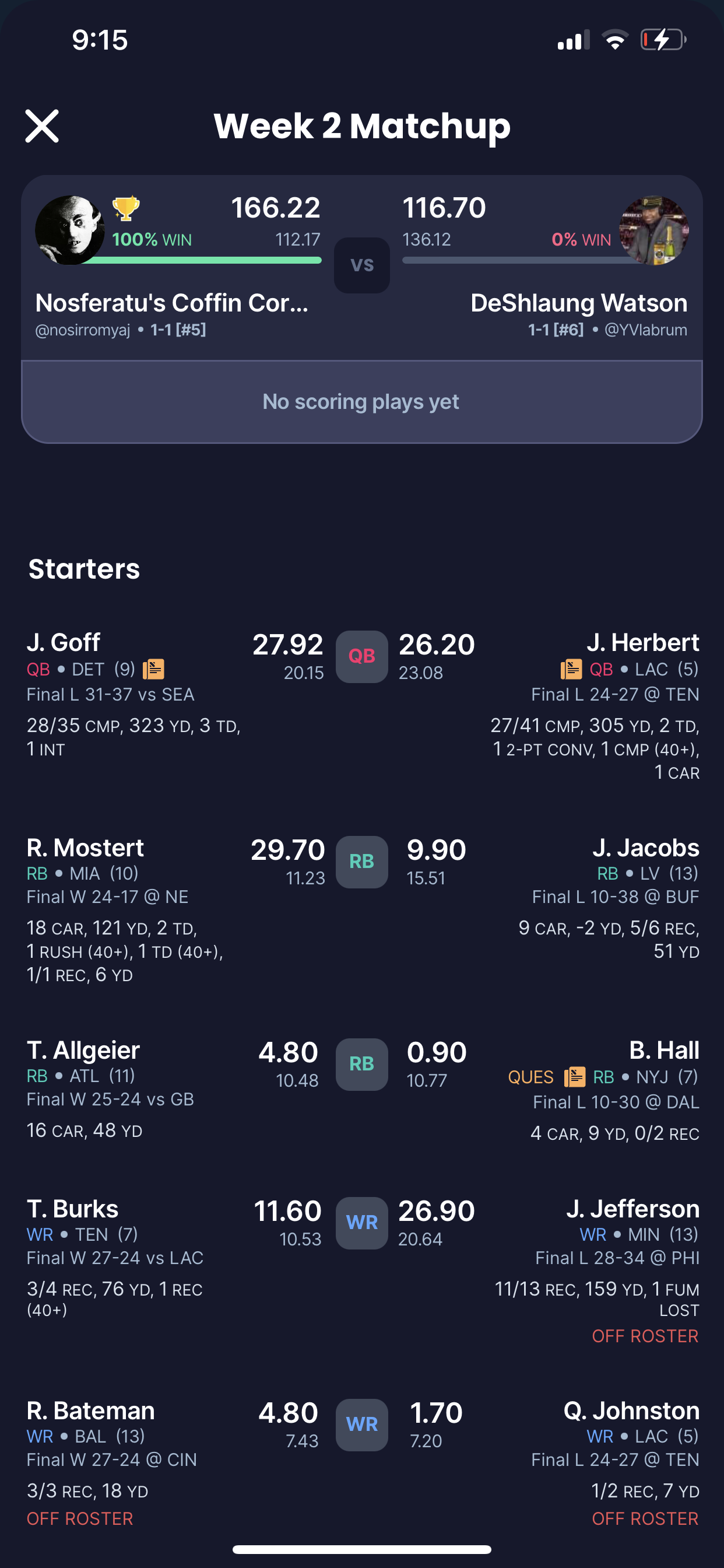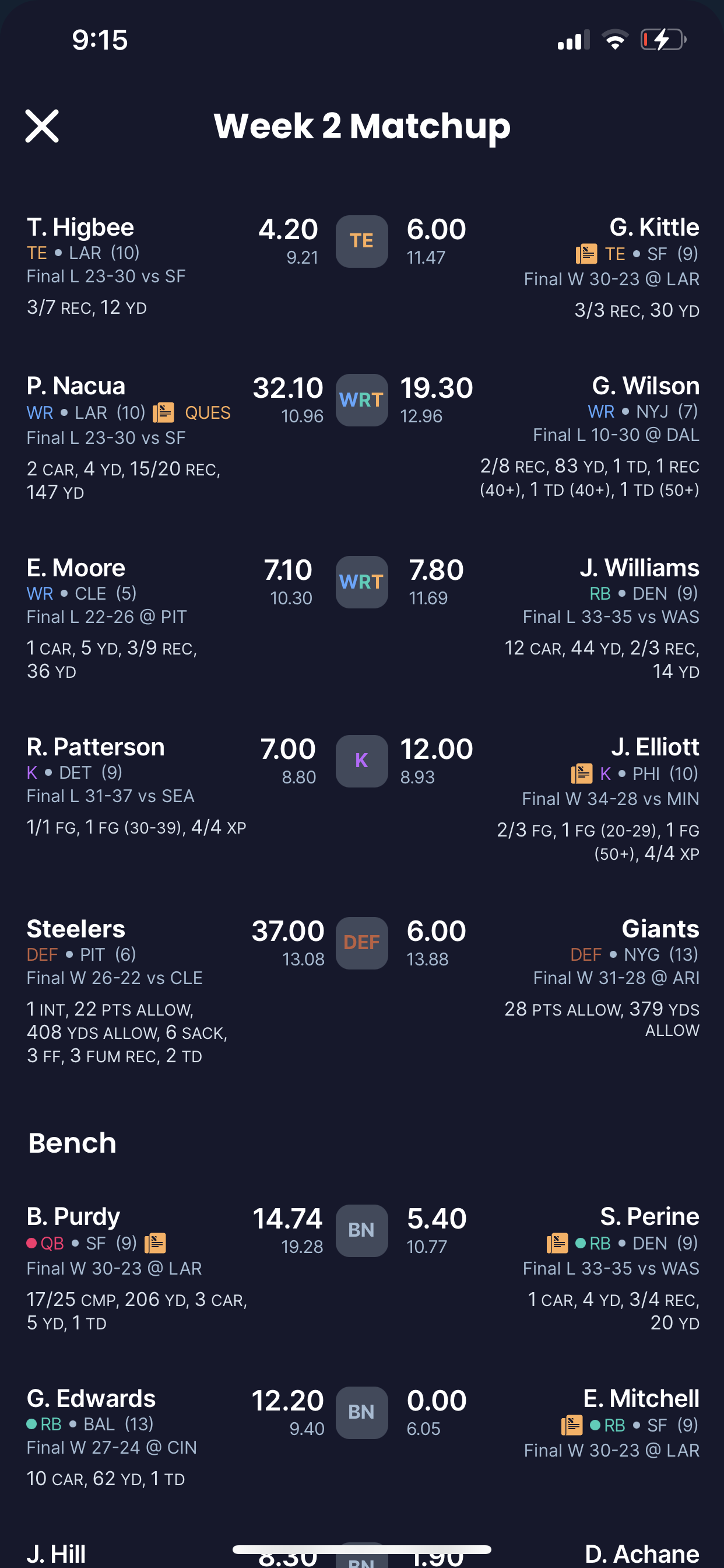 I went from not having any of the top 144 players drafted in the league to owning the No. 1 overall pick, Justin Jefferson.
I almost felt bad sending my opponent Rashod Bateman in return. Almost.
Naturally, the league freaked out and did what the NFL did to the Bengals in January — changed the rules in the middle of the game.
The new rule is that if I, as the vampire, win, I get the choice between stealing a player or having the first crack at the waiver wire.
And my VIP entry to the waiver wire, whether it be by choice after a win or the regular way after a loss, is capped at one pickup before settling into my normal spot on the waiver wire to duel it out with everyone else for other claims.
MORE: Week 3 Fantasy Football Cheat Sheet
I disagreed on principle, but I get it. Most vampire leagues are 12 teams, not 10, so the climb from the ashes is much more difficult than what I've been tasked with.
Even with Jefferson added to my roster, I still only have a 43% win probability in Week 3 against a 0-2 opponent. But that team — KC4theWin! — has Patrick Mahomes. If I can pull it off, I'll be armed with Mahomes and Jefferson and may never need to worry about the new rule or the waiver wire again.
Listen to the PFN Bengals Podcast
Listen to the PFN Bengals Podcast! Click the embedded player below to listen, or you can find the PFN Bengals Podcast on iTunes, Spotify, and all major podcast platforms.  Be sure to subscribe and leave us a five-star review! Rather watch instead? Check out the PFN Bengals Podcast on our NFL YouTube channel.
Listen to the PFN Fantasy Podcast
Listen to the PFN Fantasy Podcast! Click the embedded player below to listen, or you can find the PFN Fantasy Podcast on iTunes, Spotify, and all major podcast platforms.  Be sure to subscribe and leave us a five-star review! Rather watch instead? Check out the PFN Fantasy Podcast on our Fantasy YouTube channel.
Micah Parsons, Tight End? Star Defender Drops a Hint
Dallas Cowboys edge rusher Micah Parsons recently appeared on the Pat McAfee Show and dropped a hint that he might be getting some reps at the tight end position soon enough on Sundays.  But was he serious about it, or was it just a light-hearted moment in practice this past week?
Micah Parsons Spills the Tea on the Pat McAfee Show
During an interview with McAfee and co-host AJ Hawk, Parsons casually said that he has been getting offensive reps in the tight end position during practice.
"Big Mike [McCarthy] actually let me get a couple scout team reps at tight end," Parsons shared on the show. "He might not let y'all know that. I probably shouldn't have spilled the tea," said Parsons.
"Big Mike let me get a couple scout team reps at Tight End..

I probably shouldn't have spilled the tea on that one" 😂😂 ~ @MicahhParsons11 #PMSLive #DallasCowboys pic.twitter.com/yFCRHlUiCh

— Pat McAfee (@PatMcAfeeShow) September 19, 2023
When asked about it by reporters earlier in the week, Parsons laughed and said McCarthy was disappointed in his route, adding, "I told him I didn't warm up. I just went out there on the fly."
However, Parsons said he looked forward to trying it again with more preparation.
Will Mike McCarthy Play Parsons at Tight End?
The short answer is probably not. With a player as impactful as Parsons, it's hard to imagine he would be put in the position to risk injury when he already has the workload on the defense. This is even more compounded by the fact that star cornerback Trevon Diggs tore his ACL in practice on Thursday.
But what was interesting is that McCarthy noted it could help Parsons in the long run by gaining a different perspective.
"I always felt it helped an elite player to go over there because you get some appreciation and keeps them engaged," said McCarthy.
This is nothing new for Parsons, as he has talked about studying other positions and even sports to improve his game. One example is when Parsons worked with former offensive tackle Andrew Whitworth over the summer to improve his weaknesses.
He said being able to pick Whitworth's brain allowed him to see how offensive linemen would think and what their point of attack would be so he could be one step ahead of them.
The edge rusher also took up boxing. He discussed this last week, stating it's crucial to learn how to be attacked under pressure, adding, "These guys are going to hit you from all different type of ways maybe up high down low being there just being prepared for it. It's the same thing as sparring, so it's something I'm pretty much used to at this point."
A Stacked Tight End Room
It's not like the Cowboys need much help at the tight end position. The room is stacked with the likes of Jake Ferguson, Peyton Hendershot, and Luke Schoonmaker on the active roster and Sean McKeon on the practice squad.
Although the West Coast offense schemes tight ends to be blockers more than receivers, it doesn't take away from how important they are to the offense's success.
With this being a young room, Ferguson has taken charge of being the team's starting tight end. Time will strengthen this room as the offense figures out the ball distribution throughout the season.
So, although Parsons will probably stick to terrorizing opposing offenses and not being on the Cowboys', it is fun to think about him getting more work with the tight end room. 
Listen to the PFN Cowboys Podcast
Listen to the PFN Cowboys Podcast! Click the embedded player below to listen, or you can find the PFN Cowboys Podcast on iTunes, Spotify, and all major podcast platforms.  Be sure to subscribe and leave us a five-star review! Rather watch instead? Check out the PFN Cowboys Podcast on our NFL YouTube channel.