Does Daniel Jones Have Enough Help on the Outside Yet?
The New York Giants WR depth chart was a disaster in 2022. Nobody posted more than 724 yards for the season. Saquon Barkley led the team in targets and tied Richie James with 57 receptions. Darius Slayton was the only receiver with an aDOT over more than 10 yards that saw at least 25 targets. And only Matt Ryan and Justin Herbert posted lower intended air-yard marks than Daniel Jones.
The Giants needed an influx of talent at the position, and they needed to get healthy for 2023. And while there is no elite or near-elite receiver on the roster, New York has dealt with the position well. They also traded for the uber-talented Darren Waller, who is one of the most uniquely dangerous NFL weapons when healthy.
New York Giants WR Depth Chart
The Giants' first wave of receivers is not questionable. Isaiah Hodgins became one of Jones' primary weapons late in the season, and he showed some serious juice as an outside receiver. Slayton is a bit small for an outside receiver, but the front office doesn't seem to worry about traditional size requirements with their receiving corps.
Parris Campbell never truly found his groove in Indianapolis, but could be a serious weapon in the underneath game and as a crossing pattern weapon in New York… if he can stay healthy.
And that's the rub with most of the Giants' WR depth chart. Slayton has remained relatively healthy throughout his career. But Waller, Campbell, and others on the roster have really struggled to stay on the field throughout their careers.
In his four-year career, Campbell has played just 32 games. For those keeping score at home, that means he's missed more games in the NFL than he's played. Waller played two healthy and insanely productive seasons in 2019 and 2020, but has played in only 20 games over the past two seasons.
MORE: New York Giants — How Was Their Roster Built?
Nobody would claim the Giants have one of the best WR corps in the NFL, but it could be much worse. It could look like New York's unit from a season ago. They don't have an ace up their sleeve, but Justin Jeffersons don't grow on trees.
Can Jalin Hyatt or Wan'Dale Robinson Crack the Starting Lineup?
This is the question. Jalin Hyatt has already been seen spending some extra time with Jones after practices, which is more of a necessity than a luxury. As a primarily downfield target in his current form, that downfield rapport is of the utmost importance. Timing and placement become more critical as a receiver travels farther downfield.
"Again, yeah, he's been asked to do certain things," HC Brian Daboll said after the first day of rookie minicamp. "He's had a couple different coaches in college. Again, day one out here, did everything we asked him to do, and each day we'll build off that."
Hyatt likely won't be ready to run an entire route tree early in his career, and so, he may not be an immediate starter. However, he could very well be someone who can give the Giants an elevated version of what Slayton provides as a downfield weapon. New York struggled to produce explosive plays in the passing game a season ago.
Hyatt wasn't expected to land in the third round of the draft, and that must've been good value for Giants GM Joe Schoen.
"I understand there's somewhat of an obsession with the receiver position,'' Schoen said at the NFL Scouting Combine. "We still have to build a team. That's an important position, I get that, but the value still has to match up, and we still have several holes we need to fill.''
Hyatt has a gear that not many players in the NFL today possess. He may have only run a 4.4 in the 40-yard dash, but ask the Alabama secondary if they think he's a 4.4 guy. No, when he opens his strides, Hyatt practically teleports downfield.
Wan'Dale Robinson, meanwhile, tore his ACL in Week 11 of last season and is not yet ready to return to the field. Both he and Sterling Shepard are unknowns for the start of training camp. Shepard returned from an Achilles tear in Week 15 of 2021 but tore his ACL in Week 3 a season ago. His injury sheet is the length of a CVS receipt, which is unfortunate because he's a talented player.
MORE: Could DeAndre Hopkins Make The Giants' Offense More Explosive?
Nevertheless, Robinson was a second-round pick a season ago, and expectations come with that. Campbell's contract is a one-year deal worth $4.7 million, which won't keep Robinson off the field if he's the better player in practice. Additionally, Robinson is a perfect fit for that same mold Campbell plays in the slot. If he returns healthy in time for camp it wouldn't be a surprise to see him steal snaps from Campbell on the first team.
Giants Loaded Up on Names
We've already discussed six names, and we're not even halfway done with the names on the Giants' roster. There are 14 wide receivers on the Giants' roster right now. 14!
Jeff Smith
David Sills V
Makai Polk
Kalil Pimpleton
Jaydon Mickens
Collin Johnson
Bryce Ford-Wheaton
Jamison Crowder
Eight names we haven't discussed. But in the end, it's unlikely we see more than one of them on New York's 53-man roster if the Giants' top guys are healthy by the time Sept. 11 rolls around.
Updates, Results, and More From Thursday Night Football Matchup
Amazon Prime's Thursday Night Football returns tonight, and we might witness one of the more lopsided games of this young NFL season. The New York Giants, who are coming off of an impressive 21-point come-from-behind victory against Arizona, will travel to San Francisco to take on the Super Bowl contender 49ers.
Make sure to bookmark and return often as we provide all the news, analysis, and up-to-date results for the Giants vs. 49ers game.
We will update this table as the game progresses.
We will add highlights and analysis as the Giants vs. 49ers game progresses.
Thursday Night Football stays on Prime Video this week. Fans can stay tuned into Amazon's video streaming service all season long for the Thursday night showdowns, except Thanksgiving week when NBC returns for a one-off takeover. Here's how to watch the NFL game tonight.
Date
September 21, 2023
Start time
8:15 p.m. ET
Location
Levi Stadium
Channel/Live Stream Option
Prime Video, FuboTV
Giants vs. 49ers Betting Predictions and Best Bets
All odds are from DraftKings Sportsbook unless stated otherwise.
Spread
49ers -10
Moneyline
Giants +410, 49ers -550
Over/Under
44.5
Giants vs. 49ers Predictions
Bearman: We know going into this matchup that San Francisco has one of the better defenses in the league, and the Giants had next to nothing on offense for the first six quarters of the season.
Now, Daniel Jones and Co. woke up in the second half vs. Arizona, but you have to wonder if that was more a bad team protecting a lead or if the Giants figured something out. Either way, they now play against the Niners without Barkley.
MORE: NFL Survivor Picks Week 3
San Francisco has scored 30 points in both of their games, so that scares me off the game total. As a result, I will play the Giants' team total under.
Jones has rushed for 43 yards and 59 yards in the first two games this season. Without Barkley, there should be more designed running plays for him. I'll go over his rushing total as well.
Picks: Giants team total under 16.5 (-108 at DraftKings), Daniel Jones over 38.5 rushing yards (-115 at DraftKings)
Blewis: The Giants had their biggest comeback in franchise history last week, but it was against the Cardinals. As impressive as the comeback was, trailing by 21 points to this Cardinals team in the first half is almost equally pathetic.
The 49ers, you could argue, look like the best team in the NFL right now. They're 2-0 straight up and would be 2-0 ATS if not for Sean McVay's inexplicable decision to 
play for the cover
 in the final seconds last week.
On a short week in which both teams are banged up offensively, I'm going to go with the under. This is also a huge mismatch between the Giants' offensive line and the 49ers' pass rush.
We saw how badly the Dallas Cowboys dominated the G-Men in Week 1, and the 49ers' defensive line is almost as talented.
I also expect Kyle Shanahan to play this one a bit conservatively. He already admitted this week that they need to keep Christian McCaffrey fresh and get Elijah Mitchell more involved. What better opportunity than on a short week as double-digit favorites?
Pick: Under 44.5 (-108 at DraftKings)
For more picks and predictions, make sure to check out our enitre betting preview for Giants vs. 49ers.
Giants vs. 49ers Fantasy Start/Sit Advice
Daniel Jones
"Danny Dimes" checked every box fantasy football managers could possibly ask for in the Giants' comeback win over the Arizona Cardinals last weekend, and that was great to see.
The former Duke Blue Devil totaled 321 pass yards and two touchdowns through the air and nine carries for 59 yards and a touchdown on the ground. But by "great to see," I mean for October.
MORE: Fantasy Football's Week 3 Burning Start/Sit Questions
New York's final game of September comes on short rest against one of the elite defenses in the league without their top playmaker. San Francisco has allowed just two touchdown passes on 101 attempts this season, and they have coughed up under six yards per pass in both weeks to open the season. Jones is a top-15 QB the rest of the season — just not this week.
Brock Purdy
For the first time in his career, Brock Purdy didn't come through for fantasy managers. Even on a down week, a rushing touchdown helped his fantasy box score. If a swing pass to WR Deebo Samuel goes a few inches forward instead of a few inches backward, we're talking about another 18+ point fantasy day.
I like Purdy over Jones if you're picking a QB in this game to play, but I'm not sold on either being viable in anything but the deepest of leagues.
Make sure to check out entire fantasy start/sit breakdown for the Giants vs. 49ers.
Who Are the Inactives for Thursday Night Football Tonight?
New York Giants Inactives
RB Saquon Barkley (Ankle)
G Ben Bredeson (Concussion)
DE Azeez Ojulari (Hamstring)
OT Andrew Thomas (Hamstring)
Inactives will be updated when announced.
San Francisco 49ers Inactives
Inactives will be updated when announced.
What Are the Starting Lineups for Each Team?
Giants Projected Starters
The projected starting lineup is based on the current Giants depth chart.
Quarterback: Daniel Jones
Running Back: Matt Breida
Wide Receiver: Darius Slayton, Parris Campbell, and Isaiah Hodgins
Tight End: Darren Waller
Left Offensive Tackle: Matt Peart
Left Offensive Guard: Joshua Ezeudu
Center: John Michael Schmitz
Right Offensive Guard: Mark Glowinski
Right Offensive Tackle: Evan Neal
Defensive End: Leonard Williams
Defensive Tackle: A'Shawn Robinson
Nose Tackle: Dexter Lawrence II
Right Outside Linebacker: Kayvon Thibodeaux
Right Inside Linebacker: Bobby Okereke
Left Inside Linebacker: Micah McFadden
Left Outside Linebacker: Jihad Ward
Left Cornerback: Tre Hawkins III
Right Cornerback: Deonte Banks
Free Safety: Jason Pinnock
Strong Safety: Xavier McKinney
Kicker: Graham Gano
Punter: Jamie Gillan
Long Snapper: Casey Kreiter
Punt Returner: Eric Gray
Kickoff Returner: Eric Gray
49ers Projected Starters
The projected starting lineup is based on the current 49ers depth chart.
Quarterback: Brock Purdy
Running Back: Christian McCaffrey
Fullback: Kyle Juszczyk
Wide Receiver: Brandon Aiyuk and Deebo Samuel
Tight End: George Kittle
Left Offensive Tackle: Trent Williams
Left Offensive Guard: Aaron Banks
Center: Jake Brendel
Right Offensive Guard: Spencer Burford
Right Offensive Tackle: Colton McKivitz
Left Defensive End: Nick Bosa
Left Defensive Tackle: Javon Hargrave
Right Defensive End: Drake Jackson
Right Defensive Tackle: Arik Armstead
Strong Linebacker: Oren Burks
Middle Linebacker: Fred Warner
Weak Side Linebacker: Dre Greenlaw
Left Cornerback: Charvarius Ward
Right Cornerback: Deommodore Lenoir
Free Safety: Tashaun Gipson Jr.
Strong Safety: Talanoa Hufanga
Kicker: Jake Moody
Punter: Mitch Wishnowsky
Long Snapper: Taybor Pepper
Punt Returner: Ray-Ray McCloud III
Kickoff Returner: Ray-Ray McCloud III
Can Bengals, Chargers, and Patriots Avoid a Dreaded 0-3 Start?
Every NFL season, there are a few weeks that, on paper, look like duds. However, those weeks can sometimes provide us with quality entertainment, whether it be in the form of upsets or bad football chaos. The Monday Night Football doubleheader in Week 2 was pure, awful chaos. What do the NFL Week 3 predictions have to offer us?
Pro Football Network's Week 3 NFL Predictions
First, let's settle down from the first two weeks of the NFL season among the game selectors.
Year to Date
Adam Beasley: 19-13
David Bearman: 21-11
Dalton Miller: 21-11
Jay Morrison: 15-17
Dallas Robinson: 19-13
It is far too early to toot one's own horn. We started strong a season ago before falling to the wayside and allowing Dallas Robinson to take home the crown in the regular season. They say you can't drink all day if you don't start in the morning. Likewise, it's tough to win with a sluggish start to the season.
These predictions are simply deciding between winners and losers. There are no point spreads here. For that, head over to our Week 3 betting predictions.
New York Giants at San Francisco 49ers
Beasley: 49ers
Bearman: 49ers
Miller: 49ers
Morrison: 49ers
Robinson: 49ers
A short week after a hard-fought battle against — checks notes — the Arizona Cardinals does not bode well for the New York Giants. Add in an ankle injury for Saquon Barkley, and there are some incredibly difficult questions to answer for the Giants heading into Levi's Stadium.
MORE: Ranking the NFL's 2-0 Teams
The San Francisco 49ers haven't skipped a beat on defense after losing DeMeco Ryans to a head coaching gig, and the offense looks as efficient as it was late last season so far. A Brandon Aiyuk injury could be something to monitor — but having Deebo Samuel, Christian McCaffrey, and George Kittle makes it feel like everything will be okay for the 49ers offense.
Indianapolis Colts at Baltimore Ravens
Beasley: Ravens
Bearman: Ravens
Miller: Ravens
Morrison: Ravens
Robinson: Ravens
Anthony Richardson was electric early in his second professional start, and he showed intelligence and maturity after his second rushing touchdown. After playing two more drives and six more snaps, he reported concussion-like symptoms to the training staff, and he did not return to the game afterward.
It's a shame we likely won't see Richardson and Lamar Jackson face off. Richardson's legs would have been an outstanding weapon against a fierce Baltimore Ravens defense.
Meanwhile, the Indianapolis Colts have their hands full with the Ravens offense. Jackson is passing the ball incredibly well so far in 2023. He's still a worrying product when pressured, but he's been an assassin when kept clean. The Ravens are the better team, and losing the dynamism of Richardson, it will be tough for the Colts to keep up.
Tennessee Titans at Cleveland Browns
Beasley: Browns
Bearman: Browns
Miller: Browns
Morrison: Titans
Robinson: Browns
This was one of the more difficult matchups of the weekend to decide on. Ryan Tannehill and the Tennessee Titans' passing attack was awful in Week 1. But the Titans' defense is incredibly talented, and Deshaun Watson looks like a shell of his former self so far as a Cleveland Brown.
The Cleveland defense is also legitimately talented, and now they're well-coached. If they can keep the lid on Derrick Henry and Tyjae Spears, they'll force Tennessee to sustain drives and work from behind the sticks. If they get behind schedule and are forced to drop back with Tannehill, that Cleveland pass rush and secondary will pounce on any mistake he makes.
But Watson's play so far, and the unfortunate loss of Nick Chubb, makes the Browns' entire season outlook cloudy.
Atlanta Falcons at Detroit Lions
Beasley: Lions
Bearman: Lions
Miller: Lions
Morrison: Lions
Robinson: Lions
If the Atlanta Falcons do somehow come into Detroit and escape with a win, it could say a lot about the direction of both teams for 2023. The Detroit Lions' offense has been rocking so far through two weeks, particularly through the air. However, Ryan Nielsen's defense is built well to stop the middle-of-field attack that Detroit will bring.
But do we trust the Atlanta Falcons' offense to put enough points on the board? Desmond Ridder flashes quality quarterback play, but those flashes are often interrupted by an awful decision or a wild misfire.
New Orleans Saints at Green Bay Packers
Beasley: Packers
Bearman: Saints
Miller: Saints
Morrison: Packers
Robinson: Packers
The transitive property would suggest that because the Falcons beat the Green Bay Packers, and the New Orleans Saints should be the cream of the NFC South crop, then they should win this football game. But we know that's not how this works. That's not how any of this works.
Jordan Love has been really impressive so far through two weeks of play. However, the New Orleans Saints are a test unlike the Packers have faced to date.
The Saints offense has moved the ball decently to start the season, but it's turned into a pumpkin as it crosses the opponent's 20-yard line. Michael Thomas looks to be about back, and his size and physicality should be a utilized weapon in that area of the field.
Houston Texans at Jacksonville Jaguars
Beasley: Jaguars
Bearman: Jaguars
Miller: Jaguars
Morrison: Jaguars
Robinson: Jaguars
The Jacksonville Jaguars have done just about everything within their power to shoot themselves in the foot over the first two weeks of the season. Trevor Lawrence and this offense need to get back into a groove after an ugly Week 2 performance against the Kansas City Chiefs, but that's easier said than done behind a bad offensive line.
And with Will Anderson coming off the edge on the other side, there's no way that Trevor Lawrence can feel comfortable when he drops back to pass. Doug Pederson needs to get the ball out of his hands very quickly and into the hands of his playmakers around the line of scrimmage.
On the other side of the ball, C.J. Stroud has played surprisingly well for the Houston Texans since a disastrous first outing in the preseason.
Denver Broncos at Miami Dolphins
Beasley: Dolphins
Bearman: Dolphins
Miller: Dolphins
Morrison: Dolphins
Robinson: Dolphins
This game sets up to be incredibly one-sided, even if the Miami Dolphins have only won their first two games by a combined nine points. The Denver Broncos (0-2) have lost to the Washington Commanders and Las Vegas Raiders. The Dolphins have beaten the Los Angeles Chargers and New England Patriots. Denver has a tough matchup here.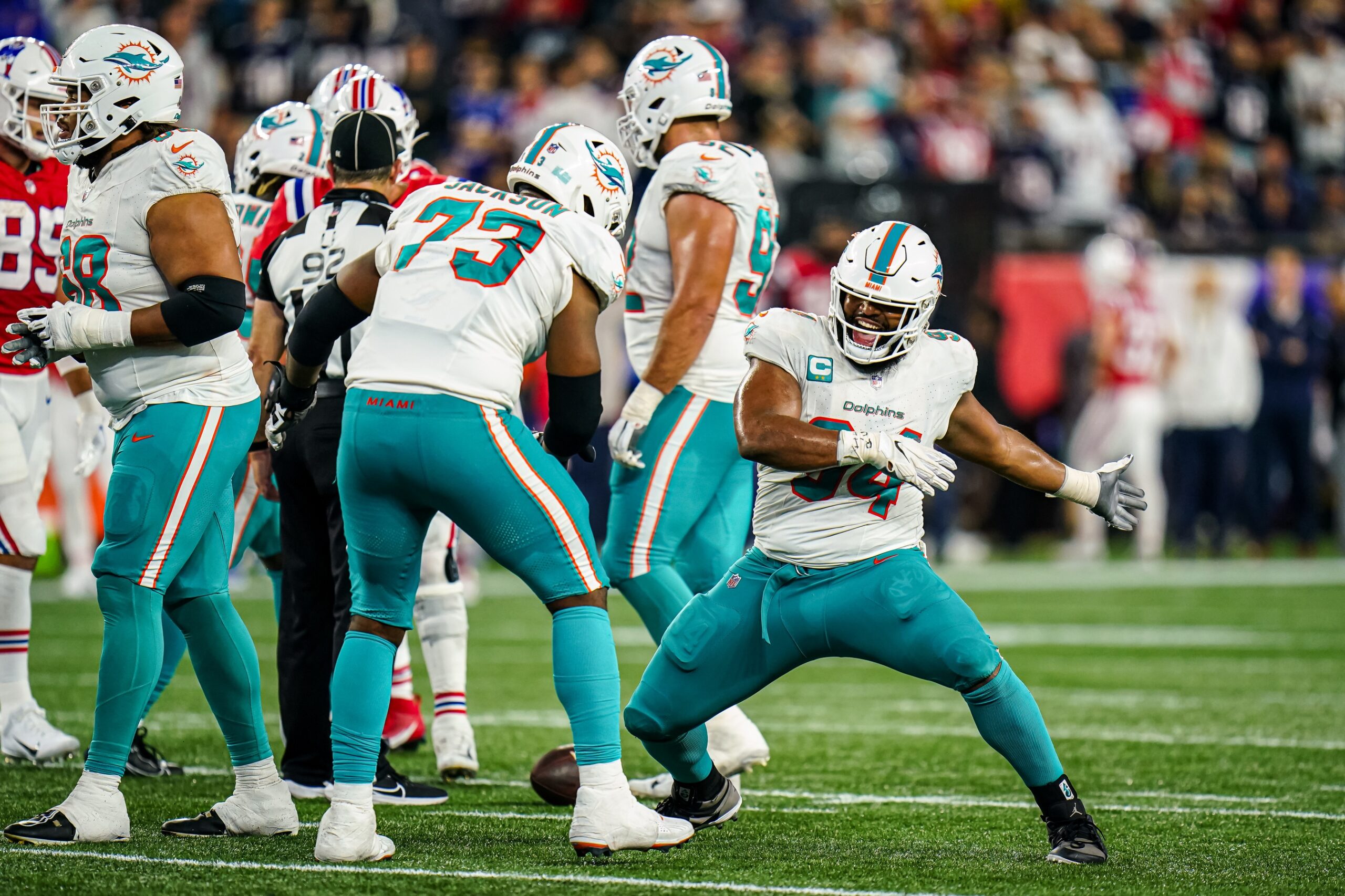 Denver's defense has more leaks than the Iraqi Navy right now, and the Dolphins are the last offensive unit a struggling defense wants to see right now. Not only are they physically dominant, but they also scheme defenses out of their shoes.
Additionally, Vic Fangio's defense, theoretically, should be the worst possible matchup for Russell Wilson, who is now living solely off his ability to create or chuck it accurately downfield. Taking the downfield element away and forcing him to sustain drives would be bad news for Sean Payton.
Los Angeles Chargers at Minnesota Vikings
Beasley: Vikings
Bearman: Vikings
Miller: Chargers
Morrison: Vikings
Robinson: Chargers
The Chargers and Minnesota Vikings are both on the ropes. They each have potent offenses being anchored down by defenses that are struggling to maintain a semblance of sufficiency. But they're also in different stages as organizations.
Kwesi Adofo-Mensah has come in and turned the Vikings roster on its head, snipping away at veteran contracts left and right. Mensah is building for long-term success instead of instant success. Last year was a fluke; they know that, and they acted accordingly.
Meanwhile, the Chargers are a team that has continuously added to the roster and coaching staff in order to fix their team's woes. But Brandon Staley's defense continues to be downright dreadful despite adding pieces left and right to avoid that very outcome.
The Chargers simply need it more.
New England Patriots at New York Jets
Beasley: Jets
Bearman: Patriots
Miller: Patriots
Morrison: Jets
Robinson: Patriots
A battle to avoid 0-3 brews in New Jersey on Sunday as the Patriots and New York Jets face off in an intradivisional defensive slugfest.
Mac Jones has looked surprisingly springy so far in 2023. He's back in an offense that plays off of his strengths as a passer, and he's been somewhat effective despite lacking a legitimate No. 1 option on the outside. In fact, the Patriots might not even have a legitimate No. 2 target on the roster.
MORE: Ranking the NFL's 0-2 Teams
But their defense is good. The Dolphins are simply so fast that most defenses will look grossly outmatched by them. Zach Wilson will have a difficult time getting much going through the air against New England, especially with a bad matchup against Matthew Judon on the outside.
Buffalo Bills at Washington Commanders
Beasley: Bills
Bearman: Bills
Miller: Bills
Morrison: Bills
Robinson: Bills
The Commanders have struggled to come away with wins against the Cardinals and Broncos. Buffalo came out sloppy against the Jets in Week 1, but Josh Allen seemed like he'd sobered up for the drive against Las Vegas in Week 2 as the Buffalo Bills thoroughly dismantled the Raiders.
Sam Howell has been impressive so far as a first-year starter, but there is still a ways to go in his development. He often tries to do a little bit too much, something that could have catastrophic consequences against a defensive front as talented as the Bills possess.
Meanwhile, the Washington secondary struggled to keep WRs in front of them against Denver. Allen and the Bills' offensive staff will undoubtedly try to push the ball downfield a few times in this one.
Carolina Panthers at Seattle Seahawks
Beasley: Seahawks
Bearman: Seahawks
Miller: Seahawks
Morrison: Seahawks
Robinson: Seahawks
The Seattle Seahawks offense got back on its early '22 grind last week against the Lions. Despite losing both offensive tackles for the game, Geno Smith played an incredibly efficient game, leading Seattle to a 37-31 win in hostile territory.
Meanwhile, the Carolina Panthers' offense leaves a lot to be desired. Their QB is nursing an ankle injury, and they're down their best cornerback for a few more weeks. Although an Andy Dalton-led attack could actually be more formidable at this point in Young's development, it likely wouldn't be enough to outduel the Seahawks.
Dallas Cowboys at Arizona Cardinals
Beasley: Cowboys
Bearman: Cowboys
Miller: Cowboys
Morrison: Cowboys
Robinson: Cowboys
This one doesn't need a whole lot of discussion. The Dallas Cowboys are the top team in the PFN Consensus Power Rankings, and the Cardinals are dead last.
Chicago Bears at Kansas City Chiefs
Beasley: Chiefs
Bearman: Chiefs
Miller: Chiefs
Morrison: Chiefs
Robinson: Chiefs
The Chicago Bears are an abject disaster. Their last win came against the Patriots on Oct. 24, 2022. Since that time, Kansas City has won 13 games, including a Super Bowl.
Pittsburgh Steelers at Las Vegas Raiders
Beasley: Steelers
Bearman: Raiders
Miller: Steelers
Morrison: Raiders
Robinson: Steelers
What happens when a stoppable force meets a moveable object? Well, we'll find out when the Pittsburgh Steelers offense travels to battle the Raiders defense on Sunday Night Football. Nobody asked for this football game to be on prime time, but it looks like we'll have a Sunday night slop fest on our hands.
The Steelers' defense is strong but flawed. If there's one matchup to keep a keen eye on, it's the Steelers pass rush against the Raiders offensive line. Pittsburgh needs to get pressure defensively to succeed. Their secondary is undermanned outside of Minkah Fitzpatrick. Meanwhile, the Raiders OL has been brilliant so far.
That is the matchup that likely decides this contest.
Philadelphia Eagles at Tampa Bay Buccaneers
Beasley: Eagles
Bearman: Eagles
Miller: Eagles
Morrison: Eagles
Robinson: Eagles
Another peculiar scheduling decision by the committee, but this time it worked out for them. The Tampa Bay Buccaneers have been surprisingly good so far in 2023. Meanwhile, the Philadelphia Eagles are off to a slow start through the air, and the spine of their defense is an absolute tragedy at the moment.
Baker Mayfield looks better than he has since his shoulder injury in Week 2 of the 2021 NFL season, and having weapons like Chris Godwin and Mike Evans certainly helps. They will face a battered Eagles secondary, making for a surprisingly even battle on that side of the ball. But it's only even if the Eagles' defensive front can pressure Mayfield.
On the other side of the ball, The Buccaneers are built precisely to stop the run in their primarily single-high defense. However, Jamel Dean must unplug his power cord and plug it back in to reset his play to the 2022 level he showed. Avoiding the Eagles' downfield bombs could be the key to an upset.
Los Angeles Rams at Cincinnati Bengals
Beasley: Bengals
Bearman: Bengals
Miller: Bengals
Morrison: Bengals
Robinson: Bengals
The Los Angeles Rams sat at 31 on the PFN Consensus Power Rankings done by yours truly heading into the season. They now sit much higher than that. In fact, their loss against the 49ers may have proven their legitimacy more than their win against the Seahawks. Seattle is a good team, but the 49ers are a Tier 1 team, and the Rams played them tough.
MORE: 2023 NFL QB Rankings
It shouldn't surprise anyone to see them test the Cincinnati Bengals from whistle to whistle on Monday night. However, it's also incredibly difficult to imagine a scenario where the Bengals fall to 0-3.
It's early in the week, and Joe Burrow's calf could throw a wrench in this entire prediction. However, it appears Burrow's calf is in better shape after two days of rest than many were anticipating, which is a good sign for his status on Monday. Soft-tissue injuries are tricky to navigate, though.
Isaiah Hodgins Player Props, Betting Lines, Odds, and Picks for Giants vs. 49ers
Much like almost every New York Giants wide receiver to start the 2023 regular season, Isaiah Hodgins is off to a slow start statistically. Through the first two weeks, he has just five catches for 64 yards and one touchdown.
In a game in which the Giants are double-digit underdogs, let's take a look at Hodgins' player props for this evening.
Our Betting Lines page has the freshest lines and promos to get BANG for your buck. PFN's FREE Parlay Calculator and Betting Odds Calculator are also available for your betting process! New to sports betting? Check out our guide on How to Bet on the NFL. Visit our Sports Betting Legal Tracker on how to bet legally in the U.S.
Isaiah Hodgins Week 3 Player Props
All odds from DraftKings Sportsbook.
Receiving Yards: 31.5 (Over -105/Under -120)
Receptions: 2.5 (Over -150/Under +120)
Longest Reception: 16.5 (Over -110/Under -120)
Anytime Touchdown Scorer: +450
First Touchdown Scorer: +2800
Hodgins Betting Trends and Stats
Hodgins has scored a touchdown in three of his last four regular-season games dating back to last season.
Hodgins Best Bet
At 6'4″, 210 pounds, Hodgins' biggest strength as a wide receiver is scoring touchdowns. On just 56 career targets, he has five scoring receptions, a TD rate of nearly 9%.
With none of his other player props standing out to me tonight, let's take a flier on him to score a touchdown.
MORE: NFL Survivor Picks Week 3
If you want to get aggressive, you can sprinkle a small amount of money on Hodgins to be the first touchdown scorer, but that would largely hinge on the Giants getting the ball first and scoring on their opening drive.
I wouldn't recommend putting a full unit on this, but if you're looking for a relatively longshot bet for tonight's game, at +450 odds, it's a worthwhile swing on a player who is efficient at scoring touchdowns in his limited role.
Hodgins Best Bet: anytime touchdown scorer (+450)
Listen to the PFN Betting Podcast
Listen to the PFN Betting Podcast! Click the embedded player below to listen, or you can find the PFN Betting Podcast on iTunes, Spotify, and all major podcast platforms. Be sure to subscribe and leave us a five-star review!