Aaron Rodgers and Tua Tagovailoa Battle for Midfield Dominance
The AFC East is an incredibly competitive division, boasting four potential playoff teams and potentially three of the 10 most talented rosters in the entire NFL. But how do their quarterbacks stack up alongside one another? Which teams hold that particular advantage within arguably the best NFL division?
Ranking the QBs in the AFC East
The top spot and the final spot are inarguable for now. But how do we navigate the peculiar injury situation in Miami and a Hall of Famer in a new environment for the first time in his professional career?
1) Buffalo Bills: Josh Allen
The overall production and threat that Josh Allen poses to NFL defensive coordinators in unique. Lamar Jackson, Kyler Murray, Jalen Hurts, and others all provide their own challenges, but Allen is a different animal. While Anthony Richardson certainly makes things interesting as the one true height/weight/arm/athleticism freak, Allen furthered that archetype from the Cam Newton era.
The mobile QB evolution is upon us, and there isn't a single version of that player that defenders want less of a piece of than Allen. Aside from not having 4.5 speed, Allen is as close as you can get to a create-a-player at the position.
MORE: PFN's All-Under 25 Team 
However, his style of play has come under question, and for good reason. Newton's career was slashed by an accumulation of hits that led to nagging injuries and a loss of arm strength.
"I know this sounds crazy, but I'm getting older," Allen said. "It's like, 'I can't continue to do this.' I know when I'm using my youth, I feel like I can, but over the course of my career, I'm going to have to learn to adapt and change."
He's right. And while he may become slightly less efficient on the ground by shying away from contact while on the hoof, he'll also protect his body from unnecessary wear and tear.
2) Miami Dolphins: Tua Tagovailoa
Choosing between Tua Tagovailoa and Aaron Rodgers was the difficult debate here. There's no questioning who was the more productive quarterback a season ago. Tua was outstanding when healthy, and the Dolphins' offense was a well-oiled machine in Mike McDaniel's first season calling plays for Miami.
Rodgers may very well return to an MVP level of passing efficiency with the Jets. But Tua got the edge over Rodgers here because of his willingness to attack the middle of the field where the Dolphins' offense thrives. Rodgers is an all-time talent, but part of his TD:INT ratio is the fact that he's often unwilling to test those margins in the middle of the field.
Tua doesn't have the elite arm talent of Rodgers, even at 39. Still, his accuracy is impeccable, and he's only improving his processing ability, which was already at a high level coming from Alabama.
PFN NFL Analyst Arif Hasan ranked Tua above Rodgers in his overall QB Power Rankings. As fun as it would be to argue, the situation in Miami is primed for Tua to produce at an incredible level in 2023.
3) New York Jets: Aaron Rodgers
Rodgers is in a much better place this season, and we've already seen that it's foolish to believe that Rodgers has officially crested the hill. After a few down years in Green Bay, he won consecutive MVP awards with the man who will call plays for him after a one-year hiatus to try and be a head coach in Denver. Say what you want about Nathaniel Hackett, but he had that Green Bay offense humming as the OC.
Rodgers is likely the most cerebral pre- and post-snap passer in the NFL, but he fools the people just as Tiger Woods once did. These amazing talents actually play an incredibly conservative brand of their sport overall.
He'll have no shortage of talent alongside him on offense. But he will also have incredible expectations in New York, particularly because two of his former receivers joined him on the team from Green Bay.
4) New England Patriots: Mac Jones
Mac Jones has a lot to prove in his third NFL season. After playing well in Year 1, he was eventually benched for fourth-round rookie QB Bailey Zappe for parts of 2022. But the more crucial mistake may have been his perceived disloyalty to Bill Belichick.
MORE: Best NFL Offenses | Best NFL Defenses
"That effort to improve was showing up the Matt Patricia-Joe Judge contingent that Bill put in charge," Tom Curran told WEEI. "When Bill caught wind of it — he's still pissed about it."
Belichick owes Jones more of an apology than Jones owes him for the decisions he made regarding the offensive coaching staff a season ago. But he won't get that. Jones has to prove he belongs as the Patriots starting QB, and luckily Bill O'Brien should help supplement those efforts through actual offensive play-calling prowess.
Players to Target Include Jahmyr Gibbs, AJ Dillon, and Luke Musgrave
There is no better feeling than nailing your fantasy football TNF start/sit decision(s). The Detroit Lions and Green Bay Packers kick off Week 4 in what figures to be a competitive game that could feature plenty of fantasy points. What direction should you be leaning for the fringe options on these teams?
Looking to make a trade in your fantasy league? Having trouble deciding who to start and who to sit? Check out PFN's Free Fantasy Football Trade Analyzer and Start/Sit Optimizer to help you make the right decision!
TNF Start' Em, Sit' Em: Detroit Lions at Green Bay Packers
Spread: Lions -1.5
Total: 46
Lions implied points: 23.8
Packers implied points: 22.2
Jared Goff, QB, Detroit Lions
Goff has been fantasy-viable for consecutive weeks with a pair of home games. Last season, he averaged 39% more fantasy points per pass at home than on the road, and with a near 21% difference through three games this season, this is simply a trend you can't ignore.
The former Los Angeles Rams' signal-caller heads to Lambeau on a short week to face a Packers defense that allowed just 6.0 yards per pass in their comeback win over the Saints. The unit created enough pressure to record four sacks and knock QB Derek Carr (shoulder) out of the game.
Green Bay has yet to play a solid pocket passer for an entire game this season with previous matchups against Chicago Bears QB Justin Fields, Atlanta Falcons QB Desmond Ridder, and the New Orleans QB tandem of Derek Carr and Jameis Winston, but they're a top-10 defense on both third down and percentage of yards gained through the air.
Goff traveled to Lambeau to end last season and threw 34 passes — none of which resulted in a score. With no reliable rushing upside — yes, I'm aware he ran for a touchdown last week, which was his first in 34 games with the Lions — he can't overcome an inefficient/low-volume game through the air, and that's the fear here.
Goff isn't a top-12 option for me in Week 4.
Jordan Love, QB, Green Bay Packers
Regression caught up to Love in the passing game last week against the Saints with just one touchdown on 44 attempts after throwing six on 52 passes through the previous two weeks, but his involvement in the run game was still noteworthy.
MORE: Updated Rest-of-Season Rankings Week 4
Not only did Love score on an RPO from the 1-yard line, but he also had a 24-yard scamper for the second consecutive week. He didn't offer much as a runner at Utah State, and that has me questioning the sustainability of this, but it's a good sign for a young QB who's looking to get comfortable.
Love remains out of my top 15 this week — even if he's in a good spot. He's certainly a name to watch as bye weeks approach, and he gets to work with a full complement of weapons. Still, I'm currently watching from a distance, as opposed to holding him on my bench.
David Montgomery, RB, Detroit Lions
The thigh injury that Montgomery suffered late in Week 2 against the Seahawks cost him Week 3, and it's possible he sits again for this game. This isn't an efficient rush attack with (Montgomery: 3.8 yards per carry) or without him (Week 3: 3.7 YPC), which makes his fantasy volume dependent on volume and scoring equity.
The former could be in question if he does return, given the potential for the injury to linger, and the latter isn't a given with Green Bay holding the Atlanta Falcons RB tandem of Bijan Robinson and Tyler Allgeier scoreless on 39 touches in Week 2. If he clears all hurdles, Montgomery is a low-end RB2 for me, but he carries a good amount of risk.
Jahmyr Gibbs, RB, Detroit Lions
Returns on the rookie have been mixed this season, and I worry about plugging him in this week if Montgomery is active. For the season, Gibbs' 4.5 yards per carry isn't bad, and the fact that he got 68% of the RB carries against the Falcons last week is encouraging.
On the downside, if you remove two chunk plays, his yards-per-carry average dips to 3.4. He's also failed to earn more than two targets in two of three games. The explosive play is part of his profile, but you must consider that Green Bay didn't allow Detroit to pick up 15 yards on a single one of their 56 rush attempts last season.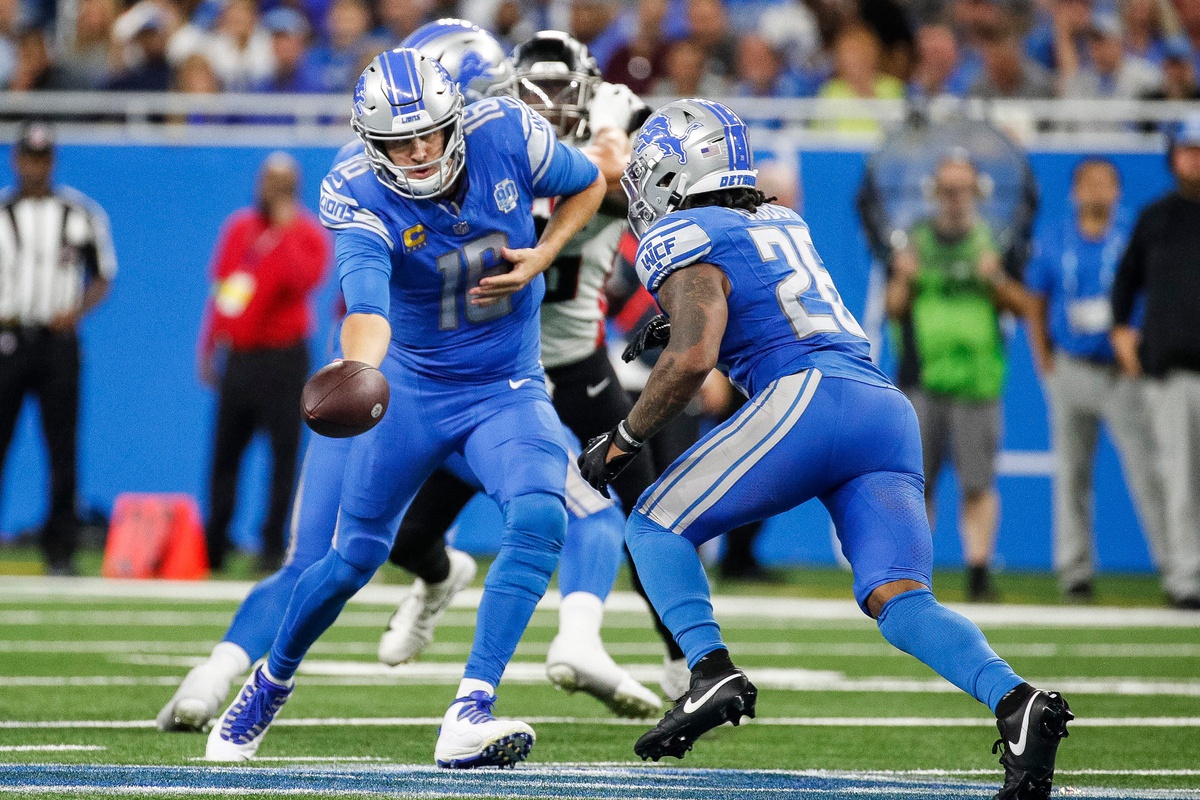 During the first two weeks of the season with Montgomery active, Gibbs was out-carried 37-14 by the veteran — a lack of usage that creates a scary floor.
In a shared backfield, Gibbs is a fringe Flex with a wide range of outcomes. If Montgomery sits again, the rookie gains fantasy stability — with a 42-20 snap edge over Craig Reynolds by way of volume — and would safely be a viable Flex in my ranks.
Craig Reynolds, RB, Detroit Lions
There was talk during the week that Reynolds would assume something similar to the Montgomery role this week after he filled in immediately following the injury, but that wasn't the case. RB Zonovan "Bam" Knight worked ahead of him last week, with Reynolds' carries coming in the fourth quarter as Detroit was attempting to run out the clock. There's no need to roster a Detroit running back not named Montgomery or Gibbs.
Aaron Jones, RB, Green Bay Packers
Following Jones' hamstring injury during the Week 1 blowout of the Chicago Bears, there was talk that he could have returned to action if the game was closer. Now, he's missed both games since that explosive opener — in which he tallied 11 touches for 127 yards and two scores. For a player who has 15-plus carries in just one of his past eight games, the volume is a serious question for when he returns.
Need proof? With the season on the line against these Lions last season, Jones held just a 15-9 touch edge over backup RB AJ Dillon. If he was coming off of a healthy week, Jones would be a top-15 running back for me this week, but when taking into consideration the risk that comes with him playing at less than full strength, he checks in outside of my top 20 right now.
AJ Dillon, RB, Green Bay Packers
I have a theory about this ground game, and WR Christian Watson holds the key. Through three weeks, Love leads the NFL in air yards per pass, and that should open up the run game with defenses looking to prevent the big play.
The problem is that defenses aren't scared about those chunk plays through the air. Watson changes that in a big way when he's right (14.9 yards per catch last season, four games as a rookie with a 45-yard play), and that'll help a run game that has seen their RBs average just 3.0 yards per carry over the past two weeks.
Dillon is nothing more than a role-based Flex play if Jones and Watson continue to sit. When this offense is operating at full strength, Dillon might be able to be a Flex option, even in a secondary role. Until then, his ceiling is capped in a way that we didn't anticipate.
Amon-Ra St. Brown, WR, Detroit Lions
The "Sun God" is playing at a high level with consecutive 100-yard performances — something he only did once during 2022 — but this matchup is a bit of a concern.
Last season, St. Brown averaged just 3.1 yards per target against the Packers, a major downward swing from the 8.6 he averaged against the rest of the NFL. Now, does that mean he's outside of my top 20? Of course not.
With at least six catches in 11 of his past 12 games, the floor is simply too high to get crazy. With potential efficiency concerns and a profile that doesn't include much scoring equity (scoreless in 14 of his past 17 games with one road score since Week 17 of 2021), your expectations need to be lowered a touch.
Kalif Raymond, WR, Detroit Lions
The pride of Holy Cross has reached 7.5 half-PPR points in consecutive games and was one of just four Lions to earn a target on Sunday against Atlanta. Raymond's 19.4% target share was good to see, but there's nothing sustainable to see here.
Through three weeks, it would appear that this team has found its secondary pass catcher in TE Sam LaPorta, and they don't need a consistent third option.
Christian Watson, WR, Green Bay Packers
The burner has yet to make his season debut, as this hamstring injury lingers. Given his skill set and the nature of the injury, can you trust Watson when he makes his debut?
That's a little optimistic for me, especially since we haven't seen Love produce consistent accurate deep balls.
MORE: Dynasty Fantasy Football Week 4 Report
Still, Watson did put up 104 yards on five catches against these Lions when they met at the end of last season. The upside isn't a secret, but the ground-level floor isn't, either.
He's currently outside of my top 30 at the position, but I'm more sold on him long-term than I was a month ago, given how Love is attacking defenses downfield.
Romeo Doubs, WR, Green Bay Packers
When this kid flashes, he does it spectacularly. Whether it was a pretty 30-yard diving toe-tap effort for the game-winning score or a designed clear-out, there's undoubtedly something noteworthy here.
That said, Doubs' 55% catch rate is a problem, especially when Watson returns to form. I'm rostering him for the 27.9% target share he earned last week, but the boom-bust nature of Doubs' profile has him outside of my comfort Flex zone on a week where all 32 teams are in action.
Jayden Reed, WR, Green Bay Packers
The fantasy community invested in the rookie after his two-score performance against the Falcons, and the Packers tried to pay off your fantasy transaction. Love dropped a 20-yard dime to Reed in the end zone, but he was unable to complete the catch. He tried Reed again on a quick hitter that looked like a two-yard touchdown, but he dropped that, too.
The receiver has earned 20 targets through three weeks, and the scoring opportunities are encouraging, but where his role stands when Watson and Jones return is anybody's guess. I see the risk in his profile increasing due to a dip in target volume.
I like Reed's value in dynasty leagues. From the learning-on-the-fly nature of this season to the draft capital spent on him — a second-round pick and 50th overall — he's going to be allowed to develop. For redraft leagues, however, the floor is going to be too low as the role declines, and that makes him a stash at best in leagues with deeper benches.
Sam LaPorta, TE, Detroit Lions
The rookie has seen his target count increase each week, and he's the first tight end in NFL history to catch at least five passes in each of his first three career games.
Was LaPorta's 18.4 fantasy points in Week 3 greatly impacted by a broken coverage 45-yard TD? It was, but you're still looking at reliable volume, and that's enough to be a consistent fantasy starter these days. He surpassed his pregame projected catch total in the first quarter.
Remove that defensive hiccup, and LaPorta is averaging just 1.3 fantasy points per reception this season, a rate that points at a concerningly low floor if the volume dries up. Long term, that is possible — Jameson Williams will be back, and I expect Gibbs' role in the passing game to tick up with reps. But in the short term, you can feel good about sliding LaPorta into your starting lineup.
It's a battle between two teams starting rookie tight ends. Should fantasy managers start Sam LaPorta or Luke Musgrave on Thursday night? https://t.co/6gxqFKWG6H

— PFN Fantasy (@PFNFantasy) September 27, 2023
Luke Musgrave, TE, Green Bay Packers
The rookie led the Packers in catches against the Saints with six on eight targets for 49 yards in his best performance to date. It could have been even better if Love didn't airmail a potential 62-yard touchdown.
It's not the first miss of Musgrave on a fantasy-friendly play, and that has kept some managers off his scent. If you play against box-score watchers, 11 catches for 124 yards through three weeks isn't going to stand out. Understand that his 73.3% catch rate is impressive from a developing QB, and he's been inches away from big-time production.
He's inside my top 15 at the position this week (Detroit saw 47.4% of targets against them go to the tight end position in Week 3) and deserves mention with the other impressive members of the rookie TE class for fantasy purposes — even if his numbers have yet to truly spike.
Who Should You Start in Week 3?
Should I Start Jordan Love or Joe Burrow?
Burrow hobbled through Week 3, but he made it through. Now, he gets a plus matchup against the "pass funnel" Titans. Love has been great, especially given the limited health of his supporting cast, and is in a potential high-scoring game.
Give me Burrow. Love may lead the league in average depth of throw, but with that comes low accuracy. That creates a floor that I'm not comfortable with if my other option is facing one of the worst pass defenses in the game.
Burrow fed WR Ja'Marr Chase and WR Tee Higgins 52.2% of his targets in Week 3, and if he repeats that, he finishes as a top-10 fantasy option in Week 4.
Should I Start Luke Musgrave or Kyle Pitts?
I noted Love's inaccuracies through three weeks, and I do worry about that, but at least he has volume on which we can count. That can't be said for the Falcons, and even if they air the ball out, Atlanta TE Jonnu Smith is on the field and threatening Pitts' target share.
MORE: Fantasy News Tracker
I don't view either as a "safe" option, so give me the player I think has a greater per-target upside. Love has just missed Musgrave on a few fantasy impactful plays, and if he connects on one of those this week, the rookie will crack the top 10. That's more hope than I have for Pitts at the moment.
Listen to the PFN Fantasy Podcast
Listen to the PFN Fantasy Podcast! Click the embedded player below to listen, or you can find the PFN Fantasy Podcast on iTunes, Spotify, and all major podcast platforms.  Be sure to subscribe and leave us a five-star review! Rather watch instead? Check out the PFN Fantasy Podcast on our Fantasy YouTube channel.
Is the Packers WR Playing Week 4? Latest Injury Update
Green Bay Packers wide receiver Christian Watson was a popular mid-round fantasy football draft pick this year after his impressive rookie season. Unfortunately, he hasn't played this year because of a hamstring injury.
The former North Dakota State star had 41 receptions on 66 targets for 611 receiving yards and seven touchdowns last season. He also was a factor in the run game, totaling seven rushing attempts for 80 yards and two touchdowns. After averaging 10.3 half-PPR fantasy points per game last year, what can fantasy players expect from Watson in 2023?
Looking to make a trade in your fantasy league? Having trouble deciding who to start and who to sit? Check out PFN's Free Fantasy Football Trade Analyzer and Start/Sit Optimizer to help you make the right decision!
Is Christian Watson Playing This Week?
Earlier this week, the second-year wide receiver said he planned on playing in Week 4 against the Detroit Lions. However, the Packers listed the young receiver as questionable on their final weekly injury report. The former North Dakota State star was listed as questionable on Green Bay's final injury report for the fourth consecutive week.
Yet, there is a belief that Watson could play Thursday night against the division rivals. Some reports suggested he could have played in Week 3. However, the team wanted him ready for the critical matchup against the Lions and decided to make him inactive last week against the New Orleans Saints.
Hopefully, the second-year receiver can make his season debut tonight. However, fantasy players should consider other options if Watson plays. Green Bay could put him on a snap count in his first game back from the injury. The last thing anyone wants is for the receiver to reaggravate the hamstring injury and miss more time.
Furthermore, the Packers' offense has been clicking without Watson. Romeo Doubs, Jayden Reed, and Dontayvion Wicks have stepped up for Jordan Love. The young wide receiver trio have combined to average 8.7 receptions for 120.7 receiving yards and two touchdowns per game this season.
Green Bay could lean on those three wide receivers rather than giving Watson a full set of snaps in his first game back from the injury.
Fantasy Options if Watson Is Out This Week?
If the Packers are without Watson again this week, Doubs is a solid option for fantasy players. Doubs has averaged 12.1 half-PPR fantasy points per game this season, scoring 15.5 or more twice. He also leads the team in receiving touchdowns (three).
MORE: Fantasy News Tracker
Meanwhile, the Lions surrendered 153 receiving yards, 1.5 touchdowns, and 31.8 fantasy points per game to wide receivers before facing a dysfunctional Atlanta Falcons passing attack last week.
Furthermore, Detroit could be without several starters on defense. Cornerback Emmanuel Moseley and safety Kerby Joseph are questionable to play with injuries. If both can't play, Doubs has a top-20 upside this week.
Another potential option for fantasy players is Joshua Palmer. The Los Angeles Chargers wide receiver was a popular addition this week after the team lost Mike Williams to a season-ending knee injury. However, Palmer is still available in over 68% of ESPN leagues and 43% of Yahoo leagues.
The veteran wide receiver scored 12.6 half-point PPR fantasy points in Week 3, catching four passes for 66 receiving yards and a touchdown. He will have a larger role in the offense with Williams injured.
More importantly, Palmer faces the Las Vegas Raiders on Sunday. The Raiders have surrendered 1.7 receiving touchdowns and 30.2 fantasy points per game to wide receivers this season.
Listen to the PFN Fantasy Podcast
Listen to the PFN Fantasy Podcast! Click the embedded player below to listen, or you can find the PFN Fantasy Podcast on iTunes, Spotify, and all major podcast platforms.  Be sure to subscribe and leave us a five-star review! Rather watch instead? Check out the PFN Fantasy Podcast on our Fantasy YouTube channel.
NFL Week 4 Underdog Pick'ems for Thursday Night Football Include Jared Goff
Fantasy football is more than just the weekly head-to-head games we all love. On Underdog, fantasy managers can put their player-projection skills to the test by predicting player stat lines.
Here are my top Underdog plays for the Thursday Night Football Pick 'em contest between the Detroit Lions and the Green Bay Packers.
Looking to make a trade in your fantasy league? Having trouble deciding who to start and who to sit? Check out PFN's Free Fantasy Football Trade Analyzer and Start/Sit Optimizer to help you make the right decision.
Top Underdog Pick'ems for Thursday Night Football
Underdog Pick'ems allows fantasy managers to predict stat lines and fantasy-point totals for almost all fantasy-relevant players. You can make two picks that pay out 3x even money or add more selections to your entry for higher payouts.
The levels are 3x, 6x, 10x, and 20x, progressing with each additional pick 'em you add to your entry. Let's take a look at this week's Thursday night Underdog Pick'ems.
Jared Goff Lower Than 1.5 Passing Touchdowns
For 31 NFL teams, they start the same quarterback every week (in theory). The Lions have two: Home Jared Goff and Road Jared Goff. These are two entirely different quarterbacks that vastly differ in talent.
MORE: Week 4 Fantasy Start' Em, Sit' Em
Over his last 13 road starts, Goff has thrown multiple touchdowns just once. While the Packers haven't exactly faced the most imposing opposing quarterbacks, they have yet to allow more than a single passing touchdown in a game. Let's hope the trend continues on Thursday night.
Remaining Pick 'em Entries
Heading into Thursday Night Football, the Packers have Aaron Jones and Christian Watson questionable, while the Lions have David Montgomery questionable.
Due to the uncertain statuses of these three key players, Underdog can't provide pick 'em options for any running backs in this game and has limited options for the Packers wide receivers.
Rather than force a suboptimal pick 'em into an entry based on availability, it's important to wait until we know whether these players are playing. Once we do, which will occur no later than 6:45 p.m. ET, I will edit this article to include another pick 'em or two.
Be sure to check back tomorrow for the full Underdog pick 'em entry.
Listen to the PFN Fantasy Podcast
Listen to the PFN Fantasy Podcast! Click the embedded player below to listen, or you can find the PFN Fantasy Podcast on iTunes, Spotify, and all major podcast platforms.  Be sure to subscribe and leave us a five-star review! Rather watch instead? Check out the PFN Fantasy Podcast on our Fantasy YouTube channel.