How Was Their Roster Built?
The New York Giants made a surprise postseason run in 2022. Under first-year head coach Brian Daboll, the team made significant improvement. Quarterback Daniel Jones took a big step forward and was rewarded with a big-time contract. Saquon Barkley stayed healthy and had a year reminding everyone why he was such a highly touted prospect.
New York looks to take another step forward to having one of the better offenses in the NFL. Their defense, meanwhile, was strong and looks to be stronger in 2023. They could end up with one of the best defenses in the NFL, spending another year in Wink Martindale's system. Here's how their 2023 roster was built.
How the New York Giants Were Built Through the Draft
The Giants made seven draft picks in 2023. They entered the draft with several important holes on the roster in need of filling if they were going to stay a playoff contender. Cornerback, interior offensive line, and wide receiver were all in need of an upgrade.
The Giants wasted no time in filling maybe the most important of those holes when they drafted Deonte Banks in Round 1. The Maryland CB was one of the top-rated cornerbacks in the entire draft. He's thought to be a perfect fit for Martindale's system. Banks is a perfect fit and will fill the void the team currently has at the position.
The very next round, New York filled their next biggest hole by drafting Minnesota's John Michael Schmitz. If centers were deemed worthy of first-round picks, Schmitz would have been one. Thus, getting him at pick 57, given the size of the need the Giants had, is incredible value for them.
MORE: New York Giants 2023 NFL Schedule
Again, in Round 3, the Giants got incredible value by filling their third remaining hole with Jalin Hyatt at pick 73. The Tennessee WR had late buzz from the scouting community as perhaps a late first-round pick. The way the board fell, that never materialized, and the Giants were able to swoop in and get him on Day 2.
Hyatt will provide the type of speed this offense lacked in 2022. He has to prove he can be an all-around receiver, but his speed will be helpful on Day 1.
How the New York Giants Were Built Through Free Agency/Waiver
The Giants made significant signings in free agency to build out their 2023 roster. Most notably to the WR room, for obvious reasons.
New York added Parris Cambell and Jamison Crowder — receivers who have spent significant time in the slot during their careers. Both have been valuable role players at their previous stops and will bring leadership along with a veteran presence to the room.
The Giants also needed an upgrade at linebacker and did so by signing Bobby Okereke away from the Indianapolis Colts. Okereke was a key part of Matt Eberflus' defense when he was the coordinator in Indy. He has good play speed and is typically in the right place at the right time. The defense needed to address its ability to limit opponent rushing yards, and he should be an asset there.
Giants free agent 2023 additions:
WR Parris Campbell
ILB Bobby Okereke
CB Leonard Johnson
WR Jamison Crowder
CB Amani Oruwariye
DL A'Shawn Robinson
How the New York Giants Were Built Through Trades
The Giants made no trades to improve the roster for the 2023 season and instead opted to build it organically without giving up resources. Yet, this doesn't preclude them from making a trade to fill an unexpected area of weakness.
As training camp and offseason work begins, injuries are an unfortunate part of the game. With the Giants fully entrenched as contenders, a team in that position often would rather fill that hole with a proven veteran if one becomes available.
MORE: New York Giants 2023 Season Preview
Wide receiver is an area on the team that could still be upgraded via trade. The Giants still do not have a clear-cut No. 1 guy. Arizona Cardinals WR DeAndre Hopkins is potentially still available and would make an interesting trade target for New York if they determine their WR room is in need of further upgrade.
Should I Pick Up the Free Agent RB This Week?
Two Monday Night Football games down. Two soul-crushing season-ending injuries. In Week 1, the football gods claimed Aaron Rodgers' Achilles. In Week 2, they determined Nick Chubb's knee must be sacrificed. Unfortunately, fantasy football presses on, and managers must react. Should managers be preemptively adding Kareem Hunt off the waiver wire?
Looking to make a trade in your fantasy league? Having trouble deciding who to start and who to sit? Check out PFN's Free Fantasy Football Trade Analyzer and Start/Sit Optimizer to help you make the right decision!
Should Kareem Hunt Be a Fantasy Waiver Wire Add in Week 3?
It is no surprise to hear many fantasy managers and football fans alike talk about the prospect of the Cleveland Browns bringing back Hunt to replace Chubb. After all, Hunt was there for four years serving as the lightning to Chubb's thunder.
Although Hunt looked close to finished last season, he's still only 28 years old. That's not exactly young for a running back, but it's possible he just had a bad year and still has some juice left.
We know the Browns are going to sign someone at the running back position. The question is whether the guy they sign is just a warm body to put at the back of the roster as emergency depth or is a legitimate candidate to play meaningful snaps right away. I would classify Hunt as the latter.
As things currently stand, Jerome Ford is set to be the lead back. He played 49% of the snaps against the Steelers, carrying the ball 16 times for 106 yards while adding three catches on four targets for 25 yards and a touchdown.
Ford really should've had two touchdowns, but his 69-yard touchdown scamper was overturned on replay, putting him down at the 1-yard line. He was summarily subbed out for Pierre Strong because he was exhausted.
Update: Kareem Hunt is nearing a deal with the Cleveland Browns as of Wednesday morning.
There is no doubt for me that Ford will start this week, regardless of what the Browns do at running back. With that said, if they do sign Hunt, is only a matter of time before he becomes their RB2, possibly playing enough to be fantasy-relevant.
The speculation surrounding Hunt is completely understandable. If fantasy managers have the roster spot available, by all means, grab Hunt and stash him.
Here's the thing, though. The Browns could have chosen to re-sign Hunt this offseason. They drafted Ford last year and gave him all of eight carries on the season. Clearly, they saw what they had with Ford in practice.
The Browns chose to keep Ford as their RB2 behind Chubb and let Hunt walk. For that reason, I am skeptical they have any interest in bringing Hunt back.
Since the preseason and extending through the first two weeks of the regular season, every running back injury has been met with speculation that the team might sign Hunt or Leonard Fournette.
It is important to remember that all of these teams had all summer to sign Hunt or Fournette and chose not to. I'm not saying it won't happen eventually, but there have been a lot of signings that weren't these two guys.
Of course, money plays a factor. Hunt and Fournette are going to demand larger contracts than guys like Tony Jones or Zonovan Knight. But that matters, too.
MORE: Week 3 Buy Low, Sell High Candidates 
Obviously, the Chubb injury is why Hunt's name is coming up. There are also 31 other teams that could potentially sign Hunt. I do believe one of them will at some point.
With all that said, roster spots are valuable in fantasy football. Injuries are piling up. Bye weeks are looming. It is very difficult to stash guys that have a 0% chance of breaking out due to not being employed by an NFL team.
Given how fresh the news is on Chubb, if you want to put in a waiver claim for Hunt tonight, stash him, and see what transpires over the next few days, go for it. But if Hunt doesn't sign by the end of the week, I would drop him for someone who could actually break out this weekend. Overall, I would not be prioritizing Hunt on the Week 3 waiver wire.
Listen to the PFN Fantasy Podcast
Listen to the PFN Fantasy Podcast! Click the embedded player below to listen, or you can find the PFN Fantasy Podcast on iTunes, Spotify, and all major podcast platforms.  Be sure to subscribe and leave us a five-star review! Rather watch instead? Check out the PFN Fantasy Podcast on our Fantasy YouTube channel.
Should I Trade RB Nick Chubb in Dynasty Fantasy Football?
On Monday night, football fans watched in horror as Cleveland Browns RB Nick Chubb went down to a horrible injury in Pittsburgh in a game against the Pittsburgh Steelers. The injury was so gruesome that the network (rightfully) chose not to replay it for the national audience.
The commentators mentioned that it was replayed in the stadium, and after an audible sound of shock, the Steelers fans gave Chubb a standing ovation, chanting his name as he was carted off the field.
The injury happened in the second quarter after Pittsburgh safety Minkah Fitzpatrick tackled Chubb low.
It was the same knee Chubb hurt in college, and he was scheduled to have an MRI on Monday, but he likely tore multiple ligaments and dislocated his knee. His season is over.
Are you looking to make a trade in your fantasy league? Are you having trouble deciding who to start and who to sit? Check out PFN's FREE Fantasy Football Trade Analyzer and Start/Sit Optimizer to help you make the right decision.
Should Fantasy Managers Trade Nick Chubb in Dynasty?
Fantasy managers are dropping Chubb in redraft leagues after the news, but how should you approach the situation in dynasty leagues? Chubb was already an older RB; he turns 28 this year, and in dynasty leagues, age matters.
MORE: Nick Chubb Injury Fallout
It is always better to get out a year early on a player in dynasty and get good value for them, than a year too late and get a diminished return in a trade, but the lack of specifics of his injury comes into play.
Since we do not know the full extent of his injury, fantasy managers do not have a timeline for his return, which means it is up in the air if Chubb will even be ready to play at the start of 2024. With what people are anticipating, Chubb might need over a year to rehab.
What Should Fantasy Managers Look To Acquire When Trading Chubb in Dynasty?
If you are a dynasty manager trying to trade Chubb after that news, it might prove difficult. With his age, the window was already closing, and Monday's injury news may have slammed it shut to get something good back for Chubb.
Chubb managers should wait for some clarification on his injury before sending out offers.
Hopefully, it will be an injury that gives him a timeline to return by the 2024 pre-season, and if so, managers could target a team poised to have a title run in the next couple of years.
Unfortunately, I don't think you will be able to get much for him; your best bet would be some future draft picks. You might be able to ask for a young, unproven RB who has yet to see the field as well.
As a Chubb manager in dynasty, you might be forced to simply hold him, move him to IR, and hope for the best.
Listen to the PFN Fantasy Podcast
Listen to the PFN Fantasy Podcast! Click the embedded player below to listen, or you can find the PFN Fantasy Podcast on iTunes, Spotify, and all major podcast platforms.  Be sure to subscribe and leave us a five-star review! Rather watch instead? Check out the PFN Fantasy Podcast on our Fantasy YouTube channel.
Are the Chiefs, Cowboys, and Seahawks Good Options This Week?
If you happened to roll with one of my survivor picks from last week, then congratulations! Admittedly, the New York Giants made us sweat it out against the Arizona Cardinals, but a win is a win.
We have officially advanced, and chances are you have as well if you're here for the NFL survivor picks Week 3 article. Let's dive into the strategy and picks for this week.
Our Betting Lines page has the freshest lines and promos to get BANG for your buck. PFN's FREE Parlay Calculator and Betting Odds Calculator are also available for your betting process! New to sports betting? Check out our guide on How to Bet on the NFL. Visit our Sports Betting Legal Tracker on how to bet legally in the U.S.
Survivor Picks Strategy for NFL Week 3
I'll start once again by stating there is no wrong way to go about playing in a survivor league. If you picked the Baltimore Ravens in Week 1 and the Buffalo Bills in Week 2 because they were the big favorites, then congrats! Your strategy worked.
For those of you who prefer to map out all of your survivor picks for the entire season, I'm here for you, too, as we inch closer to the start of bye weeks across the league.
As mentioned last week, I don't have any concrete rules when selecting games, but I do have some general guidelines to follow:
Avoid divisional games.
Avoid picking road teams.
Avoid games with bad weather in the forecast.
Ideally, we want to do everything within our power to avoid using top-tier teams who hold significant future value.
For example, since the Ravens were the most selected team in Week 1 — selected by 32% of survivor league teams, according to survivorgrid.com data — and the Bills were the most selected team in Week 2, I will be excluding them from my selection process in the strategy section of this weekly article moving forward in an attempt to best simulate your survivor scenario situation for the week.
If you have any additional survivor questions specific to your league, please don't hesitate to follow me on Twitter @DerekTateNFL to send me a message or join our Discord channel, so we can talk on that platform.
Teams No Longer Available To Select
Week 1: Baltimore Ravens (Selected by 32% of survivor league teams)
Week 2: Buffalo Bills (Selected by 26% of survivor league teams)
This is where identifying teams who aren't necessarily the biggest favorite of the week can strongly benefit you as the season progresses.
For example, the Ravens and Bills probably helped many of you advance to this point, but wouldn't you prefer to have them still available to select for a future week?
MORE: Early NFL Week 3 Predictions and Picks Against the Spread
Sure, it was much riskier to roll with the Giants coming off of a 40-0 loss at the hands of the Dallas Cowboys in the season opener, but their matchup against the Cardinals in Week 2 gave you an alternative option to play, which would have kept the Bills in play for their Week 3 encounter against the Washington Commanders.
With the Ravens and Bills no longer available to select, some of the teams that hold the most future value for the rest of the 2023 NFL season are the Kansas City Chiefs, Philadelphia Eagles, Cincinnati Bengals, San Francisco 49ers, Jacksonville Jaguars, and Miami Dolphins.
To accomplish that objective, here are two sets of strategies you could deploy to keep those teams available heading into October.
Strategy 1
Week 3: Seattle Seahawks (vs. CAR)
Week 4: Minnesota Vikings (vs. CAR)
Week 5: Cincinnati Bengals (@ ARI)
Week 6: Miami Dolphins (vs. CAR)
Top teams still available: KC, PHI, BUF, SF, BAL, DAL, JAX
Strategy 2
Week 3: Dallas Cowboys (vs. ARI)
Week 4: Pittsburgh Steelers (vs. HOU)
Week 5: Detroit Lions (vs. CAR)
Week 6: Los Angeles Rams (vs. ARI)
Top teams still available: KC, PHI, CIN, BUF, SF, MIA, JAX
In both strategies, you get to keep more than a handful of projected playoff teams with some elite options at quarterback available after the first month of the season, which really comes into play once bye weeks begin in Week 5.
Chalk Picks
For a second consecutive week, we went 2-0 with our chalk picks. Sure, they may have used up some elite options with future value, but it did manage to get you to this point of the season.
Here's a look at some of the chalkiest picks for Week 3, according to Numberfire.com.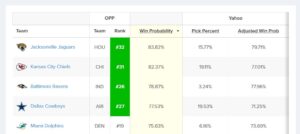 The choice is yours as to whether or not you want to avoid some of these big favorites and attempt to take advantage of a major upset.
Nonetheless, here are some of the chalk selections I like heading into Week 3 of the 2023 NFL season.
Kansas City Chiefs (vs. CHI)
The Chiefs haven't exactly looked like the juggernaut many expected through the first two weeks of the season, but with Travis Kelce back in the fold, they managed to beat a playoff team from last season on the road to improve to 1-1 on the year.
The Chicago Bears offense is clearly still a work in progress through the first two weeks of the season, which doesn't exactly bode well for keeping up with Patrick Mahomes, even as he pilots a Chiefs offense that put forth a second straight pedestrian performance on the offensive side of the football.
In addition, the Bears' struggles to slow down opposing rushing attacks from last season have continued through the first two weeks of 2023.
Need proof? The Tampa Bay Buccaneers, who finished dead last in the league in nearly every major rushing category in 2022, managed to produce 120 yards on the ground against the Bears' defense.
Expect the best outing from the Chiefs' offense in the young season against a Bears defense that is averaging more than 30 points per game allowed to opposing offenses in 2023.
Dallas Cowboys (@ ARI)
Picking on the Cardinals last week nearly prevented 13% of survivor league players from advancing to Week 3, but the Giants secured a Cinderella story-type upset to get their first win of the season.
Unfortunately for the Arizona fan base, the Cardinals' defense turned back into a pumpkin in the second half and squandered a 21-point lead to drop to 0-2 on the year.
When you put the Cardinals' defensive collapse in perspective, you realize the offense gave us a much better performance than expected in Week 2.
Unfortunately for Joshua Dobbs and the rest of the Cardinals' offensive unit, they likely won't have the same level of success they enjoyed against the Giants when they face off against the Cowboys' stingy defensive unit in Week 3.
This @DallasCowboys defense is just stacked with playmakers @Jayronkearse8

📺: #NYJvsDAL on CBS⁰📱: Stream on #NFLPlus https://t.co/FhXtx7w3wW pic.twitter.com/aVXg0KC0ko

— NFL (@NFL) September 17, 2023
Through two games, the Cowboys' defense has given up an average of five points and 193 yards, which spells a long day at the office for the Cardinals' offense.
Contrarian Pick
Seattle Seahawks (vs. CAR)
The Seattle Seahawks bounced back in a big way offensively against the Detroit Lions in their 37-31 overtime win in Week 2.
Kenneth Walker III and Tyler Lockett found pay dirt twice, while quarterback Geno Smith played much better than he did in his 112-yard passing performance against the Los Angeles Rams in the season opener.
MORE: Betting Lines and Newest Promos
This is encouraging when you look at Seattle's Week 3 matchup against the Carolina Panthers, who have really struggled to generate points through the first two weeks of the season.
Not to mention, rookie quarterback Bryce Young is going to have to deal with one of the loudest crowds in the NFL at Lumen Field.
The home of the 12th Man is a very tough place for offenses to operate at maximum capacity, and I just don't see the Panthers offense generating enough points to upset a revitalized Seahawks unit in Week 3.
Listen to the PFN Betting Podcast
Listen to the PFN Betting Podcast! Click the embedded player below to listen, or you can find the PFN Betting Podcast on iTunes, Spotify, and all major podcast platforms. Be sure to subscribe and leave us a five-star review!