Dalvin Cook, Joe Mixon, and More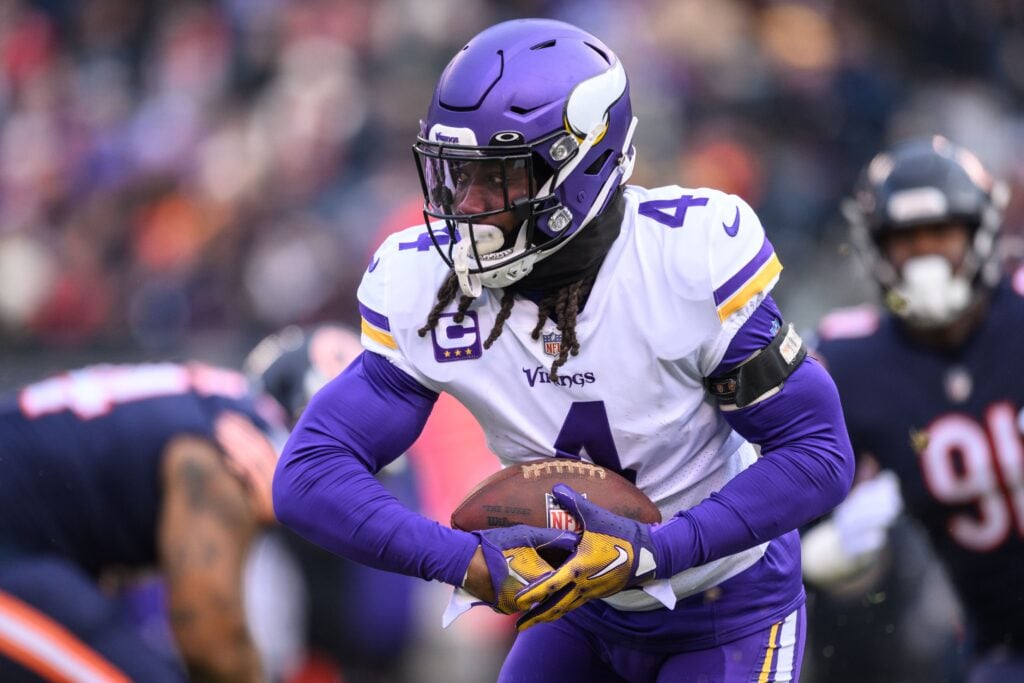 The Arizona Cardinals are taking a gap year. They have a new coaching staff, a new front office, and a quarterback coming off a serious injury with a roster that can't compete for double-digit wins in 2023. Cutting DeAndre Hopkins before June 1 puts the entire cap burden on a single season, which will accelerate the retooling process. But what other players could find themselves being a casualty of salary cap circumstances?
June 1 Cut/Trade Candidates
John Johnson, Ezekiel Elliott, and Byron Jones have all been designated as June 1 cuts already. Last season, only Rashaad Coward and Sharif Finch were released in the week following June 1. Allowing for the designation means most of the work is done prior to the date.
And in the end, teams don't use the post-June 1 cut designation as much as one would think. Harrison Smith would have been a prime candidate for the Vikings, who have offloaded a few elder statesmen this offseason, but Smith agreed to a restructured deal. However, his teammate may not be so lucky.
Dalvin Cook, RB, Minnesota Vikings
After it seemed Dalvin Cook was an inevitable cut after June 1, that may not be the case after all. The running back market has all but dried up. Teams aren't willing to spend top dollar to keep their own runners around, let alone pay one coming off a few underwhelming seasons due to chronic shoulder issues (which Cook had surgery for this offseason.)
It's also important to note that Austin Ekeler, who, relative to the rest of the RB landscape, was grossly underpaid, reworked his deal to remain a Charger for the 2023 NFL season after initially requesting a trade.
"When it comes down to what's going on with the whole trade and all that stuff, really, look, we're trying to find a long-term partner," Ekeler explained. "That's what we want. We want someone who wants to sign us for a few years and sees us not just in the immediate future but a couple years out."
MORE: Minnesota Vikings OTAs Preview
Ekeler has been healthy and productive for years now, boasting league-leading touchdown numbers over the past two seasons as a threat not just on the ground but also as one of Los Angeles' main pass catchers.
Even after a 13-win season in 2022, Vikings GM Kwesi Adofo-Mensah is firmly looking at the big picture and not simply looking to repeat as division champions in 2023. He wants to build a long-term contender, and he's handling the cap situation as such.
"It's positional value, it's value in the locker room, it's relative replacements," Adofo-Mensah said of the things they will consider with veterans.
"It's easy to say, 'We don't want this player,' but what else do you have in your building? You can guess, and I think that's where you can get yourself into problems in this job is thinking you will be certain on something — the draft or even free agency at that, there is risk involved. You always just want to weigh those things carefully, and it's tough."
Joe Mixon, RB, Cincinnati Bengals
There's a bit of a pattern here. NFL teams are beginning to side with the nerds, who believe that running back is no longer valuable enough to warrant a significant allocation of resources.
In an offense that lives in the shotgun, plays spread out, and often goes five wide, saving $10 million against the cap by cutting or trading Joe Mixon feels like a no-brainer for the Cincinnati Bengals. But trading him would seem practically impossible considering his position, salary, and off-the-field question marks.
Additionally, the Bengals aren't the most frivolous team in the NFL, and they're about to have massive decisions to make regarding the futures of Joe Burrow, Tee Higgins, and Ja'Marr Chase.
Kevin Byard, S, Tennessee Titans
Reports indicate that Kevin Byard won't take a pay cut despite the Tennessee Titans desiring one. Although the Titans' roster doesn't resemble a realistic contender, any immediate monetary relief would be met with criticism because of the cultural impact.
"Byard has wanted to play for one organization and ultimately retire as a Titan, but the two sides are at a crossroads, per sources," ESPN Insider Adam Schefter tweeted on March 17.
Although GM Ran Carthon is the new decision-maker on the block and likely wants to speed up the rebuilding process as much as possible, cutting Byard makes no sense, and a trade is unlikely.
Patrick Mekari, OL, Baltimore Ravens
The Baltimore Ravens are in a decent spot with their cap, and there is never, ever enough offensive line depth on teams. However, if the Ravens want to save $4 million against the cap in 2023 they could do so by releasing Patrick Mekari.
His experience at every position on the offensive line makes him valuable, but the Ravens have a surprising amount of depth on the offensive line heading into the next campaign.
Quez Watkins, WR, Philadelphia Eagles
Maybe the expectations for Quez Watkins were a bit too high heading into 2022 after a strong season in 2021, but he struggled enough for the Philadelphia Eagles to feel they needed a potential replacement for the receiver in the offseason. They signed Olamide Zaccheaus to a multi-year deal to play in the slot.
MORE: Are the Philadelphia Eagles a Top-3 Offense Heading Into 2023?
Cutting Watkins would save the Eagles $2.7 million against the cap.
Explaining How Pre- and Post-June 1 Cuts Work
June 1 is so crucial in the NFL because of the impact that cutting a player after that date changes as it relates to the salary cap. Before June 1, any remaining prorated money on the player's contract accelerates onto the cap in the year they are cut or traded. That changes after June 1, however.
If a player is released or traded after June 1, no further prorated money accelerates onto the cap. Instead, that money accelerates onto the following year's cap.
For example, take a player who has four years remaining on his deal and $2.5 million in prorated money in each of those years. If his NFL team cuts him before June 1, 2022, his cap number in 2022 would be $10 million. Alternatively, if the team releases him on June 2, his cap number in 2022 would then be $2.5 million. The remaining $7.5 million impacts the 2023 salary cap. — Ben Rolfe, PFN's Managing Editor
NFL Fans React to Blatant Pass Interference That Helped Colts Upset Ravens
After rallying to force overtime with a field goal late in regulation, the Indianapolis Colts defeated the Baltimore Ravens 22-19 on a game-winning field goal. How they got into position for the score, however, stirred some controversy.
Colts-Ravens Missed Pass Interference Penalty
After a pair of punts and a Colts turnover on downs, Baltimore got the ball back at its own 46 with a chance to drive down the field for a game-winning score.
MORE: NFL Standings
The Ravens faced 4th-and-3 from the Indianapolis 47, and Lamar Jackson looked to Zay Flowers for a pass near the line to gain, but Flowers was pulled down by E.J. Speed as he stretched out to try and make the catch.
Pass interference was not called here..

Should it have been? 🤔#Colts | #Ravens

— Pro Football Network (@PFN365) September 24, 2023
If pass interference had been called, the Ravens (2-1) would have been awarded an automatic first down and had possession within kicker Justin Tucker's range for a game-winning field goal attempt. Instead, the Colts (2-1) got possession and converted one first down before Matt Gay made a 53-yard field goal to win it.
Baltimore also had a chance to win in the final seconds of regulation, but Tucker missed short on a 61-yard field goal try.
Fans React To No-Call
Ravens fans and pundits alike took to Twitter to voice their frustrations about the lack of a penalty on the crucial play.
The Ravens lost because the refs either had money on the game or they just decided they wanted the colts to win. That was some of the most horrid officiating I've seen.

— TheBrotherRuck (@BrotherRuck) September 24, 2023
The ravens went for it on 4th and 3 and the colts had a pass interference that wasn't called that the announcers said it should have been called which would've put them in field goal range and would've won the game instead they didn't call it and the ravens lost the game @NFL

— AustiN (@the_Real_Antko) September 24, 2023
Wow. Don't have any love or hate for the Colts or Ravens, but the refs just screwed the Ravens on that clear case of defensive pass interference. Didn't watch the rest of the game, but a hook causing change of direction on a player before the ball gets there is clearly DPI.

— Joey Fletcher (@Kailef) September 24, 2023
Denver Broncos vs. Miami Dolphins Observations: A Record-Breaking Beatdown
MIAMI GARDENS, Fla. — The Miami Dolphins have played football for 58 years. They have had two Hall of Fame quarterbacks. And they have the league's only undefeated team.
Yet, never before have they done what they did Sunday: Score more than 55 points. But they were just getting started. The Dolphins dropped 70 Sunday — the second most in league history — and could have had more if they hadn't kneeled it out deep in Denver territory on their final drive.
Denver Broncos vs. Miami Dolphins Instant Observations
.@cheetah is a man of the people 😂 pic.twitter.com/jympnbgErj

— Miami Dolphins (@MiamiDolphins) September 24, 2023
This Offense Is Inevitable
What the first three weeks have proven:
The Dolphins can light up the scoreboard without Terron Armstead.
And they can drop holy hell on the Broncos without Jaylen Waddle.
As long as they have Tua Tagovailoa and Tyreek Hill, they're next to impossible to stop.
The Dolphins had four touchdown drives of 75 or more yards and put 35 on the board — in the first half alone.
Tua completed his first 17 passing attempts — the longest consecutive streak of his career — and finished an absurd 23 of 26 for 309 yards and three touchdowns, and Hill had nine catches for 157 yards and a score.
The MVP race is most certainly afoot. The only question is, who gets more votes: Tua or Tyreek?
De'Von Achane Is a Problem
A week after Raheem Mostert cooked the Patriots for 121 yards and two touchdowns, he scored two touchdowns against the Broncos in the span of 20 seconds Sunday. (Mostert added two more touchdowns in the third quarter — one on the ground, the other through the air).
But the bigger story Sunday was the emergence of rookie De'Von Achane, who had five yards on one carry as a pro entering Week 3.
Rook's first NFL touchdown 🥹@ffvmousvon_ | #FinsUp pic.twitter.com/geYWPT25l7

— Miami Dolphins (@MiamiDolphins) September 24, 2023
His stat line looks a bit beefier after Sunday when he went for 203 yards and two touchdowns on 18 carries. He also had two TD catches — both on shovel passes from Tagovailoa.
What in the world are the Dolphins going to do when Jeff Wilson and Salvon Ahmed get back from injury?
Dolphins Injuries Add Up
Already without Waddle (concussion), the Dolphins' receiving corps also lost River Cracraft late in the first half with a shoulder injury. That left Miami with four available wide receivers for the entire second half: Tyreek Hill, Robbie Chosen, Cedrick Wilson Jr., and Braxton Berrios.
MORE: 2023 NFL Standings
On defense, Jaelan Phillips suffered his second injury in nine days. After missing the Week 2 win over the Patriots with a back issue, Phillips hurt his oblique in the first half Sunday.
Midway through the third quarter, center Connor Williams went to the locker room after getting hurt on a 40-yard Achane run. Liam Eichenberg replaced him.
Vic Fangio > Vance Joseph
It wasn't a perfect game for the Dolphins' defense — far from it. Still too many missed tackles and blown coverages.
But Miami made the plays when it had to, both forcing a fumble (recovered by Andrew Van Ginkel) and intercepting a pass (Emmanuel Ogbah) deep in Broncos territory and getting off the field on two of Denver's three red-zone drives.
The Broncos, meanwhile, might have one of the worst defenses in the league. Ex-Dolphins DC Vance Joseph had no answer for McDaniel and might soon be fired by Denver for the second time in five years.
Listen to the PFN Dolphins Podcast
Listen to the PFN Dolphins Podcast! Click the embedded player below to listen, or you can find the PFN Dolphins Podcast on iTunes, Spotify, and all major podcast platforms.  Be sure to subscribe and leave us a five-star review! Rather watch instead? Check out the PFN Dolphins Podcast on our NFL YouTube channel.
What We Know About the Baltimore Ravens RB
Already without J.K. Dobbins and Justice Hill, the Baltimore Ravens could hardly afford to lose another running back in Week 3. But Gus Edwards suffered an injury against the Indianapolis Colts in Week 3.
What happened to Edwards on Sunday, and what's his latest injury status?
Gus Edwards Injury Update
Edwards went to the blue medical tent during the fourth quarter of the Ravens' Week 3 game. The Ravens subsequently indicated Edwards was being evaluated for a concussion.
He's since departed for Baltimore's locker room.
RB Gus Edwards is being evaluated for a concussion.

— Baltimore Ravens (@Ravens) September 24, 2023
Fantasy Fallout From Edwards' Injury
With Edwards dinged up, Justice Hill sitting out, and J.K. Dobbins out for the season, it might be Lamar Jackson's time to truly shine.
Prior to the injury to Edwards, Jackson already had a pair of scores on designed runs, a sign that Todd Monken's comfort with his quarterback is growing.
The next two games aren't fantasy-friendly (at CLE, at PIT), but Jackson's unique skill set and the creative stylings of Monken could have Jackson as valuable as any QB outside of the Big Three.
— PFN Fantasy Analyst Kyle Soppe