Analyzing the Browns' Best and Worst-Case 2023 Season Scenarios
The Cleveland Browns have an extraordinary ceiling, given who they have at quarterback and how they've constructed their roster. They are, however, third in the odds to win the AFC North, just barely ahead of the Pittsburgh Steelers, according to DraftKings Sportsbook. The Browns' NFL predictions for 2023 don't look optimistic.
But Cleveland does have several outcomes ahead of them that could change the tenor of their season and head coach Kevin Stefanski, who may not get a third QB to work with if Deshaun Watson doesn't work out.
If all goes according to plan, the Browns could have an elite offense and elite defense. They have the pieces in place on both sides of the ball to make a deep run and shock the AFC. Now that the Browns have overcome the hurdle of winning a playoff game in their recent history, they need to do more to build on it. And they can.
Predicting the Best-Case Scenario for the Cleveland Browns' 2023 NFL Season
The Browns need many things to go right for them in the division, not just on their team, in order to see the ideal scenario evolve for them in a competitive AFC. Cleveland would benefit from a limited development curve for Kenny Pickett in Pittsburgh but will probably need more help from Baltimore and Cincinnati in order to win the division and set up favorable seeding in the playoffs.
On Cincinnati's side, seeing the losses at safety and cornerback could mean a drop-off in their passing defense, while the Bengals could see pressure get to Joe Burrow despite investments along the offensive line. For the Ravens, another inconsistent Lamar Jackson season, driven by slow development at receiver, would help — especially because Baltimore's defense doesn't look to be what it once was.
But in order for those things to matter at all, the Browns need to be a better team. The primary issue is at quarterback, where they could see Watson return to his MVP-level play. In Houston, before his battle with the team and subsequent sexual misconduct allegations from over two dozen women, Watson was electric.
Last year, he looked rusty last year, and bridge quarterback Jacoby Brissett outperformed him on the field. But if he's shaken off that rust, Watson could be one of the best quarterbacks in the NFL.
MORE: Cleveland Browns Season Preview 2023
There's explosive potential with Cleveland's offense. Amari Cooper can turn in big plays consistently, and both Marquise Goodwin and Donovan Peoples-Jones have the athleticism to be a deep threat.
What will really make an offense like that effective, however, would be a high floor with consistent players. Elijah Moore can provide that from the slot, and rookie Cedric Tillman has the size and speed to be explosive with the capability to win underneath. David Bell, a third-round pick from last year, could also be a possession option.
If half of Cleveland's receiving corps takes a step forward in their development, they could have an extremely well-rounded cast. Add in Nick Chubb, perhaps the best pure runner in the NFL, and the Browns could attack opposing defenses in a variety of ways.
Their offensive line underperformed last year, but there were moments when this core group was one of the best in the NFL. If they reached the heights that they had before, they could make for one of the most potent NFL offenses.
On defense, the Browns have upgraded their pass rush, pairing Myles Garrett with Za'Darius Smith. Smith was efficient last year, and he could do it again, giving Cleveland a great foundation to build their defense around. They've shored up the middle with Dalvin Tomlinson in free agency and Siaki Ika in the draft, which could turn that DT group from a weakness into a strength.
And though returning Jeremiah Owusu-Koramoah back from injury will be big, the most important thing will be making sure that their young secondary can be consistent. Martin Emerson turned in a surprising and underrated performance as a rookie corner last year, and the Browns have seen some excellent years from Denzel Ward, who didn't live up to that last year but could under new defensive coordinator Jim Schwartz.
At nickel, Greg Newsome, who's been promising but hasn't improved substantially since entering the league, could round out the defense. On top of that, a leap forward in development from Grant Delpit could mean an elite defense.
MORE: Where Does the Browns' Defense Rank in 2023 Rankings?
In any instance, the pass rush should make the coverage look better. That should mean, in the best-case scenario, a top-eight NFL defense and a top-five NFL offense for Cleveland.
Predicting the Worst-Case Scenario for the Browns' 2023 Season
In the worst-case scenario, the Browns will see the division return to its heyday and compete to fill all the Wild Card spots in the playoffs. The Bengals and Ravens both have quarterbacks with MVP-quality seasons and, more recently than Watson, too.
The investments that Cincinnati has made on the offensive line and the Ravens have made at receiver have a good chance of working out. If Baltimore generates a multidimensional offense, they'll have more threats available to them than Cleveland will, regardless of Watson's return to form. The Bengals may not have as many ways to attack offenses, but if they stay on track, they have more explosive potential.
All that could occur while Pittsburgh quietly improves in the background. It's difficult to bet against Mike Tomlin, and improvement for Pickett and WR George Pickens could make the offense threatening. A pass rush with T.J. Watt will also always be difficult to discount. If the Steelers get more out of their secondary than just what Minkah Fitzpatrick can provide, they'll also be tough to score on.
But the worst-case scenario for the Browns would mean that their own roster fails to meet their standards. Watson hasn't played well in the NFL since 2020, and his 2022 play was alarmingly bad — ranking 31st in adjusted net yards per attempt, right behind the quarterback he replaced: Baker Mayfield.
It's entirely possible that Cleveland's receiving corps might be carried solely by Cooper. There are no promises guaranteed for rookies, especially third-round rookies. Moore, Peoples-Jones, and Bell have all been inconsistent enough that it's tough to rely on them to consistently produce.
MORE: 2023 NFL Schedule
It also could be the case that Smith, who is 30 years old, fails to capture his performance from last year while injuries and age catch up to him. If the Browns don't have the development they need from their young secondary, they could see themselves gashed time and again while Garrett's effective pass rush gets wasted on every third down.
In the end, outcomes will be driven by Watson himself. Should he perform like he did last year, the Browns will get to pick pretty high in the draft, which should be pretty valuable for their next head coach.
Ja'Marr Chase Player Props, Betting Lines, Odds, and Picks for Rams vs. Bengals
Ja'Marr Chase has struggled out of the gate for the Cincinnati Bengals. With the Bengals' quarterback situation still uncertain, will the struggles continue for Chase? Take a look at Chase's player props and best prop bet prediction for Monday Night Football tonight.
Our Betting Lines page has the freshest lines and promos to get BANG for your buck. PFN's FREE Parlay Calculator and Betting Odds Calculator are also available for your betting process! New to sports betting? Check out our guide on How to Bet on the NFL. Visit our Sports Betting Legal Tracker on how to bet legally in the U.S.
Ja'Marr Chase Week 3 Player Props
All odds from DraftKings Sportsbook.
Receiving Yards: 72.5 (Over -115/Under -115)
Longest Reception: 23.5 (Over -110/Under -120)
Rush/Rec. Yards: 73.5 (Over -115/Under -115)
Anytime Touchdown Scorer: +110
First Touchdown Scorer: +650
Chase Betting Trends and Stats
After being held under 40 receiving yards once in 12 games last season, Chase has been held under 40 receiving yards in both games this season.
Chase Best Bet
If there was a list for most disappointing performances to start this season in the NFL, Chase would probably see his name mentioned. Entering Week 3, no player who had been targeted at least 15 total times this season had fewer receiving yards than Chase (70).
MORE: Rams vs. Bengals, Same Game Parlay Picks and Predictions
Not having a healthy Joe Burrow certainly hasn't helped the situation. But the question of the moment is, how will Chase perform tonight with or without Burrow on the field?
If, in fact, Jake Browning gets the start tonight, there could be two reasonable schools of thought regarding Chase's impact. One theory suggests a quarterback who has thrown all of one pass in his NFL career — like Browning — will likely lack the ability to get the ball to his receivers on a consistent basis.
The other theory is that with a new, inexperienced QB, finding your best player on the field is of utmost importance.
For me, this is definitely a wait-and-see approach for Chase. He will have to show me something before backing his props.
Regardless of the quarterback tonight, take the under on Chase's receiving yards.
Ja'Marr Chase Best Bet: Under 72.5 receiving yards (-115 at DraftKings)
Listen to the PFN Betting Podcast
Listen to the PFN Betting Podcast! Click the embedded player below to listen, or you can find the PFN Betting Podcast on iTunes, Spotify, and all major podcast platforms. Be sure to subscribe and leave us a five-star review!
James Cook, Sam LaPorta, and Others
The 2023 NFL season has already given us a handful of fantasy football surprises, and we aren't even officially through the first three weeks of action yet.
Need proof? In PPR formats, the Miami Dolphins running back duo of Raheem Mostert and De'Von Achane currently sit as the RB1 and RB5, respectively, in all of fantasy football.
Let's take a closer look at who some of my surprise start and sit candidates are for Week 4 of NFL action.
Looking to make a trade in your fantasy league? Having trouble deciding who to start and who to sit? Check out PFN's Free Fantasy Football Trade Analyzer and Start/Sit Optimizer to help you make the right decision!
Start 'Em, Sit 'Em Picks for Week 4 of the 2023 NFL Season
Start 'Em Options
Joe Burrow, QB, Cincinnati Bengals
We start one off with a bit of a controversial selection, but if Joe Burrow is available for the matchup against the Tennessee Titans… he needs to be in your lineup.
The Titans' pass defense is practically giving away yardage on a weekly basis in 2023.
Week 1: 282 passing yards allowed
Week 2: 281 passing yards allowed
Week 3: 263 passing yards allowed
When you realize that two of these games came against the New Orleans Saints and Cleveland Browns — two teams who aren't exactly considered elite passing offenses — this secondary could be having issues like this all season long.
I'm well aware Burrow is probably not going to be 100% — if available at all — for Week 4, but I don't see how the Titans can slow down Ja'Marr Chase and Tee Higgins if Burrow is in the lineup.
James Cook, RB, Buffalo Bills
Don't look now, but James Cook has registered back-to-back 90+ rushing yard performances while seeing a minimum of 15 carries both weeks.
Do you know how many times Devin Singletary did that during his four-year run in Buffalo? Zero.
Cook's 6.1 yards per carry leads all running backs who have seen over 30 carries to this point of the season. Expect him to continue seeing plenty of work in what could be a very high-scoring game against the Miami Dolphins.
Zack Moss, RB, Indianapolis Colts
If we thought the 2023 debut of Zack Moss in Week 2 was pretty good… what do we think about his 145 total yards and a score against one of the better defenses in the league alongside a backup QB?
The word phenomenal comes to mind.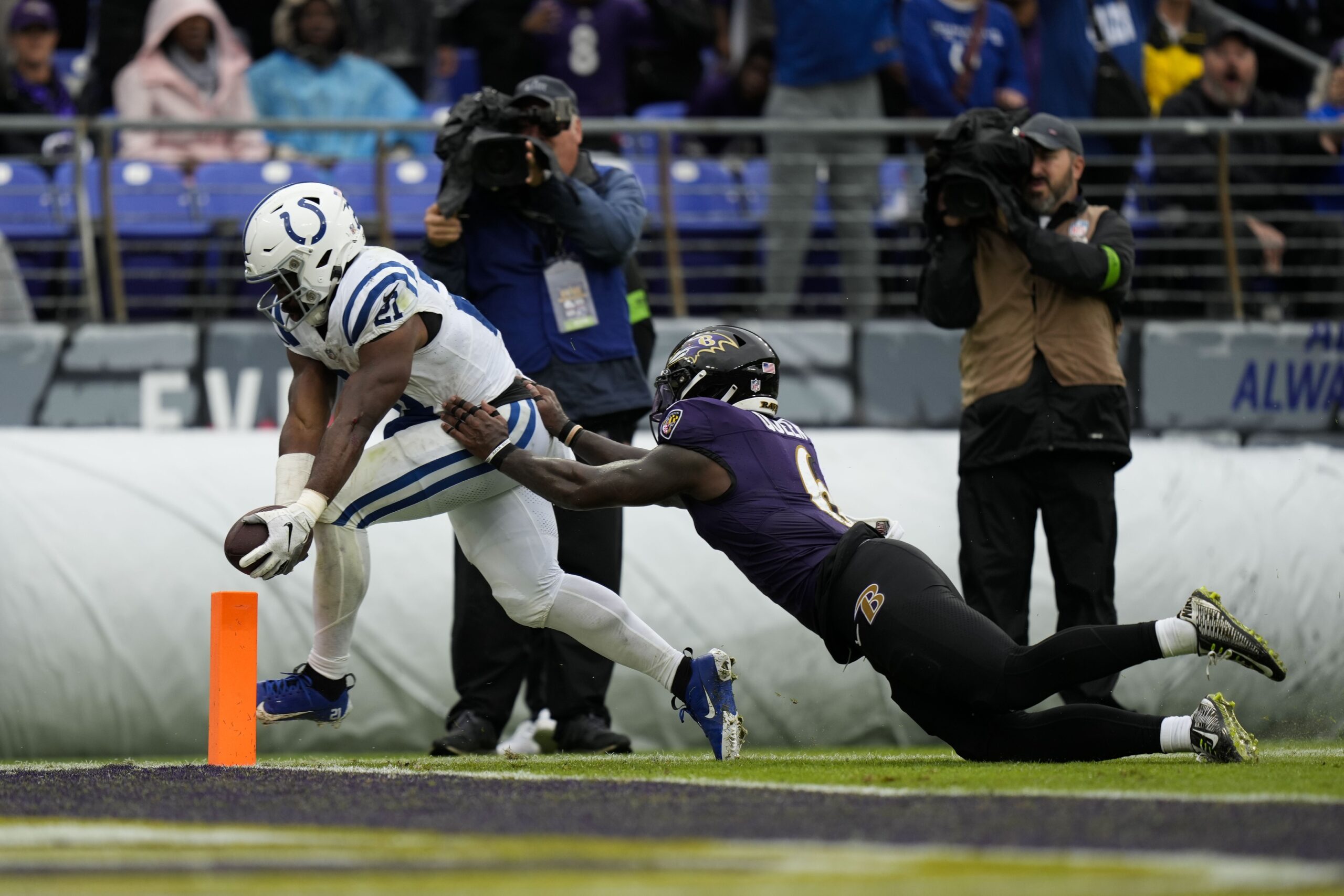 Moss' 27 touches per game leads the RB position across the NFL. Despite missing a game, his 54 total touches during the 2023 season currently ranks ninth in the league amongst running backs.
While the potential return of Jonathan Taylor looms large in his fantasy value heading into Week 5, for the moment, we have to consider Moss a top-15 RB play.
Aaron Jones, RB, Green Bay Packers
Aaron Jones was a game-time decision against the New Orleans Saints but ultimately was unable to take the field in Week 3.
Well, after the Green Bay Packers failed to score a single point in the first three quarters of their narrow 18-17 victory on Sunday, it's painfully obvious this team needs Jones back in the fold.
MORE: Fantasy/NFL News Tracker
AJ Dillon has generated just 88 rushing yards on 26 carries over the last two weeks without Jones in the lineup, which has left this offense without an explosive element out of the backfield.
Tank Dell, WR, Houston Texans
The Houston Texans' passing offense has been one of the biggest surprises of the 2023 NFL season.
While Nico Collins and Robert Woods have certainly carved out their roles in this offense, rookie wide receiver Tank Dell has made a compelling case to see a significant amount of work on a weekly basis after catching 12 passes for 217 yards and two scores over the past two games.
Dell gives Houston's offense an explosive element — both vertically and after the catch — which continues to throw the ball more than 30 times a game.
Michael Pittman Jr., WR, Indianapolis Colts
Michael Pittman Jr. flew under the radar for many fantasy managers heading into the 2023 NFL season.
Well, after seeing a minimum of 11 targets while producing at least eight receptions on those looks, he has produced a minimum of 13 fantasy points in PPR formats, whether it's Gardner Minshew or Anthony Richardson under center.
Pittman currently has one of the highest floors at the receiver position in all of fantasy football and should be in the top 15 picture amongst receivers on a weekly basis until further notice.
Adam Thielen, WR, Carolina Panthers
I'm not one for the revenge narrative against your former team, but Adam Thielen has been far more productive than most fantasy managers expected through the first three weeks of the season.
After exploding for 11 receptions, 145 yards, and a score against the Seattle Seahawks, Thielen now has his sights on the Minnesota Vikings.
The same Vikings secondary that has allowed three wide receivers — DeVonta Smith, Keenan Allen, and Mike Williams — to post 100-yard performances through the first three weeks of the season.
Expect Thielen to be busy against his former team in Week 4.
Sam LaPorta, TE, Detroit Lions
The Detroit Lions may have struck gold with rookie tight end Sam LaPorta. Through the first three weeks of his NFL career, LaPorta has seen his targets, yards, and receptions all improve on a weekly basis.
Sam LaPorta's Weekly Production
Week 1: Five targets, five receptions for 39 yards
Week 2: Six targets, five receptions for 63 yards
Week 3: 11 targets, eight receptions for 84 yards and a TD
LaPorta has firmly and quickly established himself as a reliable option for quarterback Jared Goff.
MORE: 2023 TE Fantasy Football Rankings
His dynamic ability as a playmaker after the catch, quality route-running ability, and strength at the catch point could make him a weekly top-10 play at the TE position.
Sit 'Em Options
Justin Fields, QB, Chicago Bears
The Chicago Bears got absolutely bamboozled by the defending Super Bowl champion Kansas City Chiefs on Sunday. Justin Fields looked incapable of getting through his progressions, his receivers dropped some passes, and the offensive line had protection issues.
In other words, it was a complete disaster on the offensive side of the ball.
While I believe better days could be ahead if the Bears can scheme up Fields into some easier completions and some QB-designed runs to help him start stressing opposing defenses with his dynamic playmaking ability, I have to see it before I believe it for this 2023 Bears offense.
On paper, a Denver Broncos defense that just surrendered 70 points to the Miami Dolphins' high-powered offense could be a favorable matchup. However, until this offense finds any sort of identity, it's hard to trust Fields in your fantasy lineup.
Derrick Henry, RB, Tennessee Titans
Maybe this is a contrarian take, but Derrick Henry doesn't look like himself right now.
He picked up a toe injury during the team's Week 2 win against the Los Angeles Chargers that many weren't overly concerned about, given he finished the game and practiced in a limited capacity throughout the week.
However, Henry finished this past Sunday with just 20 yards on 11 carries against the Cleveland Browns.
Since 2019, Henry has seen fewer than 12 carries in a game on only one other occasion… and that was in a blowout loss to the Philadelphia Eagles last season. His 20 yards rushing is the lowest total he has posted over the last four seasons.
It doesn't help matters that rookie running back Tyjae Spears has seen a minimum of eight touches in this backfield over the last two weeks.
Now, the Browns' defense has been really stingy through the first three weeks of the season, so it could just be a bad day at the office altogether in a tough matchup.
But if Henry really is hitting a wall or dealing with a more significant toe injury than we're aware of, Henry's lack of a pass-catching floor in PPR formats makes him a boom-or-bust option in your fantasy lineup.
Brian Robinson Jr., RB, Washington Commanders
After a breakout fantasy performance in Week 2, Brian Robinson Jr. saw just 10 carries with no receptions against the Buffalo Bills.
Sure, he was still efficient with his 10 carries, but Robinson proved capable of being a victim of game script and an offense that is still a work in progress.
That progress could be stunted again in Week 4 against an Eagles defense that has been very stout against opposing rushing attacks to start the 2023 season.
Garrett Wilson, WR, New York Jets
It's heartbreaking that a talent like Garrett Wilson is appearing on my sit 'em list for a second consecutive week, but such is the fantasy life of a top receiver in a Zach Wilson-led offense.
MORE: Buy Low, Sell High Week 4
An improved Chiefs defense just made life a complete nightmare for the Bears' offense in Week 3, and they could be jumping at the opportunity to get after Wilson in Week 4.
Unfortunately, Wilson falls out of my top 30 at the WR position for a second straight week with another tough matchup.
Mike Evans, WR, Tampa Bay Buccaneers
Mike Evans has been great through the first two weeks, but he has definitely had his fair share of issues when facing off against New Orleans Saints cornerback Marshon Lattimore over the years.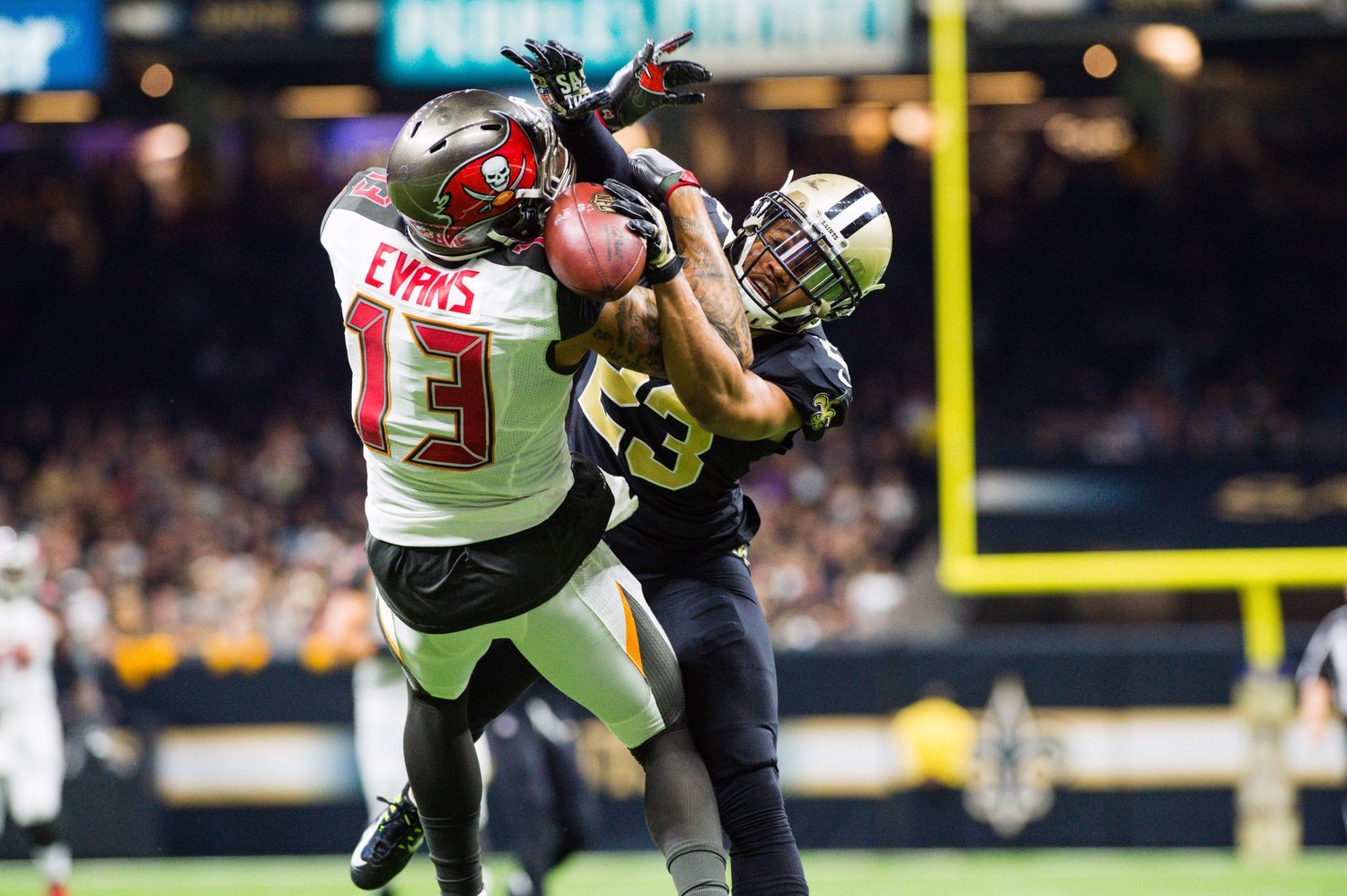 Since 2017, Evans has just one game where he went over the century mark in the receiving yards category against New Orleans. This same stretch includes two one-catch performances and one zero-catch performance.
While Evans has also won some of his battles against Lattimore over the years, why take the chance of putting him in your lineup if the ceiling is capped and the floor is scary low?
Jake Ferguson, TE, Dallas Cowboys
I'm not exactly as high on Jake Ferguson as other fantasy analysts, but I'm willing to admit he's the only Dallas Cowboys tight end I want anywhere near my fantasy lineup. However, that won't be the case in Week 4 against the New England Patriots.
Bill Belichick has been incredibly stingy against opposing tight ends to start the 2023 season.
Week 1: Dallas Goedert — zero catches
Week 2: Durham Smythe — three receptions for 23 yards
Week 3: Tyler Conklin — three receptions for 26 yards
Cowboys quarterback Dak Prescott also hasn't exactly been lighting it up through the air this season. In what could be a low-scoring contest, I'd rather go in other directions at tight end for Week 4.
Listen to the PFN Fantasy Podcast
Listen to the PFN Fantasy Podcast! Click the embedded player below to listen, or you can find the PFN Fantasy Podcast on iTunes, Spotify, and all major podcast platforms.  Be sure to subscribe and leave us a five-star review! Rather watch instead? Check out the PFN Fantasy Podcast on our Fantasy YouTube channel.
Puka Nacua, A.J. Brown, and Kyren Williams Locks?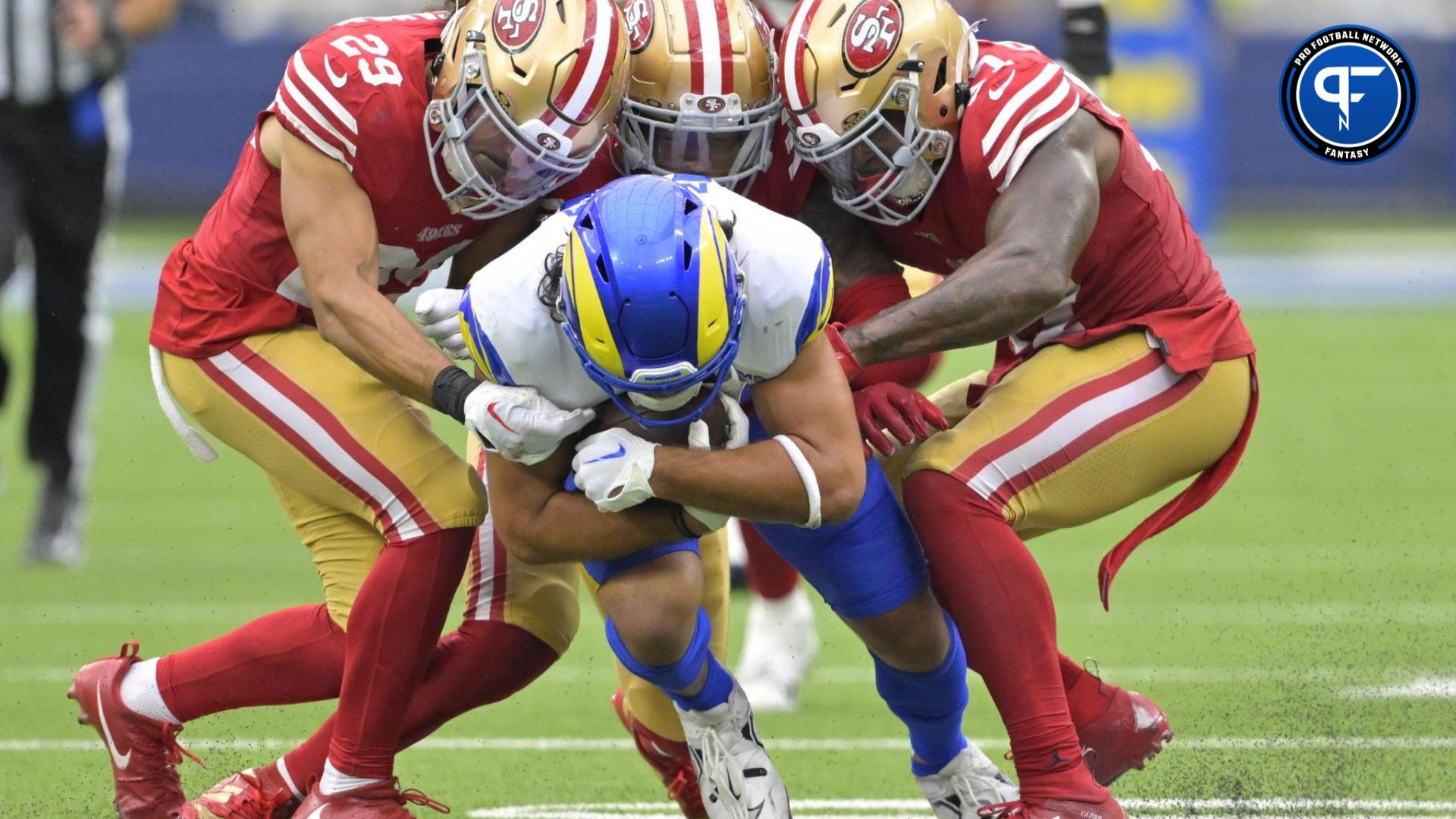 Did you happen to miss out on the DFS action on DraftKings for the Sunday slate in Week 3? Fear not! You still have some time to enter a fantasy football roster with these picks for Monday Night Football before Week 3 of NFL action comes to an end.
Looking to make a trade in your fantasy league? Having trouble deciding who to start and who to sit? Check out PFN's Free Fantasy Football Trade Analyzer and Start/Sit Optimizer to help you make the right decision!
Top MNF DFS Picks on DraftKings for Week 3
Jalen Hurts, QB, Philadelphia Eagles ($8,000)
Philadelphia Eagles quarterback Jalen Hurts hasn't been quite as sharp through the air to start the 2023 season as many fantasy managers had hoped, but his matchup against the Tampa Bay Buccaneers on Monday Night Football could help get this passing game moving in the right direction.
The Bucs' defense is notoriously stout against opposing rushing attacks and has only given up an average of 54 yards per game on the ground through the first two weeks.
MORE: Fantasy QB Streamers and Rankings Week 4
We saw the Minnesota Vikings throw for 344 yards and two scores in the season opener against the Tampa Bay defense.
Look for Hurts to connect with his talented group of pass catchers — namely A.J. Brown, DeVonta Smith, and Dallas Goedert — throughout this contest.
A.J. Brown, WR, Philadelphia Eagles ($7,400)
Speaking of the talented wide receiver, Brown is coming off his second least productive game in an Eagles jersey in Week 2.
Admittedly, his stat line of four receptions for 29 receiving yards could've drastically improved if a touchdown reception wasn't called back due to a holding penalty in the second half of the team's win against the Vikings in Week 2.
This bodes well for the Eagles to make him a focal point in the passing game against a secondary who has given up 100-yard receiving performances to Justin Jefferson and D.J. Moore in both weeks to start the season.
Kyren Williams, RB, Los Angeles Rams ($5,700)
The fact that Kyren Williams is the fourth-most expensive running back available on the Monday Night Football slate shows that even oddsmakers are still skeptical of his hot start to the 2023 season.
However, that doesn't mean that you need to be skeptical.
Williams has seen a minimum of 14 carries in both weeks and saw 10 targets in the passing game last week against the San Francisco 49ers.
Oh, did I mention he led the NFL in touchdowns from scrimmage through the first two games of the season?
Williams feels like he should be a lock in your fantasy lineup for this MNF slate.
Cade Otton, TE, Tampa Bay Buccaneers ($3,000)
While I'm not exactly high on the Bucs' passing game heading into their showdown against the Eagles, Philadelphia's defense has certainly had some issues slowing down opposing tight ends to start the 2023 campaign.
Week 1: Hunter Henry — Five receptions for 56 yards and a TD
Week 2: T.J. Hockenson — Seven receptions for 66 yards and two TDs
Cade Otton tied a career high with six receptions in Week 2 against the Chicago Bears and has played nearly every snap the Bucs' offense has been on the field in the first two weeks.
If you're looking for a cheap option to roll with at the tight end position, Otton is your guy.
Puka Nacua, WR, Los Angeles Rams ($6,400)
What is there to be said that hasn't already surrounding the historic start to the career of Puka Nacua?
Nacua led the NFL in targets and receptions through the first two weeks of the season and enters this Week 3 contest against the Cincinnati Bengals as the leading man in a pass-heavy offense that still doesn't have Cooper Kupp in the lineup.
#Rams Puka Nacua sets an NFL record with 20 catches through his first 2 career games! pic.twitter.com/WN4ottTugg

— Tanner Phifer (@TannerPhiferNFL) September 17, 2023
The fact that Nacua is only the fourth-most expensive wide receiver on the slate feels criminal.
Don't overthink this one. Make sure Nacua is in your lineup.
Listen to the PFN Fantasy Podcast
Listen to the PFN Fantasy Podcast! Click the embedded player below to listen, or you can find the PFN Fantasy Podcast on iTunes, Spotify, and all major podcast platforms.  Be sure to subscribe and leave us a five-star review! Rather watch instead? Check out the PFN Fantasy Podcast on our Fantasy YouTube channel.