Could DeAndre Hopkins Make This Offense More Explosive?
DeAndre Hopkins is officially available to sign elsewhere, as the Arizona Cardinals stunned the NFL world by releasing the perennial Pro Bowl wide receiver Friday morning. Right away, the New York Giants surfaced as a strong potential suitor, especially after DHop was spotted with a Giants star.
Viral Photo Sparks DeAndre Hopkins-New York Giants Connection
Hopkins was captured a few weeks ago working out alongside Giants RB Saquon Barkley.
While it's common for star athletes in the NFL to perform offseason work with players from another team, that viral photo still brings a lot of substance into the possibility of Hopkins heading to the Giants.
MORE: DeAndre Hopkins' Top Landing Spots
The Giants already made one splashy offseason move by trading for Pro Bowl tight end Darren Waller. They're also coming off the heels of a postseason appearance in the first season of the Brian Daboll era.
And with the current state of the Giants' wideout room, Hopkins is just the guy to give this offense a new match to light the fire.
How Hopkins Could Mesh With Daniel Jones
For starters, the Giants' WR unit underwhelmed last season, as no one caught more than 60 receptions from quarterback Daniel Jones. Richie James and Barkley led the way with 57 catches. The Giants also ranked 26th in aerial yardage.
Waller is a strong get, as the Giants have that proverbial matchup nightmare with the TE's towering 6'7″ frame and uncanny speed for his size. Jones has already taken a liking to Waller when speaking with the New York media Thursday.
But Waller will command a lot of attention, and he'll need someone to bail him out on occasion. Plus, the G-Men don't want Jones locking onto Waller every down. That's where the Giants can add another mismatch with Hopkins.
Daboll's offense is reliant on mesh concepts and crossing routes to confuse defenses. With Barkley in the fold, play action becomes an enhanced strength with Hopkins on board as a linebacker and safety can potentially bite on the fake run — allowing Hopkins to take advantage of the newfound space. Hopkins has become known for being a space attacker throughout his career and is skilled at finding the exposed opening and moving the chains.
Stefon Diggs' relationship with Dabool could also serve as a strong recruiting pitch for Hopkins should the Giants make a run at the veteran receiver. Diggs caught 127 and 103 receptions in 2020 and 2021, respectively, with Daboll as the offensive coordinator of the Buffalo Bills. Hopkins has the chance to become the Diggs for the Giants' offense.
MORE: New York Giants 2023 Schedule
Anthony Rivardo, the Giants writer for Empire Sports Media, believes the G-Men should look into the All-Pro.
"Yes, I do think the Giants should check in and see what DeAndre Hopkins' interest is in joining Big Blue. A fully healthy offense featuring Saquon Barkley, Darren Waller, and Hopkins under Brian Daboll's coaching could be ELITE. Worth exploring," Rivardo said. 
But would the Giants have room for Hopkins? Per Fox Sports NFC East reporter Ralph Vacchiano, New York has the third-most cap room to work with among division teams at $6.1 million.
PFN's Dalton Miller adds that a Hopkins deal at his next stop "won't be cheap" and could be similar to what Odell Beckham signed with the Baltimore Ravens.
Still, DHop joining New York could erase their low yardage output from a year ago and place Hopkins in an offense where he could return to being a 100-catch wideout.
Furthermore, this potential addition gives the Giants even more leverage in challenging the rival Philadelphia Eagles for the NFC East throne.
Jer'Zhan Newton Reaffirms Round 1 Standing Against Penn State
In Week 3 of the 2023 college football season, Illinois and Penn State clashed. And in the process, Fighting Illini DT and 2024 NFL Draft prospect Jer'Zhan Newton gave us some of his best film yet. What did Newton show in Week 3 that validated his standing as a Round 1 talent?
Jer'Zhan Newton Shines in Illinois vs. Penn State Showcase
The Penn State Nittany Lions may have largely dominated in a 30-13 road victory against the Illinois Fighting Illini. But Illinois DT Jer'Zhan Newton was a bright spot — as he often is.
Newton — who logged 5.5 sacks and 14 tackles for loss in an All-American campaign a season ago — menaced the Nittany Lions' offensive line through all four quarters, in both the passing and running phase. He ended the day with six tackles, a TFL, and two pass deflections, and he generated consistent pressure on quarterback Drew Allar.
The 6'2″, 295-pound Newton now has two sacks and three TFLs through three games, and he's on track to sustain his high-level production all the way to season's end. But numbers are one thing. What does the tape show, and what makes Newton a projectable difference-maker at the NFL level? The Scouting Spotlight is back to answer these questions.
2024 NFL Draft Scouting Spotlight: Newton Is a Two-Phase Terror
Production is often, in a sense, a form of confirmation for a player's talent. And that's the case for Newton. It's not the end-all-be-all when it comes to NFL Draft analysis. But sometimes, if the numbers say a prospect consistently disrupts, you listen and keep digging to find out what makes them so productive.
For Newton, let's start with the simple things. He's unnaturally explosive, like a supernova off the line. And standing at 6'2″ at most — potentially closer to 6'1″ when he measures in — he has a type of natural leverage that's extremely difficult for taller linemen to combat.
MORE: Top DTs in the 2024 NFL Draft
To see how those two traits can work in tandem with each other, view the play below. Watch Newton as he works against the left guard from a 3-tech. His lightning-quick first step allows him to generate overwhelming force at contact, and he uses this burst along with his natural leverage to slab the left guard, drive him back, and occlude the running lane.
Just *look* at how explosive Jer'Zhan Newton is off the snap here.

From the EZ angle, you can see how he's able to completely blow up this run with his natural leverage, and the shock he generates at contact. That's not a small man he's driving back, either. pic.twitter.com/i4Tr12ZDsQ

— Ian Cummings (@IC_Draft) September 19, 2023
Right away, we can see that Newton has an elite explosive capacity to go along with a rare level of natural leverage. In the trenches, that's a very dangerous combination to have. But it goes even deeper than that.
Two more traits that routinely assist Newton are his flexibility and strength. He lacks high-end mass at defensive tackle, which can impact his ability to take on double teams. But for his size, he packs very impressive core strength and has the grip strength and torque to control and shed blocks.
The play below shows all of these traits working in conjunction to constrict the offense. Newton is aligned at a 3-tech, outside the right guard this time. He's on the play side. It's an outside-zone run, on which the RB appears to be attempting to press outside behind the right guard.
The goal for the RB is to press outside just far enough to bait the LB into attacking the A gap, clearing the B gap for a cut upfield. But, as you can see from the end-zone angle, Newton immediately asserts control of his gap, wedges his blocker upright, and prevents displacement. He shortens the RB's track, thus forcing him inside prematurely.
The RB does a nice job reacting and adapting to what Newton gives him, but because he wasn't able to clear out the LB, the LB can circle around and contain him inside for a short gain. Newton not only created this stop, but he was also nearly able to bend around the block and enter pursuit on his own.
This isn't a flashy play, but it's quietly an awesome showing from Jer'Zhan Newton in run D.

The RB wants to press a little farther outside the B-gap to clear the LB. But Newton asserts control of his block and shortens the track extremely quickly, suffocating the run infield. pic.twitter.com/vunnMwgMrv

— Ian Cummings (@IC_Draft) September 19, 2023
Below, you'll find another example of Newton's one-gapping ability — afforded to him by his strength and leverage. This time, he's working from a 4i against the right guard, who's attempting to drive him outside and clear space inside the A-gap.
Right away, Newton has the take-on strength and pad level to absorb contact, preventing the guard from displacing him. This helps contribute to the clogging of the A-gap, forcing the RB to hesitate. Then, as soon as the RB bounces to the B-gap, Newton violently sheds his block and envelops the ball carrier for no gain.
Newton isn't the largest interior presence. He's 295 pounds and very compact. Despite this, his mix of strength and leverage allows him to stay in control on one-gapping reps, and he has the violent hands and shedding ability to make plays when runners enter his wheelhouse.
Jer'Zhan Newton's burst and flexibility are both superb, but his combination of strength and leverage can be invaluable in run defense.

He's so good at absorbing contact and controlling the point as a one-gapper. Gets RB's to hesitate, then sheds and swallows them up. pic.twitter.com/s5hl4tYnWR

— Ian Cummings (@IC_Draft) September 19, 2023
All this, and we haven't even talked about Newton's pass-rushing ability yet. As impressive as Newton was in run defense against the Nittany Lions, he was arguably more impressive attacking downhill, making the quarterback uncomfortable.
Just as his one-gapping ability is top-tier in run defense, Newton can also be a menace 1-on-1 for offensive guards. He's an explosive pass rusher who also brings incredible nuance and efficiency with his rushes.
There were many examples of Newton's rushing prowess in Week 3, and the play below is just one example — but it shows how quickly Newton can win.
Less than two seconds into the rep, he has a free lane to the QB, and his rapid acceleration forces a check-down. It's a perfectly executed, violent club-swim combo that beats the guard.
Jer'Zhan Newton making a guard's life a waking nightmare 1-on-1, part 2: pic.twitter.com/jwuu1RUYuR

— Ian Cummings (@IC_Draft) September 19, 2023
Newton won over a half-dozen times from the interior. His double-swipe rip combo is particularly effective, and he also showed he could feign club moves to widen blockers before surging inside with powerful bull rushes. But the fusing agent of all of Newton's moves is his hyper-elite flexibility — a trait that perhaps best embodies his Round 1 ability.
The best example of Newton's flexibility can be seen in the clip below. Here, he's working from a 5-tech, head-up from the tackle, and he somehow still manages to generate quick pressure and force a throwaway.
Newton's natural leverage is tough to combat here, and his efficient double-swipe rip combo gets him past the tackle. But it's ultimately his rare ankle flexion and cornering ability — at 6'2″, 295 pounds, no less — that gets him into the pocket so quickly.
Newton effortlessly bends the arc and shortens the corner at his size. It's a brand of flexibility that's actionable from across alignments. But on the interior, splicing through gaps and eliminating step-up lanes for QBs, it's a particularly deadly quality for a defensive lineman to have.
Jer'Zhan Newton forces the throwaway with the double swipe-rip combo — from 5-tech.

I repeat, defensive tackles should not be able to corner like this. pic.twitter.com/gdFQHdS1Km

— Ian Cummings (@IC_Draft) September 19, 2023
Newton's physical framework isn't perfect, and that's something Penn State left tackle Olu Fashanu — a fellow first-round 2024 NFL Draft prospect — helped bring to light on this next play.
While Newton has elite natural leverage at his size, he also lacks great length — which puts a cap on his maximum power capacity and ease of power generation.
As shown below, Newton has the lateral agility to be used on stunts, and he also has the active hand usage to decouple blocks quickly while working across-face. Moreover, he does a great job realigning his base ahead of contact against Fashanu.
Nevertheless, Fashanu is still able to stall out Newton quickly after contact. Part of this is just great execution by Fashanu. He responds instantly to the stunt and gives Newton no imbalance to exploit. But Newton also simply lacks the elite length and power capacity to consistently plow through 320-pound blockers while working across alignments.
Jer'Zhan Newton vs. Olu Fashanu

Newton tries to catch Fashanu off-guard on the stunt, but Fashanu's reaction is lightning quick. As soon as the EDGE diverts inside, Fashanu is extending toward Newton.

Newton does a good job working across-face from the G, but Fashanu is ready. pic.twitter.com/ftSjNfmERF

— Ian Cummings (@IC_Draft) September 19, 2023
Newton Is a DT1 Candidate, Even With His Limitations
Newton's lack of length hurts him in more ways than one. Not only does it naturally detract from his raw power output, but it also forces him to do more work to achieve angle advantages against blockers.
When he has an angle advantage, Newton is absolutely lethal 1-on-1 with his burst, hyper-elite flexibility, leverage, strength, and active hands.
But if he doesn't get an opening early on in reps, he sometimes stalls out, and he doesn't have the natural power to consistently forklift through blocks without the aid of his initial momentum.
Nevertheless, while Newton has some limitations to note, he's still a first-round worthy DT prospect in the 2024 NFL Draft, and his showing against Penn State only reaffirmed that notion.
Newton is a phenomenal one-gapper in run defense who can use his explosiveness, leverage, angle IQ, and violent style to control and erode gaps.
MORE: Free NFL Mock Draft Simulator With Trades
And as a pass rusher, he's an extremely slippery attacker with rare size-adjusted burst and flexibility, and he has the amalgamation of traits to disrupt anywhere from a shaded 1-tech to a 5-tech.
To bottom line this: If you have a scheme that isolates Newton in 1-on-1 matchups, he is built to be a consistent disruptor in both phases. And on tape, that absolutely rings true.
Listen to the PFN Scouting Podcast
Did you know that Pro Football Network has a scouting podcast? Click the embedded player below to listen, or you can find the PFN Scouting Podcast on iTunes, Spotify, and all major podcast platforms.  Be sure to subscribe and leave us a five-star review! Rather watch instead? Check out the PFN Scouting Podcast on our Scouting YouTube channel.
Who Is on the List of Modern-Era Pro Football Hall of Fame Nominees? Looking at the Potential Class of 2024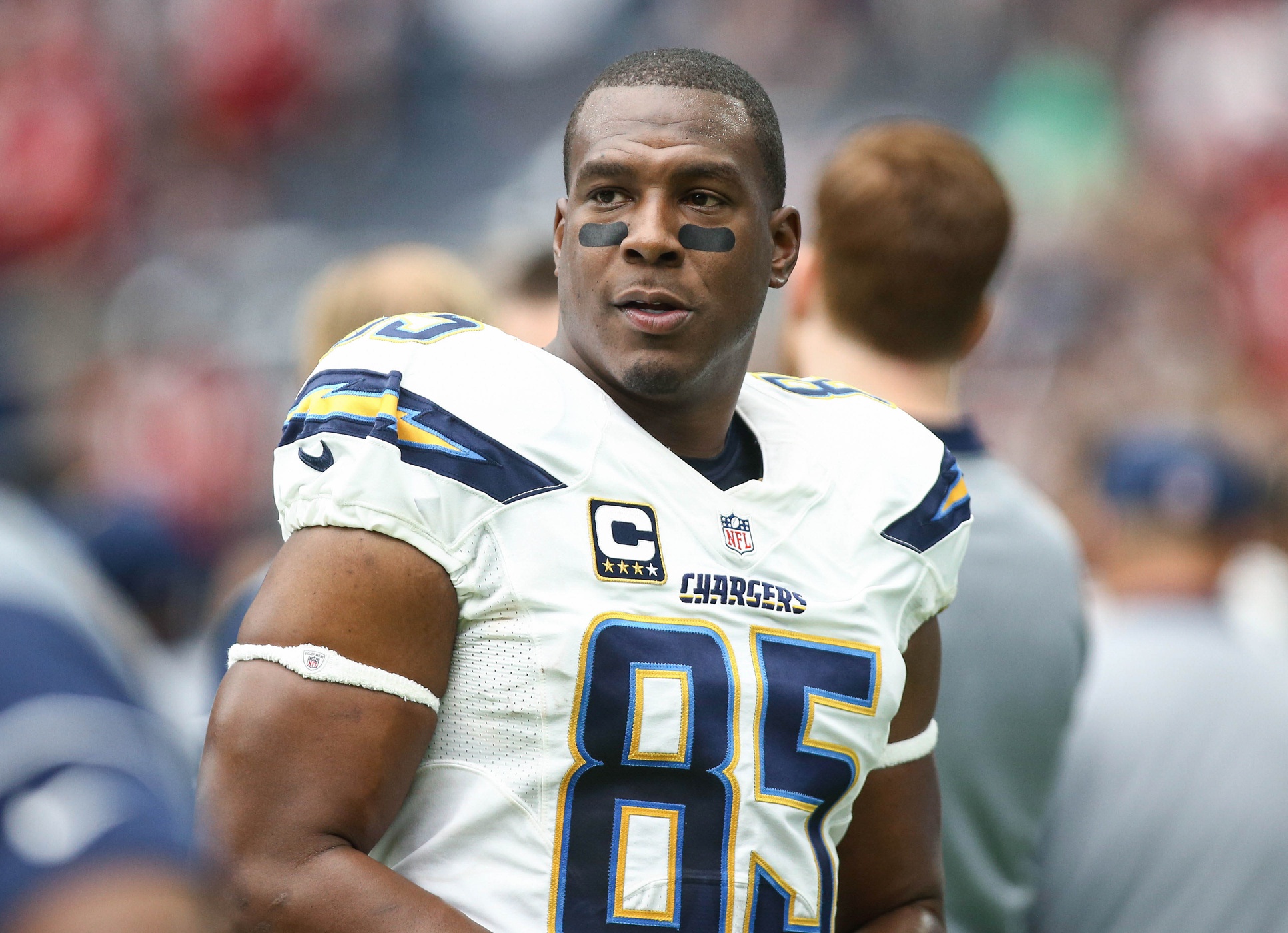 173 names have been added to the list of Modern-Era Pro Football Hall of Fame nominees. Let's look at the group as well as the nine first-time nominees.



Source link
Rashaad Penny, De'Von Achane, and Van Jefferson Can Be Let Go
Roster management is the single most crucial in-season task for fantasy football managers. Knowing which players to let go is just as important as adding the right guys. Which players find themselves on our Week 3 fantasy football cut list?
Looking to make a trade in your fantasy league? Having trouble deciding who to start and who to sit? Check out PFN's Free Fantasy Football Trade Analyzer and Start/Sit Optimizer to help you make the right decision!
Who Should You Cut in Fantasy Football in Week 3?
It's a bit of a light cut list for Week 2, but there are some definitive conclusions we can draw. There are others that I want to draw but will exercise caution, given that it's been just one week. We are still getting to know who these players are for this season.
Nick Chubb, RB, Cleveland Browns (99% Rostered)
I hope this is the most painful blurb I have to write all season. It is heartbreaking to have to include Nick Chubb on this list.
As you well know by now, Chubb's left knee bent the wrong way on a really unfortunate hit Monday night. After the game, head coach Kevin Stefanski said he anticipates Chubb is out for the season.
Fantasy managers can wait for confirmation if they want, but unfortunately, Chubb's 2023 season is over.
Rashaad Penny, RB, Philadelphia Eagles (46% Rostered)
Heading into Thursday night, I thought there was a chance we see a heavy dose of Rashaad Penny. The Eagles made it a point to barely use D'Andre Swift in Week 1. So, with Kenneth Gainwell out, knowing they would activate Penny, perhaps he would've been the lead back with Swift mixing in on passing downs.
Nope. Wrong. That is not what happened. Instead, Swift operated as a bellcow with Boston Scott playing on passing downs. Had Scott not suffered a concussion, it is very likely Penny never would've played a snap.
MORE: Week 3 Buy Low, Sell High Candidates
As it turns out, Penny was inactive in Week 1 because the Eagles view him as the fourth-best running back on the team. Message received Eagles. Fantasy managers who may have hung onto Penny for one more week to see what would happen can now safely release him back into the wild.
De'Von Achane, RB, Miami Dolphins (44% Rostered)
I am reluctant to recommend dropping rookies early in the season. Unfortunately, I have to do it with De'Von Achane.
The Dolphins rookie running back opened the season fourth on the depth chart. Even after Jeff Wilson got hurt, Achane still couldn't get in the game. It took an injury to Salvon Ahmed for Achane to be elevated to "guy who can take a few snaps when Raheem Mostert is tired."
I don't think the Dolphins are anywhere near giving Achane meaningful touches. He still may emerge later in the season, but fantasy managers cannot afford to wait six-plus weeks for that to happen. You can cut him if you need to.
Odell Beckham Jr., WR, Baltimore Ravens (62% Rostered)
The veteran is still operating as a near-every-down player for the Ravens. However, he's just not being targeted.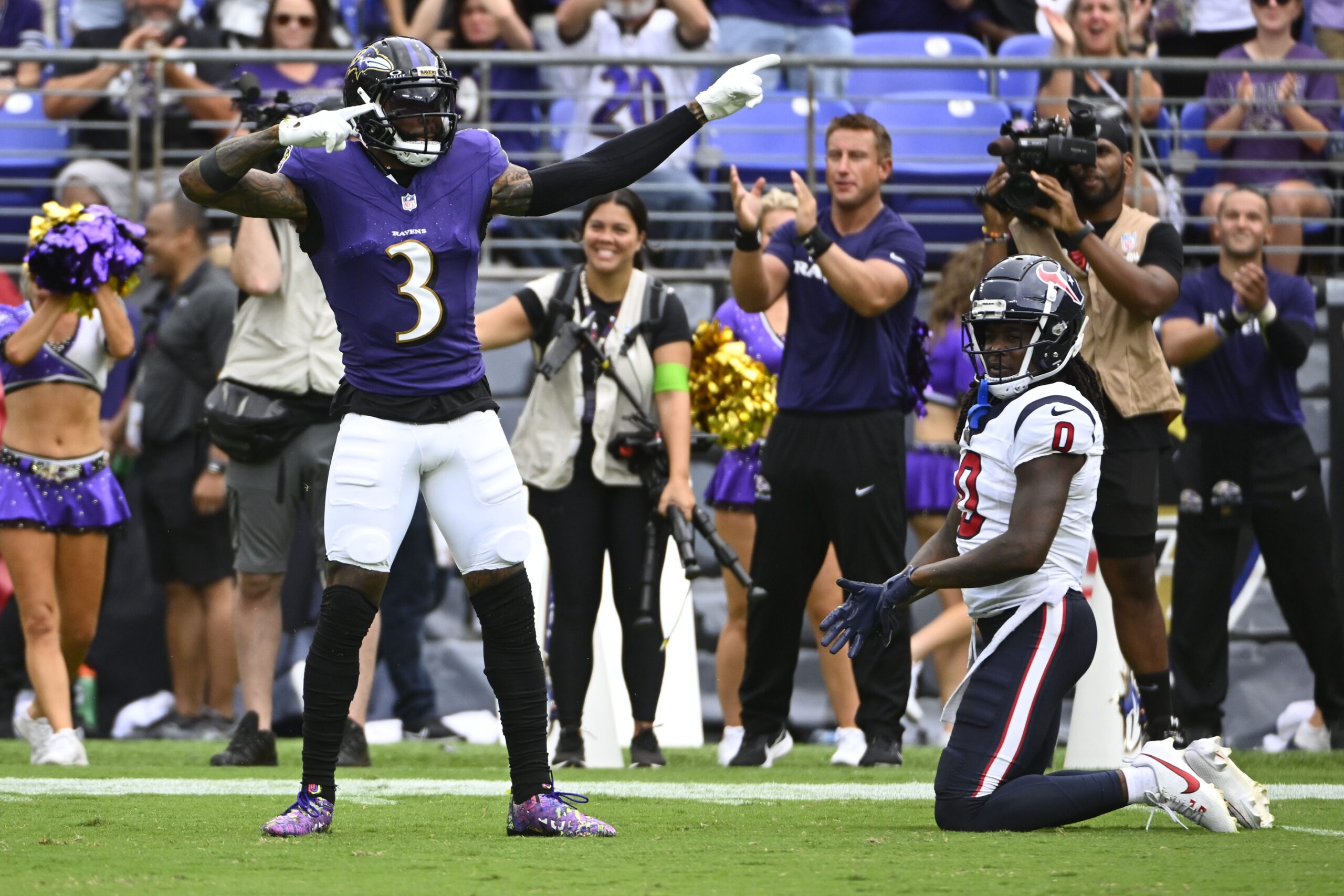 Odell Beckham Jr. saw just three targets in Week 1 and four targets in Week 2. To make matters worse, he sustained an ankle injury. The injury doesn't seem serious, but it's clear that regardless of how many routes Beckham is running, he's not a priority in this offense. It looks to be Mark Andrews, Zay Flowers, Rashod Bateman, and then Odell Beckham Jr. He is not a must-roster player.
Van Jefferson, WR, Los Angeles Rams (17% Rostered)
We know who Van Jefferson is at this point. He's been the same player his entire career. Even though he's running almost as many routes as Puka Nacua and Tutu Atwell, he's firmly behind them in the target priority.
Nacua is essentially the new Cooper Kupp. Atwell has emerged as a very reliable option. Jefferson has commanded just nine targets in two weeks. Nacua just saw 20. There's no contest. You will never feel comfortable starting Jefferson. Just drop him.
Gerald Everett, TE, Los Angeles Chargers (38% Rostered)
It may seem like I'm singling out Gerald Everett, but this really applies to just about any random TE2. You can start all of them, hoping for a touchdown, or drop all of them. It really doesn't matter.
Everett has seen exactly three targets in each of his first two games. He's just not a priority.
The only reason this isn't a stronger recommendation is because I know the players you are likely dropping Everett for, and they're not much different.
The tight end position is a wasteland. Take a shot at whomever you like. This is just to let you know that if you want to drop Everett to throw a dart at someone else, don't be afraid to do so.
Pat Freiermuth, TE, Pittsburgh Steelers (92% Rostered)
An unquestioned top 12 tight end entering the season, I've seen enough after two weeks to call Pat Freiermuth droppable.
To be clear, I am not saying you absolutely need to rid your roster of the Steelers TE1. It's not as if the replacements on the waiver wire are much better. This is more to let you know that if you want to look for a new option, you shouldn't feel like you're doing something wrong by dropping Freiermuth.
Through two games, Freiermuth has seen a total of five targets. He has two receptions for a total of five yards. Yes. The man has five yards on the season after two full games.
There's no way to spin this as a positive. The Steelers' offense is completely anemic. Kenny Pickett is not an NFL-caliber starting quarterback. I do not see brighter days ahead.
MORE: PFN Consensus Rankings
The Muth will score some touchdowns. I'm sure there will be days when you wish you started him. But he's just a random TE2 like a dozen other guys out there. If you feel like someone like Cade Otton or Zach Ertz is more trustworthy, that's a move I have no problem with you making.
Listen to the PFN Fantasy Podcast
Did you know that Pro Football Network has a fantasy football podcast? Click the embedded player below to listen, or you can find the PFN Fantasy Podcast on iTunes, Spotify, and all major podcast platforms.  Be sure to subscribe and leave us a five-star review! Rather watch instead? Check out the PFN Fantasy Podcast on our Fantasy YouTube channel.