Are the Dallas Cowboys a Top-10 Offense Heading Into 2023?
America's Team can't escape expectations. Jerry Jones is 80. Despite possessing the league's 10th-best EPA per play a season ago, even with Dak Prescott missing five games, the Dallas Cowboys allowed Kellen Moore to seek other opportunities as an offensive play-caller. Mike McCarthy will now take over those duties in Dallas.
And with what appears to be a top-five defense heading into 2023, a divisional showdown with the Philadelphia Eagles seems to be the cream of the NFC crop, depending on what happens with the San Francisco 49ers' defense.
But can the Cowboys' offense become more turnover averse once again while also maintaining a level of efficiency and explosiveness in the passing attack?
The Dallas Cowboys' 2023 Offense
Prescott, Tony Pollard, CeeDee Lamb, and Brandin Cooks are an upgrade from what Dallas fielded a season ago. But what might be even more exciting is the prospect of Michael Gallup being back to his old self, which would give the Cowboys three legitimate threats on the outside.
"(Last year) I was thinking too much," Gallup told 105.3 The Fan in Dallas. "My knee was feeling sore, and it was just different. Last year at this time I couldn't walk. It's different now. I feel springy again. It just feels different. It's kind of like in the air. I'm smiling every time I walk in that facility."
Cooks has been somewhat of a journeyman throughout his NFL career. At one point from 2016-2018, he posted three consecutive seasons of 1,000 yards… on three different teams!
MORE: NFC East QB Rankings 2023 — Jalen Hurts and Dak Prescott Battle for Divisional Supremacy
The veteran brings an element to the Cowboys' offense that didn't exist a season ago; speed. And if one thing has become clearer over the past few NFL seasons, it's that speed is the single greatest advantage a team can have on offense. Look no further than the Miami Dolphins with Tyreek Hill and Jaylen Waddle. In a world of two-high defenses trying to take away explosive plays, having the speed to threaten safeties vertically is a must.
And if Pollard remains as explosive as he was a season ago, the rushing attack should provide some splash plays for the offense as well.
Offensive Line Is Dallas' Biggest Unknown
The offensive line is the most significant unknown surrounding Dallas' offensive proficiency in 2023. In March, during the owner's meetings in Arizona, McCarthy discussed looking at Terence Steele at guard.
"I mean, we're talking about it," McCarthy told reporters. "Yeah, we're talking about it. We haven't got in there with those guys yet. [The] offseason program starts in April, but yeah, we'll definitely … we're looking at all those things."
Maybe McCarthy and the eldest Jones should have talked before the meetings, though, because it sounded like Jerry had other ideas.
"He's such a top tackle … as we have it right now, he should be the backup tackle on both sides as we would look at it right today," Jones said during the NFL owners' meetings.
"That's a lot of position flex right there. You say, 'Why don't you move Tyler [Smith] in (to guard)?' But we also know that Tyron [Smith] and Tyler both would make quite a tandem out there. The smart play would be to have outstanding depth there, and Steele gives you that."
The thing is, Dallas didn't select a guard in the 2023 NFL Draft. Which, ironically, could be the best thing for the Cowboys' Week 1 OL rotation.
Tyron Smith – Tyler Smith – Tyler Biadasz – Zack Martin – Terence Steele
That's a unit that the Cowboys can win with on offense. The issue is their Week 1 line won't look the same all season, and that is simply an unwelcome inevitability at this point. Tyron is a fantastic LT, but he hasn't been dependable in well over half a decade at this point. He's only managed to play a 17-game season over the past three campaigns combined.
MORE: Dallas Cowboys Coaching Staff 2023
And that would move everything around. Tyler Smith would slide back to left tackle, while one of Asim Richards, Matt Waletzko, or Chuma Edoga would slide into the starting left guard spot.
But Steele is also coming off a serious knee injury. And although he's reportedly ahead of schedule, there's no guarantee that he'll come back as the same player he was becoming.
The Cowboys' 2022 Offense by the Numbers
The Cowboys' offense wasn't the most efficient offense at all times a season ago, but it had no problem scoring at a high level, particularly when Prescott was on the field.
Dallas finished sixth in points per drive and ranked 10th in offensive drive success rate. They also finished the year ninth in dropback EPA and 13th in rushing EPA. There's really nothing to suggest that the Cowboys weren't a top-10 offense a season ago when Prescott was on the field.
All of that is in spite of the fact that Prescott led the league in interceptions despite missing five games. His interception percentage went from always hovering below 1.9% to 3.8% in 2023. Prescott almost surely won't turn the ball over that much again this season because it was never an issue for him previously.
Are the Cowboys a Top-10 Offense in 2023?
According to PFN's own Arif Hasan, yes. However, they barely found a way to sneak into the meeting. Hasan ranked Dallas as having the 10th-best offense heading into the 2023 NFL season, with some serious competition around them.
The Jacksonville Jaguars — ranked just below Dallas — could have something to say. And although Hasan believes that the Detroit Lions are a likely regression candidate, they have a returning play-caller, QB, OL, and offensive weapons aside from D'Andre Swift, who they replaced with Jahmyr Gibbs.
MORE: Are the Dallas Cowboys a Top-3 Defense Heading Into 2023?
Although there's uncertainty surrounding the 49ers' QB situation at the moment, Kyle Shanahan has proven that as long as he's not down to his fourth option, the offense can remain efficient because of his schematic ingenuity and the team's talent.
It's hard to see how the Cowboys' offense can be much better than hovering around 10th in the league. Dallas will be a top-10 offense in 2023, but they likely won't be able to crack the top five. And in the end, it will be their defense that carries them.
As long as Prescott remains healthy, the team should have regular-season success. But neither the Cowboys' organization nor the fans care about a division title or a Wild Card win.
If Dallas doesn't reach the NFC Championship Game, the season was a failure.
Risers & Fallers Include Malik Nabers, Joe Milton, and Others
Devy fantasy football and future rookie value is a combination of talent evaluation and draft capital projection. Those factors change quickly throughout the college football season, so it is important to stay up-to-date and ahead of your league mates.
Week 3 of the college football season featured breakout performances across the country. It also helped us confirm which players aren't living up to their preseason hype.
Looking to make a trade in your fantasy league? Having trouble deciding who to start and who to sit? Check out PFN's Free Fantasy Football Trade Analyzer and Start/Sit Optimizer to help you make the right decision!
Devy Fantasy Stock Up
Luther Burden, WR, Missouri
Missouri's Luther Burden (5-11, 208) is the best wide receiver in the country that nobody is talking about. Burden is the heartbeat of the Missouri offense. He pulled in seven receptions for 114 yards and found the end zone twice in the Tigers' upset win over Kansas State. 
Burden is a versatile playmaker. He can stretch the field with his speed and win over the top with separation and ball-tracking ability. Missouri also makes it a point to get him the ball near the line of scrimmage so he can show off his elusiveness and field vision after the catch.
Burden had 45 receptions for 375 yards playing along the boundary as a true freshman in 2022. He moved inside to the slot this season and has 22 receptions for 327 yards in just three games. 
Burden is eligible for the 2025 class. He is currently my WR1 in that underrated position group. Missouri will start seeing prime-time action now that they're starting their SEC schedule. You want to get Burden on your roster before everyone else catches on.
Devin Neal, RB, Kansas
Devin Neal (5-11, 210) is flying under the radar in a talented 2024 running back class. Neal pairs patience with an explosive running style. He totaled 148 yards and three touchdowns on 18 touches this past week against Nevada. Through three games, Neal is averaging 7.6 yards/rushing attempt and 16.4 yards/reception.
MORE: Fantasy News Tracker
Neal is a four-star recruit who surprised many by choosing to stay close to home and play for a then-ailing Jayhawks offense. Now, he is the centerpiece of a 3-0 team that is drawing national attention. Neal is currently my RB5 in the 2024 class and is on track to being an early second-round selection in next year's rookie drafts.
Malik Nabers, WR, LSU
Malik Nabers (6-0, 200) is a dangerous Z-receiver that has pro-ready hands and explosive route-running ability. He broke out against Mississippi State this past weekend, hauling in 13 receptions for 239 yards (18.4 yards/reception) and two touchdowns.
Stutter and go from LSU's Malik Nabers and he ends up WIDE open… they simply cannot cover him.

One of the top WRs in the 2024 NFL Draft class, Nabers has 10 receptions for 188 yards and two TDs in the first half today. pic.twitter.com/KxvK0OmWKP

— Bobby Football (@Rob__Paul) September 16, 2023
Nabers is currently my WR2 in the 2024 wide receiver class. His skill set screams quick NFL production, and he projects as a first-round NFL Draft selection. The 2024 class will be carried by the quarterback position, but the value will likely come from quality wide receivers, like Nabers, who will slide to the end of the first round of rookie drafts.
Devy Fantasy Stock Down
Joe Milton, QB, Tennessee
Joe Milton (6-5, 235) is a sixth-year senior at the helm of a potentially explosive offense. Milton has prototypical size and easily has the best arm strength in a talented quarterback class.
Going into the season, the expectation was that Milton could play his way into being a first-round NFL Draft selection if he improved his accuracy, decision-making, and could show off his mobility. 
If you looked at just his box scores, you might be encouraged by Milton's early-season performance. He has completed 64% of his passing attempts for 716 yards, six touchdowns, and just one interception. Milton, though, is a great example of why you need to go beyond the box score when projecting NFL Draft capital.
His Week 3 performance against Florida was very telling. Milton force-fed his wide receivers near the line of scrimmage; the Tennessee coaching staff clearly doesn't trust him to work through progressions under pressure.
When he did push the ball downfield, he overthrew his targets, consistent with his tape from the Austin Peay and Virginia games earlier this season. Milton also looked stiff against the Gators' defense; he struggled to move the pocket and Tennessee didn't call any designed runs the way they did for Hendon Hooker last season. 
Milton's intangibles can't help him overcome the limitations he has displayed in his early-season tape. He will be drafted this upcoming May, but I expect it won't be in the top 100 picks.
Donovan Edwards, RB, Michigan
Donovan Edwards (6-1, 210) is a well-rounded running back who has proved to be a smooth runner and electric pass catcher. The preseason expectation was that Edwards would split touches with Blake Corum.
Corum (5-8, 213) is also a top-100 NFL Draft prospect in the 2024 class. Edwards has 35 touches through three games, compared to Corum's 42. 
Edwards hasn't done much with those 35 touches. He is averaging 3.6 yards/attempt and hasn't found the end zone once. This lack of performance has come in games against East Carolina, UNLV, and Bowling Green (the weakest defenses they'll face all season). His backfield mate, Corum, has scored six times and totaled 254 yards so far.
Edwards is still in the conversation to be a top running back in the 2024 class, but I am backing off the strong preseason conviction I had for him. If this trend continues, I expect that Edwards will return to Michigan for another season and end up in the 2025 class.
Listen to the PFN Fantasy Podcast
Listen to the PFN Fantasy Podcast! Click the embedded player below to listen, or you can find the PFN Fantasy Podcast on iTunes, Spotify, and all major podcast platforms.  Be sure to subscribe and leave us a five-star review! Rather watch instead? Check out the PFN Fantasy Podcast on our Fantasy YouTube channel.
Top Players Include D'Andre Swift, Jerome Ford, and Zay Flowers
Welcome to the Start/Sit Optimizer. Every week, fantasy football analysts, including those here at PFN, are inundated with start/sit questions. Here, we will highlight five of the most popular start/sit decisions and provide a little more in-depth analysis of who to start.
Looking to make a trade in your fantasy league? Check out PFN's Free Fantasy Football Trade Analyzer to help you make the right decision!
Who Should You Start in Fantasy Football This Week?
Kirk Cousins or Daniel Jones?
The Start/Sit Optimizer at Pro Football Network is comprised of our Consensus Rankings. It says to start Kirk Cousins by a pretty wide margin.
Cousins and Daniel Jones were the top-scoring quarterbacks in Week 2. This is a very fair question to ask of two guys who just had what may be their best games of the season.
Ultimately, it comes down to the matchup. Cousins has a home matchup against a Los Angeles Chargers defense that cannot stop anyone through the air. Jones has a road matchup against what may be the best defense in the league (San Francisco 49ers) on a short week.
There will definitely be weeks where Jones is the better start than Cousins. Week 3 is not one of those weeks.
D'Andre Swift or Jerome Ford?
Apparently, I like to make this as difficult as possible for myself. I could've chosen a much easier question to answer. Yet, here we are.
Entering Week 1, the biggest unknown in the NFL was what the Philadelphia Eagles would do with their backfield. We got our answer — it was Kenneth Gainwell. Then, he got hurt.
Entering Week 2, the biggest unknown in the NFL was what the Eagles would do with their backfield. We got our answer — it was D'Andre Swift. And he put on a show.
Swift carried the ball 28 times for 175 yards and a touchdown. He really should've scored three.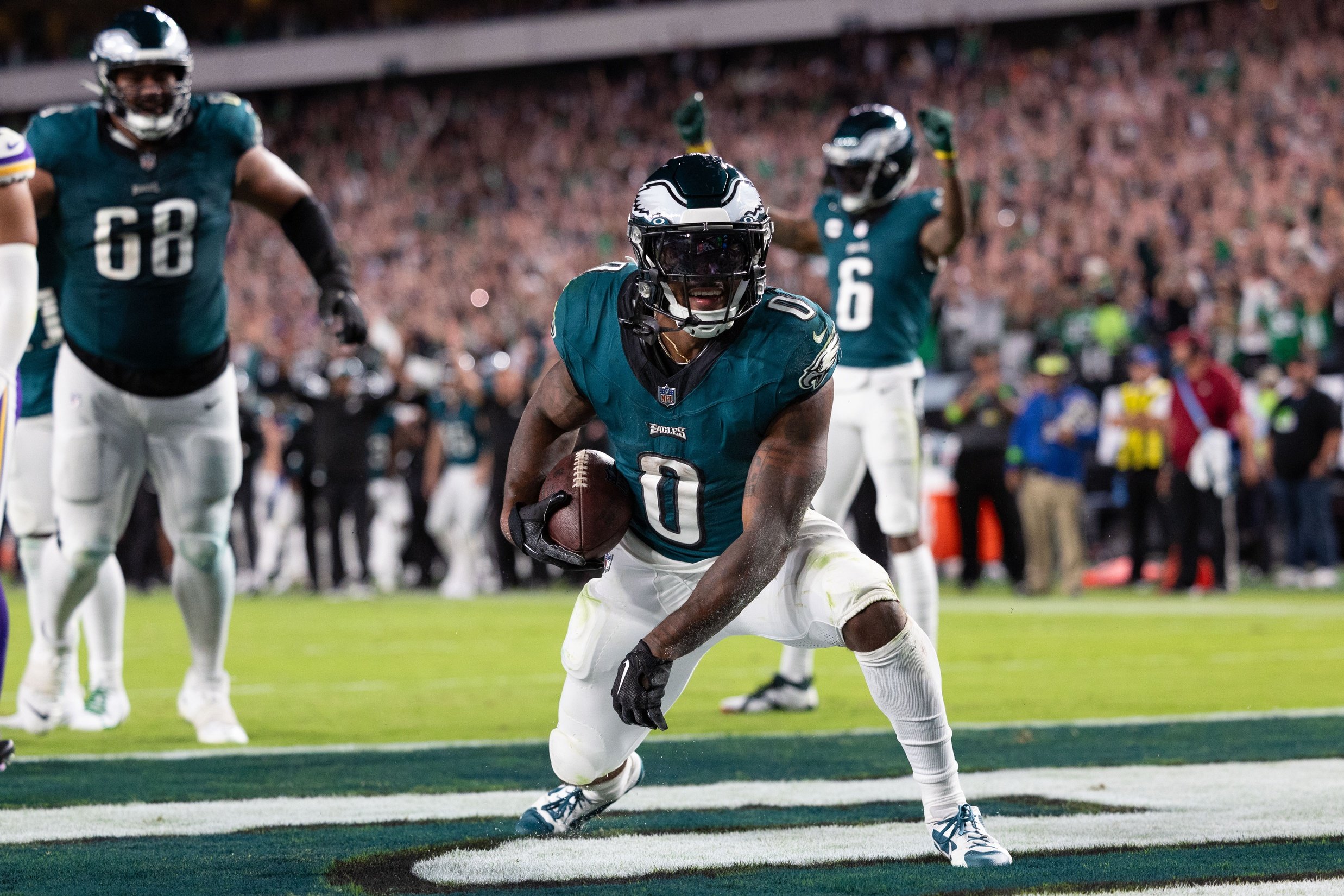 If Gainwell is out in Week 3, this is easily Swift. At the very least, we know how the Eagles will deploy their backs with Gainwell out. But if Gainwell plays, we still don't know what the split will look like.
Based on Week 2, we can be reasonably confident that Jerome Ford is the lead back for the Cleveland Browns. It remains to be seen who they sign for roster depth. It could be a veteran like Kareem Hunt again or Leonard Fournette. It could just be a warm body to put on the back of the roster in case of emergency.
The Tennessee Titans are a pass-funnel defense. They can't stop the pass, but they are elite against the run. Swift also has a tough matchup against the Tampa Bay Buccaneers, but they are not as imposing as the Titans. The Start/Sit Optimizer says Swift. And I agree.
DJ Moore or Zay Flowers?
This one couldn't be closer in the Start/Sit Optimizer. DJ Moore edges out Zay Flowers by the slimmest of margins. I agree that this is one of the toughest start/sit decisions of the week for those of you out there who have to make it.
Moore is coming off a huge week where he caught six passes for 104 yards. Flowers had a big Week 1 but only had four catches for 62 yards in Week 2.
This week, the Baltimore Ravens get the Indianapolis Colts at home, and the Chicago Bears travel to Kansas City. Both have favorable matchups for different reasons. The Ravens get a weaker pass defense, while the Bears will likely see more pass volume while trailing.
Much like the Start/Sit Optimizer, I have Moore one spot ahead of Flowers in my rankings. Based on that, I would start Moore. However, it truly is a toss-up.
Jerry Jeudy or Brandon Aiyuk?
Before Jerry Jeudy strained his hamstring, he was consistently going ahead of Brandon Aiyuk in fantasy football drafts. After Aiyuk's amazing Week 1 performance, fantasy managers would never have considered starting Jeudy over him in Week 2. However, Aiyuk came back down to Earth with just three catches for 43 yards.
Jeudy made his season debut, but it couldn't have been less impactful. Despite being on the field for 68% of the snaps, Jeudy saw just five targets, catching three for 25 yards.
MORE: 2023 Dynasty WR Rankings
The 49ers have a soft matchup against a very uninspiring New York Giants defense. The Denver Broncos will be on the road against a beatable Miami Dolphins secondary.
It's a tricky spot because Jeudy could easily explode after his slow start. Aiyuk is the better player, but he will always be subject to the whims of a loaded 49ers offense.
The Start/Sit Optimizer says Aiyuk, though, and I agree. I am going to need to see more from Jeudy and less from Aiyuk before I swap the two in my weekly rankings.
Kyle Pitts or Sam LaPorta?
I am going to be perfectly candid with all of you: I chose this start/sit dilemma because I assumed the Start/Sit Optimizer would spit out Kyle Pitts as the clear start, and I would finally get to say I disagree with it. Welp. The Start/Sit Optimizer has yet to disappoint. Not even once.
This is so clearly Sam LaPorta. He may be a rookie, but his role in the Detroit Lions offense is fantastic. He's played 82% of the snaps each of the first two weeks and seen a healthy 11 targets. LaPorta basically has a solid 7-8 point floor, and if he ever scores, he will be a top-three tight end.
MORE: Fantasy Player News Tracker
Meanwhile, Pitts is lucky to even see a 70% snap share. LaPorta has more receptions in each of his first two games than Pitts has in both of them combined.
For years, we've been hearing about how Pitts is a unicorn, and he's really a wide receiver. Well, where is it? Maybe it's time to stop blaming the Atlanta Falcons offense and start looking at the player himself.
Given the state of the TE position, Pitts is still as viable as any random back-end TE1, but LaPorta is the clear start over him in Week 3.
Raheem Mostert or Chris Godwin?
I finally did it! I found an answer from the Start/Sit Optimizer that I disagree with! The optimizer says to start Chris Godwin. With the greatest respect, I disagree.
Godwin's volume has been solid through two weeks. He's caught five passes in both of his games for 51 and 58 yards, respectively. Godwin is a safe floor play. He will never fail you, but absent the few weeks he manages to find the end zone, you're likely getting no more than WR3 production.
Raheem Mostert is the clear lead back in what may be the best offense in football. He's seen a 73% snap share each of the first two weeks. While that may drop when Jeff Wilson Jr. returns, that's not happening in Week 3 (or anytime soon).
Mostert just carried the ball 18 times for 121 yards and two touchdowns. He's scored in each of the first two games of the season and is the clear goal-line back.
This week, the Miami Dolphins get the Broncos in Miami. The Broncos just got gashed by Brian Robinson Jr. for 87 yards and two touchdowns. It's another smash spot for Mostert.
On the other hand, Godwin faces off against a tough Eagles defense. Although they struggled against Justin Jefferson and Jordan Addison last week, it is too soon to call this a favorable matchup. With Mike Evans still the clear WR1 in Tampa Bay, give me the bankable volume and touchdown upside that comes with Mostert in Week 3 lineups.
Listen to the PFN Fantasy Podcast
Listen to the PFN Fantasy Podcast! Click the embedded player below to listen, or you can find the PFN Fantasy Podcast on iTunes, Spotify, and all major podcast platforms.  Be sure to subscribe and leave us a five-star review! Rather watch instead? Check out the PFN Fantasy Podcast on our Fantasy YouTube channel.
NFL Week 3 Odds and Betting Trends Against the Spread for Every Game
Take a look at the NFL Week 3 betting odds, and you'll notice plenty of big favorites and a nearly 20-point difference between the highest projected total and the lowest. Before you lock in your bets for the week, consider these betting trends for every game as we go through the NFL Week 3 spreads and lines!
Our Betting Lines page has the freshest lines and promos to get BANG for your buck. PFN's FREE Parlay Calculator and Betting Odds Calculator are also available for your betting process! New to sports betting? Check out our guide on How to Bet on the NFL. Visit our Sports Betting Legal Tracker on how to bet legally in the U.S.
NFL Week 3 Odds and Betting Trends
All odds are from DraftKings Sportsbook and trends from Inside Edge.
New York Giants vs. San Francisco 49ers
Spread
49ers -10.5
Moneyline
Giants +400, 49ers -535
Total
45
The New York Giants were the best ATS team last season (13-4) overall and on the road (6-1), but they are one of seven teams to be 0-2 ATS to open 2023.
The San Francisco 49ers were the best team ATS at home last season (7-2) — this is their first of three straight at home.
Tennessee Titans vs. Cleveland Browns
Spread
Browns -3
Moneyline
Titans +124, Browns -148
Total
39.5
The Tennessee Titans were the fourth-best road team ATS last season (6-2) and covered in New Orleans to open the season.
Under tickets have cashed in four straight Cleveland Browns home games.
Atlanta Falcons vs. Detroit Lions
Spread
Lions -3
Moneyline
Falcons +136, Lions -162
Total
46
Due to the late line movement last week, the Atlanta Falcons failed to cover following an outright win. That's nothing new; they are 3-10 ATS following a W and are again in that spot this week.
Since the beginning of 2021, overs are 5-1 when the Detroit Lions are favored.
New Orleans Saints vs. Green Bay Packers
Spread
Packers -1.5
Moneyline
Saints +102, Packers -122
Total
42.5
Last week went under by 2.5 points at Carolina, moving unders to 11-4 since 2021 following a New Orleans Saints outright victory.
The Green Bay Packers are a sub-.500 team ATS when favored since 2021, failing to cover by an average of 2.3 points (opened as a 2-point favorite).
Denver Broncos vs. Miami Dolphins
Spread
Dolphins -7
Moneyline
Broncos +240, Dolphins -298
Total
48
The Denver Broncos are 4-0 ATS when getting more than a FG since 2022.
MORE: Tua Tagovailoa NFL MVP Odds
Unders were 7-1 at Miami last season — this is the Dolphins' home opener.
Los Angeles Chargers vs. Minnesota Vikings
Spread
Vikings -1
Moneyline
Chargers -110, Vikings -110
Total
54
The Los Angeles Chargers originally opened as 1-point road favorites. Overs are 6-3-1 since 2021 when the Chargers are in that spot.
Keep an eye on this spread — the Minnesota Vikings are 17-4 outright when favored since the beginning of 2021.
New England Patriots vs. New York Jets
Spread
Patriots -3
Moneyline
Patriots -148, Jets +124
Total
36.5
Under tickets have cashed in six of the last eight games in which the New England Patriots have been favored.
The New York Jets haven't scored more than 17 points vs. New England since Nov. 9, 2020 (five straight games).
Buffalo Bills vs. Washington Commanders
Spread
Bills -6.5
Moneyline
Bills -285, Commanders +230
Total
44.5
Unders are 11-3 since 2021 when the Buffalo Bills are a road favorite.
Unders are 9-2 since 2021 when the Washington Commanders are a home underdog.
Houston Texans vs. Jacksonville Jaguars
Spread
Jaguars -8
Moneyline
Texans +300, Jaguars -380
Total
43.5
The road team has won and covered three straight meetings in this series.
Unders were 5-0 when the Jacksonville Jaguars were favored last season, but their 2023 season opener went over the projected total by 6.5 points (3.5-point favorite at IND).
Indianapolis Colts vs. Baltimore Ravens
Spread
Ravens -7.5
Moneyline
Colts +275, ravens -345
Total
44
Unders were 7-0 last season when the Baltimore Ravens played a bottom-10 pass offense.
The Indianapolis Colts were 1-6 ATS vs. top-10 run defenses last season.
Carolina Panthers vs. Seattle Seahawks
Spread
Seahawks -6
Moneyline
Panthers +195, Seahawks -238
Total
42
Only three teams are worse ATS on the road since 2021 than the Carolina Panthers (7-11). Two of those teams (DEN and CHI) are also on the road this week.
MORE: Early NFL Week 3 Predictions and Picks Against the Spread
At 5-10 ATS following a win since 2021, the Seahawks are the fourth-worst team in such spots.
Chicago Bears vs. Kansas City Chiefs
Spread
Chiefs -12.5
Moneyline
Bears +490, Chiefs -700
Total
47.5
The Chicago Bears are just 8-15-1 ATS following an outright loss since 2021.
Since the beginning of last season, the Kansas City Chiefs have been the third-worst ATS team at home (3-7-1). The two teams worse than them (BAL and TB) also host games in Week 3.
Dallas Cowboys vs. Arizona Cardinals
Spread
Cowboys -12
Moneyline
Cowboys -900, Cardinals +440
Total
43.5
Since 2021, the Dallas Cowboys are 9-3 ATS as a road favorite, covering by an average of 5.9 points.
Overs are 9-4 in the Arizona Cardinals' past 13 games vs. top-10 offenses.
Pittsburgh Steelers vs. Las Vegas Raiders
Spread
Raiders -1.5
Moneyline
Steelers +102, Raiders -122
Total
43.5
Unders are 8-4 since 2021 when the Pittsburgh Steelers are favored (opened as a 1-point favorite).
The Las Vegas Raiders have lost six of their past nine games following a loss.
Philadelphia Eagles vs. Tampa Bay Buccaneers
Spread
Eagles -5
Moneyline
Eagles -218, Buccaneers +180
Total
45.5
No team was worse ATS on the road than the Philadelphia Eagles last season (2-6), but they did manage to hold onto the Week 1 cover in New England. Barely.
Five times since the beginning of last season have the Tampa Bay Buccaneers played a top-10 pass defense, and the under tickets have cashed five times.
49ers +7.5 was an UGLY beat, but one bettor at @DKSportsbook won $60,000 on the Rams' backdoor cover.

More at @PFN365 https://t.co/ROqSJTqMWR

— PFN Betting (@PFNBetting) September 18, 2023
Los Angeles Rams vs. Cincinnati Bengals
Spread
Bengals -2
Moneyline
Rams +105, Bengals -125
Total
43.5
Unders are 7-2 since the beginning of last season when the Los Angeles Rams play on the road.
The Cincinnati Bengals are 8-4 ATS following an outright loss since 2021.
Listen to the PFN Betting Podcast
Listen to the PFN Betting Podcast! Click the embedded player below to listen, or you can find the PFN Betting Podcast on iTunes, Spotify, and all major podcast platforms. Be sure to subscribe and leave us a five-star review!