Boston has four different players score 20+ points in Game 5
The Miami Heat might have the panic button out after a loss in Game 5 on the road last night. After winning the first three games of the series, Boston has rattled off two wins in a row. Boston was quick to strike on the Heat and had a 35-20 lead after one quarter. For the entire game, the Celtics had four 20-point scorers, and Miami had no players record at least 20 points. 
In a number of Boston's wins this postseason, it's required a big offensive performance from Jayson Tatum. That wasn't the case in Game 5 vs the Heat. Four of Boston's five starters had at least 20+ points last night. Duncan Robinson led Miami last night with 18 points off the bench.
Tatum and the Celtics are looking to do the impossible. No team has ever come back from an 0-3 deficit in the postseason in NBA history. Teams are 150-0 all-time. The Celtics' two wins in a row have put them on the right track to making history.
The Celtics had 4 20-point scorers. The Heat had 0.

This is the 5th time in NBA postseason history a team had 4 20-point scorers and their opponent had 0 in a playoff game. It is the first time since 2013. pic.twitter.com/Rk0z0Fkxvo

— ESPN Stats & Info (@ESPNStatsInfo) May 26, 2023
Boston routed the Heat in Game 5 last night with a 110-97 win
In Game 5, the Celtics were able to put together one of their better team performances this postseason. The win did not require Jayson Tatum to take over the game. Boston was able to jump out to an early lead and the Heat never recovered. By halftime, the Celtics had a 61-44 lead.
Miami scored just 20 points in the first quarter of Game 5. Gabe Vincent was out last night with an ankle injury and that played a factor into why their offense did not flow the same. Jimmy Butler did not play in the fourth quarter and head coach Erik Spoelstra might have done that strategically.
The Heat need to win Game 6 at home if they want to win this series. After their performance in Boston last night, it's hard to see Miami winning Game 7 on the road. Miami gave Boston the life they needed in this series to make a historic comeback. Game 6 on Saturday night is going to be electric.
Gilbert Arenas calls NBA referees 'f**king emotional dudes' after Chris Paul's ejection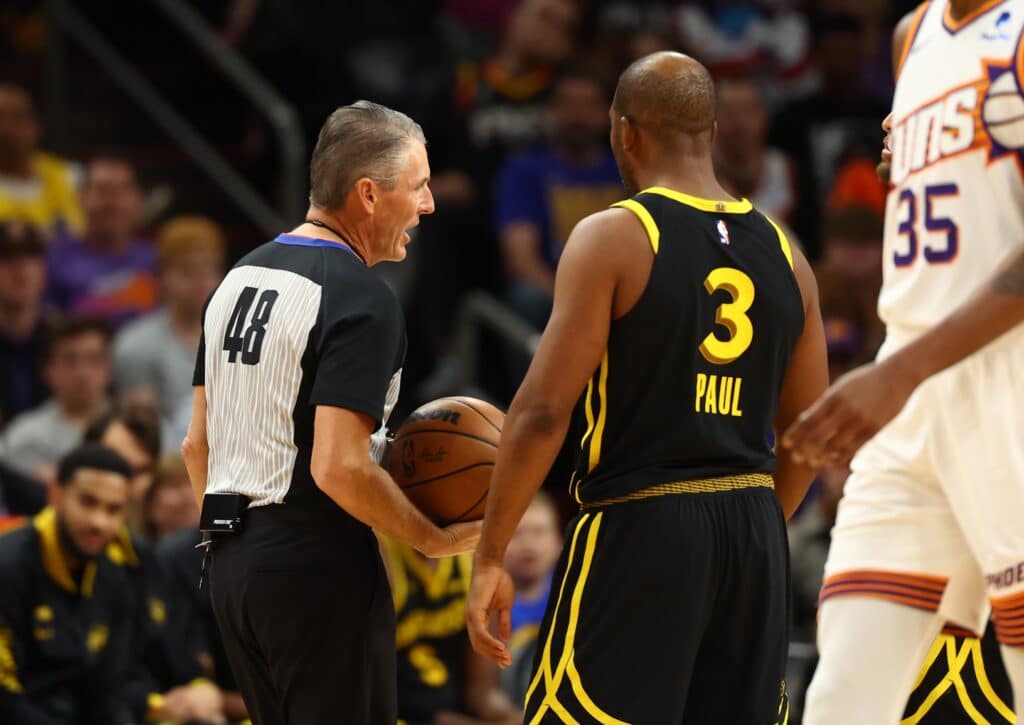 No one really expected Chris Paul to be ejected from this week's game between the Warriors and Suns late in the second quarter. Once again, Scott Foster was the NBA official who took the decision, as it has been known for years that he's had a complicated relationship with the Point God.
It all started when the Golden State guard committed a foul on superstar Kevin Durant during a defensive possession, which resulted in both player and referee arguing about the decision. Paul raised his hand for a second and apparently that was enough to hand him his second technical of the match.
Former star Gilbert Arenas, who owns one of the most popular podcasts around the league, took a dig at NBA officials after they've started out this season with many controversial decisions. Not only did he also have his fare share of run-ins with referees back when he played, he also is witnessing how easily athletes are punished nowadays just for showing little emotion.
CP3 gotta control his emotions but Scott Foster don't gotta control his? 🤔 pic.twitter.com/WZQzM0rxa8

— Gilbert Arenas (@GilsArenaShow) November 23, 2023
"Someone should ask Adam Silver this, 'If I'm a player, I'm playing a game that's emotional, I'm acting in real time, real deep human emotions and when I don't control my emotions, a ref can give me a technical [foul]," he said about officials getting too involved with the players.
Arenas doesn't believe referees are hold accountable as much as the competitors are. "Which means, whatever I said to him, irritated him so bad that he didn't control his emotions and he gave me a tech. So, my emotions, led to him being emotional but he gets to give me a technical and that's fine. How?'" he asked.
"There's no nothing for him," Gilbert added. "He doesn't leave it with a win or loss. Whatever he does, $6,000, $3,000, whatever he makes, he gets it no matter f**king what."
On his own podcast, Arenas ranted about what justifies an official to act so poorly on the basketball court. "What's a ref's record? 0 ad f***ing 0 his whole career. There's no win or loss. You just look at the game … That's the most f***ing emotional dudes in the game," he concluded.
Stephen Curry and Kevin Durant were also impressed by Paul's ejection, who called out the ref's decision as a personal vendetta
Not only did Chris felt surprised after the ejection, describing it a personal revenge from Scott Foster, but also the other players on court didn't understand the referee's call.
"I think we were down double digits already, and we obviously needed CP and his leadership and the way he manages the game. I don't like and appreciate – I know there's history and all that, I know he talked about it, when both the player and the ref engage in conversation, that has to kind of stay there. I told Scott that after he ejected him," Stephen Curry said postgame.
Once Phoenix conquered the match on Wednesday night, forward Kevin Durant gave his take on the matter and gave a very candid reaction.
"I didn't see it coming, but I looked it up and they was talking for a little bit longer," said the Suns star. "I kinda felt like it wasn't a warm exchange. I knew after I saw a couple extra minutes of them talking, I knew something different. I didn't get to hear what was going, but it was this crazy sequence of what like, three or four techs, Chris getting thrown out the game. You know the history that him and Scott has, it was definitely a weird ending to the half, but I'm glad we got points out of it."
Memphis Grizzlies legend Tony Allen clowns Dillon Brooks
It's no secret that Dillon Brooks and the Memphis Grizzlies had an ugly divorce. However, even though Brooks is now with a new team (the Houston Rockets) and Memphis now has a new defensive pitbull (Marcus Smart), it seems as though there is still some animosity between the two parties.
Brooks Says Memphis Misses Him
After finishing 22-60 (win percentage of 26.8%), the Rockets are off to a refreshing 7-6 (53.8%). And a big part of their success has been the contributions provided by Brooks. On the season, Brooks is averaging 13.8 PPG and 1.2 SPG on 45.3% 3-point shooting. Meanwhile, after finishing 51-31 (62.2%) with the second-best record in the West, the Grizzlies have stumbled out of the gates with a 3-11 record (21.4%).
And instead of silently enjoying his new team's success and his old team's demise, Brooks decided to throw a couple of jabs at his former employer.
Dillon Brooks on if the Grizzlies miss him:

"[I am] like the girlfriend that you used to have. You don't know how good she is until she's gone."

(via @Jonathan_Feigen, https://t.co/udR37bv7Hu) pic.twitter.com/yPeTNv6D1Q

— Legion Hoops (@LegionHoops) November 21, 2023
In an interview with the Houston Chronicle's Jonathan Feigen, Brooks stated that he was "[L]ike the girlfriend that you used to have. You don't know how good she is until she's gone."
The Original Defensive Specialist Fights Back
No matter where your fandom lies, you have to admit that Brooks' analogy was clever. And it would have been a really great moment for him had a former Grizzlies legend not decided to clap back at him.
Before Brooks, Memphis had a different All-League caliber perimeter defender: Tony Allen. Allen spent his best years (2010 to 2017) in Memphis back in the "Grit and Grind" era. And Allen loves his Grizzlies, so you better believe he wasn't going to let Brooks throw shade at his organization.
That is why Allen decided to counter Brooks' comments during his appearance on the Chris Vernon Show.
Former Grizzlies G Tony Allen on Dillon Brooks' "Ex-girlfriend" comment 🗣️

"You the same chick. I just saw what LeBron just did to him too. He gave him 37, 9 and 8, he's still over there getting his ass bust. We ain't miss nothing"

(via @grindcitymedia)pic.twitter.com/pwHM37qIJR

— ClutchPoints (@ClutchPoints) November 22, 2023
"You the same chick," Allen said. "I just saw what LeBron [James] just did to him too. He gave him 37, 9, and 8. He's still over there getting his ass busted. We ain't miss nothing."
Ouch. That has got to hurt. And the fact that Allen played a similar role on his Grizzlies teams to the one that Brooks played when he was with the team only makes it funnier.
Will Brooks have something in his bag for Allen? I guess we will have to wait and see.
Joe Smith now reveals that his wife accused him of 'having sex with her daughter'
Ever since Joe Smith found out his wife was secretly solving their money problems on OnlyFans and she posted his reaction online, they've both found themselves in the limelight for all the wrong reasons. As they've struggled through the past weeks, a lot of details have surfaced the internet about their past, adding more context to their complicated relationship.
Recently, the couple appeared on Live Bitez, and the former basketball player revealed that Kisha has always been difficult, as she once accused him of sleeping with her daughter.
"She's the same person who accused me of having s*x with her daughter," the ex-NBA star said. "She found panties in our laundry because we all shared the same laundry room and accused me of having s*x with her daughter."
"Accused me of having s*x with daughter" – Joe Smith & Kisha Chavis drama hits new low after former NBA player reveals more shocking incidents https://t.co/Qcoc8jG02Y

— Sportskeeda Affiliate Program (@SportskeedaAff) November 23, 2023
Smith explained how unnatural it felt that Chavis would even dare to accuse him of such a thing, to what she backed her side of the story by revealing she found panties in the bedroom. This is the moment when Joe corrected her and said the panties were actually found in the laundry room.
However, it doesn't stop there, as Kisha had also accused her husband of having an affair with another woman. She guaranteed she has screenshots of the conversations as proof.
In another interview with Kevin Wesley's The Truth Factory, the couple shed even more light on their relationship. However, it seems pretty obvious their marriage is being held by a delicate thread, as the former Lakers star walked out of the interview after one of her remarks.
"I'm really upset," his wife said, "because you know how behind every good man there's a good woman? Well, I feel like a piece of s***. That's how I feel having that man in front of me. Because he's not being great, and I know he can be. What is it about me that you can't get it together?"
"Someone needs to help him," she added. "Shaq, can he get a Papa John's?"
Smith revealed he's mostly been having money problems because he lost $80 million after NBA called him out for famous 'under-the-table' deal
The former No. 1 pick has been attending many interviews lately and it has been almost impossible not to relive his infamous scandal early in his career after he agreed to an under-the-table contract in Minnesota. Smith now revealed that this illegal negotiation cost him $80 million.
"There was an under-the-table deal done with my agent and the organization without me being involved, but I eventually ended up having to pay the penalty," Smith recalled. "But I mean, it was an under-the-table deal. That one was, I guess, worth $80 million."
The NBA realized this was going one after a court case ensued in which former agents and partners revealed the documents of those secret negotiations.
"Things happened with a partnership where they were splitting and going their separate ways. They had to go to court and get their situation settled," shared the ex-NBA player. "It came out in court from one of the agents that that deal was done and that deal was under the table, and all of a sudden, it's all in the media."