American Association of Professional Baseball
Cleburne Railroaders (7-3, 1st in East)
Cleburne will welcome its fans to its home opener on Tuesday as the top team in the East Division with a 7-3 record, fresh off a huge 4-2 series victory on the road in Milwaukee. The Railroaders' offense has been outstanding to start the year, scoring 94 total runs in their 10 games, by far the most in the Association. They've hit a league-high 18 home runs as a team and have an impressive team OPS of .903. The Railroaders' offensive machine is led in part by rookie Ryan Hernandez, who has four home runs and 13 RBI on the young season. Former major leaguer Delino DeShields has also been a welcome addition, hitting .349 on the year with a grand slam as well. The Railroaders' pitching staff hasn't been shabby either, as they lead the league in strikeouts with 103.
Sioux City Explorers (8-1, 1st in West)
How about the Explorers? Sioux City is off to its best start in franchise history at 8-1 after going on the road to Kane County and sweeping the Cougars. Contrary to Cleburne, what pops off the stat sheet when you look at the start for Sioux City is the pitching staff. The Explorers currently lead the league in ERA at 2.39, nearly a full run better than the next closest team. Solomon Bates leads the squad with 17 strikeouts after winning pitcher of the week honors for his seven strong innings against the DockHounds on Thursday. As a team, they have given up more than two runs in a game just twice this season. Offensively, Vince Fernandez has been the run producer, sitting in 7th place on the league leaderboard with 11 RBI.
Chicago Dogs (6-3, T-2nd in East)
Chicago is feeling good going into a big six-game set against Cleburne as it's won each of its three series to start the season, including most recently against the reigning champion Fargo-Moorhead RedHawks. Chicago has been stronger on the pitching side than offensively as well, sitting third in team ERA with a 3.18, including two shutouts. The Dogs have done their damage by winning close games and coming up with clutch hits, most notably from league home-run leader Josh Altmann who has five. The signature moment thus far of the Dogs' season came on Mother's Day, when Altmann hit a three-run shot to tie the game in the ninth with his mother in the stands. 
Gary SouthShore RailCats (6-3, T-2nd in East)
Speaking of teams who have won all of their opening series, the Gary SouthShore RailCats are even with the Dogs and competing in a tightly packed East early on, most recently going on the road to take two of three from Lincoln. Offensively Gary has been in the middle of the pack, but the bats have exploded in a few games including a 10-0 win against Winnipeg and a 13-1 win against Kansas City. However, the pitching has been very strong, boasting the league's second best ERA at 3.15 and second-best BAA at just .219. Offensively, LG Castillo and Francisco Del Valle have led the way with 13 RBI and 3 home runs respectively, with Daniel Lingua also leading the team with a .379 batting average.
Fargo-Moorhead RedHawks (5-4, 2nd in West)
If you expected the RedHawks to be higher on this list after what we saw last season, you wouldn't be alone. However, it's still been a solid start for the reigning champs, who won their first two series in Kane County and against Winnipeg, but just dropped two of three in Chicago. Now that the banner celebration is over and the rings have been passed out, the RedHawks will have to get the bats going as they're currently hitting just .221 as a team. The talent on this team has still been on display though, with Sam Dexter hitting .321, Correlle Prime doing work at the plate and on the mound, and a strong rotation including league legend Kevin McGovern, Tyler Grauer and closer Reid Birlingmair who has four saves already.
College Baseball's Top 50 Strike-throwers • D1Baseball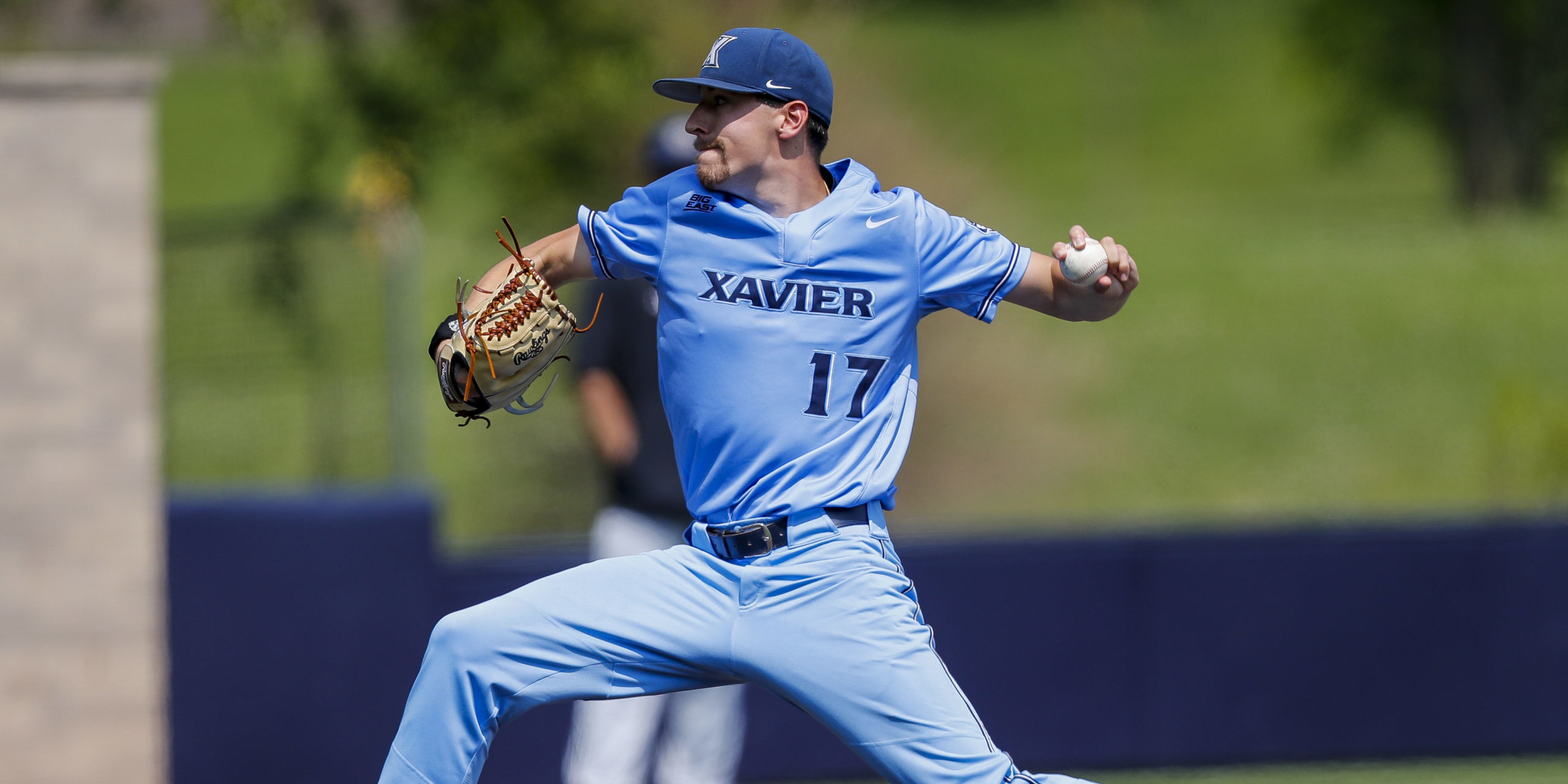 Prospects
David Seifert – May 23, 2023
With 101 flame-throwers on our latest Heat Sheet, it's time for an update to college baseball's top 50 strike-throwers.
Brant Alazaus (Xavier) rose from No. 12 in Control Artists 2.0 to become our regular season champion. In 86.2 innings this spring, the lefty grad student walked just eight batters. Joining him for top painting honors were Noah Covington (UMES) who has lived at the top of Control Artists throughout the season and Jack Metzger (Dartmouth). Covington walked just nine batters in 96 innings, while Metzger allowed just six in 63.1 innings.
There was only one pitcher who appeared[…]
Penn wins inaugural Ivy League Tournament, takes first title since 1995 • D1Baseball
Columns
Shotgun Spratling – May 23, 2023
PHILADELPHIA — The sensation of deja vu washed over many of the Penn veterans. A Quaker batted ball firing down the left field line during a battle for the Ivy League championship, its destiny to be determined by the left or right arm of the third base umpire. 
Senior first baseman Ben Miller tracked the ball from the on-deck circle last year and like many Quakers was in disbelief when Andrew Hernandez' potential game-tying three-run homer against Columbia was ruled to be foul. This year, Miller had the closest view of any Penn player. He was jogging between second and[…]
Weeks 13 & 14 • D1Baseball
Prospects
David Seifert – May 23, 2023
Fourteen Weeks. 101 Power Arms.
Heading into the final weekend of the regular season with 97 flame-throwers on the #HeatSheet, Jake Bloss (Georgetown) reached 97 on numerous occasions during his start at Xavier.
At the Ivy League Tournament, Eli Trop (Penn) tickled 97 in relief, while Harvard's Chris Clark pumped 96 during his start against Princeton.
And down in Hattiesburg, Niko Mazza reached 96 numerous times during his relief appearance for the Golden Eagles against the Ragin' Cajuns.
In Week 13 action, Vanderbilt teammates Greyson Carter (97) and Bryce Cunningham (96) joined the #HeatSheet in their series against Florida, while[…]
FILED UNDER Adam Boucher, Aidan Weaver, Alejandro Rosario, Alton Davis II, Andrew Lindsey, Andrew Walters, Austin Gordon, Austin Troesser, Benny Thompson, Brady Kirtner, Brandon Sproat, Brett Banks, Bryce Cunningham, Cade Kuehler, Cade Smith, Camden Minacci, Carlson Reed, Carson Pierce, Carter Holton, Case Matter, Chandler Marsh, Chase Burns, Chase Dollander, Chase Hopewell, Chris Clark, Christian Foutch, Connor Foley, Donye Evans, Drake Thames, Drew Beam, Drew Conover, Eli Trop, Ernie Day, Gage Wood, Garrett Edwards, Grayson Moore, Greyson Carter, Hagen Smith, Hunter Furtado, Hunter Owen, Hurston Waldrep, Jac Caglianone, Jack Crowder, Jack Mahoney, Jackson Baumeister, Jake Bloss, Jake Eddington, Joey Dixon, Josh Ekness, Kade Woods, Khristian Curtis, Logan Tabeling, Luke Holman, Luke Jewett, Michael Massey, Niko Mazza, Nolan McLean, Patrick Reilly, Paul Skenes, Peter Gallo, Pierce George, Rhett Lowder, Robby Porco, Ryan Bruno, Ryan Vanderhei, Sam Horn, Sam Knowlton, Seth Halvorsen, Seth Keener, Simon Miller, Skylar Hales, TJ Nichols, Travis Luensmann, Tucker Biven, Ty Cummings, Wesley Sweatt, Zach Franklin, Zach Fruit, Zane Morehouse