5 Best WNBA Prospects In March Madness
With the 2023 NCAA Women's Tournament Final Four scheduled for this Friday, March 31, five of the best WNBA prospects left in March Madness are on the minds of many college basketball fans. For a reminder, the 2023 WNBA Draft is set for Monday, April 10 at Spring Studios New York. This will be the 28th draft in WNBA history.
5.) Angel Reese, 6-foot-3 forward | LSU
Sophomore forward Angel Reese is projected to be a late first-rounder to early second-round pick in the 2023 WNBA Draft. She recorded 28 double-doubles this season, breaking Sylvia Fowles' school record of 27. Through 34 starts this season, the Maryland native is averaging career highs of 23.2 points, 15.7 rebounds, 2.2 assists, 1.8 steals, 1.6 blocks, and 33.6 minutes per game.
Angel Reese has the MOST DOUBLE-DOUBLES in a single season (SEC record) 📈 pic.twitter.com/u37VbVCcPE

— Bleacher Report (@BleacherReport) March 27, 2023
Plus, she's shooting career bests of 52.6% from the field and 70.8% beyond the arc. Reese led the SEC in points per game, points (790), total rebounds (533), 2-point field goals (277), free throws (233), win shares (12.6), offensive win shares (8.6), and defensive win shares (4.0).
She was selected 2022-23 SEC All-Defense and named to the All-SEC First Team. On another subject, No. 3 LSU will play either No. 1 Virginia Tech or No. 3 Ohio State this Friday, March 31 in the Final Four.
4.) Brea Beal, 6-foot-1 guard | South Carolina
Next, the Indiana Fever are projected to select Brea Beal at No. 7 in the 2023 WNBA Draft. The senior guard would be a solid defensive addition for the Fever. Through 35 starts this season, Beal is averaging 6.3 points, 2.7 assists, and a career-high 1.1 blocks per game.
Brea Beal wasn't on mock drafts at the beginning of the season and now she's predicted to be a top 10 pick!! 👏🏾. Keep being great 12!!

— Lamar 🤴🏾 (@TheDabKingNC) March 4, 2023
Additionally, she's also shooting career bests of 42.7% from the floor and 38.7% outside the arc. Beal ranks 15th in the SEC in assists (93), 13th in blocks (37), and 12th in win shares (5.2). Not to mention, the Illinois native leads her conference in defensive box plus/minus (7.7).
However, a few WNBA mock drafts show Beal as a potential early third-round pick. At the moment, scouts are undecisive. Will South Carolina appear in another Final Four this Friday? The odds are in their favor.
3.) Jacy Sheldon, 5-foot-10 guard | Ohio State
Furthermore, senior guard Jacy Sheldon is expected to get selected No. 9 overall by the Seattle Storm in this year's draft. Although the Ohio native only appeared in 12 games this season due to a lingering leg injury, she still has the skill and NCAA experience needed to succeed at the WNBA level. During her junior 2021-22 season, Sheldon averaged career highs of 19.7 points, 7.0 field goals, and 33.9 minutes per game.
JACY SHELDON GAME-WINNER 🔥

OHIO STATE IS HEADED BACK TO THE SWEET 16‼️ pic.twitter.com/d0ynZ6ywrB

— SportsCenter (@SportsCenter) March 20, 2023
In 2022, she was named to the All-Big Ten First Team and Big Ten All-Defensive Team. To add to these statistics, the guard shot a career-best 36.6% from 3-point range during her junior year. Through 12 starts in her senior season, she averaged 12.8 points, 3.5 boards, 3.7 assists, and 3.8 steals per contest. Some WNBA scouts are anticipating Sheldon to fall as low as an early second-round pick.
2.) Diamond Miller, 6-foot-3 guard | Maryland
As for Maryland standout Diamond Miller, a number of mock drafts show the senior guard from Somerset, New Jersey, being second overall by the Minnesota Lynx in the 2023 WNBA Draft. In 33 starts this season, the 22-year-old averaged career highs of 19.6 points, 6.5 rebounds, 2.9 dimes, 2.1 steals, 1.3 blocks, and 28.8 minutes.
First half: 4 PTS
Second half: 14 PTS

Diamond Miller FLIPPED THE SWITCH to lead Maryland to the Elite Eight 😤 pic.twitter.com/8c2rfaORIo

— ESPN (@espn) March 25, 2023
Miller finished third in the Big Ten in points (647), 11th in total rebounds (214), 19th in assists (97), third in steals (70), and fourth in blocks (43). The Maryland guard was then selected to the All-Big Ten Tournament.
Following her junior year, she was sidelined for multiple months after undergoing knee surgery. So, can No. 2 Maryland upset No. 1 South Carolina on Monday night to advance to the Final Four? Bettors don't think so.
1.) Aliyah Boston, 6-foot-5 forward | South Carolina
Lastly, senior forward Aliyah Boston of South Carolina is the projected top overall pick in this year's draft. At 6-foot-5, the four-time SEC Defensive Player of the Year, four-time SEC All-Defensive Team member, and two-time SEC Player of the Year is more than ready for the WNBA.
Last year, Boston and the Gamecocks won 64-49 over UConn to win the national championship. Boston won NCAA Tournament Most Outstanding Player and Naismith College Player of the Year as well. In the 2021-22 season, the top prospect averaged career highs of 16.8 points, 12.5 boards, 2.0 assists, 1.2 steals, and 2.4 blocks in 37 starts.
ALIYAH BOSTON IS A PROBLEM 😳 ✋ pic.twitter.com/VhmG0cJCFW

— Bleacher Report (@BleacherReport) March 28, 2023
While her senior season has not been as dominant, two NCAA championships would look nice on any player's résumé. And at least Boston led the SEC in offensive rating (134.1), defensive rating (68.8), and box plus/minus (19.2). Injuries aside, the No. 1 prospect has nothing left to prove.
She has averaged 12.9 points, 9.8 rebounds, 1.8 dimes, and 2.0 blocks in 35 starts this season. Moreover, will No. 1 South Carolina defeat No. 2 Maryland on Monday night to advance to the Final Four? The Gamecocks enter as 14.5-point favorites.
---
Check More of Our March Madness College Gambling 2023 Guides
---
Wizards Coach Wes Unseld Jr. Contract, Salary, Net Worth, & more
Basketball is in Wes Unseld Jr.'s blood. He is quite literally named after one of the 75 greatest players in NBA history. Yes, he's the son of former player, coach, and executive, Wes Unseld. Nowadays, Unseld Jr. is head coaching the team (the Washington Wizards) that his father once won the NBA title with back in 1978.
But how much does he make? In this post, we discuss Unseld Jr.'s salary, his net worth, coaching record, and more.
Wes Unseld Jr. Contract And Salary
In 2021, Unseld Jr. signed a four-year contract with the Wizards. He is currently in the third year of that deal. Unseld Jr. makes about seven million dollars per year (per Salary Swish).
That annual value is a bit steep for a first-time head coach, as in other posts, we've seen first-timers like Adrian Griffin and Joe Mazzulla get significantly less on a peer year basis (Griffin makes four million per year, while Mazzulla makes about 4.7 million).
Wes Unseld Jr. Net Worth
Unseld Jr.'s net worth is about five million dollars. Some of that money might have been inherited from his father, who, as we mentioned, had a successful NBA playing career.
But most of that five million has probably been accrued through Unseld Jr.'s coaching career. Unseld Jr. became a head coach in 2021, but he's been an NBA assistant coach since 2005. He actually started out with the Wizards from 2005 to 2011. He then moved to the Golden State Warriors bench for a season before transitioning over to a position with the Orlando Magic for three seasons (2012-15). Unseld concluded his time as an assistant coach with a six-year run with the Denver Nuggets (2015-21).
Wes Unseld Jr. Head Coaching Record
So far, Unseld Jr. has been the head coach in 178 regular season games. In those games, Unseld Jr. has posted a record of 72-106 (win percentage of 40.4%). His record is a bit negatively skewed as Unseld Jr. has been tasked with overseeing a rebuild project in Washington (particularly during this season).
As of right now, Unseld Jr. has never been the head coach in a playoff game.
Wes Unseld Jr. Wife
Unseld Jr. is married to Evelyn Unseld. The couple has been together for over a decade now. The couple has two children together.
As we mentioned multiple times before, Unseld Jr. is the son of NBA legend Wes Unseld.
'He looks like he's 25 or 27'
If you would watch LeBron James play, and ask an outsider who doesn't know much about basketball what age he thinks he is, he would probably say late twenties or early thirties. The soon-to-be 39-year-old keeps marveling anyone who witnesses his game, and Dallas coach Jason Kidd was no exception after he scored 26 points, won 9 rebounds, and handed 7 assists against the Mavericks on Wednesday.
Even though the Texan franchise won 104-101, the Lakers forward caught everyone's attention. Before the game, the rival's coach went as far as to say he's jealous of LeBron's performances so late in his career, especially as he's averaging 25.7 points, 8.1 rebounds and 6.7 assists so far this campaign.
The Hall of Famer believes the L.A. star still looks like he's 25 or 27 on the court. "Yeah, I'm jealous," Kidd said. "I'm for sure jealous of what he's able to do at this point of his career. He looks like he's 25 or 27, somewhere in between there."
Jason Kidd had high praise for what LeBron James is continuing to do at this stage of his career:https://t.co/8RIEqdTO7O pic.twitter.com/q0Fgjt6fBb

— Lakers Nation (@LakersNation) November 24, 2023
The former athlete has a unique perspective on LeBron's late-career success, as he was a member of the purple and gold coaching staff in the team's 2020 NBA Finals run. Also, the 50-year-old played past his 40th birthday, and know it's not easy to remain at the top of your game at this age.
"Listen, he looks great. But I think with the understanding of being around LeBron, he takes care of his body. Everybody talks about his body, but I think it's more his mind," the trainer shared. "Just being young, he doesn't feel old. He has a lot of energy, he loves the game of basketball, and he's always out to prove that he can play at a high level or prove someone wrong. And he's doing that right now. He might play to 50 if he wants."
James has always felt the pressure of being great, and never caved into the high-expectations around him, as he only improved to impress throughout his career. Kidd believes that he always proved his detractors wrong and keeps at it because he done things the "right way."
Kidd explained why taking care of your body and energy are key to preserve your basketball game coming into old age
Jason used LeBron as an example of what to do to preserve yourself even though the years are starting to creep in on you late in an athlete's career.
"It's just amazing — his spirit, his energy that he comes to work every day understanding that he was never under the radar," shared the Mavs coach. "He always had millions of people watching him, just wanting him to fail or not do well. He's always gone out there to prove those people wrong and play the game the right way."
Let's not forget how Jason also had a Hall of Famer career in the NBA, and even showed great skill when confronting a young James in 2011. Check the video above to relive this intense clash.
"He's a champion. His IQ is off the charts, he knows what people are doing before they do it," Kidd expressed. "But I just think every summer, he's always trying to add something to his game, and he's played for 50 years now. It's just amazing that he could do 50 different things each summer."
Gilbert Arenas calls NBA referees 'f**king emotional dudes' after Chris Paul's ejection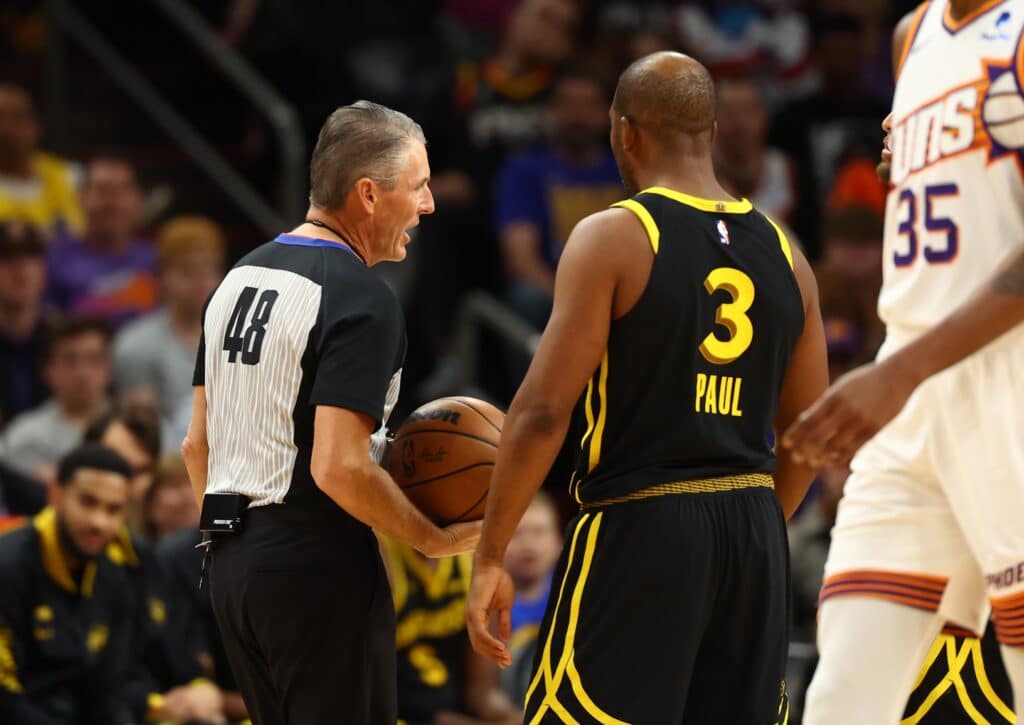 No one really expected Chris Paul to be ejected from this week's game between the Warriors and Suns late in the second quarter. Once again, Scott Foster was the NBA official who took the decision, as it has been known for years that he's had a complicated relationship with the Point God.
It all started when the Golden State guard committed a foul on superstar Kevin Durant during a defensive possession, which resulted in both player and referee arguing about the decision. Paul raised his hand for a second and apparently that was enough to hand him his second technical of the match.
Former star Gilbert Arenas, who owns one of the most popular podcasts around the league, took a dig at NBA officials after they've started out this season with many controversial decisions. Not only did he also have his fare share of run-ins with referees back when he played, he also is witnessing how easily athletes are punished nowadays just for showing little emotion.
CP3 gotta control his emotions but Scott Foster don't gotta control his? 🤔 pic.twitter.com/WZQzM0rxa8

— Gilbert Arenas (@GilsArenaShow) November 23, 2023
"Someone should ask Adam Silver this, 'If I'm a player, I'm playing a game that's emotional, I'm acting in real time, real deep human emotions and when I don't control my emotions, a ref can give me a technical [foul]," he said about officials getting too involved with the players.
Arenas doesn't believe referees are hold accountable as much as the competitors are. "Which means, whatever I said to him, irritated him so bad that he didn't control his emotions and he gave me a tech. So, my emotions, led to him being emotional but he gets to give me a technical and that's fine. How?'" he asked.
"There's no nothing for him," Gilbert added. "He doesn't leave it with a win or loss. Whatever he does, $6,000, $3,000, whatever he makes, he gets it no matter f**king what."
On his own podcast, Arenas ranted about what justifies an official to act so poorly on the basketball court. "What's a ref's record? 0 ad f***ing 0 his whole career. There's no win or loss. You just look at the game … That's the most f***ing emotional dudes in the game," he concluded.
Stephen Curry and Kevin Durant were also impressed by Paul's ejection, who called out the ref's decision as a personal vendetta
Not only did Chris felt surprised after the ejection, describing it a personal revenge from Scott Foster, but also the other players on court didn't understand the referee's call.
"I think we were down double digits already, and we obviously needed CP and his leadership and the way he manages the game. I don't like and appreciate – I know there's history and all that, I know he talked about it, when both the player and the ref engage in conversation, that has to kind of stay there. I told Scott that after he ejected him," Stephen Curry said postgame.
Once Phoenix conquered the match on Wednesday night, forward Kevin Durant gave his take on the matter and gave a very candid reaction.
"I didn't see it coming, but I looked it up and they was talking for a little bit longer," said the Suns star. "I kinda felt like it wasn't a warm exchange. I knew after I saw a couple extra minutes of them talking, I knew something different. I didn't get to hear what was going, but it was this crazy sequence of what like, three or four techs, Chris getting thrown out the game. You know the history that him and Scott has, it was definitely a weird ending to the half, but I'm glad we got points out of it."