How Tall Is Bryce Young? Will Alabama QB's Size Be an Issue?
How tall is Alabama QB Bryce Young, and will his size be an issue as he transitions to the NFL? Young is one of the most exciting and polarizing 2023 NFL Draft quarterback prospects because of this issue, and even after the Combine, the conversation still rages on.
How Tall Is Alabama QB Bryce Young?
For most of the 2023 NFL Draft cycle, we didn't have a definitive answer, as to how tall Young was. Speculation ran wild for months on end before official measurements were finally provided at the NFL Scouting Combine in Indianapolis.
At the NFL Combine, Young measured in at 5'10 1/8″ and 204 pounds. That measurement put him around roughly the same height as Kyler Murray, the Arizona Cardinals' first overall pick in the 2019 NFL Draft cycle.
It's not uncommon for college teams to boost their players' listed height and weight measurements, and that was the case for Young. At Alabama, Young was listed as 6'0″ and 194 pounds. He ended up measuring almost a full two inches shorter, although that was the expectation for most evaluators.
Does Young's Height Matter in His Evaluation as a QB?
Whether he measured in at 5'9″, 5'10", or 5'11", we've known for a long time that Young's size was going to be a big talking point in the 2023 NFL Draft cycle. No matter his exact measurement, he comes in well below average when compared to starting NFL QBs.
Young is a big outlier, and that can be scary. But it's important to discuss how important it actually is for his prospects of succeeding as a quarterback. The answer will vary for NFL teams. Some teams may take him off their board entirely because he doesn't fit their prototype. But looking at Young's Alabama tape, there's reason to believe he can be an exception.
There are two concerns that come with Young's size. He might not be able to see throwing lanes as well behind taller offensive linemen, and he might not be able to hold up against prolonged NFL contact.
The tape alleviates the first concern easily, as Young has proven himself to be very adept at not only seeing the field but also creating throwing lanes for himself, using his creative instincts and short-area mobility.
MORE: Is Jalen Carter's Draft Stock Falling Ahead of the 2023 NFL Draft?
The more concerning measurement for Young might ultimately be his weight. He weighed 204 pounds at the NFL Combine, but that won't be his actual playing weight in the NFL. There's some speculation that he played as light as 180 in college, and he'll likely be closer to 190 pounds with his lean frame.
Will Young be able to hold up at that weight? That's a more pressing question than the one surrounding his height. But in college, despite encountering frequent pressure from SEC defenses, Young never had major durability issues. Injuries can be difficult to project, regardless of size. Thus, it'll be up to each individual team, as to how willing they are to take that risk.
One cycle ago, the measurement that got the most press for quarterbacks was hand size, when Pittsburgh Steelers QB Kenny Pickett came in with an outlier hand size of 8 1/2″. At the very least, Young doesn't have this problem. With 9 3/4″ hands, he'll have no problems gripping the football in adverse conditions at the next level.
Confidence in Young Persists Amidst Size Questions
There's no magic wand that will make the concerns about Young's outlier build disappear. But throughout the cycle, he's commanded a kind of confidence in spite of his size and has exuded it wherever he's gone. At the NFL Combine, in response to the concerns, Young said simply: "I've been this size my whole life."
That's ultimately the size at which Young became a legend at Mater Dei and a five-star recruit. That's the size at which he started for two seasons, won a national championship for Alabama, and led the Crimson Tide to the College Football Playoff. And that's the size at which he won the Heisman Trophy in 2021.
MORE: Will 3 Quarterbacks Go Within the Top 4 Picks?
Young's size has never precluded him from accomplishing great things, and that's because he has the elite intangibles to counteract his limitations and complement his strengths. Many have spoken about these intangibles, but no one describes them better than Young's college coach, Nick Saban.
"Bryce is the calm in the midst of chaos," Saban has said of Young. "It comes from his great preparation. When he goes into the game, he kind of trusts that things are going to work for him because of the work that he's put in, the preparation that he's made, and the confidence he has in the people around him."
That confidence showed all through the 2022 campaign, when Young put his team on his back week in and week out and created positive plays when nothing was there. That ability is what will earn him a chance to prove himself as a franchise QB.
What To Expect From De'Von Achane in Week 3?
MIAMI GARDENS, Fla. — A month ago, De'Von Achane was — at best — the Miami Dolphins' No. 4 running back (and No. 5 if you include Alec Ingold, which you should).
On Sunday, he will likely be one snap away from RB1.
So beyond hoping that Raheem Mostert doesn't become the latest Dolphins running back to get hurt, what should be Miami's approach Sunday against the Denver Broncos?
Miami Dolphins' De'Von Achane Outlook
With Jeff Wilson Jr. on injured reserve (IR) and Salvon Ahmed dealing with a groin injury, the Dolphins enter Week 3 with three healthy running backs on their active roster: Mostert, Achane, and Chris Brooks.
The Dolphins do have one other option on their practice squad: Darrynton Evans.
But that's it.
So the assumption should be that Mostert will be the Dolphins' featured back (again) on Sunday, with Achane playing the Ahmed role.
Ahmed and Achane have been on the field for 37 of a possible 130 offensive snaps and have gotten 11 of the 44 running back touches (including Ingold) through the first two weeks.
That would mean Achane — who was a healthy scratch just two weeks ago — could expect to get five or so carries and have a small role in the passing game.
MORE: Jason Sanders Gets Vote of Confidence After Latest Miss
"I thought he did well with his opportunities," Dolphins coach Mike McDaniel said this week. "You can tell that the game is not too big for him. The biggest challenge is absorbing the entirety of the game plan, which I think he's made vast improvements upon really since the spring and through training camp.
"I think, fortunately for the team, he's prepared for the further opportunities that he'll be given moving forward," McDaniel added.
RB coach Eric Studesville talks De'Von Achane and Raheem Mostert pic.twitter.com/SD0ohZk8N0

— Chris Perkins (@chrisperk) September 21, 2023
He could find the sledding a bit tough Sunday.
The Broncos' run defense ranks fourth in success rate (31.8%), 10th in yards per carry allowed (3.5), 11th in rush defense (91.5), and 17th in rush defense EPA (-.11).
The Dolphins' ground attack, meanwhile, is 12th in yards per carry (4.3) and success rate (41.3%), 15th in yards per game (107.5), but just 23rd in rush EPA (-.2).
"It don't start on Sunday," Achane said of why he believes he'll have success. "It started Monday through Saturday. Yeah. I feel like I put in the work at practice. So on game days, it's easy. The hardest part is at practice. So in a game, it should be easy."
Listen to the PFN Dolphins Podcast
Listen to the PFN Dolphins Podcast! Click the embedded player below to listen, or you can find the PFN Dolphins Podcast on iTunes, Spotify, and all major podcast platforms.  Be sure to subscribe and leave us a five-star review! Rather watch instead? Check out the PFN Dolphins Podcast on our NFL YouTube channel.
Who Is Deion Sanders' Daughter Deiondra Sanders? A Look at the Colorado HC's Other Child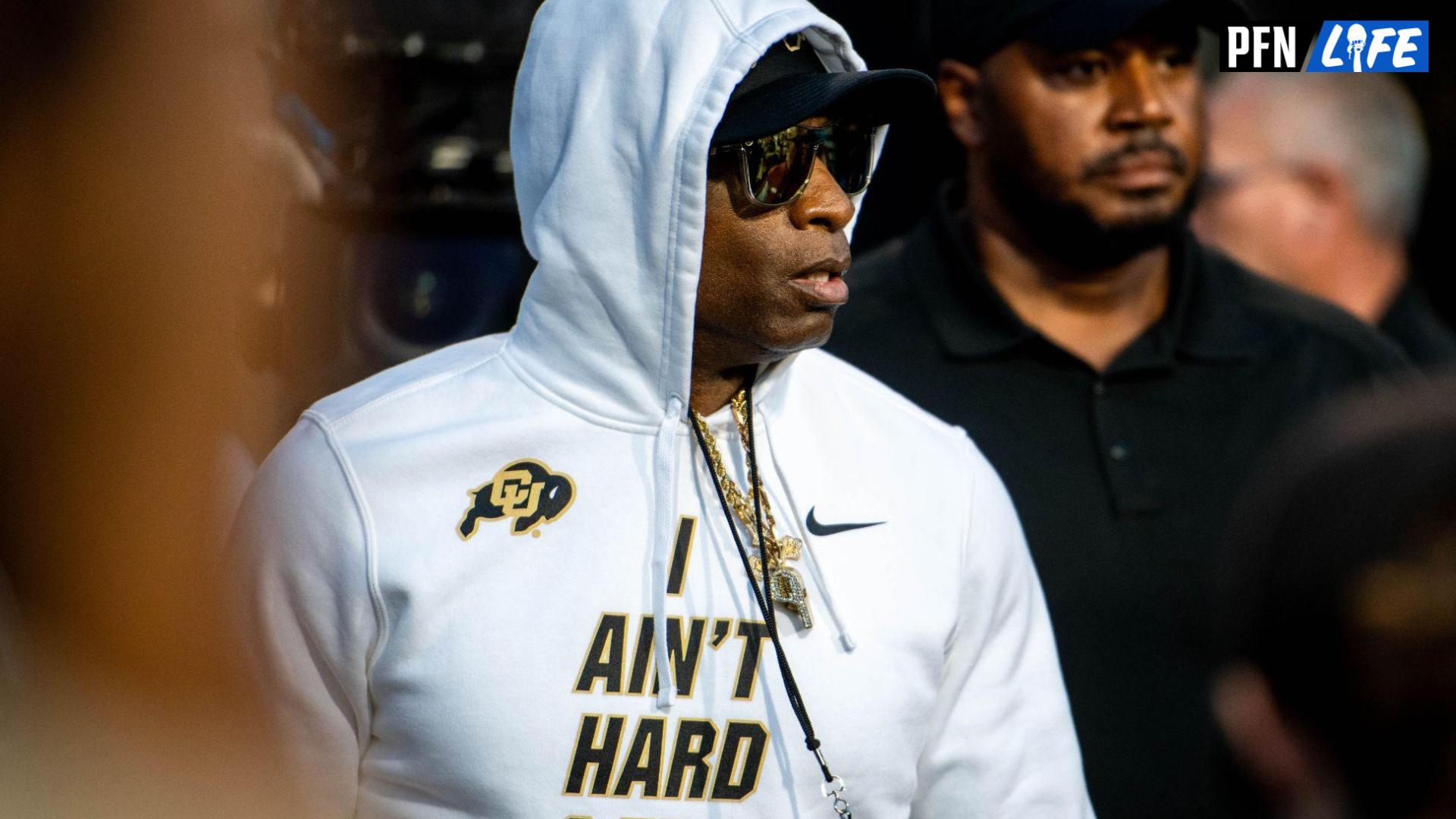 Escaping Deion Sanders' shadow when he is your father must be daunting. Think about it. Many NFL Draft analysts consider Shedeur Sanders a potential first-round prospect, and he is the second-most popular Sanders in his family at the University of Colorado.
Sanders was an all-time great and has captivated America's imagination with what he is doing at Colorado. Sanders has changed the college football landscape, and there is no going back.
Sanders has played terrific football so far in 2023. Sanders was considered a fascination heading into the season. He has elevated his draft stock as much as any player in college football, and an early-round selection is not out of the question.
As we wax poetic about the Sanders family, there is a glaring weakness. There is no mention of Deiondra Sanders, who has taken a backseat to her famous father and emerging brothers. Well, that may not be the case much longer as Deion's daughter Deiondra prepares to take the main stage.
Getting To Know Deiondra Sanders
Sanders is becoming a social media star. Deion's daughter has grown her Instagram following to 200,000, and she's not stopping there. Deiondra has a YouTube channel where she comments on several topics in her episodes.
Deiondra Sanders and Loreal Sarkisian working out together 💪💪 pic.twitter.com/WSYDCZSwXK

— Yagya Bhargava (@YagyaBhargava) September 20, 2023
Reportedly, the show is rapidly growing, so they must head out on the road and are now traveling internationally.
One look at Sanders' Instagram, and you can tell she is a social media influencer with an impeccable fashion sense. The account screams style and elegance.
MORE: How Many of Deion Sanders' Kids Play Football?
Sanders' family will always be close to her, involving her father and brothers' current passion, Colorado football, into her social media stratosphere by hosting watch parties during the Buffaloes game.
I knew we was gone win but regardless they needed to lose, they was playing dirty.

— Deiondra Sanders (@DeiondraSanders) September 17, 2023
Sanders' official position is Director of Communications and Client Services, and she previously served as the Director of Communications for Sc3 Sports Management.
Sanders's bio on LinkedIn reads, "Deiondra Manages the communication and relations with internal and external clients, and media, and is responsible for developing strategic partnerships with Fortune 500 companies and various business entities.
"Ms. Sanders has over twenty years of experience in the sports business and entertainment industry and is the proud daughter of NFL Hall of Famer, Deion Sanders."
Such a great opportunity to speak with @DeiondraSanders, daughter of @DeionSanders. She talks about how proud she is of her father & brothers.
#DeionSanders #football #blackfamily @CUBuffsFootball @youngboldregal
Click the link below!https://t.co/AFaoAJWMTc pic.twitter.com/UNxpVoiHaP

— Evan Jackson (@bowtiebanditYBR) September 18, 2023
Although her bond with her family is evident, like her brothers, Sanders is not resting on her laurels or living off her father's name. Deiondra is making her own path, and the future is bright for the latest Sanders star.
Olu Fashanu Draft Profile | Penn State, OT Scouting Report
Many thought he'd declare in 2023, but Penn State OT Olu Fashanu is back to pace the 2024 NFL Draft class. What does his updated scouting report say about his projection, and is he still in the mix to lead the OT position in a stronger positional class? Let's find out.
Olu Fashanu Draft Profile and Measurements
Height: 6'6″
Weight: 321 pounds
Position: Offensive Tackle
School: Penn State
Current Year: Redshirt Junior
Jan. 1, 2022. That was the first start of Fashanu's collegiate career. It was a bowl game substitution in relief of outgoing senior Rasheed Walker. Fashanu played his first game at left tackle against an SEC opponent — and he put up some very impressive reps.
It was just one game, of course. But Fashanu would later deliver on his promise and put together an All-American campaign in 2022, his first full year as a starter. He could have declared for the 2023 NFL Draft.
MORE: 2024 NFL Draft Big Board
However, Fashanu — an academic All-Big Ten honoree majoring in Supply Chain and Information Systems — chose to return to school and get his degree.
Despite being a fourth-year player, Fashanu is still just 20 years old and will be 21 years old for most of his rookie season. He's still incredibly young, and yet, he already has the polish of a blue-chip NFL prospect.
Olu Fashanu Scouting Report
Strengths
Tall, strong, and sturdy frame with excellent length and overall proportions.
Amped-up mover for his size with excellent foot speed and short-area athleticism.
Has stifling play strength at contact, quickly stalling rushers confined within his frame.
Possesses the elite power capacity to easily displace defenders and drive them upfield.
Easily reloads and re-exerts to maximize power on punches and has superb torque.
Has the torso flexibility to recoil and quickly absorb initial shockwaves at contact.
Has extremely natural leverage acquisition and knee bend, sustaining leverage on reps.
Extremely well-balanced and well-leveraged in pass protection, with tremendous feel.
Has a very stable blocking axis and effortlessly maintains the center of gravity on recovery.
Can sequentially extend to lock out and gather opponents when matching to the apex.
Has excellent timing and patience with extensions and maintains upper-lower synergy.
Can bait rushers into going vertical with angular sets, then adjust and match vertically.
Employs quick and controlled feet and can adjust his tempo to match rushers.
Alert and unbothered blocker with lightning-quick reaction speed on stunts.
Routinely capitalizes on imbalanced defenders and can finish opponents in the turf.
Weaknesses
Doesn't quite have elite range or change-of-direction in space as a moving blocker.
At times, grip strength doesn't always prevent defenders from working across face.
Sometimes two-hand extensions are high, allowing rushers to shrink under the frame.
Occasionally struggles to fully unhinge in recovery and can be late with recalibration.
Sometimes fails to reset his feet while reacting and responding to stunts.
Occasionally leans back past his center of gravity when tracking in pass pro.
At times, drifts too tall as a moving blocker and fails to sustain pulling blocks.
Current Draft Projection and Summary
Olu Fashanu is my preliminary OT1 of the 2024 NFL Draft class and a blue-chip prospect in the top-five overall. In fact, on my board, he would have been the OT1 of the 2023 NFL Draft class over Paris Johnson Jr., Anton Harrison, and Darnell Wright if he had declared.
Although Fashanu has competition with JC Latham, Joe Alt, and others, he's in the driver's seat for the top positional spot.
At 6'6″, 321 pounds, Fashanu has the most complete marriage of physical tools and operational utility in the entire 2024 NFL Draft class. He's a long, strong, and powerful blocker who also brings high-end short-area mobility, rare recovery athleticism, a near-unshakable center of gravity, and the torquing capacity and core strength to finish blocks.
Meanwhile, on the technical side, Fashanu's uncommon patience and composure help to maximize his footwork and hand usage.
He's incredibly fleet-footed and malleable when matching rushers, and he has the combined independent hand usage, energy efficiency, and anchor strength to control rushers from start to finish on pass-protecting reps.
MORE: FREE Mock Draft Simulator With Trades
There are occasional lapses in balance on Fashanu's tape, where he veers too high with his pads or is a bit late to recalibrate his base against power rushes. But overall, Fashanu has all-encompassing talent and technical refinement to be an impact starter at left tackle on day one in the NFL. And at his ceiling, he can be an All-Pro player.
With this projection, at a premium position, Fashanu is undoubtedly worthy of top-10 capital in the 2024 NFL Draft.
NFL Draft Scouting Reports
Using the table below, browse NFL Draft scouting profiles for hundreds of draft prospects so you can get a head start on the 2024 NFL Draft.
Don't forget to check out our Mock Draft Simulator, where you can take control of your favorite NFL team and build its roster for the future!
You can sort the table below by player, team, or position. For mobile users, this table is best viewed in landscape mode.