Bryce Young Takes Meetings Before Alabama Pro Day, Panthers Haven't Received Calls About No. 1 Pick
The NFL Pro Day circuit rolls on, with college prospects getting the chance to show their stuff in front of NFL general managers, head coaches, and scouting departments. With the 2023 NFL Draft just over a month away, players can improve or impair their draft stock with their performances.
We're covering the latest NFL draft news and rumors, including all pro day news related to Thursday's action. Be sure to bookmark our NFL Pro Day schedule and check back daily for the most important takeaways.
Bryce Young Meets With Panthers and Raiders Ahead of Alabama Pro Day
Given that Alabama is the premier college football program in the country, it's no surprise that a large contingent of NFL teams are sending their staffs to Thursday's Crimson Tide Pro Day. At least a dozen clubs will have their general manager on-site, while 10 organizations plan to send their head coach, according to Senior Bowl executive director Jim Nagy.
While teams will want to get a look at first-round prospects like edge rusher Will Anderson Jr., safety Brian Branch, and running back Jahmyr Gibbs, most of the focus will undoubtedly be on quarterback Bryce Young, who will throw for the first time after forgoing passing drills at the NFL Scouting Combine.
Young had dinner with the Carolina Panthers, who own the No. 1 overall pick, on Wednesday night, as Sports Illustrated's Albert Breer reported. Panthers owners David and Nicole Tepper, general manager Scott Fitterer, head Frank Reich, assistant general manager Dan Morgan, vice president of football administration Samir Suleiman, and coaches Jim Caldwell, Thomas Brown, and Josh McCown were all in attendance.
Young also met with the Las Vegas Raiders on Thursday, per Mike Garafolo of NFL Media. While the Panthers will have their choice of quarterbacks at No. 1, the Raiders might have to get creative to land a signal-caller. All four of the draft's top QBs — Young, C.J. Stroud, Anthony Richardson, and Will Levis — could be off the board by the time Las Vegas is on the clock at No. 7, so Josh McDaniels and Co. may have to consider trading up.
Panthers Haven't Received Any Calls About No. 1 Pick
The Panthers gave up a haul to acquire the draft's top selection from the Chicago Bears, but reports immediately after that trade suggested Carolina could trade back down if they were comfortable with more than one quarterback.
However, rival front offices don't believe that the Panthers would abandon the No. 1 pick, according to Jason La Canfora of the Washington Post. Asked this week if he'd received any calls about the choice, Fitterer simply said, "Not yet, no."
The betting odds indicate Stroud is the favorite to be chosen first overall, and that's who Carolina's coaches would draft "if left to their own devices," per La Canfora. However, the Post suggests that Young may be Tepper's preferred prospect, and ownership often holds outsized influence on high-end quarterback selections.
The Panthers met with Stroud before Ohio State's Pro Day on Wednesday and intend to visit with him again before the draft, as NFL Media's Tom Pelissero reports. Given that the NFL discourages teams holding the No. 1 pick from revealing their selections ahead of the draft, Carolina will likely keep things close to the vest until April 27.
Who Is Deion Sanders' Daughter Deiondra Sanders? A Look at the Colorado HC's Other Child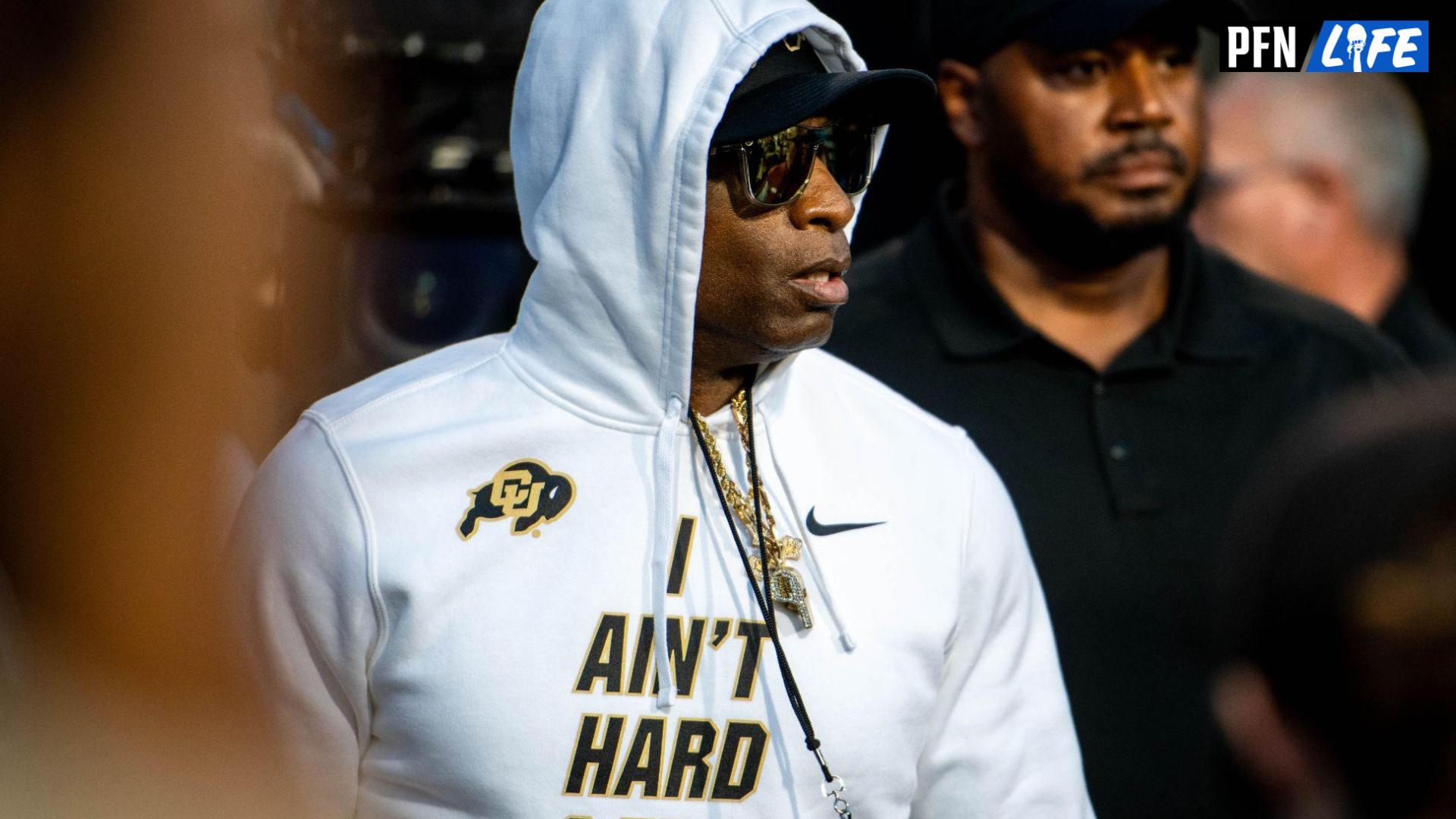 Escaping Deion Sanders' shadow when he is your father must be daunting. Think about it. Many NFL Draft analysts consider Shedeur Sanders a potential first-round prospect, and he is the second-most popular Sanders in his family at the University of Colorado.
Sanders was an all-time great and has captivated America's imagination with what he is doing at Colorado. Sanders has changed the college football landscape, and there is no going back.
Sanders has played terrific football so far in 2023. Sanders was considered a fascination heading into the season. He has elevated his draft stock as much as any player in college football, and an early-round selection is not out of the question.
As we wax poetic about the Sanders family, there is a glaring weakness. There is no mention of Deiondra Sanders, who has taken a backseat to her famous father and emerging brothers. Well, that may not be the case much longer as Deion's daughter Deiondra prepares to take the main stage.
Getting To Know Deiondra Sanders
Sanders is becoming a social media star. Deion's daughter has grown her Instagram following to 200,000, and she's not stopping there. Deiondra has a YouTube channel where she comments on several topics in her episodes.
Deiondra Sanders and Loreal Sarkisian working out together 💪💪 pic.twitter.com/WSYDCZSwXK

— Yagya Bhargava (@YagyaBhargava) September 20, 2023
Reportedly, the show is rapidly growing, so they must head out on the road and are now traveling internationally.
One look at Sanders' Instagram, and you can tell she is a social media influencer with an impeccable fashion sense. The account screams style and elegance.
MORE: How Many of Deion Sanders' Kids Play Football?
Sanders' family will always be close to her, involving her father and brothers' current passion, Colorado football, into her social media stratosphere by hosting watch parties during the Buffaloes game.
I knew we was gone win but regardless they needed to lose, they was playing dirty.

— Deiondra Sanders (@DeiondraSanders) September 17, 2023
Sanders' official position is Director of Communications and Client Services, and she previously served as the Director of Communications for Sc3 Sports Management.
Sanders's bio on LinkedIn reads, "Deiondra Manages the communication and relations with internal and external clients, and media, and is responsible for developing strategic partnerships with Fortune 500 companies and various business entities.
"Ms. Sanders has over twenty years of experience in the sports business and entertainment industry and is the proud daughter of NFL Hall of Famer, Deion Sanders."
Such a great opportunity to speak with @DeiondraSanders, daughter of @DeionSanders. She talks about how proud she is of her father & brothers.
#DeionSanders #football #blackfamily @CUBuffsFootball @youngboldregal
Click the link below!https://t.co/AFaoAJWMTc pic.twitter.com/UNxpVoiHaP

— Evan Jackson (@bowtiebanditYBR) September 18, 2023
Although her bond with her family is evident, like her brothers, Sanders is not resting on her laurels or living off her father's name. Deiondra is making her own path, and the future is bright for the latest Sanders star.
Olu Fashanu Draft Profile | Penn State, OT Scouting Report
Many thought he'd declare in 2023, but Penn State OT Olu Fashanu is back to pace the 2024 NFL Draft class. What does his updated scouting report say about his projection, and is he still in the mix to lead the OT position in a stronger positional class? Let's find out.
Olu Fashanu Draft Profile and Measurements
Height: 6'6″
Weight: 321 pounds
Position: Offensive Tackle
School: Penn State
Current Year: Redshirt Junior
Jan. 1, 2022. That was the first start of Fashanu's collegiate career. It was a bowl game substitution in relief of outgoing senior Rasheed Walker. Fashanu played his first game at left tackle against an SEC opponent — and he put up some very impressive reps.
It was just one game, of course. But Fashanu would later deliver on his promise and put together an All-American campaign in 2022, his first full year as a starter. He could have declared for the 2023 NFL Draft.
MORE: 2024 NFL Draft Big Board
However, Fashanu — an academic All-Big Ten honoree majoring in Supply Chain and Information Systems — chose to return to school and get his degree.
Despite being a fourth-year player, Fashanu is still just 20 years old and will be 21 years old for most of his rookie season. He's still incredibly young, and yet, he already has the polish of a blue-chip NFL prospect.
Olu Fashanu Scouting Report
Strengths
Tall, strong, and sturdy frame with excellent length and overall proportions.
Amped-up mover for his size with excellent foot speed and short-area athleticism.
Has stifling play strength at contact, quickly stalling rushers confined within his frame.
Possesses the elite power capacity to easily displace defenders and drive them upfield.
Easily reloads and re-exerts to maximize power on punches and has superb torque.
Has the torso flexibility to recoil and quickly absorb initial shockwaves at contact.
Has extremely natural leverage acquisition and knee bend, sustaining leverage on reps.
Extremely well-balanced and well-leveraged in pass protection, with tremendous feel.
Has a very stable blocking axis and effortlessly maintains the center of gravity on recovery.
Can sequentially extend to lock out and gather opponents when matching to the apex.
Has excellent timing and patience with extensions and maintains upper-lower synergy.
Can bait rushers into going vertical with angular sets, then adjust and match vertically.
Employs quick and controlled feet and can adjust his tempo to match rushers.
Alert and unbothered blocker with lightning-quick reaction speed on stunts.
Routinely capitalizes on imbalanced defenders and can finish opponents in the turf.
Weaknesses
Doesn't quite have elite range or change-of-direction in space as a moving blocker.
At times, grip strength doesn't always prevent defenders from working across face.
Sometimes two-hand extensions are high, allowing rushers to shrink under the frame.
Occasionally struggles to fully unhinge in recovery and can be late with recalibration.
Sometimes fails to reset his feet while reacting and responding to stunts.
Occasionally leans back past his center of gravity when tracking in pass pro.
At times, drifts too tall as a moving blocker and fails to sustain pulling blocks.
Current Draft Projection and Summary
Olu Fashanu is my preliminary OT1 of the 2024 NFL Draft class and a blue-chip prospect in the top-five overall. In fact, on my board, he would have been the OT1 of the 2023 NFL Draft class over Paris Johnson Jr., Anton Harrison, and Darnell Wright if he had declared.
Although Fashanu has competition with JC Latham, Joe Alt, and others, he's in the driver's seat for the top positional spot.
At 6'6″, 321 pounds, Fashanu has the most complete marriage of physical tools and operational utility in the entire 2024 NFL Draft class. He's a long, strong, and powerful blocker who also brings high-end short-area mobility, rare recovery athleticism, a near-unshakable center of gravity, and the torquing capacity and core strength to finish blocks.
Meanwhile, on the technical side, Fashanu's uncommon patience and composure help to maximize his footwork and hand usage.
He's incredibly fleet-footed and malleable when matching rushers, and he has the combined independent hand usage, energy efficiency, and anchor strength to control rushers from start to finish on pass-protecting reps.
MORE: FREE Mock Draft Simulator With Trades
There are occasional lapses in balance on Fashanu's tape, where he veers too high with his pads or is a bit late to recalibrate his base against power rushes. But overall, Fashanu has all-encompassing talent and technical refinement to be an impact starter at left tackle on day one in the NFL. And at his ceiling, he can be an All-Pro player.
With this projection, at a premium position, Fashanu is undoubtedly worthy of top-10 capital in the 2024 NFL Draft.
NFL Draft Scouting Reports
Using the table below, browse NFL Draft scouting profiles for hundreds of draft prospects so you can get a head start on the 2024 NFL Draft.
Don't forget to check out our Mock Draft Simulator, where you can take control of your favorite NFL team and build its roster for the future!
You can sort the table below by player, team, or position. For mobile users, this table is best viewed in landscape mode.
Where Is Kool-Aid McKinstry From?
The Alabama Crimson Tide are almost never short a star cornerback playing for them on the outside. Dre Kirkpatrick, Dee Millner, Marlon Humphrey, and Patrick Surtain II all roamed the Crimson Tide locker room under the tutelage of defensive back coaching legend Nick Saban. Kool-Aid McKinstry is the next name on that list. How did the NFL Draft prospect get here?
Kool-Aid McKinstry Was Built for Stardom
McKinstry hails from Pinson, Alabama. Pinson is a suburb Northeast of Birmingham, with a population of 7,116, according to census data from July 2022. While growing up, McKinstry played football and basketball at Pinson Valley High School.
As a hooper, McKinstry helped Pinson win multiple state championships. The fluid 6'1″ athlete averaged 15 points, five assists, and 3.7 rebounds as a junior.
In fact, he was such a special athlete that McKinstry actually planned on playing both basketball and football in Tuscaloosa. He even practiced with Nate Oats' squad during his freshman year of college before transitioning fully to football. Earning a starting role on the outside early in his Crimson Tide career may have swayed him toward a singular direction.
His special talents were more evident on the football field for Pinson. As a sophomore in 2018, McKinstry earned Class 6A first-team all-state honors on defense. The following year, he was presented with AL.com's Birmingham Male Athlete of the Year award. As a senior, he led Pinson Valley to a state title as a two-way player.
During his senior year, he had 12 pass breakups and two interceptions on defense. Both of those interceptions were returned for touchdowns.
MORE: FREE Mock Draft Simulator With Trades
But he also caught 45 passes for 706 yards and 11 touchdowns, proving he was more than just a fluke with the ball in his hands. MaxPreps awarded him with the Alabama High School Football Player of the Year award.
Rivals, 247Sports, and On3 all handed out five-star ratings to McKinstry. All three believed he was the best recruit in the state and at the CB position nationally. Only ESPN rated him as a four-star. And instead of rating him as a CB, they labeled him an athlete. He certainly is.
Alabama Career to Date
McKinstry earned a role on the Crimson Tide defense as early as his freshman season. He amassed 25 tackles, an interception, and a pass breakup in 15 appearances.
As a sophomore, he returned as one of the team's starters on the outside, but he also took over punt-returning duties for the team. His 15.8-yard average earned him postseason honors from FWAA. Meanwhile, his defensive efforts earned him first-team all-SEC honors from the Associated Press.
He returned for his third season as a starter once again but with expectations of a future first-round NFL Draft pick. So far, he's done nothing but further cement his status as one of the best cover corners in college football.
Listen to the PFN Scouting Podcast
List to the PFN Scouting Podcast! Click the embedded player below to listen, or you can find the PFN Scouting Podcast on iTunes, Spotify, and all major podcast platforms.  Be sure to subscribe and leave us a five-star review! Rather watch instead? Check out the PFN Scouting Podcast on our Scouting YouTube channel.