Michigan State Prepares For First Home Game Since Deadly Shooting • D1Baseball
Features
Walter Villa – March 22, 2023
SEE ALSO: Jebb Leads Michigan State's Talented Infield
---
Jake Boss Jr. was in a panic.
The Michigan State coach was unable to locate two of his baseball players on the evening of Feb. 13, when a mass shooter killed three Spartans students and injured five others, some of them quite seriously.
Thirty minutes of frantic phone calls resulted in Boss finally able to account for the final two players on his roster that he had not yet heard from – righthander Adam Berghorst and catcher Bryan Broecker.
Michigan State's older players live off campus. But the freshmen were especially vulnerable during the shooting because they live in a dorm, where they had barricaded themselves by pushing couches and chairs in front of their doors.
"As a coach – but also as a father who has one son in college and one daughter who just graduated – you go into that mode where you are extremely concerned for your players' safety," Boss said.
"I had a hard time finding Adam and Bryan, and that was a long half-hour. I kept texting and calling their roommates. 'Where are these guys?'
"As it turned out, (Berghorst) didn't have his phone on him. (Broecker) was in our engineering building and ended up having to stay there for three or four hours.
"Thank God, they were both just fine."
The same could not be said for the three students who were murdered that night – Arielle Anderson, Brian Fraser and Alexandra Verner.
Baseball is insignificant when compared to the loss of life.
Michigan State's baseball players — just like every other caring person on campus — have grieved over the loss of their fellow students. They are honoring Arielle, Brian and Alexandra by wearing a "Spartan Strong" sticker on the back of their batting helmets.
"Our guys were admittedly pretty shaken up by what happened, which is very understandable," Boss said. "(Mass shootings are) happening at a lot of places, but it's different when it hits this close to home."
The Spartans, after starting the season with 19 games away from East Lansing, will play their home opener on Friday afternoon against Big Ten rival Purdue, and it will be another opportunity to pay tribute to the memory of Arielle, Brian and Alexandra.
"I think it's important we acknowledge what happened and to honor those victims," Boss said. "They shouldn't be forgotten. Those were three special people on our campus. We want to keep their memory alive."
Spartans second baseman Trent Farquhar said the shootings forced him and his teammates to ponder their mortality and their love for baseball.
"Not just our lives, but baseball can be taken away from us at any moment with something tragic like that," Farquhar said. "This has put a new perspective into our eyes."
Farquhar's brother Tate is a freshman pitcher on the Spartans. Tate was in that freshman dorm the night of the shooting.
The nightmare of that night has brought the Michigan State team even closer to their Spartans community.
"Being a Northern team and on the road for the first five or six weeks of the season, coming home is always special," Trent Farquhar said. "We're hoping that being back home will give the community something they can rally around."
Maryland is the Big Ten's undisputed champ • D1Baseball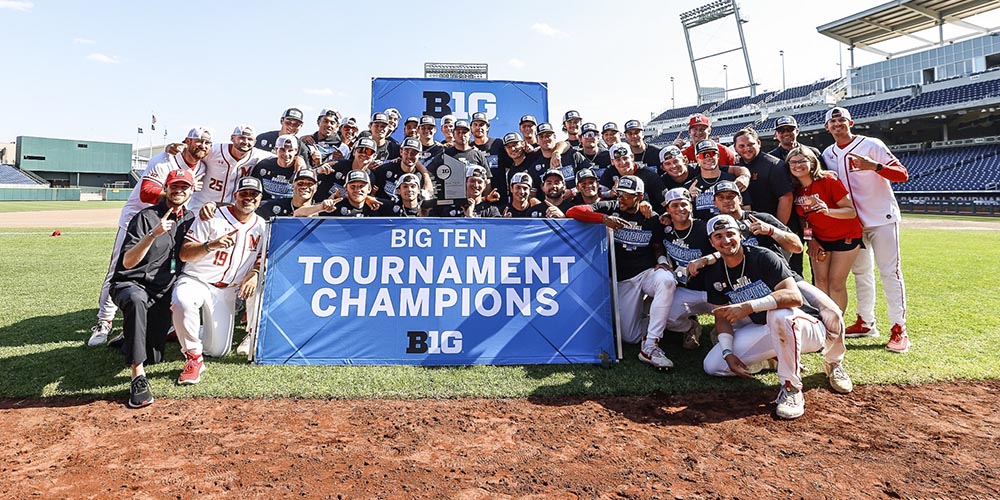 Columns
Patrick Ebert – May 28, 2023
OMAHA – Maryland emerged as champions of the 2023 Big Ten Tournament with a 4-0 win over Iowa on Sunday afternoon. As a result, Maryland earns the league's automatic bid for the NCAA Tournament, and the tournament championship marks the first for the Terps as members of the Big Ten, first joining the conference for the 2015 season.
The Terps also finished the regular season with the best record in the league (17-7) and competed in Omaha as the No. 1[…]
Selection Show Eve NerdCast – Projecting The Field of 64 • D1Baseball
The D1Baseball Podcast
D1 Baseball Staff – May 28, 2023
With the 16 regional hosts announced, Kendall Rogers and Aaron Fitt are joined by D1Baseball's resident Bracketologist, Mark Etheridge, to discuss how the Field of 64 looks on the eve of Selection Monday!
---
The D1Baseball Podcast is presented by S2 Cognition. S2 Cognition measures game-speed decision-making and provides solutions to improve performance. Quantifying sports cognition as it happens in real-time! 
D1Baseball is the #1 source for college baseball. Subscribe to our show to get the best college baseball podcast straight to your Apple Podcasts or Spotify feed all year round. Reviews and 5-star ratings are greatly appreciated! And if you're a super-fan of college baseball, you can subscribe and watch all of our podcasts on the D1Baseball YouTube Channel.
First team of Bakich era cements special place in Clemson baseball history • D1Baseball
Columns
Aaron Fitt – May 29, 2023
DURHAM, N.C. — In just his first season as Clemson's head coach, it's clear that Erik Bakich already has a well-developed sense of reverence for the gravity of Clemson's baseball history. Considering he cut his teeth as a young volunteer assistant under Jack Leggett while working alongside assistants Tim Corbin and Kevin O'Sullivan, Bakich's appreciation for the program's history shouldn't come as a surprise, but it is nevertheless striking.
You can hear it in Bakich's voice when he talks about the 2023 Tigers, the 126nd edition in program history. Many of us outside the program (hand up) left this team[…]