Top 5 Strengths Include Linebackers, Safety, and Interior Defensive Line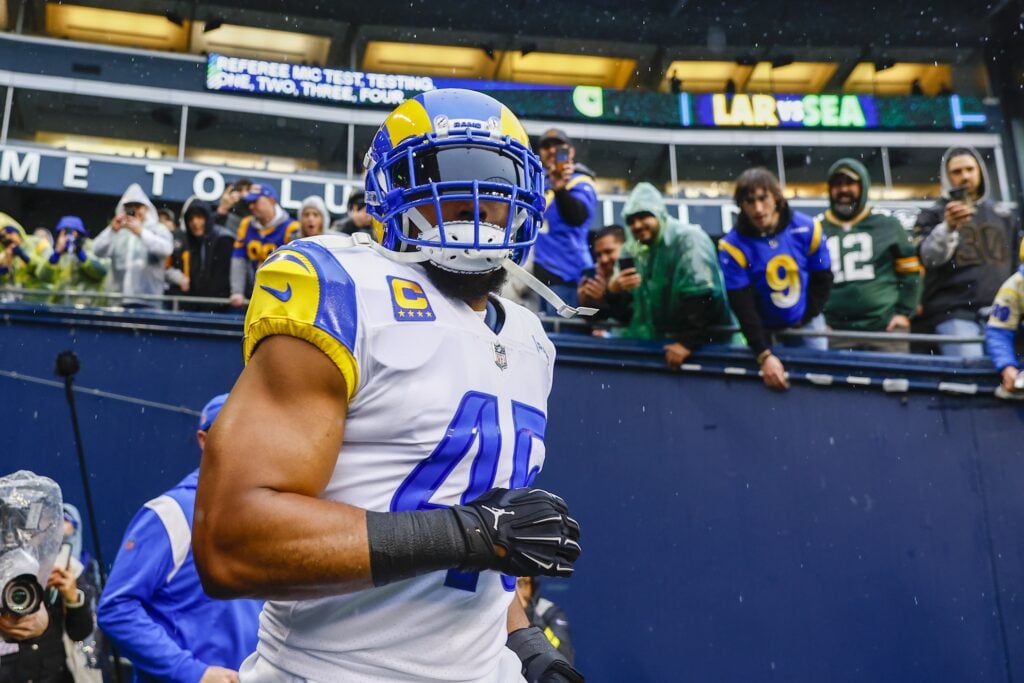 The 2023 NFL free agency class isn't nearly as strong at the top as the previous class. But as we inch closer to the start of the new league year, more and more veteran players are getting the axe from their current employers to create salary cap space. That has been the case for one of the top five positions in the class.
In theory, being a bit of a down year could mean NFL teams improve more than they were able to a season ago. The class quality could bring the money made by the players down just enough for teams to add an extra one or two players to the roster.
If we've learned anything from the New England Patriots (besides that whole having the best coach and QB of all time) is that building a team's middle class means more quality players, and in return, more depth. Even the most talented rosters in the league can be sabotaged quickly by injury.
Let's find where the diamonds in the rough are in this class!
Top 5 Free Agency Positions
The one legitimately terrifying group of free agents is off-ball linebacker. Running back was incredibly strong until the tag deadline hit and took from us the top three at the position.
Although our positional rankings group defensive backs and offensive linemen together, they are separated for these purposes.
Linebacker
If NFL free agency were Halloween, linebackers would be the Reese's Peanut Butter Cups. Everyone wants one that is not allergic to peanut butter (I'm sorry), and everyone has them in their basket to give away.
There truly is no weakness in the class. If a team needs a legitimate half-decade, high-end option, there are a few.
Tremaine Edmunds is hitting free agency at just 24 and has just begun scratching the surface of his athletic potential. While David Long only recently became a full-time starter, no linebacker in the league attacks the line of scrimmage in the run game like him. Bobby Okereke was already playing well before he was forced to become the guy with Shaquille Leonard's injuries, and he showed he could be precisely that in Gus Bradley's defense in 2022.
Some incredibly talented veterans could join contending teams in an attempt to put them over the top. Bobby Wagner and the Rams mutually agreed to part ways. Still, he's not currently listed as a free agent, despite reports of his release in late February, which could mean that Wagner will hold a post-June 1 designation, saving Los Angeles more money in free agency, but not being available until then.
MORE: Off-Ball Linebacker Free Agency Rankings 2023
But Eric Kendricks and Lavonte David are both on the open market today. And while Kendricks didn't quite look like himself a season ago, Wagner appeared to be declining before having a bit of a resurgence with the Rams. While his All-Pro nod may have been a bit of a surprise, he played much better than he had in recent years. Kendricks and David can still bring a lot to a defense.
Then there is the next tier of players. The somewhat nameless linebackers who do the dirty work for their football teams, yet can still be some of the better players on that side of the ball on most rosters. The off-ball LB has received the same fate as running backs on the defensive side of the ball, at least regarding their value to fans and media.
T.J. Edwards, Germaine Pratt, and Leighton Vander Esch fit that description.
There are also a few highly drafted players who haven't panned out at the NFL level but will likely still garner attention as reclamation projects at the next stop. Rashaan Evans and Devin Bush fit that bill, even though Evans already hit his second stop in Atlanta a season ago.
Players like Cody Barton, Kyzir White, Drue Tranquill, and Alex Anzalone can all be starters at the NFL level as well.
Cornerback
Because the NFL is an offensive league, the defensive theme of free agency should be of no surprise. Because offensive production is more stable year-over-year, teams are locking up their best offensive players and using veterans on the defensive side of the ball to create cap space.
Unlike linebackers, there aren't necessarily many youngsters hitting the market at CB. The one player who fits that bill is Byron Murphy, but even he's not near the level of Edmunds. His outlook is more like Long, who is a bit scheme-specific, but a fantastic player in the right situation.
Murphy will make a lot of money for some zone-heavy team at his next stop and could be looking at another big-time deal before hitting 29. Jamel Dean is still decently young as well. The 27-year-old is also probably a tad scheme-specific, but he was one of the best cornerbacks in the NFL a season ago and is a truly special athlete.
James Bradberry, Patrick Peterson, Marcus Peters, and Jonathan Jones could be great short-term options. Shaquill Griffin and Rock Ya-Sin aren't necessarily old, but they won't be as regarded as Dean or Murphy. If Griffin can get healthy, he can still make a difference.
Anthony Brown, Troy Hill, and Eli Apple can all bring starting experience as low-end CB2 options.
Cameron Sutton is the one true slot defender in this class that is still playing at an incredible level, and he will be compensated as such. Steelers head coach Mike Tomlin loves Sutton:
"When you are good above the neck, there's a feel, there's an anticipation, and oftentimes that feel or anticipation is required to do anything other than tackle the catch. In the National Football League, everybody's varsity."
Safety
According to Over the Cap, there are 18 safeties in the NFL that played more than 80% of their team's defensive snaps a season ago hitting the market. That does not include names like Jordan Poyer, C.J. Gardner-Johnson, and Jimmie Ward who all missed significant time because of injuries.
The LB and CB classes are loaded, but the specialization of this safety group makes it arguably the best in all of NFL free agency.
MORE: 100 Top NFL Free Agents 2023
Jessie Bates III and Gardner-Johnson are two of the best players in the entire free agency class, and veterans like Poyer and Ward make for an outrageous group of difference-makers hitting the open market.
But safety play in the NFL is a lot like ice cream. Skill set and scheme must match perfectly, or else your team is putting guys in foreign positions on the field. Safety is very specialized, but as the league continues moving toward defending the pass, the position skews more toward coverage players than downhill "strong safeties."
Offensive Tackle
At some point somewhat early in my adult life, dynamic stretching became what we acknowledge as the correct way to loosen the muscles before physical activity. Orthopedic surgeon Anne Rex says, "It helps rehearse the movement patterns so the muscles tend to get excited a little bit earlier and faster which can help improve power and increase coordination."
That's exactly what we're doing when we refer to these next two positions as "strengths" of the free agency class. Strength is a relative term. Someone who does not lift weights may believe that 225 pounds is a big bench press. But the person benching 225 sees a powerlifter hoist 500 pounds, and suddenly 225 is lightweight, baby!
However, there are a few legitimate talents in the offensive tackle class, starting with Orlando Brown, who will make a ton of money this offseason. Kaleb McGary is coming off a career year and would be wise to cash in on a long-term deal, considering his best work came in the run and play-action game.
Jawaan Taylor continues to grow as a player on the right side and is the youngest offensive tackle in the free agency class. Mike McGlinchey has his flaws, but is still overall a very good option on the right side, especially for teams who play in divisions with smaller, more athletic edge rushers rather than powerful ones.
Andrew Wylie was the weak link on the Chiefs' offensive line, but that comes with obvious caveats. Kansas City has an outstanding offensive line at the four other spots, and Patrick Mahomes isn't necessarily the most consistent passer in the league when it comes to his drop depths.
Names like Donovan Smith, Trey Pipkins, and Jermaine Eluemunor can be starters for a few tackle-needy teams around the league on more minimal deals, and there are a few other veterans who could be swing tackles or spot starters. Isaiah Wynn is the biggest wild card in the class because he's a good player but has struggled to remain healthy during his first four NFL seasons with New England.
Center
In a supply vs. demand sense, the center position is quite strong. Looking around the league, there isn't a whole lot of need there. Still, there are more than a few starting-caliber players at the position, including some really nice scheme-specific fits.
MORE: Best Guards in the NFL 2023
Connor McGovern, Jake Brendel, Ethan Pocic, and Bradley Bozeman — who has experience at guard as well — are all starting-caliber centers. All should be able to land on their feet with starting roles in 2023.
Meanwhile, teams that base their rushing attack from outside zone should consider signing Garrett Bradbury, who is one of the most athletic centers in the league.
Roger Goodell Asked About 'Abusive' Potential Change To NFL Schedule as NFL Owners Meetings Conclude
PHOENIX — Just moments before Roger Goodell strode to the lectern here for his NFL owners meeting-closing news conference, Giants owner John Mara set the agenda for him.
Mara, on late Tuesday afternoon, spoke out passionately against a tabled proposal that would allow the league to flex games in and out of Thursday Night Football.
NFL Owners Meeting: Roger Goodell News Conference
Mara's charged comments, as recorded by The Athletic, were as follows:
"People have gotten used to going from Sunday afternoon to Sunday night. It doesn't mean they like it. But this year, we could be flexed to Monday night, which I think is really inconsiderate to our [customers]. To flex the games back to Thursday night, to me, is just abusive. I am adamantly opposed to it. Fortunately, it didn't get enough votes, but they will probably revisit it in May."
Mara gave voice to thoughts shared by many in and around the league, including some broadcast partners, who believe that the product — which is already diminished on Thursday nights due to lack of prep time — will get even worse.
One former player-turned-broadcaster pointed out this week that teams begin preparing for their short week more than a month in advance. If the proposal passes, teams might have just two weeks to get ready for the significant disruption to their schedule.
What's more, it's possible that teams will have to deal with that unexpected inconvenience not once but twice in a football season. On Tuesday, the NFL announced that teams could be forced to play on a short week twice in one regular season.
Currently, every team plays at least once on Thursday nights. But under this new system, that's no longer a guarantee. So, why is the NFL even considering this?
Because Amazon agreed to pay $1 billion a year for the next decade to stream Thursday night games, and a bunch of matchups in 2022 stunk.
It's understandable that the league wants the best teams to play on its biggest stages, but the logistics for fans that would come with switching a game from Sunday to Thursday are massive.
One could even say they're "abusive."
Choosing to go ahead with a flex plan even in the face of such fan disservice would give the impression that the NFL is putting TV rights holders ahead of their fans.
"There isn't anybody in [NFL organizations] that doesn't put our fans first," Goodell responded. "… We are very careful at it, and we will look at all of the impacts of it."
Goodell went on to point out that there have been only, on average, "a flex and a half per year" since the league began moving underperforming teams out of Sunday Night Football midseason.
But that average will likely increase in 2023 when, for the first time, Monday Night Football games can be flexed. Moving the game to another day impacts fans the most who have flight and hotel arrangements.
Players already don't love the current Thursday night system, and — if Patrick Mahomes' face-slapping quote tweet to news of teams potentially having to play two in one year is any indication — won't love the changes.
"I don't think we are putting Amazon over players' interest," Goodell said before adding that there's data "that's very clear" showing the injury rate on Thursday night is no higher than games on other days.
Even if you concede the health and safety point, there's no disputing that changing the day of the game for any reason beyond weather or some sort of emergency puts an artificial burden on the paying customer.
But it's a burden that owners might ultimately be OK with. Mara said the vote to flex "was close" to passing, and he's worried that when membership gathers again in a couple of months, the votes will be there to enact.
"People make plans to go to these games weeks and months in advance," he added. "And 15 days ahead of time to say, 'Sorry, folks, that game you were planning on taking your kids to Sunday at one o'clock, it's now gonna be Thursday night.' What are we thinking about?"
Jaxon Smith-Njigba Rises, Will Levis Falls
Pro Days are wrapping up, and we're seeing some late movement on big boards. As the 2023 NFL Draft approaches, it's time to look at a mock with Pro Day data involved. Will C.J. Stroud take back the QB1 title? Did Will Levis do enough to stay in the top 10? We discuss that and more in this mock draft.
2023 NFL Mock Draft
1) Carolina Panthers: C.J. Stroud, QB, Ohio State
The Carolina Panthers still have options even though they moved up. They could stick with their pick, but they could also trade back to get some more capital. In this 2023 NFL Mock Draft, they stay put and get an elite prospect at quarterback.
C.J. Stroud calls himself a ball placement specialist, and it's easy to see why. The number of incredible throws that have been shared on social media over the last few months continues to grow, and it's a big reason why he's a top prospect. With the Panthers in a rebuild, adding a quarterback of his caliber fits right into their mission.
2) Houston Texans: Bryce Young, QB, Alabama
If your consolation prize is Bryce Young, then I think you're doing pretty well. Young brings great arm talent to the NFL, and his ability to create under pressure also stands out. He's one of the more poised prospects we've seen in recent history, and that helps him produce when the pocket collapses.
MORE: Should Bryce Young Be the No. 1 Overall Pick in 2023?
The Houston Texans just extended Laremy Tunsil, which provides Young with some security up front. The Texans still need to add some more talent to the line, but Young, for the time being, can work his magic to extend plays.
3) Arizona Cardinals: Will Anderson Jr., EDGE, Alabama
It appears the Arizona Cardinals will attack the defensive line through the draft, and their first pick should yield a plug-and-play prospect. Will Anderson Jr. could be the first pick if the right team trades up, but Arizona hopes he falls to them here. He's a game-changer on the edge and should help the Jonathan Gannon era get off to a good start.
4) Indianapolis Colts: Anthony Richardson, QB, Florida
Anthony Richardson has all of the tools to be the best quarterback in this class. At his peak, he's better than everyone else. He just needs to be more consistent. The ceiling is enticing, and the Indianapolis Colts could be sold if he drops to them here.
With a cannon for an arm, Richardson, at a minimum, sells more tickets and grows interest early on while he develops. With the Colts cutting Matt Ryan, it's obvious that the offense will be handed over to a younger player. If that guy is Richardson, there will be plenty to be excited about in Lucas Oil Stadium.
5) Seattle Seahawks: Myles Murphy, EDGE, Clemson
Make no mistake about it, "settling" for Myles Murphy is something many teams would love to do. Murphy might not be Will Anderson Jr., but the gap between the two isn't as big as you might think.
Murphy started as a freshman for Clemson, and all he's done is improve his game year after year. He entered as a long athlete still learning the intricacies of the position, and now he's a more polished player who's also added some weight and power to his frame.
6) Detroit Lions: Christian Gonzalez, CB, Oregon
After the NFL Combine, Christian Gonzalez remains CB1 for me. He's a player with good length and ball skills, and he displayed his athleticism at the Combine. With C.J. Gardner-Johnson at safety, the Detroit Lions are looking for someone to dominate opposite Jeff Okudah, and Gonzalez would be a great fit. He's a developing player who's yet to hit his peak and has plenty of tools that will help him right away.
7) Las Vegas Raiders: Paris Johnson Jr., OT, Ohio State
With Jimmy Garoppolo signed, quarterback is no longer a need for the Las Vegas Raiders, which allows them to keep this pick and not sacrifice draft capital to move up and get their guy. Now they can focus on other positions.
One of those positions coincides with their new signal-caller, as Las Vegas needs someone to help keep Garoppolo upright. Paris Johnson Jr. continues to be at the top of the tackle discussion, and his size makes him a great addition to the Raiders' line.
8) Atlanta Falcons: Jalen Carter, DT, Georgia
Jalen Carter falls in this 2023 NFL Mock Draft, but not out of the top 10. We should expect the same to happen in the actual draft, but it would be a major shock if he falls further than this.
Atlanta Falcons fans just had to drive an hour and a half to see their potential future star defensive tackle play this year — even less when Georgia played in their stadium for the SEC Championship Game. Carter is a monster on the field, and he's going to be a player you can count on to make plays. If Atlanta sees him fall, they won't hesitate to make the call.
9) Chicago Bears: Broderick Jones, OT, Georgia
Now that the Chicago Bears are in the position they want in this 2023 NFL Mock Draft, it's time to move past the idea of Will Anderson Jr. or Jalen Carter coming to the Windy City. It would be nice to add one of those two players, but it's not essential. With this pick, they can still address a position of need.
Protecting Justin Fields will be a huge priority for the Bears this year. They already added a downfield threat in DJ Moore, but now Fields needs time to connect with his new receiver. Broderick Jones brings the right attitude to the league and will be key to Fields' growth.
10) Philadelphia Eagles: Tyree Wilson, EDGE, Texas Tech
Fletcher Cox and Brandon Graham both re-signed with the Eagles, which is huge for the future of their franchise. Neither will be with the team long term, but they can pass their knowledge down to the future defensive linemen that join the team.
Tyree Wilson should benefit from both players. At 6'6″, 271 pounds, he brings size and athleticism to the edge. Graham can help hone Wilson's moves on the edge, and Cox can give him pointers on how to utilize his power to create leverage. It's a good fit for a team looking for another championship and for a player ready to take another step.
11) Tennessee Titans: Jaxon Smith-Njigba, WR, Ohio State
The Tennessee Titans signing Andre Dillard lessens the urgent need to add a tackle and gives the team more flexibility to address other positions. Whether the offense runs through Ryan Tannehill or Malik Willis (or maybe someone else), they're going to need options. Derrick Henry can't run through everyone like he did in high school.
Questions about his hamstring will be the top concern surrounding Jaxon Smith-Njigba. If he can erase those concerns, he's a first-round pick. He's a great route runner who's ready to show that he can make an impact again, and the Titans' offense will open up more if they can add him.
12) Houston Texans: Quentin Johnston, WR, TCU
With the Texans adding Bryce Young already in this 2023 NFL Mock Draft, they look to secure another weapon on the outside. They signed Robert Woods to a two-year deal, but they'll need a younger player to hold things down long-term.
Quentin Johnston is not as tall as we once thought, but his skill set can't be denied. He's electric after the catch and showed a knack for coming down with 50-50 balls. Young and Johnston could be the connection the Texans need to get back on track.
13) New York Jets: Peter Skoronski, OT, Northwestern
Peter Skoronski fills multiple needs for the New York Jets in this 2023 NFL Mock Draft. If they don't end up trading for Aaron Rodgers, someone needs to protect the quarterback better. Whether that's on the inside or on the edge. Skoronski's a proven winner who can be a versatile weapon by moving across the line.
14) New England Patriots: Darnell Wright, OT, Tennessee
The New England Patriots signed Riley Reiff and Calvin Anderson to help protect Mac Jones, but both come to the Patriots on short-term deals. New England still needs someone who will be the future protector of Jones' blind spot.
MORE: Pro Day News and Rumors
Darnell Wright hasn't received a ton of attention in the offseason, but he's a proven winner who's faced elite competition. Will Anderson Jr. even endorsed Wright's abilities recently, and the tackle is beginning to climb into the first round of many 2023 NFL Mock Drafts thanks to his Combine performance.
15) Green Bay Packers: Zay Flowers, WR, Boston College
With Aaron Rodgers most likely out the door, Jordan Love would enjoy seeing more weapons to utilize. Christian Watson already showed good upside, but the Green Bay Packers can help him with the addition of Zay Flowers.
Flowers doesn't have Watson's size, but he's an explosive playmaker that can make any quarterback's life easier. If Rodgers somehow remains on the team this year, he'll enjoy this pick just as well.
16) Washington Commanders: Will Levis, QB, Kentucky
Will Levis should fall if you ask me. The upside is there, but the lack of consistency and the accuracy issues worry me if I'm a team in need of a quarterback. Still, someone's going to take him, and it's probably going to be higher than this.
If Levis can continue developing as a passer, then the concerns shouldn't be an issue down the road. In this 2023 NFL Mock Draft, he joins a Washington Commanders offense full of potential. Terry McLaurin, Jahan Dotson, and Curtis Samuel just need someone to get them the ball. That could be Sam Howell, but the Commanders may want another player to compete for the job too.
17) Pittsburgh Steelers: Joey Porter Jr., CB, Penn State
Mike Tomlin has plenty of options to take at corner this year, but how fun would it be to get Joey Porter Jr. to Pittsburgh? His name would make this pick great, but it's his game that would make it even better.
Porter's length and coverage skills are the biggest reasons he's a first-round pick, and the Steelers' secondary needs someone of his caliber to help out. He'd also learn plenty from veteran Patrick Peterson, who just signed with the team this offseason.
18) Detroit Lions: Calijah Kancey, DT, Pittsburgh
Detroit's defense returns a good core of pass rushers on the edge, and Calijah Kancey gives them the perfect complement. His explosive first step puts blockers at a disadvantage immediately, and he'll most likely face one-on-one matchups to exploit that on a frequent basis.
19) Tampa Bay Buccaneers: Lukas Van Ness, EDGE, Iowa
If you talk to people in the Iowa program, they have nothing but good things to say about Lukas Van Ness. While he didn't start for the Hawkeyes, he made the most of his opportunities. His length and athleticism make him a problem, and he helps a Tampa Bay Buccaneers team most likely looking to rebuild.
20) Seattle Seahawks: Josh Downs, WR, North Carolina
Tyler Lockett can't play forever, but the Seattle Seahawks find his replacement in this 2023 NFL Mock Draft. Josh Downs dominated in the slot over the last couple of years with North Carolina, and he can take his game to the next level by learning from Lockett.
Throw in the fact that Downs would join an offense that also features D.K. Metcalf, and Geno Smith should feel pretty good about his future with the franchise. Downs is just the next piece in that puzzle.
21) Los Angeles Chargers: Jordan Addison, WR, USC
Justin Herbert has plenty of weapons on offense, but the biggest issue has been keeping them healthy. Keenan Allen and Mike Williams create stress on the defenses, but both struggled to stay on the field last year. The Los Angeles Chargers need to add some more talent that can add depth and still produce at a high level.
Insert Jordan Addison. The former USC star is a smooth route runner with good ball skills. He's a master separator, something that Allen knows a thing or two about, and allows Herbert to find another reliable threat downfield.
22) Baltimore Ravens: Devon Witherspoon, CB, Illinois
Devon Witherspoon just feels like a Baltimore Raven to me. He brings the right attitude to the position and plays the game with a burning passion. He may not have the size of some of the other corners in this class, but Baltimore doesn't care about that in this 2023 NFL Mock Draft.
23) Minnesota Vikings: Bryan Bresee, DT, Clemson
With Dalvin Tomlinson gone in free agency, the Minnesota Vikings could use someone to make an impact up the middle. Bryan Bresee, when healthy, can be an absolute unit on the field.
At 6'5″, 300 pounds, he's a big player that produces a ton of power in his frame. He also brings underrated athleticism to the next level and would make Minnesota's defensive line a major problem this year.
24) Jacksonville Jaguars: Deonte Banks, CB, Maryland
The uber-athletic Deonte Banks shined at the NFL Combine, and he helped ensure he'll have a great chance of being drafted in the first round. Even while he's still developing, Banks can play right away for the Jacksonville Jaguars thanks to the combination of his athleticism and film.
25) New York Giants: John Michael Schmitz, OC, Minnesota
The New York Giants could use a long-term option at receiver, but they also signed three players to help in that regard. So, for now, New York looks to the offensive line to protect Daniel Jones and his $40 million arm.
John Michael Schmitz gave Minnesota plenty of consistent play in college and showcased his versatility at both guard and center. New York gets depth at both positions with Schmitz, and they get a player that finishes plays whether his opponent wants to or not.
26) Dallas Cowboys: Trenton Simpson, LB, Clemson
Imagine pairing Leighton Vander Esch with Trenton Simpson. What a duo that would be for the Dallas Cowboys. Simpson is an athletic linebacker that brings a good pop with his frame. While he played behind a dominant defensive line, Simpson was a major factor for the Tigers' defense, and he could do the same for Dallas.
27) Buffalo Bills: O'Cyrus Torrence, OG, Florida
We could add playmakers to the Buffalo Bills' offense because that's fun to do, but it also helps to add a guy that can make life easier for the current playmakers on the offense. O'Cyrus Torrence is a massive player that moves people with relative ease. If you want a tone-setter in the trenches, you're getting one with him.
28) Cincinnati Bengals: Dawand Jones, OT, Ohio State
The Cincinnati Bengals paid Orlando Brown Jr. a lot of money, and for good reason. Protecting Joe Burrow is serious business, and the Bengals could send the right message by adding another massive tackle.
Dawand Jones and Brown would give Cincinnati the biggest tackle duo in the league and would ensure they have a top-tier tandem for quite some time. Jones would allow them to trade away Jonah Williams if Cincinnati wants to acquire more picks.
29) New Orleans Saints: Michael Mayer, TE, Notre Dame
Derek Carr already has Chris Olave as a go-to option, but there's no doubt he'd be thrilled to have another if the New Orleans Saints find a way to add Michael Mayer. Mayer is a well-rounded tight end who became a better pass catcher last year, and he should find his way into the starting lineup fairly quickly.
30) Philadelphia Eagles: Drew Sanders, LB, Arkansas
There's plenty of fluctuation among the top linebackers in this 2023 NFL Draft class, and Drew Sanders is one of the more intriguing options. He transferred from Alabama to Arkansas, where he played multiple positions for the Razorbacks.
MORE: NFL Draft News and Rumors
His spot in the NFL may not be defined yet, but he's an athletic player who has plenty of ability to learn a new position if need be. At worst, he's an LB that can make plays all over the field and gives the Eagles someone that's comfortable both in the trenches and in coverage.
31) Kansas City Chiefs: Mazi Smith, DT, Michigan
Mazi Smith might not be as polished as some of the other defensive tackles in this class, but he's well on his way. His freakish athleticism and power help him stand out, and the Kansas City Chiefs have plenty of veterans that can help him unleash that on a consistent basis.
Is Anthony Richardson Really in Play for Carolina Panthers at 1?
PHOENIX — Pick a mock draft, any mock draft, and you'll almost assuredly find Ohio State star QB C.J. Stroud going first to the Carolina Panthers.
And that very well could be the case. But if you listened closely to head coach Frank Reich during his NFL owners meetings roundtable Tuesday, you could convince yourself that Florida's dynamic Anthony Richardson is getting real consideration inside Panthers HQ.
Frank Reich Talks Anthony Richardson, C.J. Stroud
The Panthers will get two more chances to evaluate Richardson the player and Richardson the man between now and when they go on the clock.
Florida's Pro Day is Thursday, and Richardson will be there and presumably throw. And then he'll travel to Charlotte for an on-campus visit with the Panthers — one of five 30 visits he has scheduled, per NFL Network. (His other known visits are with the Colts, Raiders, Falcons, and Titans.)
MORE: FREE Mock Draft Simulator With Trades
On Tuesday, during his 30-minute news conference, Reich said the following about Richardson, who appeared in just 22 games and threw a mere 393 passes in three seasons in Gainesville:
"There are plays and throws all over the tape that scream top pick, top of the draft pick. That's a credit to him. I think he has upper-body mechanics that are really solid. Obviously, his completion percentage is lower than you want at this level, but I don't get too discouraged [about] things like that.
"I see a lot of upside. Talking to him a little bit at the Combine, you could tell how smart of a guy he is. A guy like that, without totally getting into it, the more experience he gets, he's a guy that you feel like he's going to get better fast."
Drafting Richardson and his sub-55% collegiate completion percentage would be a massive gamble. He's the biggest variance quarterback prospect in the NFL draft. His upside is the moon, but he also had long stretches in 2022 where he looked like an athlete playing quarterback — not an athletic quarterback.
But the raw talent is as impressive as anyone in the draft. He ran a 4.43-second 40 and posted a 40.5 "vertical leap at the NFL Scouting Combine. And he did all of that at 6'4″ and 244 pounds.
Still, this is probably a career-defining decision for Reich and Panthers GM Scott Fitterer — which is why most believe they'll go with a safer pick (presumably Stroud over Alabama's Bryce Young).
Asked about both Stroud and Young Tuesday, Reich replied:
"Worthy of the discussions that are being had about being the top pick. Different styles of play. But both of those guys that you mentioned are very accurate passers. Process very well. Are smart. Football junkies. Good leaders. Different styles of leadership, but both really good leaders. Playmakers. Both really good."
MORE: The Carolina Panthers' Draft Plans — C.J. Stroud, Bryce Young, or Anthony Richardson

Young is a gamble in a totally different way than Richarson. At 5'10 ", 204 pounds, he would be among the smallest starting QBs in the modern era.
"I was mentioning this to someone the other day," Reich said. "When you're looking at any quarterback, let's just say there are 10 things we are evaluating. Then the question is: Every team is probably evaluating the same 10 things. But how do you evaluate those 10 things?
"And then, more importantly, how do you weight [sic] those 10 things? How much emphasis are we going to put on the experience or lack of experience — the fact that it's been X number of starts in college? Well, every team will weight that differently. We have our own perspective on that, on each one of those 10 things. And that's what we'll collaborate on at the end to make the final decision."