Landing Spots Include Raiders, Panthers, and Commanders
After a strong year with the Cleveland Browns, Jacoby Brissett has established his value as a quarterback and will be one of the rarest commodities in football – a starting quality passer hitting NFL free agency.
Or he would be, were it not for an unusually strong market that could feature Derek Carr, Lamar Jackson, Daniel Jones, Jimmy Garoppolo, and Geno Smith. He will also be competing against Aaron Rodgers' trade market and a draft class that could see up to five QBs drafted in the first round.
Jacoby Brissett Free Agency Predictions
Potential Reunion With Josh McDaniels in Las Vegas
The Las Vegas Raiders have a number of people in their coaching and front office staff that were on the New England Patriots when Brissett was drafted, with head coach Josh McDaniels chief among them. McDaniels was both the offensive coordinator and quarterbacks coach for Brissett's rookie year.
Alongside him were senior offensive assistant Jerry Schuplinski — then the assistant QBs coach in New England — and Raiders general manager Dave Ziegler, who was the director of pro personnel with the Patriots in 2016.
MORE: Quarterback Free Agency Rankings 2023
The Raiders cut Derek Carr and let him explore free agency before its official starts and only have practice squad QB Chase Garbers on their roster with Jarrett Stidham's contract expiring. Stidham was on the roster in the first place because of his familiarity with McDaniels' offense in New England, and Brissett could take that role.
Brissett will likely want to land at a place where he can compete for a starting job or earn more playing time, so if the Raiders end up trading for Rodgers, this becomes an unlikely destination. But if Las Vegas needs a bridge quarterback to bring along a developmental rookie or have a genuine competition among several competing starter candidates, this is an ideal spot.
The Washington Commanders Could Use Brissett's Steady Hand
It will be tough for the Commanders to land a quarterback of the future with the 16th overall pick, and they may have to roll the dice with a developmental player or Sam Howell, who they have publicly committed to.
It's difficult to fully buy into a fifth-round pick at QB, especially in a new offense. Brissett, who has experience with West Coast schemes from his time in Indianapolis, could work with Eric Bieniemy as a veteran backup who has a genuine shot at competing for a starting job against Howell and Taylor Heinicke.
Howell is more athletic than either Heinicke or Brissett, but all three can broadly run the same offenses, allowing Washington to keep continuity as they shift between quarterbacks due to competition or injury.
Brissett Might Reunite With Frank Riech in Carolina
The Carolina Panthers could pursue Brissett in free agency if they don't decide to re-sign Sam Darnold. Brissett has familiarity with Frank Reich's offense from their shared time in Indianapolis and could hit the ground running.
Carolina is in prime position to select a developmental passer in the draft in the form of Will Levis or Anthony Richardson but could decide that they'd prefer to continue working with third-round pick Matt Corral. In either instance, they know that they can't rely on their young passer to be a guaranteed high-quality player on Day 1.
Brissett could provide a floor in terms of performance as well as competition for Corral or a rookie. It gives him a genuine chance to start without Carolina signaling to the locker room that they've given up on Corral or that they're not confident in a draft pick.
There are other spots — reuniting with Drew Petzing and Monti Ossenfort in Arizona could make sense, but Kyler Murray is the unquestioned starter there –, but Brissett's priority is likely to compete as a starter or, failing that, be a bridge quarterback for a team bringing on a young developmental passer.
New Orleans Saints Could Look to Brissett to Compete in NFC South
The Saints won't be able to pick a quarterback until late in the draft unless they move heaven and Earth to trade up in the draft. With that in mind — and Andy Dalton hitting free agency –, they could put Brissett into a competition with Jameis Winston and another quarterback to take full advantage of Chris Olave and Rashid Shaheed.
If the Saints get their pick of quarterbacks in free agency, they'll likely look to one of the bigger names on the market before Brissett. But they don't have much cap space and have quite a few free agents of their own they might want to re-sign.
With a wide-open NFC South, they could seek to save a little bit of money with a cost-efficient quarterback like Brissett while allowing them to invest in receiver, running back, defensive line, and defensive back.
Tampa Bay Buccaneers Could Seek to Replace Tom Brady With a Protégé
The Buccaneers have eight starters retiring or hitting free agency, along with another eight or so key pieces with contracts expiring. They have the lowest cap space available in the NFL and will need to save money everywhere, with Brissett potentially being a foundation of that cost-saving approach.
Brissett is familiar with Tom Brady's workflow and has worked in his preferred offensive style, making it a somewhat smooth transition if Brissett were to take over the offense or compete with Kyle Trask and a rookie.
Jacoby Brissett Market Value, Career Stats, and More
Brissett was signed to the Browns with the understanding that he would be a caretaker quarterback until Deshaun Watson took over, which happened after the first 11 games of the season. I turned out that Brissett performed a great deal better than Watson did, though the time Watson spent away from football likely played a big role in that.
Nevertheless, Brissett was impressive and put together his best season in 2023, with career highs in yards per attempt, passer rating, and QBR. He led two fourth-quarter comebacks and played a more decisive brand of football than he did in his previous stops in New England, Indianapolis, or Miami.
Though the Browns as a unit didn't live up to Brissett's level of play, he did make some mistakes keeping him out of the top of a surprisingly competitive quarterback market.
MORE: 100 Top NFL Free Agents 2023
The Browns offense ranked sixth in expected points per play with Brissett at the helm, and he played with remarkable accuracy.
Brissett is unlikely to earn consideration as a quarterback of the future, especially at 30 years old, but he's in a position to earn much more than his 2022 salary, where he pulled in $4.7 million in total cash on a one-year deal.
After Nick Foles' surprising run with the Eagles, he earned $14.5 million in a more restrictive cap environment. Brissett didn't earn that level of success and will be in a much more competitive quarterback market, so expect him to play as a bridge QB once more, perhaps just shy of $10 million a year.
Jacoby Brissett Career Stats
Passing Yards: 10,350
Passing Attempts: 1,577
Passing Completions: 963
Completion Rate: 61.1%
Yards Per Pass Attempt: 6.56
Passing Touchdowns: 48
Interceptions: 23
Passer Rating: 84.4
'He's Really Impressing Me' – Aaron Rodgers Gives High Praise to Cowboys Dak Prescott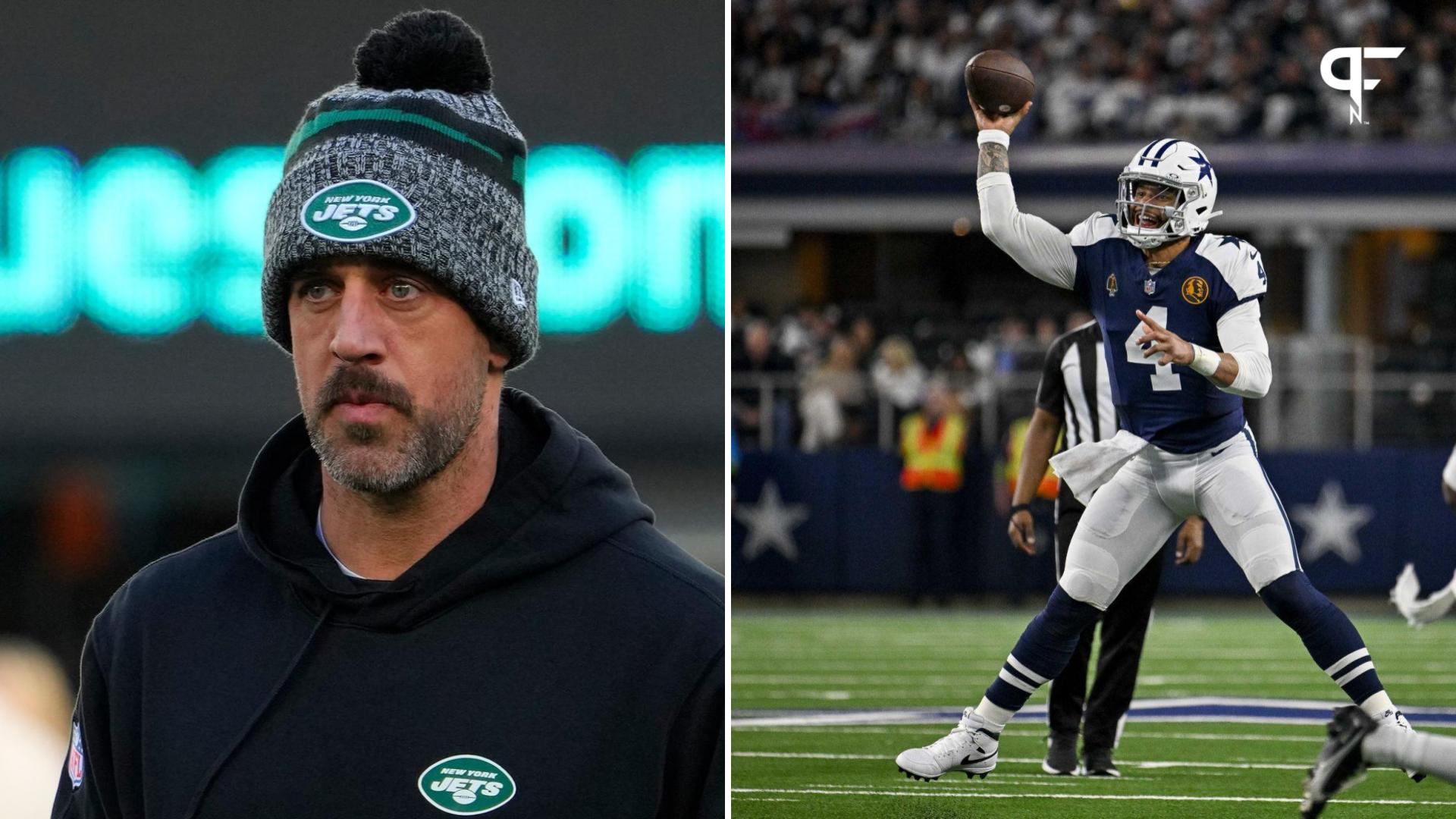 The Dallas Cowboys are on a roll right now. After losing to the Philadelphia Eagles in the final seconds a month ago, Dak Prescott and the 'Boys have won three straight and have done so in dominant fashion. The team is 5-1 through the last six games of the season, and Prescott has played his way into the MVP conversation.
It seems like everyone around the league is paying attention to what Prescott and the Cowboys are doing right now, and that includes current players.
Aaron Rodgers Gives High Praise to Dak Prescott
While joining the fellas on his weekly spot over at The Pat McAfee Show, Rodgers seemingly went out of his way to heap praise for Prescott and how well he has been playing as of late.
"He's become one of my favorite quarterbacks to watch," Rodgers began. "I just love that he is really playing the position…he's using his cadence beautifully.
"I love the way he's playing, and he's really impressing me." I love it, and I just want to shout out Dak for really impressing me."
Those are powerful words from Rodgers, who has played the position at an extremely high level for a very long time. For Rodgers to, unprovoked, go out of his way to give Prescott praise from an unbiased opinion, speaks volumes to just how well he really is playing right now.
Oftentimes, the Cowboys' QB gets an unfair amount of attention, with the wins and losses both getting heaped upon the shoulders of the man under center a little more than they should.
Rodgers understands that dynamic, and while there seems to be a lot of varying opinions about Dak and his rank amongst the NFL's best QBs, Rodgers felt the need to give him the praise he believes he deserves.
Tough Stretch Coming for Dak and the Cowboys
The Cowboys have handled business over the last month against the likes of the New York Giants, Carolina Panthers, and the Washington Commanders. However, things are about to get a whole lot harder for Prescott and the Cowboys going forward.
Next up is a Thursday night matchup against the Seattle Seahawks, followed by matchups with the Philadelphia Eagles and the Buffalo Bills. Dallas' season wraps up against the Miami Dolphins on Christmas Eve, followed by the Detroit Lions, before ending the season on the road against the Commanders.
MORE: How Can the Dallas Cowboys Ensure Offensive Success for Rest of Season?
A lot can be learned about the legitimacy of this year's Cowboys team through the next month of the season. If the play is still at a high level, Rodgers won't be the only one to be heaping praise on Prescott.
Want to predict the rest of the 2023 season with our FREE NFL Playoff Predictor? Looking for the most up-to-date NFL standings? What about a breakdown of team depth charts or the NFL schedule? Pro Football Network has you covered with that and more! 
Will Walker Play in Week 13? Fantasy Impact and More
Fantasy football managers who were without Seattle Seahawks RB Kenneth Walker III may want to start formulating a backup plan at the running back position for Week 13 with another appearance on the team's injury report to start the week of practice.
Let's take a closer look at the most recent news we have on Walker and the potential fantasy impact this injury could have on the Seahawks' offense.
Latest Injury Update on Kenneth Walker III
Seattle's leading rusher has been a vital contributor to the Seahawks' offense through the first half of the 2023 NFL season. However, the offense struggled to produce scoring drives against the San Francisco 49ers when Walker missed his first game of the season on Sunday.
According to a recent report from Gregg Bell, Walker missed the first practice of the week ahead of their game against the Dallas Cowboys on Thursday Night Football. Walker was a non-participant in practice all of last week while dealing with an oblique injury that ultimately saw him ruled out on Thanksgiving.
Will Walker Play This Week?
It's unfortunate the Seahawks play on Thursday because it would give Walker an additional three days of recovery time to heal his ailing oblique if the game was Sunday, but the schedule overlords simply don't favor him in this case.
Walker's absence from Monday's practice is a bad sign for his Week 13 availability. If he hopes to return to the field against Dallas, he'll likely need to get on the field before Wednesday. Otherwise, Seattle is very likely to simply play it safe with Walker and give backup RB Zach Charbonnet the leading role for a second straight game.
What Does This Mean for Zach Charbonnet's Fantasy Ranking?
When on the football field this season, Walker has been a productive fantasy asset, with 17 receptions for 173 receiving yards, 613 rushing yards, and seven TDs. Even with Walker out of the lineup in Week 12 and the team having their bye back in Week 5, he's still the RB21 in PPR formats on the season.
It's worth mentioning that Walker was beginning to cede a significant amount of snaps to Charbonnet prior to his injury — seeing less than 50% of the offensive snaps in three straight games from Weeks 8 to 10.
During that span, Charbonnet out-snapped Walker but failed to significantly out-produce him on the field, which accomplished the unattractive fantasy feat of putting both in a timeshare.
MORE: PFN's FREE NFL Playoff Predictor
Many fantasy managers had very high expectations for Charbonnet once Walker exited the game against the Los Angeles Rams with the aforementioned oblique injury. Unfortunately, the rookie has just 94 rushing yards on 29 carries with no scores in the last two games.
While the rushing efficiency hasn't been ideal, Charbonnet's involvement in the Seahawks' struggling passing game has been encouraging. He does have 10 receptions over the last two games, which does slightly raise his fantasy floor.
If Walker is available against the Cowboys, he feels like a low-end RB2 in a tough matchup working in tandem with Charbonnet. But if Walker misses his second straight game, then Charbonnet would be a top-20 play at the RB position in Week 13.
Looking to make a trade in your fantasy league? Having trouble deciding who to start and who to sit? Setting DFS lineups? Check out PFN's Free Fantasy Football Trade Analyzer, Start/Sit Optimizer, and DFS Lineup Optimizer to help you make the right decision!
Listen to the PFN Fantasy Podcast
Listen to the PFN Fantasy Podcast! Click the embedded player below to listen, or you can find the PFN Fantasy Podcast on iTunes, Spotify, and all major podcast platforms.  Be sure to subscribe and leave us a five-star review! Rather watch instead? Check out the PFN Fantasy Podcast on our Fantasy YouTube channel.
What Has Been the Game-Changers for the Dallas Cowboys?
The Dallas Cowboys continued to show their dominance with yet another home win on Thanksgiving, making them 8-3 so far this season.
This week on the PFN Dallas Cowboys Podcast, Dalton Miller and Jess Nevarez discuss the Cowboys' performance against the Washington Commanders and look ahead to the team's Week 13 matchup versus the Seattle Seahawks.
Dallas Cowboys vs. Washington Commanders Recap
Miller and Nevarez discuss the key moments that led to the Cowboys' win on Thanksgiving. How did Dallas set a new bar for themselves in this matchup?
Dak Prescott continues to play lights out, but what is working so well with the weapons around him that are ensuring success for the quarterback?
DaRon Bland tied the NFL record for most pick-sixes in a season. What has made him so successful this season?
What Is Dalton Miller's 'Hot or Not' Take of the Week?
Dalton Miller's take this week is that Bland should be named the Defensive Player of the Year. Although Bland already broke the NFL record for the most pick-sixes for the year, how many more could he make this season?
MORE: How Does DaRon Bland's Humility Continue To Impress Just as Much as His Record-Breaking Game?
Do you agree or disagree? Tune in every week to find out what his "hot or not" takes will be.
Looking Ahead to Cowboys vs. Seahawks
The Cowboys are back home at AT&T Stadium for another Thursday night prime-time matchup. With this being a challenge for Dallas' run defense, how much of a "measuring stick" game will this be for the Cowboys?
This episode discusses how Dallas can continue to improve as the season progresses against tougher matchups ahead for the team.
Who Was Our 'MVPFN' of the Game?
Miller and Nevarez tell you which players won their "MVPFN" of the game and how both players impacted the result.
This week, Miller gave a player who is an underappreciated aspect of the defense, and Nevarez discusses who the success all ties back to. Tune in every week to see who our "MVPFNs" are from each game.
Want to predict the rest of the 2023 season with our FREE NFL Playoff Predictor? Looking for the most up-to-date NFL standings? What about a breakdown of team depth charts or the NFL schedule? Pro Football Network has you covered with that and more! 
Listen to the PFN Cowboys Podcast
Listen to the PFN Cowboys Podcast! Click the embedded player below to listen, or you can find the PFN Cowboys Podcast on iTunes, Spotify, and all major podcast platforms.  Be sure to subscribe and leave us a five-star review! Rather watch instead? Check out the PFN Cowboys Podcast on our NFL YouTube channel.