Fred Warner Tops List, Matt Milano and Shaquille Leonard Get Their Due
Capable linebackers are becoming a rarity in the modern NFL, which is why the best LBs in the league provide even more value than they did before. With fewer linebackers on the field, it's imperative that the ones that play every down have the ability to stop the run, cover the pass, and blitz the quarterback.
Those that can do all three of those tasks can lay claim to the title of being the top linebacker in the NFL. Different LBs will contribute in varied ways, however, which is why it's never simple to put together a ranking of the best LBs in the NFL.
Nevertheless, we'll start with the most complete player in the league — and the best LB in the NFL — and go from there.
Who's the Best Linebacker in the NFL?
San Francisco 49ers LB Fred Warner has the top argument for being the best linebacker in the NFL. Warner, a 2018 third-round pick out of BYU, immediately made an impact in San Francisco and continues SF's streak of high-level linebacker play, following in the footsteps of Patrick Willis, NaVorro Bowman, Chris Borland, and more.
Warner is phenomenal in coverage, playing with excellent instincts, athleticism, and a deep understanding of what NFL offenses are trying to do. He pairs his excellent range with strength in the running game and is the rare coverage LB who has the ability to take on blocks from fullbacks while still squeezing running lanes.
On top of that, Warner has better instincts than almost everyone at the position. He finds himself sprinting to the running back before the handoff but still finds ways to avoid getting fooled by play-action. Warner really is the ideal linebacker, and his range of play is astounding.
Rest of the Top 10 Linebackers Ranked
2) Lavonte David, Tampa Bay Buccaneers
There are several veteran linebackers near the top of this year's list, and a big reason why is that top-tier LBs need good game sense above all else. Still, a baseline level of athleticism and physicality is a requirement for the position. It looked like Lavonte David had lost some of that last year and was on the decline.
MORE: Who Are the Highest-Paid Quarterbacks in the NFL in 2023?
In 2022, he bounced back in a big way and continues to play his extraordinarily physical brand of football while still demonstrating the necessary range to be an effective coverage linebacker.
3) Shaquille Leonard, Indianapolis Colts
After missing the 2022 season due to injury, Shaquille Leonard will be ready to take his place among the top linebackers in the NFL in 2023. His ability to create turnovers without losing his position as a run-stopper or coverage defender is rare in the NFL, and his absence was felt throughout the Colts defense last year.
Though he's slightly less consistent than other top-five linebackers from play to play, his value is tremendous, especially if he can keep forcing turnvoers.
4) Matt Milano, Buffalo Bills
It took a while for the national media to catch up to how good Matt Milano has been for the Buffalo Bills, but he rose to prominence in the middle of what might have been his best year. Milano was a former safety before switching to linebacker in college, and it shows. He's a coverage specialist that has added run-stopping chops to his game.
He even has the rare ability to track tight ends deep in man coverage or as the hole player in Tampa 2, something not expected of many linebackers despite the emphasis on coverage in the modern game. Milano is also a capable blitzer and demonstrates enough power to bowl over running backs and enough finesse and agility to get by offensive linemen.
While Milano still needs to be protected a little bit in the run game, when he has clearance from the defensive line in front of him, he can be a wrecking ball.
5) Demario Davis, New Orleans Saints
One of the most underrated linebackers of the past several years, Demario Davis' late-career emergence as an elite LB has been fun to watch. He's been a little bit dependent on good play from the defensive line in front of him, but he has the ability to fully integrate explosiveness with the ability to read opposing offenses.
Earlier in his career, Davis had primarily been a run-stuffing, gap-shooting linebacker that had some trouble with landmarks in zones and overrunning plays. But now, he plays a more disciplined style of football that still allows him to make big hits in the running game, get to the hole quicker than the RB, and squeeze lanes to force ball carriers into other defenders.
In pass coverage, Davis' ability to read offenses has allowed him to finally channel his athleticism into becoming a short-area zone maven, making it nearly impossible for crossers and checkdowns to get much done.
6) Bobby Wagner
It defies belief that Bobby Wagner could continue playing at this level at his age, but he's finding ways to make a big impact, and not just as a run-stuffer or blitzer. Wagner remains a coverage machine and does a great job getting his hands on the ball.
MORE: Highest-Paid Running Backs in the NFL in 2023
In 2022, he added to the Rams' formidable pass rush as an excellent blitzer, and, along with Davis, was among the off-ball pressure leaders in the NFL. Wagner has a good sense of how to attack guards as a blitzer and stimulate pressure well enough to enable other pass rushers on the defensive line.
7) Dre Greenlaw, San Francisco 49ers
Rounding out the best LB duo in the NFL, Dre Greenlaw supplements Warner's unreal coverage skills with his remarkable play against the pass. Another converted safety, Greenlaw adds even more speed to the 49ers' defense with remarkable range.
Not only does this allow him to shut down some of the secondary receiving options NFL offenses will bring to the table, but it gives the 49ers incredible flexibility in how they call coverages.
Both of San Francisco's linebackers have the ability to go deep in coverage or defend an enormous range underneath, which means that either one of them can be manned up against tight ends and running backs or sent into zone landmarks far away from where LBs are typically lined up.
That flexibility is part of the reason the 49ers have the best defense in the NFL. Greenlaw doesn't trigger quite as quickly as Warner but might make up for it by being a bit more physical in the run game. In either case, both are enormous assets in both phases of the game.
8) Jeremiah Owusu-Koramoah, Cleveland Browns
In the past, safety conversions to linebackers didn't always produce success. Part of the reason for that was the willingness and instinct (or lack thereof) of safety converts to enter the fray and deliver a hit. Owusu-Koramoah, one of several safety-type linebackers on this list, proves that tendency is no longer a big concern.
Owusu-Koramoah hits hard and fast, though he's primarily a coverage defender with run-stopping ability rather than the other way around. Still, the difference in both aspects of the Browns' defense was notable when he was out. With the 2023 season ahead of him, he can hopefully put together another healthy year that should cement him among the league's top linebackers.
9) T.J. Edwards, Philadelphia Eagles
The Philadelphia Eagles' defense was remarkable in 2022, and though one can give a lot of credit to the secondary and defensive line, the linebackers did good work keeping the team consistent from down to down.
T.J. Edwards has made up for his average athleticism with elite diagnosis skills and does a great job in every asset of play. While not an elite player in any one facet, he's does everything that's asked of him, whether that's covering RBs in man coverage, playing a middle zone, or rushing the passer.
Edwards has been a beacon of consistency in the run game as well, something Philadelphia needed throughout their run at a ring, as their defensive line dealt with injuries and focused more on pass rush than run defense.
10) Roquan Smith, Baltimore Ravens
Roquan Smith had been a great player in Chicago but seemingly declined a little bit every year. After being traded to the Baltimore Ravens, it seems like he's revived his career.
Smith plays like a classic WILL LB and does an excellent job sifting through the trash to make plays in the running game without being a liability when blocked up by a fullback or tight end. He shines, however, as a coverage defender.
Smith can freelance a bit more than other linebackers because of his excellent eyes and athleticism, allowing him to close down on plays where his coverage assignment isn't even the target. He also does a great job keeping in phase against tight ends and occasionally occupying deep zones.
If he finds a way to continue playing like this going forward, Smith could rise up the rankings.
Linebacker Rankings | 11-32
11) Nick Bolton, Kansas City Chiefs
12) Tremaine Edmunds, Buffalo Bills
13) Frankie Luvu, Carolina Panthers
14) Eric Kendricks, Minnesota Vikings
15) De'Vondre Campbell, Green Bay Packers
16) C.J. Mosley, New York Jets
17) Devin White, Tampa Bay Buccaneers
18) Foyesade Oluokun, Jacksonville Jaguars
19) Bobby Okereke, Indianapolis Colts
20) Quincy Williams, New York Jets
21) Germaine Pratt, Cincinnati Bengals
22) Willie Gay Jr., Kansas City Chiefs
23) David Long Jr., Tennessee Titans
24) Patrick Queen, Baltimore Ravens
25) Jerome Baker, Miami Dolphins
26) Shaq Thompson, Carolina Panthers
27) Logan Wilson, Cincinnati Bengals
28) Cole Holcomb, Washington Commanders
29) Alex Singleton, Denver Broncos
30) Malcolm Rodriguez, Detroit Lions
31) Ja'Whaun Bentley, New England Patriots
32) Josey Jewell, Denver Broncos
Philadelphia Eagles, New York Jets, or Cincinnati Bengals?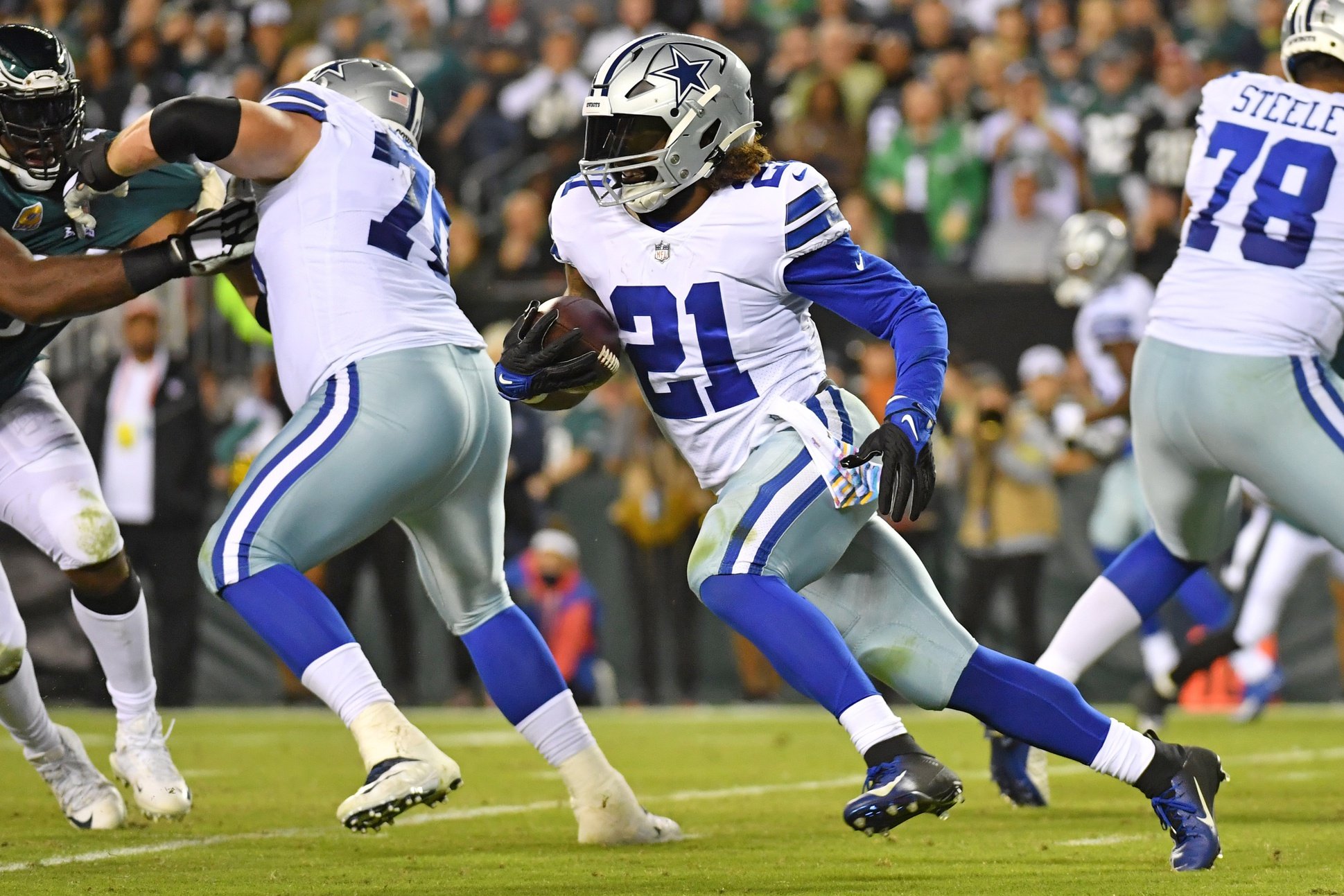 A week after his seven-year stint with the Dallas Cowboys came to an end, running back Ezekiel Elliott is drawing interest on the free agent market. Zeke has narrowed his options to the Philadelphia Eagles, New York Jets, and Cincinnati Bengals, according to Adam Schefter of ESPN, who adds Elliott would like to choose a new team by the end of next week.
Ezekiel Elliott's Best Free Agent Fit
Elliott posted the worst season of his career in 2022, ceding touches to fellow Cowboys back Tony Pollard while posting just 3.8 yards per carry. Zeke is only 27 years old, but he has a lot of wear and tear after handling more than 2,000 carries for Dallas since 2016.
Still, Elliott could make sense for any of his three preferred destinations, especially if he signs for a deal near the league minimum. Let's rank Elliott's potential landing spots in order of the best fits from his perspective.
3) New York Jets
The Jets' offense should look radically different next season, assuming Gang Green is able to eventually complete a trade for Aaron Rodgers. New York has changed its receiver room, adding Allen Lazard and Mecole Hardman while subtracting Elijah Moore, but its running back depth chart looks the same.
Breece Hall should be the Jets' top rusher, but he's returning from an ACL tear he suffered in October. Although Hall believes he'll be ready for training camp, Elliott would give New York a reinforcement in the event Hall has a setback in his recovery.
MORE: 100 Top NFL Free Agents 2023
Playing in a Rodgers-led offense that should be able to put up points could be a boon for Elliott, who could re-enter the market in 2024 if he signs a one-year pact this year. However, there's enough competition in New York that the Jets are a firm third in our rankings.
Hall will be New York's primary ball carrier if he's healthy, but Michael Carter is also a threat. While Elliott is an excellent pass protector, Carter's abilities as a receiver could earn him work on third downs at Zeke's expense. And 2022 undrafted free agent Zonovan Knight is still around, too.
Add in a Jets offensive line that still has plenty of holes, and New York should be the least attractive suitor on Elliott's list.
2) Cincinnati Bengals
If the Bengals were to sign Elliott, they would probably move on from Joe Mixon, whose release would create more than $7 million in cap savings for the upcoming season. Given Cincinnati's lack of young RB options on its roster, the club would also likely target a back relatively early in the 2023 draft.
There could theoretically be a role for Zeke with the Bengals even if Mixon stays. Cincinnati rarely trusts Mixon on passing downs and reportedly offered third-down back Samaje Perine a contract similar to what he signed with the Denver Broncos.
The Bengals were one of the NFL's pass-happiest teams in 2022, which could result in a lack of touches for Elliott. However, Cincinnati was also the fifth-most efficient and eighth-highest-scoring offense in the league a year ago, so Zeke would have plenty of goal-line opportunities to punch in for scores.
Additionally, the Bengals have rapidly improved their offensive line over the past two offseasons. New left tackle Orlando Brown Jr. was the club's big-ticket item this month, but Cincinnati also added four new starters — left guard Cordell Volson, center Ted Karras, right guard Alex Cappa, and right tackle La'el Collins — last year. Collins' status is up in the air, but the Bengals' front is in a much better place than it was two years ago.
Returning to Ohio would also represent something of a homecoming for Zeke, who starred at Ohio State and briefly overlapped with Joe Burrow before the future Heisman winner transferred to LSU.
1) Philadelphia Eagles
While the Bengals would give Elliott a soft landing spot, the Eagles profile as an even better destination.
Philadelphia signed Rashaad Penny this offseason, but the former first-rounder has been beset by injuries his entire NFL career and has never handled more than 120 carries in a season. Just once has he managed more than 85 carries.
Kenneth Gainwell is also on the Eagles' roster, but he's failed to top 30% playing time in either of his two pro campaigns. Miles Sanders' departure created a void that Elliott could help fill.
Philadelphia boasts the best offensive line in the NFL, with a unit that is heads-and-shoulders ahead of every other front five when it comes to run-blocking. Isaac Seumalo's defection means the Eagles won't bring back all five OL starters in 2023, but 2022 second-round pick Cam Jurgens is on hand to take over at right guard.
MORE: Best Running Backs in the NFL 2023
Philadelphia led the NFL in rushing success rate last year and nearly doubled the efficiency of the next-best running attack. Jalen Hurts constantly threatens defenses as a rusher, which could open up lanes for Elliott in Philadelphia.
Eagles general manager Howie Roseman rarely shells out for running backs, so Zeke's cheapest offer might come from Philadelphia. But given that he's already made more than $70 million in the NFL, Elliott should join the club that gives him the best chance at personal success and winning a Super Bowl trophy — and that's the Eagles.
With March Madness Returning, Is There Football Today?
The XFL has completed the first five weeks of its first regular season in three years. Five weeks remain before the postseason begins. Diehard and even casual fans might be wondering if there is a football game today. Well, let's find out if there are any XFL games tonight.
XFL Games Today: Is Football Tonight?
The short answer is, no, there is not any XFL football today. March Madness might have something to do with it, as the XFL probably wants to limit the amount of competition it has with the much-anticipated Sweet 16 round of the ratings bonanza that is the NCAA Men's Basketball tournament.
Interestingly, previous Thursday Night XFL games this season haven't attracted as much attention as the weekend contests. The first Thursday tilt (Week 2) featured two high-powered offenses: the St. Louis Battlehawks and Seattle Sea Dragons. They pulled in the fewest viewers that week.
However, we should note that this game was broadcast on FX, while two of the other three games that weekend were on ESPN and ESPN2, respectively. Both of those ESPN-affiliated games had significantly higher viewership than the two FX matchups.
MORE: XFL TV Schedule | XFL Standings
The second Thursday night contest took place last week, and it also featured two fantastic offenses: the Sea Dragons and the Houston Roughnecks. But it coincided with the opening night of the NCAA Tournament's Round of 64. Bad timing. Avoiding a repeat of that might very well be part of the reason there is no XFL football today.
And also unfortunate given the stakes of that faceoff. The Sea Dragons — one of my two preseason picks to win the title — are now on a three-game winning streak and in the thick of the playoff hunt. Meanwhile, the Roughnecks lost their first game in their franchise's history.
You read that right. Houston went 5-0 in 2020 before the pandemic canceled the rest of the season. In the 2023 reboot, they started 4-0. That's quite a run.
As we await the opening kickoffs for Week 6, most XFL teams remain firmly in playoff contention. The North division boasts three of the four top squads; it's too bad all three won't qualify for the postseason. And Houston remains squarely atop the South division, as they look to regroup after last Thursday's letdown. However, XFL fans will have to wait for the weekend as there is no XFL football today.
Potential Buyers To Replace Dan Snyder Include Jeff Bezos, Magic Johnson
The NFL annual owners' meeting could be the end of the road for Washington Commanders owner Dan Snyder. Hints that a Commanders sale could be imminent are everywhere, including Washington's unconventional approach to free agency. Washington reportedly has pushed back the disbursements of signing bonuses by two months — which is a possible signal that Snyder is hoarding cash ahead of a potential sale.
That sets the stage for a dramatic owners' meeting, when the league's 32 owners could vote on a Commanders' purchase proposal. But who will pony up the estimated $6 billion? Here's a look at the known potential Commanders buyers — including a number of famous names.
Potential Buyers in Washington Commanders Sale
Intrigue regarding a Washington Commanders sale stretches back to at least 2020, when the Washington Post revealed an alleged culture of harassment towards female employees. That triggered a number of investigations — including one conducted by Congress — into Snyder and his organization. He's also been accused of a series of financial improprieties.
MORE: Washington Commanders Super Bowl Odds
The compounding scandals have been the driving force — both internally and externally — to get Snyder to sell, either voluntarily or involuntarily. For ownership bids to succeed, they must first be vetted by the NFL's finance committee and then ratified by three-quarters of the league's 32 owners.
So who has the means and desire to make such a purchase? Here's a list of potential buyers in the seemingly inevitable Commanders sale.
Josh Harris and Magic Johson
Since his retirement from the NBA, Magic Johnson has had at least a partial ownership stake in the Los Angeles Lakers, Los Angeles Dodgers, Los Angeles Sparks, and Los Angeles F.C. And now he's teaming up with businessman and investor Josh Harris to bid on the Commanders.
The Washington Post reported recently that Johnson has joined the Harris-led investment group, which is viewed as the frontrunners to land the Commanders. Harris, since 2011, has also been part of a group that bought the Philadelphia 76ers, the New Jersey Devils, and Crystal Palace F.C.
Johnson and Harris together last year tried to buy the Denver Broncos, but a group by Walmart heir Rob Walton ultimately won out (with a purchase price of $4.7 billion).
Jeff Bezos
Creating Amazon has made Jeff Bezos the world's third-richest man, but all the money in the world is useless if the person selling what you want to buy isn't willing to sell it to you. And that might be Bezos' reality when it comes to the Washington Commanders sale.
The Athletic reported last month that Bank of America — which is handling the sale — has informed Bezos that he is not allowed to even make an offer for the Commanders.
Why?
Payback by Snyder against the Bezos-owned Washington Post, which Snyder is said to loathe due to their aggressive and damaging coverage of Snyder and his football team.
Byron Allen
Byron Allen, media mogul and founder of Entertainment Studios, would become the first Black majority owner of an NFL franchise if he is the winning bid. Allen, like Harris and Johnson, was interested in buying the Broncos. His desire to own an NFL team didn't end with that disappointment.
With a net worth of less than a billion dollars, Allen would need to assemble a deep-pocketed collection of investors to put together the kind of money needed to make the deal.
Tilman Fertitta
Another familiar name in the worlds of sports and entertainment, Tilman Fertitta, in recent weeks, submitted a bid that the Washington Post reports totaled $5.5 billion.
Fertitta is the owner of the Houston Rockets (whom in 2017 he bought for a then-record $2.2 billion) and Landry's Inc. — the parent company of the Golden Nugget casinos and some of the nation's most recognizable restaurant chains (including Del Frisco's, Morton's and Rainforest Cafe).
Fertitta also starred in the CNBC reality TV show "Billion Dollar Buyer," which aired from 2016-2018.
Steve Apostolopoulos
A late edition to the Commanders Derby, Steve Apostolopoulos recently toured the Commanders training complex as he mulls a bid, per ESPN.
Apostolopoulos is a Candian billionaire who founded the private equity fund Six Ventures. He's also been a candidate to buy the NBA's Charlotte Hornets from Michael Jordan, but ESPN reports he is now focusing in on acquiring the Commanders.
Clearlake Capital
Behdad Eghbali and Jose E. Feliciano, co-founders of Clearlake Capital, first tried buying a minority stake in the Commanders in 2020. Snyder blocked that attempt then. Will he do so again?
Eghbali and Feliciano — who also were players in the Broncos sale but are seen as long shots to buy the Commanders — are believed to be worth more than $6 billion combined.