Biggest Snubs from March Madness
Selection Sunday is the moment of truth for college basketball teams hoping to make it to the big dance. But for a few unlucky teams each year, it becomes Rejection Sunday as they watch the NCAA men's tournament bracket unveiling together only to hear Greg Gumbel call out other teams' names.
This year's Selection Sunday was no exception, with many bubble teams anxiously awaiting their fate. Some had surged into tournament contention in March, while others stumbled into Selection Sunday with a string of losses. Some teams had demanding schedules and barely made it above .500, while others had impressive records but lacked quality wins to secure a spot in the tournament. Regardless of their circumstances, they all hoped for a shot at March Madness, but only a few were lucky enough to see their dreams come true.
Biggest Snubs
Rutgers (19-14, 10-10, NET: 40, KenPom: 35)
Despite being projected to make the NCAA tournament in almost every mock bracket, the Scarlet Knights' unusual profile made them vulnerable to exclusion. Their non-conference schedule lacked challenges, and their performance in the Big Ten season showed they could beat any team and lose to anyone.
On the one hand, Rutgers had impressive wins against Purdue and Penn State and pushed Purdue again into the Big Ten quarterfinals. They also beat Indiana and Maryland. On the other hand, their 2-4 record in Quadrant 3 games was the worst among bubble teams, and they suffered embarrassing losses to last-place Minnesota, Nebraska, Temple, and Seton Hall. The Scarlet Knights' inconsistency ultimately cost them a spot in the tournament, leaving them to wonder what might have been.
Clemson (23-10, 14-6, NET: 57, KenPom: 64)
Clemson's résumé had much going for it as a bubble team, including an above-.500 record in Quadrant 1 and 2 games and impressive wins against Penn State, Pittsburgh, Duke, and NC State. They also had a solid 14-6 record in a down ACC.
However, their non-conference schedule ranked a lowly 334th, and their numerous losses in Quadrant 3 or 4 games were their undoing.
The selection committee has always been critical of weak non-conference schedules, and Clemson's certainly fit that bill. But their losses to 28-loss Louisville, South Carolina, Boston College, and Loyola Chicago sealed their fate. It's tough to make the NCAA tournament with hideous defeats on your résumé, even with impressive wins. Unfortunately for Clemson, their lack of consistency and poor scheduling decisions cost them a spot in the tournament this year.
North Carolina (20-13, 11-9, NET: 46, KenPom: 47)
North Carolina made painful history on Selection Sunday by becoming the first team to miss the NCAA tournament since the field expanded to 64 teams in 1985 after being ranked as the AP preseason No. 1 team. Despite having four returning starters from last year's national runner-up team, the Tar Heels never found their form this season. They struggled in Quadrant 1 games, only managing two wins, with one coming against a struggling Ohio State team that finished second-to-last in the Big Ten.
Even a solid performance in the ACC quarterfinals was needed to secure North Carolina's spot in the tournament. The Tar Heels fell to Virginia in a defensive battle, and disappointment was evident on their faces as they realized their fate. For a team with such high expectations, missing the tournament was a tough pill to swallow and a reminder that success in college basketball is never guaranteed.
Vanderbilt (20-14, 11-7, NET: 81, KenPom: 80)
According to Bart Torvik's T-Rankings, Vanderbilt has been the 30th-best team in the country since February 1st. The Commodores finished the season strong, winning 10 of their last 12 games, including victories over Kentucky, Mississippi State, Auburn, and Tennessee. If Selection Sunday were based on the 68 teams playing the best at the end of the season, Vanderbilt would be a lock. However, the committee evaluates the entire body of work, which includes Vanderbilt's early season losses to Grambling and Southern Miss. These losses, combined with their low NET ranking of 81 and KenPom ranking of 80, worked against them.
Ultimately, Vanderbilt was in a similar position to the 2022 Texas A&M Aggies. Like the Aggies, the Commodores hit their stride too late in the season. Despite their impressive finish, Vanderbilt's early season struggles proved too challenging to overcome in the eyes of the selection committee.
Top 5 Players in the 2023 Transfer Portal
1. Skyy Clark
2023 School: Illinois | 2024 School: Louisville
After starting in 12 out of 13 games for Illinois, Clark announced his departure from the program in January due to personal reasons. Now, the former top-40 prospect is set to join Louisville, where he is expected to be the primary ball-handler. In Payne's first season as coach, the Cardinals lacked support for point guard El Ellis, making Clark's arrival a positive development for the program as they strive to build a competent backcourt.
2. Fardaws Aimaq
2023 School: Texas Tech | 2024 School: Undecided
Aimaq, the former WAC Player of the Year from Utah Valley, transferred to Texas Tech last season but was sidelined by injuries and only played in 11 games. Despite his limited action, the 6-11 center proved to be a productive player in a physical league, averaging 11.1 points and 7.9 rebounds per game. Aimaq has demonstrated his ability to protect the rim and also shoot 3-pointers over the past two seasons, making him a valuable addition to any team.
3. Walter Clayton Jr.
2023 School: Iona | 2024 School: Undecided
As a sophomore at Iona, Clayton was named MAAC Player of the Year after leading the team in scoring and helping the Gaels secure a spot in the NCAA Tournament. The 6-2 guard displayed impressive accuracy from beyond the arc, hitting 43.1% of his 3-pointers on an average of 5.2 attempts per game. In addition, Clayton contributed 3.2 assists and 1.8 steals per game, demonstrating his well-rounded skillset. There have already been rumors that Clayton Jr. is most likely to follow Pitino from Iona to his new gig at St. John's. If he does, that would be a big addition to the St. John's backcourt.
4. J.J. Starling
2023 School: Notre Dame | 2024 School: Syracuse
Starling, a former five-star prospect in the Class of 2022, had a solid freshman campaign at Notre Dame, averaging 11.2 points per game. However, his 3-point shooting could use improvement, as he only made 29.9% of his attempts from beyond the arc. The 6-4 guard will look to make strides in that area as he joins Syracuse and takes on a major role under first-year coach Adrian Autry.
5. Jamison Battle
2023 School: Minnesota | 2024 School: Undecided
As a 6-7 forward, Battle was a standout player for Minnesota in the 2021-22 season, averaging 17.5 points and 6.3 rebounds with a solid 36.6% 3-point shooting. However, his performance and shooting percentages declined in the past season as Minnesota struggled. Despite this, Battle is an experienced and versatile forward who has proven himself in the Big Ten conference.
March Madness 2023: Final Four Opening Odds
After the conclusion of the NCAA Tournament's Elite Eight, the Final Four lineup has been decided, featuring one of the lowest total seed sums in history. On Saturday, the Florida Atlantic Owls and UConn Huskies secured their places in Houston, while on Sunday, the Miami Hurricanes and San Diego State Aztecs pulled off huge wins to finalize the lineup.
This year's Final Four includes three schools making their debut appearances in the tournament's history: San Diego State, Miami, and FAU. UConn is the only program with previous experience at this stage, although their last appearance was nearly a decade ago. According to the odds, SDSU and UConn are the favored teams to emerge victorious.
Scheduled for Saturday, April 1, and broadcast on CBS, the opening odds for the Final Four games are presented below.
The Best March Madness Final Four Betting Sites
2023 Men's Final Four Odds
No. 5 Miami vs. No. 4 UConn (-5) | 6:50 p.m. CST | CBS
Miami and UConn are set to battle for the right to play for a national championship. Miami mounted an improbable late 13-point comeback on Sunday against Texas to punch their ticket to the Final Four. On the other side, UConn has been a bit of a downhill train. The Huskies have won every game of their run by double digits including beating Arkansas by 23 in the Sweet 16 and Gonzaga by 28 in the Elite 8.
No. 9 FAU vs. No. 5 San Diego State (-2) | 4:09 p.m. CST | CBS
In one of the most unlikely Final Four matchups in quite some time, No. 9 Florida Atlantic will meet No. 5 San Diego State. Florida Atlantic outlasted Kansas State in the Elite 8 while San Diego State came back late to beat Creighton. San Diego State's suffocating and shutdown D will really test the uptempo and balanced offense of the Owls. It's going to be interesting to see which style will prevail. But regardless of who wins, one of these two schools will be competing for its first national title and will be considered a legitimate Cinderella in the championship game.
The Most Infamous NBA Injuries Of All Time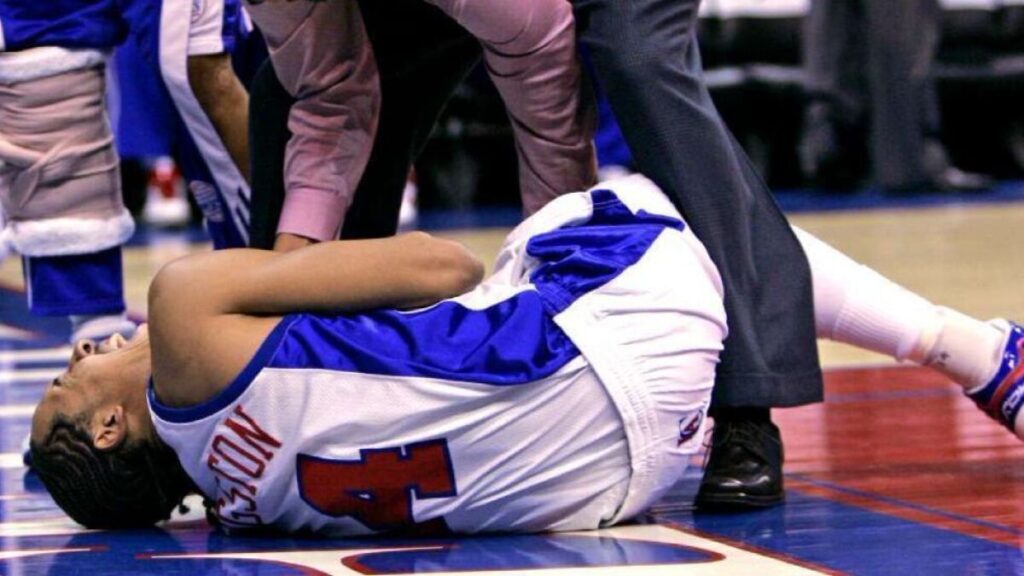 Injuries in sports can be devastating, especially when they involve a beloved athlete. From torn ACLs to broken bones, injuries can have a lasting impact on an athlete's career and even their entire life.
In the NBA, some of the most iconic players have suffered from serious injuries that changed the course of their careers.
Here are some of the most infamous NBA injuries of all time and how they affected these legendary athletes.
Paul George's Broken Leg
In 2014, Indiana Pacers star Paul George suffered a horrific leg injury while playing in a Team USA scrimmage.
While attempting to block a layup, he landed awkwardly and fractured his right tibia and fibula.
The severity of the injury was so great that it had everyone watching in shock. George underwent surgery and was forced to miss the entire 2014-15 season, but he returned the following season and was even named an All-Star.
Derrick Rose Tears ACL
One of the most devastating injuries in sports is an ACL tear, and it has ended many NBA careers. In 2012, Chicago Bulls point guard Derrick Rose suffered a torn ACL during the playoffs.
This injury was especially heartbreaking as Rose was at the peak of his career and had just won the MVP award that season.
After undergoing surgery, he missed the entire 2012-13 season and wasn't able to return until the following year.
Shaun Livingston's Disastrous Fall
Another infamous NBA injury that had a lasting impact was the horrific fall suffered by the then-rookie Shaun Livingston in 2007.
While playing for the Los Angeles Clippers, Livingston drove to the basket and attempted to lay up when his knee tragically buckled and he collapsed to the ground.
His knee was dislocated and he suffered a severe tear of his ACL, PCL, and meniscus.
He underwent multiple surgeries and missed the entire 2007-2008 season. Despite being told he wouldn't play again, Livingston was determined to make a comeback and eventually returned to the NBA in 2009.
Kobe Bryant Tears Achilles Tendon
Kobe Bryant's tear of his Achilles tendon in 2013 is one of the most infamous NBA injuries of all time.
The injury occurred during a game against the Golden State Warriors when Kobe mistimed a jump and felt excruciating pain in his lower left leg as he fell to the ground.
After further examination, it was revealed that Kobe had torn his Achilles tendon, and he was forced to miss the remainder of that season and much of the following season as well.
Although Kobe eventually returned to the court, his career suffered a dramatic decline after this devastating injury.
Yao Ming Feet Troubles
Yao Ming's foot troubles are perhaps one of the most unfortunate and significant injuries in NBA history.
In 2008, the Houston Rockets center suffered a stress fracture in his left foot that caused him to miss the entire season.
After undergoing surgery, he returned for the 2009-10 season but was limited to only 5 games due to recurring ankle and foot problems.
He missed the entire 2011-12 season due to a lingering fracture in his left ankle, and he eventually retired from the NBA in 2011 after being unable to fully recover.
Rehabilitation And Recovery
When it comes to rehabilitation for NBA players with serious injuries, there is a wide range of therapies and treatments that can be employed in order to help them get back on the court.
Perhaps one of the most important aspects of rehabilitation is rest and recovery, as this gives the injured player's body time to heal without any additional stress or strain being placed on it. In addition to recovery, there are tons of other options, of which we will mention a few.
Physical Therapy
It can be utilized to help strengthen the injured area and improve the range of motion.
Other forms of treatment such as acupuncture, massage, and cryotherapy may also be recommended depending on the specific injury.
Gels
Gels are often used as part of a rehabilitation protocol for NBA players with serious injuries. These gels are typically formulated to reduce inflammation and help promote recovery.
They may be applied directly to the injured area or taken orally in pill form.
CBD gels have become increasingly popular in recent years as a major form of treatment for NBA players with serious injuries.
CBD, or cannabidiol, is a naturally-occurring compound found in the cannabis plant that has been suggested to have anti-inflammatory and analgesic properties. T
Thus, it can be beneficial for NBA players who are dealing with serious injuries and need to manage the associated pain.
Psychological Support
This is an important part of the rehabilitation process for NBA players with serious injuries.
A professional counselor or psychologist can provide emotional and mental support that may be necessary in order to help the player cope with both the physical and psychological aspects of their injury.
Final Word
In conclusion, NBA players with serious injuries require comprehensive rehabilitation protocols in order to get back on the court.
Rest and recovery are essential for allowing their bodies time to heal, while physical therapy can help strengthen the injured area and improve the range of motion.
Certain gels may be recommended as part of a treatment plan – such as CBD gels that have anti-inflammatory properties – and psychological support is necessary in order to manage both the physical and emotional aspects of an injury.
With dedication from medical professionals, proper rest and recovery, and access to all forms of supportive treatments available today, any basketball player can return from even the most devastating injuries.