Is There Football This Weekend? TV Schedule, Start Times, and More
The XFL is scratching the itch of football fans far and wide. Here's everything you need to know about the Week 4 XFL games today, including start times, channels, live stream options, and more.
XFL Games Today: Is There Football on This Weekend?
The first three weeks of the 2023 XFL season saw some teams look like title contenders and others look like … well, not quite title contenders. Here's where you can watch this weekend's action, as well as some insights on what we might expect from each team.
Orlando Guardians (0-3) vs. Houston Roughnecks (3-0)
Date: Saturday, March 11
Start Time: 7 p.m. ET
TV Channel & Live Stream Options: FX and fuboTV
The betting lines assume a blowout, and realistically, that might happen. The Roughnecks are one of the league's best teams on offense and defense, while Orlando has struggled on both sides of the ball.
Keep a close eye on Houston's D, which has limited opponents to 3.5 yards per carry while generating 13 sacks. Paxton Lynch should struggle more often than not. To keep pace, he'll need to operate aggressively — building off of his impressive 12-52-1 rushing line — while getting the underutilized Christian Rambo more involved.
MORE: 2023 XFL Standings | XFL TV Schedule
Although Cody Latimer has (deservedly) ascended to the Guardians' No. 1 receiver role, Rambo was their first-round selection in November's "offensive skills" portion of the draft. For context, Latimer went in the 11th and final round.
That doesn't mean Rambo deserves more looks. After all, half of the first-round picks objectively have been complete busts this far; one was even cut before the season started.
But talent is talent, and Rambo has shown hints of breaking out. If he gets going, Lynch should have enough firepower to kick this offense into another gear.
Seattle Sea Dragons (1-2) vs. San Antonio Brahmas (1-2)
Date: Saturday, March 11
Start Time: 10 p.m. ET
TV Channel & Live Stream Options: FX and fuboTV
The winner will be squarely in the playoff hunt. The loser will have their work cut out for them in the final six weeks.
Seattle was one of my two preseason picks (along with St. Louis) to win the championship. I believed in their passing game, featuring Ben DiNucci, Josh Gordon, Jahcour Pearson, and Blake Jackson. And their RB duo of Brenden Knox and Morgan Ellison looked underrated.
Their 1-2 record is irrelevant from my perspective. The Sea Dragons' offense is elite — plain and simple. DiNucci leads all XFL quarterbacks in passing yards. Running recently in place of an injured Knox, Ellison leads the league in rushing yards. And Pearson and Gordon are No. 1 and No. 2, respectively, in receiving yards.
They had the misfortune of facing DC and St. Louis in the first two weeks — arguably the toughest opener for any XFL team.
However, they've earned only four sacks and one interception on defense. And San Antonio has enough playmakers to sustain drives against a relatively beatable D.
One question is whether Jack Coan is "the answer" for the Brahmas at QB. I've had my doubts since Week 1, and it doesn't help that de facto No. 1 receiver Jalen Tolliver has been hobbled, forcing guys like Alize Mack and T.J. Vasher to step up.
The other question concerns the backfield, which pairs the slow Jacques Patrick with the plodding Kalen Ballage. I wrote last month that I'd be shocked if the Brahmas didn't sign another RB before the end of the season. These two have combined for a whopping 72 carries for a not-so-whopping 233 yards. That's 3.2 yards per carry. That won't get it done against Seattle.
St. Louis Battlehawks (2-1) vs. Arlington Renegades (2-1)
Date: Sunday, March 12
Start Time: 4 p.m. ET
TV Channel & Live Stream Options: ESPN2 and fuboTV
If you live in a world where daylight savings time is a thing, then remember to set your clocks forward one hour Sunday morning. Or sooner if you want to one-up your friends.
While Saturday's nightcap is between a great 1-2 team and a deserving 1-2 team, Sunday's opening contest can be characterized as a great 2-1 team vs. an overrated 2-1 team.
What do I mean? As alluded to above, I've been big on the Battlehawks all year. Next to Houston, they're probably the most complete team (yes, even more complete than DC). AJ McCarron has all the weapons he needs in the passing game, and his backfield should continue to hum with Brian Hill at the helm.
I'm not hung up on their questionable defense, which coincidentally has the same number of sacks (four) and interceptions (one) as the Sea Dragons. St. Louis has played three tough games to start the season, including traveling to San Antonio for a Sunday Week 1 tilt and then to Seattle for another game four days later.
MORE: Top XFL Players
They won both because they're a dang good team. I expect McCarron to connect early and often with Hakeem Butler, Austin Proehl, and Darrius Shepherd. Anything they get from their first-round pick, Marcell Ateman, will be gravy.
Why am I down on Arlington? Well, they have two narrow victories over the winless Vipers and winless Guardians. While their run defense has been phenomenal (2.7 yards per carry), they don't have enough offensive playmakers to keep pace with teams like St. Louis.
Longtime readers know how high I've been on TE Sal Cannella. The last tight end head coach Bob Stoops had in college was Mark Andrews. This team knew what they were doing when they selected Cannella in the first round of the "offensive skills" portion of the draft.
The problem is that the rest of their offense has looked underwhelming. Kyle Sloter seemed to officially replace Drew Plitt last weekend at QB. We'll see if that helps. But the running game remains anemic, with De'Veon Smith and Keith Ford collectively accruing 142 rushing yards on 55 carries (2.6 ypc).
DC Defenders (3-0) vs. Vegas Vipers (0-3)
Date: Sunday, March 12
Start Time: 7 p.m. ET
TV Channel & Live Stream Options: ESPN2 and fuboTV
Another struggling team, another newly installed quarterback. The Vipers' Brett Hundley is the X factor in this one, which no doubt should go DC's way. However, we cannot discount how Hundley's abilities might translate in the XFL.
After all, he excelled in the running game at UCLA, averaging a 12-54 rushing line and 21 rushing scores in his final two seasons. Yet, he wasn't freed up to operate as a true dual-threat QB in the NFL, where in nine career starts he averaged 30 rushing yards on just under four carries. The efficiency was there, but not the volume. He could do so much more.
Rod Smith, John Lovett, and Jeff Badet form a solid nucleus for a team that doesn't entirely deserve to be 0-3 at this stage. I would argue that if Hundley had been the starter beginning in Week 1, they could have beaten Arlington in the opener (instead of losing by two).
MORE: XFL Head Coaches
Still, DC is well positioned to move to 4-0. Their running game is beyond elite in this league, as they boast three of the XFL's seven top rushers — including electric QB Jordan Ta'amu.
However, the Defenders' passing game is still suspect. They might not need it on Sunday. But if they do, can Ta'amu improve on his meek 48% completion rate? At some point, a team will be good enough to force Ta'amu to win through the air. Until that happens, I remain skeptical about DC's chances of winning the title.
Should Bryce Young Be the No. 1 Overall Pick in 2023?
The 2023 NFL Draft is quickly approaching, but no one knows who the Carolina Panthers will take with the No. 1 overall pick. After trading an assortment of picks and star receiver DJ Moore in order to jump from No. 9 to No. 1, it's safe to say Carolina will select a quarterback. But with four QB options on the table with varying skill sets, they could go in any direction.
The betting favorite to go No. 1 changed from Bryce Young to C.J. Stroud after the Panthers made the trade. However, between the Scouting Combine, Ohio State and Alabama Pro Days, and interview sessions, the Panthers could be swayed in any direction.
We're taking a look at whether Young should be the No. 1 overall pick in 2023.
Should Bryce Young Be Drafted No. 1 Overall in 2023?
There are clear pros and cons to each of the draft's consensus top-four quarterbacks.
Stroud is a throwback pocket passer with elite accuracy, but his playmaking leaves room for improvement. Anthony Richardson is a freak athlete with a rocket arm, but his lack of refinement and experience shows. Will Levis is a good athlete with a great arm and has experience in a traditional scheme, but his decision-making and accuracy are inconsistent.
Young is the easiest player of the four to project. He's a dynamic playmaker inside and outside of the pocket, thanks to his rare agility. His experience on the big stage can't be questioned after starting two years at Alabama, winning one Heisman Trophy (2021) and one national championship (2020).
He certainly appears to be in the mix. According to Nick Carboni of WCNC, Panthers general manager Scott Fitterer said, "they don't have any height [or] weight requirements on [a] rookie QB." ESPN's David Newton added that it's not Young's on-field tape that will matter the most but rather "how he interacted with others" and "what he said in their private meetings."
MORE: Carolina Panthers Trade — Is C.J. Stroud, Bryce Young, Anthony Richardson, or Will Levis Their Target?
Both of those sentiments make sense as the NFL has changed. Success at the quarterback position is about more than physical traits. However, there is a baseline of traits that are required to become an elite quarterback, and winning without an elite signal-caller has grown increasingly hard over the last decade.
With a career completion rate of 65.8%, 8,356 passing yards, 80 touchdowns, and only 12 interceptions, Young's numbers clearly show a good decision-maker and NFL-caliber accuracy. As I do each year with every top quarterback prospect, I charted each of Young's throws to further distinguish how catchable his passes are in comparison to past quarterback prospects. I also put everything into a video thread to highlight examples.
The results were mixed. It's easy to see that Young is accurate with his passes, and he has a true playmaker gene for performing when it matters most. He's the most trustworthy of the four players when it's crunch time, as the moment never seems too big.
If the Panthers were to build around Young, head coach Frank Reich would want to maximize his movement ability. His size, which is a factor because he's only 5'10" and 204 pounds, was exposed even in 2022 as he sustained a shoulder injury after barely being touched when escaping the pocket. There's a delicate balance between getting Young advantageous throwing platforms and creating easy rush lanes for blitzers.
ESPN's Todd McShay doesn't think his size should affect his draft stock and compared him to Kansas City Chiefs star Patrick Mahomes. I rarely saw that type of talent with Young, who better compares to a mixture of Baker Mayfield and Kyler Murray. There could be worst comparisons than to two previous top overall picks.
MORE: 2023 NFL Draft Big Board
Young has mediocre arm strength, at times struggling to push the ball into tight passing windows or hit his target in stride. That's where he falls short of Murray's talent as a thrower. His placement on passes is generally good but does not consistently maximize his receivers' ability to create plays upfield like Mahomes or Joe Burrow, and this was a factor as to why Mayfield eventually failed to keep a starting job in the NFL.
He'll have to process quicker both pre- and post-snap at the next level as he often held onto the ball for too long. He was average under pressure, throwing a catchable ball only 54% of the time, which is similar to how Marcus Mariota, Malik Willis, and Mayfield performed in college. His third- and fourth-down accuracy was comparable to Drew Lock, Dak Prescott, and Carson Wentz, so again, there was significant room for improvement.
If Young can essentially be used like Jeff Garcia was for the 49ers in his best years — an athletic game manager who occasionally creates big plays — he can be above average. But it's hard to see a path to being one of the nine or 10 passers who are massive influencers on their team winning.
Because there are other quarterbacks in this class who have a clearer pathway to being that top-end, All-Pro caliber playmaker, it's hard to say Young should be the top overall pick. He may have the highest floor because of his consistency and well-rounded game, but the mixture of injury concerns and lack of ability to improve his physical traits are massive considerations.
Philadelphia Eagles, New York Jets, or Cincinnati Bengals?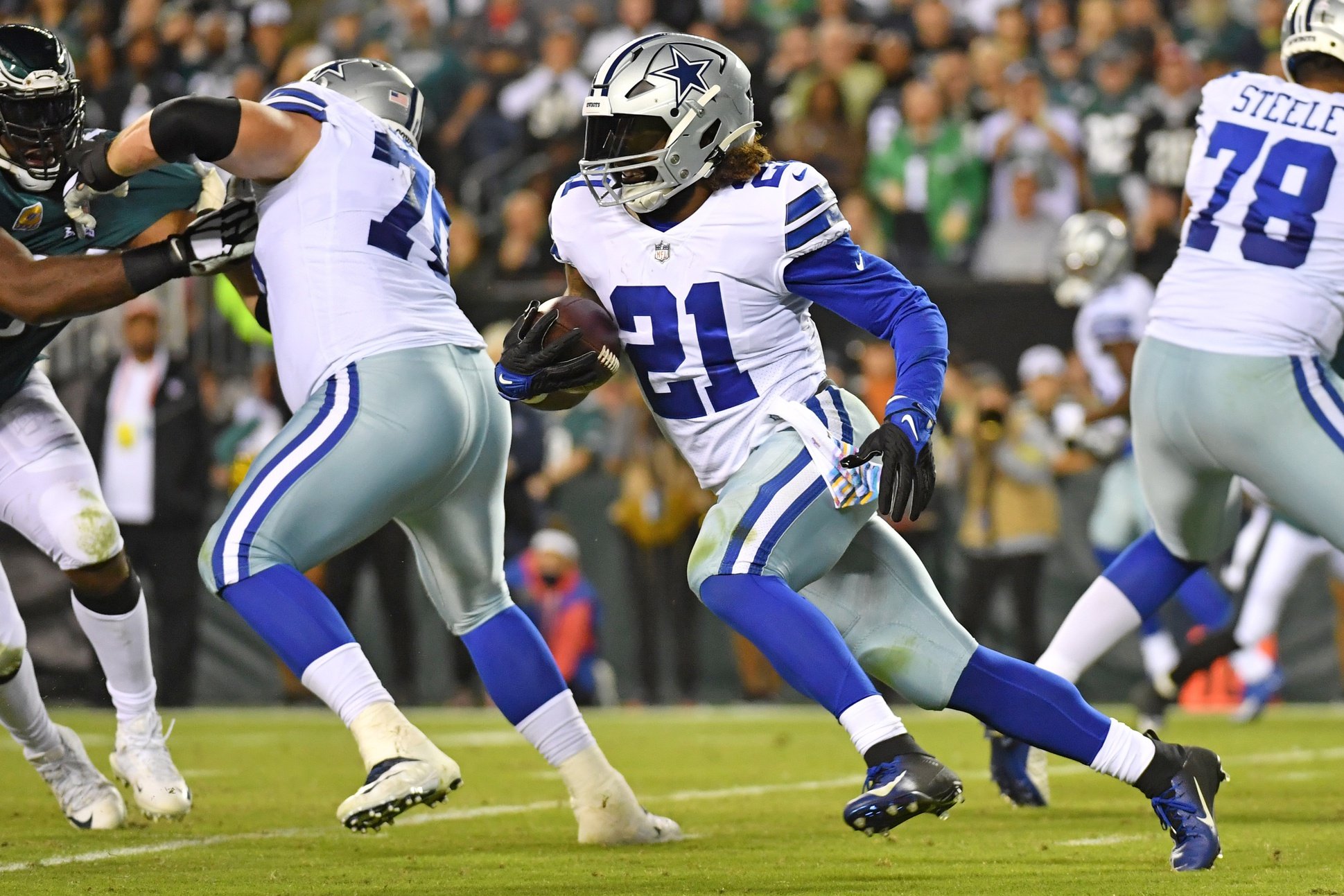 A week after his seven-year stint with the Dallas Cowboys came to an end, running back Ezekiel Elliott is drawing interest on the free agent market. Zeke has narrowed his options to the Philadelphia Eagles, New York Jets, and Cincinnati Bengals, according to Adam Schefter of ESPN, who adds Elliott would like to choose a new team by the end of next week.
Ezekiel Elliott's Best Free Agent Fit
Elliott posted the worst season of his career in 2022, ceding touches to fellow Cowboys back Tony Pollard while posting just 3.8 yards per carry. Zeke is only 27 years old, but he has a lot of wear and tear after handling more than 2,000 carries for Dallas since 2016.
Still, Elliott could make sense for any of his three preferred destinations, especially if he signs for a deal near the league minimum. Let's rank Elliott's potential landing spots in order of the best fits from his perspective.
3) New York Jets
The Jets' offense should look radically different next season, assuming Gang Green is able to eventually complete a trade for Aaron Rodgers. New York has changed its receiver room, adding Allen Lazard and Mecole Hardman while subtracting Elijah Moore, but its running back depth chart looks the same.
Breece Hall should be the Jets' top rusher, but he's returning from an ACL tear he suffered in October. Although Hall believes he'll be ready for training camp, Elliott would give New York a reinforcement in the event Hall has a setback in his recovery.
MORE: 100 Top NFL Free Agents 2023
Playing in a Rodgers-led offense that should be able to put up points could be a boon for Elliott, who could re-enter the market in 2024 if he signs a one-year pact this year. However, there's enough competition in New York that the Jets are a firm third in our rankings.
Hall will be New York's primary ball carrier if he's healthy, but Michael Carter is also a threat. While Elliott is an excellent pass protector, Carter's abilities as a receiver could earn him work on third downs at Zeke's expense. And 2022 undrafted free agent Zonovan Knight is still around, too.
Add in a Jets offensive line that still has plenty of holes, and New York should be the least attractive suitor on Elliott's list.
2) Cincinnati Bengals
If the Bengals were to sign Elliott, they would probably move on from Joe Mixon, whose release would create more than $7 million in cap savings for the upcoming season. Given Cincinnati's lack of young RB options on its roster, the club would also likely target a back relatively early in the 2023 draft.
There could theoretically be a role for Zeke with the Bengals even if Mixon stays. Cincinnati rarely trusts Mixon on passing downs and reportedly offered third-down back Samaje Perine a contract similar to what he signed with the Denver Broncos.
The Bengals were one of the NFL's pass-happiest teams in 2022, which could result in a lack of touches for Elliott. However, Cincinnati was also the fifth-most efficient and eighth-highest-scoring offense in the league a year ago, so Zeke would have plenty of goal-line opportunities to punch in for scores.
Additionally, the Bengals have rapidly improved their offensive line over the past two offseasons. New left tackle Orlando Brown Jr. was the club's big-ticket item this month, but Cincinnati also added four new starters — left guard Cordell Volson, center Ted Karras, right guard Alex Cappa, and right tackle La'el Collins — last year. Collins' status is up in the air, but the Bengals' front is in a much better place than it was two years ago.
Returning to Ohio would also represent something of a homecoming for Zeke, who starred at Ohio State and briefly overlapped with Joe Burrow before the future Heisman winner transferred to LSU.
1) Philadelphia Eagles
While the Bengals would give Elliott a soft landing spot, the Eagles profile as an even better destination.
Philadelphia signed Rashaad Penny this offseason, but the former first-rounder has been beset by injuries his entire NFL career and has never handled more than 120 carries in a season. Just once has he managed more than 85 carries.
Kenneth Gainwell is also on the Eagles' roster, but he's failed to top 30% playing time in either of his two pro campaigns. Miles Sanders' departure created a void that Elliott could help fill.
Philadelphia boasts the best offensive line in the NFL, with a unit that is heads-and-shoulders ahead of every other front five when it comes to run-blocking. Isaac Seumalo's defection means the Eagles won't bring back all five OL starters in 2023, but 2022 second-round pick Cam Jurgens is on hand to take over at right guard.
MORE: Best Running Backs in the NFL 2023
Philadelphia led the NFL in rushing success rate last year and nearly doubled the efficiency of the next-best running attack. Jalen Hurts constantly threatens defenses as a rusher, which could open up lanes for Elliott in Philadelphia.
Eagles general manager Howie Roseman rarely shells out for running backs, so Zeke's cheapest offer might come from Philadelphia. But given that he's already made more than $70 million in the NFL, Elliott should join the club that gives him the best chance at personal success and winning a Super Bowl trophy — and that's the Eagles.
With March Madness Returning, Is There Football Today?
The XFL has completed the first five weeks of its first regular season in three years. Five weeks remain before the postseason begins. Diehard and even casual fans might be wondering if there is a football game today. Well, let's find out if there are any XFL games tonight.
XFL Games Today: Is Football Tonight?
The short answer is, no, there is not any XFL football today. March Madness might have something to do with it, as the XFL probably wants to limit the amount of competition it has with the much-anticipated Sweet 16 round of the ratings bonanza that is the NCAA Men's Basketball tournament.
Interestingly, previous Thursday Night XFL games this season haven't attracted as much attention as the weekend contests. The first Thursday tilt (Week 2) featured two high-powered offenses: the St. Louis Battlehawks and Seattle Sea Dragons. They pulled in the fewest viewers that week.
However, we should note that this game was broadcast on FX, while two of the other three games that weekend were on ESPN and ESPN2, respectively. Both of those ESPN-affiliated games had significantly higher viewership than the two FX matchups.
MORE: XFL TV Schedule | XFL Standings
The second Thursday night contest took place last week, and it also featured two fantastic offenses: the Sea Dragons and the Houston Roughnecks. But it coincided with the opening night of the NCAA Tournament's Round of 64. Bad timing. Avoiding a repeat of that might very well be part of the reason there is no XFL football today.
And also unfortunate given the stakes of that faceoff. The Sea Dragons — one of my two preseason picks to win the title — are now on a three-game winning streak and in the thick of the playoff hunt. Meanwhile, the Roughnecks lost their first game in their franchise's history.
You read that right. Houston went 5-0 in 2020 before the pandemic canceled the rest of the season. In the 2023 reboot, they started 4-0. That's quite a run.
As we await the opening kickoffs for Week 6, most XFL teams remain firmly in playoff contention. The North division boasts three of the four top squads; it's too bad all three won't qualify for the postseason. And Houston remains squarely atop the South division, as they look to regroup after last Thursday's letdown. However, XFL fans will have to wait for the weekend as there is no XFL football today.