Now Jazz, Pacers, and Raptors also seem to be following Jalen McDaniels' footsteps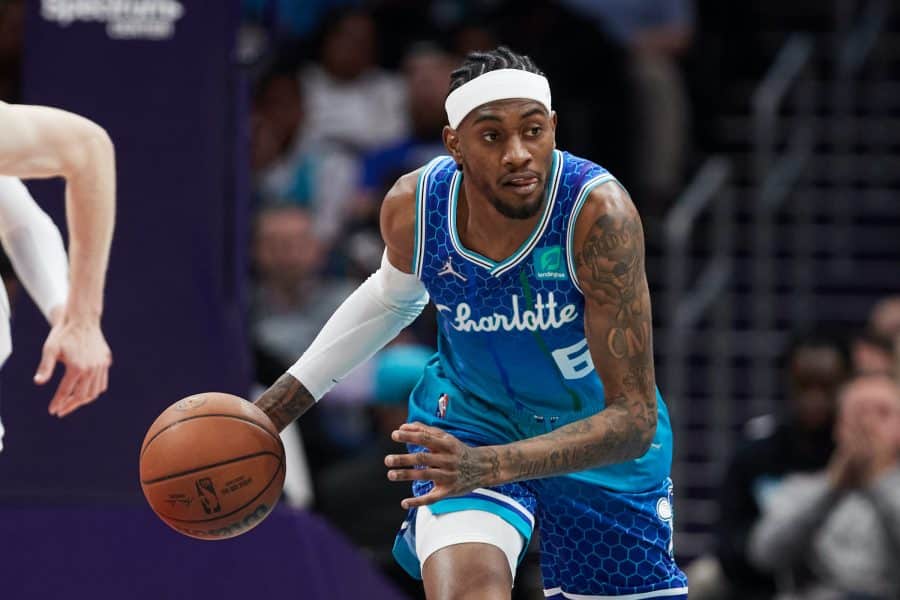 You'd think LaMelo Ball is the Hornet's most sought-out player by other NBA teams as the trade deadline approaches, but it seems that lately the one who is gathering most attention is Jalen McDaniels. The player's is a key member of Charlotte's rotation and apparently teams are lining up for negotiations. 
McDaniels is in his fourth year for Charlotte, and as he readies for unrestricted free agency in the summer, it's only natural that the team is recieving trade calls on him. Recently confirmed by Shams Charania of The Athletic, five teams have already been in contact about his availability, including the San Antonio Spurs, Indiana Pacers, Utah Jazz, and Phoenix Suns.
The 24-year-old foward has played every single Hornets game this season (51 in total), averaging 10.8 points, 4.9 rebounds, and 2.0 assists per game. One of his best performances of the campaign so far was his 26-point game two weeks ago against the Boston Celtics.
Watch McDaniel's highlights as he scored 5 three-pointers against the league leaders:
As these four teams are closely monitoring player Jalen McDaniels, the Hornets maintain their value for the 6-foot-9 forward whom they have developed over a long time already. Some of the suitors may prefer to wait until free agency to court McDaniels, who will be unrestricted, instead of trading an asset to acquire him now while having to compensate him in July.
The first team reported to show interest was San Antonio, as head coach Greg Popovich doesn't have the same rosters like his championship teams years ago, but has been doing all he can to try and keep the Spurs as a competitive team. The Spurs are in the need for a young power foward to invest in and hopefully unlock his potential.
It's been on the trading speculation news that the Phoenix Suns have been on the lookout for an upgrade to their frontcourt ever since the start of the campaign, and McDaniels would be a precise replacement for Jae Crowder, as they keep looking to find a team for the veteran who hasn't played a second all season.
As for the Raptors, it seems the six-foot-nine player would be a perfect fit for coach Nick Nurse's strategy. Nevertheless, it would come off as a huge surprise if they are able to cash-in for McDaniels, considering Toronto has been reported to having some money problems.
A petition for the Hornets to keep McDaniels
Even after winning two games in a row, the Hornets have struggled a great deal this tournament, as they currently own one of the worst records in the league at 15-36. Although sometimes it seems logical to pursue trades for improvement, lots of Charlotte fans are opposed to trading a player like McDaniels, especially after having invested in his development for so long.
Sport's journalist Nicholas Mullick starts his petition with "In a season full of losses, Jalen McDaniel's emergence has been a win for the Hornets", as you can read below:
In a season full of losses, Jalen McDaniels' emergence has been a win for the #Hornets. #LetsFly

Dear Hornets, please extend Jalen McDaniels (via @NicholasMullick) https://t.co/0uP0x8rebo

— Swarm and Sting (@SwarmnSting) January 28, 2023
With their eyes set on Victor Wembanyama in the 2023 NBA Draft, the team will likely be open for business to sell a foward ahead of the trade deadline. However, veterans such as Mason Plumlee and Kelly Oubre Jr. are on expiring contracts and are two potential assets for negotiations.
Most of our favorite sport betting sites consider Charlotte to possess the third worst odds in the entire league to actually qualify for Playoffs, as the team ranas 14th in the Eastern Conference.
Isaiah Collier is recruiting Bronny James
Bronny James' recruitment is still open for business, according to USC Trojans commit Isaiah Collier.
Collier, the No. 3 player in ESPN's top-100 rankings, used his time at the McDonald's All-American Game to recruit James to join him in the Trojans' backcourt.
James is one of the nation's top remaining unsigned recruits. On3.com gives Ohio State a 95 percent chance of landing James but Collier has a better pitch than landing at his father's former top school.
"He's a great shooter," Collier said to 247Sports. "I feel like he's one of the best all-around players in the country. So, he's a great player and knows how to play the game, and he's not going to overdo anything. … I'm looking forward to [playing with him], and I'm definitely trying to recruit him. I'm just telling him he can stay home, that's all I've got say."
Collier Expected To Step Into Starting PG Role At USC
USC will be in need of a point guard in 2023 and Collier is expected to step into the starting role right away.
The Trojans will be losing two seniors, Boogie Ellis and Drew Peterson, who accounted for 100 percent of the team's minutes at the point guard spot, according to KenPom.com.
Collier is a natural lead guard, but at 6-foot-4, has the ability to play both the point guard and shooting guard spots at the college level.
That could open up the possibility for James to slide in alongside Collier in the Trojans' backcourt for head coach Andy Enfield.
USC finished 22-11 with a 14-6 record in PAC-12 play. However, the Trojans suffered a disappointing end to their season, losing in the first round of the PAC-12 Tournament and the opening round of March Madness.
Will Bronny James Join Isaiah Collier In The Trojans' Backcourt?
It's interesting that Collier, a highly-touted prospect in his own right, would recruit Bronny to USC even though both play the point guard position.
Collier, the Gatorade Georgia High School Basketball Player of the Year, averaged 20.2 points, 6.8 assists, 5.1 rebounds, and 2.3 steals. He led Wheeler High School to a 26-6 record and defeated region rival Cherokee for the fourth time to win the Class 7A State Championship.
Paul Biancardi, National Recruiting Director for ESPN, had this to say about Collier's game:
"Collier is the ultimate playmaker who shines when playing out of pick-and-rolls. He reads the floor and has excellent passing vision. A willing and accurate passer who now is dependable from deep, he's special because he creates endless scoring opportunities for his teammates and, at the same time, can score big on his own when needed."
To Collier's credit, he's welcomed the challenge of co-existing with James, who will be one of the most highly scrutinized players in college basketball next season.
The Wheeler guard believes that Bronny's shooting and basketball IQ would ultimately make for a good fit alongside his natural play-making abilities.
---
College Basketball Betting Content You May Like
---
Dayton forward Mike Sharavjamts to enter 2023 NBA Draft
Dayton forward Mike Sharavjamts is entering the 2023 NBA Draft, per sources. The 6-foot-8 freshman wing averaged 5.6 points, 1.9 rebounds, 2.6 assists, and 23.1 minutes in 32 appearances with the Flyers this past season.
The Mongolia native shot 38.8% from the field, 31.5% beyond the arc, and 67.7% at the foul line. Sharavjamts ranked 16th in the Atlantic 10 in defensive box plus/minus (1.4), 20th in defensive rating (100.5), and 17th in assist percentage (21.5%).
Per a few college basketball betting sites, while Dayton never participated in the NIT or NCAA Tournament, No. 4 UConn is the favorite to win the national championship, followed by No. 5 San Diego State and No. 5 Miami (FL).
News: Mike Sharavjamts is entering the NBA Draft and will not return to Dayton, he told ESPN. Sharavjamts is keeping his options open as far as entering the NCAA transfer portal, but is primarily focusing on professional opportunities. Signed with Scott Nichols of Rize Management pic.twitter.com/dRu2lJVPRn

— Jonathan Givony (@DraftExpress) March 28, 2023
Sharavjamts was selected to the Atlantic 10 All-Freshman Team, and he's the first Mongolian citizen to earn a Division I athletic scholarship. The forward is also the fourth player to leave Dayton since the season came to a close on March 12, joining Richard Amaefule, Mustapha Amzil, and R.J. Blakney.
The Dayton forward cares about his future from a business standpoint as well. "Sharavjamts is keeping his options open as far as entering the NCAA transfer portal but is primarily focusing on professional opportunities. He signed with Scott Nichols of Rize Management," reported ESPN's Jonathan Givony.
Dayton freshman Mike Sharavjamts to enter 2023 NBA Draft, is first Mongolian citizen to receive a Division I athletic scholarship
In Dayton's 79-75 win over BYU on Nov. 25, the forward scored a season-high 15 points in 34 minutes as a starter. He finished 5-of-11 (45.5%) shooting from the floor and 3-of-7 (42.9%) beyond the arc. Of course, in back-to-back wins against Western Michigan and Southeastern Louisiana, Sharavjamts logged a season-high eight assists.
Sharavjamts Tserenjankhar, Mike's father, was excited to see his son play at the NCAA level and witness the City of Dayton honoring him on Mongolia Day. "This is a big surprise for me," Tserenjankhar told Dayton Daily News. "I couldn't imagine what one little boy could do. A freshman basketball player is now like a bridge between two countries."
The Montgomery County Board of Commissioners, the State of Ohio, and the office of U.S. Rep. Mike Turner, R-Dayton issued proclamations recognizing Mongolian Day as an official holiday.
.@DaytonMBB's Mike Sharavjamts is the first Mongolian citizen to earn a D-I athletic scholarship.

"He's a national treasure. Mongolian Mike, that's how we call him." pic.twitter.com/QJIj2uIC5Q

— CBS Sports College Basketball 🏀 (@CBSSportsCBB) March 12, 2023
Additionally, Mike Sharavjamts was a 4-star recruit during his high school years at Prolific Prep (CA) and International Sports Academy (OH). The standout ranked No. 93 in the nation, No. 22 at small forward, and No. 1 overall in Ohio.
Per 247Sports, Sharavjamts finished No. 115 in the nation, No. 27 at his position, and No. 2 in the state. Before committing to Dayton in December 2021, the recruit was considering offers from Eastern Washington, Providence, and Rutgers.
---
Check Out More of Our March Madness College Gambling 2023 Guides
---
Both Raptors and Rockets have shown potential interest in hiring Ime Udoka for his coaching return – Basketball Insiders
It seems we might have Ime Udoka courtside again very soon, as NBA teams are starting to pile up behind him to make his coaching return for the next campaign.
It has been reported lately that the Raptors and Rockets could be interested in the former Boston Celtics trainer, yet it still depends on how their current seasons finally play out. As Houston has no chances of making it to the playoffs, the Toronto squad is currently in standing 9th to qualify for the Play-in tournament.
REPORT: Ime Udoka could draw interest from the Raptors or Rockets this summer.

(via @SteveBHoop, https://t.co/5auz6fmj3S) pic.twitter.com/zhkbyipVmp

— Legion Hoops (@LegionHoops) March 27, 2023
Back in January, The Athletic's Shams Charania was the first on the scene to report on the fact that Toronto is seriously considering letting go of coach Nick Nurse at the end of the current championship. Later it was NBA insider Steve Bulpett who mentioned that the Raptors administration had Udoka in mind as one of the main candidates to replace him.
So, yes, there is a long list of reports made by important journalists among the league who can clearly trace the link between both franchises and the former Celtics coach. However, as some believe Udoka's return to the NBA is hard to imagine, other greats of the game have showed him support.
It wasn't until San Antonio coach Gregg Popovich publicly showed some love to Ime after he was suspended for "violations of team policies", that the press got serious about him coaching again. Let's remember that the Spurs legend trained Udoka for three season in Texas, and also had him on his staff as an assistant for seven years.
"Ime was and is and always will be a great friend, and so you can imagine that I was deeply disappointed and hurt for him, for everybody involved," he said Sunday, referencing Udoka's polemic suspension. "It's a difficult situation for him, and my hope is that he will bounce back and find a home."
Take a look at this video to recap on what were the controversial reasons over why the former Boston boss was taken off his charge as head coach:
For now Houston seems to be more possible, as Stephen Silas is losing control of his squad
Even though Udoka isn't their only candidate, as Houston has even considered hiring Toronto's Nick Nurse, there is still lots to be settled before we can make any real assumptions. The truth is, it's hard to imagine Stephen Silas coaching the Rockets any longer.
ESPN reporter Brian Windhorst recently revealed that the coach once cried out of frustration after a match because he felt that he couldn't reach his players any longer. "Houston lost 18 of 19 games at one point and 11 straight games during another stretch," the journalist said. "At one point, Silas broke down in tears because he felt he couldn't reach his players.
"One of the team's then veterans, Eric Gordon, said in January 'there's no improvement' when summing up the state of the Rockets — not ideal for a young player trying to find positivity in early struggles."
The Houston squad currently sit at the bottom of the Western Conference with a depressing 18-58 record. As they've had no chance of entering the post-season, it's no wonder they have started to look for a new coach already.