List of Denver Broncos Draft Picks in 2023 NFL Draft
It'll be a busy offseason for George Paton and the Denver Broncos. How many draft picks do the Broncos have to work with in the 2023 NFL Draft? Here's how they're situated after a tumultuous 2022 cycle.
Denver Broncos Draft Picks by Round in 2023
Round 3, Pick 68 (from IND)

Round 3, Pick 69

Round 4, Pick 108

Round 5, Pick 140

Round 6, Pick 194 (from PIT)

Round 7, Pick 247 (from MIN)
How Many Draft Picks Do the Broncos Have in 2023?
The Broncos have six total picks in the 2023 NFL Draft. Two picks are at the top of Round 3. Past that point, the Broncos have one pick each in Rounds 4, 5, 6, and 7.
Entering the season, the draft order didn't include the Broncos in the first round. They traded both their original first-round and second-round picks — among other assets — to the Seattle Seahawks in exchange for quarterback Russell Wilson.
The Broncos were able to get a first-round pick back by trading Bradley Chubb to the Dolphins. The Dolphins sent back a late first-rounder that had originally belonged to the 49ers — the 49ers sent it to Miami in a trade up for quarterback Trey Lance.
But then the Broncos traded this first-round pick acquired from Miami to New Orleans in exchange for the rights to head coach Sean Payton.
MORE: History of Denver Broncos First-Round NFL Draft Picks
Past Round 1, the Broncos have a gap in Round 2, which they can also attribute to the Wilson trade. They do, however, have two early third-round picks. One is their own, while Denver acquired the other in a 2022 NFL Draft trade down with the Colts, who were targeting safety Nick Cross.
The Broncos' fourth and fifth-round picks are their own. Their sixth-round pick, meanwhile, was acquired from the Steelers in exchange for edge rusher Malik Reed.
Fantasy Outlook, Value, Projections, and Rankings
As we inch toward the new season, the ever-changing NFL landscape has player fantasy values constantly on the move. Whether you're used to the dynasty platform or are still learning the rules, let's dive into the latest dynasty fantasy football value of Marquez Valdes-Scantling.
Marquez Valdes-Scantling's Dynasty Outlook and Value
The Chiefs' second-leading receiver in 2022, Valdes-Scantling did exactly what he's done for his entire career. There are certain players every season that provide a litmus test for fantasy analysis. In 2022, MVS was one of those guys.
There is absolutely zero reason to be bullish on MVS. Zero. He spent four seasons playing with one of the greatest quarterbacks in NFL history.
Yes, Mahomes is much better than Aaron Rodgers now, but let's not pretend like Rodgers isn't an all-time great who was able to get more out of ancillary receivers than the average quarterback. James Jones once led the NFL in receiving touchdowns because of Rodgers.
In four seasons in Green Bay, MVS never averaged more than 8.6 ppg, and his best season saw him catch 33 passes for 690 yards and six touchdowns.
MORE: Dynasty Rankings 2023 — Top Fantasy Options at Wide Receiver
With the Chiefs, his role was going to be the same. He was the outside burner who would occasionally catch a long touchdown but never produce at a level even remotely consistent enough for fantasy relevance.
Unsurprisingly, MVS was exactly the player he's always been. He caught 42 passes for 687 yards and two touchdowns. His 14.6 average depth of target was seventh in the league. When he was targeted, it was downfield. It just wasn't very often.
Valdes-Scantling's target share was just 13.3%, and he only saw a target on 16.2% of his routes run — outside the top 80. His 7.2 ppg were good for a WR70 finish.
The AFC Championship Game and Super Bowl comprised a perfect microcosm of MVS' career. In the former, he caught six of eight targets for 116 yards and a touchdown. In the latter, he didn't catch a pass. That's MVS in a nutshell.
Marquez Valdes-Scantling's Fantasy Ranking
I would imagine the Chiefs look to upgrade their wide receivers this offseason. They have two young wideouts with upside, but they lack a true outside option. It wouldn't surprise me at all if Valdes-Scantling's role is reduced in 2023.
MVS is already 28 years old. He has two years left on his current deal, but the Chiefs can cut him with a $4 million dead cap hit. It would save them $7 million against the cap. If I were them, I'd do it.
Regardless, MVS is never going to be fantasy-relevant. After he has his customary big games, he'll pop up on fantasy waiver wires, but five years is plenty enough to know it's best to just leave him be.
He currently sits at WR83 (No. 199 overall) in our dynasty Superflex ratings. I wouldn't roster MVS outside of deeper dynasty leagues, and I wouldn't take him in dynasty startup drafts.
List of USFL Stadiums in 2023 and Background Information
The USFL returned in 2022, bringing non-NFL professional football back to the United States. And now we're headed for season No. 2 of this new iteration of a storied league. Let's dive into where the eight USFL franchises play. Here's a list of their home stadiums and some background info on each.
List of USFL Stadiums
The USFL utilized a single host city, Birmingham, AL, to play all its regular-season games in 2022 and then transitioned to Canton, Ohio, for the postseason. Seven of the eight teams are returning in 2023, with one team heading a bit westward.
Let's take a closer look at each of the USFL Stadiums.
Protective Stadium
Teams: Birmingham Stallions, New Orleans Breakers
Location: Birmingham, AL
Year Opened: 2021
Capacity: 47,100
Other Occupants: Birmingham Legion FC, UAB Blazers
Opened in 2021, Protective Stadium served as the primary venue for the return of the USFL in 2022. Owned and operated by the Birmingham-Jefferson Civic Center Authority, it has the advantage of being a multi-use facility. That versatility — especially when playing such a central role in the development of the nascent USFL — is key for a stadium that needs consistent revenue streams.
Simmons Bank Liberty Stadium
Teams: Houston Gamblers, Memphis Showboats
Location: Houston, TX
Year Opened: 1965
Capacity: 58,325
Other Occupants: Memphis Tigers
What can you buy for $3 million? A plot of land in Challis, Idaho — and apparently a sports stadium if you travel back in time to 1965.
MORE: What Is the USFL? Teams, Hub Cities, Schedule, and More
Originally known as Memphis Memorial Stadium (before naming rights became a must), Simmons Bank Liberty Stadium is nestled in Tennessee's southwest corner, serving as a regional hub at the intersection of Tennessee, Arkansas, and Mississippi.
The NFL's Tennessee Oilers played their home games here in 1997 during their transition to the Tennessee Titans. Led by Steve McNair, Eddie George, Bruce Matthews, and Frank Wycheck (among others), that team went 5-1 in this venue.
Ford Field
Teams: Michigan Panthers, Philadelphia Stars
Location: Detroit, MI
Year Opened: 2002
Capacity: 70,000
Other occupants: Detroit Lions
Fifteen years ago, Stephen Curry led Davidson College past the heavily favored Wisconsin Badgers in the NCAA Tournament's Sweet 16. Then Davidson fell a basket short of knocking off the eventual-champion Kansas Jayhawks in the Elite Eight.
Aside from underdog heroics and near heroics, what did these games have in common? Both were played on a regulation basketball court built in the center of Ford Field.
In fact, this venue will host the NCAA Final Four in 2027. Ford Field truly is a multi-use facility.
Of course, the stadium also has been home to the NFL's Lions for two decades, cementing its status as a marquee venue for the still-nascent USFL.
Tom Benson Hall of Fame Stadium
Teams: New Jersey Generals, Pittsburgh Maulers
Location: Canton, OH
Year Opened: 1938
Capacity: 23,000
Other Occupants: Canton McKinley Bulldogs
When built nearly a century ago, Tom Benson Hall of Fame Stadium was the largest high school stadium in the United States. Now it's known as home to the NFL's annual Hall of Fame Game and is a Carl Lewis hop, skip, and jump from the Pro Football Hall of Fame. This is a fitting locale for two USFL teams in the league's second season.
Super Bowl Dreams, Fangio's 'Safety-Driven' D, and Tyreek Hill's '[Eff] It' Ability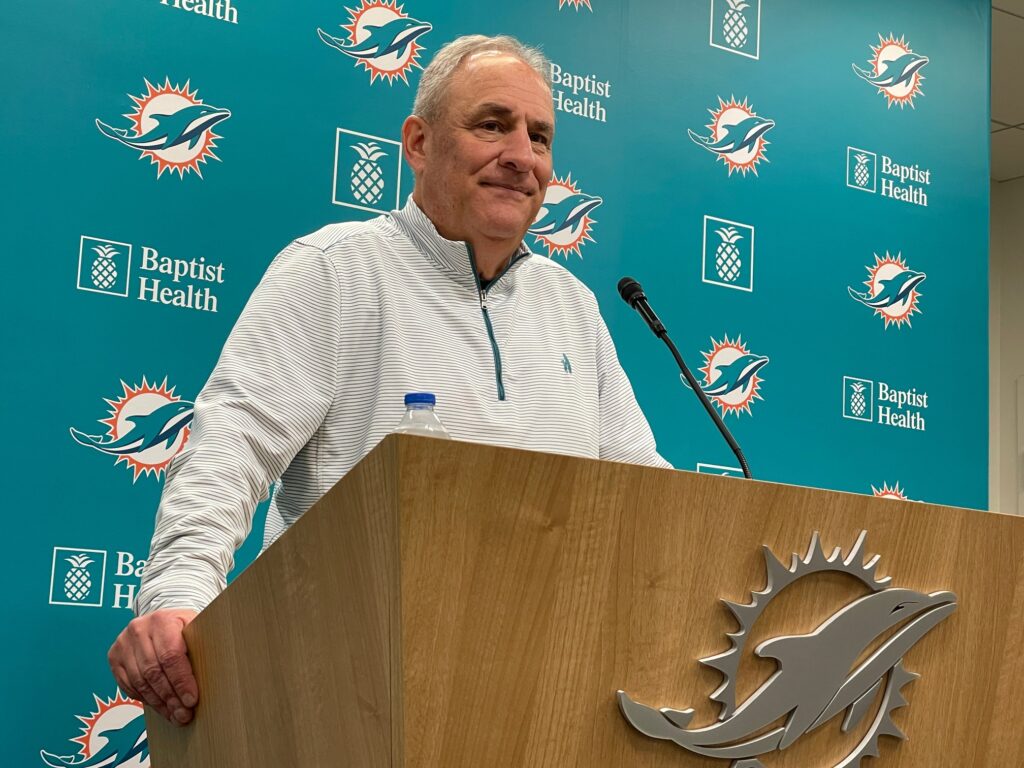 The Miami Dolphins rolled out their top free agent signings Wednesday, making them available to reporters for the first time. The biggest Dolphins news to emerge? The Dolphins are a confident bunch and not afraid to talk Super Bowl.
And after a solid free agency building on a solid nucleus, their confidence isn't misplaced.
Miami Dolphins News: Super Bowl Dreams
The Dolphins were among the winners of 2023 NFL free agency. And yet, they still have just the 10th-shortest Super Bowl championship odds (30-to-1) and are +375 to win the AFC East.
That seems a bit dismissive of what Chris Grier and Mike McDaniel have built. Miami's new players certainly are aiming high.
Tight end Eric Saubert is now part of a seventh organization — meaning he's been in more than 20% of the NFL's locker rooms before his 29th birthday. But never before has he been part of a roster as loaded as the one he agreed to join on a one-year, $1.7 million contract.
MORE: Miami Dolphins Super Bowl Odds
When asked if the Dolphins' galaxy of stars — which includes Tyreek Hill, Jalen Ramsey, Bradley Chubb, Jaylen Waddle, and Tua Tagovailoa — allows Saubert to think Super Bowl, he replied:
"Yeah. Absolutely. That's got to be the goal all the time. If you're not committed to winning the Super Bowl, you've got the wrong mindset. I think it gives you more confidence when you've got such great players around you. It allows you to play better. Whenever you've got a great receiver on the field, a great quarterback on the field, everyone just plays better.
"We've got an awesome roster getting set here, and I'm excited to see how far we can go.. The Super Bowl is the goal. If it's not, you're in the wrong headspace."
Added DeShon Elliott, the safety who joined the Dolphins on a near-identical contract to that of Saubert: "How great can it get? You have the opportunity to win the division, the opportunity to win a lot of games, go to the Super Bowl, possibly."
Miami Dolphins' Vic Fangio Effect
A big part of the optimism in South Florida? The arrival of new defensive coordinator Vic Fangio, who has already put his stamp on the Dolphins' roster. Beyond the Ramsey trade, Miami has given Fangio a familiar pass rusher (Malik Reed) and excellent depth at safety (Elliott).
Elliott said returning Dolphins safeties Brandon Jones (his college teammate and close friend) and Jevon Holland gave him a hint of what to expect with Fangio onboard.
"This is a safety-driven defense," Elliott said he was told. "Safeties on defense can make a lot of plays."
MORE: Miami Dolphins Free Agency Grade
Does that possibly mean playing all three at the same time?
"Vic Fangio is a very intelligent football coach, a very intelligent DC, so I'm sure he has his plans on what he wants to do with us," Elliott said. "I knew I was gonna compete. It's the NFL. We're all going to compete. Nothing is given to you, nothing's gonna be handed to you. So I came here to compete. I know what I bring to the table, and I know how hard I'll work. So the results will show."
Added Reed, who played for Fangio in Denver from 2019 through 2021:
"I feel like he's really about the business and the business of winning. I feel like having success as a defense and really doing a great job on that side of the ball. I feel like with him, you're getting a guy that works extremely hard. You see that throughout our three years together.
"The progress that I feel like we made in year one that I was there in Denver until my last year. I think we were the No. 8 scoring defense then. You just see progression each year, and I feel like that is a testament to the type of coach he is and the type of coordinator he is as well. I feel like you're getting a great guy in him."
DeShon Elliott Is the Ultimate Hype Man
A couple of final thoughts from Elliott, who flashed great trashing-talking potential in his Dolphins media debut.
On facing Tua, Tyreek, and Jaylen every day in practice:
"Practice is gonna be fun, but I think when I was watching the game, a lot of the things they do on tape moves fast, quick, fast. Decisions are already planned out and know where the ball's going to know who's gonna get the ball, and if all else fails, f— it. Tyreek Hill's down there somewhere."
On the Dolphins' trading for Ramsey (and if it played a role in his decision):
"Oh, yeah. C'mon, now. That's arguably the No. 1 corner in the NFL. I don't want to hear anybody talking about, 'Oh, he had a down year.' Check the numbers. Check the tape. It was not a down year. Still an All-Pro. So regardless, I feel like, 'Why would I not go there?'
"Playing with great players makes you great, elevates your game. It's gonna help bring something out of me and the rest of our teammates. So why would I want to go somewhere where you can have opportunity to be great? I mean, money will come. Nobody cares about the money. Yeah, we care about the money, but winning and trying to get the best out of yourself, that should be where your head is at. I think being here's where I can do that."