Frank Reich Gets Another Shot With Panthers
Now that Black Monday has come and gone, there are officially five NFL head coaching opportunities available. With Arizona, Carolina, Denver, Houston, and Indianapolis all looking for new head coaches, there have been a ton of news and rumors surrounding the openings. Here is the updated list of each NFL coach hired during the 2023 cycle.
NFL Head Coaches Hired in 2023
Frank Reich Makes His NFL Return in Carolina
The first new head coach hired in the 2023 cycle was Frank Reich. Reich was named the new head coach of the Carolina Panthers. Although the team was linked to a number of candidates, including Jim Harbaugh, Jim Caldwell, Ken Dorsey, and more, ultimately, they decided to bring in the known commodity, which is Reich.
Reich, who actually played the quarterback position for Carolina back in 1995 (the franchise's first year of existence), will be replacing Matt Rhule, who was fired early on in the 2022 NFL season.
MORE: List of NFL Head Coaches Fired in 2023
After his 14-year playing career, Reich moved into coaching, with his first role being with the Colts in 2006. He worked his way up and broke into relevancy as the offensive coordinator of the Philadelphia Eagles when the franchise won its first Super Bowl in 2017. After that success, he became the Colts' head coach for five seasons, putting together a 40-33 overall record.
Reich also led the Colts to two postseason appearances. Much of his success was thanks to the resurgence of veteran QB like Philip Rivers. Rivers came into Indy on a one-year deal shortly after the surprise retirement of Andrew Luck, reaching the playoffs after going 11-5.
The Panthers, who finished 7-10 on the season, have a ton of questions that will need to be answered. The most glaring of which will be the QB position. The team had a carousel of QBs this year, with guys like Baker Mayfield, Sam Darnold, and Phillip Walker getting opportunities as the starter. And although Darnold made a strong case near the end of the year to stick around, it is unlikely the team will head into the 2023 season with him as QB1.
Will Reich continue to try and bring in more veteran signal-callers to lead this young Carolina team? Or will they look to draft their next franchise quarterback in 2023?
List of USFL Stadiums in 2023 and Background Information
The USFL returned in 2022, bringing non-NFL professional football back to the United States. And now we're headed for season No. 2 of this new iteration of a storied league. Let's dive into where the eight USFL franchises play. Here's a list of their home stadiums and some background info on each.
List of USFL Stadiums
The USFL utilized a single host city, Birmingham, AL, to play all its regular-season games in 2022 and then transitioned to Canton, Ohio, for the postseason. Seven of the eight teams are returning in 2023, with one team heading a bit westward.
Let's take a closer look at each of the USFL Stadiums.
Protective Stadium
Teams: Birmingham Stallions, New Orleans Breakers
Location: Birmingham, AL
Year Opened: 2021
Capacity: 47,100
Other Occupants: Birmingham Legion FC, UAB Blazers
Opened in 2021, Protective Stadium served as the primary venue for the return of the USFL in 2022. Owned and operated by the Birmingham-Jefferson Civic Center Authority, it has the advantage of being a multi-use facility. That versatility — especially when playing such a central role in the development of the nascent USFL — is key for a stadium that needs consistent revenue streams.
Simmons Bank Liberty Stadium
Teams: Houston Gamblers, Memphis Showboats
Location: Houston, TX
Year Opened: 1965
Capacity: 58,325
Other Occupants: Memphis Tigers
What can you buy for $3 million? A plot of land in Challis, Idaho — and apparently a sports stadium if you travel back in time to 1965.
MORE: What Is the USFL? Teams, Hub Cities, Schedule, and More
Originally known as Memphis Memorial Stadium (before naming rights became a must), Simmons Bank Liberty Stadium is nestled in Tennessee's southwest corner, serving as a regional hub at the intersection of Tennessee, Arkansas, and Mississippi.
The NFL's Tennessee Oilers played their home games here in 1997 during their transition to the Tennessee Titans. Led by Steve McNair, Eddie George, Bruce Matthews, and Frank Wycheck (among others), that team went 5-1 in this venue.
Ford Field
Teams: Michigan Panthers, Philadelphia Stars
Location: Detroit, MI
Year Opened: 2002
Capacity: 70,000
Other occupants: Detroit Lions
Fifteen years ago, Stephen Curry led Davidson College past the heavily favored Wisconsin Badgers in the NCAA Tournament's Sweet 16. Then Davidson fell a basket short of knocking off the eventual-champion Kansas Jayhawks in the Elite Eight.
Aside from underdog heroics and near heroics, what did these games have in common? Both were played on a regulation basketball court built in the center of Ford Field.
In fact, this venue will host the NCAA Final Four in 2027. Ford Field truly is a multi-use facility.
Of course, the stadium also has been home to the NFL's Lions for two decades, cementing its status as a marquee venue for the still-nascent USFL.
Tom Benson Hall of Fame Stadium
Teams: New Jersey Generals, Pittsburgh Maulers
Location: Canton, OH
Year Opened: 1938
Capacity: 23,000
Other Occupants: Canton McKinley Bulldogs
When built nearly a century ago, Tom Benson Hall of Fame Stadium was the largest high school stadium in the United States. Now it's known as home to the NFL's annual Hall of Fame Game and is a Carl Lewis hop, skip, and jump from the Pro Football Hall of Fame. This is a fitting locale for two USFL teams in the league's second season.
Super Bowl Dreams, Fangio's 'Safety-Driven' D, and Tyreek Hill's '[Eff] It' Ability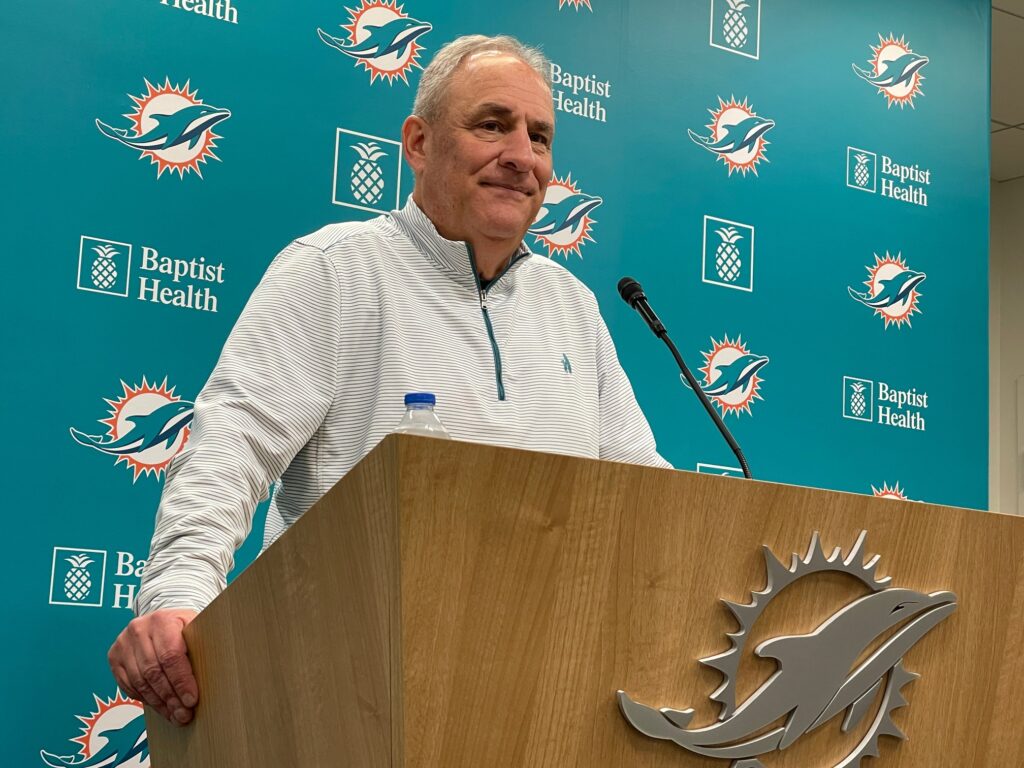 The Miami Dolphins rolled out their top free agent signings Wednesday, making them available to reporters for the first time. The biggest Dolphins news to emerge? The Dolphins are a confident bunch and not afraid to talk Super Bowl.
And after a solid free agency building on a solid nucleus, their confidence isn't misplaced.
Miami Dolphins News: Super Bowl Dreams
The Dolphins were among the winners of 2023 NFL free agency. And yet, they still have just the 10th-shortest Super Bowl championship odds (30-to-1) and are +375 to win the AFC East.
That seems a bit dismissive of what Chris Grier and Mike McDaniel have built. Miami's new players certainly are aiming high.
Tight end Eric Saubert is now part of a seventh organization — meaning he's been in more than 20% of the NFL's locker rooms before his 29th birthday. But never before has he been part of a roster as loaded as the one he agreed to join on a one-year, $1.7 million contract.
MORE: Miami Dolphins Super Bowl Odds
When asked if the Dolphins' galaxy of stars — which includes Tyreek Hill, Jalen Ramsey, Bradley Chubb, Jaylen Waddle, and Tua Tagovailoa — allows Saubert to think Super Bowl, he replied:
"Yeah. Absolutely. That's got to be the goal all the time. If you're not committed to winning the Super Bowl, you've got the wrong mindset. I think it gives you more confidence when you've got such great players around you. It allows you to play better. Whenever you've got a great receiver on the field, a great quarterback on the field, everyone just plays better.
"We've got an awesome roster getting set here, and I'm excited to see how far we can go.. The Super Bowl is the goal. If it's not, you're in the wrong headspace."
Added DeShon Elliott, the safety who joined the Dolphins on a near-identical contract to that of Saubert: "How great can it get? You have the opportunity to win the division, the opportunity to win a lot of games, go to the Super Bowl, possibly."
Miami Dolphins' Vic Fangio Effect
A big part of the optimism in South Florida? The arrival of new defensive coordinator Vic Fangio, who has already put his stamp on the Dolphins' roster. Beyond the Ramsey trade, Miami has given Fangio a familiar pass rusher (Malik Reed) and excellent depth at safety (Elliott).
Elliott said returning Dolphins safeties Brandon Jones (his college teammate and close friend) and Jevon Holland gave him a hint of what to expect with Fangio onboard.
"This is a safety-driven defense," Elliott said he was told. "Safeties on defense can make a lot of plays."
MORE: Miami Dolphins Free Agency Grade
Does that possibly mean playing all three at the same time?
"Vic Fangio is a very intelligent football coach, a very intelligent DC, so I'm sure he has his plans on what he wants to do with us," Elliott said. "I knew I was gonna compete. It's the NFL. We're all going to compete. Nothing is given to you, nothing's gonna be handed to you. So I came here to compete. I know what I bring to the table, and I know how hard I'll work. So the results will show."
Added Reed, who played for Fangio in Denver from 2019 through 2021:
"I feel like he's really about the business and the business of winning. I feel like having success as a defense and really doing a great job on that side of the ball. I feel like with him, you're getting a guy that works extremely hard. You see that throughout our three years together.
"The progress that I feel like we made in year one that I was there in Denver until my last year. I think we were the No. 8 scoring defense then. You just see progression each year, and I feel like that is a testament to the type of coach he is and the type of coordinator he is as well. I feel like you're getting a great guy in him."
DeShon Elliott Is the Ultimate Hype Man
A couple of final thoughts from Elliott, who flashed great trashing-talking potential in his Dolphins media debut.
On facing Tua, Tyreek, and Jaylen every day in practice:
"Practice is gonna be fun, but I think when I was watching the game, a lot of the things they do on tape moves fast, quick, fast. Decisions are already planned out and know where the ball's going to know who's gonna get the ball, and if all else fails, f— it. Tyreek Hill's down there somewhere."
On the Dolphins' trading for Ramsey (and if it played a role in his decision):
"Oh, yeah. C'mon, now. That's arguably the No. 1 corner in the NFL. I don't want to hear anybody talking about, 'Oh, he had a down year.' Check the numbers. Check the tape. It was not a down year. Still an All-Pro. So regardless, I feel like, 'Why would I not go there?'
"Playing with great players makes you great, elevates your game. It's gonna help bring something out of me and the rest of our teammates. So why would I want to go somewhere where you can have opportunity to be great? I mean, money will come. Nobody cares about the money. Yeah, we care about the money, but winning and trying to get the best out of yourself, that should be where your head is at. I think being here's where I can do that."
Who Will Sign Odell Beckham Jr.? Possible Landing Spots for Former Rams Receiver
The first wave of NFL free agency is over, and Odell Beckham Jr. is still on the board. Beckham, who held a workout earlier this month to demonstrate his recovery from the ACL tear he suffered in Super Bowl 56, is the best available receiver in Pro Football Network's free agent rankings. Where are the best landing spots for the veteran pass catcher?
Who Will Sign Odell Beckham Jr. in Free Agency?
Beckham's market hasn't improved since the free agent period began — if anything, it's gotten worse as teams continue to drop out of the running.
The Dallas Cowboys were a rumored destination for Beckham, but they're likely "out of the competition" after acquiring Brandin Cooks from the Texans, according to ESPN's Ed Werder. A reunion between the Giants and Beckham could have been in the works, but New York is no longer interested after signing Parris Campbell.
The Los Angeles Rams, Beckham's most recent team, don't make sense as a suitor, given that they're going through a rebuilding process. And while Aaron Rodgers had Beckham on his New York Jets wishlist, Gang Green agreed to a one-year deal with former Kansas City Chiefs receiver Mecole Hardman on Wednesday.
MORE: Unrestricted NFL Free Agent
There's also the question of OBJ's asking price. Last week, in response to a report that suggested he was looking for $20 million annually, Beckham tweeted that while he didn't understand where that figure came from, "4 [million dollars] AINT enough."
Which teams might be willing to give Beckham the contract he's searching for? Let's run through the top contenders.
Baltimore Ravens
The Baltimore Ravens have their hands full with the Lamar Jackson situation, so it's perhaps no surprise that they've been among the quietest teams in free agency. Aside from assigning Jackson the non-exclusive franchise tag, Baltimore's only move on offense has been to re-sign third-string running back Justice Hill.
Speaking at his year-end press conference, Ravens general manager Eric DeCosta suggested it can be difficult to add wide receiver talent when a team has a "big-ticket item" at quarterback. But plenty of teams with high-end (and highly-paid) signal-callers have built formidable receiving depth charts, even if they had to get creative.
MORE: What is a Restricted Free Agent?
Signing Beckham could be a creative solution for the Ravens, who need a receiver that can work the middle of the field and complement the play styles of Rashod Bateman and Devin Duvernay. Beckham has also been a willing blocker throughout this career, which should help Baltimore's run game.
The Ravens don't have a ton of cap space remaining, but if Beckham's price falls far enough, he should be on Baltimore's radar.
Kansas City Chiefs
Beckham was regularly linked to the Chiefs last season, but Kansas City ended up finding a receiver via trade. The Chiefs acquired Kadarius Toney from the New York Giants at last year's trade deadline, and although he managed just 14 receptions in seven regular-season games with KC, he's expected to be a featured part of the team's offense in 2023.
Marquez Valdes-Scantling will also return for the Chiefs, while 2022 second-rounder Skyy Moore will likely take on a larger role. But Hardman is now headed to New York, so Kansas City will be looking for another receiver to add to its rotation.
MORE: Who Will Sign Bobby Wagner?
MVS is a deep threat, while Toney does his best work near the line of scrimmage, so Beckham's route-running prowess would fit in the Chiefs' short-to-intermediate game. And while OBJ has complained about his contract offers, it's possible he could take a lower salary to play with Patrick Mahomes and take a shot at a second Lombardi Trophy, given that he's already made more than $82 million in the NFL.
Minnesota Vikings
The Minnesota Vikings need receiver help after releasing nine-year veteran Adam Thielen last week. Justin Jefferson is the best wideout in the NFL, but the rest of Minnesota's receiver room is comprised of K.J. Osborn, Jalen Nailor, Jalen Reagor, Trishton Jackson, and Blake Proehl.
General manager Kwesi Adofo-Mensah — who overlapped with Beckham in Cleveland — is attempting a competitive rebuild that will allow the Vikings to fight for the postseason while setting up their roster for the future. Beckham makes sense for the near-term portion of that strategy, especially given that he'll likely require only a one-year deal.
Minnesota's issue is cap space. At present, the Vikings are just $1.3 million under the cap, so they'd have to clear out room to add OBJ. Releasing Za'Darius Smith — a rumored transaction — would create enough space, but the Vikings probably don't want to restructure contracts to sign a one-year flier like Beckham.