Mississippi State Breakout Players to Watch • D1Baseball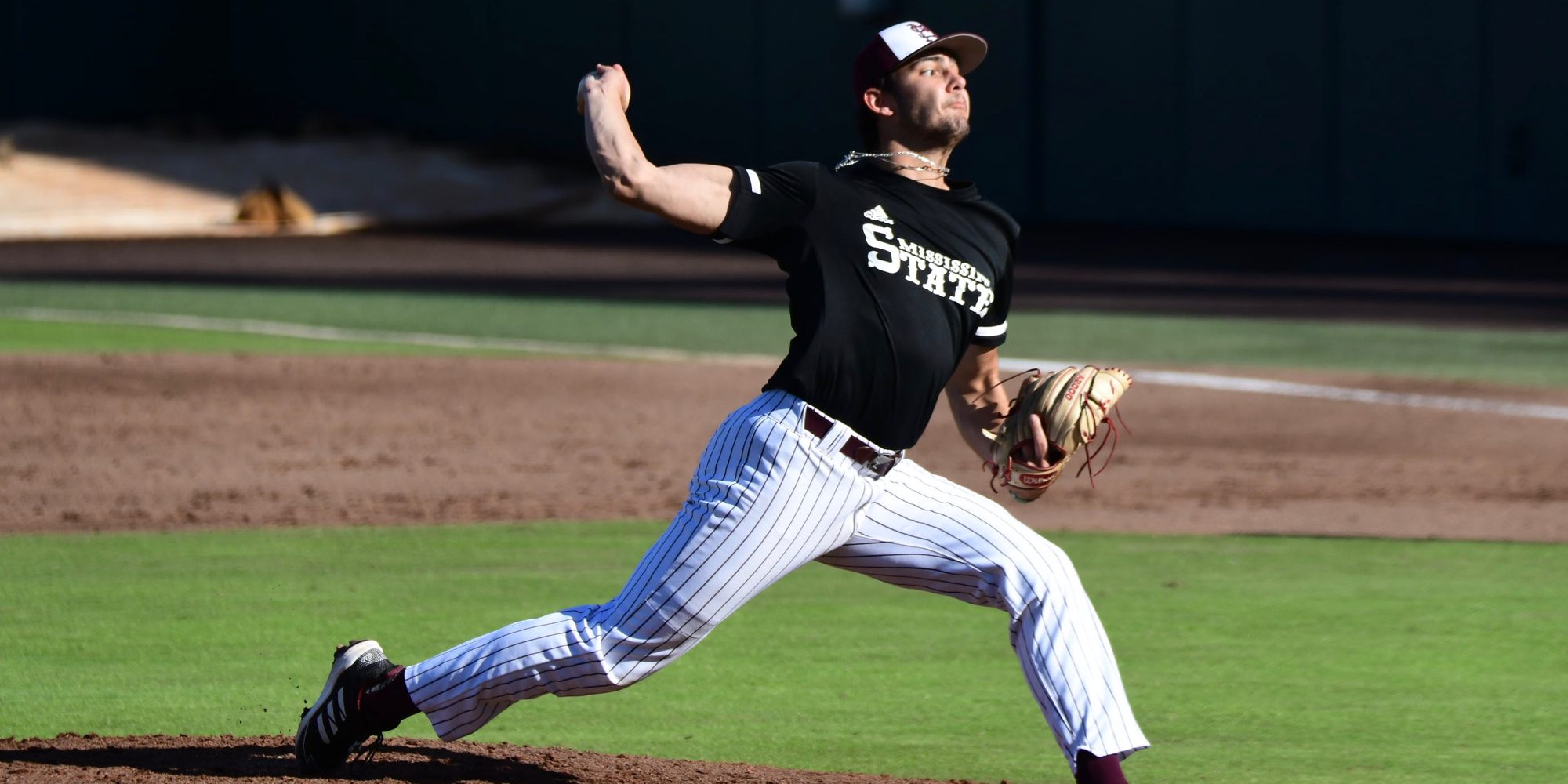 SEC Extra
Joe Healy – January 26, 2023
There are few things more fun to watch unfold in college baseball than a breakout season from a newcomer on the roster or a role player who is in the process of developing into a star. These types of breakouts raise a team's ceiling and help unearth new cult heroes on the field for fanbases to rally behind. 
With the 2023 season just around the corner, here are five potential breakout players for Mississippi State, a team that will need some breakout performances to make a move up the SEC standings after finishing in the cellar at the end of[…]
Meet Brown's Olivia Pichardo, First Woman To Play D-I Baseball • D1Baseball
Features
Walter Villa – March 23, 2023
Remember the name: Olivia Pichardo.
On Friday night, the Brown University freshman became the first female in NCAA history to appear in a Division I baseball game.
Her groundout traveled just about 95 feet.
Years from now, it may seem like 95 miles.
Here's why: Who knows how much women baseball players will progress in the future? Maybe Pichardo's groundout to Bryant first baseman Carmine Petosa — who made the play unassisted — is just the beginning of a new source of talent. Maybe her at-bat will be known, historically, as the most significant roller to first since Mookie Wilson to Bill Buckner. We just don't know.
What we do know is that Pichardo is a legit baseball player, and perhaps her best tool is her arm.
"She throws low 80s off the mound," Brown coach Grant Achilles said. "Her arm strength has continued to improve, and it's better than I had anticipated. We've had her play right field (in practice and scrimmages)."
Brown center fielder Derian Morphew has also been impressed by Pichardo.
But when he and his teammates first found out she had made the team as a walk-on this past fall, they were curious.
"We just wanted to see her play," Morphew said. "We wanted to see what she had. We knew that if she made the walk-on tryout, our coaches must have seen something about her that could help us.
"Before she made the team, we only had five outfielders. I didn't have a throwing partner. When she got here, it was a perfect way to have a throwing partner. So, the first thing I saw her do is throw, and that's what impressed me the most — how efficiently and accurately she throws the ball.
"Her arm is legit."
At the plate, Pichardo – who swings from the left side – is a 5-foot-7, 160-pound contact hitter.
She has gained five pounds of muscle since arriving at Brown this past fall, and she feels that added strength will help her drive the ball in the years to come.
"I'm not the player who is going yard every game," said Pichardo, 19. "I'm someone who finds the gaps.
"This is a game of passing the torch. I try to do my job and set up our next batter for success."
A native of Queens, New York, Pichardo has been athletic virtually her whole life. She remembers her toddler days, hitting a Wiffle ball with what she calls a "squishy bat."
Pichardo comes from an athletic family. Her father, Max, who is from the Dominican Republic, grew up playing baseball, of course. Her mother, Monita, played high school basketball.
In addition, Olivia's sister, Nirvana, plays high school volleyball. But Olivia inherited her father's passion for baseball.
Said Max: "When I was a little kid, I didn't have much, but I was obsessed with baseball. I would rather play baseball than eat."
After the Pichardos had their two daughters, Max said he was in for a shock.
"I didn't envision I would be a baseball dad," he said. "But it worked out that way, and I couldn't be happier."
Olivia Pichardo played high school basketball and volleyball at Garden School in Queens. She also played club baseball for New York Crush and Next Level.
This past summer, she competed for USA Baseball's Women's National Team. She also competed at several college baseball camps, although not at Brown.
After getting accepted academically by Brown, she emailed Achilles, sending him her baseball highlight videos.
Pichardo and a male player were the two players competing to make the team on walk-on tryout day this past fall.
Only Pichardo made the team.
"She had a great try-out," Achilles said. "She had confidence in her style as a contact player who can put the ball in play. She runs hard and is a solid defender."
This past year, Pichardo and the rest of the Brown team traveled to the Dominican Republic, where they played three games during Christmas week, facing the Dominican Army, the National Police and a semi-pro team managed by the father of Robinson Cano.
During the games, Pichardo said she heard fans yell out to her in English and in Spanish.
"They were yelling, 'Girl!' or 'I love you.' It was wild," Pichardo said. "It was a lot of fun."
In one of those games, Pichardo went 2-for-4 with a pair of singles, boosting her confidence.
The Brown team returned home on Jan. 1, and its season started on Feb. 24.
Pichardo's season, however, didn't start right away. She didn't make Brown's travel roster – which is limited in size due to Ivy League rules – and she had to wait until the Bears' home opener on March 17 to make her debut.
Max Pichardo was there for the home opener, not thinking his daughter – who is a freshman walk-on after all – would get a chance to play. Max would've been content just to see his kid warming up before the game in an actual Brown uniform.
But, in the ninth inning, the friends Max was sitting with let out a roar.
A loud roar.
"They scared the crap out of me," Max said. "I asked them: 'What happened? Are the Russians attacking?'"
Quite the opposite.
Max's friends yelled because they had spotted Pichardo walk to the on-deck circle, swinging a bat. Moments later, the announcer said:
"Now batting for Brown, No. 19, Olivia Pichardo."
With her long dark hair cascading down her back and her red batting gloves, Pichardo stood out as she took her practice swings.
Bryant righthander M.T. Morrissey then fired an upper-80s fastball. Pichardo made sharp contact, but Petosa scooped up the grounder and trotted to first for the putout.
Max said he wasn't as outwardly emotional as he would have thought during his daughter's big moment.
"I had pictured myself crying like a maniac," Max said. "But I calmly videotaped her at-bat. It was surreal."
Max said it was frigid that night – in the mid-to-low-40s – and he worried about Olivia coming in cold to face a pitcher after having sat for nine innings.
But, Max said, he was impressed by his daughter's approach, swinging at a pitch that was down the middle rather than letting that opportunity pass.
After the game, Max took his daughter to her favorite restaurant, Longhorn, where they each enjoyed a juicy steak.
"The first thing she said was, 'I was so cold' (at the plate)," Max said. "She also told me she wanted to make sure she attacked the first pitch that was good instead of hitting from behind in the count."
Pichardo, who is studying Business/Economics, is considering working toward a post-playing career as a front-office executive for an MLB team.
This past May, she worked an internship with her hometown team, the New York Mets, and she was thrilled that it was a corporate environment but simultaneously relaxed because "they are all sports people."
In the meantime, Pichardo said she's had lots of young girls who have reached out to her, asking for advice on their own baseball journeys.
"I play baseball because I love it," Pichardo said. "But it's even more motivational to keep going and be the best player I can be because there are young girls who look up to me.
"Sometimes, I forget the position I'm in (as a women's baseball pioneer). The messages I get from girls are a good reminder of the role I'm playing."
10 Teams That Caught My Attention • D1Baseball
Analysis
Kendall Rogers – March 23, 2023
The midweek is where a lot of teams, particularly so-called mid-majors, can make some hay with their respective postseason resumes.
That certainly was the case with Top 10 RPI Northeastern, which bolstered its already-impressive resume so far this season with a midweek win over Boston College.
They weren't alone, as we analyze 10 teams who strengthened their positions during midweek action.
• Northeastern: The Huskies are having a great season thus far, and they added to their resume this week with a 6-2 win over Boston College followed by an 11-run onslaught against Merrimack. Against red-hot BC, the[…]
Oklahoma State's Roc Riggio • D1Baseball
Features
Aaron Fitt – March 23, 2023
LUBBOCK, Texas — Like a young Mick Jagger, Roc Riggio strutted and preened halfway between second base and third, raising his hands and hopping along on his tiptoes as if he were running through hot coals, or trying to maintain his balance on a high wire. Like Jagger, Riggio is a natural showman who looks born for the big stage — and that home run trot against Arkansas last year came on the biggest stage of Riggio's baseball career to date, his first taste of Division I postseason action in the wild Stillwater Regional.
Riggio did his talking with his[…]