Hayden Hurst's Concerning New Issue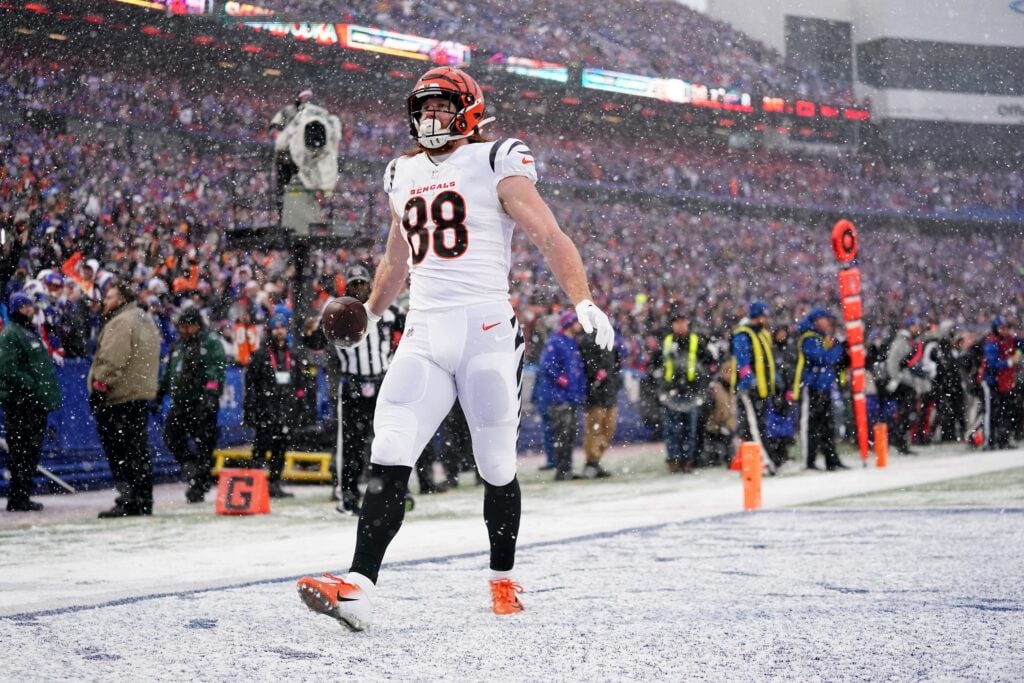 The list of available players for the Cincinnati Bengals vs. Kansas City Chiefs is coming into focus. Both teams have issues at key positions. Who's available? Who's not? Here are the biggest takeaways from the Bengals vs. Chiefs second injury report of the week.
Cincinnati Bengals vs. Kansas City Chiefs Injury Report
Bengals Injury Report: Thursday
Did Not Practice
G Alex Cappa (Ankle)
OT Jonah Williams (Knee)
Limited Participation
LB Joe Bachie (Foot)
TE Hayden Hurst (Calf)
Full Participation
CB Tre Flowers (Hamstring)
DE Sam Hubbard (Rest)
C Ted Karras (Knee)
DT D.J. Reader (Rest)
Tight end Hayden Hurst either suffered or aggravated a calf injury at some point in the past 24 hours. The issue was significant enough that it limited Hurst's participation in practice Thursday.
Hurst was a full participant Wednesday with no listed injury. That changed Thursday.
Hurst, who missed three games with a calf injury in December, has been a big part of the Bengals' offensive output this postseason, catching nine passes for 104 yards and a touchdown in their two playoff games.
Meanwhile, Bengals linemen Alex Cappa and Jonah Williams look increasingly unlikely to play with significant issues.
That's the bad news for the Bengals. The good?
Tre Flowers' gimpy hamstring is making real progress, so much so that the Bengals could have their fifth-year cornerback available for defensive snaps against the Chiefs.
Flowers has been relegated to mostly special teams since hurting the hamstring midway through the season and didn't even dress in the Divisional Round.
One other change Thursday to the Bengals' injury report: Defensive tackle D.J. Reader was a full participant after getting a rest day Wednesday.
Chiefs Injury Report: Thursday
Limited Participation
WR Mecole Hardman (Pelvis)
Full Participation
LB Willie Gay (Toe)
QB Patrick Mahomes (Ankle)
RB Jerick McKinnon (Ankle)
There were no changes to the Chiefs' injury report from Wednesday to Thursday. The only availability concern on Kansas City's roster is wide receiver Mecole Hardman, who remains limited with a pelvis injury.
MORE: How the Cincinnati Bengals Hold Clear Advantages Over Kansas City Chiefs
All other Chiefs players were full participants. That includes quarterback Patrick Mahomes, who has taken every snap in practice this week despite suffering a high ankle sprain in Saturday night's Divisional Round win over the Jacksonville Jaguars.
The Chiefs have every confidence that Mahomes will play. How well he plays on one and a half legs remains to be seen. His great ability to improvise will inevitably be affected by the injury.
Fantasy Outlook, Value, Projections, and Rankings
As we inch toward the new season, the ever-changing NFL landscape has player fantasy values constantly on the move. Whether you're used to the dynasty platform or are still learning the dynasty rules, let's dive into the latest dynasty fantasy football value of WR Elijah Moore.
Elijah Moore's Dynasty Outlook and Value
Moore had a relatively impressive rookie year in 2021. He only caught 43 passes for 538 yards, but he also only played 11 games. More importantly, Moore was on track for a typical rookie WR arc of minimal playing time to start the season, followed by a torrid finish.
In Week 9 of his rookie year, Moore broke out and, by Week 11, was fully entrenched as a starter. His 12.6 fantasy points per game on the season don't really tell the whole story. From Weeks 9-13, Moore averaged 20 ppg. That doesn't happen unless a player has talent.
Unsurprisingly, Moore was a popular candidate to take another step forward in his second season in 2022. However, the bullish outlook did take a necessary hit after the New York Jets drafted Garrett Wilson in the first round. Nevertheless, Moore was poised to be the team's WR2, at worst, and still projected to have a nice year.
What happened to Moore last season fell far outside the bounds of what anyone thought was possible. Moore's target share dropped to 11.7%, his targets-per-routes-run rate was 14%, and he only played 70% of the snaps.
Moore even demanded a trade midseason. For reasons that are still unclear, he was relegated to the team's WR4 behind Wilson, Corey Davis, and Braxton Berrios. In 16 games, Moore averaged 5.5 ppg.
Elijah Moore's Fantasy Ranking
Given Moore's precipitous decline as a sophomore, it's completely fair to write him off entirely. It's just difficult to ignore how well he performed as a rookie.
I still see Moore ranked inside the top 48 of dynasty wide receivers. He's entering his third professional season and is still just 23 years old. Moore's proven capable of producing at the NFL level, so I find it hard to believe he's just going to fade into obscurity.
When I first wrote this profile, I was going to say I did not see a path to Moore reviving his career with the Jets. As last year's midseason trade demand indicated, Moore likely didn't either.
A trade was best for both sides. I anticipated Moore being included in whatever deal the Jets worked out for Aaron Rodgers. Instead, they sent him and a 2023 third-round pick to the Cleveland Browns in exchange for Cleveland's second-round selection.
MORE: Top Dynasty Wide Receiver Rankings 2023
My biggest concern for Moore is the trade compensation is very minimal. Similar to how we can look at contracts to get an idea of how a team values a player, this trade suggests Moore may not necessarily be a key piece in the Browns' offense.
Speaking of his contract, the Browns will have to pay Moore just over $3 million for the next two seasons combined. With that said, the guy we saw in 2021 was legitimately good. And it's not as if the Browns have any particularly talented wide receivers outside of Amari Cooper. There's no reason Moore can't immediately be Cleveland's WR2. He's better than Donovan Peoples-Jones.
If you have Moore, the best course of action is likely to hold tight and see what happens. I wouldn't be opposed to moving him if someone is willing to give you a more secure asset. But if you don't have Moore, I wouldn't rush to acquire him.
We currently have Moore at WR42 (No. 105 overall) in our dynasty Superflex rankings. At that ranking, he's a bit too expensive for me in dynasty startup drafts. But the new home is intriguing. If he fell further in drafts, I'd be willing to throw a dart for cheap.
Who Will Sign Yannick Ngakoue? Landing Spots for the Edge Rusher
Yannick Ngakoue was on the path to being one of the top edge rushers in the NFL after some incredible performances with the Jacksonville Jaguars, but he's been up and down since then, having played for four teams in three years. Now, hitting free agency, he's seeing his options dwindle as teams have already signed away the edge rushers they plan to roll with heading into the season.
Who Will Sign Yannick Ngakoue?
The upside for Ngakoue is pretty enormous, and teams needing an edge rusher would be wise to investigate the veteran despite some bumps in the road — after all, he ranks ninth in sacks since joining the NFL in 2016.
Given that the edge defender draft class has a number of question marks — albeit with a lot of talent — there's a reason that Ngakoue should be able to drum up a market. On the other hand, a number of teams that need an edge rusher have already employed Ngakoue, and he's had mixed feelings about his time with them.
He told Jeremy Fowler of ESPN that he enjoyed playing in Minnesota but felt he "wasn't utilized the right way," adding that "Pass rushers need rhythm. You have to have multiple plays to set up moves, and I felt like I didn't have that there."
The Chicago Bears Could Keep Spending To Immediately Return To Relevance
The Bears should secure a pass rusher in the draft, but they need more than one. Trevis Gipson and Dominique Robinson are not yet slated to take on a full-time role, and adding Ngakoue to a roster that has a first- or second-round pick pass rusher would be smart.
The Bears have invested an extraordinary number of resources into the team this year on both sides of the ball but still have a ways to go before they can be comfortable with their competitiveness and have nearly $40 million in remaining cap space regardless. Rounding out other elements of the roster will be a big part of their ability to continue competing in the NFC North.
MORE: Best EDGEs in the NFL 
When head coach Matt Eberflus was asked to describe his ideal edge rusher at the NFL Combine, he seemingly described Ngakoue to a tee. "I would just say the ability to turn the corner," he said of his primary edge rusher traits. "When guys start to rush, and they get their approach, when they get to the move area, the ones that can't get there, they start working away from the quarterback."
"The ones that do," Eberflus said, "they have everything pointed — their hips, their toes, their knees — everything toward the quarterback. And they have the ability to work their move around the edge. And then when they get past the quarterback, they have strength to be able to work back inside."
Ngakoue Could Unlock Myles Garrett for the Cleveland Browns
The Browns have moved on from Jadeveon Clowney and need someone opposite Myles Garrett in order to set their pass rush up for success. After signing Dalvin Tomlinson in the interior, they've already committed to building up their defensive line but need to do more to make that unit completely effective.
With Jim Schwartz as their defensive coordinator, they should be able to effectively use the wide techniques that Ngakoue has become comfortable with.
Indianapolis Colts Could Re-Sign Ngakoue and Re-Establish Their Defense
Gus Bradley has employed Ngakoue in his defenses at multiple stops — Jacksonville, Las Vegas, and Indianapolis. Bringing Ngakoue back to Indy after a muted free agency makes a fair degree of sense. His 9.5 sacks last year for the Colts didn't set the world on fire but was fairly helpful for a defense otherwise lacking pass rush.
The Colts still have reason to be excited about Kwity Paye, but having a strong stable of pass rushers — with or without a rookie addition — will be critical to get the defense back to relevance. Even as a rebuilding team, signing Ngakoue would make a lot of sense.
The Denver Broncos Have a Lot of Pass-Rush Ground To Make Up
The Broncos have the least amount of cap room on this list but still have about $8 million to address a position they made substantially weaker when they traded away Bradley Chubb to the Dolphins. Adding Zach Allen to help with the pass rush shouldn't stop them from adding someone like Ngakoue because they play functionally different positions.
MORE: Highest-Paid EDGEs in the NFL  
Allen and Ngakoue could even line up on the same side of the ball and, if done properly, could combine like Aldon Smith and Justin Smith did for San Francisco a few years ago.
If the Los Angeles Rams Want To Win, Why Not Ngakoue?
The Rams' EDGE room consists of Michael Hoecht, Keir Thomas, Zach VanValkenburg, and Daniel Hardy. It's not a stacked room, and it could do with some bargains if the Rams are really committed to competing this year.
If not, they would be smart to pass on Ngakoue and move on, but they have indicated that they expect to win this year. He would be an instant upgrade and should be comfortable with what a defense like this would ask him to do.
Fantasy Outlook, Value, Projections, and Rankings
As we inch toward the new season, the ever-changing NFL landscape has player fantasy values constantly on the move. Whether you're used to the dynasty platform or are still learning the dynasty rules, let's dive into the latest dynasty fantasy football value of running back Zack Moss.
Zack Moss' Dynasty Outlook and Value
I really want to write off Zack Moss. The Buffalo Bills certainly did when they pushed Devin Singletary over him beginning in the 2021 season and then traded Moss at the trade deadline. Unfortunately, I must react to what we see on the field.
Moss, one of the least-talented running backs I've ever scouted, actually ran decently well during his four games as the Indianapolis Colts' starter. From Weeks 15-18, Moss carried the ball 69 times for 334 yards and a touchdown. He averaged about a 65% snap share during that stretch.
MORE: Dynasty Rankings 2023 — Top Fantasy Options at Running Back
Just like with Deon Jackson, we have no idea how the new coaching staff will handle this backfield. They could go into 2023 with a trio of Jonathan Taylor, Jackson, and Moss. Indianapolis could also cut Jackson, Moss, or both with a negligible dead cap hit. It will cost the Colts $1.1 million to roster Moss this season but just $228,000 to cut him.
Zack Moss' Fantasy Ranking
Moss is still just 25 years old. He's done enough to prove he belongs in the NFL, which is not something I thought of him prior to this past season. Still, I don't think Moss needs to be on fantasy rosters outside of deep dynasty leagues.
If Moss finds himself in a handcuff role, there could be some value, but not much. Even in that four-game stretch where he ran well, Moss only averaged 11.1 fantasy points per game. He doesn't have any standalone value and has limited upside, even if things break his way.
Consider Moss an RB5/6, at best. We have him at RB68 (No. 211 overall) in our dynasty Superflex rankings. There are likely several options available with more plausible upside, but I'm not looking to select Moss in dynasty startup drafts.