Top Tight Ends at the 2023 Shrine Bowl Include Luke Schoonmaker and Princeton Fant
Pass catchers will be the positions to watch, and the tight ends on the 2023 East-West Shrine Bowl rosters make up an interesting group of next-level players. The best tight ends can do all three facets nowadays, and this group is no different.
Top 2023 Shrine Bowl Tight Ends NFL Draft Prospects
1) Luke Schoonmaker, Michigan
A lesser-known receiving threat, Schoonmaker made his name known early on at Michigan with his blocking skills. However, over the past two seasons, he's hauled in six receiving touchdowns and capped his career with personal bests in every major receiving category.
Schoonmaker is a physical blocker with safe hands, something that will come in handy over the middle of the field. Putting his after-the-catch ability on display in Vegas will vault his draft stock.
2) Princeton Fant, Tennessee
A dominant red-zone threat, Princeton Fant can actually win all over the field. Though he isn't the biggest tight end there is, his ability to line up in the slot and use his physicality to dominate smaller defenders is almost unmatched. Fant could do his draft stock wonders by proving himself in the blocking game.
3) Daniel Barker, Michigan State
Battle-tested Daniel Barker heads to the Shrine Bowl after five seasons in the Big Ten and 13 career receiving touchdowns. Barker is a big target for his quarterbacks, only made better by his incredible reach. Showcasing his athleticism in after-the-catch situations will help his cause — the big man averaged over 12 yards per catch in his college career.
4) Travis Vokolek, Nebraska
One of the larger individuals at the position over the past few years, Travis Vokolek is also the elder statesman of this group. Vokolek, a member of the recruiting class of 2017, battled through injuries in his Rutgers and Nebraska careers, culminating in just four receiving touchdowns to his credit over six years in college.
Still, the 6'7″ Vokolek proved to be much more limber and athletic than his frame would indicate. Proving that against some of the best of the best at the Shrine Bowl should cement his case as a three-down, viable receiving tight end.
5) Joel Wilson, Central Michigan
Central Michigan certainly knows a thing or two about producing NFL-caliber tight ends — Joel Wilson is next in line. Wilson checks in at 6'4″ and 250 pounds, but he moves around much more like a slot receiver. He has all the tools of a dominant next-level tight end in passing scenarios. Nonetheless, he will need to prove he can handle himself against top-tier pass rushers.
Other TEs To Watch at the Shrine Bowl
Blake Whiteheart, Wake Forest
Leonard Taylor, Cincinnati
Thomas Greaney, Albany
Updates on Deebo Samuel, Christian McCaffrey, and Avonte Maddox
The San Francisco 49ers and Philadelphia Eagles have been the best teams in the NFC this season, and it should come as no surprise that both teams have stayed relatively healthy on their way to the NFC Championship Game. That is if we conveniently ignore that the 49ers are on QB3. While both teams remain relatively healthy, a few key players remain out of practice through Thursday.
San Francisco 49ers vs. Philadelphia Eagles Thursday Injury Report for the NFC Championship Game
49ers Injury Report
Did Not Practice
QB Jimmy Garoppolo (foot)
RB Christian McCaffrey (calf)
RB Elijah Mitchell (groin)
OT Trent Thomas (rest)
Limited Participation
DE Charles Omenihu (oblique)
CB Ambry Thomas (ankle)
WR Deebo Samuel (ankle)
The 49ers aren't new to this. Running backs in San Francisco seem to end up on the injury port more often than your favorite Twitch streamer goes live. Kyle Shanahan has consistently been able to get a lot out of a little, but they don't want to be without McCaffrey or Mitchell in the biggest game of the season. Shanahan said he expects to have Mitchell and McCaffrey available for Sunday's game.
Garoppolo won't yet be available to the 49ers. If he does get cleared to play in two weeks — should San Francisco advance — he'll be Brock Purdy's backup for the game.
MORE: Thursday Bengals vs. Chiefs Injury Report — Hayden Hurst's Concerning New Issue
Samuel didn't practice Wednesday but was back in a limited fashion on Thursday with his ankle injury, which is good news for a 49ers team that will need all their receiving weapons available against a talented Eagles defensive backfield. But if McCaffrey and Mitchell are both limited on Sunday, Shanahan can and will use a healthier Samuel in the backfield in a do-or-die situation.
Eagles Injury Report
Limited Participation
OT Lane Johnson (groin)
CB Avonte Maddox (toe)
WR A.J. Brown (rest)
CB James Bradberry (rest)
DT Fletcher Cox (rest)
OG Landon Dickerson (rest)
DE Brandon Graham (rest)
OC Jason Kelce (rest)
DE Robert Quinn (rest)
OG Isaac Seumalo (rest)
CB Darius Slay (rest)
DE Josh Sweat (rest)
With so many veterans on the roster, it's not uncommon to see an injury report the length of a CVS receipt. A full 10 Eagles rested for Thursday's practice, including four of their five starting offensive linemen. I wonder what Jordan Mailata did to have to practice while his buddies got the day off.
Johnson has been injured for a while now but is forgoing surgery on his injured groin until after the season. The Eagles hope Maddox can return for the NFC Championship Game so that C.J. Gardner-Johnson can play a more versatile role against San Francisco.
Hayden Hurst's Concerning New Issue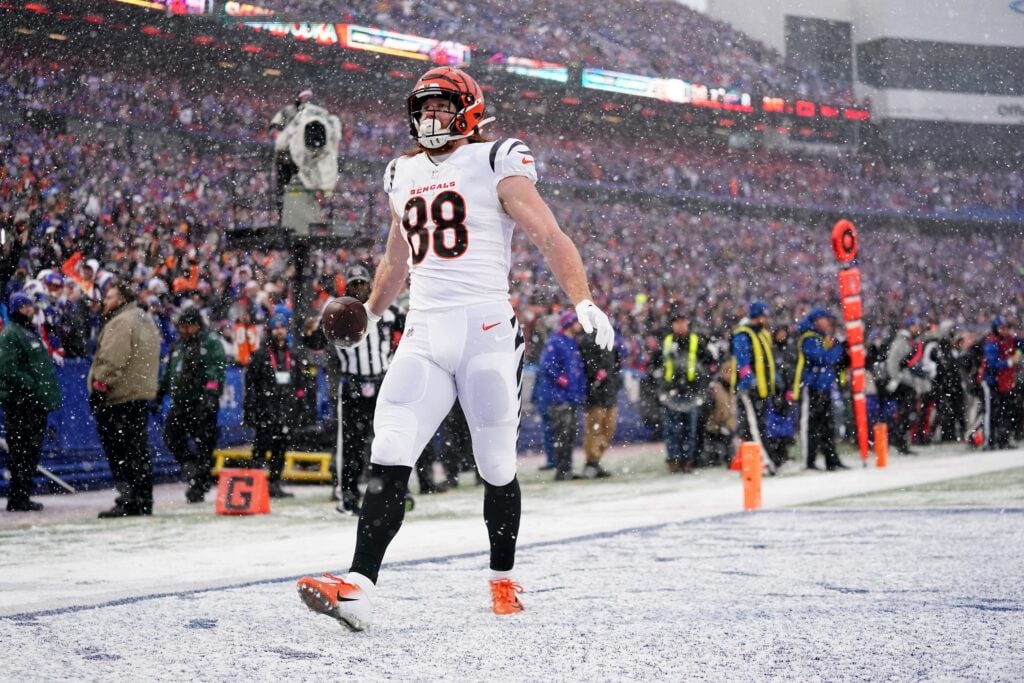 The list of available players for the Cincinnati Bengals vs. Kansas City Chiefs is coming into focus. Both teams have issues at key positions. Who's available? Who's not? Here are the biggest takeaways from the Bengals vs. Chiefs second injury report of the week.
Cincinnati Bengals vs. Kansas City Chiefs Injury Report
Bengals Injury Report: Thursday
Did Not Practice
G Alex Cappa (Ankle)
OT Jonah Williams (Knee)
Limited Participation
LB Joe Bachie (Foot)
TE Hayden Hurst (Calf)
Full Participation
CB Tre Flowers (Hamstring)
DE Sam Hubbard (Rest)
C Ted Karras (Knee)
DT D.J. Reader (Rest)
Tight end Hayden Hurst either suffered or aggravated a calf injury at some point in the past 24 hours. The issue was significant enough that it limited Hurst's participation in practice Thursday.
Hurst was a full participant Wednesday with no listed injury. That changed Thursday.
Hurst, who missed three games with a calf injury in December, has been a big part of the Bengals' offensive output this postseason, catching nine passes for 104 yards and a touchdown in their two playoff games.
Meanwhile, Bengals linemen Alex Cappa and Jonah Williams look increasingly unlikely to play with significant issues.
That's the bad news for the Bengals. The good?
Tre Flowers' gimpy hamstring is making real progress, so much so that the Bengals could have their fifth-year cornerback available for defensive snaps against the Chiefs.
Flowers has been relegated to mostly special teams since hurting the hamstring midway through the season and didn't even dress in the Divisional Round.
One other change Thursday to the Bengals' injury report: Defensive tackle D.J. Reader was a full participant after getting a rest day Wednesday.
Chiefs Injury Report: Thursday
Limited Participation
WR Mecole Hardman (Pelvis)
Full Participation
LB Willie Gay (Toe)
QB Patrick Mahomes (Ankle)
RB Jerick McKinnon (Ankle)
There were no changes to the Chiefs' injury report from Wednesday to Thursday. The only availability concern on Kansas City's roster is wide receiver Mecole Hardman, who remains limited with a pelvis injury.
MORE: How the Cincinnati Bengals Hold Clear Advantages Over Kansas City Chiefs
All other Chiefs players were full participants. That includes quarterback Patrick Mahomes, who has taken every snap in practice this week despite suffering a high ankle sprain in Saturday night's Divisional Round win over the Jacksonville Jaguars.
The Chiefs have every confidence that Mahomes will play. How well he plays on one and a half legs remains to be seen. His great ability to improvise will inevitably be affected by the injury.
Does Carolina Panthers' HC Pick Strengthen Steve Wilks' Class Action Suit? His Attorneys Weigh In
Steve Wilks is first and foremost a football coach. And by all accounts, a quite capable one. He wanted to remain on as Carolina Panthers head coach after winning six of 12 games as the team's post-Matt Rhule interim. That job ultimately went to Frank Reich, even though Wilks was a highly regarded finalist.
But Wilks is more than a football coach. He's a complainant in an ongoing class action racial discrimination lawsuit. The defendants? The National Football League and their member clubs.
And while there is no evidence that the Panthers' decision to hire the White candidate over the Black one was racially motivated, the move certainly doesn't hurt his case.
Legal Impact of Carolina Panthers Passing Over Steve Wilks
Widgor Law, the firm that represents Wilks and Brian Flores in their suit against the NFL, released the following statement on Twitter shortly after the Panthers announced the hiring:
"We are shocked and disturbed that after the incredible job Coach Wilks did as the interim coach, including bringing the team back into Playoff contention and garnering the support of the players and fans, that he was passed over for the Head Coach position by David Tepper. There is a legitimate race problem in the NFL, and we can assure you that we will have more to say in the coming days."
The Panthers surely knew there would be a PR blowback if they picked Reich over Wilks — particularly since the latter did a far better coaching job than the former in 2022.
Suspicions alone shouldn't be enough to ensnare the Panthers into the broad suit. Proof is needed. Does Wilks have such proof? To be continued.
But at the very least, the Panthers' decision is another potent data and talking point as Widgor builds the case that the NFL passes over minority candidates for head coaching positions because of the color of their skin.
MORE: 2023 NFL Head Coach, General Manager, and Coordinator Interview Tracker
Wilks and Flores both believe they were dismissed unfairly as head coaches by the Cardinals and Dolphins, respectively, and are suing the league and several teams to right those alleged wrongs. Longtime NFL assistant Ray Horton is also a complainant in the suit.
Wilks spent one year as coach of the Cardinals — 2018 — but was fired after a 3-13 season.
He claims in the lawsuit that the Cardinals never gave him a real chance to succeed, instead hiring him as a "bridge coach" who was "not given any meaningful chance to succeed." A common, valid complaint by Black coaches is the opportunities they do get are often inferior, and the leeway they're given to succeed is far shorter than their White peers.
The one-year anniversary of the suit's filing is coming up, but it remains apparently far from any sort of resolution. A judge in the southern district of New York has yet to rule whether the case will proceed in open court or, as the NFL prefers, in arbitration.
Ironically, Flores — currently a defensive assistant for the Pittsburgh Steelers — is a candidate for the Cardinals' latest head coaching vacancy.