Keldon Johnson first Spurs player to record 36/10/4 since David Robinson
On Tuesday, Keldon Johnson became the first San Antonio Spurs player to record 36 points, 10 rebounds, and four steals in a single game since Hall of Famer and 10-time All-Star center David Robinson. This was his third double-double of the season.
In San Antonio's 106-98 win over the Brooklyn Nets, the forward recorded a career-high 36 points, along with 11 boards, one assist, and four steals in 38 minutes of action. He finished 11-of-26 (42.3%) shooting from the field and 3-of-11 (27.3%) from deep.
According to multiple NBA betting sites, Keldon Johnson and the Spurs have the lowest odds in the league to win the championship. Sportsbooks are not anticipating a playoff appearance this season.
Keldon Johnson tonight:

36 PTS
10 REB
4 STL

First Spur with that statline or better since David Robinson. pic.twitter.com/hGK3k3qQMi

— StatMuse (@statmuse) January 18, 2023
"It felt great. I can't lie," Keldon Johnson said of his clutch 3-pointer. "They called timeout right after that. I was hyped. My coaches and teammates put the ball in my hands, and I just make something happen."
Although Brooklyn outscored the Spurs 36-24 in the second quarter, San Antonio went on to outscore the visiting team 25-17 to start the second half. Rookie forward Jeremy Sochan contributed 16 points, four rebounds, two assists, and two steals in 26 minutes played.
Keldon Johnson is the first Spurs player since David Robinson to log 36 points, 10 rebounds, and four steals in a single game, set other franchise records
"A ton of energy, a ton of confidence, that's who Keldon is," Sochan said after the win. "He is great. We all trust him." Trusting the Kentucky product paid off in the end. This victory snapped San Antonio's five-game losing streak. However, the Spurs have won just two of their last 10 games.
Through 39 starts this season, Keldon Johnson is averaging career highs of 21.5 points, 2.6 assists, and 32.3 minutes per game. In addition to logging 4.9 rebounds per contest, the wing is shooting 42.1% from the floor and 33.6% outside the arc.
Make that 3k for KJ 👏👏👏

Keldon Johnson joins David Robinson and Tim Duncan as the third player in Spurs history to record 3,000 points and 1,000 rebounds in their first 200 games! pic.twitter.com/RUJbpnaWAO

— San Antonio Spurs (@spurs) January 3, 2023
For other in-depth statistics, Johnson is averaging a career-high usage percentage of 28.6%. While the 23-year-old's player efficiency rating (14.6) is nowhere near his best, the wing's 3-point attempt rate is 40.5%, the highest of his NBA career.
Earlier this month, the forward joined David Robinson and Tim Duncan as the only players in Spurs franchise history to record 3,000 points and 1,000 boards in their first 200 games.
During this past offseason, Keldon Johnson signed a four-year, $74 million rookie-scale extension with the Spurs. His new deals begins in the 2023-24 season. Of course, his deal includes $6 million in total incentives. The forward's cap hit next season is $20 million.
Now Jazz, Pacers, and Raptors also seem to be following Jalen McDaniels' footsteps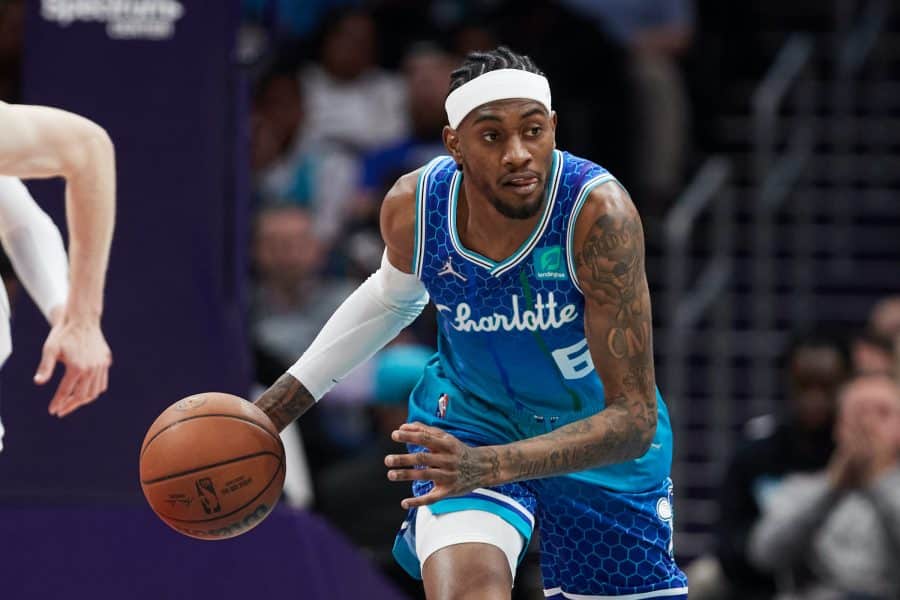 You'd think LaMelo Ball is the Hornet's most sought-out player by other NBA teams as the trade deadline approaches, but it seems that lately the one who is gathering most attention is Jalen McDaniels. The player's is a key member of Charlotte's rotation and apparently teams are lining up for negotiations. 
McDaniels is in his fourth year for Charlotte, and as he readies for unrestricted free agency in the summer, it's only natural that the team is recieving trade calls on him. Recently confirmed by Shams Charania of The Athletic, five teams have already been in contact about his availability, including the San Antonio Spurs, Indiana Pacers, Utah Jazz, and Phoenix Suns.
The 24-year-old foward has played every single Hornets game this season (51 in total), averaging 10.8 points, 4.9 rebounds, and 2.0 assists per game. One of his best performances of the campaign so far was his 26-point game two weeks ago against the Boston Celtics.
Watch McDaniel's highlights as he scored 5 three-pointers against the league leaders:
As these four teams are closely monitoring player Jalen McDaniels, the Hornets maintain their value for the 6-foot-9 forward whom they have developed over a long time already. Some of the suitors may prefer to wait until free agency to court McDaniels, who will be unrestricted, instead of trading an asset to acquire him now while having to compensate him in July.
The first team reported to show interest was San Antonio, as head coach Greg Popovich doesn't have the same rosters like his championship teams years ago, but has been doing all he can to try and keep the Spurs as a competitive team. The Spurs are in the need for a young power foward to invest in and hopefully unlock his potential.
It's been on the trading speculation news that the Phoenix Suns have been on the lookout for an upgrade to their frontcourt ever since the start of the campaign, and McDaniels would be a precise replacement for Jae Crowder, as they keep looking to find a team for the veteran who hasn't played a second all season.
As for the Raptors, it seems the six-foot-nine player would be a perfect fit for coach Nick Nurse's strategy. Nevertheless, it would come off as a huge surprise if they are able to cash-in for McDaniels, considering Toronto has been reported to having some money problems.
A petition for the Hornets to keep McDaniels
Even after winning two games in a row, the Hornets have struggled a great deal this tournament, as they currently own one of the worst records in the league at 15-36. Although sometimes it seems logical to pursue trades for improvement, lots of Charlotte fans are opposed to trading a player like McDaniels, especially after having invested in his development for so long.
Sport's journalist Nicholas Mullick starts his petition with "In a season full of losses, Jalen McDaniel's emergence has been a win for the Hornets", as you can read below:
In a season full of losses, Jalen McDaniels' emergence has been a win for the #Hornets. #LetsFly

Dear Hornets, please extend Jalen McDaniels (via @NicholasMullick) https://t.co/0uP0x8rebo

— Swarm and Sting (@SwarmnSting) January 28, 2023
With their eyes set on Victor Wembanyama in the 2023 NBA Draft, the team will likely be open for business to sell a foward ahead of the trade deadline. However, veterans such as Mason Plumlee and Kelly Oubre Jr. are on expiring contracts and are two potential assets for negotiations.
Most of our favorite sport betting sites consider Charlotte to possess the third worst odds in the entire league to actually qualify for Playoffs, as the team ranas 14th in the Eastern Conference.
Brooklyn Nets fans boo jumbotron when Ben Simmons speaks
Brooklyn Nets fans booed the jumbotron at Barclays Center when Ben Simmons announced himself for "Meet the Nets," prior to Monday's matchup against the Los Angeles Lakers.
Simmons missed his second straight game due to left knee soreness. The Lakers were without LeBron James and Anthony Davis, but Brooklyn fans were more focused on the three-time All-Star's absence.
A few NBA betting sites are giving the Nets fourth-shortest odds to win the championship. Sportsbooks are showing better odds for the Boston Celtics, Milwaukee Bucks, and Denver Nuggets.
Nets fans early to the arena just booed the Jumbotron when Ben Simmons announced himself for 'Meet the Nets.' Simmons is out with left knee soreness for the second straight game.

— Kristian Winfield (@Krisplashed) January 31, 2023
Simmons has missed 13 games this season. While 10-plus games missed is normal for an NBA player, Nets fans were expecting a more admirable effort from the fifth-year guard. Of course, the LSU product missed all of last season due to a contract holdout, back injury, and mental health issues.
Through 37 appearances, Simmons is averaging career lows of 7.4 points, 6.5 rebounds, 6.4 assists, 1.4 steals, and 27.3 minutes per game this season. He's also shooting 56.6% from the floor. Also, the 26-year-old is logging a career-high turnover percentage of 26.5%.
To add insult to injury, the Nets guard is averaging a career-low true shooting percentage of 56% and career-worst 14 player efficiency rating. Not to mention, his 14.7% usage percentage is a career low as well. Nothing has gone right for Simmons.
Brooklyn fans at Barclays Center booed the jumbotron when Ben Simmons announced himself for "Meet the Nets" on Monday night, missed second straight game
Additionally, Simmons has disappointed Nets fans to the point that many are rallying behind Kyrie Irving, who made only 111 appearances with Brooklyn and missed 128 games with the team at the time it was first reported last November.
In the Nets' 121-104 win over Los Angeles, Irving led Brooklyn in scoring with 26 points in 39 minutes of action. The Nets guard also ended his night with seven boards, six assists, two steals, and one block.
Brooklyn's second unit combined for 66 points against the Lakers. Patty Mills and Cam Thomas led the bench in scoring with 21 points apiece. The Nets outscored L.A. 29-16 in the opening quarter and 36-22 in the fourth.
"It's nothing but joy in my eyes when I see them get rewarded for the hard work they've put in," Irving said. "It makes my job a lot easier."
Irving logged 30 or more points in a career-best six consecutive games. While Kevin Durant remains out with a right MCL sprain, Irving has stepped up to help carry his team. On countless occasions, Simmons has disappeared in the clutch for the Nets.
Excluding the Nov. 28 matchup versus the Orlando Magic because of an injury, Simmons has been held scoreless two times this season. Now, there's a lot more to basketball than scoring.
However, there are times the former Sixer searches for reasons not to play. That's what it seems. Considering Simmons is earning $35,448,672 this season and $37,893,408 in 2023-24, Nets fans have every right to boo the two-time All-Defensive member. He's nearing rock bottom.
Lakers superstar LeBron James (left ankle) available vs. Knicks
Los Angeles Lakers superstar LeBron James (left ankle sprain) was upgraded to probable for Tuesday night's road game against the New York Knicks. This will be James' first game at Madison Square Garden since January 2020.
The 19-time All-Star has missed 11 games so far this season. Anthony Davis (right foot stress reaction) is listed as questionable as well. Austin Reaves (left hamstring strain) remains out indefinitely.
According to a few NBA betting sites, the Lakers possess ninth-best odds to win the championship. Check out which sportsbooks are showing better odds for the Los Angeles Clippers and Memphis Grizzlies.
LeBron James will play tonight against the New York Knicks, sources told ESPN. It will be his first game at Madison Square Garden since January 2020.

— Dave McMenamin (@mcten) January 31, 2023
Through 40 starts this season, James is averaging 30.2 points, 8.5 rebounds, 7.1 assists, and 1.0 steal per game. Plus, he's shooting 50.7% from the floor and 31.2% outside the arc.
On Jan. 16, in the Lakers' 140-132 win over the Houston Rockets, the 20-year veteran logged a season-high 48 points in 36 minutes played. Also, he shot 16-of-26 (61.5%) from the field and 5-of-10 (50%) beyond the arc.
Lakers superstar LeBron James (left ankle sprain) is available, Anthony Davis (right foot stress reaction) is questionable against Knicks on Tuesday
Furthermore, Davis returned from his right foot stress reaction injury in last Wednesday's 113-104 victory versus the San Antonio Spurs. The four-time All-NBA member recorded 21 points, 12 boards, one assist, one steal, and four blocks in his first game back. Both James and Davis were absent in Monday's 121-104 loss to the Brooklyn Nets.
Meanwhile, for New York's injury report, Mitchell Robinson (right thumb fracture) remains out indefinitely. The seven-foot center is expected to miss at least one more week.
Leading into this interconference matchup, the Lakers are 4-6 in their last 10 games. They're coming off back-to-back losses. Los Angeles is winless in its past six meetings versus Atlantic Division opponents. And the Lakers have not covered the spread in their previous five road games against the Knicks.
New York, on the other hand, is 5-5 in its past 10 contests. Though, the Knicks have won two of their last three games. They're 3-7 ATS in their previous 10 home games. Not to mention, New York is 4-1 in its past five contests played on a Tuesday.
Additionally, Los Angeles is 10-16 away, 14-23 as an underdog, 11-14-1 ATS away, and 23-28 overall. As for the Knicks, they're 12-13 at home, 15-9 as favorites, 9-14-2 ATS at home, and 27-24 outright.
Of course, this is the first matchup of the season series. The Lakers are 2-1 against New York in their past three head-to-head contests. Per ESPN's Basketball Power Index, the Knicks have a 69.9% probability of winning. Sportsbooks show L.A. as a 1.5-point underdog.