How Lamar Jackson Will Influence the Baltimore Ravens' Offensive Coordinator Search
After four seasons at the helm, Greg Roman is out as the Baltimore Ravens' offensive coordinator. Roman's scheme had become a subject of consternation in Baltimore, where head coach John Harbaugh will begin a search for his seventh OC in 16 seasons. Speaking to the media on Thursday, Harbaugh and general manager Eric DeCosta made it clear Lamar Jackson — a pending free agent who will likely be assigned the franchise tag — will have input on who takes over as the Ravens' play-caller.
Ravens Searching for New OC as Lamar Jackson Contract Looms
The Ravens have made the playoffs in four of the past five seasons, but they haven't advanced past the Divisional Round since winning the Super Bowl after the 2012 campaign. Jackson hasn't been part of Baltimore's final game in either of the past two years, as injuries have taken him off the field for critical late-season contests.
Now, the Ravens are facing dual concerns as their offseason begins. Not only do they need to find a replacement for Roman, but they'll have to figure out a solution for Jackson before the free agent market opens in March.
Jackson will have input on Baltimore's next offensive coordinator, as Harbaugh told reporters. Harbaugh also called the Ravens OC position "one of the top coaching jobs in the world" and added Baltimore would consider both internal and external candidates.
MORE: Possible Lamar Jackson Landing Spots in 2023
Still, it's fair to wonder how attractive the Baltimore coordinator role will be. Eight other NFL teams — plus the five clubs with head coaching vacancies — are looking for new offensive play-callers, so high-profile candidates around the league should have their pick of jobs.
Even if coordinator candidates believe Jackson will be back in 2023 on the franchise tag, that's only a one-year commitment. Additionally, the Ravens have failed to build a playoff-caliber receiver room, as Harbaugh and DeCosta admitted on Thursday.
Roman wasn't exactly a hot candidate when Baltimore initially added him to their staff in 2017 after a failed stop with the Bills, and it remains to be seen what type of play-caller the Ravens can entice this time around.
Ravens Reaffirm Commitment to Lamar
If there's one thing Harbaugh and DeCosta made clear, it's that the Ravens see Jackson as their long-term quarterback. Jackson, who works as his own agent, is reportedly searching for a fully guaranteed extension in the mold of Deshaun Watson. DeCosta declined to discuss specifics of his negotiations with Lamar, but Harbaugh was adamant that Jackson is in Baltimore's plans.
"Lamar Jackson is our quarterback … " Harbaugh said. " … Everything we've done in terms of building our offense and building our team, how we think in terms of putting people around him, is based on this incredible young man, and his talent, ability, and competitiveness."
If the Ravens can't work out a long-term deal with Jackson, they'll have until March 7 to franchise tag him. DeCosta said he's thought every day about whether he'd use the exclusive or non-exclusive franchise tender on Jackson, adding that he'd further discuss scenarios with owner Steve Bisciotti.
MORE: Lamar Jackson's Contract, Salary, Bonuses, Net Worth
An exclusive tag would cost more than $45 million and wouldn't allow rival teams to negotiate with Jackson. A non-exclusive tag will run the Ravens roughly $32.5 million, but other clubs could attempt to work out an offer sheet with Lamar. If Baltimore declined to match, they'd pick up two first-round picks from the acquiring team.
Theoretically, the Ravens could place the franchise tag on Jackson and then attempt to trade him. However, DeCosta wasn't willing to address that possibility on Thursday, reiterating that Baltimore's "singular focus" is extending Jackson.
"Eric wants him here, I want him here, Steve wants him here, and Lamar wants to be here," said Harbaugh. "It's gonna work out."
Hayden Hurst's Concerning New Issue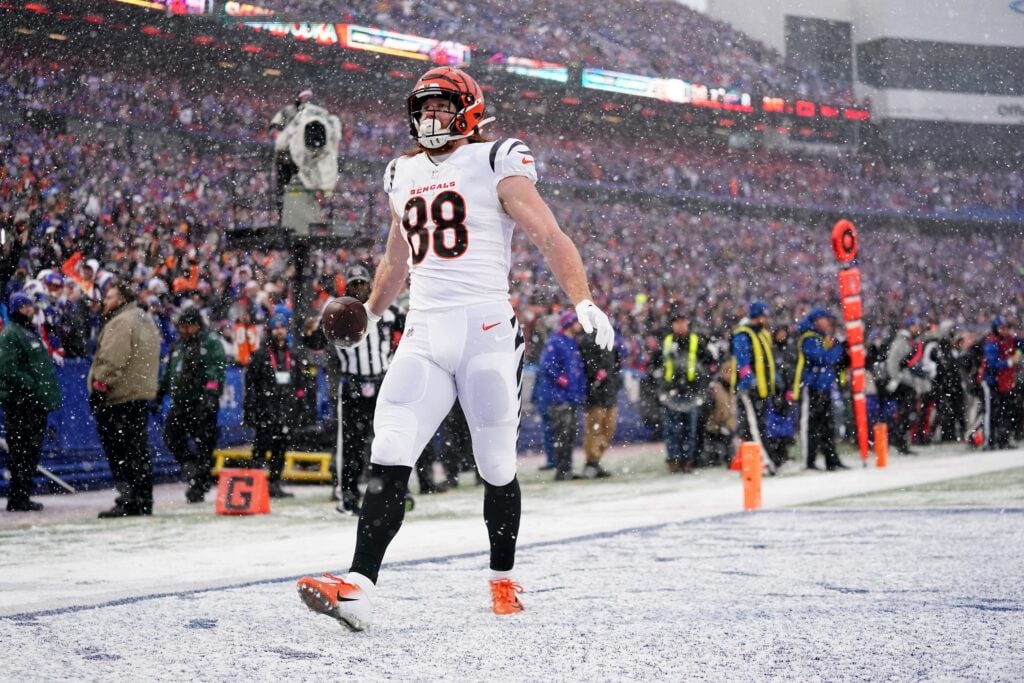 The list of available players for the Cincinnati Bengals vs. Kansas City Chiefs is coming into focus. Both teams have issues at key positions. Who's available? Who's not? Here are the biggest takeaways from the Bengals vs. Chiefs second injury report of the week.
Cincinnati Bengals vs. Kansas City Chiefs Injury Report
Bengals Injury Report: Thursday
Did Not Practice
G Alex Cappa (Ankle)
OT Jonah Williams (Knee)
Limited Participation
LB Joe Bachie (Foot)
TE Hayden Hurst (Calf)
Full Participation
CB Tre Flowers (Hamstring)
DE Sam Hubbard (Rest)
C Ted Karras (Knee)
DT D.J. Reader (Rest)
Tight end Hayden Hurst either suffered or aggravated a calf injury at some point in the past 24 hours. The issue was significant enough that it limited Hurst's participation in practice Thursday.
Hurst was a full participant Wednesday with no listed injury. That changed Thursday.
Hurst, who missed three games with a calf injury in December, has been a big part of the Bengals' offensive output this postseason, catching nine passes for 104 yards and a touchdown in their two playoff games.
Meanwhile, Bengals linemen Alex Cappa and Jonah Williams look increasingly unlikely to play with significant issues.
That's the bad news for the Bengals. The good?
Tre Flowers' gimpy hamstring is making real progress, so much so that the Bengals could have their fifth-year cornerback available for defensive snaps against the Chiefs.
Flowers has been relegated to mostly special teams since hurting the hamstring midway through the season and didn't even dress in the Divisional Round.
One other change Thursday to the Bengals' injury report: Defensive tackle D.J. Reader was a full participant after getting a rest day Wednesday.
Chiefs Injury Report: Thursday
Limited Participation
WR Mecole Hardman (Pelvis)
Full Participation
LB Willie Gay (Toe)
QB Patrick Mahomes (Ankle)
RB Jerick McKinnon (Ankle)
There were no changes to the Chiefs' injury report from Wednesday to Thursday. The only availability concern on Kansas City's roster is wide receiver Mecole Hardman, who remains limited with a pelvis injury.
MORE: How the Cincinnati Bengals Hold Clear Advantages Over Kansas City Chiefs
All other Chiefs players were full participants. That includes quarterback Patrick Mahomes, who has taken every snap in practice this week despite suffering a high ankle sprain in Saturday night's Divisional Round win over the Jacksonville Jaguars.
The Chiefs have every confidence that Mahomes will play. How well he plays on one and a half legs remains to be seen. His great ability to improvise will inevitably be affected by the injury.
Does Carolina Panthers' HC Pick Strengthen Steve Wilks' Class Action Suit? His Attorneys Weigh In
Steve Wilks is first and foremost a football coach. And by all accounts, a quite capable one. He wanted to remain on as Carolina Panthers head coach after winning six of 12 games as the team's post-Matt Rhule interim. That job ultimately went to Frank Reich, even though Wilks was a highly regarded finalist.
But Wilks is more than a football coach. He's a complainant in an ongoing class action racial discrimination lawsuit. The defendants? The National Football League and their member clubs.
And while there is no evidence that the Panthers' decision to hire the White candidate over the Black one was racially motivated, the move certainly doesn't hurt his case.
Legal Impact of Carolina Panthers Passing Over Steve Wilks
Widgor Law, the firm that represents Wilks and Brian Flores in their suit against the NFL, released the following statement on Twitter shortly after the Panthers announced the hiring:
"We are shocked and disturbed that after the incredible job Coach Wilks did as the interim coach, including bringing the team back into Playoff contention and garnering the support of the players and fans, that he was passed over for the Head Coach position by David Tepper. There is a legitimate race problem in the NFL, and we can assure you that we will have more to say in the coming days."
The Panthers surely knew there would be a PR blowback if they picked Reich over Wilks — particularly since the latter did a far better coaching job than the former in 2022.
Suspicions alone shouldn't be enough to ensnare the Panthers into the broad suit. Proof is needed. Does Wilks have such proof? To be continued.
But at the very least, the Panthers' decision is another potent data and talking point as Widgor builds the case that the NFL passes over minority candidates for head coaching positions because of the color of their skin.
MORE: 2023 NFL Head Coach, General Manager, and Coordinator Interview Tracker
Wilks and Flores both believe they were dismissed unfairly as head coaches by the Cardinals and Dolphins, respectively, and are suing the league and several teams to right those alleged wrongs. Longtime NFL assistant Ray Horton is also a complainant in the suit.
Wilks spent one year as coach of the Cardinals — 2018 — but was fired after a 3-13 season.
He claims in the lawsuit that the Cardinals never gave him a real chance to succeed, instead hiring him as a "bridge coach" who was "not given any meaningful chance to succeed." A common, valid complaint by Black coaches is the opportunities they do get are often inferior, and the leeway they're given to succeed is far shorter than their White peers.
The one-year anniversary of the suit's filing is coming up, but it remains apparently far from any sort of resolution. A judge in the southern district of New York has yet to rule whether the case will proceed in open court or, as the NFL prefers, in arbitration.
Ironically, Flores — currently a defensive assistant for the Pittsburgh Steelers — is a candidate for the Cardinals' latest head coaching vacancy.
Projecting the Rest of the NFL Head Coaching Hires
The Carolina Panthers became the first NFL team to fill their head coaching vacancy this offseason, announcing Thursday that they've hired former Indianapolis Colts head coach Frank Reich. Carolina conducted a wide-ranging search in which 10 candidates were interviewed, and Reich beat out interim head coach Steve Wilks for the job.
The Panthers' position is now filled, but there are still four teams — the Arizona Cardinals, Denver Broncos, Houston Texans, and Indianapolis Colts — still looking for their next head coach. How does Carolina's decision to hire Reich affect those clubs' searches, and who's in the lead to fill those spots?
How the Panthers-Frank Reich Marriage Affects the NFL Head Coaching Circuit
Reich, who posted a 40-33-1 record as the Colts' head coach from 2018-2022, was a quarterback for the Panthers during their inaugural season in 1995, so this is a homecoming of sorts.
The 61-year-old Reich had been viewed as a potential offensive coordinator candidate around the NFL, but he had also garnered head coaching interest from teams besides Carolina. The Cardinals interviewed Reich in mid-January, and he was mentioned as a candidate for the Broncos before Denver moved in a different direction.
Now that one head coaching domino has fallen, let's run through the other vacancies and project who will emerge with top jobs in the coming days or weeks.
Arizona Cardinals
Leading candidate: Brian Flores
Arizona was the only team with a head coach opening that also had to hire a new general manager. The Cardinals landed former Titans executive Monti Ossenfort on Jan. 16, and their HC search didn't really get going until he got to town.
Thus far, Arizona has met with six candidates. Dan Quinn is the only coach who's interviewed with the Cardinals twice, indicating the Cowboys' defensive coordinator has a legitimate chance to land this position.
MORE: Why New Arizona Cardinals GM Monti Ossenfort Faces a Daunting Offseason
However, Flores stills seems to be the most likely hire. Currently the Steelers linebackers coach, Flores worked with Ossenfort during their time in New England. Given their overlapping experience in the Patriots' scouting system, Flores and Arizona's new GM look like a match made in heaven.
Flores also has personnel experience on his résumé. Before entering the coaching ranks, he began his NFL career as a Patriots scouting assistant and pro scout. That background could help the Cardinals revamp their roster, as Flores and Ossenfort would immediately be on the same page regarding what players and skill sets they're looking for.
Denver Broncos
Leading candidate: DeMeco Ryans
Sean Payton appeared to be the favorite for the Broncos' job, but there have been tea leaves suggesting Payton could return to FOX for another season before taking another crack at a head coaching job in 2023.
Instead, it looks like 49ers defensive coordinator DeMeco Ryans is now at the top of Denver's list, as 9News' Mike Klis reported on Thursday. While Payton, Quinn, and former Colts head coach Jim Caldwell are still in the mix, Ryans is at the forefront of the Broncos' search.
If Ryans ends up landing the job, it will mark a turn of events in Denver. After the failed hiring of Nathaniel Hackett in 2021, the Broncos were thought to be prioritizing head coaching experience — which Ryans doesn't have. He was one of only three Denver candidates (joining Ejiro Evero and Jerry Rosburg, both Broncos holdovers) without a head coaching turn at either the NFL or NCAA level.
Ryans is a defensive mastermind, but his offensive coordinator hire in Denver would be crucial. The Broncos' next head coach must figure out a way to either fix Russell Wilson or find a develop the club's next quarterback. Ryans should have plenty of offensive contacts — especially within the Kyle Shanahan tree — to sort through.
Houston Texans
Leading candidate: Jonathan Gannon
The Texans have interviewed eight head coaching candidates since firing Lovie Smith on Black Monday. Two candidates — Evero and Giants offensive coordinator Mike Kafka — have met with Houston twice.
Jonathan Gannon, meanwhile, has only interviewed with Houston once, but he's still the frontrunner for the job in our eyes. The Eagles' defensive coordinator was one of three finalists for the Texans' gig last offseason, alongside Smith and former NFL quarterback Josh McCown, so it shouldn't be a surprise that Houston has circled back to Gannon this time around.
MORE: New York Jets Hire Nathaniel Hackett as Offensive Coordinator
Despite going through two head coaches in two years, nothing has changed about the Texans' decision-making structure. Owner Cal McNair and general manager Nick Caserio were Gannon fans last year and are still in place. If they want Gannon, they can likely get him — because the 40-year-old isn't on any other interview lists this offseason.
Whichever coach lands in Houston will probably capture some level of job security. It's nearly unfathomable that an NFL team could fire three head coaches in three seasons. If Gannon gets a Texans offer, he should feel comfortable knowing he'll get some time to overhaul the roster.
Indianapolis Colts
Leading candidate: Dan Quinn
The Colts' head coaching search is the murkiest in the NFL. They've interviewed 13 candidates, which doesn't include Jim Harbaugh (who might have been in the mix had he not stayed at Michigan) or Ryans, whom Indy still wants to meet with.
It feels like the Colts could go in several different directions. Quinn, Evero, Raheem Morris, and interim head coach Jeff Saturday all have or will conduct second interviews with Indianapolis. Chiefs offensive coordinator Eric Bieniemy and Colts special teams coordinator Bubba Ventrone don't have second interviews scheduled but are also considered finalists.
That Saturday is still in the race despite his lack of experience, and a 1-7 record down the stretch, remains inconceivable, but the former NFL center appears to have a real shot at becoming the Colts' full-time head coach.
Projecting Indy's next head coach involves far more guesswork than any of the other openings, but we'll put money on Quinn for the time being. He has head coaching experience with the Falcons, has been a hot candidate both this year and last, and has proven himself as one of the league's best coordinators in Dallas. Quinn is the sane move, but it remains to be seen which direction the Colts go.