Celebrating Pride Month: Abe Hasbun
In celebration of Pride Month, throughout June USTA Florida will recognize those in the LGBTQ+ community whose character and passion continue to embrace our message that tennis is for all – regardless of skill, age, race, or sexuality.
This month, USTA Florida is featuring players of the LGTBQ+ community who describe their experience in the sport, why Pride Month is important, and what it means to be proud of who they are.
South Florida tennis player, Abe Hasbun credits the sport as his escape from reality. As someone who lived a closeted life, Abe found his voice and courage through the LGBTQ+ tennis community and has never looked back.
When did you first start playing tennis?
As a teen, I lived a few houses down from a very nice tennis club in Miami, and I remember always having the urge to play tennis when I walked by and saw people playing. I was very interested in playing competitive sports in school, but basketball and baseball took precedence back then, and tennis became a sport I only played for fun with my cousins whenever they were in town. It was not until my mid 20's that I picked up the sport once again. A friend of mine told me that he was going to go play in a local tennis tournament so I asked if I could come to watch. It turned out to be a USTA NTRP tournament. Watching that tournament rekindled that urge I had as a kid to play tennis, but unlike last time, I now had the time and means to finally play tennis. I signed up to play my first USTA tournament a week later!
What do you love most about the sport?
The strategy! Tennis is currently the only exercise that I participate in, so the cardio part of the game is wonderful, but the mental part of the game is really what keeps me wanting to play more and more. As I inch closer to the big 5-0 and the aches and pains become chummier with my body, I notice the decline in my physical skills, but I'm playing some of my best tennis ever and that's because I've become a better strategist on the court. I am a self-taught tennis player, so I love watching the pros and trying to emulate new shots or new playing styles. I have been described as a junk baller or pusher because of my style, but I look at it this way: why only learn a forehand and/or backhand when you can also learn eight other shots? I saw this perfect quote online regarding this style of play, "these are both primarily terms to use if you want to somehow find a way to imply that the player you just lost to is still inferior to you". Speed and power decline for most of us as we get older, but the beauty of tennis is that it provides you with so many other ways to become a better tennis player, despite age. It keeps you looking forward to the next match!
What impact has the LGBTQ+ community had on you?
Simply put, the LGBTQ+ community has provided a second family to me, one chosen by me. My immediate family is incredibly supportive and loving, and I am blessed to have them in my life. But, the feeling of acceptance and freedom that I have experienced in the LGBTQ+ community is inspirational and life changing. Like many in our community, I grew up fighting the self-doubt to live up to expectations from my religion and a big part of our society. There are those that have had a journey much tougher than mine when it comes to their sexuality, so it's hard to feel sorry for myself, but I never truly felt like I belonged until I met my LGBTQ+ family in Ft. Lauderdale many years ago. They instilled the hope, confidence, and unconditional love that I needed, to be honest with myself. In the next few days, we will see tons of merchandise celebrating Pride Month with slogans such as, "Be True" and "Be You". The words are short and simple, but I truly hope that anybody reading this takes the time to appreciate the beauty of that message.
How did the sport welcome you after coming out?
It's hard to imagine that a sport would have such an impact on my coming out story, but tennis definitely played a big role. I used to live a very closeted lifestyle in Miami when I started playing USTA tournaments in my mid 20's. I met some LGBTQ+ players while playing in these tournaments, but most of them played in the Broward tournaments. I then started playing the Broward tournaments with them and soon discovered the gay community in Ft. Lauderdale. Tennis became the escape from a lifestyle that I wished to leave, and it opened the door to one that I knew was meant for me. I packed my bags and moved to Ft. Lauderdale in 2001 and have been here ever since.
How does tennis help you connect with the LGBTQ+ community?
Over the last few years, I have been lucky to be a part of the tennis LGBTQ+ community in South Florida. In 2014, I joined the South Florida Tennis Club (SFTC), the local gay tennis club. I've had the honor to serve as the club's Tournament Director for the last seven years, and I lead an incredible team running the largest annual LGBTQ+ tennis tournament in North America. The 2022 Clay Court Classic tournament, sanctioned by the Gay and Lesbian Tennis Alliance (GLTA), was host to 315 LGBTQ+ tennis players from over 25 countries. The five-day event not only included a great tennis competition, but also hosted nightly social events in our community, including a Pride Night at the Delray Beach Open. And the best past is that tournament donates 100% of its profits to local LGBTQ+ charities each year. This year, we presented Sunserve, a non-profit organization that provides quality care to high-risk and vulnerable members of the LGBTQ+ community, with a check for $11,000. The donation was matched by the AIDS Healthcare Foundation (AHF) as part of the annual Florida AIDS walk. So Sunserve received a total donation of $22,000. It's safe to say that it's an amazing feeling to be able to play a sport that you love, while being part of an amazing organization and helping your community at the same time! Other clubs throughout the world that are also sanctioned by the GLTA host annual tournaments, and this has given me the opportunity to travel and experience LGBTQ+ communities throughout the world.
What advice do you have for members of the LGBTQ+ community about getting involved in tennis?
Come out and play! Tennis is great exercise for the body, and you can make wonderful friends at the same time. USTA offers leagues for all skill levels and is very supportive of the LGBTQ+ community. You also have local LGBTQ+ tennis clubs like the SFTC that provide competitive tennis, as well as social activities.
What would you tell someone in the LGBTQ+ community who is hesitant to come out?
I am a firm believer that each person considering coming out will know when the time is right, and they should do so on their own terms. It is a very personal decision to make with possible life-changing consequences so everyone should have the right to make it without being pressured. If asked for advice, I would tell them that the LGBTQ+ community is full of resources that can lend support in various ways. And I would reiterate the benefits of gaining a new family and a supportive community.
What does Pride mean to you?
To me, Pride is about being honest with oneself and proudly living the life that you want to live. Having said that, I'm also reminded of how much easier it is to live as a proud and openly gay man today because of the sacrifices of past and present LGBTQ+ and allied activists and it is important to be proud of these brave individuals. There is pride in belonging to a community that is accepting, kind, resilient, and overcomes hardships time and time again. We have made tremendous strides over the last fifty years but even today, our rights to be treated as equal citizens are still threatened. Whatever challenges lie ahead, I do know that the rainbow flag will persevere and will continue to fly proudly throughout the entire world.
Anything else you'd like to share?
A few years after I discovered USTA tennis, I joined a team and started playing team tennis in Miami. One night during a match, I started feeling dizzy and fainted on the court. My teammates rushed onto the court and revived me after a few minutes of being unconscious. During my stay in the hospital, it was discovered that I had an irregular heartbeat and was advised not to play tennis. I followed the doctor's advice and gave up the sport immediately. The heart problems continued to worsen, and I was eventually diagnosed with congestive heart failure. It all culminated with me being placed on the heart transplant list and being blessed with a donor's heart at the age of 35. The recovery went better than expected and I started exercising a few months after surgery. After about a ten-year hiatus from the sport, I finally made it back on the court after finding my wonderful friends at the South Florida Tennis Club, where I hope to continue playing tennis for many years to come. Perseverance pays off! Be proud, be you, and become an organ donor!
The post Celebrating Pride Month: Abe Hasbun appeared first on USTA Florida.
Four Counties Capture Championships at Mixed 40 & Over 6.0/7.0/8.0/9.0 Sectionals
USTA National Campus was action-packed, as teams from all over the state of Florida got together for the Mixed 40 & Over 6.0/7.0/8.0/9.0 Sectional Championship and some tennis fun.
In the 6.0 division, Miami-Dade won their first-ever championship, taking down former champs, Alachua County. Escambia County added to their trophy case in 7.0s by winning their third in just 10 years.
The 8.0 division saw two frequent flyers battle it out for the title. In the end, Broward County was able to defeat Hillsborough County in an intense 2-1 match.
Hillsborough County was able to reclaim their title in the 9.0 division with a dominating 3-0 win.
The competing teams represented various clubs, parks, recreational departments, and organizations, and finished at the top of their local leagues during the 2022 season to advance to the USTA Florida Mixed 40 & Over Sectional Championships.
These champions have qualified for the 2022 USTA League National Championships and will compete in November.
Final Results:
Adult Mixed 40 & Over 6.0
Final: Miami-Dade County (Tropical Park Tennis) d. Alachua County (Jonesville Tennis Center) 3-0
[singlepic id=3655 w=450 h=300] [singlepic id=3656 w=450 h=300]
Championship Match Results:
No. 1 Doubles: Gonzalo Garcia/Sandra Morales (Miami-Dade) d. Chris Cochran/Kim Newsom 6-3, 6-3
No. 2 Doubles: Christian Pelaez/Dayana Oca (Miami-Dade) d. Silvia Menendez/Jerome Valencia 7-5, 6-1
No. 3 Doubles: Lucas Martinez/Lissette Viloria (Miami-Dade) d. Maria Zaldivar/Paul Folkers 6-1, 6-0
Miami-Dade County Season Roster: Gonzalo Garcia (Captain), Lissette Viloria, Egla Sella, Maria Medina, Pilar Gomez, Karen Graham Sewing, Julio Salazar, Dayana Oca, Angelo Costantini, Alex Djuro, Sandra Morales, Lucas Martinez, Daniel Pena, Noor Blazekovic Mendoza, Cristian Pelaez, Mayna Nevarez
Adult Mixed 40 & Over 7.0
Final: Escambia County d. Duval County 2-1
[singlepic id=3659 w=450 h=300] [singlepic id=3660 w=450 h=300]
Championship Match Results:
No. 1 Doubles: Elizabeth Vavrica/Brendon Vavrica (Duval) d. Kelly Dempsey/Kenneth Wallace 6-0, 6-0
No. 2 Doubles: Jerry Clark/Jennifer Passeretti (Escambia) d. Michael Alden/Nancy Simmons 6-4, 6-3
No. 3 Doubles: Jacqueline Wallace/George Rials (Escambia) d. Jay Westercamp/Sherri Ouchi 4-6, 6-3, 1-0
Escambia County Season Roster: Jacqueline Wallace (Captain), Kenneth Wallace, Jerry Clark, Eric Stewart, Tara McCarthy, George Rials, Jeff McCarthy, Kelly Dempsey, Karen Penn, Sue Nast, Jonathan Garcia, Erin Rhone, Jennifer Passeretti, Ethan Rhone
Adult Mixed 40 & Over 8.0
Final: Broward County (Midtown Athletic Club Weston) d. Hillsborough County (HCC Tennis Complex) 2-1
[singlepic id=3661 w=450 h=300] [singlepic id=3662 w=450 h=300]
Championship Match Results:
No. 1 Doubles: Ronald Coletto/Lizette Ibarra (Broward) d. Thing Duong/Tibbie Farnsworth 7-5, 6-2
No. 2 Doubles: Kenny Torrellas/Garbine De La Mora (Broward) d. Jeffrey Stern/Christina Dausch 6-0, 6-2
No. 3 Doubles: Richard Helme/Elizabeth Burdick (Hillsborough) d. Antonio Maciasvaldes/Kerri Paul 5-7, 3-3 RET
County Season Roster: Lizette Ibarra (Captain), Pipo Torrellas (Captain), Sondra Carpio, Felipe Soto, Paulina Riveros, Garbine De La Mora, Kerri Paul, Ronald Coletto, Maria Brozzi, Antonio Maciasvaldes, Maria Suarez, Kenny Torrellas, Clarena Furtado, Jorge Cortes
Adult Mixed 40 & Over 9.0
Final: Hillsborough County (HCC Tennis Complex) d. Duval County (Charles J. Williams YMCA) 3-0
[singlepic id=3658 w=450 h=300] [singlepic id=3657 w=450 h=300]
Championship Match Results:
No. 1 Doubles: Stephanie Wager/Jamie Mckibban (Hillsborough) d. Olivier Lorin/Claudia Eikner 2-6, 6-4, 1-0
No. 2 Doubles: Margaret Roset/Manuel Alvarez (Hillsborough) d. Suzanna Brulte/Louis Saig 6-0, 6-0
No. 3 Doubles: Gail Gibson/Jeffrey Stern (Hillsborough) d. Cynthia McGehee/Dennis Lamoureux 6-2, 6-2
Hillsborough County Season Roster: Joe Orsini (Captain), Jeffrey Stern, Meredith Mueller, Rhett Rollyson, Gail Gibson, Anthony Hatori, Christina Dausch, Stephanie Wager, Jamie Mckibban, Maki Smith, Manuel Alvarez, Margaret Roset, Richard Sobieray, Fabiana Taverna-Saballos, Jaime Villegas, Daniel Videtto, Nina Mortazavi
The post Four Counties Capture Championships at Mixed 40 & Over 6.0/7.0/8.0/9.0 Sectionals appeared first on USTA Florida.
Serena Williams Will Potentially Have to Beat 6 Top Seeds, Including Coco Gauff to Win Wimbledon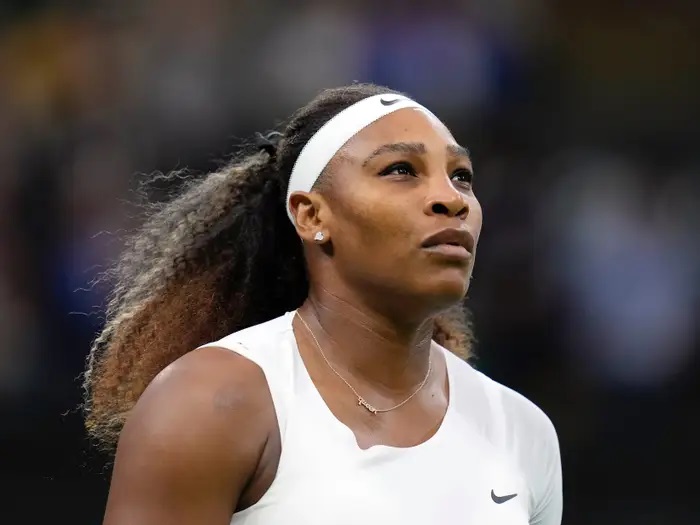 UNIQLO x Roger Federer Set to Launch RF Graphic T-Shirt