Eagles get smooth start and ideal finish, Dolphins face brutal early gauntlet, and more
The wait is over. After slowly trickling out matchup announcements over the past two weeks, the NFL released its entire 2022 regular-season schedule on Thursday night.
As with anything in the NFL, there were clear winners and losers in the schedule announcement.
2022 NFL schedule winners and losers
The road to Super Bowl 57 will be paved with twists and turns for several teams as they look to make their way to a Lombardi Trophy. As with every season, some teams made out better than others on the schedule.
Winners
Philadelphia Eagles
The Eagles start the season on the road but face one of the presumed worst teams in the league in the Detroit Lions at Ford Field. From there, they have a home opener against the wild card Minnesota Vikings and face the Washington Commanders (a Carson Wentz reunion special) on the road. Then, they will square off with the Jacksonville Jaguars at home and battle the Arizona Cardinals without DeAndre Hopkins on the road.
There's a very strong chance that Nick Sirianni and company can start 4-2 or 5-1 in their first six matchups.
The Eagles also have the ability to close out strong. After three consecutive road matchups against the New York Giants, Chicago Bears, and Dallas Cowboys, Philadelphia closes out with two home games, a battle against the New Orleans Saints, and a rematch with the Giants. The Eagles can improve their extra 2023 first-round pick against the Saints one week and potentially clinch the NFC East division title the next.
Cleveland Browns
While the possibility of a suspension still lingers for QB Deshaun Watson — due to his 22 civil suits stemming from accusations of sexual misconduct — the Browns are set up to succeed with or without their new franchise leader early on. Cleveland has drawn a fairly favorable early-season slate.
The Browns begin the campaign on the road against the seemingly directionless Carolina Panthers before hosting the New York Jets at home. From there, they host the Pittsburgh Steelers on Thursday Night Football and travel to Atlanta to face the Falcons in Week 4. All four of those games are winnable, even with Jacoby Brissett at QB.
The Browns then close out the season against three middling squads. They will host the Saints in Week 16 before finishing up on the road against the Commanders and the Steelers.
Denver Broncos
Russell Wilson's new squad will benefit early on from his presence. The Broncos face a relatively advantageous first-half schedule, and Wilson will get plenty of rest before a big Monday Night Football matchup against the Los Angeles Chargers in Week 6.
The Broncos will travel to face the Seattle Seahawks on Monday Night Football in Week 1. From there, they'll host the Houston Texans, San Francisco 49ers, and Indianapolis Colts. All three of those teams are in weird spots with their QBs, and the Colts matchup, which takes place on Thursday Night Football, will earn the Broncos a mini-bye week before their crucial game against the Chargers on MNF.
Buy your Denver Broncos home game tickets here.
Following the showdown with LA, the Broncos can coast into their bye week with matchups against the Jets at home and the Jaguars in London.
While their second-half slate ends with two contests against the Kansas City Chiefs (Week 14 and 17), a faceoff against the Los Angeles Rams (Week 16), and a rematch with the Chargers (Week 18), the schedule is set up for the Broncos to get off to a fast start and then build momentum down the stretch — if they are true contenders.
Losers
Miami Dolphins
Yikes! The Mike McDaniel era didn't get a kind introduction from the schedule-makers. Miami will face off against the Patriots (home), Ravens (away), Bills (home), Jets (away) Bengals (away), Vikings (home), and Steelers (home) in the first seven games.
While the Dolphins are vastly improved, especially on offense, they start their climb against a buzzsaw of 2021 playoff teams and potential 2022 contenders in the first three weeks. Like the Dolphins, the Vikings and Steelers are going through transition phases, so those games could be toss-ups.
The Dolphins also have a brutal December. They'll face back-to-back road games out west against the 49ers (Week 13) and Chargers (Week 14) before traveling to Buffalo to face the Bills (Week 15) in a rematch. Then, they'll need to host the Green Bay Packers in Week 16.
New York Jets
Like the AFC East rival Dolphins, the Jets have a murderer's row setup to start the season. To begin the campaign, they face the gauntlet of the Ravens (home), Browns (away), Bengals (home), Steelers (away), Dolphins (home), Packers (away), Broncos (away), Patriots (home), and Bills (home) before their Week 10 bye. Every single one of those teams is expected to battle for a playoff spot this year.
Zach Wilson will have his hands full with weekly defensive nightmares and shootout challenges. While the Jets, like the Dolphins, are significantly improved on paper, this schedule projects to be a terrible early draw for Gang Green.
Atlanta Falcons
The Falcons aren't expected to contend for a playoff berth this year, but their schedule adds another level of difficulty to their outlook. Presumed to have one of the worst rosters in the league, they are set to face nothing but bumps in the road to start Year 2 of the Arthur Smith era.
In Week 1, they'll face off against the Saints at home, and while that might not seem like a daunting task, New Orleans is still significantly better — on paper — than the Falcons. From there, they face back-to-back West Coast battles against the Rams and Seahawks. After that two-week excursion, the Falcons will host the Browns — with or without Watson — who have a strong roster built around the QB spot.
Then, the Falcons will travel to Tampa Bay to face the Buccaneers and host the 49ers in Atlanta. They'll then go back on the road to face the Bengals before hosting the Panthers and Chargers. Realistically, the first eight weeks of the season could lead to a 1-7 or 2-6 start for the franchise.
The Falcons also close out the season against four likely playoff contenders. They'll face the Saints and Ravens back-to-back on the road before hosting the Cardinals and Buccaneers to close out the season. Hopefully, Arthur Blank has low expectations this year and craves the No. 1 overall pick.
This article contains affiliate links. PFN may receive commission.
Former NFL Linebacker Hopes To Inspire Community
Manti Te'o, a former Notre Dame great and NFL linebacker, last played a down for the Chicago Bears in 2020. Te'o has since retired and made it clear he is done playing the game. As many remember, Te'o made headlines from an infamous catfish controversy and was later revealed by Notre Dame to be a hoax victim.
Fortunately for Te'o, he was able to clear his name through his Netflix documentary, Untold: The Girlfriend Who Didn't Exist. The former second-round pick has since gotten married in 2020 and has a daughter who was born in 2021. Te'o has also found a new purpose and passion in his life, which is to help others.
Manti Te'o Has Moved on From Football and Is Working to Help Others
"I'm playing a different game now," the Notre Dame legend told TMZ Sports. "I'm trying to empower people. Trying to inspire people. That's the game that I'm playing now, and I'm trying to be the best at that."
Te'o could still suit up and play football in the NFL or another league. However, his passion for helping others stems from his 2013 catfishing incident, as he hopes to help those going through hard times and tough situations just like he did. In 2022 he joined Transcend, a telehealth provider that helps assist athletes.
"If my life can be that for people — to show people that, 'Hey, it may not be sunshine and roses all the time, but if you just keep your head down and keep working and believing in yourself and putting God first, everything will be all right.'"
MORE: Detroit Lions OL Considered Retirement During 2022 Season on IR
Te'o had a storied career at Notre Dame. He was a five-star recruit and committed to the Fighting Irish in 2009. He played for the historic program from 2009-2012 and won several awards, such as the Dick Butkus Award and Maxwell Award.
Te'o was then drafted by the San Diego Chargers in the second round of the 2013 NFL Draft and carved out an eight-year playing career with the Chargers, New Orleans Saints, and Chicago Bears. However, he chose to hang up his cleats after the 2020 season, with his last game being a Wild Card matchup with Chicago.
Overall, fans of the game should be pleased to see where Te'o is ten years later. With his name and image cleared, Teo can focus on inspiring others, helping his community, and being the best possible husband and father.
Who Are AB's New Teammates With Albany Empire?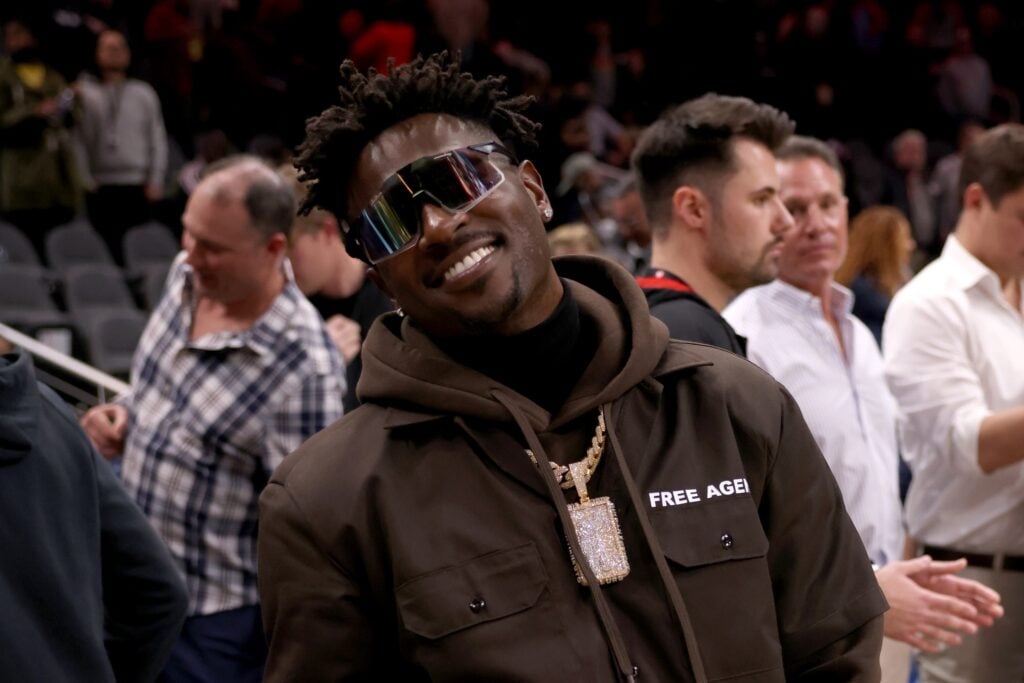 Most among us likely thought Antonio Brown's pro football career was over the day he bared his midriff to the masses and dipped out on the Tampa Bay Buccaneers midgame.
For a time, anyway, it was. But, at long last, the mercurial wide receiver is set to return to the gridiron — and to make his debut for the Albany Empire, a National Arena League team of which he is a part owner.
Antonio Brown To Make Empire Debut on Saturday, June 17
That's right, Brown confirmed, via TMZ Sports, that he'll be suiting up for the Empire's next home game, which will be on June 17 against the Jacksonville Sharks.
"We're going to continue to be encouraging, continue to give the people of Albany what they wanna see," Brown told WNYT's Rodger Wyland on Thursday. "I will have the right, proper equipment this week. You're not selling false information. We're not telling the people that we're going to do something that we're not going to do."
Of course, the false information Brown's referring to would be the hiccup he encountered last week when a delayed physical prevented him from making his Empire debut. But the former Pittsburgh Steelers star seems confident he'll be a full-go when the Sharks come to town.
MORE: Antonio Brown Recruiting Cam Newton for Arena League Game
That game is slated for a 7 p.m. ET kickoff and will be played at the MVP Arena in Albany.
Former Carolina Panthers MVP QB Cam Newton has yet to respond to Brown's invitation to join him for the festivities. Instead, it seems like he issued a sort of tennis challenge, in his trademark hieroglyphic font, on Twitter.
So we can probably rule Newton out.
Who Will Be on the Field With Brown?
Brown's quarterback will likely be Roland Rivers III. He is, after all, the only quarterback listed on the Empire roster.
Rivers played his college ball at Division II Slippery Rock University in Pennsylvania and was quite prolific. He racked up a boatload of accolades during his two-year stint as a starter, including the Harlon Hill Trophy, which is awarded annually to the Division II College Football Player of the Year.
Rivers piled up 7,181 passing yards, 80 passing touchdowns, 1,297 rushing yards, and 16 rushing scores during his two seasons under center for Slippery Rock.
Some other notable Empire players include Nickolas Brassell, who was briefly productive with Ole Miss before academic issues prematurely ended his career, and Isaiah Hardy, who started a handful of games on the offensive line for the West Virginia Mountaineers.
The Sharks, likewise, have a handful of notable players on their roster.
Defensive lineman David Gilbert accumulated nine sacks during a playing career split between Wisconsin and Miami. His Empire teammate, cornerback Jabari Gorman, notched over 100 tackles and three interceptions during his career with the Florida Gators.
MORE: Should Antonio Brown Make the NFL Pro Football Hall of Fame?
Perhaps the biggest "what-could-have-been" between the two rosters is Sharks wide receiver/defensive back Tamorrion Terry. The NAL rookie once starred at Florida State, posting 1,188 receiving yards and nine touchdowns back in 2019.
Injuries limited Terry to five games in 2020, and after a quieter season, the Seminoles standout went undrafted. He'd have a cup of coffee with the Seattle Seahawks as an undrafted free agent but was released before training camp even got underway.
Shortly after his signing with Seattle, Terry was one of 11 indicted on felony murder charges relating to a fatal, reportedly gang-related nightclub shooting that took place in Ashburn, Georgia, in June of 2018, per CBS Sports.
As a result, the Seahawks cut Terry before the ink had even dried on his contract. It appears that he was later exonerated — this tweet has a screenshot of an Instagram post he made celebrating his relief after a tumultuous year.
Were Terry already established in the NFL, that verdict might've salvaged his career. But as an end-of-the-roster guy, the damage was done.
Now, ironically, Terry, who plays both defensive back and wide receiver for the Sharks, will likely line up opposite Brown at some point soon.
Just not in the, ahem, arena, in which either of them likely thought they'd be playing ball five years ago.
Ranking Jeremiah Trotter Jr., Tommy Eichenberg, and Others
What does the 2024 NFL Draft linebacker class look like off preliminary viewings? As has become a common theme with the 2024 group, there's an abundance of depth to sift through. And the top prospects have a brand of dynamic upside that could lift them into the Round 1 range. Here's a look at the full list.
Ranking the Top LBs in the 2024 NFL Draft
The 2023 NFL Draft ended up having a linebacker go in Round 1 in Detroit Lions selection Jack Campbell. But for most of the 2023 cycle, the LB group was notorious for having a lack of bona fide first-round prospects. Campbell's testing and production helped him, but even he had some holes in his composite profile.
A linebacker hasn't gone in the top 10 since 2020, and the linebacker drafted highest since then — Micah Parsons — has morphed into a full-time edge rusher at the NFL level. For years on end, it seems the LB position has been starved for blue-chip talent. Will the 2024 NFL Draft class change that? Let's take a closer look and see for ourselves.
10) Tyreem Powell, Rutgers
At the very least, the 2024 NFL Draft LB class isn't short on upside. That's something you'll see quickly with prospects like Rutgers' Tyreem Powell. Powell put up 71 tackles, six TFLs, three sacks, and four PBUs in a standout 2022, and he's expected to play the MIKE position more in 2023. Together, his traits and early production generate plenty of excitement.
It's important to note that Powell is still largely a work in progress. His coverage instincts are very inconsistent, and he often drifts too far past gaps when tracking runs laterally. But at 6'5″ and 235 pounds, Powell has elite size, and he couples that size with impressive lateral twitch, burst, and fluidity. He's already a physical form tackler who brings immense upside in all phases.
9) Curtis Jacobs, Penn State
Penn State won't have another Micah Parsons on the NFL Draft circuit — at least not yet. But there is a linebacker prospect on the Nittany Lions' roster to keep an eye on. Through 2021 and 2022, Curtis Jacobs produced 113 tackles, 14.5 TFLs, and seven sacks. His playstyle makes him a must-watch for evaluators, and there's room for him to keep growing.
MORE: FREE NFL Mock Draft Simulator (With Trades)
Jacobs is a bit lean and undersized, and that lack of elite play strength can hinder him in certain situations. Nevertheless, the Nittany Lions defender has smooth mobility in coverage. And ultimately, his best plays come when he's able to pin his ears back, attack downhill, and splice through gaps. He's an absolute homing missile when seeking out ball carriers.
8) Eric Gentry, USC
The 2024 NFL Draft LB class presents a lot of variety up top, but there's no prospect as unique as USC's Eric Gentry. Gentry — who recorded 71 tackles, four TFLs, two sacks, three PBUs, and two forced fumbles in 2022 — has an extremely unorthodox frame at 6'6″, 205 pounds. There will be questions about how he translates, but the upside is clear.
Gentry underwent surgery for an ankle injury this offseason but should be good to go by the start of the season. He's still in dire need of added weight. Nevertheless, Gentry's nimble athleticism and overwhelming wingspan make him a constant threat to undercut passes at the second level, and that same length magnifies his tackling range in pursuit.
7) Luke Reimer, Nebraska
The Nebraska football program will hope for a renaissance under Matt Rhule, who was able to rebuild both the Temple and Baylor programs earlier in his coaching career. It helps that Nebraska has a strong core to carry over from 2022, especially on defense. Quinton Newsome is a standout at cornerback, and Luke Reimer is the leader of the unit.
Reimer has accumulated 194 total tackles, 9.5 tackles for loss, an interception, and 11 pass deflections over the past two seasons. That production sheds light on his speed and range at the second level, but the 6'0″, 225-pound Reimer also has the football IQ, vision, and compact frame to hold his own in run defense.
6) Jestin Jacobs, Oregon
At Georgia, Dan Lanning fueled the rise of first-round LB prospect Quay Walker and Nakobe Dean, who's now in line to start with the Philadelphia Eagles. Lanning knows how to put talented linebackers in position to succeed. He'll have his opportunity to do it again with Iowa transfer Jestin Jacobs, who's coming back from a soft tissue injury suffered in 2022.
Jacobs only played two games before missing the rest of 2022 with an injury, but he has one of the most exciting ceilings in the 2024 NFL Draft class. At 6'4″, 238 pounds, he has impressive size and length, and yet, he's very natural managing space and changing directions in coverage. Jacobs' size and athleticism allude to vast projected versatility.
5) Tommy Eichenberg, Ohio State
Tommy Eichenberg had fans as a potential early-round LB prospect in the 2023 NFL Draft cycle after experiencing a career resurgence under defensive coordinator Jim Knowles. He racked up 120 tackles, 12 tackles for loss, 2.5 sacks, a pick, and three PBUs but ultimately chose to return to school for the 2023 campaign. Now, he's a top LB in the 2024 class.
MORE: 2024 NFL Draft Big Board
At 6'2″, 239 pounds, Eichenberg brings contagious energy and play pace at the second level. He's an extremely explosive athlete, but 2022 was the first year he truly reined in his traits and learned to play with more control. He can stack and shed, as well as invade gaps and wrangle up QBs as a blitzer, and his hot motor makes him a constant threat around the ball.
4) Danny Stutsman, Oklahoma
Danny Stutsman was one of the most productive defenders in the entire nation in 2022, putting up 125 tackles, 10.5 tackles for loss, three sacks, two picks, and five pass deflections. He's a proven playmaker in all phases, and he returns as one of the most established 2024 NFL Draft prospects at the LB position.
At 6'3″, 229 pounds, Stutsman has great size, and he plays with an unmatchable motor in pursuit. Not only does he play all the way to the final whistle, but he has the high-end speed and explosiveness to run down ball carriers with his range. His instant acceleration when triggering is awe-inspiring, and while he can refine his instincts further, all of the traits are there.
3) Omar Speights, LSU
LSU has a future star in Harold Perkins at linebacker, but it'll be just as exciting to see Oregon State transfer Omar Speights play his first season under the SEC lights. In four years with the Beavers, Speights accumulated 304 total tackles, 25 TFLs, five sacks, three picks, and four deflections. With the Tigers, he aims to make himself known.
Speights' ceiling might not be quite as high as other prospects on this list, but he's a sound three-down linebacker at 6'1″, 237 pounds. He's a sturdy tackler with good closing speed and reaction quickness, and while he doesn't have much production in coverage, Speights does have the vision and route-recognition ability to process and respond to plays in zone.
2) Jeremiah Trotter Jr., Clemson
One year after Clemson boasted Trenton Simpson on the NFL Draft stage, the Tigers have two more potential early-round LB prospects in the 2024 NFL Draft. Jeremiah Trotter Jr. — son of an All-Pro NFL linebacker of the same name — comes in as our second-ranked LB on our preliminary rankings. Another season of production could lock Trotter in this range.
MORE: 2024 NFL Draft Prospect Watchlist
In 2022, Trotter put up 89 tackles, 13.5 TFLs, 6.5 sacks, two picks, and five deflections. At 6'0″, 230 pounds, he's a dense, well-leveraged linebacker over the middle of the field who offers great instincts and awareness for his age. He has a natural feel for how to combat, evade, and bend around blocks, and he's a very reliable tackler with sturdy form and closing burst.
Who Is the Best LB in the 2024 NFL Draft?
Clemson lays claim to both of the top LB prospects on our preliminary 2024 NFL Draft positional rankings. Trotter was actually more productive than his counterpart in 2022, but looking at his traits and versatility, it's hard to keep the top spot from Barrett Carter in the summer months.
1) Barrett Carter, Clemson
Carter is Clemson's "Agent 0." A former five-star recruit who was timed in the 4.5 range coming out of high school, Carter amassed 73 tackles, 10.5 TFLs, 5.5 sacks, two interceptions, eight deflections, and two forced fumbles in 2022. At 6'1″, 225 pounds, his versatility and attacking mentality are both nearly impossible to replicate.
Trotter might have better discipline as a traditional LB, but in a modern NFL, where versatile linebackers create a mismatch, Carter projects extremely well. He has the fluidity to drop into coverage and play the slot, but his value is highest in the box, where he has the searing explosiveness, quick trigger, and pass-rushing chops to be a down-to-down nightmare.
Honorable Mentions
Mason Cobb, USC
Jackson Mitchell, UConn
Francisco Mauigoa, Miami (FL)
Justin Flowe, Arizona State
Khari Coleman, Ole Miss
Ty'Ron Hopper, Missouri
Tatum Bethune, Florida State
Deshawn Pace, Cincinnati
Travion Brown, Arizona State
Kam Arnold, Boston College