Cardinals meeting with former Vikings corner Jeff Gladney
Former Minnesota Vikings cornerback Jeff Gladney is meeting with the Arizona Cardinals, according to a league source not authorized to speak publicly. Since Gladney has been acquitted by a jury in Dallas, Texas on a felony charge of assault a week ago, NFL teams have displayed plenty of interest in the former first-round draft pick from TCU.
Gladney excelled in the college ranks, and now that his legal problems are behind him, he's looking to resume his NFL career. A jury deliberated for less than two hours before unanimously rendering a not guilty verdict.
Jeff Gladney's agents issue a statement
Brian E. Overstreet and Rodney Williams, Gladney's agents at Houston-based United Sports Group, issued the following statement at the time.
"First and foremost, this has had a real impact on Jeff Gladney as a person. These situations have very real consequences for the young men involved. This has been a challenging time for Jeff mentally, spiritually and athletically. So, we applaud Jeff for having the courage to stand and fight for his freedom versus these false allegations. We further hope this will encourage other athletes in the future who have been falsely accused, blackmailed or persuaded to provide hush money to make these type of situations go away, to now take a stand and defend themselves as well. As I stated previously at the beginning of this case, we have always believed in Jeff Gladney's innocence. We sincerely thank and appreciate the jurors of Dallas County for their open minds, service and taking their time to see justice instead of a professional athlete. We thank Jeff's lawyers, former Judge Morris L. Overstreet and Ezekiel Tyson.
"Unfortunately, Jeff has lost a year of his career. We sincerely hope that the NFL will take a page from the criminal justice system going forward and truly believe these guys are innocent until proven guilty. Today, Jeff is in a good place and we look forward to engaging with NFL teams about furthering his career at the appropriate time. Out of respect for the process, we will have no further comments at this time."
Initial indictment in April 2021
Gladney was indicted by a grand jury last year and released by the Vikings after allegations that he choked, punched, and shoved a woman during an incident in April of 2021.
At the time, Overstreet released the following statement:
"It's a good thing that innocent until proven guilty still exists in this country. Unfortunately, the Vikings don't view it the same way. Today, Jeff was indicted which is simply a normal step in the judicial process. It means the case is going to trial and nothing more. It does not speak to his guilt or innocence. We received information that the complaining witness in this case came forward and requested the case not be prosecuted.
"The Vikings did what they thought was best for their organization which we respect, but we still strongly believe in Jeff Gladney's innocence. We look forward to his day in court so that he can clear his name. At this time, out of respect for the legal process and all parties involved, Jeff and his representatives will have no further comments."
Micah Parsons, Deebo Samuel, and Others
Most of the NFL action from Week 2 is in the books. There were several top plays made all afternoon, but which ones made the top five for the weekend?
Week 2 Top 5 Highlights and Plays
Dallas Cowboys vs. New York Jets | Micah Parsons Takes Over
Micah Parsons is the best defensive player in the NFL. The amount of ways he impacts the game is unheard of. The opposition game plans for Parsons weekly, yet he still penetrates the opposition's backfield and causes havoc.
NFL's best defensive player, Micah Parsons pic.twitter.com/ytTVBhm7CF

— Jon Machota (@jonmachota) September 17, 2023
The Dallas Cowboys' defense has been otherworldly through the first two weeks of the season, and there doesn't appear to be a slowdown coming anytime soon. Parsons is the catalyst for the Cowboys' dominating defense and the clear top candidate for Defensive Player of the Year.
San Francisco 49ers vs. Los Angeles Rams | Deebo Dazzles
Deebo Samuel reminded us all that he's one of the best players in the game with the football in his hands. Samuel is an after-the-catch maestro, and his breathtaking moves in the open field were on display on Sunday as he juked Rams' would-be defenders into the end zone as Los Angeles pulled away in the second half.
Deebo Samuel juking defenders en route to his first TD of the season! 💨

— Rotoworld Football (@rotoworld_fb) September 17, 2023
Deebo took a backseat last week to Brandon Aiyuk, and several NFL analysts questioned whether Aiyuk surpassed Samuel in San Francisco's WR pecking order.
However, Samuel reminded the critics how dynamic he can be. His usage in a high-octane 49ers' offense will be erratic sometimes, but the upside remains as high as ever.
Tampa Bay Buccaneers vs. Chicago Bears | Mike Evans — Pay That Man His Money
Buccaneers WR Mike Evans broke off contract negotiations with the team, planning to enter free agency in 2024. And in the final year of his contract, Evans is putting on a show.
Mike Evans = Ole Reliable pic.twitter.com/dgQbrLmnuM

— PFF Fantasy Football (@PFF_Fantasy) September 17, 2023
Evans continues to make big plays down the field for Tampa Bay in an offense analysts misjudged. Baker Mayfield has been better than advertised, and the Buccaneers appear to be this season's Seahawks — a team we all wildly underrated who have come out of the game white hot.
MORE: Mike Evans Landing Spots — Trade Destinations for Buccaneers WR Include Jets, Lions, and Bills
If there was any doubt Evans still had it, he put it on display on Sunday.
Indianapolis Colts vs. Houston Texans | Anthony Richardson Arrives
Anthony Richardson is taking the NFL by storm. Richardson is the most physically gifted QB we've seen enter the NFL Draft in some time. His blend of size and speed is something to behold.
ANTHONY RICHARDSON AGAIN ‼️
pic.twitter.com/dnIBlfDLTY

— PFF (@PFF) September 17, 2023
Richardson did have to leave this contest with a concussion, but with the way head coach Shane Steichen uses him on the move, the ceiling is outrageous for the Colts' rookie signal-caller.
Rams vs. 49ers | Puka Nacua Breaking Records
Yes, bringing this game back to be discussed once more. Puka Nacua has flipped the football world on its side. The rookie receiver has taken over the Cooper Kupp role in the Rams' offense and played it flawlessly.
Every Catch From Puka Nacua against the Niners #RamsHouse

Week 2 #NFL https://t.co/Pc0X2PRuQD pic.twitter.com/DR2WvxlifJ

— Raskobe (@_KMrzg) September 18, 2023
Nacua is breaking NFL records, and it doesn't appear to be a fluke. It will be fascinating to see how Kupp and Nacua balance the Rams' offense when the former returns.
Nick Chubb Player Props, Betting Lines, Odds, and Picks for Browns vs. Steelers
Nick Chubb was a workhorse in Week 1, finishing with 22 touches and 127 yards from scrimmage in the win over the Bengals. And the player props available for Chubb could lead some to believe that another heavy workload night is ahead for him.
All the NFL betting odds at a moment's notice — visit our Betting Lines page, bookmark now, and always get the best line and bang for your buck. Our FREE Parlay Calculator and Betting Odds Calculator are also available for your betting process!
Nick Chubb Week 2 Player Props
All odds from DraftKings Sportsbook.
Rushing Yards: 82.5 (Over -115/Under -115)
Rush Attempts: 17.5 (Over -125/Under -105)
Longest Rush: 17.5 (Over -120/Under -110)
Longest Reception: 9.5 (Over -115/Under -115)
Receiving Yards: 14.5 (Over -115/Under -115)
Receptions: 2.5 (Over +130/Under -166)
Rush/Rec. Yards: 101.5 (Over -115/Under -1105)
Anytime Touchdown Scorer: –135
First Touchdown Scorer: +380
Chubb Betting Trends and Stats
Chubb had over 100 scrimmage yards and a touchdown in each of his two games vs. the Steelers last season.
Chubb Best Bet
There's no question Chubb can handle a heavy workload. But can he get the ball in the end zone? Although he has the best odds in the game of anyone tonight when it comes to the "Anytime TD Scorer" prop (-135), it's worth noting that Chubb has not had a rushing touchdown in all seven games with Deshaun Watson as the Browns' starting quarterback.
MORE: Browns vs. Steelers Same Game Parlay Predictions
In the first 12 weeks of the season, when Jacoby Brissett was Cleveland's starting quarterback, Chubb had 12 rushing TDs.
So, what will happen tonight? I feel as if Chubb will approach the 100-yard mark on the ground, but it's always up in the air as to whether that will be enough to get him in the end zone.
Take the over on the rushing yards, and avoid any touchdown scoring prop until further notice.
Nick Chubb's Best Bet: Over on 82.5 Rushing Yards (-110 at DraftKings)
Listen to the PFN Betting Podcast
Did you know that Pro Football Network has a betting podcast? Click the embedded player below to listen, or you can find the PFN Betting Podcast on iTunes, Spotify, and all major podcast platforms. Be sure to subscribe and leave us a five-star review!
Derek Carr, Chris Olave, Bryce Young, Miles Sanders, and More
Our Monday Night Football doubleheader kicks off with the New Orleans Saints vs. Carolina Panthers in what will be No. 1 overall pick Bryce Young's home debut.
Last week, these offenses combined for just two touchdowns. That lack of offense expected in tonight's game is reflected in the 39.5-point total. But which players will have a big night? Let's take a look at the Saints vs. Panthers player prop bets for Monday Night Football.
Our Betting Lines page has the freshest lines and promos to get BANG for your buck. PFN's FREE Parlay Calculator and Betting Odds Calculator are also available for your betting process! New to sports betting? Check out our guide on How to Bet on the NFL. Visit our Sports Betting Legal Tracker on how to bet legally in the U.S.
Top Saints vs. Panthers Player Prop Bets To Target
Which player props should you be targeting for Monday Night Football? The PFN betting team gives out their favorite player prop bets for Saints vs. Panthers.
All odds are from DraftKings Sportsbook unless noted otherwise.
Derek Carr Player Props
Passing Yards: 230.5 (Over -115/Under -115)
Pass Touchdowns: 1.5 (Over +110/Under -140)
Pass Completions: 19.5 (Over -115/Under -115)
Pass Attempts: 30.5 (Over -120/Under -110)
Interceptions: 0.5 (Over -110/Under -110)
Blewis: Derek Carr was pretty efficient in his Saints debut last week, throwing for 305 yards and averaging 9.2 yards per attempt.
It's hard to judge the Panthers' performance against the pass last week because, in their loss against the Falcons, Desmond Ridder only had 18 attempts for 115 yards. But they will be without the best player in their secondary, CB Jaycee Horn, going against a Saints offense that has sneaky good depth at the WR position.
Carr's yardage prop is relatively low tonight, and that's probably due to the low total. But with a group of receivers who excel on deep threats, maybe he connects with one of them downfield to inflate his passing yards for the evening and goes over his total.
Player Prop Bet: Lean Derek Carr over 230.5 Passing Yards (-115)
Chris Olave Player Props
Receiving Yards: 68.5 (Over -115/Under -110)
Receptions: 5.5 (Over +124/Under -160)
Longest Reception: 25.5 (Over -110/Under -120)
Anytime Touchdown Scorer: +205
First Touchdown Scorer: +1000
Blewis: Chris Olave was a popular pick to have a breakout season in 2023, and his Week 1 performance only instilled confidence in his biggest fans. Despite leaving the game briefly due to an injury, Olave finished with eight catches for 112 yards, including one 45-yard reception.
MORE: Same Game Parlay Picks and Predictions for Saints vs. Panthers
Against the Panthers last season, Olave had the best game of his rookie year, with 13 catches for 147 yards. Now, he has Carr and is going against a Panthers defense missing their best cornerback.
Olave had almost a third of the targets last week despite missing a stretch of the third quarter in Week 1. If you believe in Olave's breakout season as much as I do, then his yardage line for tonight appears to be way too low.
Player Prop Bet: Chris Olave over 68.5 yards (-115)
Rashid Shaheed Player Props
Receiving Yards: 37.5 (Over -115/Under -115)
Receptions: 2.5 (Over -160/Under +124)
Longest Reception: 19.5 (Over -115/Under -115)
Anytime Touchdown Scorer: +330
First Touchdown Scorer: +1400
Soppe: Last season, the Panthers, despite a schedule with subpar quarterback talent on the opposition, ranked 21st in preventing yards per pass. That alone would mean targeting them through the air as an option, and with 2021 first-round pick Jaycee Horn on injured reserve (IR) with a hamstring injury, this is a good spot to load up on the Saints.
In Week 1, Rashid Shaheed again showcased his game-breaking abilities. With Carr's aDOT continuing to trend up (second highest in Week 1), the 4.3 speed of Shaheed is a weapon of mass destruction. He has a 30-plus yard grab in seven of his past 11 games and has been efficient in his young career (33 catches on 40 targets).
Player Prop Bets: Rashid Shaheed over 36.5 receiving yards (-125 at DraftKings earlier this week), Shaheed to record 50+ receiving yards (+165 at DraftKings)
Bryce Young Player Props
Passing Yards: 188.5 (Over -115/Under -115)
Pass Touchdowns: 0.5 (Over -230/Under +175)
Pass Completions: 17.5 (Over -110/Under -120)
Pass Attempts: 28.5 (Over -120/Under -110)
Interceptions: 0.5 (Over -125/Under -105)
Blewis: It's been a rough start for Bryce Young, to say the least. After struggling in the preseason — with his offensive line not doing him any favors — he struggled mightily in his first start in Atlanta. Last week, Young threw for just 146 yards, averaging 3.8 yards per attempt, and throwing for one touchdown but two interceptions.
Meanwhile, the Saints' defense made life difficult for Ryan Tannehill in Week 1. Tannehill averaged just 5.8 yards per attempt and was intercepted three times.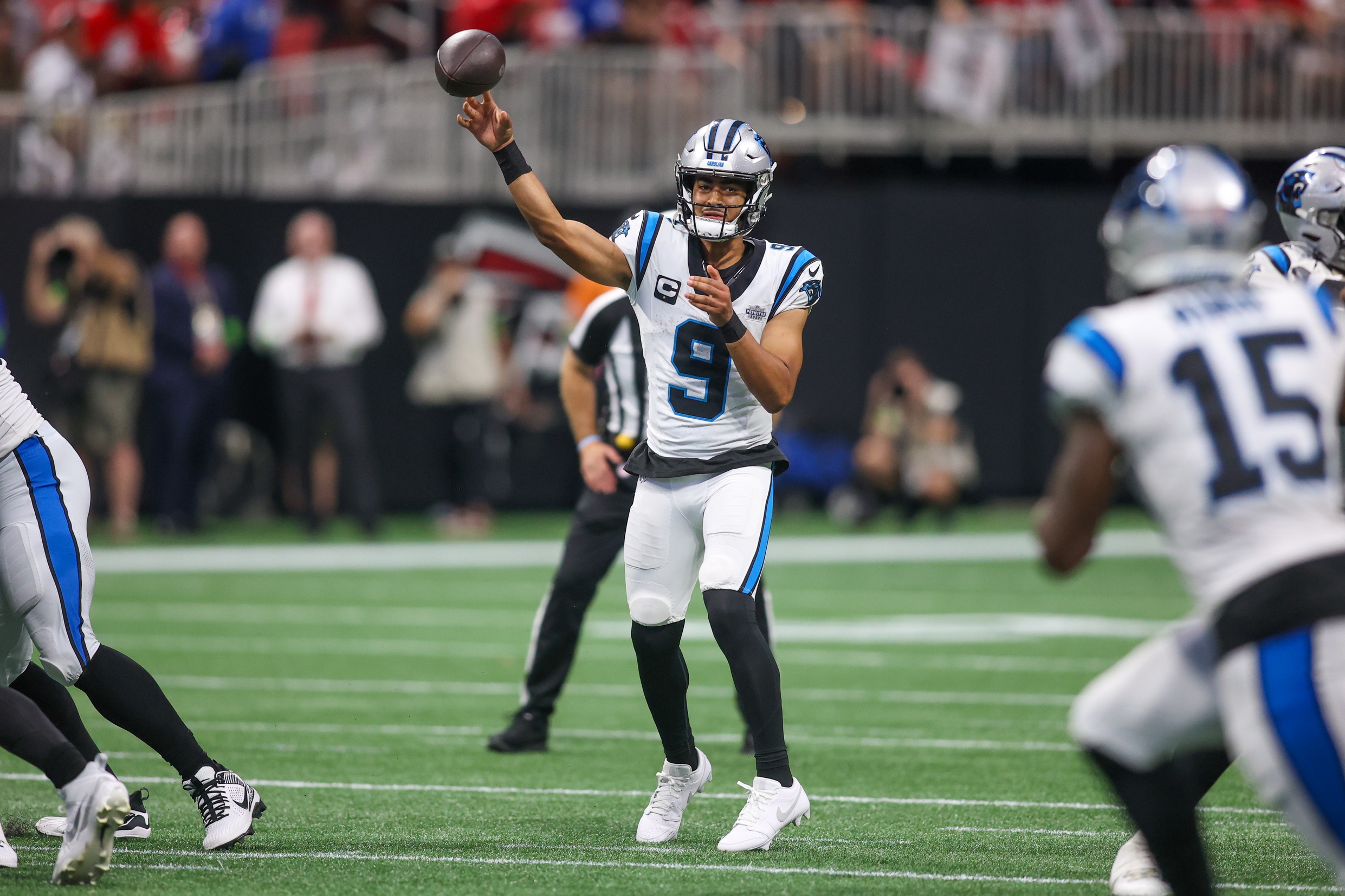 The Titans have one of the worst offensive lines, and the Saints took advantage. They could find themselves in a similar situation tonight against the Panthers.
Having said all of that, there could be a good buy-low opportunity on Young in his regular-season debut in front of Carolina's home crowd. Let's bank on turnover regression for both Young and this New Orleans defense.
Player Prop Bet: Bryce Young under 0.5 interceptions (-105)
Miles Sanders Player Props
Rushing Yards: 64.5 (Over -115/Under -115)
Rushing Attempts: 15.5 (Over +105/Under -135)
Longest Rush: 15.5 (Over -110/Under -120)
Receptions: 2.5 (Over +145/Under -190)
Anytime Touchdown Scorer: +170
First Touchdown Scorer: +800
Blewis: The Panthers signed Miles Sanders away from Philadelphia in free agency to make him their featured back, and it showed last week. Against the Falcons, he had 22 touches, including four receptions.
MORE: Saints vs. Panthers Predictions, Picks, Odds Today
Sanders' involvement in the passing game was a new development. His six targets last week were double the most he had in any game for the Eagles last season. In this offense that is lacking in playmakers, maybe that's a sign of things to come.
Sanders is a more capable receiver than what he was able to show in Philly. The line is still pretty low, and there's plus money. Let's take a flier on it.
Player Prop Bet: Miles Sanders over 2.5 receptions (+145)
Adam Thielen Player Props
Receiving Yards: 30.5 (Over -120/Under -110)
Receptions: 2.5 (Over -135/Under +105)
Longest Reception: 16.5 (Over -120/Under -110)
Anytime Touchdown Scorer: +290
First Touchdown Scorer: +1300
Blewis: Adam Thielen played last week despite dealing with an ankle injury, which might've held him back. He finished the game with just two catches on two targets for 12 yards.
Although he's still presumed to be Young's No. 1 option in the passing game, his props are very low across the board. It would be buying far too low, in my opinion, to take the under on his receiving yards or receptions, but not necessarily for his longest reception.
At this point of his career, I don't think Thielen is going to be much of a downfield threat anymore — especially in an offense with a rookie QB under center in his second start. It's a low number, but I lean in that direction, if any, here.
Player Prop Bet: Adam Thielen under 16.5 longest reception (-110)
Listen to the PFN Betting Podcast
Did you know that Pro Football Network has a betting podcast? Click the embedded player below to listen, or you can find the PFN Betting Podcast on iTunes, Spotify, and all major podcast platforms. Be sure to subscribe and leave us a five-star review!