What's the free agent market looking like for the veteran pass rusher?
On the second day of the NFL legal tampering period heading into the official start of free agency, Chandler Jones has not yet agreed to terms with any team. However, there have been plenty of rumors regarding his next landing spot, and new information obtained by Pro Football Network leads to a team in the AFC East.
Which team has entered the mix for Chandler Jones?
Earlier this week, PFN Insider Aaron Wilson reported that the Denver Broncos had an interest in bringing Jones to Colorado. However, with the news that they have agreed to terms with Randy Gregory, that no longer seems to be a viable option.
But now, PFN Insider Tony Pauline reports that the New York Jets have jumped into the mix for Jones, the sixth-ranked overall free agent on Pro Football Network's Top 100 Free Agents list.
Pauline reports that the team's offseason plan included adding a pass rusher in free agency. While Za'Darius Smith was linked to the Jets, especially by some at the NFL scouting combine, New York has not shown much interest to date in the former member of the Green Bay Packers.
The Jets certainly have the cap space to make this happen with nearly $50 million in available money heading into the legal tampering period. A four-time Pro Bowl selection and a two-time All-Pro, Spotrac places Jones' market value at around $14.5 million on a three-year deal. However, sources tell Wilson that he could make as much as $20 million annually.
If not the Jets, what teams make sense for the Jones?
Jones is an intriguing player because of his ability to be a true difference-maker in any game. He demonstrated that with 5 sacks in Week 1 of the 2021 season. However, he added just 5.5 sacks in the next 14 games he played. But some of that can be attributed to the attention a premier pass rusher like Jones attracts from opposing linemen.
Jones fits best into a 3-4 scheme, which somewhat limits the options in terms of potential landing spots. However, a number of teams have the mix of cap space, scheme fit, and situation that could consider adding Jones this offseason.
Jacksonville Jaguars
The Jaguars are in an interesting situation all around. They drafted Trevor Lawrence last year and will have a new head coach in Week 1 for the second consecutive season. From what we saw in 2021, they are a long way from contending. But with Doug Pederson at the helm and a young QB on a rookie deal, the Jaguars could easily use this offseason to go all-in.
Jacksonville entered the offseason with $40 million in cap space and the opportunity to make several upgrades — and they have done just that, agreeing to pay more than $100 million in guaranteed money on the first day of the legal tampering period.
Jones would make for a fantastic pass-rush rotation with Josh Allen and K'Lavon Chaisson. However, with two young and talented pass rushers, we may see the Jaguars focus their attention elsewhere than adding more players off the edge.
Buffalo Bills
The Bills have also been reported as being in the market for Jones this offseason. They have Jerry Hughes as an unrestricted free agent and may want a veteran pass rusher to replace him. However, they have high draft picks on their roster in Gregory Rousseau, A.J. Epenesa, and Carlos Basham.
Therefore, with relatively limited cap space available, they may not be able to compete financially with some of the offers on the table from teams more flush with cap space.
Who Are Jordan Love's Parents, Anna and Orbin? All You Need To Know About Packers QB's Family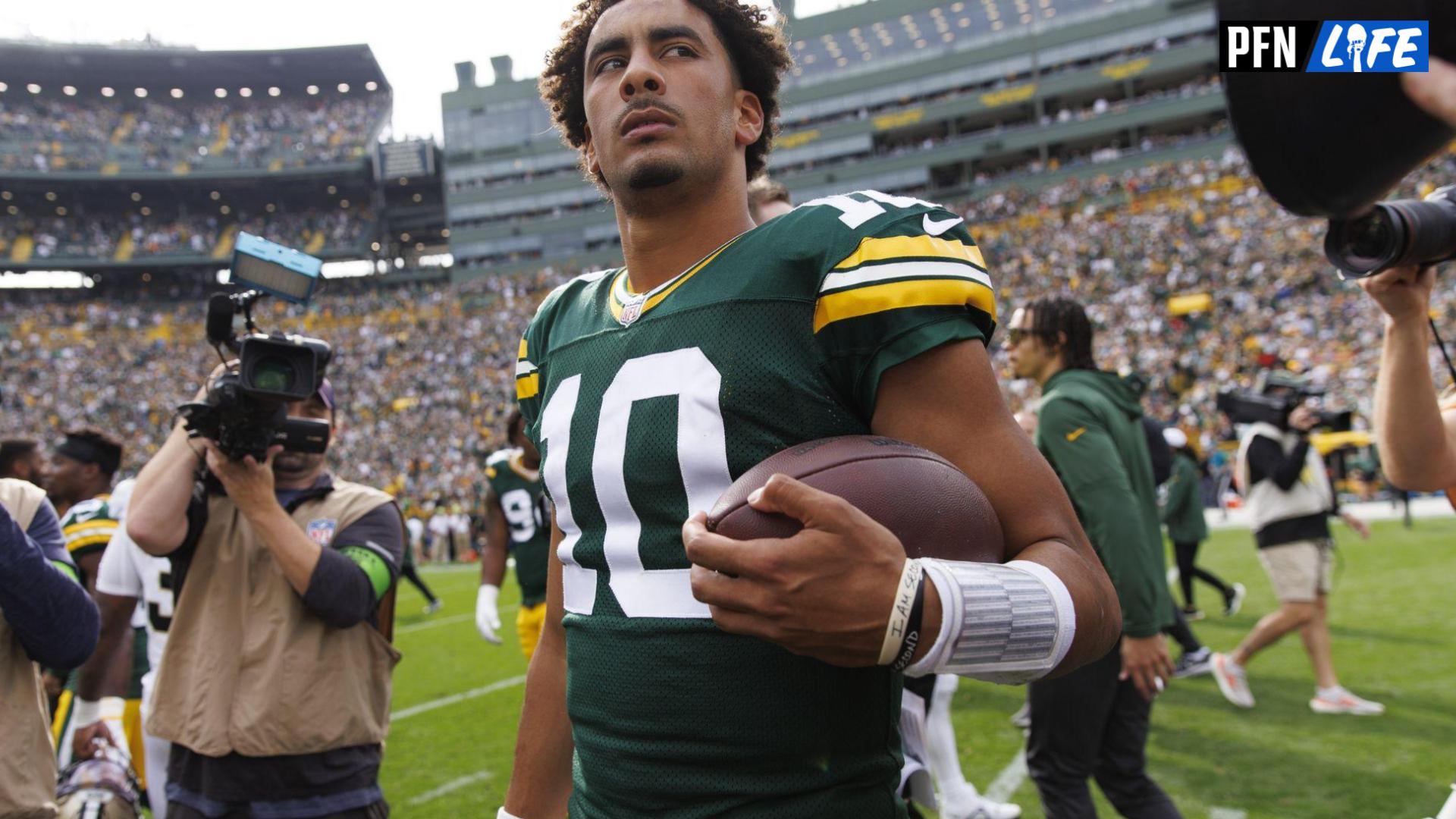 2023 marked the end of one era and the beginning of another for the Green Bay Packers. Long-time quarterback Aaron Rodgers is no longer with the team and 2023 is the first real chance for the 2020 first-round pick Jordan Love to prove his worth to the team.
This is Love's team now, and as the Packers move forward with their new signal-caller, and to understand a player, you may need to understand where he came from. Background, surroundings, and support system play a huge part in the development of anyone, but especially a millionaire NFL QB who is hoped to be the franchise's next great.
Things like that are instilled at home, way before the bright lights. It starts with family. Let's take a closer look at Love's parents Anna and Orbin Love.
From the current NFL standings to team depth charts to coverage of every game in the 18-week NFL schedule, we have all the news from around the league to keep you up to speed!
Who Are Jordan Love's Parents?
Love was born on Nov. 2, 1998, to Anna and Orbin Love in Bakersfield, California. Jordan's mother, Anna, worked as an officer for the California Highway Patrol. His father, Orbin, played quarterback growing up and was able to get as high as the junior college level before deciding to go a different path and joining the police force.
Orbin would become a sergeant in the Bakersfield police department, but tragedy struck the Love family in 2013 when Orbin sadly took his own life. Jordan was only 14.
Orbin was only 51 at the time of his death. Love has been quite open about the impact his father's suicide had on his life and on his decision to pursue an NFL career. In an interview with the NFL, Love talked about how he had made the decision to step away from football after his father's passing.
"My darkest moment was definitely the day it happened, just hearing about it right there in the car," Jordan said. "I didn't want to believe it."
However, his mother pushed him to continue for at least one more year. Love then won the starting job on his JV team and never looked back. Even though he wasn't a heavily recruited prospect, he still made it onto the Utah State Aggies roster, where he would go on to eventually become a first-round talent.
"I end up winning the starting job on the JV team, started throwing a little better, started getting a little confidence," Jordan said. "By the end of that season, I was thinking, 'I can really do this.'"
When Jordan declared for the NFL Draft, he took to social media to thank his parents, including his father Orbin.
"I want to thank everyone who has helped me get to this point in my life, including my mom and my dad," Jordan wrote on Twitter last December, officially declaring for the draft "Words cannot express how grateful I am for your love and continued support."
Aggie Nation,

Thank you 💙#AggiesAllTheWay pic.twitter.com/JXzchtQR3C

— JLove (@jordan3love) December 11, 2019
Where did Jordan Love Go to College?
Love attended Utah State University, where he played quarterback for the Aggies for three seasons before declaring for the draft and being selected in the first round of the 2020 NFL Draft.
Does Love Have Any Siblings?
Jordan is the only boy in a family of four total siblings. He has three sisters named Kami, Emily, and Alexis.
Jordan being the only boy was never short on sister love, and his family stuck by his side through all the trials and tribulations of life. When he pursued and achieved his goal of one day playing in the NFL, they were all by his side. Love's family was proud of that and his other accomplishments.
The Packers Are Love's Team Now
Love is no longer in the shadows of Aaron Rodgers; he's done waiting. The time is now for the young QB.
The Packers have found ways to seamlessly transition from Brett Favre to Rodgers, and now they hope the passing of the torch to Love will be just as fruitful for the franchise as the other two were before him.
Will He Play in Week 4? Fantasy Impact and More
Fantasy football managers had a lot of hope that Odell Beckham Jr. would return to his dominant ways in 2023 after missing all of 2022 with the injury that he suffered during the Super Bowl while with the Rams.
Unfortunately, OBJ's tenure with the Baltimore Ravens hasn't gotten off to a great start and he's now in danger of missing his second straight game going into Week 4. What's the latest news surrounding the talented WR and how should fantasy managers be viewing him going into this matchup?
Looking to make a trade in your fantasy league? Having trouble deciding who to start and who to sit? Check out PFN's Free Fantasy Football Trade Analyzer and Start/Sit Optimizer to help you make the right decision!
Latest News Surrounding Odell Beckham Jr.
Beckham Jr. suffered an ankle injury during the Week 2 matchup against the Cincinnati Bengals and has been sidelined since that point. The injury wasn't severe enough to land on injured reserve, but the injury was substantial enough to have him miss practice all of last week and the Ravens' game in Week 3.
Some promising news today at Ravens practice –

Here:

RB Gus Edwards
S Geno Stone
S Marcus Williams
C Tyler Linderbaum
LT Ronnie Stanley

Not here:

WR OBJ
WR Rashod Bateman
CB Marlon Humphrey
LB David Ojabo
LB Odafe Oweh#RavensFlock pic.twitter.com/Zn8YpBp5uk

— Melissa Y. Kim (@melissaykim) September 27, 2023
The veteran WR was sidelined on Wednesday yet again to start the week's practices, which doesn't bode well for his Week 4 availability at this point.
Will Beckham Jr. Play This Week?
As of right now, it's too early to discern whether or not OBJ will be ready to return to the starting lineup for the Ravens. Being sidelined to begin the week's practices after missing the previous game is never a good sign.
MORE: Fantasy News Tracker
However, we'll continue to update you with the latest news and information as it trickles out regarding OBJ's status. Check back in frequently!
What Does This Mean For Beckham Jr.'s Fantasy Ranking?
Odell wasn't exactly in the starter conversation for fantasy football prior to his injury. He's amassed just five receptions on the season for 66 yards and zero touchdowns up to this point. However, he could be a decent Flex option moving forward if Rashod Bateman is scheduled to miss some time.
MORE: PFN Consensus Rankings
For Week 4 in particular, OBJ belongs on your bench if he does return. The Cleveland Browns are playing at an elite level up to this point on defense and there's no guarantee that the veteran WR will see more than a handful of targets in this contest.
The best move for right now is to make plans as if OBJ is not going to suit up for this matchup.
Listen to the PFN Fantasy Podcast
Listen to the PFN Fantasy Podcast! Click the embedded player below to listen, or you can find the PFN Fantasy Podcast on iTunes, Spotify, and all major podcast platforms.  Be sure to subscribe and leave us a five-star review! Rather watch instead? Check out the PFN Fantasy Podcast on our Fantasy YouTube channel.
Target Sam LaPorta, Jordan Love, and Amon-Ra St. Brown
Are you in search of some player prop picks on SuperDraft for the Thursday Night Football showdown between the Detroit Lions and the Green Bay Packers?
Well, look no further! Here are some of my top player prop picks on SuperDraft for the Week 4 contest on TNF.
Looking to make a trade in your fantasy league? Having trouble deciding who to start and who to sit? Check out PFN's Free Fantasy Football Trade Analyzer and Start/Sit Optimizer to help you make the right decision!
Top SuperDraft Player Prop Picks for Week 4
Sam LaPorta, TE, Detroit Lions | 4 Receptions
The Lions' rookie tight end is currently tied for the second-most receptions at the TE position this season with 18 grabs.
While Sam LaPorta did post a career-high eight receptions in Week 3, he has caught a minimum of five passes in each game to start the season. To say he is off to a great start would be an understatement.
Pretty cool, @Samlaporta! pic.twitter.com/0332Z3yRq8

— Detroit Lions (@Lions) September 24, 2023
LaPorta put on a show in Week 3. If you are skeptical about his fast start through his first three NFL games, that is fine. But his usage and production to start the season suggest he is going to be heavily involved in this passing game for the rest of the season, making him a fantasy football asset, too.
Pick: Over
Amon-Ra St. Brown, WR, Detroit Lions | 74.5 Receiving Yards
I tried to steer clear of prop contests involving Amon-Ra St. Brown last week because of a toe injury he picked in Week 2 against the Seattle Seahawks.
MORE: PFN Consensus Rankings
Well, after catching nine passes for 102 yards in Week 3 against the Atlanta Falcons, it would seem his toe is doing well enough to not hinder his production.
St. Brown has gone for over 100 yards receiving in his last two games and should continue to be the focal point of this passing game.
Pick: Over
Jordan Love, QB, Green Bay Packers | 229.5 Passing Yards
The Packers' new franchise quarterback is off to a very encouraging start in 2023.
He has thrown for seven touchdowns to just one interception through the first three weeks, and that's without the services of Christian Watson or Aaron Jones for the majority of the young season.
Speaking of Watson, if he is able to make his 2023 debut in Week 4, it could help unlock Jordan Love's true statistical ceiling as a passer.
Love currently has an intended air yards per attempt — which is the average depth of target whether the pass is completed or not — of 10.6 yards, which leads all NFL quarterbacks.
If Watson were to return, some of those shots downfield may see a higher hit rate, which makes Love's prop line a much safer bet.
However, even if Watson is unavailable, Love has thrown for over 230 yards in two of the first three games this season. I'm confident he can hit this mark with or without Watson in the lineup.
Pick: Over
Listen to the PFN Fantasy Podcast
Listen to the PFN Fantasy Podcast! Click the embedded player below to listen, or you can find the PFN Fantasy Podcast on iTunes, Spotify, and all major podcast platforms.  Be sure to subscribe and leave us a five-star review! Rather watch instead? Check out the PFN Fantasy Podcast on our Fantasy YouTube channel.