Russell Gage's dynasty fantasy impact signing with the Buccaneers
In December 2020, Russell Gage was firmly entrenched as the Falcons' No. 3 receiver. 10 months later, he was the new No. 1. Now that the Buccaneers have added him, what is Gage's dynasty fantasy football outlook ahead of 2022, and what impact will this move have on his former and new teams?
Russell Gage's dynasty fantasy outlook
Every franchise endures bridge seasons — years when post-prime veterans play alongside young future stars. The 2021 Falcons began that way, with Calvin Ridley and Kyle Pitts teaming with an aging quarterback and two-headed backfield. And for a while, the team looked fairly promising, particularly thanks to Cordarrelle Patterson's breakout campaign.
But when Ridley stepped away from football after Week 6, the team needed help. Gage, a 2018 sixth-round draft pick, showed very well the year before while compiling a 72-786-4 receiving line. Then, last season, while an ankle injury sidelined him in Weeks 3-5, he quickly asserted himself as the team's No. 1 wideout in Ridley's absence. He often outperformed Pitts in the box score and caught an impressive 70.2% of passes.
How good is Gage?
We might conclude that Gage has the skill set to be a steady fantasy contributor as a team's No. 2 or even No. 3 receiver. It would need to be a pass-friendly team, and the Falcons certainly fit that mold in 2020. They were No. 4 in the league in pass attempts — enough volume to feed Julio Jones, Ridley, and Gage.
We might also express caution about his ceiling, and in most fantasy leagues, high ceilings make champions. Gage is more Jakobi Meyers than Chris Godwin — safe points but not always great points. After Week 5 last season, aside from Pitts and the backfield, Gage's primary receiving competition consisted of Olamide Zaccheaus, Tajae Sharpe, and Hayden Hurst.
In all likelihood, Gage's fantasy value peaked in 2021. Gage dropped a whopping 12 passes in the past two seasons. He'll play alongside stiffer competition and probably will need to adapt to a less consistent offensive role. This makes him a WR4/5 in the near term, with a WR3 ceiling if things break perfectly — though WR5 seems more likely.
Fantasy impact on the Buccaneers
Give it up for Tom Brady. Life can't keep him down for long. Coming off a shockingly disappointing end to a statistically phenomenal 2021 campaign, he's back and (we have to believe because this is how God or science made him) better than ever.
Exit Antonio Brown. Enter Gage. Not the same talent level. Not the same ceiling. But certainly, a savvy free agent signing for a team eyeing not one but many more Super Bowl runs. With Godwin recovering from a torn ACL, Gage could be a sneaky fantasy starter in September.
That said, once Godwin returns to form, Gage's presence should not downgrade Godwin or Mike Evans as significantly as Brown did. And if Rob Gronkowski returns, from a positional fantasy perspective, Gronk should be more valuable than Gage over the course of the season.
Essentially, this is a near-best-case scenario for the fantasy values of Brady and his core receivers. Gage can make decent waves early on and then smaller waves later. But Godwin and Evans should monopolize targets more than they did last year when AB was healthy.
Fantasy impact on the Falcons
The Falcons are in the midst of a multi-phase rebuild. There are still many moving parts. The one long-term constant, Pitts, remains my favorite dynasty TE. Losing Gage creates no net negative or net positive. The all-world TE simply will get new teammates, as expected.
Matt Ryan loses his top receiver, though the NFL Draft should net him at least one wideout of equal or greater abilities. And it could be argued that Ryan will be much better next season. The chaos surrounding 2021 and the unexpected overreliance on Gage and Pitts capped Ryan's upside. With Gage gone, the team can focus more on rebuilding, which should translate into an instant-impact playmaker to serve as a true No. 1 WR.
Who Is Travis Kelce's Ex Maya Benberry? Ominous Warning Issued to Taylor Swift
In case you have been living under a rock the past week, Travis Kelce and Taylor Swift are an item sweeping the world by storm. Swift took a blow torch to social media platforms as she appeared at a Kansas City Chiefs game to watch her latest connection, Kelce, play for the Chiefs.
Every media outlet under the sun covered the Swift/Kelce love connection ad nauseam, but apparently, the love connection has evolved into a love triangle. Kelce's ex has spoken out with a warning for the pop superstar.
What Did Maya Benberry Say About Travis Kelce?
If you recall, Benberry won the Entertainment reality TV show "Catching Kelce," starring the Chiefs' TE in 2016. Benberry and Kelce dated for several months following the show but broke up shortly thereafter.
Travis Kelce ex Maya Benberry warns Taylor Swift about him and calls him a 'cheater,' telling Daily Mail:

"Taylor seems like such a fun girl with a beautiful spirit so I wish her the best of luck but I wouldn't be a girls' girl if I didn't advise her to be smart!… Only time… pic.twitter.com/V8mRMOZ8AP

— Pop Base (@PopBase) September 26, 2023
Benberry accused Kelce of cheating on her throughout their relationship, particularly with Kelce's next conquest, broadcaster Kayla Nicole. Benberry didn't mix words while providing Swift a warning.
MORE: Where Does Travis Kelce Live? How Close to Taylor Swift Is the Chiefs' TE Living?
"Once a cheater, always a cheater. Taylor seems like such a fun girl with a beautiful spirit, so I wish her the best of luck, but I wouldn't be a girls' girl if I didn't advise her to be smart!
"I'm sure by now, she has mastered the ability to see who is really there for her and who is just using her. I can only hope that she comes out as the teacher in this situation and not the student."
Travis Kelce's ex Maya Benberry tells Taylor Swift to be cautious about him:

"I wish her the best of luck but I wouldn't be a girls' girl if I didn't advise her to be smart…Once a cheater, always a cheater." pic.twitter.com/ZqBDFML9Vb

— Pop Crave (@PopCrave) September 26, 2023
Benberry won the reality show against 49 women from all 50 states. Professionally, Benberry is a life coach, so she is no stranger at giving advice. Kelce has denied any issues of past infidelity.
"This is fake news, a lie, and not why Kayla and I broke up; take all your hatred somewhere else, please."
How Did Kelce and Taylor Swift Get Together?
Kelce attempted to gift Swift a friendship bracelet adorned with the digits of his phone number during her concert tour in Kansas City. Unfortunately, the Chiefs All-Pro TE was unable to make the exchange to the pop star, but all hope was not lost.
Since Taylor Swift showed up to Sunday's Chiefs-Bears game:

• 400% spike in Travis Kelce jersey sales
• Kelce's podcast ranks #1 overall on Apple
• Kelce adds 383K Instagram followers
• 24.3M viewers watch, #1 game this week
• 63% jump in female viewers age 18-49
• 3x… pic.twitter.com/Wqtu1vgMCT

— Front Office Sports (@FOS) September 26, 2023
Kelce spoke of this failed delivery to his brother Jason, who plays for the Philadelphia Eagles, on their podcast, New Heights. Apparently, the word made its way back to Swift.
Since then, the couple has been hanging out and getting to know each other. Since both Kelce and Swift are in the public limelight, the story has caught fire with publications across the globe.
Are Haley Cavinder and Jake Ferguson Dating? Latest Rumors Surrounding the Cowboys TE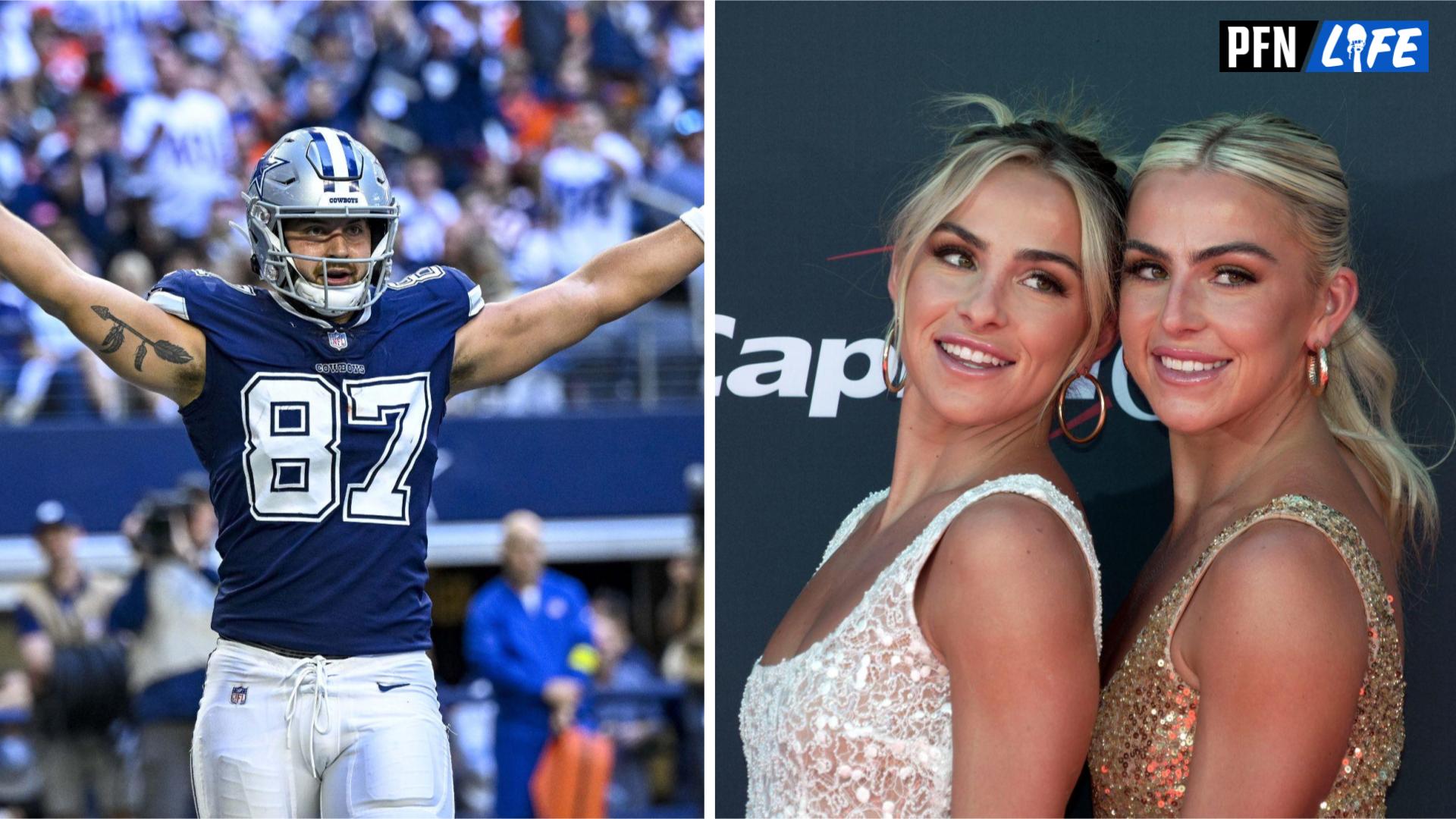 Love is in the NFL air. While Taylor Swift, who showed up at the Kansas City Chiefs game to support TE Travis Kelce, is driving the speculation bus to date town, there's another well-known and slightly more low-key NFL couple in the making.
Haley Cavinder Drops a Photo on the 'Gram
On Sunday, former Miami (FL) basketball star Haley Cavinder posted a not-so-subtle snap of herself on Instagram in Dallas Cowboys gear. She looked flawless in a Cowboys crop top and a short jean skirt. The boots are… a lot. She captioned the post, "How bout them cowboys."
Haley Cavinder Appears To Be Dating A Cowboys Playerhttps://t.co/Rx90lVNrtn

— Jaun News English (@EnglishJaun) September 24, 2023
Dallas TE Jake Ferguson fanned the flames on the rumor by commenting on the post with the flirty message "Gollleeeee how 'bout 'em" with a heart face emoji.
Twin sister Hanna Cavinder also got in on the fun by asking the couple if the message was a soft launch, likely referring to them going Instagram official as a couple.
This isn't the first time Cavinder has hinted at finding love on America's team, saying her "bae" was on the squad. She was also seen attending a New York Giants-Cowboys game earlier this season, where she was rocking a Ferguson Cowboys jersey.
The secret is out!!!https://t.co/llFfwH54yR

— TPS (@TotalProSports) September 25, 2023
Allegedly, a now-deleted social media post from this summer may have shown Ferguson in the background of a video Cavinder posted.
Hopefully, this was a soft launch, and once the couple goes official, we can skip the boots and the cringiest spelling of "golly" known to man.
Haley Cavinder Is No Stranger to the NFL
Ferguson is not the first guy to make social media moves on Cavinder. Miami Dolphins CB Jalen Ramsey slipped into the twins' DMs and got exposed on Jake Paul's show BS. We can't fault a man for trying.
According to the clip, Ramsey believes in courting a woman, but he didn't get a chance to show Cavinder the finer things in life. Now, she's got a boy on the Dallas Cowboys.
Jake Ferguson Making Moves on and off the Field
Ferguson is Dallas' starting TE, but he was a bit in the shadows of former Cowboy Dalton Schultz before the veteran was traded to the Houston Texans in the offseason.
MORE: Who Is Travis Kelce's Ex Maya Benberry? Ominous Warning Issued to Taylor Swift

A fourth-round draft pick in 2018, Schultz was the Cowboys' primary TE for five seasons. A contract disagreement — that ended up backfiring — and a slight decrease in productivity paved the way for Ferguson to make a name for himself when he entered the NFL in 2022.
Haley Cavinder had ice in her veins tonight pic.twitter.com/7vw8LSswYg

— Barstool Sports (@barstoolsports) March 21, 2023
Coupling up with a girl who is debatably more popular than him will help keep Ferguson in the minds of fans.
Cavinder is, of course, well known for her NCAA basketball career with the Miami Hurricanes. There, she and her twin helped lead the team to the Elite Eight in March 2023.
Instead of utilizing her last year of NCAA eligibility, the basketball star decided to turn to other pursuits, such as taking the social media world by storm and allegedly dating Ferguson.
Should You Trade Calvin Ridley in Fantasy Football This Week?
After about two years of not playing football, Jacksonville Jaguars WR Calvin Ridley returned to the NFL this year. He was with a new team, but fantasy football managers were hoping for the same old Ridley.
The last time he played an entire season in the NFL, Ridley was the WR4 with 90 receptions for 1,374 yards and nine TDs.
Ridley did seem to slide back into the role of a WR1 in 2023 right away. In Week 1, he was targeted 11 times, caught eight balls for 101 yards, and had one TD. He was the WR6.
However, the last two weeks have been rough, with the Jags losing to both Kansas City and Houston and Trevor Lawrence having problems getting going. Lawrence's problems translated to bad games for Ridley, with neither of the last two weeks finishing better than WR67.
Ridley's target share has also decreased over the first three games. However, the entire Jacksonville team has had a rough last two weeks with lots of dropped balls, near misses, and penalties.
Looking to make a trade in your fantasy league? Having trouble deciding who to start and who to sit? Check out PFN's Free Fantasy Football Trade Analyzer and Start/Sit Optimizer to help you make the right decision!
Calvin Ridley's Rest-of-Season Fantasy Outlook
Ridley comes in as WR17 in PFN's Consensus Rankings this week, and better days are ahead. Remember that it had been a long time since Ridley had played football, so some ups and downs will come with the territory, and he still had the second-most targets for the Jags in Week 2.
Moving forward, Ridley should look more streamlined; I expect the mental mistakes to decrease and the talent to shine through.
MORE: Buy Low, Sell High Week 4
Both head coach Doug Pederson and QB Trevor Lawrence believe in Ridley. Pederson said after the loss on Sunday, "Calvin wants to do so well, so good, so much. He wants to prove it, but he doesn't have to. He's a good player, and he doesn't have to do it all. Just be Calvin."
Should I Trade Calvin Ridley?
Don't get nervous and jump ship on a talented player after a few bumps early on in the year. Ridley has the possibility of finishing as a top-12 WR.
If you drafted him, you knew it might not all be roses getting there. Keep in mind he has a revenge game against Atlanta this week.
Listen to the PFN Fantasy Podcast
Listen to the PFN Fantasy Podcast! Click the embedded player below to listen, or you can find the PFN Fantasy Podcast on iTunes, Spotify, and all major podcast platforms.  Be sure to subscribe and leave us a five-star review! Rather watch instead? Check out the PFN Fantasy Podcast on our Fantasy YouTube channel.