Latest on Deshaun Watson, Chandler Jones, and more
As the 2022 NFL free agency period gets underway with the legal tampering period, the news and rumors around the NFL will fly throughout the next few days. Keeping track of those rumors and which ones develop into legitimate signings can be hard to keep track of. Therefore, we will be keeping track of all the latest NFL news and rumors throughout the next few days.
NFL News and Rumors | Monday Afternoon
The news and rumors have already been flying at the start of the legal tampering period, with contracts being agreed in principle, as well as cuts and extensions taking place. Here are some of the news and rumors from Monday afternoon.
Cardinals bringing back Colt McCoy, Michael Dogbe, and Dennis Gardeck
The Cardinals continue to bring back their own players. After re-signing both Zach Ertz and James Conner in recent days, they re-signed three more players in Colt McCoy, Michael Dogbe, and Dennis Gardeck.
Could J.C. Jackson be on his way to the Los Angeles Chargers?
As the new league year nears, the whispers that Jackson could head to the Chargers are getting louder. The latest report comes from Chris Mortenson who said that "there are executives in the league who truly believe he will end up with the LA Chargers." Mike Giardi also reported that the Chargers have made a formal offer.
De'Vondre Campbell set to return to the Packers
Campbell appears set to remain in Green Bay after a breakout year in 2021. The LB is set to sign a five-year deal worth $50 million.
Haason Reddick set to sign with the Philadelphia Eagles
The Eagles have bolstered their pass rush with Haason Reddick. The deal is expected to be a three-year contract, worth $45 million. Reddick will join the likes of Josh Sweat, Brandon Graham, and Tarron Jackson.
Christian Kirk expected to sign a "large" deal with the Jacksonville Jaguars
The Jaguars continue to make waves in free agency as they look set to add Christian Kirk to their offense. According to a report by Ian Rapoport, Kirk will sign a "large deal" in Jacksonville. The Jaguars have D.J. Chark heading into free agency and they appear to have signed his replacement. Kirk's contract is said to be worth $72 million across four years, with a maximum value of $84 million. At a base value of $18 million a year, he is amongst the highest-paid WRs in the league.
Laken Tomlinson agrees to terms with the New York Jets
As expected, the Jets have taken steps to address their offensive line this offseason. Laken Tomlinson is set to head to New York on a three-year deal worth $40 million. The guard will have familiarity with the scheme, having worked with Mike LaFleur in San Francisco.
Tracy Walker heading back to the Detroit Lions and Bengals set to sign Ted Karras
The Lions are keeping safety Tracy Walker in Detroit. The Lions and Walker agreed to a three-year, $25 million contract. There is reportedly $17 million guaranteed as part of the deal.
Another offensive lineman on the move is Ted Karras. He will be the second player the Bengals are set to sign on their offensive line. The reported terms for the Karras deal are three years, $18 million.
Brandon Scherff, Foye Oluokun, and Folorunso Fatukasi intend to sign with the Jaguars as Ted Karras heads to the Bengals
According to Adam Schefter, Brandon Scherff intends to sign with the Jacksonville Jaguars. After they re-signed C Tyler Shatley, and franchise-tagged LT Cam Robinson, this is the third offensive line move by the Jaguars this offseason.
The Jaguars are also making mores to address their defense. LB Foye Oluokun is reported to be signing a three-year, $45 million contract. Meanwhile, DT Folorunso Fatukasi is also reported to be signing in Jacksonville
Quandre Diggs re-signing with the Seattle Seahawks
Just an hour into the legal tampering period, the Seahawks brought back Quandre Diggs on a three-year deal worth $40 million. Diggs joined the Seahawks in 2019 and then broken his right fibula to send the 2021 season. However, the Seahawks do not seem concerned by this based on the contract they gave Diggs.
Mitchell Trubisky heading to the Pittsburgh Steelers, Larry Ogunjobi heading to Chicago
As the Steelers look to replace Ben Roethlisberger following his retirement, they have dipped into the free agent pool. The Steelers have reportedly signed Mitch Trubisky to a two-year deal, according to Mike Garofolo.
Meanwhile, Trubisky's former team, the Chicago Bears, is adding DT Larry Ogunjobi. The Bears gave Ogunjobi a three-year deal worth $40.5 million. Included in that is $26.35 million in guarantees.
Jarvis Landry has been released by the Browns
After the Browns gave permission for Landry to seek a trade, he has been released. The move saves $14.8 million in salary-cap space for the Browns. Landry reportedly requested his release and the team agreed.
Chase Edmonds is set to sign with the Dolphins as James Conner heads back to Arizona
ESPN's Adam Schefter reported that the Miami Dolphins are set to sign RB Chase Edmonds. The reported deal is a two-year $12.6 million contract with $6.1 million guaranteed.
Meanwhile, his backfield partner from 2021, James Conner is remaining with Arizona. According to Jay Glazer, Connor will get a three-year deal with the Cardinals. According to Tom Pelissero, the deal is worth $21 million.
Alex Cappa signing a four-year deal with the Bengals
According to a report from Adam Schefter, Alex Cappa is set to head to the Cincinnati Bengals. According to the report from ESPN, Cappa will get a four-year, $40 million contract.
Darious Williams expected to leave the Rams, with Jaguars a potential destination
Despite being given a first-round tender as a free agent last offseason, the Rams are not expected to re-sign Darious Williams. A number of teams could be interested in Williams, with the Jacksonville Jaguars expected to be one of them. It would be an interesting move as Williams has spent the past three years playing with former-Jaguars cornerback, Jalen Ramsey.
NFL news and rumors | Monday morning
The news and rumors started swirling around the NFL early on Monday morning. Here are the news and rumors from ahead of the start of the legal tampering period at 12 PM on Monday.
Emmanuel Ogbah to remain with the Miami Dolphins, while Joe Noteboom stays with the Rams
Just prior to the legal tampering period beginning, Emmanuel Ogbah signed a four-year deal worth $65 million to remain with the Miami Dolphins.
Meanwhile, the Rams kept Joe Noteboom in-house with a three-year deal. According to Ian Rapoport, the deal is worth $40 million at its base value with incentives up to $47.5 million
Deshaun Watson to meet with New Orleans Saints and Carolina Panthers
As expected, the Texans have provided permission for Deshaun Watson and his representatives to discuss trades with the Carolina Panthers and New Orleans Saints. Watson and his representatives will meet with the teams before deciding whether to waive his no-trade clause.
Packers signed Preston Smith to an extension and cut Za'Darius Smith
The Packers had always been expected to make a move or two with their edge rushers. They opened up cap space by extending Preston Smith, reducing his cap number. Meanwhile, the Packers saved $15 million by releasing Za'Darius Smith.
Chandler Jones is expected to be a target for the Denver Broncos
The Broncos traded away Von Miller in 2021 before he became a free agent. They are also in need of addressing their front, with a number of key players set to become free agents. Therefore, Jones could be an option for the Broncos as they look to stay up to speed in a division that is loaded with QB talent.
The Browns could be open to trading Baker Mayfield
The Browns have accepted exploratory trade calls from teams about the possibility of trading Baker Mayfield. This does not mean he will be on his way out of Cleveland, but the Browns are keeping the door open. Yet, it would likely only be if the Browns could upgrade the QB position, for example, with Watson.
Why Eagles' Jalen Reagor isn't focused on trade rumors or social media insults following an offseason of loss
PHILADELPHIA — Jalen Reagor knows what you're thinking.
He's seen the personal attacks on social media and heard the jeers from Eagles fans at the NovaCare Complex during practices in training camp. The former first-round pick is also well-versed in what "boos" sound like at Lincoln Financial Field. He knows that fans aren't going to buy into the hype of a strong summer and that most of them want him to be traded … for basically anything. But none of that really matters to him.
Jalen Reagor looking to rebound after offseason of loss
This offseason, Reagor endured a couple of tough life lessons through loss.
In January, Reagor's grandmother — who he credits with raising him — passed away. He then lost his best friend, former NFL cornerback Jeff Gladney, in a deadly car crash in May. Those losses gave Reagor a lot to think about as he entered his third NFL training camp.
He leaned heavily on his father, Montae, a former Eagles and Indianapolis Colts defensive lineman, for emotional strength and wisdom. Through those hard times, Reagor pushed forward with added perspective. He also got in the best shape of his career.
Reagor believes that's exactly how Gladney would want him to carry on in his memory.
"I'm not all the way through [the grieving process], but I know I have a job to do," Reagor said. "And I know what [Gladney] would want me to do. I'm just continuing to [honor] him every time I touch the field — give it to him and God — and do the best that I can."
Reagor entered last year's training camp out of shape. This offseason, his wide receivers coach, former NFL wideout Aaron Moorehead, believes he returned to Philly in better shape than most of his teammates.
"He came in as good a shape as anyone in the camp this year, and it's showed by the way he's played," Moorehead said.
Reagor has routinely made headlines for his sensitivity to social media. And while the occasional hiccup — like a dispute over his playing toughness early in camp — has occurred, he's in a better place mentally because of the personal experiences he's had over the past few months.
He knows what's important in life, and he's not trying to dwell on the criticisms of faceless posters or disgruntled fans.
"Just put my head down and go to work," Reagor said. "Not really worried about anything else, just focused on myself."
Down the totem pole
While Reagor returned to camp with an improved physique and attitude, he found himself deeper down the depth chart than in years past.
The team traded first- and third-round picks to the Tennessee Titans to acquire top wideout A.J. Brown in April. Philly then immediately gave Brown a four-year, $100 million contract extension.
Brown's arrival ruled out a starting role for Reagor. He had already been succeeded in the lineup by DeVonta Smith, last year's first-round pick, and draft classmate and friend, Quez Watkins, last season.
So, Reagor came into the summer fighting for a job with the fourth spot on the totem pole being his best option for playing time.
"I love a good challenge," Reagor said. "It's a humbling experience because you go from being a first-rounder to you battling — but I like challenges, though."
Stay or trade?
The Eagles can't cut Reagor, as that move would enact a $6.04 million dead-money hit, according to Over The Cap.
The team's only option in a potential divorce would be through a trade. While Reagor's name has repeatedly been mentioned in trade rumors, and the Baltimore Ravens — according to a league source — showed some interest in him during the offseason, the Eagles don't seem to be in a rush to unload him for just about anything.
In particular, Reagor has the backing of Moorehead, who has known him since the coach and Reagor's father were teammates in Indianapolis in the 2000s. Moorehead hasn't given up on the former first-round pick, even if his depth chart is now stacked to the brim.
"He's had a nice camp so far, he's made plays, and he's done everything that we've asked him to do," Moorehead said. "He's got to come in and challenge himself every day to be great on the field, off the field, and continue to take care of himself. We have had no issues this year."
In order for Reagor to have a role with the Eagles, he needs to outlast veteran Zach Pascal — a favorite of head coach Nick Sirianni — undrafted standout Britain Covey, Deon Cain, Greg Ward, John Hightower, Lance Lenoir, Devon Allen, and Keric Wheatfall for a job. The Eagles also have listed Reagor as their top punt and kick returner on their first unofficial depth chart, which could lead to a game-day place to make plays.
But does Reagor want a new opportunity through a trade? Publicly, he's standing firm on his goal to revitalize his potential where it all started.
"I want to be here for the rest of my career," Reagor said. "But, you know, it's a business — a business of production. I'm going to handle my end, and I'm going to let them handle theirs."
Make-or-break preseason
Last summer, Reagor made a couple of circus catches that tantalized the fan base and gave the Philly faithful hope that he had turned the corner from his underwhelming rookie season. Reagor went on to play 67% of the offensive snaps, but he caught just 33 passes for 299 yards and two touchdowns.
That's why it's understandable that fans are a little hesitant to buy into Reagor's positive reviews through three weeks of camp. The wideout has been running mostly with the second-team offense, even with Smith sidelined with a groin injury. Despite the depth reps, though, Reagor has made the most of his targets, especially of late.
On Wednesday, Reagor worked with the starters and was able to beat No. 1 cornerback Darius Slay on an out route. Starting QB Jalen Hurts looked Reagor's way and put the ball where only he could get it. Reagor made a highlight fingertip catch before heading out of bounds for a 10-yard gain in 11-on-11 team drills.
"It's one of those things that the coaches game plan," Reagor said about the play. "If Slay would have played off, you have a certain conversion — but he played off, I came full speed, and a great throw by Jalen. It's my job to make the quarterback look good."
That highlight added to a handful of big plays made in previous practices, as Reagor has routinely used his deep speed to get open for chunk plays. He hasn't been perfect — no wideout can make that claim — but he's looked consistently capable of making plays when the ball goes to him, which is a steady improvement from his first two years.
As one source told Pro Football Network, Reagor is "locked in."
All that said, the Eagles still might spotlight Reagor in the preseason to shop him to the highest bidder before final cuts. Or, maybe, they'll finally help him get in rhythm with Hurts and the starters as Smith recovers on the sideline.
Either way, Reagor knows he can't worry about the end result. He just needs to do his job.
"We've got a hell of a room," Reagor said. "It's a competition in there. Obviously, people have their jobs, some people don't, and some people are fighting. So, you've got to come in, and when people go down, you've got to step up. When people are up, you've just to make sure you're ready when it's your time."
Make way for Baylor's returning offensive linemen
For one final college football season, the Preseason All-Big 12 Team features Oklahoma and Texas. However, it's also the last year before the conference welcomes BYU, Cincinnati, and UCF into its ranks which will change its course for the next few decades. Presented in conjunction with our release of our College Football All-Americans, we at PFN debut our 2022 Preseason All-Big 12 Team, as voted on by our team of national analysts and NFL draft evaluators.
PFN's 2022 All-Big 12 Team
It is important to note that these teams may look a bit different than the all-conference teams listed by each individual conference. Our teams mirror our All-Americans, taking into consideration not only what a player has accomplished to date but looking forward to what we expect to see based on the growth of the athlete's career.
Offense | First team
QB: Dillon Gabriel, Oklahoma
RB: Bijan Robinson, Texas
RB: Deuce Vaughn, Kansas State
WR: Xavier Worthy, Texas
WR: Xavier Hutchinson, Iowa State
WR: Quentin Johnston, TCU
TE: Ben Sims, Baylor
FLEX: Malik Knowles, Kansas State
OT: Connor Galvin, Baylor
G: Trevor Downing, Iowa State
C: Jacob Gall, Baylor
G: Grant Miller, Baylor
OT: Anton Harrison, Oklahoma
Defense | First team
EDGE: Felix Anudike-Uzomah, Kansas State
DT: Siaki Ika, Baylor
DT: Dante Stills, West Virginia
EDGE: Will McDonald IV, Iowa State
LB: DeMarvion Overshown, Texas
LB: Dillon Doyle, Baylor
LB: Dee Winters, TCU
CB: Al Walcott, Baylor
CB: Tre'Vius Hodges-Tomlinson, TCU
CB: D'Shawn Jamison, Texas
S: Kenny Logan Jr., Kansas
S: Anthony Johnson Jr., Iowa State
FLEX: Keondre Coburn, Texas
Specialists | First team
PK: Isaiah Hankins, Baylor
P: Michael Turk, Oklahoma
KR: Malik Knowles, Kansas State
PR: Phillip Brooks, Kansas State
LS: Matt Hembrough, Oklahoma State
The All-Big 12 Team is stacked at the top, including the nation's best returning offensive line in Baylor. The Bears sport three first-team offensive linemen, including Connor Galvin at left tackle. Dillon Gabriel earns the top honors at quarterback after transferring in from UCF as he's one of the premier downfield passers in all of college football. He edged new rival Spencer Sanders out for the top spot as the Oklahoma State quarterback headlines the second team.
Offense | Second team
QB: Spencer Sanders, Oklahoma State
RB: Devin Neal, Kansas
RB: SaRodorick Thompson, Texas Tech
WR: Marvin Mims, Oklahoma
WR: Phillip Brooks, Kansas State
WR: Bryce Ford-Wheaton, West Virginia
TE: Jahleel Billingsley, Texas
FLEX: Brennan Presley, Oklahoma State
OT: Khalil Keith, Baylor
G: Chris Murray, Oklahoma
C: Steve Avila, TCU
G: Doug Nester, West Virginia
OT: Cooper Beebe, Kansas State
Defense | Second team
EDGE: Brock Martin, Oklahoma State
DT: Tyler Lacy, Oklahoma State
DT: Jaxon Player, Baylor
EDGE: Tyree Wilson, Texas Tech 
LB: O'Rien Vance, Iowa State
LB: Gavin Potter, Kansas
LB: Krishon Merriweather, Texas Tech
CB: D.J. Graham, Oklahoma
CB: Noah Daniels, TCU
CB: Woodi Washington, Oklahoma
S: Dadrion Taylor-Demerson, Texas Tech
S: Jason Taylor II, Oklahoma State
FLEX: Garmon Randolph, Baylor
Specialists | Second team
PK: Casey Legg, West Virginia
P: Isaac Power, Baylor
KR: Jaylin Noel, Iowa State
PR: D'Shawn Jamison, Texas
LS: Kasey Kelleher, Oklahoma
Oklahoma State wasn't just represented by their quarterback as the versatile Brennan Presley made his way to the second-team offensive flex position. Brock Martin and Tyler Lacy should dominate the Cowboys' pass-rushing unit while Jason Taylor II patrols the backend.
Offense | Honorable Mention
QB: JT Daniels, West Virginia
RB: Roschon Johnson, Texas
RB: Tahj Brooks, Texas Tech
WR: Taye Barber, TCU
WR: Isaiah Neyor, Texas
WR: Jordan Whittington, Texas
TE: Brayden Willis, Oklahoma
FLEX: Sam James, West Virginia
OT: Earl Bostick Jr., Kansas
G: Micah Mazzccua, Baylor
C: Zach Frazier, West Virginia
G: Cole Birmingham, Oklahoma State
OT: Christian Duffie, Kansas State
Defense | Honorable Mention
EDGE: Eli Huggins, Kansas State
DT: Cade Hall, Baylor
DT: Jaylon Hutchings, Texas Tech
EDGE: Trace Ford, Oklahoma State
LB: Deshaun White, Oklahoma
LB: Daniel Green, Kansas State
LB: Rich Miller, Kansas
CB: Julius Brents, Kansas State
CB: Ekow Boye-Doe, Kansas State
CB: Jacobee Bryant, Kansas
S: Key Lawrence, Oklahoma
S: Marquis Waters, Texas Tech
FLEX: Jalen Redmond, Oklahoma
Specialists | Honorable Mention
PK: Alex Hale, Oklahoma State
P: Austin McNamara, Texas Tech
KR: Brennan Presley, Oklahoma State
PR: Derius Davis, TCU
LS: Randen Plattner, Kansas State
For the rest of the Pro Football Network All-Conference Teams, view each conference here: ACC | B1G | Pac-12 | SEC | Independents | AAC | C-USA | MAC | MWC | Sun Belt
Bryce Young set to lead Alabama, SEC this fall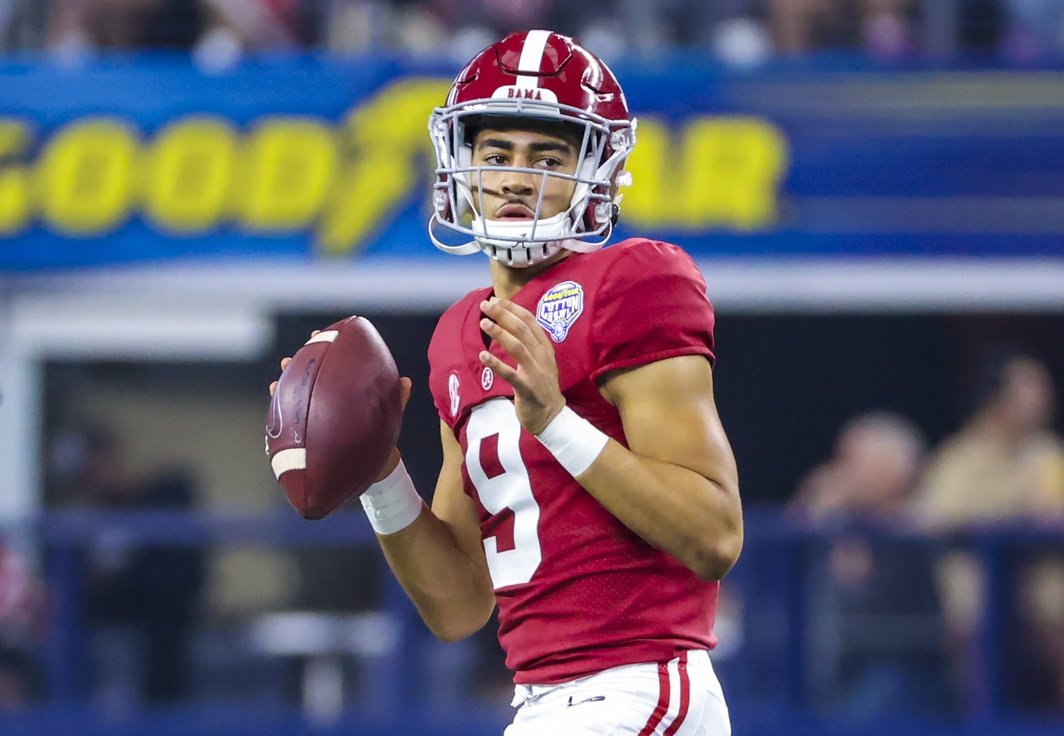 After the balance of power shifted in the 2021 college football season, the 2022 Preseason All-SEC Team gives pause for a potential Georgia repeat in the national championship. Instead, the Alabama Crimson Tide look poised to regain their spot as they're led by QB Bryce Young in 2022. Presented in conjunction with our release of our College Football All-Americans, we at PFN debut our 2022 Preseason All-SEC Team, as voted on by our team of national analysts and NFL draft evaluators.
PFN's 2022 All-SEC Team
It's important to note that these teams may look a bit different than the All-Conference teams listed by each individual conference. Our teams mirror our All-Americans, taking into consideration not only what a player has accomplished to date but looking forward to what we expect to see based on the growth of the athlete's career.
Offense | First team
QB: Bryce Young, Alabama
RB: Tank Bigsby, Auburn
RB: Devon Achane, Texas A&M
WR: Kayshon Boutte, LSU
WR: Cedric Tillman, Tennessee
WR: Jermaine Burton, Alabama
TE: Brock Bowers, Georgia
FLEX: Jahmyr Gibbs, Alabama
OT: Darnell Wright, Tennessee
G: O'Cyrus Torrence, Florida
C: Sedrick Van Pran, Georgia
G: Layden Robinson, Texas A&M
OT: Broderick Jones, Georgia
Defense | First team
EDGE: Will Anderson Jr., Alabama
DT: Jalen Carter, Georgia
DT: Gervon Dexter, Florida
EDGE: BJ Ojulari, LSU
LB: Henry To'oTo'o, Alabama
LB: Bumper Pool, Arkansas
LB: Anfernee Orji, Vanderbilt
CB: Kelee Ringo, Georgia
CB: Cam Smith, South Carolina
CB: Malachi Moore, Alabama
S: Jordan Battle, Alabama
S: Jalen Catalon, Arkansas
FLEX: Jaylon Carlies, Missouri
Specialists | First team
PK: Harrison Mevis, Missouri
P: Nik Constantinou, Texas A&M
KR: Jahmyr Gibbs, Alabama
PR: Ainias Smith, Texas A&M
LS: Marco Ortiz, Florida
Bryce Young takes the top spot as the conference's best quarterback returning to action, and he'll have an emerging talent in Jermaine Burton to throw to this season. Alabama reached into the transfer portal to add a one-of-a-kind running back in Jahmyr Gibbs that should give defenses headaches in 2022. Vanderbilt turns heads with their selection of Anfernee Orji to the All-SEC First Team as he is one of the most dominant linebackers in the country.
Offense | Second team
QB: Will Levis, Kentucky
RB: Chris Rodriguez Jr., Kentucky
RB: Zach Evans, Ole Miss
WR: Justin Shorter, Florida
WR: Antwane Wells Jr., South Carolina
WR: Josh Vann, South Carolina
TE: Cameron Latu, Alabama
FLEX: Tayvion Robinson, Kentucky
OT: Javon Foster, Missouri
G: Nick Broeker, Ole Miss
C: Ricky Stromberg, Arkansas
G: Kenneth Horsey, Kentucky
OT: Warren McClendon, Georgia
Defense | Second team
EDGE: Derick Hall, Auburn
DT: Zacch Pickens, South Carolina
DT: Byron Young, Alabama
EDGE: Byron Young, Tennessee
LB: DeAndre Square, Kentucky
LB: Ventrell Miller, Florida
LB: Dallas Turner, Alabama
CB: Emmanuel Forbes, Mississippi State
CB: Kris Abrams-Draine, Missouri
CB: Eli Ricks, Alabama
S: Antonio Johnson, Texas A&M
S: Trey Dean III, Florida
FLEX: Nehemiah Pritchett, Auburn
Specialists | Second team
PK: Will Reichard, Alabama
P: Oscar Chapman, Auburn
KR: Kris Abrams-Draine, Missouri
PR: Tayvion Robinson, Kentucky
LS: Connor Choate, Texas A&M
The Kentucky Wildcats have an exciting trio returning to the offensive side of the ball. Will Levis leads the team at quarterback with Chris Rodriguez in the backfield and Virginia Tech transfer Tayvion Robinson set to expand the role Wan'Dale Robinson made famous last season. Two Byron Youngs make the team as Alabama's rushes from the interior and Tennessee's crushes QBs from the edge. Both are players to watch every week.
Offense | Honorable Mention
QB
Spencer Rattler, South Carolina
Hendon Hooker, Tennessee
RB
Kenny McIntosh, Georgia
Raheim Sanders, Arkansas
Re'Mahn Davis, Vanderbilt
Jo'quavious Marks, Mississippi State
WR
Jonathan Mingo, Ole Miss
Dakereon Joyner, South Carolina
Will Sheppard, Vanderbilt
Jaden Walley, Mississippi State
Ladd McConkey, Georgia
Adonai Mitchell, Georgia
TE
Jaheim Bell, South Carolina
Trey Knox, Arkansas
FLEX
Ainias Smith, Texas A&M
Nick Brahms, Auburn
OT
Jeremy James, Ole Miss
Austin Troxell, Auburn
Bradley Ashmore, Vanderbilt
Richard Gouraige, Florida
G
Javion Cohen, Alabama
Brady Latham, Arkansas
Emil Ekiyor Jr., Alabama
Keiondre Jones, Auburn
C
LaQuinston Sharp, Mississippi State
Julian Hernandez, Vanderbilt
Defense | Honorable Mention
EDGE
Ali Gaye, LSU
Trajan Jeffcoat, Missouri
Cedric Johnson, Ole Miss
J.J. Weaver, Kentucky
DT
DJ Dale, Alabama
Maason Smith, LSU
Colby Wooden, Auburn
Daevion Davis, Vanderbilt
LB
Ethan Barr, Vanderbilt
Jacquez Jones, Kentucky
Micah Baskerville, LSU
Mike Jones Jr., LSU
Jeremy Banks, Tennessee
Owen Pappoe, Auburn
CB
Kool-Aid McKinstry, Alabama
Tyreek Chappell, Texas A&M
Ennis Rakestraw Jr., Missouri
Jaylon Jones, Texas A&M
Deantre Prince, Ole Miss
Carrington Valentine, Kentucky
S
DeMarcco Hellams, Alabama
Tykee Smith, Georgia
Rashad Torrence II, Florida
AJ Finley, Ole Miss
FLEX
Jaylen Mahoney, Vanderbilt
Latavious Brini, Arkansas
Specialists | Honorable Mention
PK
Anders Carlson, Auburn
Cam Little, Arkansas
P
Jeremy Crawshaw, Florida
Paxton Brooks, Tennessee
KR
Lideatrick Griffin, Mississippi State
Juju McDowell, South Carolina
PR
Xzavier Henderson, Florida
Kearis Jackson, Georgia
LS
Kneeland Hibbett, Alabama
Jacob Quattlebaum, Auburn
For other Pro Football Network's All-Conference Teams, view each conference here: ACC | B1G | Big 12 | Independents | AAC | C-USA | MAC | MWC | Sun Belt