Golden State Warriors vs Los Angeles Lakers NBA Preseason Preview, Predictions and Picks
On Tuesday, October 12, 2021, the Golden State Warriors (3-0) are playing the Los Angeles Lakers (0-4) at the Staples Center. This is the Warriors' fourth preseason matchup, whereas tonight is the Lakers' fifth exhibition game. BetOnline odds are featured down below.
Game Information
Start time: 10:30 p.m. ET
Location: Staples Center; Los Angeles, California
TV channels: Spectrum SportsNet, TNT
Radio broadcast: KSPN/KWKW-LAL, KGMZ-FM
Golden State Warriors vs. Los Angeles Lakers news
Leading into Monday night's matchup, the Lakers are 2-1 in their previous three head-to-head meetings versus the Warriors. Excluding preseason, on Mar. 15, 2021—the last time these teams played one another in the regular season—Los Angeles won 128-97 on the road. For the latest Warriors news, the team signed San Antonio's Quinndary Weatherspoon.
Aside from injuries, the top news story for Tuesday night's game is the Lakers' Big Three playing against Golden State. LeBron James, Anthony Davis and Russell Westbrook are expected to start. Of course, the starters will look rusty at first. On Sunday, Westbrook finished with 8.0 points, 2.0 rebounds and 5.0 assists in the team's 29-point loss to the Suns.
The Warriors have signed free agent guard Quinndary Weatherspoon.

Quinndary, 25, appeared in 31 games with the San Antonio Spurs over the last two seasons, averaging 1.9 points in 6.4 minutes per game. pic.twitter.com/O4Iw5d1eWV

— Golden State Warriors (@warriors) October 11, 2021
Injury Report
For the Warriors, Klay Thompson, Jonathan Kuminga and James Wiseman are all out for tonight's preseason contest. Thompson is still recovering from his ACL injury he sustained last season. According to ESPN, he is expected to make his return by Christmas.
As for the Lakers, Trevor Ariza, Talen Horton-Tucker, Malik Monk and Kendrick Nunn are out against the Warriors. Ariza and Nunn are resting because of ankle injuries. However, Nunn's injury was just an ankle sprain. Tucker is waiting for his thumb to recover, while Monk is not playing due to a groin strain.
Looking for tickets to watch the #LakeShow take on the Warriors on October 19th? Browse the official Lakers resale marketplace.

— Los Angeles Lakers (@Lakers) October 12, 2021
Golden State Warriors vs. Los Angeles Lakers betting lines
Over/Under: 228.5
Point spread: Lakers -5 (-105)
Best moneyline: Warriors +157, Lakers -192
Golden State Warriors vs. Los Angeles Lakers preview
On Friday, the Warriors defeated the Lakers 121-114 at home. Guard Stephen Curry led his team in scoring, putting up 30 points in 26 minutes played. Guard Jordan Poole also finished his performance with 28 points, 3.0 rebounds and 2.0 assists in 25 minutes on the court. Offensively, Golden State played a great game.
The Warriors scored 38 points in the second quarter. Plus, the team shot 44-for-97 (45.4%) from the field and 20-for-56 (35.7%) from three-point range. There is always room for improvement, though. The Warriors were out-rebounded 56 to 42, and they allowed 37 points in the fourth quarter.
Meanwhile, on Sunday, the Lakers were blown out 123-94 versus the Suns. In the team's 29-point loss, Anthony Davis scored a team-high 19 points in 28 minutes played. Carmelo Anthony also accumulated 17 points and 4.0 rebounds in 16 minutes spent on the court. Defensively, the Lakers still have a lot of work to do.
They allowed the Suns to score 72 points in the second half. To add insult to injury, Los Angeles closed out the first quarter with 18 points. They were trailing the entire game. Not to mention, the Lakers shot 32-for-85 (37.6%) from the floor and 15-for-42 (35.7%) from behind the arc.
For the Warriors' projected starting lineup, the list consists of PG Stephen Curry, SG Jordan Poole, SF Andrew Wiggins, PF Draymond Green and C Kevin Looney. The Lakers' projected starting lineup is PG Russell Westbrook, SG Wayne Ellington, SF Kent Bazemore, PF LeBron James and C Anthony Davis.
Golden State Warriors vs. Los Angeles Lakers prediction
Moreover, the Warriors scored 121 points against the Lakers in their recent matchup, while the Lakers scored 94 points versus the Suns. This is 215 points. Likewise, last Friday's Lakers-Warriors matchup final total was 235. The total for tonight's exhibition contest is set at 228.5. Therefore, there is a good chance the total will go over again in tonight's game.
For betting trends, the Warriors are 7-1 against the spread in their past eight games. They are also 6-2 straight up in their last eight games played. And, the total has gone over in five of the team's previous seven games. Additionally, Golden State is 13-5 in their last 18 games played in October.
As for the Lakers, the team is 3-8 ATS in their previous 11 games played. Also, the total has gone under in six of their last eight games. For one highlighted trend, Los Angeles is 1-5 ATS in their past six games played at home.
After losing to the Baltimore Ravens on Monday Night Football, the Indianapolis Colts fell to 1-4 for the season. The Lakers should get their first preseason win tonight, improving their exhibition record to 1-4. Pay close attention to trends like this in professional sports. Patterns exist.
Golden State Warriors vs. Los Angeles Lakers betting pick
Pick the Lakers to win at home; the total will go over 228.5. The Lakers are five-point favorites with BetOnline.
Luke Kennard Ready For Second Season With Clippers – Basketball Insiders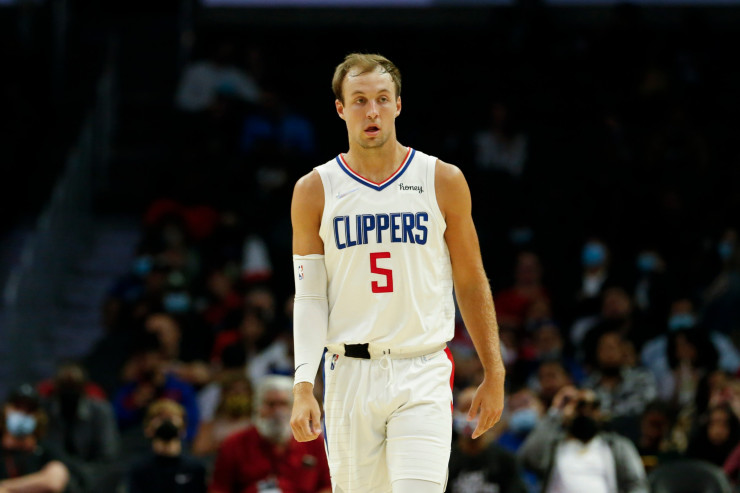 Last season, Los Angeles Clippers head coach Tyronn Lue kept imploring Luke Kennard to be more aggressive in looking for his shot.
His sentiments were echoed by Kennard's teammates throughout the season. A newcomer to the team after spending his first three seasons with the Detroit Pistons, Kennard often looked timid for the majority of the season.
With the Pistons, he had developed a reputation as being a sniper from three-point range. He shot 39 percent or better from distance in each of his three years. But he had also begun to develop a playmaking game. Before he was traded to the Clippers a year ago, Detroit head coach Dwane Casey had been experimenting with Kennard in a facilitator role.
But when he arrived in LA, he seemed a little too eager to settle into that playmaking role and he often passed up shots that he probably should have taken. It can be an adjustment for players to figure out their role in a new system, and perhaps that was the case for Kennard. Maybe he just needed a little bit of prodding from his new coach and teammates.
Whatever the case was, however, the playoffs changed all of that. With the Clippers being pushed to the brink by the Dallas Mavericks in the first round, they found themselves in a Game 7. And it was Kennard who stepped up to the plate and helped power them into the second round.
After racking up four DNP's through the first six games of the series, Kennard scored 11 points on 4-6 shooting, 3-5 from three-point range, in 14 minutes of play as the Clippers ended up winning by 15 to advance. He looked comfortable and confident in his shot.
That momentum carried over throughout the rest of the 2021 playoffs. Against both the Utah Jazz and Phoenix Suns, Kennard made decisive decisions and found a good balance between finding his teammates and finding his shot. That's the Kennard the Clippers are going to need this season, and it's the Kennard that has shown up so far in preseason.
While he's definitely found a comfort level within the Clippers offense, he acknowledges that at times, the team is still on him about looking to shoot.
"I'm still getting some stuff on the sideline for not shooting some shots that I probably should have shot," Kennard joked after the Clippers preseason win against Dallas on Oct. 8. "They want me to 'hunt' it. . .just to hunt shots and be a hunter, that's what they've been saying."
Overall, Kennard had a pretty solid season last year for the Clippers. He put up 8.3 points per game while shooting 47.6 percent from the field and 44.6 percent from three-point range. In the playoffs, those numbers dipped a little, but as mentioned, he looked far more comfortable.
This season, the Clippers are looking to get up and down a little bit more and to generate more transition scoring opportunities. Kennard figures to be a big part of that with his ability to handle the ball and see the court, and with his lights out shooting. During preseason, he's seen time in both roles.
"They're putting me in a lot of different actions, whether it's for me or different guys, just to move. They want us to move, they want us to play with a little more pace this year," Kennard said. "We want to play a little faster whether it's kicking the ball ahead, being a little bit better transition team. It's coming along."
Overall, this Clippers team has multiple players who can make plays with the ball in their hands. When Kennard is on the floor with the second unit, he kind of becomes the de-facto ball-handler as he did at times last season. But when his minutes are staggered with the starters a bit, it allows him to really look to move off-ball and to free himself up for jumpers.
"We got guys that can make plays. I can get into the paint and attack well and hit the open guy, but for me they just want me to hunt," Kennard said. "When teams are kind of chasing me over, it kind of allows me to put the ball on the floor a little bit more and either hit the roll or just find the open guy. That's something I've picked up on over these last few games."
Kennard actually got off to a bit of a slow start to the preseason. He shot a combined 31.7 percent from the field through the first two games and was 1-9 from three-point range. But he picked it up in the final two games averaging 18.5 points per game and shooting 63.8 percent from long range.
Sure the Clippers ended the preseason with losses, but there were plenty of positives that Kennard saw that he believes the team can take with them into the start of the regular season. It's the work that they've done in training camp, in practice, that they'll be able to translate to opening night.
"We have sets that we run, but out of those sets, Coach Lue just lets us play the game. That's something we've been focused on," Kennard said. "It's still a learning process, we're still getting better at it. But I think we've done a pretty good job of doing the things in games that we've worked on in training camp so far."
For the most part, the Clippers will have a similar rotation to the one that knocked out the Jazz and pushed the Suns to six games. Kawhi Leonard has no timetable for his return, but Serge Ibaka should be close to returning to the lineup.
They will have a pair of newcomers though who figure to play key roles in former Clipper Eric Bledsoe and Justice Winslow. There's also the new draft picks in Keon Johson and Brandon Boston Jr. who have both shown some flashes in the preseason. Fellow rookie Jason Preston might have been in the mix too but he is currently out with an injury.
As the start of the season draws near, Kennard is pleased with what he's seen in terms of how everyone is fitting into the system.
"I think everybody is comfortable in the role that they're in, everybody's comfortable with where they are right now. We're confident that our coaches and everybody on the team, they're going to do what's best for the team," Kennard said. "When we're out there together, we're one team. . .I think we have a pretty solid foundation with what we've been doing right now and it's just continuing to get comfortable with each other and learning all the new guys. So far it's been really good."
Saving Sacramento: Luke Walton Has Roster to Compete – Basketball Insiders
The last two decades have not been kind to the Sacramento Kings, who have not had a taste of the playoffs since the 2005-06 season. The Kings won 44 games that season and they have not won more than 39 games in a single season ever since. They have gone through ten head coaches since they last made the postseason with Rick Adelman.
Luke Walton enters his third season at the helm in Sacramento. He finished with identical 31-41 records in his first two years but is aiming for much better results this time around with a much-improved roster. The Kings are young, but also have some serious talent that is still developing.
Everything in Sacramento starts with their electrifying point guard, De'Aaron Fox. The former Kentucky product signed a five-year, $163 million contract extension with the Kings during the 2020 offseason. He is the face of the franchise but the guard position is oozing with even more star potential. Buddy Hield remains one of their best offensive weapons and was a prime target of many trade talks in the offseason.
Tyrese Haliburton shined in his rookie season last year and has given the Kings a dynamic backcourt that can fuel their offense on any given night. The concerns early in the season about the fit next to Fox were quickly dispelled as they formed an incredible one-two punch.
Sacramento added to their already loaded guard position this summer when they drafted Davion Mitchell with the ninth pick in the NBA Draft. The Baylor standout comes in ready to make an immediate impact on both ends of the floor. His "off-night" nickname eloquently describes his tenacity on defense, and he showcased his offensive prowess in Summer League, and now the preseason.
Luke Walton compared Davion Mitchell's on-ball defense to Ron Artest's defensive pressure.

— James Ham (@James_HamNBCS) October 15, 2021
The key for Walton this season will be to utilize his lineup to maximize the potential out of each player. They all have their own strengths and weaknesses, and it is up to him to study their chemistry and find the right combination to put on the floor. The Kings are about more than just their sensational crop of guards though.
Harrison Barnes continues to be the unheralded star for this team, carrying them during late-game situations as the veteran player on the roster. The real challenge for Walton will be to finally unlock the potential of Marvin Bagley III. The former second-overall pick in the 2018 draft has been a disappointment, to put it mildly. He has publicly tried to force his way out of Sacramento, but the Kings have been reluctant to move the big man.
Bagley is clearly behind Richaun Holmes on the depth chart, who the Kings rewarded with a multi-year contract this summer. The second-round pick has been playing with a chip on his shoulder since he came into the league, and it has worked well for him.
The Kings made a head-scratching move this summer when they acquired veteran center Tristan Thompson in a three-team trade. Perhaps the thought is that the team will ultimately move Bagley this season. The other scenario is that Walton wants to challenge Bagley, hoping that some competition for those minutes motivates Bagley to break out.
Walton will have to improve the defense this season if Sacramento is going to have any chance at success. Their 117.2 defensive rating last season was the worst in the league. It was historically bad, as they gave up 116.5 points per 100 possessions on that end of the floor. They also ranked 30th in opponent's field goal percentage, 29th in points allowed in the paint, and were bottom-five in terms of defensive three-point percentage and second-chance points allowed.
The addition of Mitchell will certainly help in that area, and Thompson will help them on the glass. The Kings ranked dead last in rebounding last season, despite the solid play of Holmes. With some fresh faces, more competition, and new philosophies, Walton may be able to get this group to take the next step in their development. It might take some time, but ownership has shown that they can be patient. The young core is special and has been putting in the work.
Davion still putting up shots 30 minutes after the buzzer.

𝙄𝙩'𝙨 𝙟𝙪𝙨𝙩 𝙬𝙤𝙧𝙠. pic.twitter.com/imEXmnLvWs

— Sacramento Kings (@SacramentoKings) October 15, 2021
Walton has two years remaining on his contract worth $11.5 million. He was hired by former Lakers teammate Vlade Divac, who was replaced in his role by Monte McNair last offseason. McNair believes that another year of continuity can get the franchise back into the playoffs. The team may be improved, but so is the rest of the division.
The Pacific Division is full of title contenders, and the Kings. The Lakers, Suns, Warriors, and Clippers all have legitimate hopes of winning a championship this season. Sacramento simply doesn't have the weapons to match the All-NBA rosters of those other teams.
The last time the Kings made the playoffs, Fox was just eight years old. Bagley was only seven. For Sacramento, a return to the playoffs would be a euphoric experience, and would finally get Walton off of the hot seat.
Washington Wizards vs New York Knicks NBA Preseason Preview, Predictions and Picks
On Friday, Oct. 15, 2021, the Washington Wizards (0-3) are playing the New York Knicks (2-0)  at Madison Square Garden. This is the final preseason contest of the 2021-22 NBA season for both Eastern Conference contenders. BetOnline odds are listed below.
Game Information
Start time: 7:30 p.m. ET
Location: Madison Square Garden; New York, New York
TV channels: MSG, NBA League Pass, NBC Sports Washington
Radio broadcast: WTEM
Live stream: NBC Sports Washington
Washington Wizards vs. New York Knicks news
Additionally, in the previous three head-to-head meetings, the Knicks are 3-0 versus the Wizards. On Mar. 25, 2021, New York won 106-102 over Washington. That was the last time these teams played one another in the regular season. Of course, it also does not include last Saturday's Wizards-Knicks exhibition game.
Leading into this final exhibition matchup for both teams, the top story for the Wizards pertains to the organization waiving Jay Huff and Jordan Schakel. This happened on Wednesday. Now, their roster is now at 18 players. On the other side, the Knicks signed Brandon Goodwin and waived Dwayne Bacon, Myles Powell and Tyler Hall.
OFFICIAL: We have waived Jay Huff and Jordan Schakel. Our roster now stands at 18 players.

— Washington Wizards (@WashWizards) October 13, 2021
.@nyknicks Sign Brandon Goodwin, Waived Dwayne Bacon pic.twitter.com/jf3Sh7uxrS

— NY_KnicksPR (@NY_KnicksPR) October 14, 2021
Injury Report
For tonight's matchup, the Wizards will be without Thomas Bryant, Rui Hachimura and Cassius Winston. Hachimura is out because of personal reasons, while Bryant is still recovering from his ACL injury. Plus, Winston is resting after sustaining a left hamstring strain.
As for the Knicks, they are missing Nerlens Noel and Mitchell Robinson against Washington. Nerlens is dealing with soreness in his left knee. And, Robinson is out due to soreness in his right foot as well.
Washington Wizards vs. New York Knicks betting lines
Over/Under: 216
Point spread: Knicks -4.5 (-110)
Best moneyline: Wizards +165, Knicks -190
Washington Wizards vs. New York Knicks preview
Moreover, in the Wizards' 113-108 home loss against the Raptors on Tuesday, forward Kyle Kuzma led the team in scoring, putting up 24 points in 29 minutes played. Montrezl Harrell ended his performance with 17 points and 2.0 rebounds in 21 minutes spent on the court. Washington's poor shooting in the fourth quarter led to their five-point loss.
While being held to 19 points in the fourth quarter, they allowed Toronto to score 32 points. Shooting-wise, the Wizards shot 38-for-88 (43.2%) from the field and 17-for-43 (39.5%) from behind the arc. Their struggles to finish strong in the second half is why the team is 0-3 in the preseason.
Meanwhile, in the Knicks' 117-99 away victory over Washington last Saturday, forward RJ Barrett scored a team-high 18 points in 31 minutes played. Derrick Rose, who is now officially engaged to Alaina Anderson, finished his performance with 15 points, 4.0 rebounds and 8.0 assists in 19 minutes on the court.
In the team's 18-point win, they shot 38-for-84 (45.2%) from the floor and 24-for-52 (46.2%) from three-point range. To open the second half, on top of holding Washington to 21 points, New York generated 36 points. This is exactly why they are the favorites to win on Friday.
Finally, the Wizards' projected starting lineup for Friday night's contest is PG Spencer Dinwiddie, SG Bradley Beal, SF Corey Kispert, PF Kyle Kuzma and C Daniel Gafford. As for the Knicks, their projected starting lineup is PG Derrick Rose, SG Evan Fournier, SF RJ Barrett, PF Julius Randle and C Taj Gibson.
Washington Wizards vs. New York Knicks prediction
Furthermore, the Wizards scored 113 points versus the Raptors, whereas the Knicks won their second exhibition matchup with 117 points. This is a combined total of 230 points. The total for today's game is set at 216. Picking the over for today's game is the most logical choice. Even with starters resting, the bench players for both Eastern Conference teams can put up dozens of points.
For betting trends, the Wizards are 1-4 straight up in their last five games played. The total has gone over in five of the team's past six contests. Not to mention, the total has gone over in five of Washington's previous six games played versus Eastern Conference opponents. And, they are 4-1 ATS in their last five games played in October.
As for the Knicks, they are 1-5 ATS in their past six games. Also, the total has gone under in five of the team's last six contests. To add to these betting statistics, the total has gone under in five of New York's previous six home games. And, they are 2-10 SU in their last 12 games played in October. For a reminder, these trends do not include preseason matches.
Washington Wizards vs. New York Knicks betting pick
Pick the Knicks to win at home; the total will go over 216. The Knicks are 4.5-point favorites with BetOnline.