Sam Howell, Malik Willis both taken in the top 10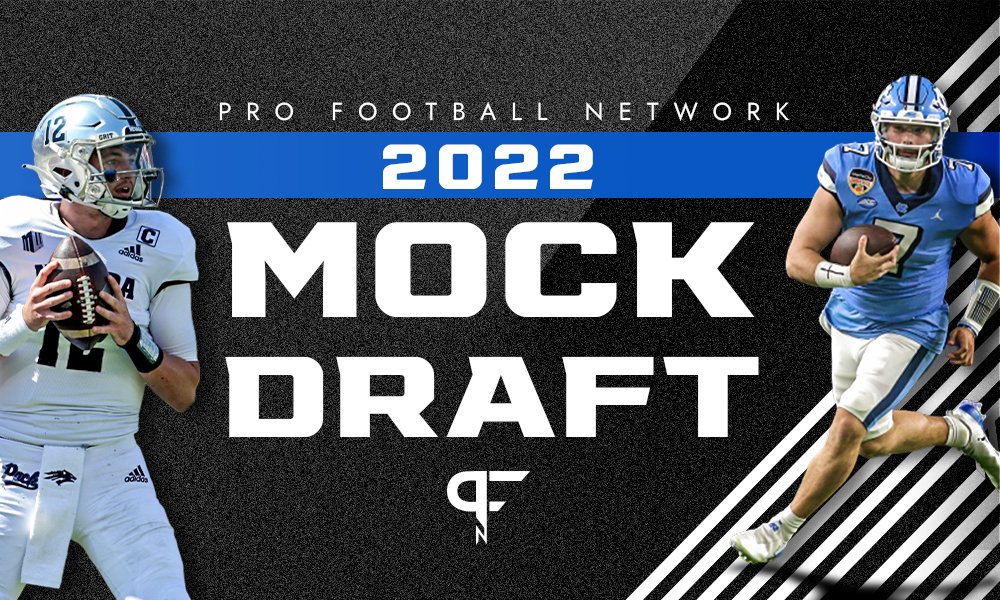 We are reaching the point where fans of several teams will turn their attention to 2022 NFL mock drafts with a little more realism than pessimism. With nearly 25% of the season in the books, let's take a look at what positions teams around the NFL might be considering when it comes to the NFL Draft next year.
Previously, all our 2022 NFL Mock Drafts have been based on the predicted draft order according to sportsbook odds. However, with nearly a quarter of the season gone, let's take a snapshot in time of how the draft might look if the season ended today. The order below and the tiebreakers that led to it can be found on our 2022 NFL draft order page.
2022 NFL Mock Draft | Picks 1-16
Which players will the teams picking in the top half of the 2022 NFL Draft select in our mock?
1) Jacksonville Jaguars: Kayvon Thibodeaux, EDGE, Oregon
The Jaguars have invested three first-round selections in the last four years in pass rushers. However, entering Week 5, no team in the league has fewer sacks than the Jaguars' 5. Getting pressure on the QB has not been a problem, but actually getting him down has been.
Therefore, if the Jaguars continue on this path to the first overall selection, another pass rusher could be in the cards. If that is the case, Oregon DE Kayvon Thibodeaux makes perfect sense.
2) Detroit Lions: Derek Stingley Jr., CB, LSU
The Lions have so many holes on their team that they really have no choice but to trade down if there is no home run selection. However, in this mock, we are ignoring trades for the time being and just looking at who the team might select in the situation.
Therefore, with the 31st-ranked pass defense in terms of net yards per attempt, the Lions either need to look up front or at defensive back. With Thibodeaux off the board, LSU CB Derek Stingley Jr. is a logical selection here.
3) New York Jets: Drake Jackson, DE, USC
When you look at the Jets' roster, two areas scream for help — offensive line and defense. Not just one defensive position, the entire defense. If Stingley or Thibodeaux is on the board when they are on the clock, they need to run that card to the podium. If not, then Drake Jackson makes a solid third option to bolster their pass rush.
4) Philadelphia Eagles (from Miami): Evan Neal, OT, Alabama
The Eagles desperately need help on defense, but with the potential of two early first-round picks, they can cover multiple potential needs. The Eagles' offensive line is old, and the left side is filled with uncertainty. Evan Neal has the potential to come in and start Week 1 at either tackle position.
5) Atlanta Falcons: Sam Howell, QB, North Carolina
The 2022 NFL Draft's QB1 discussion is very much up in the air. While Sam Howell has not hammered home the feeling entering the year that he would be the top selection at the position, he's still a player that many people believe can succeed at the next level.
Matt Ryan is not the problem in Atlanta, but he's also not the long-term solution. Atlanta does need to address the defense, but they also need to try and secure their future at QB.
6) Indianapolis Colts: Sean Rhyan, OT, UCLA
As it stands, we have yet to see the consensus OT1 for the 2022 class fully emerge. Nevertheless, the Colts' biggest need in this 2022 NFL Mock Draft is finding their future left tackle. Perhaps in an ideal world, if there is no consensus candidate for a top-10 selection, they would trade down.
However, right now, Sean Rhyan is one of the top candidates to be that first tackle selected. He's NFL-ready physically, and any deficiencies in his game as a rookie could be masked playing alongside a talented quartet — assuming they are healthy.
7) Houston Texans: Malik Willis, QB, Liberty
There is so much to address with the Texans it is hard to know where to start. What happens with Deshaun Watson this season and into next offseason will really shape their draft situation. Yet, right now, it's clear they need a long-term solution at QB. Malik Willis has the raw talent to be that solution.
8) New England Patriots: Kyle Hamilton, S, Notre Dame
The Patriots love their hybrid-type players, and Kyle Hamilton would give them another chess piece to utilize. New England could line Hamilton up in a variety of spots and further improve an already impressive defense. Another option here could be to go with an offensive tackle, but the value is not right this high in the draft.
9) Philadelphia Eagles: Kaiir Elam, CB, Florida
The Eagles' defense has just been absolutely blown apart by the Chiefs and Cowboys. The Eagles will see Dak Prescott and the high-powered Cowboys twice a year, meaning a top-level CB is a crucial addition. Kaiir Elam would be a perfect fit with the ninth overall selection.
10) New York Giants: George Karlaftis, EDGE, Purdue
As the fifth-worst team in terms of pressure rate on opposing QBs, the Giants need to address their pass rush in the 2022 offseason. George Karlaftis would make for an ideal addition on the outside and boost that unit. The only question mark here is whether Daniel Jones' play in 2021 means this has to be a selection on a QB.
11) Minnesota Vikings: Andrew Booth Jr., CB, Clemson
The Vikings have so many needs that it's hard to know which direction to go. Defense has to be the focus, and with Patrick Peterson only on a one-year contract, CB might be the priority. Andrew Booth Jr. perhaps profiles a touch lower than this in terms of skill set, but with so much need at CB in the 2022 NFL Draft, he could yet be a top-10 selection.
12) Pittsburgh Steelers: Carson Strong, QB, Nevada
As I referenced earlier, there is a lot still left to shake out in the 2022 QB picture. However, the player that could climb the board is Carson Strong, who is having a somewhat under-the-radar season. The Steelers need to find a replacement for Ben Roethlisberger in the draft, and Strong very well could be the solution.
13) Miami Dolphins (from 49ers): Nicholas Petit-Frere, OT, Ohio State
This might seem early for Nicholas Petit-Frere, but it is an almost perfect fit from a needs standpoint. The Dolphins took a chance on a raw talent in Austin Jackson, and it has not worked out.
Petit-Frere is generally viewed as a more polished prospect, but his upside is not seen to be as high as Jackson's was. Then again, the potential is only useful if you can reach it.
14) New York Jets (from Seahawks): Kenyon Green, G, Texas A&M
In an ideal world, the Jets would focus on the defense in its entirety with the 2022 NFL Draft, but in this mock, we do not have that luxury. The Jets' offensive line is among the worst in the league. While the left side has a solid foundation, the right side does not. That is where Kenyon Green comes in as a potential solidifying piece at right guard.
15) New Orleans Saints: Chris Olave, WR, Ohio State
The Saints might very well be without Michael Thomas in 2022, and with no other clear WR1 on the roster, they likely need to address the position early in the draft.
With both Ohio State wide receivers on the board, they could have their pick. Chris Olave is marginally superior in my eyes, but whichever way the Saints went here would not be a surprise.
16) New York Giants (from Bears): Tyler Linderbaum, IOL, Iowa
The Giants desperately need to address one of the worst offensive lines in the league. They need help at multiple positions across the line, and Tyler Linderbaum injects potential into the interior OL. Linderbaum is an athletic interior offensive lineman who could be an incredible asset in the run game.
Darrel Williams, CeeDee Lamb, and Noah Fant among fantasy heroes
When Sunday ends, my focus is on understanding not just what happened in Week 6, but what it means for my fantasy football team. Which of my guys are overvalued? Who's undervalued? And who can I acquire to bolster my chances in Week 7? With that in mind, here are the most notable fantasy takeaways from each Sunday game.
What performances and situations should we take note of from the 1 PM ET set of games?
Jaguars vs. Dolphins
A week after Laviska Shenault Jr. and Marvin Jones Jr. inexplicably caught just a pass apiece, they both got back on track once Jacksonville put the game more in Trevor Lawrence's hands. Both earned 10 targets, and both should be no worse than weekly streamers, thanks to relatively soft schedules in the coming weeks.
For Miami, Jaylen Waddle and Mike Gesicki capitalized on the absence of Will Fuller, DeVante Parker, and Preston Williams. They are both screaming sell-high candidates if you can sell Gesicki as a top-eight TE and Waddle as a top-28 WR. If you can't get that value, hold and hope they can be consistent fantasy starters.
Bears vs. Packers
Third-string rookie RB Khalil Herbert dominated. No one rostering a starter — in this case, David Montgomery, who averaged 18.8 touches in four starts — wants to see a backup shining. Fortunately for those rostering Montgomery, the Bears travel to Tampa Bay next week, where Herbert likely won't be better than an RB5 (particularly if Damien Williams returns).
Aaron Jones and AJ Dillon both exceeded 5.0 yards per rushing attempt while splitting carries 13-11, respectively. Jones remains the 1A, and that showed up in the fantasy box score. But any given week, Dillon could be this backfield's fantasy winner.
Lions vs. Bengals
Jared Goff has not scored a touchdown in three of Detroit's last four games. That is almost an impossible feat in the NFL. And if you listened to my warnings about the overvalued Jamaal Williams two weeks ago, you sold high at the right time — he's entirely TD-dependent.
Meanwhile, I pushed Chris Evans as a surprisingly good dart throw yesterday morning, and he came through for bold fantasy managers. His pass-catching skills should bump him above Samaje Perine on the depth chart, giving him strong handcuff value and potential RB5+ stand-alone value.
Colts vs. Texans
Jonathan Taylor is making a push for October's fantasy RB MVP. I tried trading for him last week, and my opponent wisely laughed at me (or I can only assume he laughed). Also, T.Y. Hilton surprised me with an impressive return and leading Indianapolis with 4 targets. Those rostering Michael Pittman Jr. can officially worry that his weekly startability is now in serious doubt unless Hilton's quad injury suffered in the fourth quarter turns out to be serious.
And Houston's ugly offensive output should not overshadow the fantasy return of Brandin Cooks and the physical return of Nico Collins, who could wind up as Davis Mills' No. 2 target going forward. Collins is an intriguing waiver add on a team that will be playing from behind often.
Giants vs. Rams
Kadarius Toney exited early, and Sterling Shepard resumed his spot atop the Giants' WR pecking order. Most notably, former fantasy prospect Dante Pettis earned 11 targets and would be a solid streaming candidate if this receiving corps remains decimated by injuries.
For the Rams, Darrell Henderson got the job done and now has 5 touchdowns in five games. Admittedly, he has been more dominant than I anticipated. The talent has always been there. Yet, the ability to remain healthy has not. Thus far, he's been able to manage a bell-cow workload.
Washington vs. Chiefs
Antonio Gibson's injury issues returned, but J.D. McKissic and Ricky Seals-Jones came up big. If you listened to Tommy Garrett and me on the In the Mood podcast last week, you heard us tout both players for Week 6. McKissic was a weekly fantasy starter last year and should be again going forward.
I expected Patrick Mahomes to have an even bigger day, but most managers will take the points. More interestingly, Darrel Williams was a fantasy hero with 2 touchdowns, while Jerick McKinnon netted only 4 touches. However, Williams' 3.0 yards per carry were less than inspiring, so let's see how he fares next week at Tennessee.
Panthers vs. Vikings
Four of Minnesota's six games have been decided in overtime or by less than 4 points. Although they almost gave this one away, it was a complete effort with Dalvin Cook, Adam Thielen, Justin Jefferson, and K.J. Osborn all helping fantasy managers. Kirk Cousins has everyone he needs to produce another top-10 QB season. And remember, he had a preseason QB19 ADP. Don't forget this next summer when your opponents are once again ignoring him.
Robby Anderson logged 11 yards on 11 targets, which has to be some kind of NFL record for target-based futility. While he salvaged his day with a late touchdown, he now has only 179 yards on 12 receptions through six games. Either his high target count suggests he's vastly undervalued, or that target count is poised to decline if/when other WRs step up. We'll know more in the coming weeks.
Ravens vs. Chargers
The last time Devonta Freeman, Latavius Murray, and Le'Veon Bell scored on the same day was forever ago. Last week, I warned readers to dump Murray because, in any given game, one of four RBs would rise to the occasion. I did not anticipate three of them would. Seriously, who would have thought after Week 1 that we'd see a game like this, where the only RB not to score (or even earn a touch) was Ty'Son Williams?
This was a disastrous loss for the Chargers. Credit Baltimore's defense, and don't overthink this: Justin Herbert, Austin Ekeler, Keenan Allen, and a healthy Mike Williams form one of the most top-heavy teams in the NFL. They're not likely to get shut down again this year.
Which fantasy-relevant players from the 4 PM ET slate bear discussion?
Browns vs. Cardinals
All eyes are on Kareem Hunt's injury, which reportedly concerns his calf rather than his Achilles. So, fantasy managers can exhale a bit as we await the MRI. And Donovan Peoples-Jones went from "streamer" to "wow" in one afternoon. In light of Jarvis Landry's imminent return, it will be interesting to see how one of the most run-friendly teams in league history can feed more than one wideout per game.
And James Conner out-carried Chase Edmonds 16-4. After a quiet opening couple of weeks, Conner has been on fire in fantasy with 5 touchdowns in Weeks 3-5. Although his Week 6 fantasy output was unremarkable, his usage told the most compelling story.
Broncos vs. Raiders
I was wrong to dismiss Fant this summer as a back-end TE1. He's earned 10+ targets in two of the last three games and is now the No. 6 fantasy tight end. However — and this is a big "however" — the bigger test will be when Jerry Jeudy returns. Will Fant remain a consistent top-three receiving option?
After getting only 3 touches combined in the last two contests, Kenyan Drake shook off the cobwebs to amass 73 yards and 2 scores on 6 touches. I have written continually these last 12 months about Josh Jacobs' TD dependency. He is startable in fantasy because of scoring opportunities, not efficient running or a steady dose of receptions. If Drake is ascending, that will be trouble for those rostering Jacobs.
Patriots vs. Cowboys
Somehow, Damien Harris and Rhamondre Stevenson both had good days. I keep waiting to see which one will seize control of this backfield. Meanwhile, after averaging 38 pass attempts in his first five games, Mac Jones threw a career-low 21 passes. In other words, head coach Bill Belichick probably game-planned Sunday to be a Harris/Stevenson-led offense. Don't get used to both of them helping fantasy managers in the same week.
I traded for CeeDee Lamb Saturday night. He's been one of my top acquisition targets for the past three weeks. There's no conceivable way he should have had about the same fantasy point total as Dalton Schultz. Something had to give, and yesterday it did. I won yesterday on Lamb's game-winning touchdown. Savvy fantasy management begins with paying attention to stats, expectations, and shifting market values.
What were the biggest fantasy football takeaways from Sunday Night Football in Week 6?
Steelers vs. Seahawks
Ben Roethlisberger went toe-to-toe with a longtime backup QB, which pretty much sums up the 39-year-old's injured body and/or declining abilities. Most notably, while Eric Ebron got a goal-line touchdown, fellow TE Pat Freiermuth earned more attention — 6 receptions for 56 yards (both career-high marks). Last night might have signaled that Freiermuth overtook Ebron as the better fantasy TE in Pittsburgh.
For Seattle, I was right about DK Metcalf and Tyler Lockett being incredibly risky fantasy starters. However, I was wrong about Alex Collins' low ceiling. Collins carried an offense that couldn't do much of anything through the air. He will be the team's only semi-safe fantasy starter until Russell Wilson or Chris Carson returns.
Keenan Allen is worth the investment
Someone once told me, "If you're not trading, you're not trying." Or something like that. I can't remember who whispered these fateful words to me. Maybe it was NFL Network's Adam Rank, or maybe I just read it scribbled in a tweet somewhere. Regardless, I've been a fantasy football trade junkie ever since because capitalizing on the constantly fluctuating values of players is a great way to bolster your roster — here are some buy-low and sell-high candidates.
Let's start by looking at some players who you might be able to acquire at a discounted price right now.
Laviska Shenault Jr., WR, Jacksonville Jaguars
The perpetually frustrating season of Laviska Shenault continued on Sunday, but it wasn't all bad. Shenault finished with 6 receptions for 54 yards, including a clutch diving catch on a slant for a first down right at the end of regulation that set up the Jaguars' game-winning field goal.
His fantasy day could have been even bigger, considering he had 10 targets and didn't secure a touchdown. Shenault and Marvin Jones Jr. each saw 10 targets in this game, separating themselves from the rest of the pack.
Shenault is highly athletic — he's big, fast, and physical with the ball in his hands. His fantasy managers might be frustrated with the up-and-down performances so far this season. If you can trade for him, do it. Rookie quarterback Trevor Lawrence is only getting better as he continues to adjust to the NFL.
Keenan Allen, WR, Los Angeles Chargers
The Los Angeles Chargers have a Mike Williams problem — he's battling an injury that he just can't seem to shake. Williams was questionable to play today, suited up, and then couldn't finish the game.
It was a horrible day all the way around for the Chargers, who got boat raced 34-6 by the Baltimore Ravens. Allen was no different, finishing today with 5 receptions on 5 targets for 50 yards.
While Williams has been all the talk this year because of his touchdown numbers, Allen has been pacing along with him, leading him in targets (53 to 51) and receptions (34 to 31).
The Chargers are on their bye week next week, making it a good time to pounce on Allen's suppressed value.
Miles Sanders, RB, Philadelphia Eagles
Miles freaking Sanders, man. He's so good, but head coach Nick Sirianni seemingly refuses to get him involved in the game plan. I know Tampa Bay's run defense is the best in the NFL, but Sanders logged only 9 carries, marking the third time in the last four weeks that he wasn't given double-digit attempts.
It's not like Sirianni is choosing to go with another running back over Sanders. He's simply not running the ball. The Eagles are running the ball the fifth-least of any team in the NFL at only 22 carries per game — and 8.83 of those are on the legs of quarterback Jalen Hurts.
This can't continue. Sanders has looked great when he's been given the chance. He converted his 9 carries into 56 yards (6.2 yards per carry) against the Buccaneers. I'm buying Sanders at what I think is his floor and hoping that the Eagles will begin to feature him in the offense.
Which potential trade targets should you sell high on?
Now that we've discussed some candidates to acquire, let's talk about who to consider trading away.
Cooper Kupp, WR, Los Angeles Rams
So, let's talk about Cooper Kupp. He's coming off yet another monster game, taking 9 receptions for 130 yards and 2 TDs. He's looked unstoppable this year with Matthew Stafford at quarterback, and he's currently sitting at third in yards and receptions and second in receiving touchdowns among wide receivers.
Through six weeks, pending Sunday Night Football and Monday Night Football, Kupp is the overall WR1.
Understand what I'm suggesting — do NOT trade Kupp away for just anything. However, his perceived value is so sky-high right now that you might be able to get someone to offer you a massive haul in exchange for him. By massive, I'm talking about a back-end WR1 and a high-end RB2 — at minimum. Test the waters. Shoot super high and see what happens. You might get someone to bite.
Derrick Henry, RB, Tennesee Titans
Everything I said about Cooper Kupp above? Apply that here. The Titans are currently on a bye, but Henry piled on 640 rushing yards and 7 TDs over the first five weeks. He's receiving an otherworldly workload, averaging 31.25 carries and 2.75 receptions per game since Week 2. That's insane.
Taking out his "light" workload in Week 1, if you extrapolate his 31.25 carries per game over the remaining 16 games, you get a grand total of exactly 500 rushing attempts.
The single-season rushing attempts record is 416, set by Larry Johnson in 2006. There have only been five seasons in the history of the NFL where a running back has logged over 400 carries.
Any time you're getting into statistical territory that approaches NFL-record levels, it's a clear statistical anomaly that should probably be bet against. Henry is currently tearing up the league, but it remains to be seen if he can hold up under this workload. With as high as his price is, if you can get someone willing to give you two elite players for him, I'd be willing to sell.
Sterling Shepard, WR, New York Giants
Now that we're out of the realm of superstar performances, let's come back to earth a little bit. In the midst of the New York Giants getting squashed by the Los Angeles Rams, Sterling Shepard logged 10 receptions for 76 yards. On the surface, it looks like a big performance, especially in PPR scoring.
What the box score doesn't include, however, is the fact that Kenny Golladay didn't play. Additionally, Kadarius Toney left the game early with an injury. With no Saquon Barkley either, Shepard was essentially all the Giants had left.
Toney has come on strong as of late. As he and Golladay return, the opportunities will likely be inconsistent for Shepard, who hasn't scored a touchdown since Week 1.
Kareem Hunt, Antonio Gibson, Mike Williams injury updates
The unfortunate reality of the return of the NFL is that when players are allowed to go full speed, injuries are bound to happen. Week 6 of the NFL season was no exception. Now that fantasy football managers are updating their lineups for the coming week, several players have found themselves on the injury report, leaving their status for Week 7 in the air.
Here is where we currently stand in terms of the fantasy football QB options dealing with an injury.
Baker Mayfield, Cleveland Browns
Baker Mayfield has been playing with a partially torn labrum in his left shoulder and appeared to further aggravate it on Sunday. He was in clear discomfort but returned to the game after being evaluated on the sideline. It's worth keeping an eye on, but given Mayfield finished the game, I doubt it will force him to miss time.
How is the injury bug affecting RB committees heading into Week 7?
Kareem Hunt, Cleveland Browns
With Nick Chubb already out for Week 6 (calf), the last thing the Browns needed was an injury to Kareem Hunt. Unforuntalty, Hunt could be out for an extended period of time. He had to be helped off the field in the fourth quarter after suffering a calf injury. He was unable to put any weight on his right leg.
Per Nate Ulrich of the Akron Beacon Journal, Browns head coach Kevin Stefanski said Hunt did not injure his Achilles. This is an important note, as the "calf" label is often used in place of Achilles early in the process. We will have more information in the coming days.
Already entering the game with a stress fracture in his shin, Antonio Gibson appeared to be in clear pain as the ailment took him off the field for some time. He appeared to re-aggravate his shin after roughly 10 carries and would eventually be taken out of the game once it was out of reach. 
In his postgame press conference, head coach Ron Rivera stated they will evaluate Gibson on Monday [October 18]. "We'll see how he is," Rivera said. "We did take him out at the end of the game because he was struggling with it a little, so we have to be careful and see how he responds. I don't know much more than that. We'll see how he is [Monday] morning."
Should Gibson miss time, J.D. McKissic would be in line for a significant role against Green Bay in Week 7.
WR Injury Update for Week 7
News for pass catchers is essential in PPR leagues — let's break down the WR fallout.
Kadarius Toney, New York Giants
This was easy to see coming, unfortunately. After pregame reports indicated Kadarius Toney was on his injured ankle, it seemed inevitable the rookie WR would re-aggravate the injury during the game — and he did. After 3 targets, Toney left the game in the first quarter. His demeanor on New York's sideline clearly indicated he knew something was wrong. Toney was taken back into the locker room and ruled out for the remainder of the game. I would not be surprised if Toney misses Week 7 against the Carolina Panthers.
Mike Williams,

Los Angeles Chargers
Similar to Toney, Mike Williams was a major question mark as he failed to log a practice all week — but was still active against the Ravens. I was concerned Williams would either serve as a decoy or suffer a further injury. Both seemed to happen.
In the middle of a career year, Williams saw just 5 targets, catching 2 for 27 yards. He also seemed to re-aggravate his knee early in the game when trying to make a catch. He left the game for a bit, and although he eventually returned, he made little impact. Williams played on just 20 of 58 snaps in Week 6 and did not see action in the fourth quarter.
Terrace Marshall Jr., Carolina Panthers
Terrace Marshall Jr. was ruled out early against the Vikings with a concussion. As a result, he will enter the NFL's concussion protocol. The rookie wide receiver hasn't contributed much this season, posting only 14 receptions for 116 yards and no scores through six weeks.
Odell Beckham Jr., Cleveland Browns
Odell Beckham Jr. went to the locker room after suffering a right shoulder injury when two Arizona Cardinals defenders landed on top of him. After going to the sideline for examination in the medical tent, Beckham Jr. jogged to the locker room for more evaluation and treatment. He returned to the game but should be monitored going forward.
Tyreek Hill, Kansas City Chiefs
Tyreek Hill entered the game with a quad injury and seemed to have his snaps limited at times. He missed a few series and was questionable to return at one point, but he did come back into the game and almost immediately scored a touchdown. 
T.Y. Hilton, Indianapolis Colts
T.Y. Hilton's return could be short-lived after he left the game on Sunday and was ruled out with a quad injury. However, head coach Frank Reich said after the game that there's no serious concern about Hilton's injury. The veteran wideout had a great first game back from injured reserve, catching all 4 targets for 80 yards.
Parris Campbell, Indianapolis Colts
Parris Campbell suffered a foot injury and was ruled out for the remainder of the game against the Texans. After catching a 51-yard touchdown pass, Campbell went to the locker room to be evaluated for a foot injury. He later came back to the sideline but was ruled out during the second quarter.
TE Injury Update for Week 7
Which tight end injuries should we be mindful of when setting our fantasy lineups?
Jody Fortson, Kansas City Chiefs
Jody Fortson was quickly ruled out after being carted off in the third quarter with an Achilles injury. Head coach Andy Reid later announced that Fortson tore his Achilles, meaning he will miss the rest of the 2021 season.