Mes de Herencia Hispana: Conozcan a Manuel Rosales
Click here for the English version
En celebración del Mes de la Herencia Hispana, que se lleva a cabo del 15 de septiembre al 15 de octubre, USTA Florida reconocerá a los miembros de la rica comunidad hispana de Florida de quién los talentos y dedicación ayudan a hacer crecer el gran juego del tenis todos los días, en todos los niveles. Los aplaudimos a todos por hacer del tenis un deporte mejor y más inclusivo, y por hacer que la cara de nuestro juego refleje con mayor precisión la diversidad dinámica de nuestro país.
Manuel Rosales se puede encontrar en las canchas de Viera High School, donde entrena al equipo de tenis masculino. No es ajeno a la comunidad de tenis de Viera, Rosales también se ha desempeñado como entrenador de tenis privado y entrena varios equipos de la USTA en el condado de Brevard. Rosales nació y se crió en Valencia, Venezuela, y actualmente vive en Melbourne.
El tenis es claramente una gran parte de tu vida. ¿Cuándo recogió una raqueta por primera vez?
Jugaba fútbol y béisbol antes de empezar a jugar tenis en un club privado en Valencia, Venezuela. Tenía entre 11 y 12 años. Tomé un par de lecciones antes de decidirme a tomar el tenis como mi deporte principal.
¿Qué es lo que más te gusta del tenis?
El tenis es un deporte individual y de equipo muy satisfactorio que puedes practicar toda tu vida. Los movimientos del tenis y la mecánica del swing son agresivos y decididos, pero tienen elegancia, gracia y fluidez coordinada. Además, la comunidad del tenis brinda amistades con personas de ideas afines y actividades sociales.
Eres el entrenador del equipo de tenis masculino de Viera High School, ¿cómo empezaste con ellos y cuánto tiempo llevas en el equipo?
Hace unos diez años, mi hijo jugó para la escuela y comencé a involucrarme con el equipo. Además, soy un entrenador de tenis privado en la comunidad local y muchos de los jugadores de Viera High School entrenaron conmigo. Después de unos cinco años de estar involucrado con el equipo, el Director Atlético de la escuela me ofreció el puesto de entrenador en jefe.
¿Qué significa para ti poder servir como mentor para tus jugadores de escuela secundaria?
Trabajo con muchos jugadores talentosos y mi trabajo como entrenador es ayudarlos a mejorar sus habilidades en el tenis. Sin embargo, aún más importante es la capacidad de orientar y aconsejar a esos jugadores sobre cómo afrontar situaciones difíciles y cómo convertirse en solucionadores de problemas. Muchas veces ayudo a los jugadores a desarrollar habilidades de liderazgo y a formar parte de un equipo.
[singlepic id=3307 w=450 h=300] [singlepic id=3308 w=450 h=300]
¿Qué éxitos ha tenido el equipo de tenis de la escuela secundaria Viera en los últimos años bajo su dirección?
Durante los últimos 5 años, el equipo de tenis de Viera High School está en la lista de los "mejores equipos" en el área de Melbourne. Durante mi mandato, hemos ganado distritos en tres ocasiones y fuimos subcampeones en 2021.
¿Cuál es tu herencia?
Nací y crecí en Venezuela. Mi familia y mi familia extensa vivían en Valencia muy cerca unos de otros.
¿Cómo ha dado forma tu herencia a la persona que eres hoy?
Mi herencia e identidad cultural están arraigadas en la persona que soy hoy. Mis experiencias y valores pasados ​​prevalecen en mi personalidad y también se reflejan en mi comprensión de otras culturas. Cuando era ingeniero, tuve la oportunidad de viajar por todo el mundo. Esta combinación única de experiencias me ha dado una perspectiva única sobre la enseñanza, el coaching y la comunicación con mis clientes y estudiantes.
¿Por qué es importante celebrar el Mes de la Herencia Hispana en general, así como en el tenis?
La celebración de la herencia hispana es un reconocimiento importante para todos los hispanoamericanos. Durante este período significativo, todas las culturas de los Estados Unidos reconocen las innumerables contribuciones, la influencia, la cultura y los logros que los hispanoamericanos han traído a los Estados Unidos.
Si tuvieras que compartir tu mensaje de unidad, ¿cuál sería?
Los Estados Unidos de América son para todos y somos más fuertes juntos como equipo.
Para obtener más información sobre las iniciativas de diversidad de la USTA Florida, haga clic aquí.
The post Mes de Herencia Hispana: Conozcan a Manuel Rosales appeared first on USTA Florida.
Mardy Fish Children's Foundation Tennis Championships Underway
The 2021 Mardy Fish Children's Foundation Tennis Championships kicks off today, Monday, Oct. 18, at The Boulevard Tennis Club in Vera Beach, Fla.
The annual tournament, which runs through Oct. 24, is being held in October for the second consecutive year — rather than its traditional April date — due to the COVID-19 pandemic. This year's event will be a $15,000 tournament on the ITF World Tennis Tour as part of the USTA Pro Circuit, where players will compete for ATP ranking points.
Former French Open doubles champion and U.S. Olympic and Davis Cup team member Ryan Harrison is among the leading entries into the tournament this year. Other leading entries include No. 476-ranked Patrick Kypson of Raleigh, N.C., the winner of the 2017 USTA National Boy's 18 Championships who competed in the main draw of the 2017 U.S. Open; University of Florida standout Ben Shelton of Gainesville, who clinched the NCAA team title for the Gators in May; and Liam Draxl of Canada, who was the No. 1 seed at the 2021 NCAA singles championship competing for the University of Kentucky.
The Mardy Fish Children's Foundation Tennis Championships is considered Vero Beach's most prestigious international sporting event, held on the Treasure Coast since 1995. The tournament serves as the largest fundraiser for the Mardy Fish Children's Foundation, which helps at-risk children in Indian River County by supporting after-school exercise, nutritional and enrichment programs in a safe environment to prepare them for healthy, productive and successful lives. The non-profit organization was founded in 2007 by Vero Beach native Mardy Fish, the former top 10 tennis star, 2004 Olympic silver medalist and the current U.S. Davis Cup captain.
For more information, visit MardyFishChildrensFoundation.org.
The post Mardy Fish Children's Foundation Tennis Championships Underway appeared first on USTA Florida.
Don't Miss Out on Your Chance to Play in a Delray Beach ATP Event
Any tennis player's dream of playing against professionals can be a reality at the 2022 Delray Beach Open by VITACOST.com.
Two qualifying wild cards are up for grabs during the ATP Tour event's Survivor Series pre-qualifying tournaments – one in November, one in January – that will feature players ranging from aspiring juniors to local club champions who will battle it out to earn their shot to compete against ATP pros in February.
The winner of each pre-qualifying event will be granted a wild card into the Delray Beach Open by VITACOST.com qualifying tournament, which will be held Feb. 12-13, 2022. Four players from the two-round qualifying event will advance to the tournament's main draw, which will take place Feb. 14-20.
The first pre-qualifying tournament is a USTA Men's Open event scheduled for Nov. 13-16 at the Delray Beach Swim & Tennis Center. The second opportunity to earn a wild card will come at a UTR tournament scheduled for Jan. 1-4 at Pro World Tennis Academy. Both events will be a single elimination singles draw with no-ad scoring for two tiebreak sets and a 7-point match tiebreaker if needed.
All participants receive two complimentary tickets to the 2022 Delray Beach Open by VITACOST.com and a 20% off discount on individual tickets beyond that (tickets must be purchased by Dec. 31, 2021).
Qualifiers have a history of success at the Delray Beach Open. Three winners of the ATP Tour 250 event first came through qualifying – Ernests Gulbis (2013), Kei Nishikori (2008) and Andrew Ilie (1998). On several other occasions, a qualifier finished as the runner-up or reached the semifinals; at the 2021 edition of the event, American Christian Harrison coasted to three wins to reach the semifinals.
Online registration for the Nov. 13-16 USTA pre-qualifying event must be completed by midnight on Nov. 10.
Online registration for the Jan. 1-4 UTR event must be completed by Dec. 27 at 5 p.m. EST.
For more information about participating in these survivor series pre-qualifying events, visit www.yellowtennisball.com/survivor.
The post Don't Miss Out on Your Chance to Play in a Delray Beach ATP Event appeared first on USTA Florida.
10 Tennis-Specific Training Exercises That You Can do at Home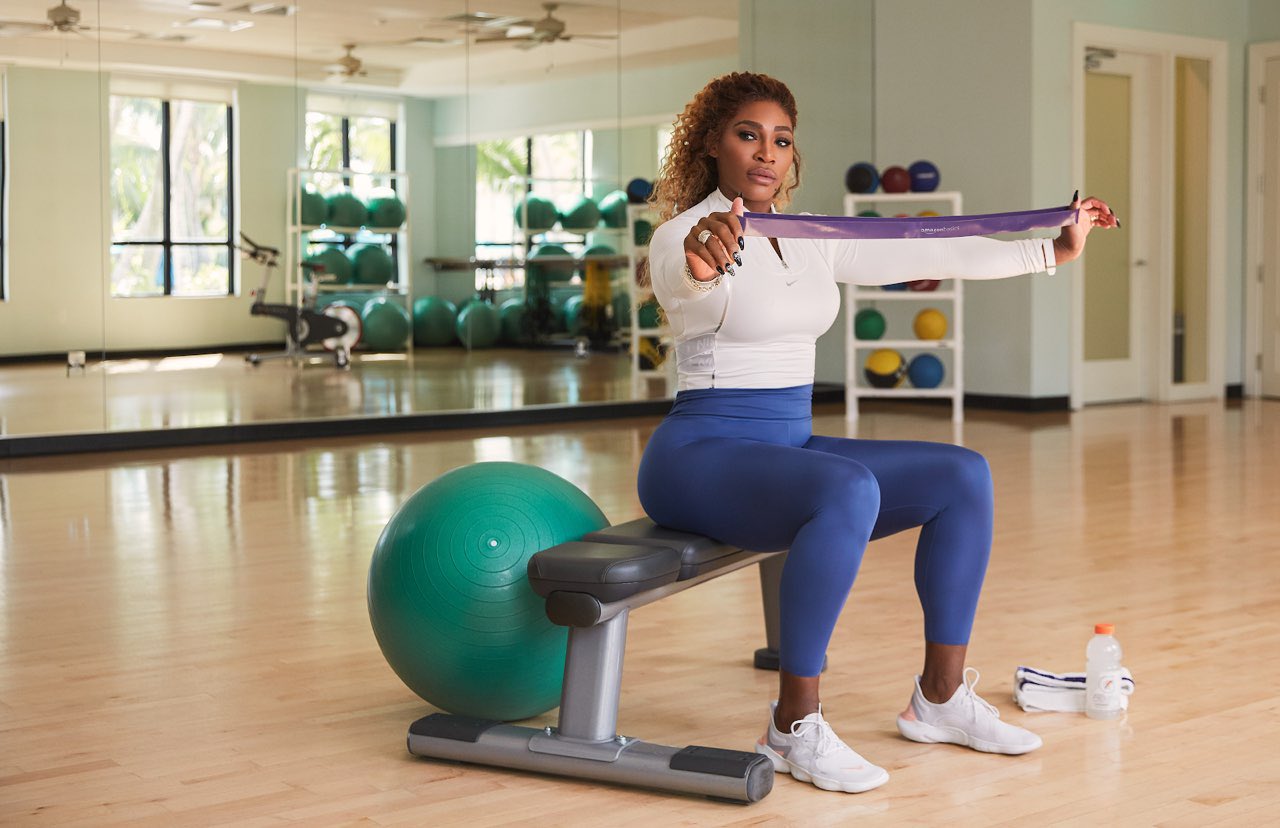 At Tennis Life Magazine, we love a fun and friendly game of tennis. In fact, we love a fun and friendly game of just about any sport! From our many attempts on the court (or sometimes on the couch, watching the pro's do it better than we could ever dream) you quickly discover how physically demanding the game is, and how important preparation is – even for a rookie 😉
If you are considering hitting the courts any time soon, we suggest you start incorporating some particular exercises into your gym sessions to give yourself the best possible chance against your opponent and to minimize the possibility of injury and post-tennis match muscle soreness.
So, whether you are a seasoned tennis player or a total noob, these ten exercises will prepare your body for the physical demands this sport requires.
# 1 Warm Up
When warming up for a game of tennis, in addition to your usual steady cardio, such as a light jog, and some bodyweight exercises, i.e. body-weight squats, press-ups and some stretches, incorporating some mobility movements are a great idea before hitting the court. Some mobility exercises you may want to include are:
 Wrist rotations, 30 seconds on each wrist, rotating both clockwise and anticlockwise.
 Shoulder rotations, 30 seconds on each arm rotating both clockwise and anticlockwise.
 Elbow rotations, 30 seconds on each arm rotating both clockwise and anticlockwise.
#2 Overhead Med Ball Slams
If you have ever watched a game of tennis, seeing Rodger Federer nail his opponent with a slam dunk is AMAZING, and overhead med ball slams are a great way train for this powerful move.
To do an Overhead Med Ball Slam, ensure you have your core braced the whole time, as this will help strengthen your abs, as well as support your back at the same time. Holding the medicine ball, lift it up over your head, then forcefully throw it to the ground. When picking the ball back up, make sure you bend your knees.
Repeat this exercise for 10 reps, for 3 sets. Start with a 5 to 8-pound medicine ball and when you get stronger, move up to a 10-12 pound medicine ball.
#3 Single Leg Squats
Single leg squats are an AWESOME exercise for tennis players, as not only does it help strengthen your legs, you will also see an improvement in your balance and stability.
Now a single leg squat is an advanced move, so below we have two options you can do to build your way up. And the great thing is that you can do this one at home!
Assisted Single Leg Squat: Shift your weight to one leg, while keeping your other leg just resting on the ground to assist with balance and stability. Sink your hips back and down into a squat position, ensuring your knee is tracking over your toes. Repeat this move for 10 reps, 3 sets each leg.
Single Leg Squat with Training Band: Holding onto your training band straps, lean back slightly so there is tension on the straps. Leveraging your weight on the straps, lower your self down into a squat, with one leg. When coming back up, drive up through your heel, activating your glutes and core. Repeat this move for 10 reps on each leg, three sets. As you start to get stronger, try and rely less on the straps until you can do a FULL single leg squat using just your body weight.
Full single-leg squats: Once you have progressed your way through the above options, it is time to try a FULL single leg. There are a couple of ways you can perform this move, here, keeping your chest up, have one foot firmly on the ground, with your other leg bent with your foot behind you. Brace your core, lower yourself down into a squat position. On the upward phase, drive through your heel, activating your glutes all the way to the top. Repeat as many as you can (up to 10 reps) on each leg.
#4 Cable Chest Press
In order to have a STRONG swing in tennis, you need to be able to recruit your chest, for maximum power. A great exercise to build strength in this area, while performing an exercise that has a similar range of motion, is the cable chest press.
Ensuring the weight selected on the cable machine is even on both sides, grab a hold of each handle and lean forward to add tension to the cables. Then, while squeezing through your chest, drive the handles across your body, while keeping your core engaged. Slowly release the tension back to your starting position. Repeat for 10 reps and 3 sets.
FYI – You don't need a gym for this move, just some inexpensive resistance bands like these.
#5 Squat Jumps
Being able to jump and reach for those high shots, requires powerful quads, and what better exercise to increase strengthen these bad boys than the squat jump.
Starting with your feet positioned just outside of your hips, sink your hips back and down into a squat, then drive up strong through your heels, using your arms for momentum, before landing softly back on the ground. Repeat this move for 15 reps and 3 sets.
#6 Skaters
Keeping your chest up, drive out from the ball of your foot vertically, landing softly, with your knee tracking over your toes, then skate back in the other direction. This move Is great for improving your agility and cardiovascular fitness. Repeat this for 20 reps, 3 sets.
#7 Sprints
Being able to explode and sprint to one side of the court and back again is vital in tennis. To train for this, set up cones about 60 feet apart, and count how many laps you can sprint in 30 seconds. Have a 30-second break, and then repeat and aim to better your score. Do this 5 times through.
#8 Plyometric Lunges
Plyometric lunges are another great exercise to increase strength and power in your legs. Jump and land with your legs in a split stance, keeping your upper body upright, and your core engaged. Lower your back knee towards the floor, then drive back up through your heels and switch your legs. Repeat this exercise for 20 reps, 3 sets.
#9 Vertical Jump
Using a piece or chalk or a marker of some sort, stand close to a wall, and jump as high as you can reaching tall, marking your vertical jump at the top, before landing softly on the ground. Repeat this 4 times, aiming to get higher each time.
#10 Cool Down
Just like your warm-up, while bringing your heart rate down, include the same mobility exercises to free up any tight areas that you did in the warm up.